[DISCLAIMER: THIS POST MAY CONTAIN AFFILIATE LINKS, INCLUDING AMAZON ASSOCIATE LINKS WHERE I EARN FROM QUALIFYING PURCHASES. THERE IS NO COST TO YOU & THE COMMISSION HELPS SUPPORT THIS SITE]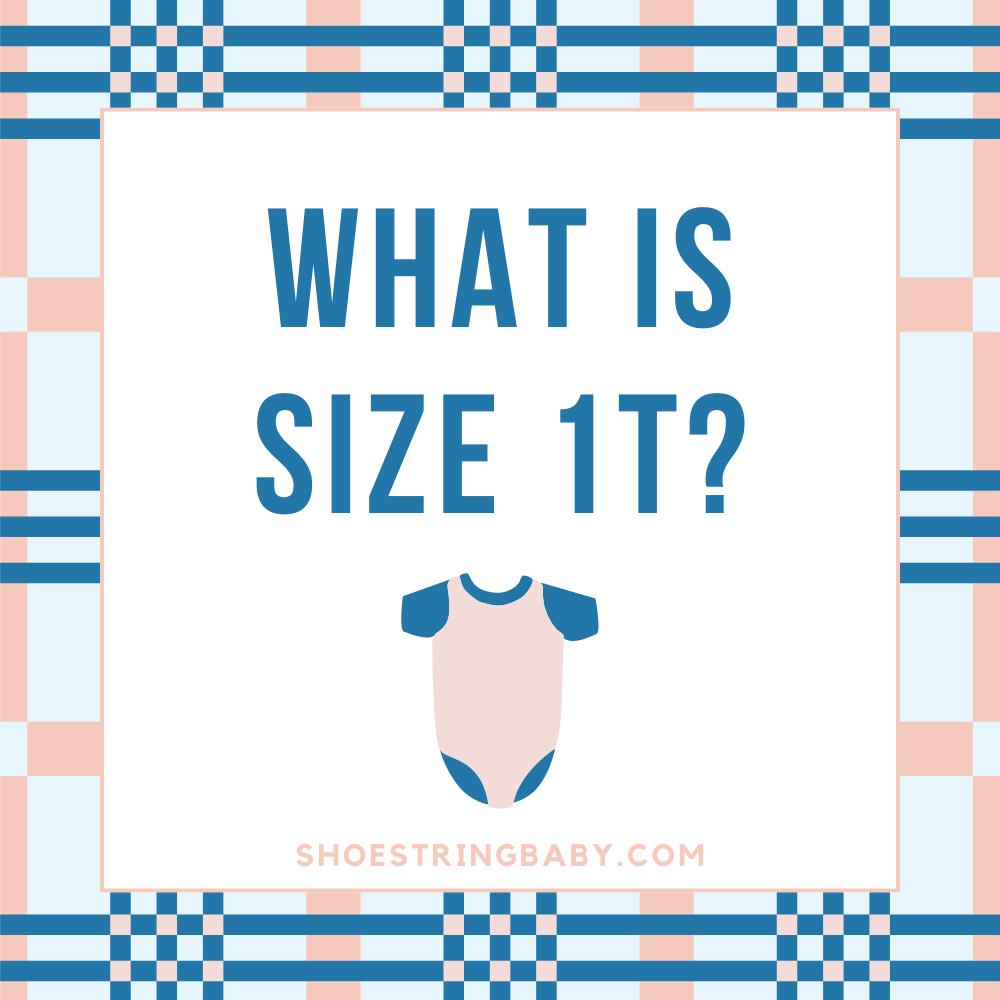 If you've ever happened upon 1T on a size chart, you may be asking yourself, "what the heck is 1T sized baby clothing?" And more importantly, how do 1T vs. 12 month clothes differ?
There are a lot of confusing sizes in baby and kids clothing sizes (looking at you 2T vs. 24 month sizes!), but the elusive 1T size may take the cake.
That's because 1T sizes are rarely so you'll only see them pop up occasionally. I've personally happened upon random 1T sized clothes on Amazon and Etsy.
So if you're confused about the difference between 1T vs. 12 month sizes, you're not alone.
It would make sense that 1T and 12M clothes would be equivalent since in a literal sense 12 months is 1-year. However, most toddler size clothes like 1T are distinct from baby sizes like 12-month clothes.
Below you'll find a breakdown of these differences between 1T vs. 12-month sizes. Since 1T indicates it fits a 1-year-old baby, I also include a discussion of 1T vs. 18-month sizes since 18 months clothes are also designed for older 1-year-olds.
And don't forget to plan ahead and check out some of my other guides to weird overlapping toddler sizes: 4T vs. 4 sizes and 5T vs. 5 vs. XS sizes and 6X vs. 6T vs. 6 sizes.
What is 1T size?
1T is a toddler clothing size for babies who are roughly 1-year-old.
Toddler sizing, as opposed to baby sizes, indicate clothing designed for babies who are walking. These clothes allow for more mobility for babies that are now on the move.
In these early toddler sizes, the toddler-size indication may also be used to differentiate clothes for those children who are potty trained and out of diapers. This is how Carter's guide explains the difference between 24-month vs. 2T sizes.
Once a child is out of diapers, they can wear bottoms that are trimmer fit since they don't need to accommodate diaper bulkiness. They also don't have to have waistbands that are easy to pull on and off for diaper changes.
Note, you may also see 1T pop up in range sizes like 1T-3T, which indicates the item is designed for toddlers between the ages of one and three. These 1T range sizes I've seen frequently when shopping for toddler socks too.
It should be noted though that once you get into bigger sizes like 4T vs. 4, the toddler designation differentiates from "big kid" size clothes and usually indicates they are designed for a child possibly still in diapers. Because why would you not add another layer of confusion to toddler clothing sizes (*palm in face emoji*).
What is 12 month size?
12 month size is the baby clothing size for babies around 1-year old. It fits babies who are approximately 28.5 – 30″ tall and 21 – 25lb in weight.
Month-sizes like 12m and 18m indicate clothing designed for a baby. Baby clothes assume that your child is still in diapers. Diapered babies need clothes that are easy to remove and have extra space for the bulk of the diapers.
Baby sizes may also be designed with babies' limited mobility and period where they are learning to walk in mind.
What is 18 month size?
18-month sized clothes are sized for the average 18-month old baby. At Carter's, one of the biggest baby clothing brands, 18M clothes fit babies when they are between 25-28 lbs and 30-32″ inches long.
Like 12-month sized clothes, 18-month clothes are a baby size so they are often made for a child in diapers and those learning to walk. For example, you'll still find footed pajamas in 18-month size but they'll included grippers on the feet.
What are the differences between 1T vs. 12m clothing?
The biggest difference between 12-month vs. 1T sizes is that 12-month size is much, much more common than 1T size. Every major brand has a 12m size while 1T size is only occasionally seen.
When both 1T and 12m sizes are available, it helps to think of the differences between 1T vs. 12-month like you would the more commonly seen 24-month vs. 2T size overlap. 1T is likely to fit a little longer and leaner than 12-month size, with the assumption being that the baby wearing 1T is mobile and possibly out of diapers.
You may also notice a difference in how easy it is to take on and off clothes. Clothing designed for babies like 12-month sized items are made to be able to dress a baby easily, who may not be walking or who needs frequent diaper changes. You'll also see tops with head holes that allow you to take them off both up and down the body.
In comparison, some toddler clothes assumes a mobile baby who may even be potty trained. They can be more like little kids clothes without the extra baby accommodations like flexible neck holes and diaper space.
The picture below shows an example of size options for clothing item found on Etsy that has both 1T and 12-month sizes available.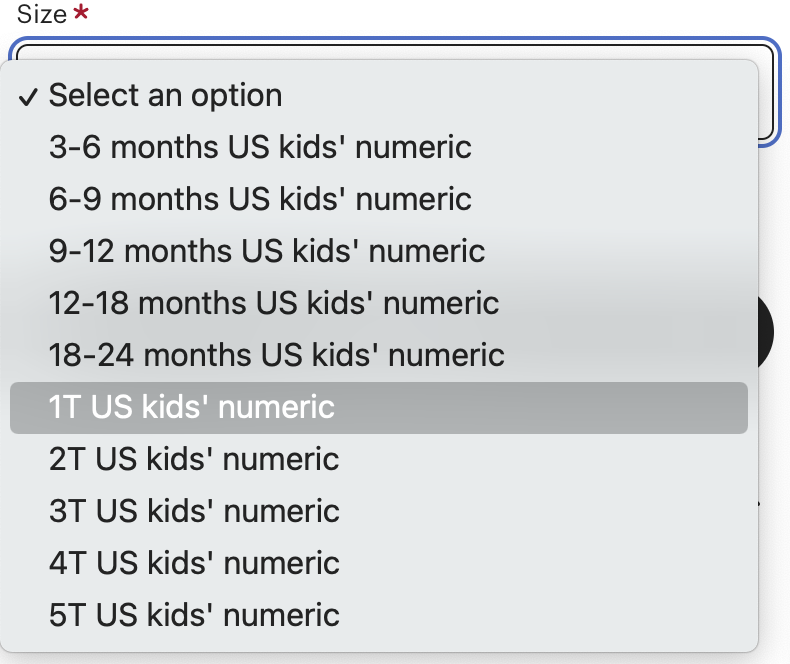 That said, most of the time you'll find a 1T size, it will be in lieu of a 12-month option. In those situations, 1T is likely equivalent to a 12-month size.
Either way, your baby is likely to fit okay in either 12-month or 1T size around the same time.
What are the differences between 1T vs. 18m clothing?
The difference between 1T vs. 18-month size clothes is more apparent than the 1T vs. 12m sizes. 18-month size clothes are likely to fit bigger than 1T clothes.
18m size is bigger because they are designed to fit one-and-a-half year olds, compared to 1T clothes which would fit babies around their 1st birthday. Babies grow a lot in these early days so you expect an 18-month old baby to be larger than a year-old baby.
If you are unsure whether 18m vs. 1T is better for your 1-year-old baby, I'd recommend sizing up and buying the 18-month size.
Where can you find 1T clothes?
1T size is fairly uncommon and you will not find them at most U.S. retailers. I have primarily seen 1T size on select Amazon and Etsy listings. You can see some example 1T sized items here and here.
You may also see 1T listed for range sizes, like this 1T-3T size pictured on the right from a Poshmark listing. I've also come across a 1T-2T size. These range sizes indicate that the item may fit a toddler between the age of one and two (2T) or three (3T) years old.
You'll also see 1T size or 1T range sizes for toddler socks, such as these socks (which are great socks by the way; and, our toddler has in fact worn the same pack the last three years from ages 1 to 3)
The major baby clothing brands like Carter's, Old Navy, Gerber and Children's Place do not offer 1T size. Instead, their sizes go 12-month, 18-month, 24-month and 2T. 2T is the first true toddler size available in popular brand-name baby clothes.
Conclusion: when should you buy 1T baby clothes?
1T is a clothing size that is infrequently used for babies around 1-year old. You may happen upon it if you're buying from small brands on websites such as Amazon and Etsy. It also pops up as range sizes like 1T-2T for both clothes and socks.
If you come across 1T and there is no 12-month size available, you're safe to assume that it is the equivalent size and would likely fit a baby wearing other 12m clothes.
When you find the rare listing with both 1T and 12-month sizes available, this may indicate that the 1T is designed for more mobile babies and possibly cut longer and leaner for less diaper space. That said, it is also advisable to check the size chart since sizing varies a lot by brand.
When deciding between 1T vs. 12-month or 18-month size, I'd recommend sizing up to the 18-month size. Babies grow so fast that they'll be in the larger 18-month size before you know it and you'll get more bang for your buck with a longer wear time.
Also, remember that baby clothing sizes are just a number and as your baby grows, the size they're wearing may not match their age perfectly. Our baby is currently wearing clothes ranging from 6-month size (pants) all the way up to 18-month size (footed pajamas).
Your baby could easily be wearing multiple sizes like 1T, 12m, and 18m all at the same time so pay more attention to fit than the size on the tag.
Looking for more baby clothing posts? Check out: