What is 6X Size? Guide to 6 vs. 6X Kids Clothing Sizes
This post may contains affiliate links. As an Amazon Associate, I earn from qualifying purchases. Read the full disclosure here.
Are you confused by size 6X and how it differs vs. regular size 6? Then you've come to the right place. Below you'll find a detailed guide to figuring out the best size 6 clothing for your kid so you'll easily be able to decide between 6x vs. 6 size clothes.
You learn a lot of things when you become a parents. One thing I have learned is that figuring out kids clothing sizes is more complicated than it should be.
It starts early too, when you have to figure out the difference between newborn and 0-3 month size clothes. You know, because you'd think 0 months means the same thing as newborn (spoiler alert: it doesn't).
And then it happens again when your hit toddler age and realize that stores offer both a size 4T and a regular size 4. If that confuses you like it did me, check out my breakdown of 4T vs. 4 kids clothing sizes.
I thought that'd be the last of the kids clothing confusion. And then I spotted size 6X on the Carter's size chart. Yep, their sizes go 5, 6, 6X, and then 7, etc.
6X is the only X size you'll find on kids clothing size charts, which makes it extra confusing. And to make matters worse, it's only used for girls' clothing.
But don't worry, I'm a researcher who did the deep-dive into figuring out 6X so you don't have to. I've written extensively about these anomalies in kids clothings sizes and am back with another kids clothing size explainer for 6X (for examples of my other guides, check out my guide to sizes 5 vs. 5T vs. XS).
This time, we're diving into the differences between sizes 6X vs. 6 vs. 6T — yes, some stores have a 6T size too!
Before we dive in, don't forget to check out 17 Ways to Save Money on Kids Clothes.
Now, let's figure out size 6X.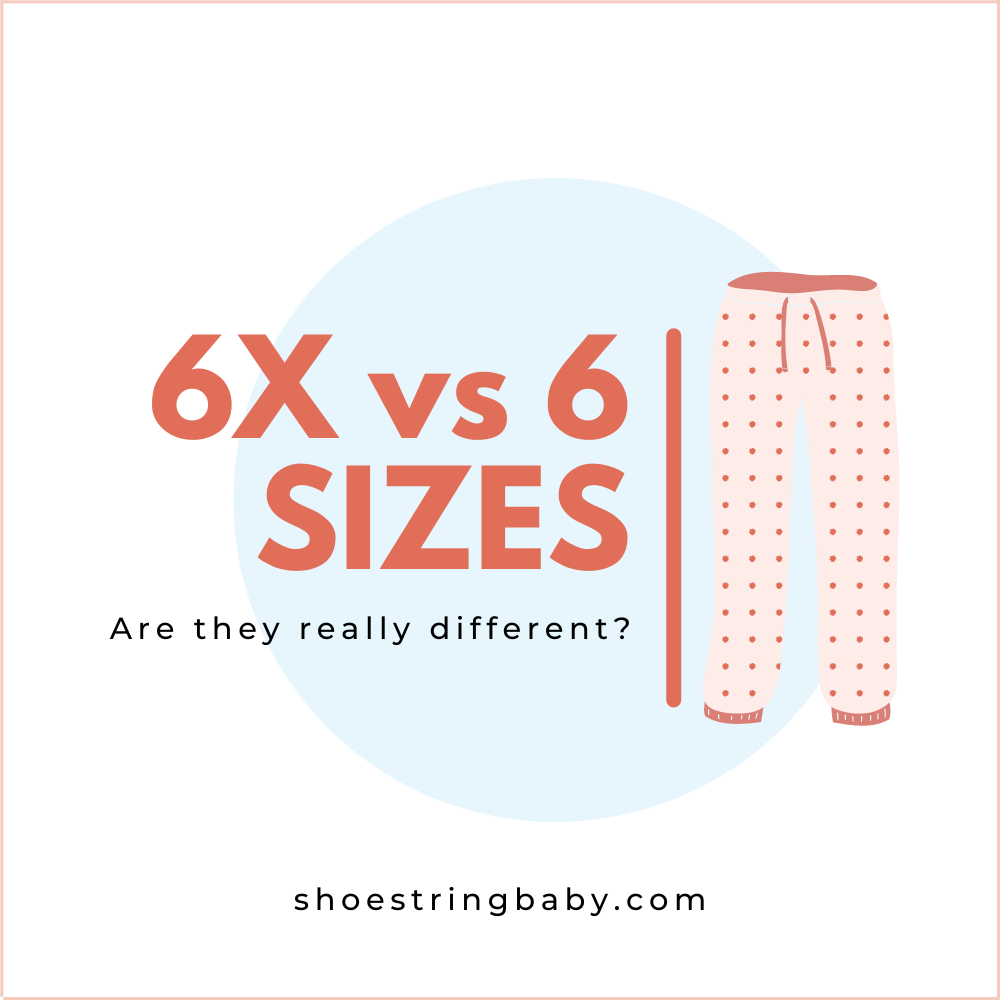 What is size 6X?
Size 6X is a kids clothing size that falls in-between size 6 and 7 specifically for girls.
Interestingly, 6X is only a size in girls' clothes. Boys clothes simply go from size 6 to size 7.
Size 6X is designed with a 6-year-old girl in mind, but it is slightly bigger than size 6 in case they've had a growth spurt.
Carter's, one of the biggest kids clothing retailers, describes their size 6X as "a size between six and seven" (source). Sizing options vary by store so 6X is not available in all brands.
The reason why size 6X exists is there is often a growth spurt for girls around age 6 (source on growth spurts). Boys generally don't have a growth spurt around this time.
6X size offers girls who have shot up in size the option to stay in styles for littler kids longer.
Size 7 is often the start of "bigger kids" clothing so they may not match the fashion sense of a 6-year old girl who needs bigger clothes because of growing. For example, this boutique describes size 6X as "little kid" and size 7 as "tween."
What is size 6?
Size 6 is the standard clothing size for children and is designed with the average 6-year-old in mind. Size 6 is available in both boys and girls clothings.
It is often the first size for little kids that does not have an equivalent toddler-size offering.
What are the differences between sizes 6 vs. 6X?
6X is generally a little bigger than size 6 to accommodate girls going through their 6-year growth spurt (growth spurt source).
A major difference between size 6X and 6 is that 6X is a girls' clothing size, while size 6 is used for both boys and girls (source: example size chart from Children's Place).
An easy way to think of the difference between 6X and 6 sizes is that 6X is essentially a half size between 6 and 7 for girls.
Another difference between sizes 6 vs. 6X is that size 6 is generally available at most stores. In comparison, size 6X is only offered by certain kids clothing brands.
Below you'll find an infographic I made to highlight the key differences between 6x and 6 sizes.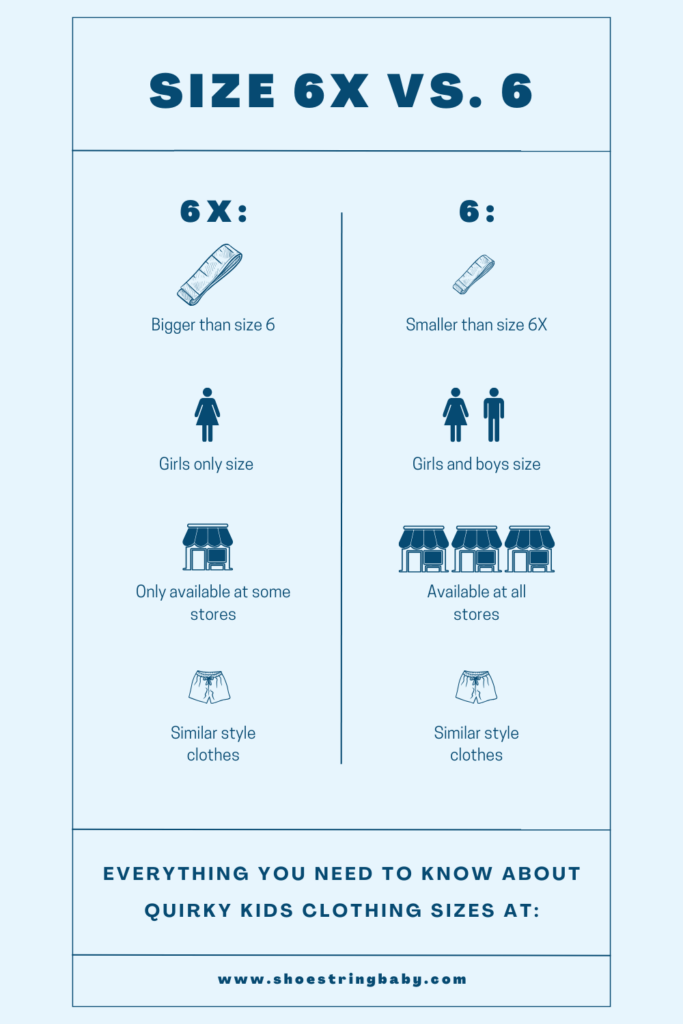 6X vs. 6 Size Chart Examples
To better highlight the difference between 6 and 6X, let's take a look at size chart measurements from big U.S. children's clothing brands.
These size charts help exemplify how 6X and 6 are the same and different.
Size 6 vs 6X at Carter's
Carter's is perhaps the biggest name in baby and toddler clothes. They also offer kids clothing up to size 14.
Carter's offers a size 6 and a size they label 6-6X. Per the size chart below, these sizes fit the same size child.
However, on Carter's guide to finding the right fitting clothes, they describe their 6X as being a size between 6 and 7.
Old Navy & Gap's 6 vs. 6T sizes
Old Navy and Gap do not offer a 6X size. However, they do run their toddler sizing up to 6T. Per the size chart, their size 6 vs. size 6T fit the same size kids.
Their regular size 6 is also equivalent to their small size for kids, so you'll find some items in the XS-L sizing system and some with number-sizes.
Note that Old Navy and Gap do not provide weight ranges once you hit their kids' sizes.
BONUS TIP: I've noticed when shopping for my kids that 6T sized clothes will often be cheaper than the same pajamas sized in 6/S, since their toddler clothes generally run cheaper than bigger kids clothes.
Cat & Jack sizes 6 and 7 slim
Cat and Jack is Target's house brand for baby, toddler and kids' clothing.
Their size chart is perhaps the most confusing to wade through because for girls they have two listings for 6X: 6X and 6X slim.
And, they also offer slim sizes that function similarly for children in-between sizes (source: Cat & Jack brand size chart).
So at Target, you'll have to choose between size 6, 6 Slim, 6X, 6X slim and 7 slim for a little girl.
And to make it even more confusing, some items are labeled with XS-L sizing system, with the 6 and 6X sizes equivalent to size small and 7 slim being a medium.
Here is a chart highlighting the comparison between 6 vs. 6X vs. 7 slim:
| | | |
| --- | --- | --- |
| | Height | Weight |
| 6 Slim | 45 – 47″ | 39 – 42 lbs |
| 6 | 45 – 47″ | 42 – 48 lbs |
| 6X Slim | 47 – 49″ | 42 – 46 lbs |
| 6X | 47 – 49″ | 47 – 53 lbs |
| 7 Slim | 49 – 51″ | 46 – 52 lbs |
Source: Target size chart (embedded on each individual item page)
Note, on some of their girls size charts there seems to be an error where 6X slim is listed twice. I am pretty sure one is meant to be 6X slim and the other regular 6X since the weights are different.
Children's Place size 6x vs. 6 size differences
At Children's Place, their 6X size is labeled "6X / 7" and is the size in-between sizes 6 and 8. Again, this 6X size is only on the girl's size chart. The boy's chart simply goes "6, 7, 8."
What about size 6T?
You may have noticed another sizing quirk with size 6: a few stores offer size 6T. Size 6T is considered a toddler size for clothing, as indicated by the 'T' marking.
I've written a complete guide to size 6T vs 6 so you can learn more. Since those searching out information on 6X are also likely to fit in 6T, I'm also offering a quick overview here.
Most brands stop their toddler sizes at 5T but a few places like Old Navy go up to 6T (source: Old Navy size chart). They are usually slightly smaller than regular size 6.
Generally, toddler sizes are used to indicate clothes that are suitable for young children still learning to dress themselves and possibly still in diapers.
The pants are more likely to have elastics so they're easy to take on and off. They will also have fewer buttons and zippers that are harder to manipulate when you are learning to dress.
What are the differences between sizes 6T vs. 6X?
6T is different from both sizes 6X and 6 because it is a toddler size. Toddler sizes accommodate kids who are developmentally younger, and often still learning to dress themselves or in diapers.
6T size will generally fit smaller than 6X. 6X clothes are less "littlest kid" styles than 6T, where you'll find more leggings, easy-to-dress clothes, and little kid patterns.
Like 6X, 6T is only available at a handful of stores like Old Navy.
Conclusion: Are 6 and 6X the Same Sizes?
6X and 6 sizes are not the same size — 6X fits a little bigger than size 6 and is only available in girls clothing.
Since girls tend to have a 6-year growth spurt and boys do not, 6X size gives them the opportunity to stay in little kids clothes long.
So, should you buy size 6 or size 6X? When it doubt, I'd recommend sizing up and going for a 6X if available.
The bigger size will give you more bang for your buck since your kid will be able to wear the clothes longer. Kids can grow so fast so any opportunity to save a little money on kids clothes is always welcome.
For even more ideas on how to save money on kids clothes, don't miss these clothes savings tips.
And since 6X vs 6 wasn't confusing enough, don't forget to review my guide on 6T size, which is also applicable to those who fit in size 6X.
---
Looking for more on clothes? Check out: