[DISCLAIMER: THIS POST MAY CONTAIN AFFILIATE LINKS, INCLUDING AMAZON ASSOCIATE LINKS WHERE I EARN FROM QUALIFYING PURCHASES. THERE IS NO COST TO YOU & THE COMMISSION HELPS SUPPORT THIS SITE]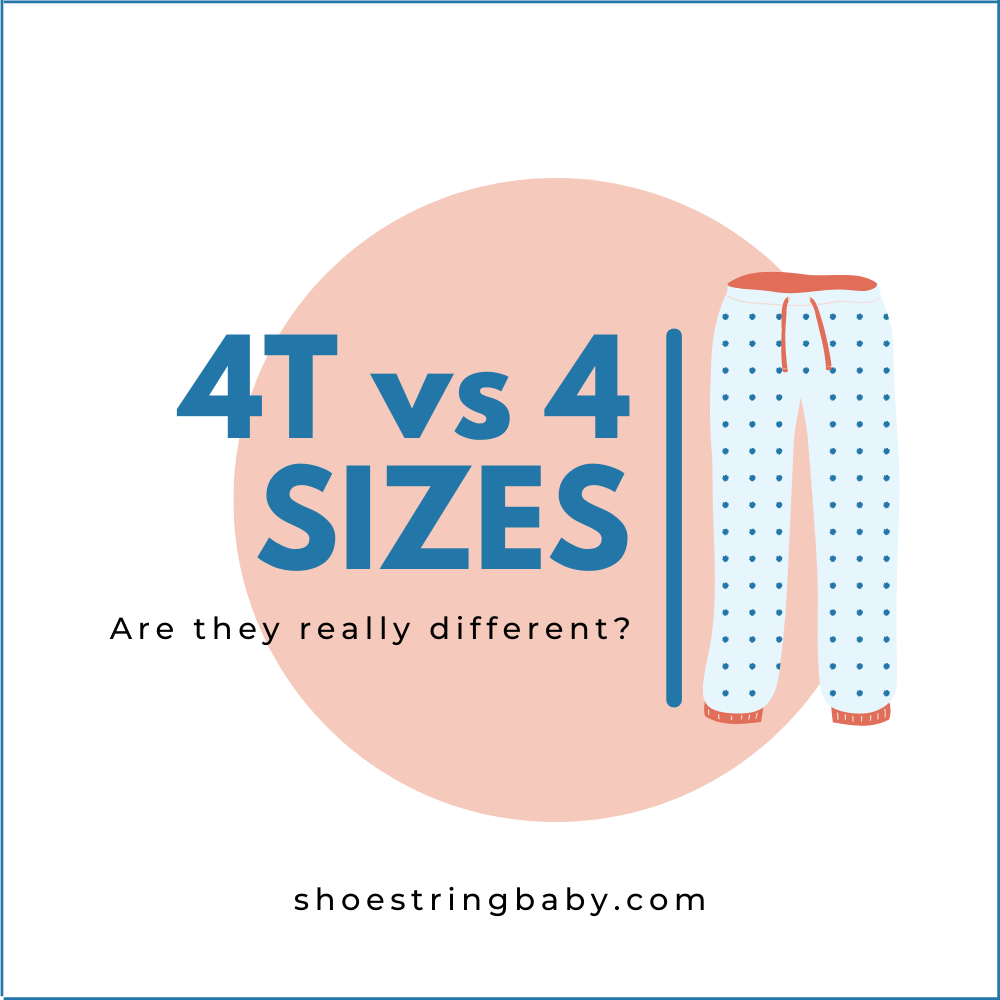 Confused about the difference between size 4T and 4 for your kid? I was too.
The other day I was browsing for matching pajamas for our babies (dressing them to match is one of my ultimate joys) and hit a stumbling block when I tried to filter by size. I had the size options of both 4T and regular 4.
Until that point, I didn't even know there was a regular 4 size. And clearly had no idea how size 4 differed from the 4T toddler sizes to which I was accustomed.
Apparently once you hit 4T, gone are the days of simple progressive sizing (excluding that awkward 24M vs 2T overlap). Many retailers carry both 4T and 4 sizes without clearly indicating the distinction between them.
Below you'll find a breakdown of 4T vs 4 sizes and a rundown of their differences. Then we'll go into some example sizings for 4T and 4 at common children's stores.
And don't forget to plan ahead and check out my guide to 5T vs. 5 vs. XS sizes and my guide to 6X vs. 6 vs. 6T sizes (because unfortunately 4T vs. 4 isn't the only confusing size!).
What is 4T Size?
4T size is a toddler clothing size. It is designed to approximately fit an average 4-year old. As a toddler size, it takes into account the possibility that the toddler is still in diapers.
They are also less likely to have buttons and zippers so they're easier for toddlers learning to dress themselves.
What is 4 Size?
Size 4 is the smallest size of "big kid" clothes. It also approximates the sizing for an average 4-year old; however, size 4 assumes the child is out of diapers.
Expect longer and leaner cuts, and buttons and zippers.
How Are 4T and 4 Sizes Different?
Generally, regular size 4 is a bit longer than 4T. They're designed for toddlers who are thinning out and becoming lanky little kids. 4T clothes tend to be wider which more easily accommodates diapers.
Size 4 items may have longer sleeve lengths and pant in-seams, where 4T bottoms will be roomier to fit over diapers. 4T bottoms are also more likely to be elastic or adjustable making it easier for new dressers and/or to get over diapers. In comparison, size 4 as "big kid" clothes more often feature zippers and buttons.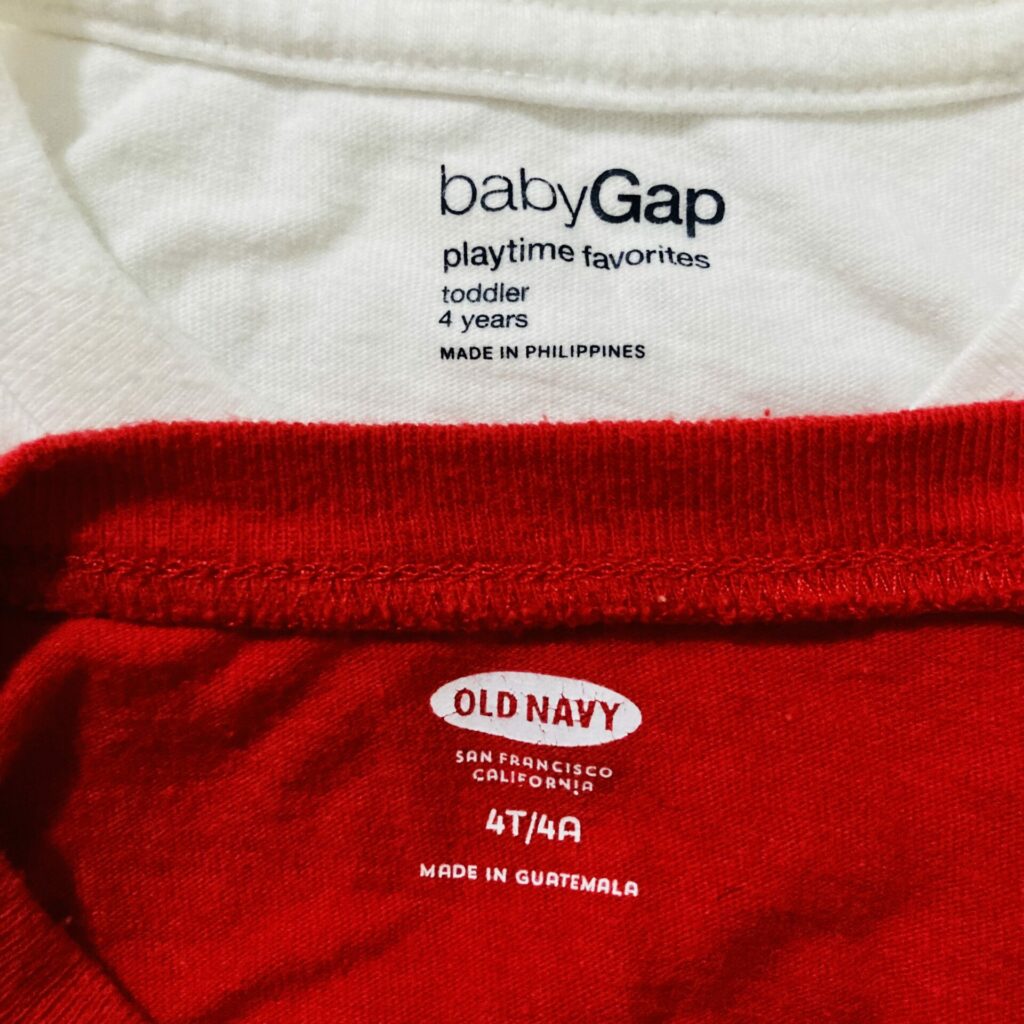 Overall though, most kids are fine wearing both 4T and size 4 because the difference is a subtle.
Exact sizing measurements also vary by store. Below you'll find a guide to the 4 sizings at common kids' clothing stores. These numbers help elucidate the difference, or really lack there of, between the 4T/4 sizes.
Related Post: How to Clean Used Baby Clothes
Carter's 4T vs 4 Size Differences
Carter's is perhaps the most well-known baby and toddler's clothing retailer in the States. In 2019, they were estimated to have captured a quarter of all baby clothes sales (source).
Carter's toddler sizes go up to 5T so there is overlap between the 4T/4 and 5T/5 sizes.
Here is the 4T/4 sizes comparison at Carter's:
| | | |
| --- | --- | --- |
| Size | Height | Weight |
| 4T | 39 – 41.5″ | 34 – 37.5 lbs |
| 4 | 40 – 42.5″ | 34 – 38.5 lbs |
| 4-5 | 42.5 – 45″ | 38.5 – 43 lbs |
Confusingly, Carter's also lists a size called 4-5 on its size chart. Poking around their website, I wasn't actually able to find anything for sale in that size.
Old Navy & Gap 4T vs. XS
Old Navy and Gap do not have a size 4. Their toddler sizes run from 2T to 6T. For big kids clothes, they jump to an XS, S, M and L sizing system. The XS-L sizing does not provide weights but the XS height overlap with 5T.
Here is Old Navy & Gap's 4T vs. XS sizing comparison:
| | | |
| --- | --- | --- |
| Size | Height | Weight |
| 4T | 39-42″ | 36-40 lbs |
| XS | 42-45″ | – |
You can use this extended toddler sizing up to 6T to your advantage to possibly save money. As of the writing of this article, identical "family pajamas" in toddler sizes were $10 while the kids' XS was $29.99.
Cat & Jack's 4T & 4 Comparison
Cat & Jack is Target's popular house brand of baby and children's apparel. It is popular for being durable and cute. I've been impressed at how our Cat & Jack clothes have held up against heavy wear.
Cat & Jack toddler sizes go from 2T to 5T and their children's sizes from 4 to 18, meaning there is an overlap between sizes 4T, 5T, 4 and 5.
Here is a comparison of Cat & Jack's 4T/4 size measurements:
| | | |
| --- | --- | --- |
| Size | Height | Weight |
| 4T | 39- 43″ | 32.5-37 lbs |
| 4 | 40-42″ | 33-39 lbs |
Interestingly, when you look at the toddler size chart it labels 4T as 4T/4 but the measurements for size 4 are slightly different when you look at the kids' sizing chart.
Children's Place and Gymboree 4T vs. 4
Children's Place owns its name brand and also the common Gymboree brand. They compete in the children's clothing market with their low prices. I've been surprisingly impressed by the softness of our Children's Place hand-me-down t-shirts.
Based on the size chart, Children's Place 4T and 4 fit the same size children. They also give measurements for chest, waist and in-seam that are exactly the same for 4T and 4.
| | | |
| --- | --- | --- |
| Size | Height | Weight |
| 4T | 38 – 41″ | 35 – 39 lbs |
| 4 | 38 – 41″ | 35 – 39 lbs |
Note that Children's Place manufacturing was involved in the tragic factory building collapse in Dhaka in 2013. Their website details their responsible sourcing policies but I was not able to find anything on change in practices since the disaster.
Conclusion: Are 4T and 4 the Same?
4T and 4 sizes have slight differences — 4T accommodates diapers and 4 is longer cut — but overall, your kid is likely to fit fine in both 4T and 4 sizes . They're designed for essentially the same size kid at most stores. For tall and thin kids, size 4 may work slightly better; stocky kids or toddlers in diapers may like the 4T fit more.
You may get a little longer wear out of size 4 since it is slightly longer/bigger at most stores. If your toddler is still in diapers, 4T will be the safer bet.
But, the 4T vs. 4 difference is subtle enough that I wouldn't be deterred from buying clothes in either size.
And finally, when in doubt, it is always best to size up when purchasing toddler clothes so you can get the most wear time out of each piece.
---
Related Posts: