12 Water Activities for Toddlers
This post may contains affiliate links. As an Amazon Associate, I earn from qualifying purchases. Read the full disclosure here.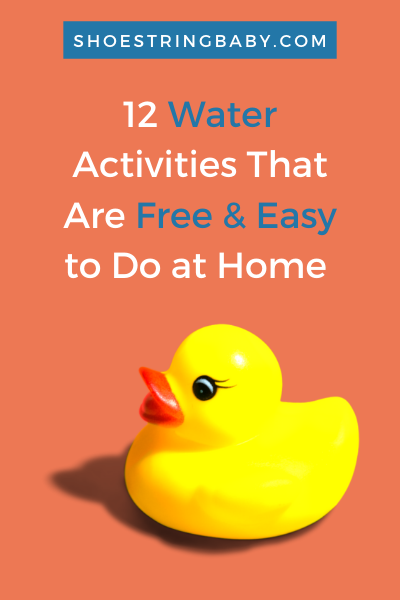 As a Floridian, I have been waiting for the moment when our baby could start swimming in the pool or ocean with us since he was born. While it is finally warming up enough for water play, it seems unlikely that pools near us will be opening soon. Not wanting to miss the summer while social distancing, I've rounded up ideas for budget water activities for babies and toddlers that are easy to do at home.
I had a few key things I was looking for in water activity ideas:
At-home water activities: Since our area is still under stay-at-home policies, I need home-based water activities for a baby. We live in the city and only have a parking pad, so the activities also had to work with smaller outdoor spaces, grass optional.
Free or cheap: I wanted easy water activities that I could do with stuff I already had around the house. I didn't want to buy something new, and I haven't seen used water play items available. Water activity gear for babies or toddlers like water tables and kiddie pools are in such high demand right now that they're sold out in stores and impossible to find secondhand in our area.


Tip: look for water play gear

for babies or toddlers

in the off-season for better secondhand deals. I was able to get a free water table by looking for one in January to beat the summer rush.

No added waste: I saw some activities that added items like glitter to the water. They looked beautiful but I did not want activities that would add to our waste. Instead, I looked for water activities that used food or decomposable natural items (like flowers) to add to the summer water play.
Food-grade / mouth safe add-ons only: We are squarely in the baby age where everything is going in our kid's mouth. I'm not giving him anything that isn't safe for him to eat, because he's for sure going to chew it down.
No major chocking hazard red flags: I wanted summer water activities that didn't have an obvious choking hazard since they were for babies or toddlers. For example, I skipped over water play that involved little airway-sized tapioca balls even though it seemed like a unique, fun idea. That said, I've seen my baby gag on things I would not expect so I treat everything that fits in his mouth with caution and always keep an eye on him for choking (since, again, everything goes in his mouth).
Below are a dozen summer water activity ideas for babies or toddlers that ticked off all these criteria. I hope that they help you save money and avoid having to buy new water play toys.
1. Easy Baby Pool Alternative
What you need: plastic storage container
I momentarily considered trying to find a plastic kiddie pool to use for some outdoor water play this summer. But I didn't want to buy something new and spend money on something we'd only use for one season. I also didn't want to have to store another big plastic thing in our space.
As an alternative, we are using a plastic storage container in lieu of a baby pool.
I like this alternative because it is:
Multipurpose: Plastic storage bins are multipurpose. Not only can they be used for storage, they can be used in many different water activities.
Save water: Since a bin is smaller than a full pool, it uses less water to fill.
Easy storage: Obviously, a storage bin is pretty easy to store when not in use.
Save a bath: 'Swimming' can double as a bath since it is not chlorinated like a real pool.
Easy clean-up: Easier clean up than a full kiddie pool if your kid has an accident.
This activity is straightforward. Fill up a storage container with some water and then put your baby in the water. Enjoy the simple outdoor water play with your baby or toddler.
2. Water Tub Sensory Play
What you'll need: plastic storage container, pretty much anything you can think of to float in the water
Another great use for a plastic storage container – add variety to water play by floating things like fruit or flowers in water in a plastic tub. There are pretty much endless options for things you could add to water to entertain your baby, such as:
Fruits: kiwis, oranges, grapefruits, lemons, limes, watermelon, cranberries
Vegetables: cucumbers, herbs like mint, ginger
Plants: leaves, sticks, flowers
Nature items: pebbles, large rocks, shells
Toys: bath toys, foam toys, bath books, tiny figurines
Household items: cups, bowls, silverware, lids, measuring scoops
You can also mix and match items to add a mini-lesson about density for older kids. Try this with lemons and limes. While they look similar, lemons float and limes sink because limes are denser. Adding nature items like flowers or rocks can include a bonus activity where toddlers collect the items first.
Why I like this activity:
Anything goes: you can add pizzazz to a tub of water with pretty much anything you have handy.
Edible options: mouth-safe activities are always a win for us.
Free: you don't have to buy anything for this activity. If you don't have a bin, you could also use a bowl.
via Hands on as We Grow
What you'll need: ice, bowl
I included this water activity as a reminder that when it comes to babies, the simplest thing counts as play. This one is too easy – pop some ice in a bowl and let your baby go nuts.
I like this activity because:
Free: all you need is a few ice cubes and a bowl.
Easy clean: just throw a towel down first if you are inside and there is essentially no clean up.
So simple: it's a total no brainer.
4. Colorful Ice Water Play Activities
What you'll need: food coloring, ice, some kind of container
If you want to step it up slightly from plain ice, you could add a little food coloring to the ice to make it different colors. Simply freeze colored ice at least a night before you want to play with it. If you don't have ice trays, you can freeze bigger cubes in cups.
In an example by Learn Play Imagine, they used the colored ice in a baby pool. If you go this route, remember that if you have a ton of ice it'll cool the water down. It also will release color pretty quick so you may want to wait until your baby is in the mix to put in the ice.
What I like about this water activity:
Little to no cost: a little food coloring goes a long way.
Easy clean: if done outside (and with a preferably unclothed baby).
Lots of possible ways to water play: in a pool, in a bowl, just the ice, "painting" paper, etc.
5. Hidden Object Frozen in Ice Water Activities
What you'll need: pretty much anything small, ice, container
If you don't have food coloring, an easy permutation on ice play is to freeze something in ice instead. I found a lot of examples online that froze toys in ice but since we've yet to acquire small toys, I prefer freezing natural objects instead.
For example, Happy Toddler Playtime had a nice activity where they froze rocks in ice for water play. This is great because this could be a double header activity for toddlers. First, you go foraging for rocks. Then you use those rocks for this water activity. If rocks aren't your thing, this scavenger hunt-turned-water-activity would also work great with flowers (check out a really pretty example of frozen flower ice cubes at Crafts on Sea).
Given my kid's age, I'm going to freeze fruit pieces in ours. The above list of objects to float in water also works for ice ideas.
What I like about these water activities:
Versatile: you can freeze pretty much anything you have.
No gear needed: even if you don't have an ice tray, you can freeze in cups.
Clean-up level is adjustable: if you don't want to deal with clean-up, freeze something like rocks instead of sticky fruit.
Involve toddlers in the set-up: scavenge for things to freeze as a bonus activity.
Edible: if you freeze food, you don't have to worry about what your baby is shoving in her mouth.
via Toddle Approved
What you'll need: cups for freezing larger ice cubes, something to act as a slide (e.g. pool noodle, storage container lid). Optional: stick or straw for sail mast, or food coloring to identify different "boats"
Another spin on ice as a water activity. Basically, you freeze larger ice cubes in a cup and then race them down some type of incline.
In the Toddler Approved version, they put straw in the cups to make little sails (bonus activity: decorating the sails) and then raced them down a pool noodle cut long ways.
If you are similar to me and don't want to use a pool noodle, a plastic storage bin lid propped up on a chair also works as the racing slide. Alternatively, you could lay down a plastic shower curtain liner and do a flat race where your baby or toddler has to push the ice boat to the other end of the sheet. Plastic shower liners can be easily washed in the washing machine after.
I also don't want to use straws so instead of making sails, you could dye the ice cube boats different colors so toddlers can identify which boat is theirs.
Why I like this activity:
Fun twist on ice play: racing adds an activity. With older kids you could also drop in a little physics in there too.
Easy set up: all it takes is freezing ice before and propping up a lid to be off to the races.
Via What Do We Do All Day
What you'll need: straws, some type of water proof surface
This water activity is one for toddlers. Put water drops on a surface and blow them around with straws. In the What Do We Do All Day version, they use wax paper as the surface.
If doing this outside, I'd use a shower curtain liner for a big version (and for hills and valleys to blow over on grass). Inside, you could also do it on a cookie sheet or a baking pad. To substitute straws, kids could try blowing on the drops directly.
Why I like this activity:
Dexterity: this water play requires kids to wield a straw and regulate their blowing force to move the water.
Exciting: adding a race element is often fun for kids.
Simple set-up: all you have to do is drop a little water down to start racing.
via Inspiration Laboratories
What you'll need: something waterproof to write letters and numbers on, marker, three buckets
For older toddlers, this is a fun activity that involves "racing" and practicing letters and numbers. In one water bucket you place all the letters and numbers, and on the other buckets you label whether it is a bucket for numbers or letters. The toddler then fishes out a piece and 'races' to the match it to the right bucket depending on what they pulled. The Inspiration Laboratories link has pictures of the set-up.
In their version, they cut up a foam sheet and wrote the letters and numbers on the pieces. Since I don't have foam, I plan to cut up old bubble wrap shipping packaging that we've received. This would also work great with bath tub letter toys if you have them already.
What I like about this activity:
Educational: kids practice their numbers and letters
Adaptable based on age: you can increase the difficulty of the game to match your kid's level
Exciting: the race element adds to the excitement of this water activity.
via Busy Toddler
What you'll need: bowls, cups, or pitchers
Here is another great example of keeping it simple with a water activity. All you have to do is set up some cups or pitchers with water and other empty containers in which to pour.
In the Busy Toddler version, she contained the pouring in a big plastic storage container and used food coloring to have different color water to mix. Since it is summer, we'll try this water play outside without the storage container. If you have a grassy yard, you could also put down a shower curtain to play on.
What I like about this activity:
Works on a skill: my kingdom for my kid to learn how to handle cups and bowls of liquid without spilling them everywhere.
Free: you can use whatever containers you have around the house for this water activity.
Easy clean up: especially if you use plain water, clean up is minimal.
Via Views from the Step Stool
What you'll need: plastic container, corn starch, dish soap, blender, food coloring (optional).
This activity emulates water in that you make "sea foam" for your baby or toddler to play with. Check out the Views from the Step Stool link for the full recipe but basically you blend corn starch, dish soap, water and some blue food coloring to make the foam.
Once you blend it up, pour it in the container and if you have any water themed toys, you can put them in the "sea." This is an activity you'll want to do outside for easier clean up.
Why I like this summer activity:
Fun: little kids will be into the novelty of the sea foam.
Save a bath: they'll be covered in soap after so they'll get a quick rinse and be good to go.
Easy: it takes about 10 seconds to make this in a blender.
Via Stir the Wonder
What you'll need: rag, spray bottle
These last two activities are maybe the best of them all because they involve your kid cleaning for you. For this activity, you set your toddler up with a window washing kit and set them loose on the windows in your house. If your outside windows are low enough, this could also be an outdoor activity.
For the cleaning kit, any rag will do. You could also use paper towels but you may end up running through a lot of them. You can fill the spray bottle with plain water or whatever cleaning solution that is appropriate for your kid. We use diluted distilled white vinegar ourselves (about 2 parts vinegar, 1 part water).
Why I like this activity:
Teach your kid to clean: this water activity is productive – cleaning is a lifelong skill!
You already have the materials: you wash mirrors or windows yourself so you likely already have this equipment.
Enjoy this short-lived time where they want to clean: even if they're not that helpful, it is sweet.
via Busy Toddler
What you'll need: "dirty" toys, plastic container or bowls, soap, cleaning tools
And saving perhaps the best water activity for last is a toy washing activity from Busy Toddler. Set up a bin of soapy water and then give your kid cleaning tools like sponges, rags, or brushes. Busy Toddler suggests using bubble bath for maximum bubble play but regular soap should also do the trick.
Why I like this activity:
Actually clean toys for once: I know my kid's toys are covered in baby slobber but I rarely clean them. This activity gets a job done that is easy to neglect.
Free and easy: again, all it needs is a bowl and some soap to make this water play happen.
Teaches cleaning: and gives ownership of taking care of their toys over to the kid. Plus, they're more likely to actually get the job done with cleaning toys than cleaning windows.
What are your favorite budget water activities to do in the summer?
Pin this post to save it for later!
---