16 Toddler Books About Autumn & Fall Fun
This post may contains affiliate links. Read the full disclosure here.
Looking for books to get your toddler ready for the autumn season? Then check out this list of 15 children's and toddler books all about autumn and fall fun.
I grew up somewhere without real seasons so my first experience with autumn was beautiful, cozy and festive (and a little sad as I braced for the coming cold, let's be real). I deeply love Halloween so adding trips to see changing leaves, apple orchards and big pumpkin patches made it all the better.
This year my toddler is old enough to be aware of the changing seasons so I want to get him equally excited with toddler-appropriate books about autumn.
Below you'll find 15 great toddler books about fall fun that we've enjoyed reading. I purposefully curated this list so that nearly all the books were available at my local library. Hopefully you'll be able to find them to borrow as well.
Admittedly though, I find library books a little fraught for the toddler age bracket if they aren't board books. My kid's tiny and overzealous hands have definitely ripped library book pages before; so, I've also included links in case you're in a similar boat.
Full of Fall
by April Pulley Sayre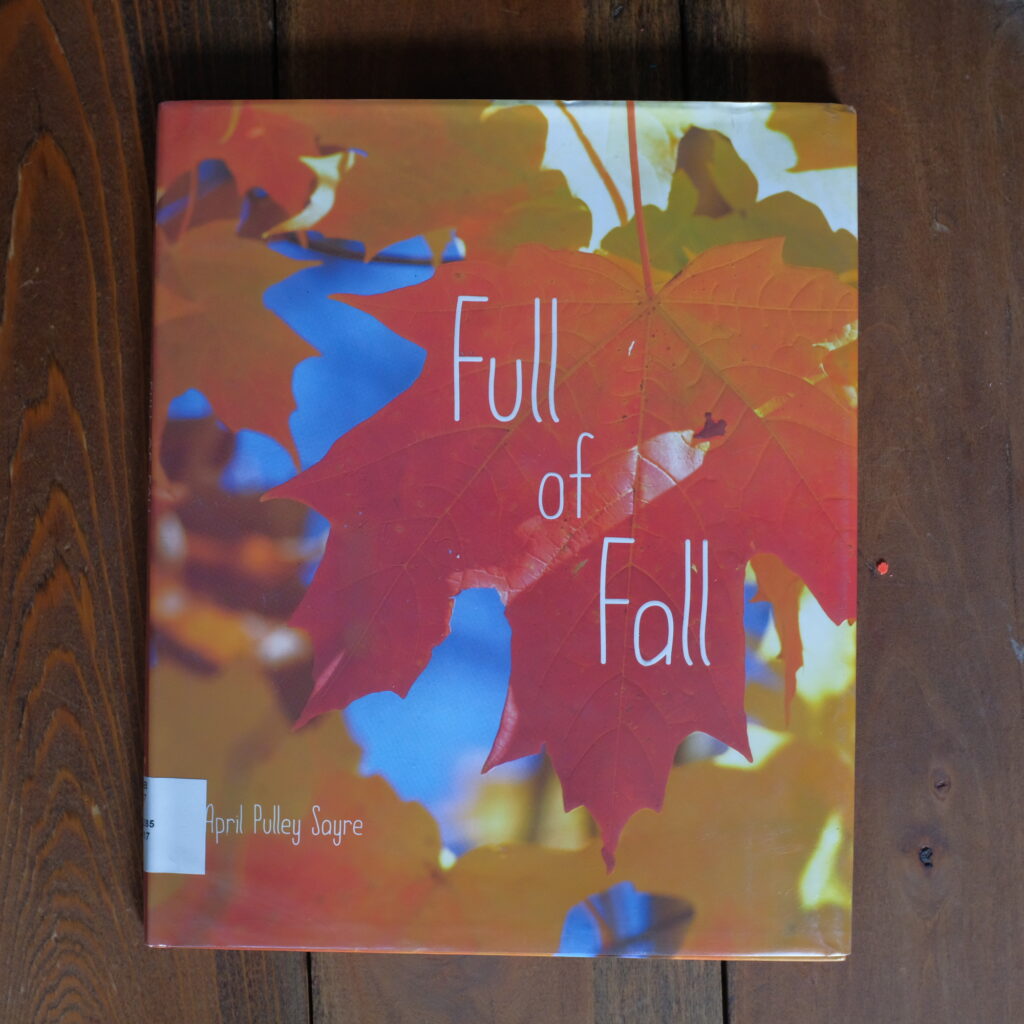 The first of our toddler books about autumn is Full of Fall, an autumn photography book for toddlers and kids. It follows the changing of the seasons from end of summer through the first snow of winter, told mostly through the trees and leaves. There are only a few words on each page but that is all that you need with the very engaging and detailed photos.
The pictures are vibrant and colorful, covering the whole page from top to bottom. The different layouts of the pictures and the casual font also work well. Overall, I really loved the visual aesthetic of this book.
First and Lasts: the Changing Seasons
by Leda Schubert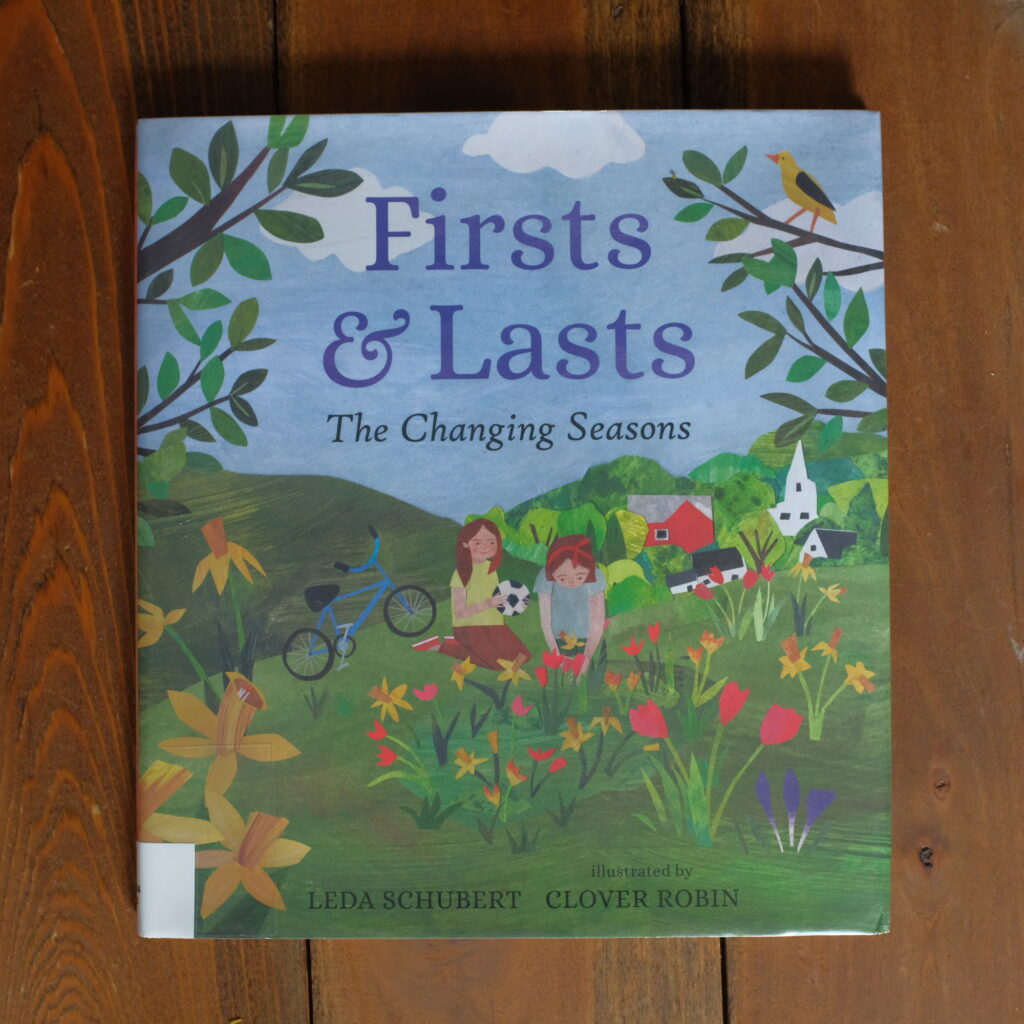 First and Lasts: The Changing Seasons explain all the changing seasons by talking about the ending of certain seasonal activities and the start of new ones. It includes more nuanced changes like stopping mowing in the fall and the first time having warm soup for lunch.
I really like the art in this book, it is unique and textured. It looks like it was originally 3D handmade art that is intricate and delicate.
Overall, I loved this book — both the text and the art felt high quality while still being simple enough for a toddler audience. It is my favorite on this list. Plus, my toddler always loves a book with a surprise truck or car appearance.
Autumn Leaves Fall
by Amber Hendricks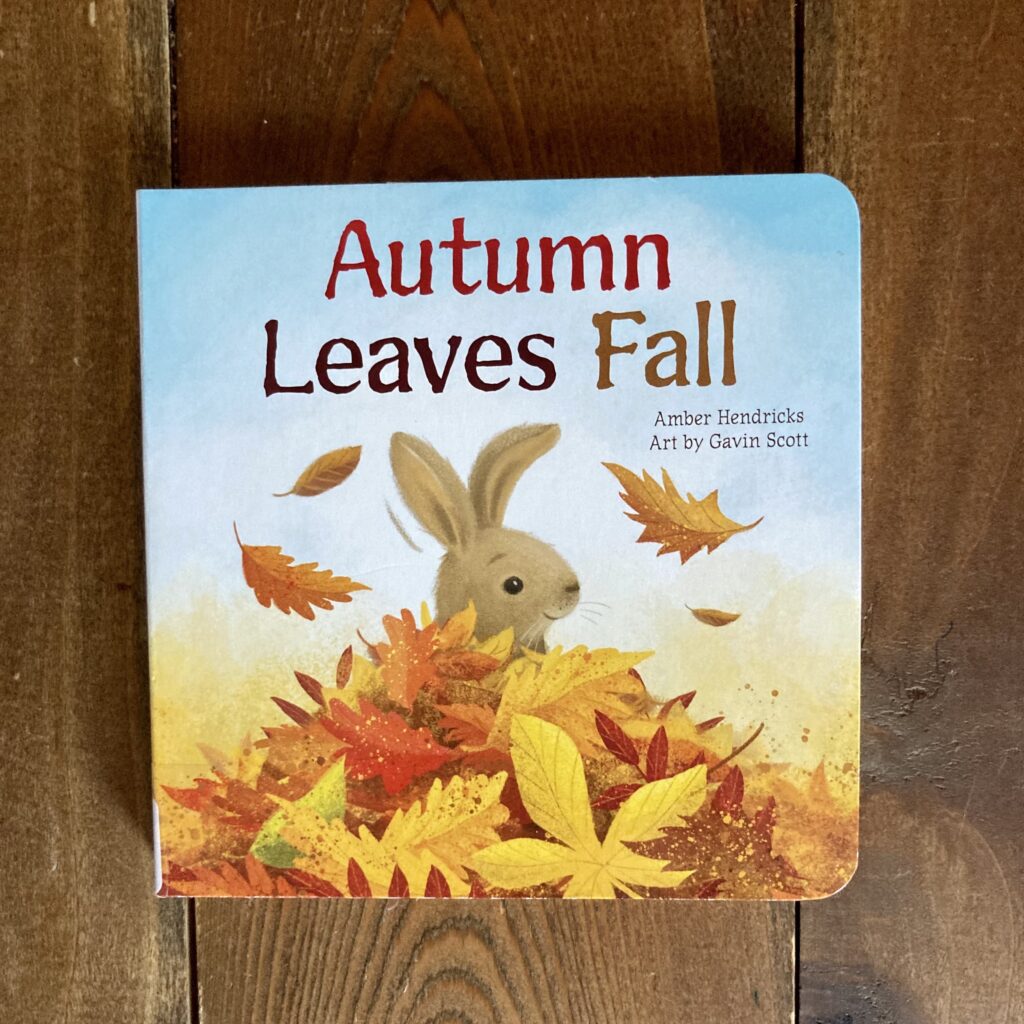 Autumn Leaves Fall is a simple board book with pictures of fall in nature. It tells the story of how leaves fall as animals like squirrels and bears play. I like how it explains leaves changing and falling without directly saying what is happening.
The text is simple, with only a few repeating words on each page. The illustrations are soft and the real highlight of this board book. Autumn Leaves Fall it'd be a great pick for a younger, animal-loving toddler.
Olivia Loves Owl
by David McPhail
Olivia Loves Owl follows a little girl and her friend, Owl, around for a day. The book doesn't specifically mention fall but Olivia and Owl spend the day during autumnal activities like playing in leaves and apple picking.
When it is bedtime, the book also gives a gentle introduction to nocturnal animals The book is short and the text on each page is simple so this would be better for a younger toddler.
In the Middle of Fall
by Kevin Henkes
In the Middle of Fall is a toddler book that celebrates the brief moment in autumn when everything is red, orange and yellow. Its soft illustrations go through quintessential autumn things like pumpkin patches and apple trees before all the leaves fall from the trees.
The art in this book is simple and warm. I particularly like that its lesson is to teach children to appreciate the beautiful impermanence of fall before the winter comes.
Hello Autumn
by Shelley Rotner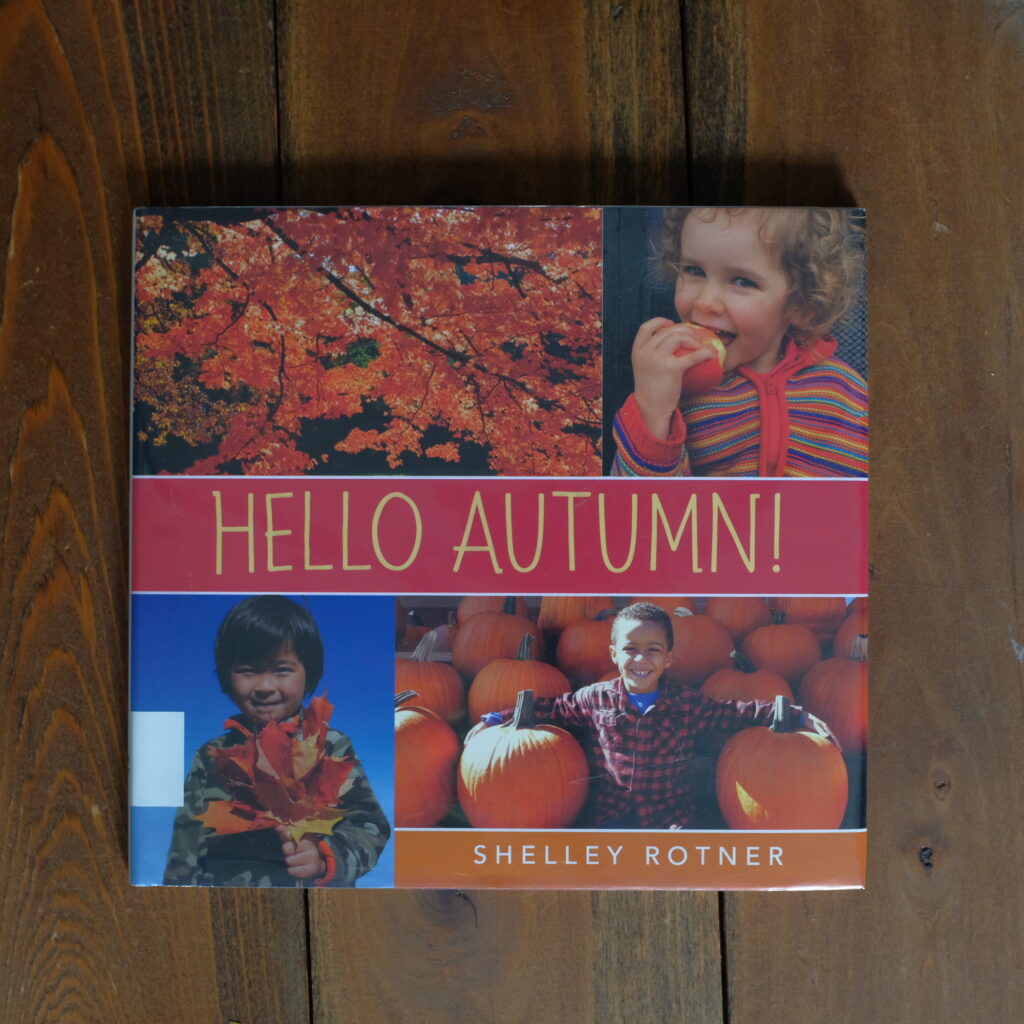 Hello Autumn! is another children's photography book celebrating the sights of fall. The book talks about all the changes in nature that toddlers can expect when autumn comes.
It goes through what different animals do during the fall time to prepare for the changing seasons. This fall book also explains to toddlers what people do with foods and crops to last through the winter months.
My favorite part of this book is that it includes pictures of real kids. My toddler loves books with real kid photographs, and they aren't featured in children's books nearly enough.
Pumpkins
by Gail Gibbons
Aptly titled Pumpkins explain to toddlers all about pumpkins. This board book explains the process of how pumpkins grow up from seeds. It also talks about different types of pumpkins and fun things you can do with pumpkins after they've grown.
This one would be a great pick to read before taking your baby to a pumpkin patch.
Fall Ball
by Peter McCarty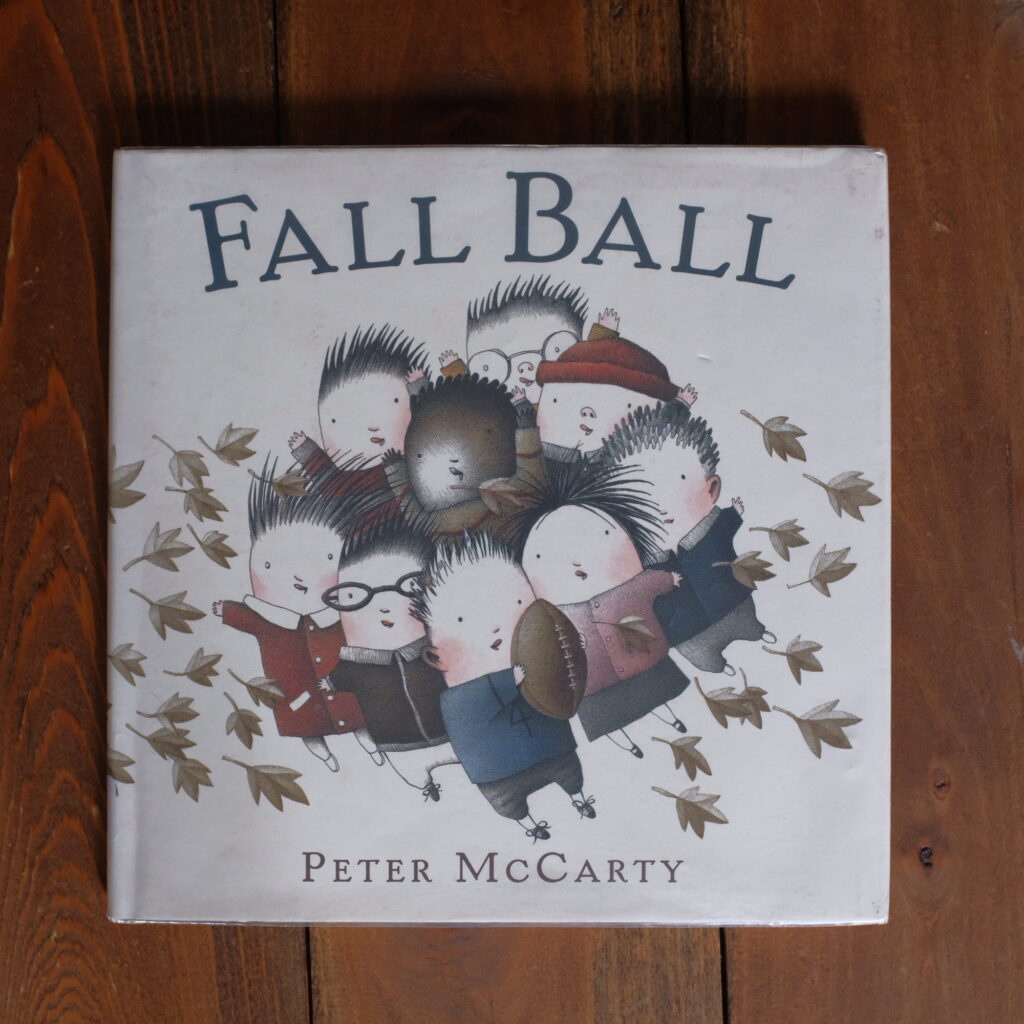 Fall Ball is about a group of school children spending a fall afternoon together after school. The illustrations are unique and subdued, and are peppered with autumn leaves and pumpkins.
The kids play football amongst the leaves and end their nights watching football after dinner. This would be a great toddler fall book for a sports loving family.
Walk and See 1, 2, 3
by Rosalind Beardshaw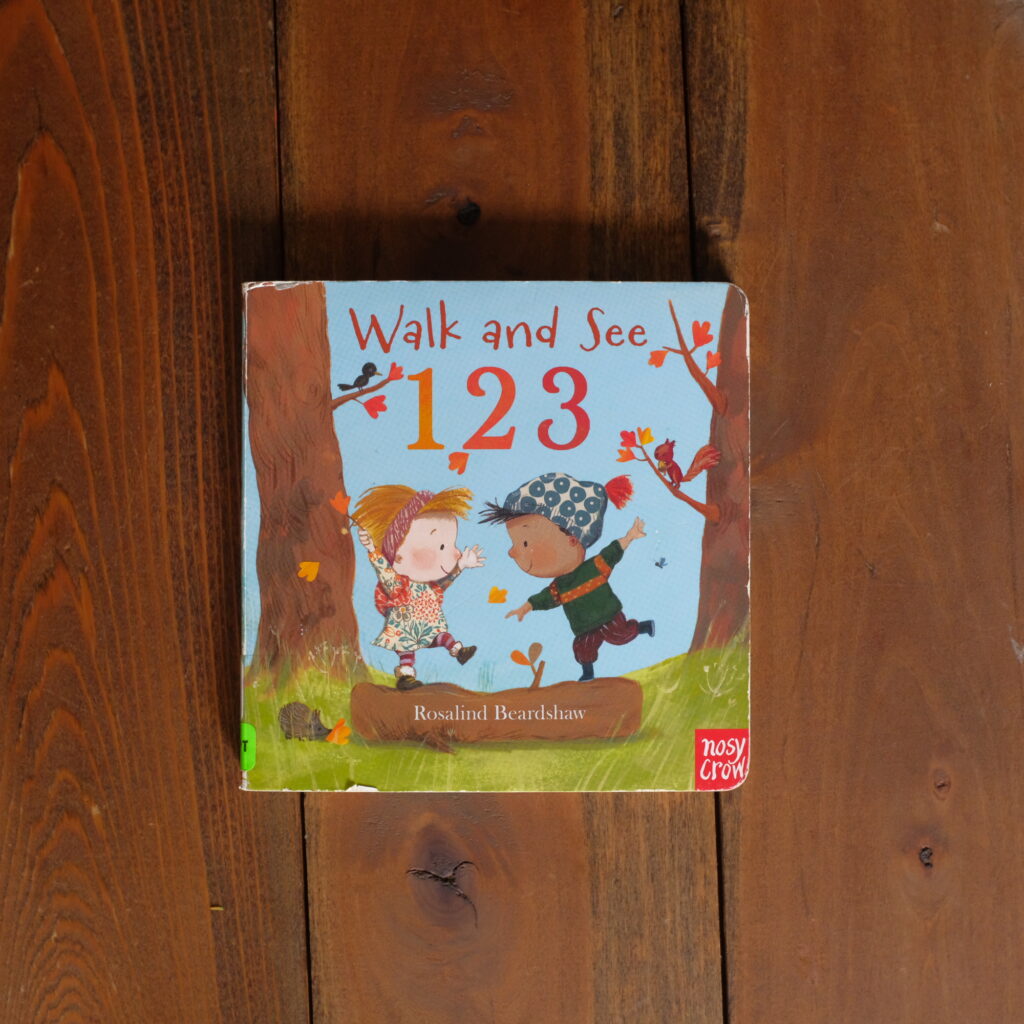 Walk and See 1, 2, 3 is a counting board book that follows two young kids through an autumn afternoon. The two little kids count the animals and nature items spotted as they go on a fall walk.
It counts up from 1 to 20 with each page highlighting a different fall scene, with warm and friendly illustrations. This book would be good for toddlers working on their numbers.
Duck & Good Honk! Quack! Boo!
by Tad Hills
Duck & Goose Honk! Quack! Boo! is a Halloween book that follows two bird friends on Halloween. Before Halloween night, their friend warns them about a swamp monster that leaves the birds apprehensive.
Throughout the book, they anxiously trick or treat while on the lookout for the swamp monster. Of course, it turns out to be their friend in costume and the avian friends finish their trick or treating together.
Apples and Pumpkins
by Anne Rockwell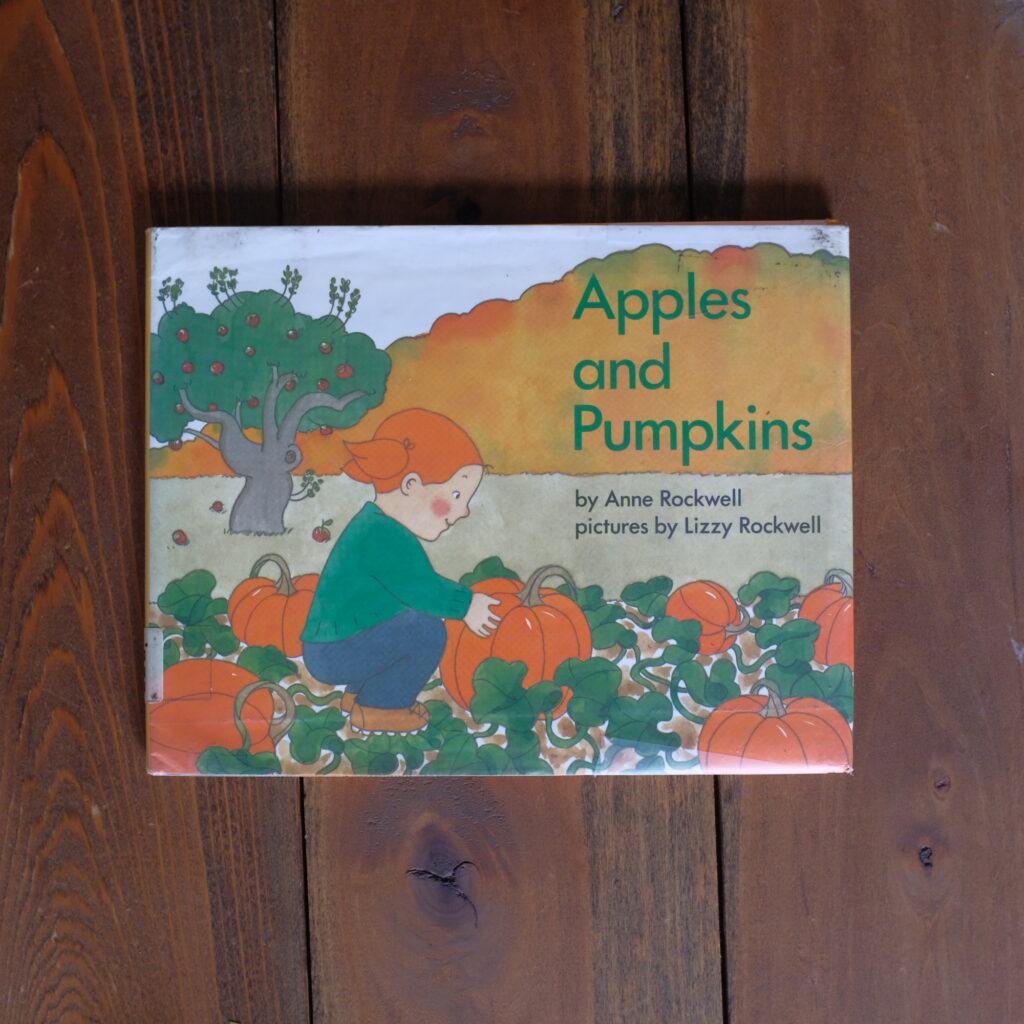 Apples and Pumpkins is the story of a family who goes apple and pumpkin picking in the fall. This book would be a nice primer for a toddler before their first fall trip apple picking. It also shows how pumpkins are turned into jack-o-lanterns after they've been picked.
I particularly like that the book ends by the family handing out apples to trick or treaters instead of candy. It is nice to have a kids book show alternatives to candy treats, especially for kids who may have allergies that complicate receiving candy.
Seed, Sprout and Pumpkin Pie
by Jill Esbaum
Seed, Sprout and Pumpkin Pie is a kids photograph book shows toddlers how pumpkins are grown. Each step of the germination and growing process is shown in clear and up-close photos.
The highlight of this book is the photos of real kids interacting with pumpkins (including people floating in giant pumpkins as boats!). I also really like that it closes with older pumpkins being fed to farm animals so they don't go to waste.
Hello, Fall!
by Deborah Diesen
Hello, Fall! is different from many other toddler books I've read in that it is written in past tense. It almost abruptly jumps into a past memory of a fall walk that a little girl and her dad took. They do favorite fall activities like eating apples, picking pumpkins and playing in leaves.
It was an interesting read being in past tense but I found it distracted from the story. Overall, it wasn't my favorite stylistic choice for a children's book.
Mouse's First Fall Toddler Board Book
by Lauren Thompson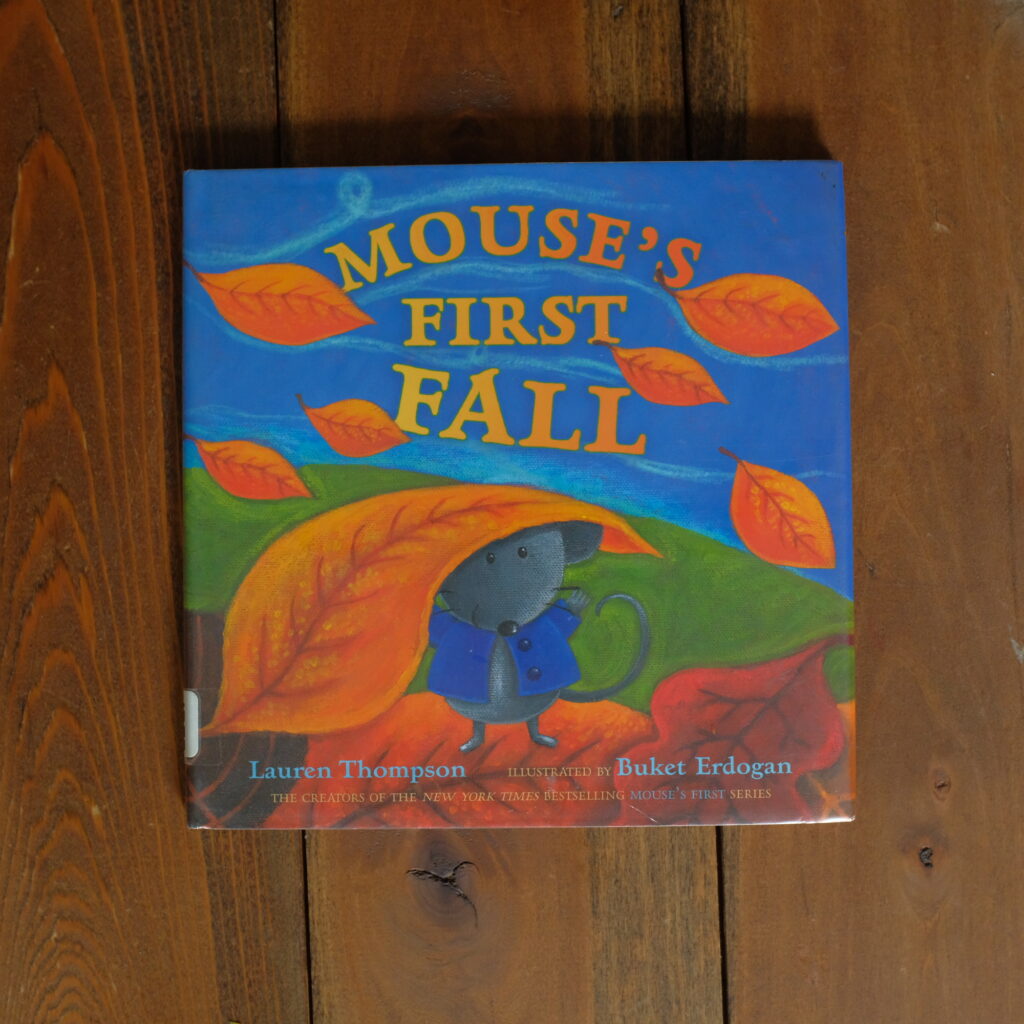 Mouse's First Fall is a fun take on the changing fall leaves. It follows two mice playing who are so small that they are the same size as the leaves. This gives a literal different perspective on the season change. Mouse's First Fall was a simple and cute kids' book, and the cute animal characters are likely to appeal to toddlers.
Goodbye Summer, Hello Autumn
by Kenard Pak
Goodbye Summer, Hello Autumn follows a little girl as she walks around and greets various things in nature as they get ready for the end of summer and the colder weather to come.
Nature responds to her greetings and explains to her the activities they are partaking. Some of these greetings include interesting tidbits like how dogwood leaves turn purple and which flowers are late bloomers.
The art in this book is really beautiful. The text is solid too but the art is the best part — it is unique, detailed and calming.
Trick or Treat Little Pumpkin
By Rosa Von Feder
Trick or Treat Little Pumpkin is a finger puppet board book about the fun things Little Pumpkin can do on Halloween night. The text has a nice flow to it and the puppet makes the book super engaging to even the youngest toddlers.
This is one of my favorite toddler books about autumn because it was the very first book that our baby really loved. He had just turned one and it was the first time that he would bring us a book to read over and over and over. We brought it back out when he was two and he still went nuts over it.
I also can personally attest to how sturdy this board book is. Our Little Pumpkin has seen so much abuse and is still going strong. We'll be bringing it out for our second baby soon.
---
Looking for more children's book inspiration? Check out our list of 15 Kids Books about Money & Savings.