Play Mats & Play Gyms: Do You Need One for Your Baby?
This post may contains affiliate links. Read the full disclosure here.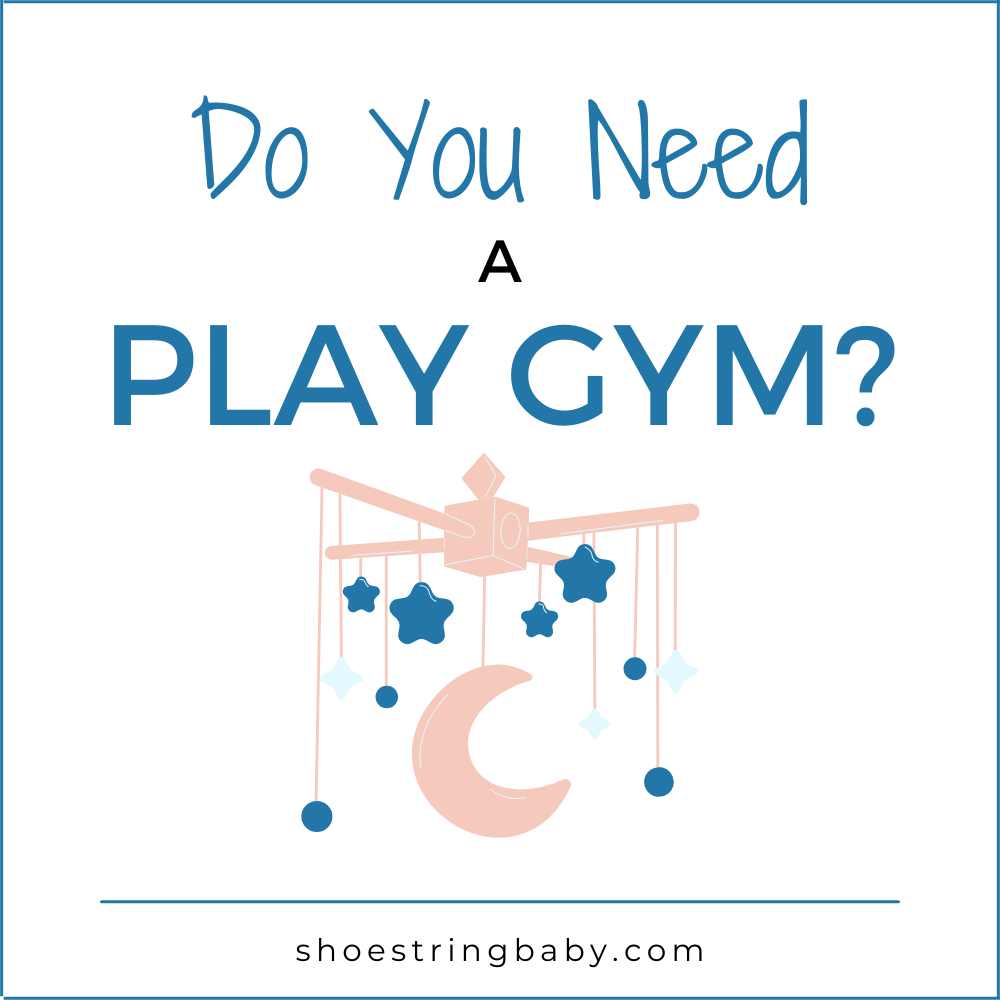 As you work on your baby registry, you may be asking yourself questions like "do I need a play mat for my baby?" Or "do I need a play gym?"
While many people like having a play mat or play gym, they are definitely not required baby items.
As a mom of two who has tried out multiple play mats and play gyms, I'm here to share my experience to help you decide if a play mat or play gym is necessary for your baby.
I also spent many months using alternatives to play mats when we lived in a small space and were limiting our baby gear. Each of the alternatives you'll find below are things we personally used and tested.
Below you'll find an overview of what play mats and play gyms are. Then we'll dive into the pros & cons of play gyms and discuss some easy play mat and play gym alternatives. Let's dive in.
What is a playmat?
Before diving in, let's take a closer look what play mats and play gyms actually are. Playmats are floor coverings that provide a padded play area for babies. These mats add cushioning to make it more comfortable for your baby to hang out on the floor, and are great places for working on motor skills like tummy time.
Playmats provide cushioning and are made of easy-to-clean material so you can easily wipe away baby puke etc. Examples: Ruggish Play Rug and Skip Hop Play Mat. We personally ended up with a Ruggish and I love the padding for myself when I'm on the floor with the kids (I use it for exercise too!).
What is a play gym?
Like a playmat, play gyms are floor coverings with added toys or sensory stimulation that are used as play spaces for young babies. They are a great place to place your baby so they can play and move while you enjoy a minute not holding a baby.
When do you use a baby playmat?
Playmats that add cushioning to the floor are versatile and will likely be useful into toddlerhood. We started putting our babies on a floor play mat as soon as they came home from the hospital. And we still use a playmat in our 3-year olds room.
How long you use your playmat will partly depend on your baby and partly depend on what mat you buy. A simple playmat that provides cushioning on the floor, like foam tiles or bigger cushioned rug mats, can be useful well beyond the baby years. Our toddler loves playing cars on the road design on our Ruggish playmat and uses it almost daily still.
How long do babies use play gyms?
We started using our play gym within a couple hours of bringing our baby home from the hospital. While newborns won't appreciate the dangling toys or sensory elements because of their limited sight (source), playmats and play gyms are easy places to practice tummy time.
Babies sight improves in the first few months of life and before 4-months old, they are able to see far away objects like the toys hanging from a play gym (source).
Some play gyms, like the Lovevery gym, are designed to grow with your baby. According to Lovevery, their play gym is designed with 0-12m olds in mind but many toddlers use it longer.
That said, most standard play gyms will probably see less use once babies start crawling. Our baby was no longer interested in a play gym once they could move and explore by crawling.
Do you need a play mat or play gym for your baby?
Now, let's turn to the big questions: do you need a play mat? Is a play gym necessary for a baby?
Neither a play mat or play gym are required baby purchases. If you don't get a play mat or a play gym, your baby will be fine (and I provide some alternatives to play mats and play gyms in the next section).
If you live in a small space, want to keep your baby gear minimal, or want to save money, you can easily skip a play mat and play gym.
That said, play mats and play gyms fall into the "nice to have" category for a lot people. Below you'll find a list of pros and cons of playmats and play gyms to help you decide if they are right for you.
Pros of Playmats & Play Gyms
Safe and easy place to put your baby
Added cushioning for babies developing motor skills and strength (e.g. tummy time)
Easy-to-clean surface, great for keeping baby puke off your floors
Stimulation for baby with colors, dangling toys, and textures
Comfort for you while sitting with baby
Cons of Playmats and Play Gyms
Take up space
One more piece of baby gear to buy
Possible gassing-off of foam or chemicals
Colors often not aesthetically pleasing
May have special cleaning instructions
Easy alternatives available
Alternatives to Baby Play Mats
Many of the benefits of a playmat come from having your baby move freely on the floor. You likely have a number of things around the house that could double as a playmat or play space for your baby, such as:
Yoga mats
Rugs (preferably washable)
Blankets you can anchor with furniture or weight
Nugget Comfort Couch
Yoga Mats
I threw down a yoga mat one day on a whim — it was grippy, a little padded, easy to wipe down, quickly rolled out and folded up, and readily moved around the house. Most yoga mats are also machine washable, making them quick and easy to deep clean.
Yoga mats are also cheaper, more portable, and have more function after baby than traditional playmats. Two side-by-side yoga mats became our go to play space.
Rugs
Rugs can be a great alternative to play mats because they can have a life after the baby phase. If you opt for a rug, make sure you pick one that is machine washable since it'll likely see its fair share of baby puke.
We personally got these rag rugs because they're machine washable (and so much affordable than Ruggables). We have one in the kitchen that I wash every few weeks for the last couple years and it still seems like new, as long as you don't dry it. It is a little firm but my baby and toddler are fascinated by the textures and patterns in it.
Blankets anchored down
A soft, fluffy blanket can also make an easy play mat alternative. If you use a blanket, you'll want to make sure you anchor the sides of it down with furniture. Even in the newborn potato phase, babies wiggle around a lot and blankets easily get bunched up.
Nugget Comfort Couch
A Nugget Comfort Couch is a play couch that includes four foam pieces. The play couch can be used for building and play as babies grow. We absolutely love our Nugget and our toddler uses it every day (he also insists on sleeping on it instead of his mattress).
I like the Nugget as a playmat alternative because you'll get use out of it long after the baby phase. It is soft for practicing tummy time and the covers are machine washable. As your baby starts to move more, they can climb on it. ANd before you know it, they'll be a toddler running all over it like a maniac.
Play Gym alternatives
Next let's look at some play gym alternatives. Most of these ideas involve things you likely already have around the house, making them easy to try out.
Ceiling fan
Christmas lights
Crib mobile
Ceiling fan
We got rid of our first play gym because you first baby was so much more enthralled watching the ceiling fan than the play gym toys. If you already have a fan, this play gym alternative is already set up and too easy not to try.
Christmas lights
Using Christmas lights as a baby activity was suggested in one of my mom groups. Our second baby was the perfect age for this when our Christmas tree was up and she would happily lay under it looking at the lights.
Don't fear if you baby was not born around Christmas. You can take a box, put it on it's side and tape the lights up to the top. Then put your baby on the floor of the box and enjoy a few moments of rest. This is a simple DIY play gym.
Crib mobile
Instead of setting a mobile up over the crib, you could put it in your baby's play area and use it in lieu of a play gym.
Conclusion: is a play mat or play gym necessary?
You definitely don't have to buy a baby playmat or play gym. If you have the space and the resources, playmats and play gyms can be great places to put your baby. However, many of the benefits of playmats can be achieved with alternative things you have around the house, like yoga mats or rugs.
When deciding whether to add a playmat to your baby registry, consider the following:
Do you have space for a play gym or play mat?
Will a play mat provide enough value to justify the cost?
Do you want a playmat sitting out all the time?
How long will my baby use it?
For me, we gave away the play gym we had almost immediately because it took up space and was hard to store in our small apartment. Plus our baby was just as mesmerized by our ceiling fan as the dangling toys.
Related Post: Do You Really Need a Bassinet?
Once our baby was older, I actually saw more value in a playmat and recently got a big cushioned mat for our toddler's room. It provides padding as he tumbles around and it is more comfortable for me to sit on the floor with him (sometimes I even use it as an exercise mat). While I really love having our Ruggish playmat, I consider it a "nice to have" item and definitely not a baby essential.
---
And if you're wondering what other baby gear you can skip, check out my "do you really need a…" series: