Used Baby Gear Guide: What's Okay & What's Not Safe
This post may contains affiliate links. As an Amazon Associate, I earn from qualifying purchases. Read the full disclosure here.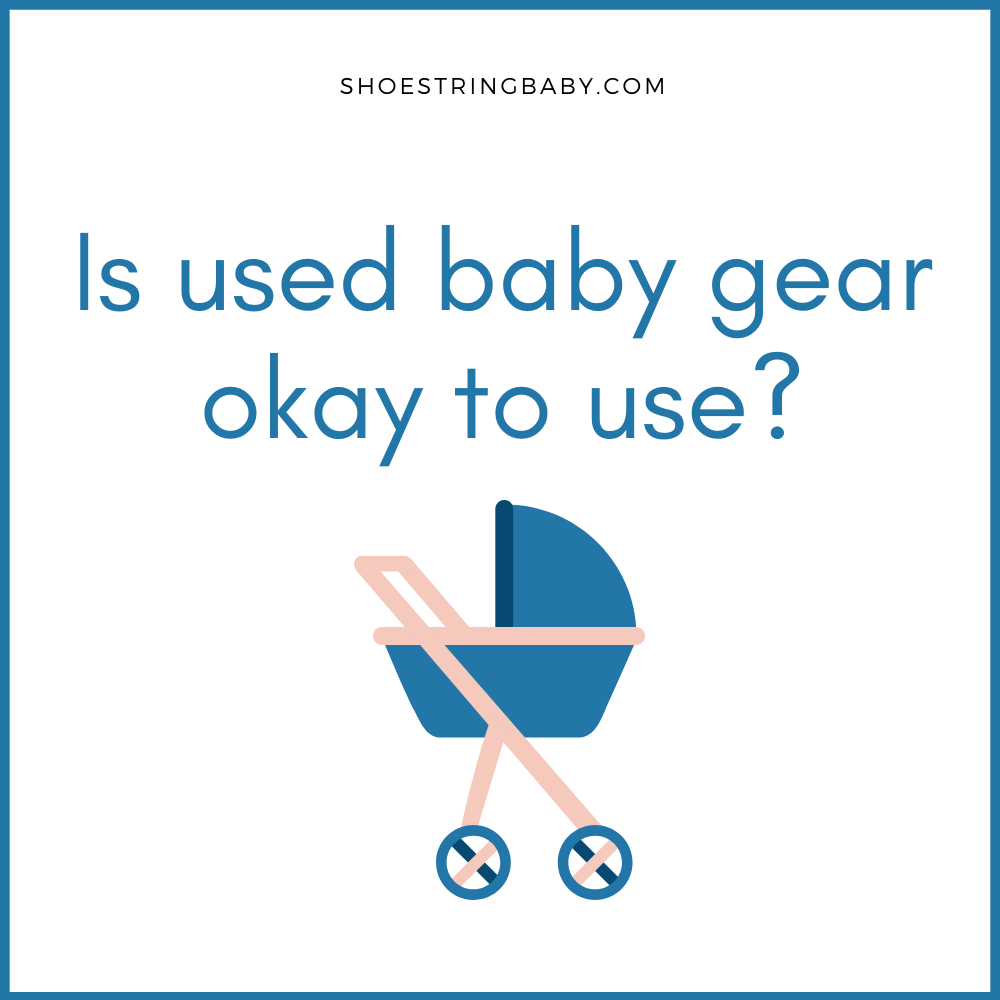 There are few things I love more than scoring a great deal on used baby things. Nearly everything we've got for our babies has been used. Used baby gear is a huge money saver, with the add bonus of being environmentally friendly too.
But, is it okay to use secondhand baby gear? And is all used baby gear safe?
Most things you'll use for your baby are perfectly fine to get used. However, there are a few things that you'll want to buy new to ensure it meets current safety standards. You may even be surprised by a few things that are better to buy new (spoiler alert: baby feeding stuff degrades with time).
Read on to find out what used baby items are okay, and what baby things should not be bought used.
Where to shop for used baby gear
Used baby gear is easy to find if you know where to look. Babies need a lot of gear, but only for a little while, so there is a lot of good condition secondhand baby stuff in circulation. Here are some places to look for used baby items:
Craigslist
Kids Swap Meets
Facebook Groups (i.e. local parents groups, buy nothing groups)
Facebook Marketplace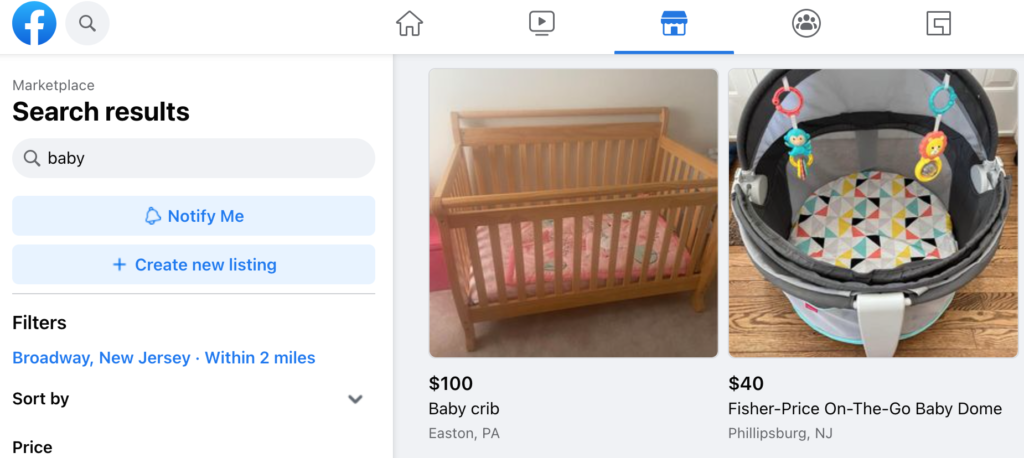 Yard sales
Thrift stores
Online resale sites (i.e. Mercari, Poshmark, ThreadUp)
Curb alerts
Friends & family
When people are past the baby stage, they want the bulky baby stuff out of their house ASAP, so don't forget to negotiate price if it seems high.
My favorite place to find used baby gear is in Facebook groups. I've found that people are more likely to give baby items away for free in these groups.
Considerations before buying secondhand baby gear
There are a few things you should consider before buying or using secondhand baby gear. Safety standards and technology are constantly improving, so not all used baby gear is equal.
Before buying a baby item used, ask yourself the following questions:
RECALLS: have there been any recalls for the baby item?
SAFETY STANDARD CHANGES: have safety standards been updated recently for this class of baby item?
ITEM AGE: how old is the item, and does it have parts susceptible to wear and tear or deterioration?
NEW TECH: has new technology been introduced that may be worth buying new?
CLEANING: how easy is the item to deep clean and sanitize?
BED BUGS: is the item a bed bug risk, or is it easy to do bed bug mitigation (like throwing it in the dryer)?
For bigger items like strollers, the easy way to do due diligence is to ask for a picture of the model number and manufacture date label. You can use this information to look for recalls or updates to safety standards.
Now, let's dive into the different types of baby items and whether they are okay used.
Is it okay to buy a used crib or bassinet?
It is not recommended to buy a crib or bassinet used (Consumer Reports). For me, baby sleep spaces are one of the few things thing that I buy new. Safe sleep is an utmost priority; new cribs and bassinets offer the latest safety features.
Safe sleep regulations are also frequently updated so you need something that meets the up-to-date guidelines.
A used crib or bassinet could have defects that are hard to spot on visual inspection. If the crib was used into toddler years, it likely has seen a lot of abuse that could compromise the integrity of the hardware.
A used sleep space is also more likely to harbor bed bugs than other secondhand items.
But before you buy a new crib, remember that you don't have to get traditional crib (and you don't need a bassinet either!). Our kids both slept in this kind of Pack 'N Play and it worked great — our first slept in it from birth to 18 months old.
Is it okay to use a used crib mattress?
Technically, there are no major red flags with a used crib mattress but I generally would not recommend it unless you know the person giving it away. Mattresses soften with use and with babies, the firmer the mattress the better.
With a used crib mattress, you may not know how long the mattress has been in use. It could have been used for multiple babies or in a toddler bed. If a toddler had its hands on it, expect a lot of abuse and jumping.
Second, some mattress materials are harder to clean than others. Babies are gross and crib mattresses get covered in puke, pee and poop. Mattresses also carry a bed bug risk.
There are many reasonably priced crib mattresses (like this one or this budget one that we have) that it'll be worth it for most people to buy new.
Is it okay to buy sleep accessories like sheets & sleep sacks secondhand?
Sleep accessories made from fabric like sheets or sleep sacks are fine to buy used. You'll just want to give them a thorough wash since they could have seen a lot of blow outs and baby puke in their past life.
It is also fine getting white noise machines used. If it is an app-based noise machine like the Hatch sound machine, make sure the previous owner un-syncs the device from their account before you take ownership.
Lastly, I've written a whole post on whether you should get an Owlet sock used, which monitors your baby's vitals while sleeping.
Is it safe to use a secondhand car seat?
No, it is not recommended to use secondhand car seats (Consumer Reports). Car seat safety is too important to take a chance on a used item with an unknown history. You need to be 100% confident that your car seat has never been in an accident.
Even if a car seat looks fine on visual inspection, a car accident could put stress on components and compromise its safety integrity.
Second, car seats expire so you need to know the manufacturing details of the model. Manufacturing information is also required to keep up to date on possible recalls.
Since you have to take the previous owner's word on a car seat's history and accident-record, it is best to only get used car seats from trusted loved ones.
Is it okay to get baby clothes used?
Yes, a thousand times yes — get your baby clothes secondhand. Used baby clothes are plentiful, easy to clean and affordable. Babies outgrow sizes so quickly that most baby clothes in the early sizes are in mint condition.
Plus, you don't want to pay retail for new clothes that your baby will outgrow in approximately 5-minutes.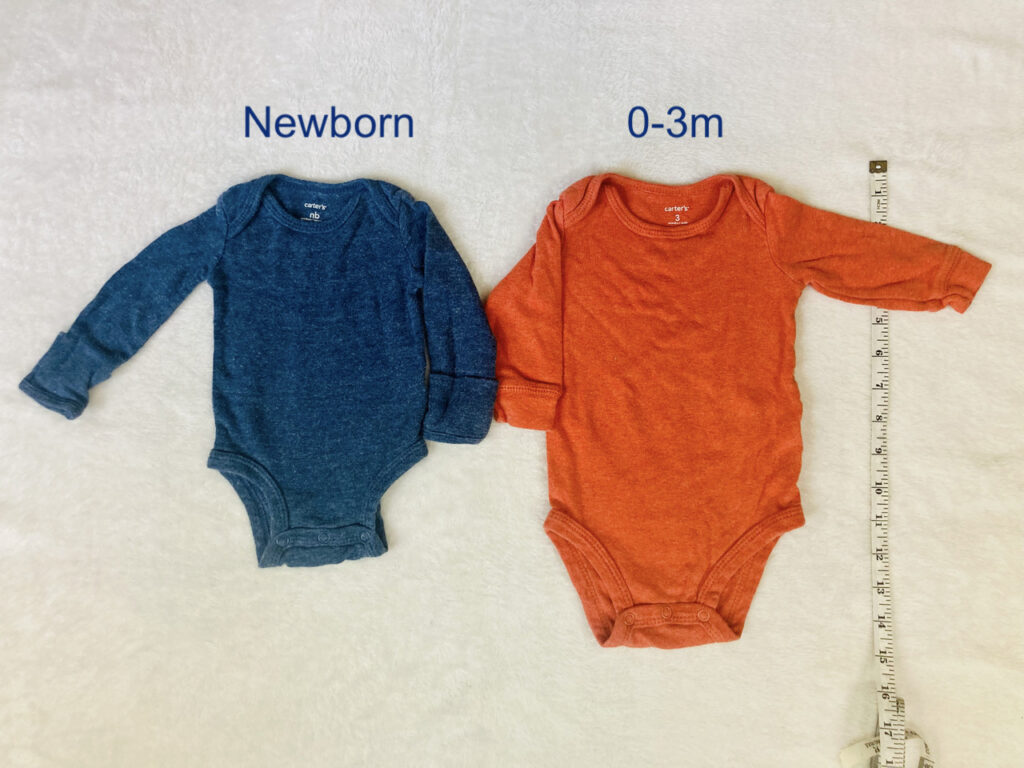 You're also likely to find used baby clothes that haven't even been worn yet, as people are often gifted so much baby clothes that their kid outgrows before they can use it. Everyone loves to give expecting parents 3-month sized clothes, they just do (for baby gift ideas that are actually useful, see our guide to practical & affordable baby gifts).
Once babies start eating solid foods and moving around, used baby clothes condition takes a dive. However, it is actually really nice to have "play condition" used clothes that you don't have to worry about staining or destroying.
Related Post: What's the Difference Between 4T and 4 Size?
Your baby will become a messy eater and stains sneak in even with the best of bibs (seriously, we use full long-sleeved bibs and somehow they still manage to get stuff on their clothes).
Is it okay to buy used cloth diapers?
Yes, but with caveats — it is perfectly safe to buy used cloth diapers but you'll want to make sure they're in good condition at the right price. Some materials in cloth diapers like elastics and microfiber inserts deteriorate over time.
Before buying secondhand cloth diapers, you'll want to check out my full guide to buying cloth diapers used. Generally, you'll want to know the condition of the elastics and outer shells, and skip buying synthetic diaper inserts like microfiber secondhand.
Be mindful of the asking price of used cloth diapers. Often they are not much cheaper than buying new, especially compared to beloved economical cloth diapers options like Mama Koala packs (my personal favorite) and Alva Baby diapers.
There's actually a whole buy/sell/trade cloth diaper community that can be very into rare cloth diaper patterns. Some sought-after designs actually sell for more than the price of a new diaper.
Make sure you bleach any used cloth diapers first. You may also need to laundry strip them to remove detergent build up.
Should you buy a used changing pad?
Yes, buying a secondhand changing pad is fine as long as you clean it thoroughly. Hard surface changing pads, like the Hatch pad or the Keerako Peanut, are a great option to buy used because they're sturdy, impermeable to baby fluids, and easy to clean. They also don't require additional gear like changing pad sheets or liners.
Soft changing pads are also safe to get used, though require a little more cleaning elbow grease. We have a secondhand Summer Infant changing pad that I cleaned with rubbing alcohol. I cannot tell you the amount of abuse we've put ours through and, shockingly, it is still holding up (pictured below).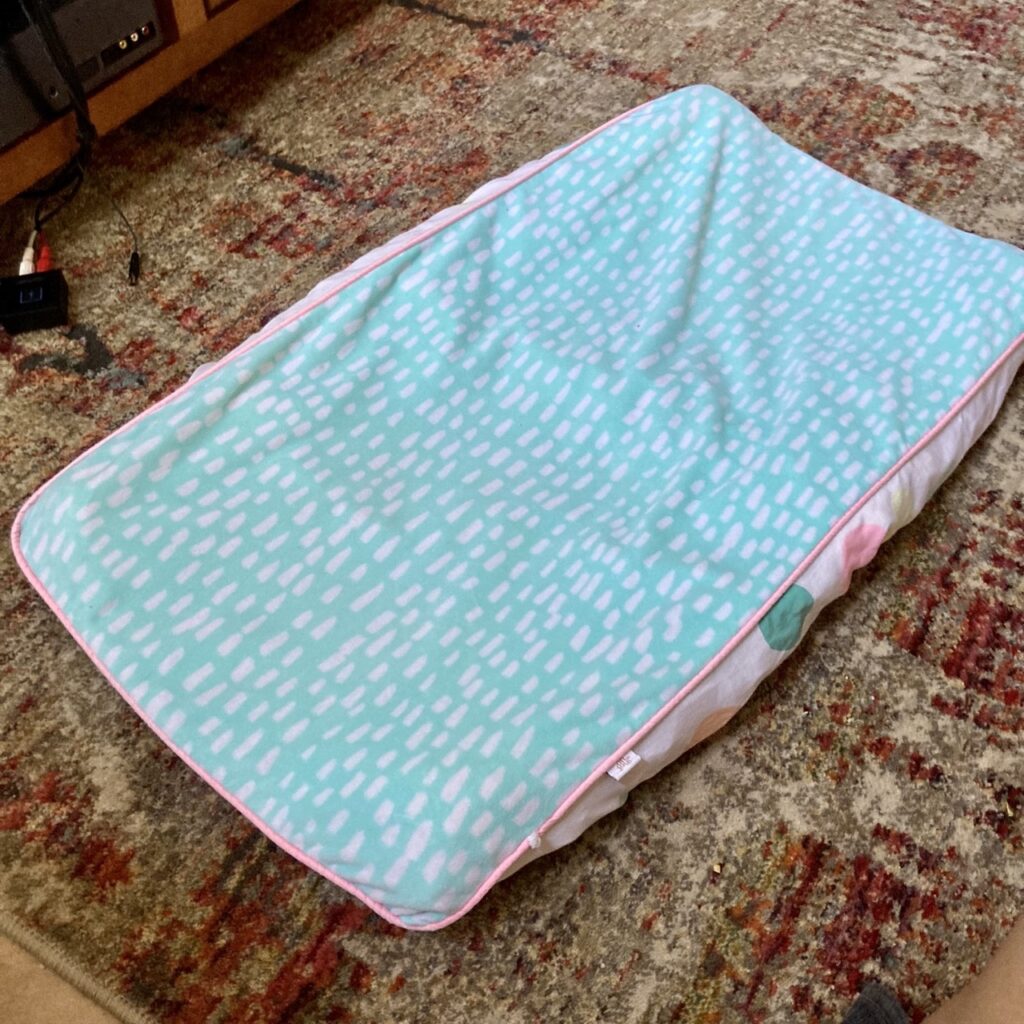 Changing pad sheets, liners, and mats are great to get secondhand because they are all machine washable. Our changing pad sheets are secondhand from a 2016 Target collection and still work great.
Is it okay to use a secondhand stroller?
It's debated whether you should buy a stroller used. Consumer Reports generally recommends buying strollers new to keep up with new safety standards and recalls. If you do buy used, they recommend a 2015 or newer model since that is when safety standards were regulated.
Do your due diligence when assessing a used stroller's condition. Ask for a photo of the model and serial numbers to check for recalls or possible issues. Inspect the mechanisms, wheels and brakes closely before purchasing.
With secondhand strollers, you have to decide your own risk tolerance. We have gotten all our strollers used and have not had issue with any of them.
Our used strollers include:
Compared to buying new, I saved $2359 on all of these strollers. Our one Bob is over a decade old and still works perfectly!
Should you buy a used high chair?
There is not a consensus on whether it is okay to use a secondhand high chair. Many people feel fine using a secondhand high chair (myself included) but there are safety considerations given the fall risk with a baby elevated off the ground.
Safety standards for high chairs were updated in 2019. You'll want to opt for these newer models when looking for a used high chair to have current safety features.
When opting for a used high chair, make sure it has a functional restraint system, meets current safety standards (such as backwards stability), and is structurally sound.
All of our high chairs are used and have worked fine. That said, brace yourself for a clean job when you get a secondhand high chair. Most high chairs have a lot of nooks and crannies that are hard to clean.
Our Inglesina table chair was the easiest to clean since the fabric seat is machine washable and it is so small. When I cleaned our used Joovy Nook, I had to get out a used toothbrush to clean the food out of all the little crevices.
If you want to read more about high chairs, check out my list of 5 great folding high chairs that are big space savers.
Is it okay to buy used baby bottles?
Generally, baby bottles are fine to get used. Glass bottles are made to last and are easily used with multiple babies. Plastic bottles are also okay used but will start to wear out much sooner than glass bottles.
Make sure that the plastic bottles are free of any signs of degradation, like cracking. You'll also want used plastic bottles that are clear; a cloudy appreciate can indicate that the plastic is wearing out.
With glass bottles, make sure the bottles are free of any chips or cracks. For either bottle, make sure that the top has a good seal as leaking can indicate that the pieces have begun to warp with time.
Are used baby bottle nipples okay?
No, you'll generally want to buy new baby bottle nipples. Nipples see heavy use and frequent washings which can deteriorate the material. Manufactures generally recommend replacing nipples every three months.
We personally did not replace our nipples that frequently but did keep an eye out for cracks or signs of degradation such as thinning or tackiness. Some babies will chew on nipples more than others so this is somewhat baby-dependent.
Is it okay to use secondhand baby pacifiers?
No, don't use secondhand baby pacifiers. Like bottle nipples, pacifier plastic degrades over time and they are very likely see a lot of wear and tear. Plus, new nipples are very inexpensive so the risk is not worth the couple dollar cost.
Since your baby will suck and chew on their pacifier, you'll want to be mindful of their condition and replace them with any signs of wear like cracking. For example, our pacifiers' silicone got a weird gumminess over time.
That said, a lot of babies reject different types of pacifiers so friends may offer you pacifiers that they tried only once or twice. Realistically, you may decide to use those to test out different pacifier styles. If you do, consider buying more new once you've found a style what works for your baby and remember to sterilize them in boiling water before first use.
Should you buy baby silicone suction plates used?
Technically secondhand silicone plates are fine but I'd probably skip them unless you know their care history. Silicone plates can develop oil residue that leaves a soapy taste on foods.
The oil residue is more likely if you use soap with antibacterial agents or oils. There are steps you can try to remove the residue, like rubbing them with lemon or baking them.
I had mixed results when I tried removing the soap taste on our own plates. Even if you are successful, you'll have to take special care in washing the plates so that the oil doesn't build up again. I've found it easier to opt for a different style plate instead.
Should you buy a baby bath used?
Oh heck yes, baby baths are safe to get used. And they are a dime a dozen on the secondhand baby gear market so used baths are easy to get.
Since they are designed to be waterproof, they are simple to clean and sterilize. Even soft baby baths, like this whale bath we used in the early days, can be popped in the washing machine for a deep clean.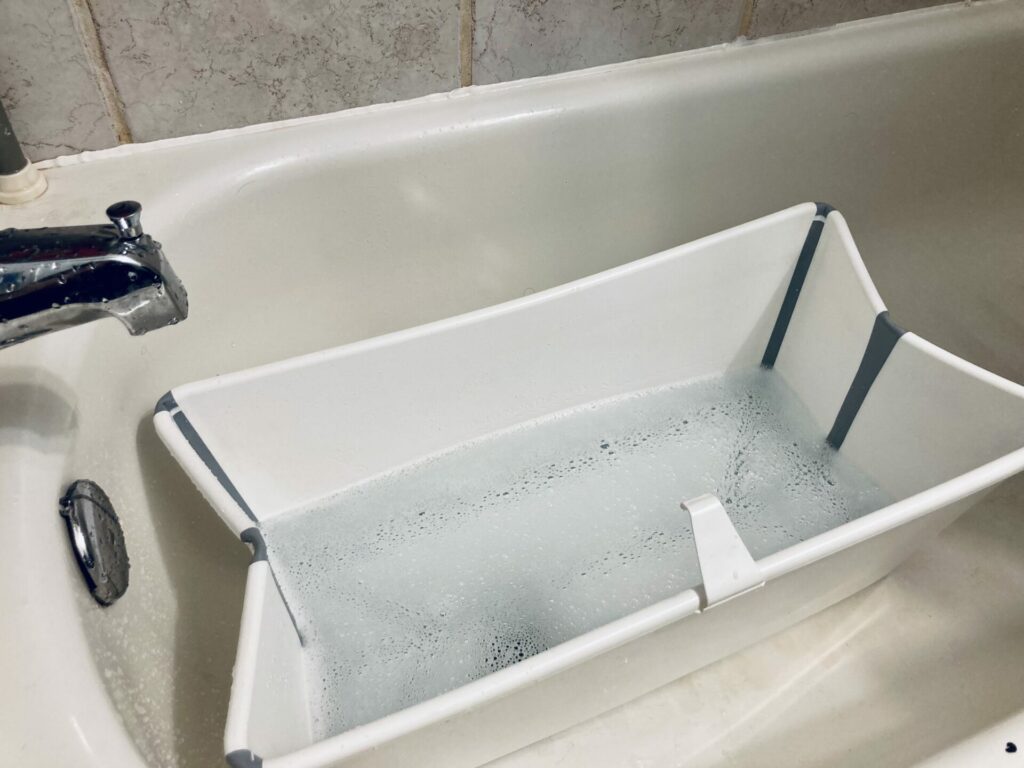 For example, I can't say enough good things about our used Stokke bath. It was a little harder to find secondhand since it is not as common, but it was worth the search. I eventually found one for $10 on Facebook Marketplace. I wrote up a whole big Stokke Flexi Bath Tub Review if you want to learn more (spoiler alert: the review is glowing).
Should you get baby-wearing carriers used?
Yes, as long as the carrier is in good condition with no recalls, they are great to get used because they are easily machine washed.
All our baby carriers are secondhand. Both our Boba and Ergo carriers came from (different!) twin families and still seem new after our heavy use.
---
Looking for more ways to save money on a baby? Check out 12 Ways to Save Money on a Snoo.