Is Lovevery Worth it? A Skeptic's Review of Lovevery Play Kits
This post may contains affiliate links. Read the full disclosure here.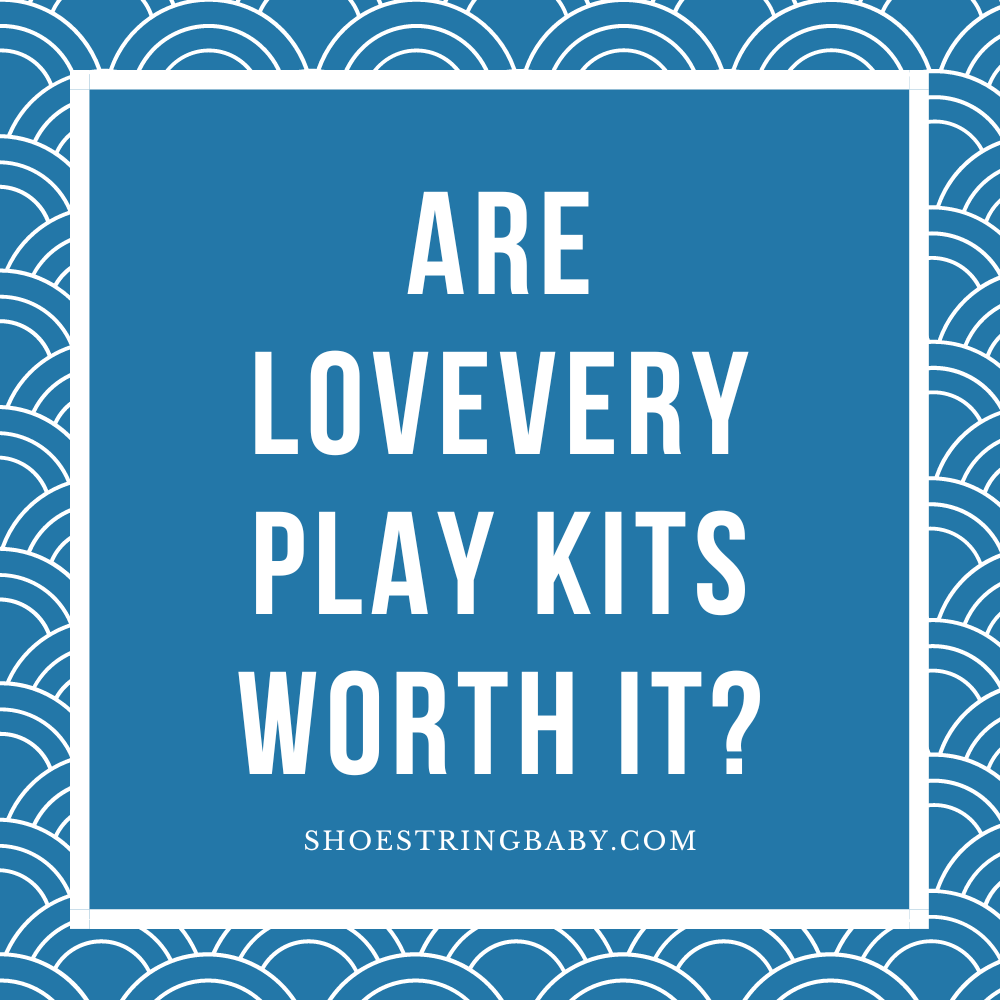 Considering a Lovevery play kit for your baby but unsure if Lovevery is worth it? Then you've come to the right place. Below you'll find a unique review of Lovevery play kits, from a skeptic going into our first Lovevery experience. Was Lovevery able to convince me they're worth the buy?
You'll find a lot of reviews from people who absolutely love Lovevery and have bought all the play kit boxes. Many of these are great reviews and I looked at them myself when deciding what box to try. But this review is different because I came into it as a skeptic, doubtful that the play kits could really be worth the steep price tag.
If this is your first time landing on my page, let me give you a little background. A big focus of my parenting and this site is being frugal with our baby gear and opting for secondhand as much as possible (check out one of my monthly baby spending reports as an example). Lately, my toddler has been asking where everything we own came from and I regularly have to tell him, "from the streets, at a curb alert."
So while I've been curious about Lovevery as one of my best friends keeps raving about them, I couldn't quite swallow the idea of the cost when we had access to cheaper and secondhand toys.
That's why I was so excited when I was offered a box to try out. It came at a time when I was struggling with our baby doing any independent play and was planning a shake-up of our of toy approach to troubleshoot. This was also an opportunity to test out a big change in my usual parenting style. I was hopeful about learning something new in the process.
So was Lovevery able to convince a penny-pincher to change her tune about buying toys?
Let's find out!
Note: I was gifted this Lovevery box but was not paid for this review — all opinions are my own. I do include some affiliate links in this article, which means if you purchase with a link I get a small commission at no cost to you. I appreciate you considering using my Lovevery affiliate link if you do decide to purchase a kit, as this site is reader supported and every little bit helps. Thank you!
What is Lovevery?
Before we dive in, here's a quick overview on what Lovevery is all about. Lovevery is a toy company focused on ages 0 to 3 years old. They design toys that are focused on children's incremental development inspired by Montessori principles. Their toys focus on quality and simplicity so you'll find lots of well-done wooden toys and real-life objects.
Their company engages developmental experts and researchers to advise on their toys. They also position themselves as an information resource for parents, with a podcast, app (subscribers only), and courses.
Instead of selling the majority of their toys individually, they package them together in kits by age in a subscription model. Kits are sent every two months for babies and every three months for toddlers. A small selection of individual toys are available on their website and through Target.
What are Lovevery play kits?
Play kits are the most famous part of the Lovevery brand. Lovevery play kits are curated toy collections based on a child's age. The toys are designed in consultation with developmental experts, focusing on high-quality and sustainable materials.
Kits contain about five-seven toys, give or take some depending on the kid, at least one book, and many contain some kind of puzzle.
The kits also include a guide for parents to explain the toys and offer suggestions on introducing the toys to your kid. In addition, I appreciated that the parent guide includes activity suggestions outside of the play kit that are easy to implement at home. For example, our kit for 22-24 months had activities like peeling an egg and sorting silverware.
Here are some example play kits:
Inspector Play Kit (Months 7-8): This play kit is designed to explore stacking, object permanence, and textures with toys like a ball drop box, felt balls in a basket, nesting drip cups.
Companion Play Kit (Months 22-24): This play kit is designed to explore bilateral movement, transferring with tools, and diameters with toys like a buckling toy, felt stars with tweezers and an animal matching game.
Helper Play Kit (Months 25-27) This play kit explores real-life activities in line with Montessori ideas and includes toys like a working play sink and routine cards.
Storyteller Play Kit (Months 40-42): This play kit explores the concept of space and engineering with a build-your-own play fort and puppets.
Our experience with the Lovevery Companion Play Kit (22-24 months)
I picked the Companion play kit for our kids, designed for ages 22 to 24 months. Our baby is younger than 22 months and our toddler is 3-years-old so I strayed a little from Lovevery's intention for the kits to be at the child's age.
I wanted the kit aim at our baby to encourage her independent play skills. She was about to age out of the kit for her age and we already had a piece from it so I wanted to try one where the kit would be totally new to my kids. Plus, homegirl is obsessed with buckles so it felt like the right kit for her.
Our kit included the following:
Tweezers and felt stars
Buckle toy
Button board
Animal matching set
Wooden post diameter sorting puzzle
4-piece chunky wood puzzle
Graham Turns Two book
How my kids played with the play kit
Both of my kids loved the play kit. I was impressed with how quickly my toddler put together how to play with everything, and then adorably explained everything to our baby.
They played with the toys for a solid hour before I stopped them for lunch and our toddler raced back down to them after nap. The animals joined the kids in the bath and the tweezers became a utensil at dinner.
A few minor things bothered them, like some of the animals not being able to easily balance on their feet or when they'd lose button pieces. Their favorite way to play with the button board was pulling all the pieces out of the board with buttons flying everywhere, so this was a frequent occurence.
Since I was using the toys with two kids together, I did not follow Lovevery's suggested order of introducing the toys but I would have loved this guidance if I only had one kid. Our toddler is still working on sharing with the baby, so making more toys available at once works better for them.
Introducing the toys together also allowed them to mix and match things. They pretty quickly started doing things like putting the animal pieces or wood puzzle pieces in the box for the button board and using the tweezers to pick up button pieces.
Quality
I was impressed with the quality of the toys. I spent a lot of time worrying about landfills, so I appreciate that toys feel like they'll last through the wear and tear of my kids and still be in good enough condition to pass on. This helps assuage some of my worry about buying new.
I've personally found that our wooden toys from brands like Melissa and Doug chip so easily, so I was interested to see how Lovevery's tech would compare. I handed our baby a chunky puzzle piece and asked her if she wanted to put it in her mouth to test it (obviously she did, my kids love to chew a wood puzzle piece).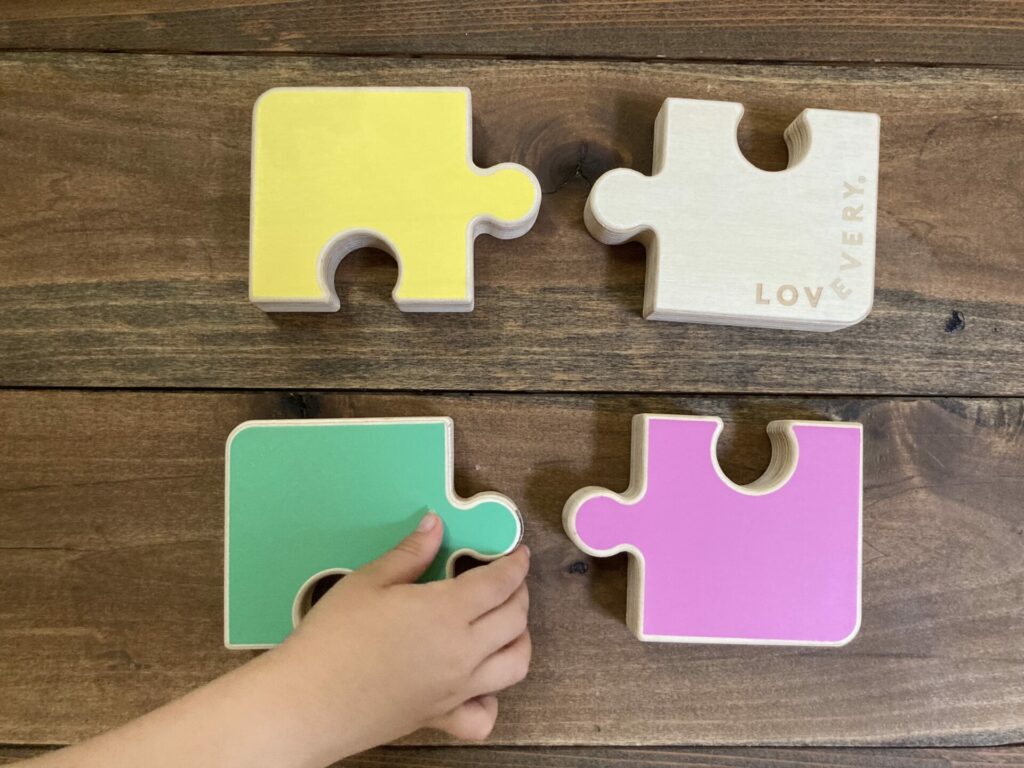 She ended up sucking on pieces for about 20 minutes, and they looked fine after. We haven't had the toys long enough to see how the paint on the wood pieces wears with time, but if I had done a similar test with our Melissa & Doug puzzles, they would have had some chipping.
One of us also stepped on one of the plastic button pieces with our full weight (which was very painful, try not to lose them on the floor!). I was sure some part of the piece would have snapped off but it came away unscathed, unlike the foot!
I will update this if we see a big decrease in quality over time but I am not anticipating it. Attention to detail and quality materials seems to be a big focus and differentiator of Lovevery toys compared to the competition.
Photo Books
Why aren't there more books with actual photos of babies and toddlers? My kids go nuts for books with photos of children instead of illustrations, and I've found the options surprisingly lacking.
The Lovevery books are all actual photos, and they're really nicely done. We have another Lovevery book as well that I got secondhand and it's been a favorite for both my kids.
The books are also focus on real-life situations that kids will encounter. We got our box a few days before a birthday in our family and the timing was perfect to discuss what to expect on that day.
Time Savings
Something I appreciated about the Lovevery play kit was the time savings. I have spent a lot of time trying to source all our baby stuff secondhand. I also feel like I have to spend time thinking ahead to what my kids will need or enjoy as they're quickly growing.
Instead of spending hours hunting for Facebook freebies or researching what they may need next developmentally, this play kit simply showed up at my door. And that was an amazing change for me.
There is also time savings compared to finding and putting together alternatives if you know you want equivalent Lovevery-style toys.
Finally, the Lovevery kit bought me some independent play time from my kids. My toddler and baby played with the kit together for long enough for me to make a meal. My baby would also play with the toys somewhat independently — she'd bring them to my lap to play (so definitely some room for improvement still). But, while she played I could at least do things like check email on my phone.
What Surprised Me About the Lovevery Toys
I was pleasantly surprised by a number of things during our Lovevery trial. I was repeatedly surprised by how my expectations of what my kids would like most in the box were totally off.
Before receiving the box, I was sure that the buckle toy would be the star of the show. I foresaw a few of the toys being duds, like the little felt star basket and puzzle. I also assumed the box would mostly be for our baby and not our toddler.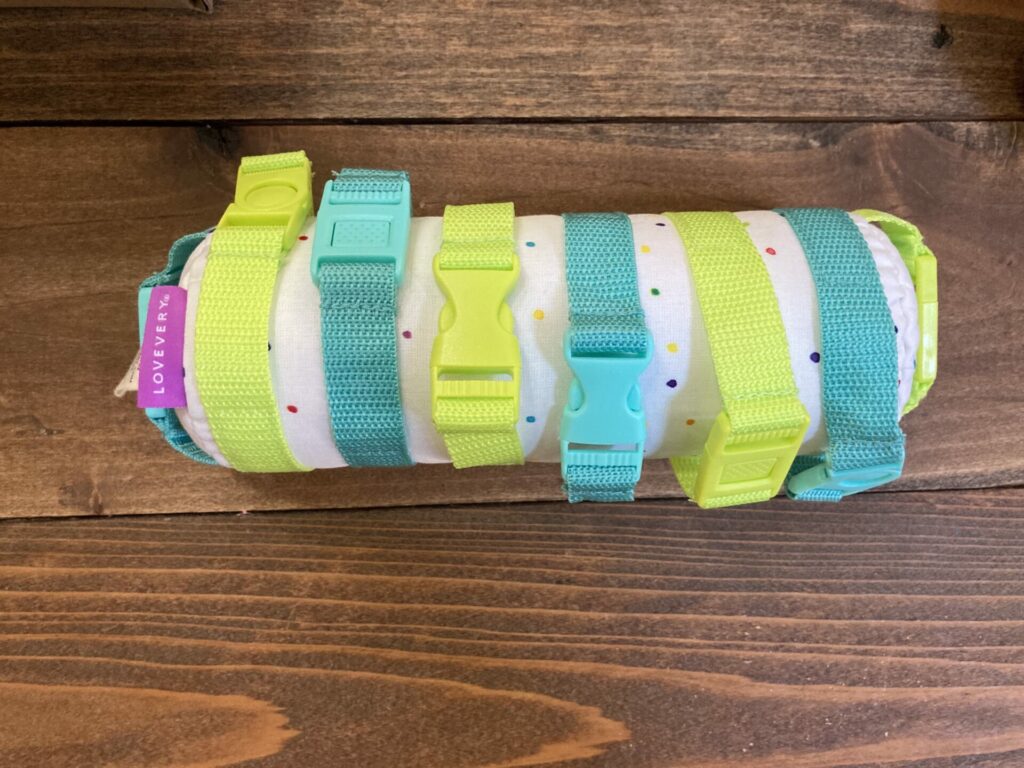 Boy, was I wrong.
Our toddler immediately honed in on the felt stars and tweezers. He played with those tweezers all day long. He ate lunch with those tweezers. I texted my mom friends that they should maybe get their toddlers tweezers.
Before the box arrived, I 100% would never have thought to get my kids a toy like that. And they kept bucking my expectations as they played with the toys.
My toddler plays pretty much exclusively with trucks and cars. He'll play for hours solo as long as the toy has wheels, basically. The Lovevery box was not only designed for younger kids, there wasn't a truck in sight. And yet, he loved absolutely everything save the puzzle. And he continued to find new ways to play with the toys.
These moments where I completely misjudged how my kids would play are the biggest factor in me wanting to try more Lovevery kits. Me, of all frugal people, seriously considering dropping money on more toys was perhaps the biggest surprise of all.
Things We Didn't Like About our Lovevery Play Kit
While our experience, on the whole, was very positive, Lovevery isn't perfect. This is an honest Lovevery play kit review so I want also to highlight what I didn't like about our Lovevery play kit. Here are five negatives about Lovevery:
Oh so many pieces
Let's get my personal biggest negative out of the way first. Our kit came with so many little pieces.
When we unboxed the toys, one of the buttons to the button board unknowingly fell on the floor. My toddler was so upset when we didn't have all the pieces and we could not rest until we found it.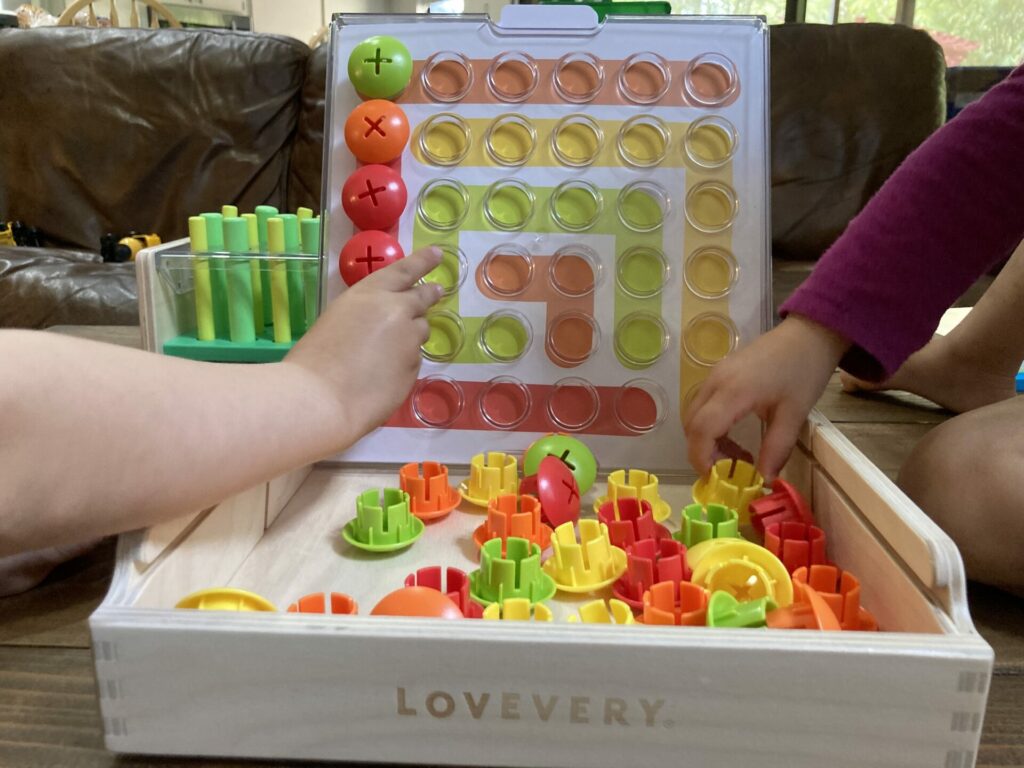 It is constant vigilance to keep track of all the pieces so they don't get lost. At least twice a day, I'm hunting down buttons to the button board and counting felt stars.
Losing pieces is a concern with all toys, so this is not unique to Lovevery. However, with the cost and quality of the toys, it feels more high stakes to keep them together.
Storing the toys
Many Lovevery toys are unique and designed for open play. The goal is that you'll have fewer toys to keep kids' from being overwhelmed with toy clutter.
That's great if you only get Lovevery kits, but I think for many people, that's not reality. If you have a mix of toys, and especially if you rely on baskets or containers for organizing them, some awkward shaped Lovevery toys can be tricky to work into existing organizing systems.
For us, I found the Wooden Posting Stand toy a challenge to store without losing the pieces. The button board is smartly designed to be a box for all the little pieces, but it is still a little bulky. We use this type of toy organizer and it isn't a natural fit for Lovevery-style toys on top of our existing toys (basically a thousand trucks and cars…).
Living in a small space, I'm very mindful of thinking through organizing and storage. I don't love our current toy organization but it is what works in a small house. This is obviously partly a me-issue but I do think many parents face similar struggles with storing toys.
Not every toy works for every kid
A positive and negative of Lovevery is that you cannot customize the play kits. This is great for exposing you to toys that you may not otherwise have sought out, as our family experienced with the tweezer toy being a huge hit.
However, not every kid is the same and not every kid follows the same developmental timeline. If you get multiple Lovevery play kits, chances are at some point you'll hit a toy that isn't the best fit for your kid at that time.
For example, puzzles have always been a flop with my kids. There was no way to opt out of the puzzle that came with out play kit, and as expected it has not seen much play at all.
Given the cost of the kit, you'd hope that every toy is a knock out but that's just not realistic. That said, Lovevery toys retail their value well so you'd likely have no problem selling toys that don't work for your family to recoup your expense.
Mental load of a subscription model
Personally, I find the subscription model of Lovevery to be a negative. For others who intend to get every play kit, it's probably a huge positive because you can set it and forget it.
For me, any subscription is an added mental load because you have to remember to cancel or skip boxes. I'd prefer to be able to order one play kit and not have to add managing a subscription to my mental to-do list.
Cost
Obviously, the biggest moment of pause for me and I'm sure others with Lovevery is the price tag. Lovevery toys are not cheap. While the quality is great and they'll last through multiple kids, you still have to make the initial investment which can be prohibitive for families. I'll break down all the costs in the next section.
Cost of Lovevery Play Kits
The cost of Lovevery kits is likely the biggest factor that gives people pause before trying them out. Let's be real, these play kits aren't cheap. For babies, they cost $80 for kits that are designed for two months of development. Toddler kits costs $120 and are designed for three months of development.
About $40 a month for toys can feel like a heavy lift, especially when it is pretty easy to find free and cheap secondhand toys in Facebook groups and as hand-me-downs from friends.
The one redeeming factor about the cost of Lovevery is that the toys retain value well and you likely can recoup part of the cost if you resell them. Let's look more at selling and buying secondhand Lovevery in the next two sections.
Reselling Lovevery Toys
One of the biggest factors in my wanting to try Lovevery was how well the toys retain value on resale. Having watched the secondhand baby market closely for the last four years, I was always shocked at how fast secondhand Lovevery sold, and at a very high resale price to boot.
Reselling Lovevery play kits is a great way to make Lovevery kits more affordable. When most toys are hard to even give away, having toys that you can actually sell used is a real value-add.
I priced play kits on my area Facebook Marketplace to see the current resale value. Here are the top five listings:
16-18 month play kit: $75 (missing one piece)
9-10 month play kit: $60
7-8 month play kit: $55
40-42 month play kit : $100
31-33 month play kit: $100
Over half of these kits were prices only $20 cheaper than buying new. I'd guess there may be some negotiation that could bring it down a little, but even still, that'd be a huge part of the costs recouped.
Most of these listings were a far drive from me as well, so there is not a lot of secondhand availability. This definitely gives the seller the advantage when trying to resell.
Buying Lovevery Play Kits Used
Buying used is another way to save on the cost of Lovevery kits. However, as discussed above, resale costs are very high for these toys.
The cheapest I was able to find our Companion Play Kit for was $90, which is only $30 off the regular price. And it was not a local listing near me.
The only individual toy from my box I could find selling secondhand was the wood puzzle for $10. That actually feels like a reasonable price, especially for the quality, but I imagine it is because another kid wasn't a puzzle fan like mine.
I also looked for a few cool looking toys from other boxes that I thought my kids would like and wasn't able to find any of them on Facebook Marketplace.
From watching local parent resale groups, Lovevery toys would sell very fast so you also have to budget the time commitment of searching for the secondhand listings.
Alternatives to Lovevery Companion Play Kit Toys
In order to evaluate whether Lovevery is worth the cost, I also looked up whether alternatives to the toys in our play kit are readily available. I priced out how much it would cost to buy alternatives to the Play Kit we received individually from other sources.
Interested in more Lovevery alternatives? Check out these Adventurer Play Kit Alternatives
Before we dive into alternative, you can't find exact alternatives for many Lovevery toys. Few, if any, of the toys I list below seem as high quality as our Lovevery toys. For example, there are many animal matching games available but most includes cardstock instead of durable wood cards. For some toys, like the chunky puzzle and felt stars with tweezers, there just wasn't a great alternative.
Here are alternatives to the toys in our Companion play kit
Animal Matching Figurines and Cards: This is the only alternative I found with wood cards but it only includes five animals compared to Lovevery's six.
Button Board: The button pieces in this alternative look equivalent but that's about where the similarities end. This isn't wooden for durability like Lovevery's and the pictures aren't as open-ended.
Buckle Toy: This is the one alternative that I like more than the Lovevery toy we received. I like that the toy can double in function and be used as a backpack when on the go. It has more variety of fasteners but fewer buckles.
Four-Piece Wood Puzzle: I could not find an equivalent to the very chunky wood puzzle we got. This Melissa and Doug set is only four-piece wood puzzle I could find but it is missing the chunkiness, which was the coolest part of the Lovevery puzzle. I really wouldn't consider this a good alternative to what we received, both in function and quality.
Sorting Pegs: This sorting peg is a variation of Lovevery's that sorts the pegs by shape instead of diameter. It seems like a nice toy but it would be too advanced for my one-year old right now. The holes on the Lovevery version are more forgiving to allow her to get the pegs in even when it's not perfectly aligned.
Tweezer toy: There wasn't a good alternative to Lovevery's felt stars and tweezers. This option is wood and I personally wouldn't want to store a bigger wood box instead of the small felt basket. There is a smaller alternative with lots of tiny plastic dinosaurs too but those dinos would definitely end up everywhere.
Book About Birthday Parties: This book isn't specifically about turning two-years-old but does include photos of kids instead of illustrations.
If you total up all the alternatives, the cost comes out to $136.89 — almost $17 more expensive than the Lovevery kit (prices as of April 2023). If you wanted to recreate the whole play kit, it's actually cheaper to buy the real deal through Lovevery.
I think it's important to point out that if left to my own devices, I would not have bought every alternative to all the toys in our play kit, and I would have missed out on a big part of the experience. I definitely would have skipped over toys like the tweezers which turned out to my kid's the favorite toy.
Relinquishing the control over what toys you get and turning the process over to Lovevery's curation is one of the biggest value-adds that Lovevery offers for me. If you only cherry pick some toy alternatives, you will miss out on that.
Frequently Asked Questions
Can you only buy Lovevery play kits through a subscription?
Yes, Lovevery play kits are only available through a subscription. That said, you can cancel the subscription at any time. If you only want to buy one play kit, you can purchase it and cancel the subscription at no cost.
Can you buy Lovevery toys individually, without buying a full play kit?
Yes and no, some Lovevery toys are sold individually but the majority are only available in play kits. You are able to purchase specific Lovevery toys individually either through Lovevery directly or at Target.
On the Lovevery site, you are able to individually buy: a block set, a baby activity mat play gym that can transition to a toddler tent, a Montessori play shelf for toy storage, and a few smaller toys like a tunnel. You can find all the individual items available for purchase by clicking here.
At Target, you can buy a handful of toys, some of which are variations of toys in the play kits, like the drip drop nesting cups, puzzles, and rolling ball rattle. Most of the Target toys available are baby-aged toys. You can find the current availability here.
If your baby was premature or has an individual developmental timeline, how should you select a box?
If you have a preemie or baby on a different developmental timeline, you may have questions about which Play Kit to select. Lovevery makes a general recommendation to use adjusted age, but also makes available disability support specialists to work with you one-on-one to find the right fit for your baby (read more about this service). Having had a preemie, I appreciate Lovevery offering this support to other preemie families.
Conclusion: Pros & Cons of Lovevery Play Kit
To summarize, here are the main pros and cons of the Lovevery play kits:
| | |
| --- | --- |
| PROS OF LOVEVERY PLAY KITS | CONS OF LOVEVERY PLAY KITS |
| Quality | Cost |
| Exposure to novel toys | Subscription model |
| Engaging toys tailored to development | Toys not available individually |
| Time savings | |
| High secondhand resale value | |
Overall, I was very happy with our experience with a Lovevery play kit. I felt like I learned new things about my kids' play, especially our toddler. I also appreciated the quality of the toys and feel confident that they'll remain in good enough condition to be passed on when we are done, soothing my worry about waste and landfills some.
I have already started keeping an eye out for used kits on Facebook. I always like to try to buy secondhand first but if I don't find anything, I plan to try out another kit in the future. That said, I personally wouldn't get every box in a subscription because that would be too many toys for our space. I intend to use them more to shake up and diversify our current toy situation every so often.
If you found this review helpful and are considering buying a Lovevery play kit, I'd greatly appreciate if you'd consider using my referral link. This site is reader supported and these write-ups are time intensive so I definitely appreciate the support.