50 Names With the Nickname Will (Boys & Girls)
This post may contains affiliate links. As an Amazon Associate, I earn from qualifying purchases. Read the full disclosure here.
Wondering what names Will is short for? Or do you love the nickname Will but don't like William? Then you've come to the right place. Below you'll find 50 names with the nickname Will, including boy and girl names that Will can be short for.
I'm a researcher who has been analyzing baby name trends and data for over five years. I did this deep dive on the nickname Will to save you time searching for full names for Will.
Will is a soft and approachable nickname, most commonly associated with the perennial boy's name William. However, Will can be short for many names if you aren't sold on William.
Plus, Will can make an adorable and unexpected nickname for a girl. While researching Will, I found that most other discussions only include boy names as full names for Will. If you love the nickname Will for a girl, I've got you covered with 22 girl name ideas.
Below you'll find 50 names that Will could be short for. You'll find information about the meaning and origins of each name, sourced from my personal database of over 2000 names.
Now, let's find would what Will is short for!
Note: References to name popularity are sourced from the Social Security Administration's publicly available name data.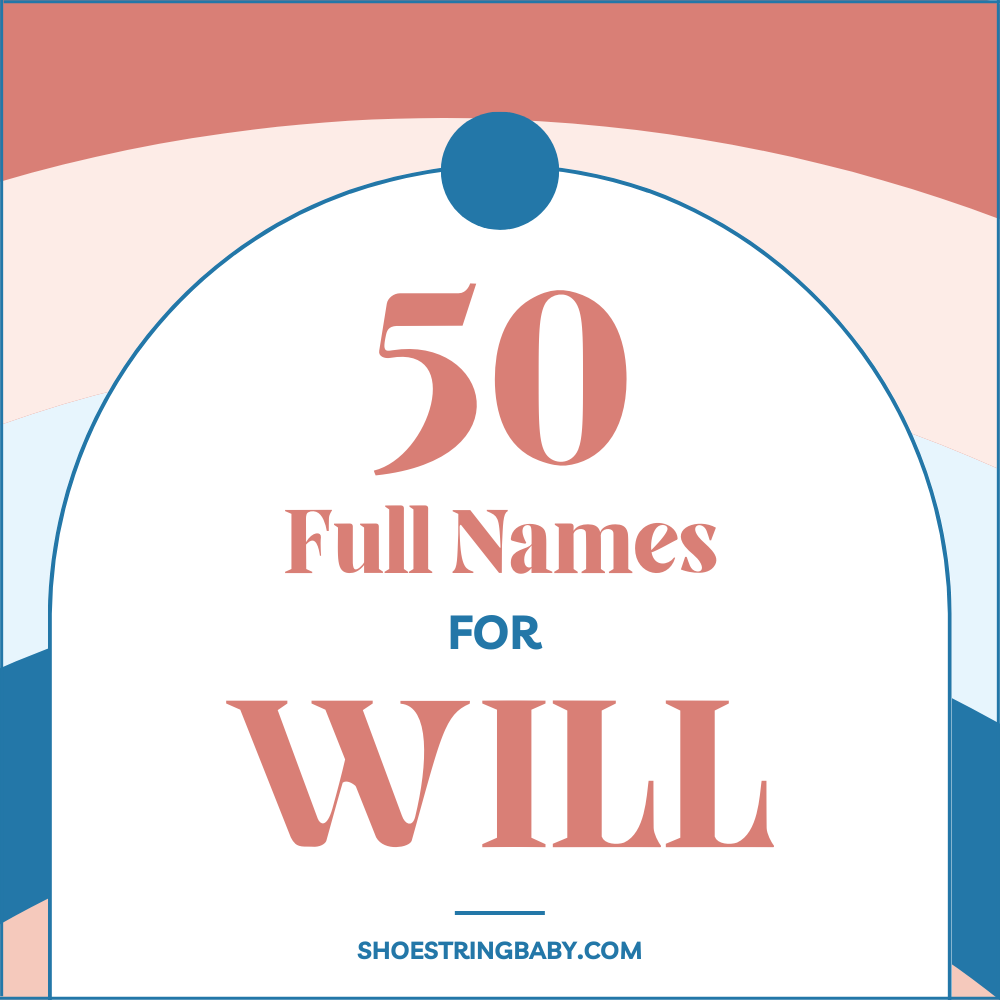 Join our baby name facebook group!
Love chatting about baby names and trends? Join the discussion over on our new Facebook group. Plus, get FREE help finding the perfect baby name!
Boy names with Will as a nickname
So what names can Will be short for other than William? Let's look first at boy names with Will in them.
1. Fitzwilliam
Fitzwilliam is a surname-style name that means "son of William" from French roots. The name is most known as the first name of Mr. Darcy in Pride and Prejudice.
2. Wilbert
Wilbert is a name coming from German that means bright will. It would make a unique alternative to the popular name Robert, especially if you prefer the nickname Will over the nickname Rob. Wilbert can also be spelled Wilburt.
3. Wilbur
Wilbur is an adorable full name for Will if you can look beyond the pig association from Charlotte's Web. An alternative spelling for Wilbur is Wilber
4. Wilburn
Wilburn is similar to Wilbert, meaning bright will. Wilburn can also be spelling Wilbern
5. Wilde
Wilde is an English-originating name meaning untamed. Wilde can also be spelled without the e as Wild.
6. Wilden
Wilden is another Will name that means wild or untamed.
7. Wilder
Wilder is an on-trend name that has shot up the U.S. popularity chart in the last decade. The name comes from English roots and means untamed.
8. Wiley
Wiley is an Old English name that means resolute protector. It is considered a gender neutral name so it could be a full name for the nickname Will for either boys or girls.
9. Wilford
If you like the sound of Wilfred but don't want to risk your baby being called Freddie, Wilford is a great alternative. The name means peace or "willow ford" and comes from English.
10. Wilfred
Wilfred comes from Germanic roots and means peace. Wilfrid and Wilfried are alternative spellings.
11. Wilhelm
Wilhelm is a German name related to the English name William. The name means will helmet.
12. Wilho
Wilho is another variation on the name William, likely originating as a diminutive of Wilhelm.
13. Wilkie
Wilkie originated as a Scottish nickname for William and would make a cute name for the nickname William. Wilkes is an alternative but is likely less wearable in the U.S., given its association with John Wilkes Booth.
14. Wilko
Wilko and Wilco would make cool names for the nickname Will, coming from Dutch variations of William. I listed the Wilko spelling here since Wilco is associated with the military radio communication shorthand for "will comply" (source: U.S. Naval Institution) and the U.S. alternative rock band.
15. Willard
Willard is an English name meaning brave. It was popular at the turn of the century but has since fallen out of fashion, making it a unique full name for the nickname Will.
16. Willem
Willem is the Dutch version of the classic name William.
17. William
William is the most common name for the nickname Will. It comes from German roots and means resolute protector.
18. Williamson
Williamson is the surname-style version of William.
19. Willian
Willian is a unique alternative to William that briefly ranked in the 1880s to 1940s. The similar-sounding name Cillian is on the rise though, so Willian could be a cool option to get to the nickname Will.
20. Willing
Willing is a name that starts with Will with an effortlessly cool vibe. It fits in with two big naming trends today: virtue names and surname-style names.
21. Willis
Willis is another English-originating boy's name that means resolute protection.
22. Williston
Williston is a surname-style name that means descendant of Will.
23. Wills
Wills feels fashionable today in a similar way to Brooks, with the ending added 's.' A shortened version of William, it means resolute protection.
24. Wilmer
Wilmer is a German-originating name meaning willed fame. The name is perhaps most known in the States for the actor Wilmer Valderrama
25. Wilmot
Wilmot feels old-fashioned and clunky. Is it enough to come full circle and feel fresh, a la Edith or Matilda? The name comes from German and means will helmet.
26. Willoughby
Willoughby is a soft boy's name that comes from English, meaning farm next to willows. It can be used for both boys and girls, and is also a cool way to get Willow as a nickname.
27. Wilson
Wilson has been a constant name on the U.S. top 1000 for the last century. Also commonly seen as a surname, Wilson means "son of Will" or "son of William."
28. Wilton
Wilton was used as a first name in the first half of the 1900s but fell off the charts in the 60s. The name means by the spring.
Girl names for the nickname Will
Now, let's turn to girl names with Will as a nickname. These names offer great balance, pairing feminine names with the boyish nickname Will (psst…if you like that style, I have a whole list of girl names with boy nicknames to check out).
29. Twila
Twila once felt like a quirky and unusual name, but it has been given new notoriety by the smash show Schitt's Creek. The middle 'wil' sound makes it a viable full-name option for the nickname Will.
30. Wilda
Wilda is a Germanic-originating name meaning wild or willow.
31. Wildflower
Wildflower is a free-spirited and hippie-esque name that would make an unexpected full name for such a classic nickname like Will.
32. Wilfreda
Wilfreda has a clunky aesthetic that just might appeal to modern parents leading the revival of names like Winifred and Clyde. Not only can Wilfreda be a full name for Will, but it can also use the adorable nickname Freddie.
33. Wilhelma
Wilhelma is the first name on our list that is a feminization of the name Wilhelm. Wilhelm is a variation of William and also means protector.
34. Wilhelmenia
If you like long names, Wilhelmenia could be an option for you. The name has never ranked in the top 1000, so it a very unique pick for the nickname Will.
35. Wilhemina
Wilhemina enjoyed peak popularity in the U.S. in the last 1880s, coming in at #240. Other variations of Wilhemina include Wilhelmina and Wilhemena.
36. Wilhemine
Of the feminine variation of Welhim, Wilhemine is perhaps my favorite. The -mine ending gives it almost a southern feel. The name ranked in the late 1800s but fell off the U.S. popularity charts by the turn of the century.
37. Willa
Names are said to follow a 100-year popularity cycle, and Willa is a perfect exemplar of it. Last popular in the 1920s, Willa's star is rising fast today. Willa is a fashionable full name for the nickname Will and is also a variation of the name William.
38. Willabelle & Willabella
If you like Willa but want something will a cutesy feel, Willabelle may be for you. Willabella is another alternative. It also means protector.
39. Willena
Willena is another William variation meaning protector. It would be an interesting alternative to the popular name Elena.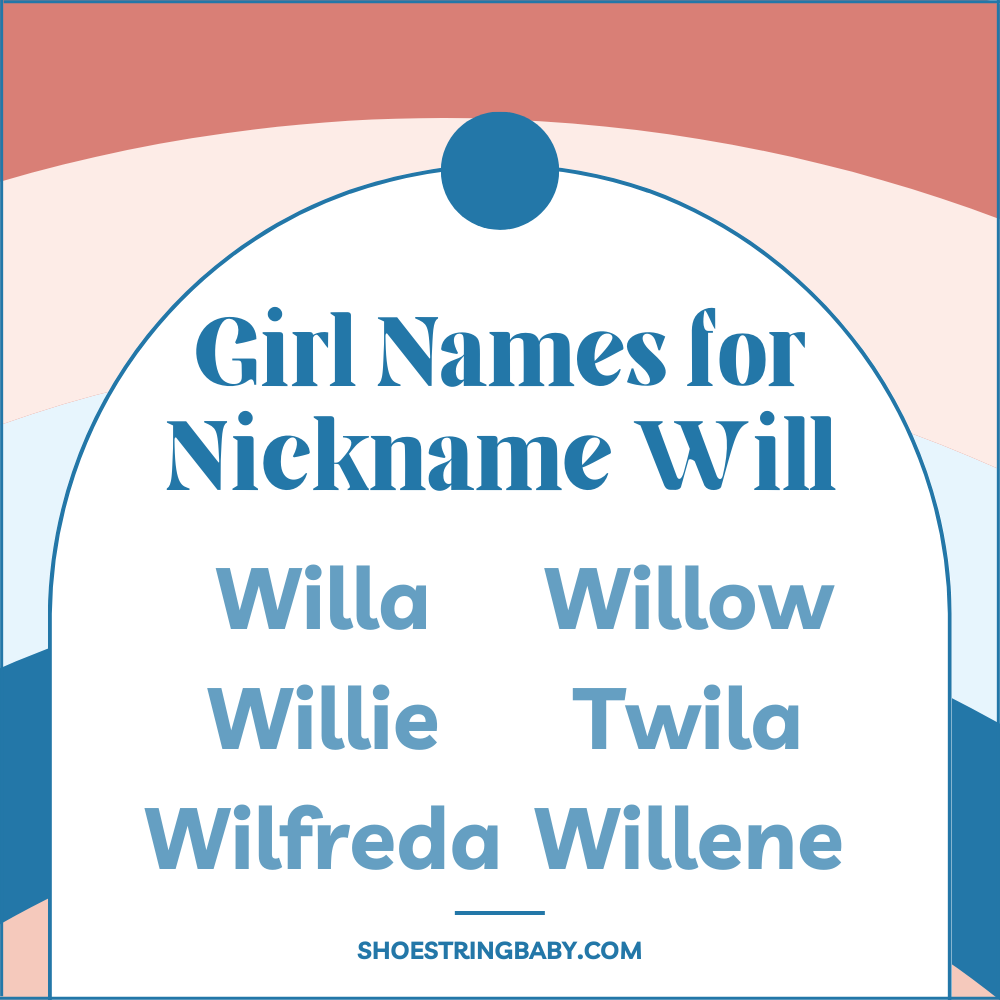 40. Willene
Willene is a close cousin to Willena but has a different vibe. Willene could fit in with the name Jolene, which is currently enjoying a resurgence.
41. Willetta
Willetta is a diminutive of Wilhelmina, meaning a resolute protector. Not only can the name use the nickname Will, it also has the option of the chic nickname Etta.
42. Willette
The suffix -ette added to names can mean a small version of something or a feminine version of a name. Willette is a rare feminization of Will that has yet to crack the top 1000 names.
43. Willia
Will Willia ride the coattails of Willa and enjoy a popularity boost? The name briefly ranked at the turn of the century but is rare today.
44. Willie
Willie was a popular given name at the turn of the century, topping out at #61 for girls in the 1900s. Willie also fits well in today's fashion, as we see a rise in vintage nickname-names like Winnie and Bonnie.
45. Williemae
If you like double-barrel names, Williemae or Willie-Mae are adorable Southern-style names that have the nickname Will.
46. Willodean
Willodean is a rare name that enjoyed a pop culture moment as the lead character in Dumplin' (spelled Willowdean). Willowdean, in the movie and the book, opts to go by the nickname Will.
47. Willow
Willow is cool and trendy today. It has shot up the chart in the last two decades and currently sits in the top #50. The name comes from English for willow trees.
48. Wilma
Wilma was a common name in the first half of the 1900s, but the Flintstone association likely became too much for modern parents. Wilma is another William variation meaning resolute protector.
49. Wilmette & Wilmetta
Wilmette and Wilmetta are more variations on William that could work as girl names with the nickname Will. Of the two, I personally like Wilmette.
50. Wilna
Wilna is a variation of Wilhelmina, meaning protector. The name never achieved the popularity of its close cousin Wilma, and remains an obscure name pick.
READ MORE:

I hope you found the perfect Will full name for your baby!
Looking for more name ideas? You may also like this list of Liam alternatives, another popular nickname from William.