August 2020: Monthly Baby Costs – $668 Saved
This post may contains affiliate links. Read the full disclosure here.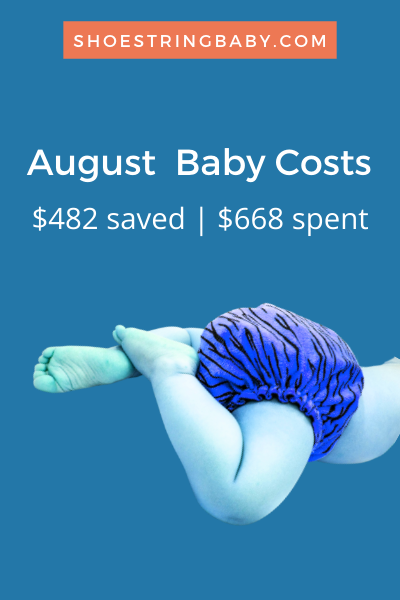 Checking in with our August baby budget. Each month I share how much we spent on our baby, and how we save buying baby stuff used (spoiler: buying secondhand saves a lot!).
These monthly baby budgets show what one family spends on their baby. I also dive into the how much we save to hopefully inspire someone else to opt for secondhand with their next baby purchase.
Buying baby stuff used (or buying less!) helps you save money and helps the environment.
August was another spendy month for us because of baby medical expenses. We spent $482.11 on our baby in August. The doctor and medical gear bills clocked in at $374.12.
As I've been mentioning in past months, our baby has a chronic fever of unknown origins. With that, any little thing that pops up requires a full work up in case it is fever related. This month's bills were for a neurology work up after he experienced body jerks (everything came back normal).
We also saved a lot in August with secondhand deals. I got more serious about cloth diapering and saw the biggest savings from some great used cloth diaper deals. In August, we saved $668.60 compared to buying new.
These savings would not be possible without the generosity of others, who took the time to pass along their baby items instead of throwing them away. While the environmental and financial impacts of finding used goods are obvious, the strengthened connection to my local community has been a much appreciated bonus.
Below you can find some of previous baby expense reports. The full list of reports is available here: Monthly Baby Expenses.
Here is a breakdown of our baby spending this month:
Diapers: $80 spent, $363.73 saved
Since we are stuck at home, this month I decided to get serious about cloth diapering. I had dabbled in cloth diapers previously and it seemed like a good enough pandemic hobby to practice them more.
If you buy new, the money savings potential of cloth diapers compared to generic disposables is pretty mixed. That said, cloth diapers can save you money if they're bought used or if they're used for multiple children. Check out this guide for more on how to buy cloth diapers used.
I turned to Facebook for my secondhand cloth diapers. I found some great deals and got over 50 diapers, about 30 inserts and prefolds, 2 wet bags, 1 cloth diaper pail liner, and some miscellaneous accessories. Were I to buy all this retail, I would have spent nearly $400.
Related Post: How Much Does It Cost to Launder Cloth Diapers?
These came in bundles so it was actually more diapers than I needed. I've started reselling some to recoup my money; I've already recouped about $40 that will appear in next month's baby expense report.
I also spent $15 on only one diaper. Even though it was bought secondhand, that is actually more expensive than buying new. I got it for my son's first birthday cake photos so I felt okay about a little splurge.
Formula/Feeding: $20.99 Spent, $134.98 saved
I made two feeding purchases this month – straw cups and a foldable high chair. I also got another free ezpz silicone plate.
We bought some straw cups so that our baby could have constant access to water without the fear of huge spills. We bought new since the straws seem impossible to clean and it is an item that sees a lot of wear and tear (no one wants a pre-chewed straw).
We went with the Dr. Brown's kind and have been super happy with them. Soon after we bought these, I got a free Munchkin brand one (secondhand but never used) and it consistently leaks.
I also swapped out our IKEA high chair for a Joovy Nook. The IKEA chair was great but a collapsable chair is better for our small space.
Related Post: 5 Folding High Chairs for Small Spaces
We like the Joovy a lot for our small space but if you have the room to leave your high chair up, the IKEA chair is a better and cheaper pick. I really like the Joovy's swinging tray that makes much easier to put the baby in, and folding the chair down can't be beat. However, we have to use towels to get our baby to sit up straight in the chair and it has more nooks and crannies to clean.
Clothes: $8 Spent, $142 saved
My 'keep a baby clothed and warm in a pandemic' stress lingered into August, even after getting a good lot of clothes in July. When I saw another free lot of 18m-2T clothes that didn't get any takers, I picked it up.
None of the free clothes bundles I got had footed pajamas, which we still use a lot. I'm envisioning a lot of fleece footed pajamas in our future at home during pandemic winter so I also bought on a secondhand lot of pajamas.
I really like the pajamas but weirdly the person didn't disclose that all but one of them were Christmas-themed. Luckily, I like dressing our baby in any and all holiday attire, but still seemed like a bold move.
Compared to buying retail, getting used baby clothes saved us an estimated $263 (and I was very conservative on estimating savings for the big lot of free clothes).
Baby Gear: $0 spent, $22.89 saved
Not much baby gear this month to report, just a free toddler backpack with a leash and some age milestone blocks for pictures.
Medical: $374.12 spent, $0 saved
This month we spent $332.63 on a visit to the pediatric neurologist. Our baby started having random body jerks, and when you've had a fever for over five months even usually-benign baby things require a big work up.
While we are thankful nothing major was found by the neurologist, we were disappointed that the doctor disregarded the fever as out of his realm of practice and wouldn't engage when I asked about autonomic issues.
Our other doctors thought autonomic issues could be a possible cause of the fever; we are actually now getting sent back to a different neurologist who is willing to see our baby for an autonomic system evaluation. It is frustrating for your baby to be a medical mystery, to say the least.
We also bought two more thermometers. We already double checked the accuracy of our main thermometer against a second thermometer, but that back-up one takes forever to read and no longer works with a very impatient baby. So one of these new thermometers is for double checking the baby and the other is so we have at least one non-butt thermometer in the house.
Activities: $4 spent, $5 saved
We went to two outdoor, socially distanced baby music classes ($2/class). It was nice to have something to do outside of the house but these classes have since been canceled because adults wouldn't wear their masks for the 30 minute class. 2020 is a slog.
We also participated in another baby science experiment over Zoom and received $5 for our time.
Resale: $0 recouped
No resales this month.
Total Monthly Baby Expenses: $482.11 spent, $668.60 saved
I wrote a lot in last month's baby budget about the challenges of having a sick baby in a pandemic. August just saw more of that. Having a medical mystery baby is a financial, emotional and mental drain anytime, and it is all amplified in the pandemic.
I'm one of countless women who are taking on childcare over careers because there is no other option. No daycare will take a fever baby in a pandemic; even if they would, we aren't comfortable sending him until we know what is wrong with him.
Everyone is making impossible decisions right now, and there are no good answers.
So for now, I'm sitting at home and experimenting with cloth diapers to pass the time. I love being home with the baby so much but it would be mentally a little easier without so much unknown. As I'm sure it would be for literally everyone, everywhere.
Any baby gear making your days at home with a baby easier?
Caveat to this monthly baby budget report: These monthly baby budget reports are as accurate as possible but my baby costs record keeping is not 100% perfect. Reported savings are estimated to the best of my ability. Sometimes I am unable to find exact item online, account for fluctuating sales, or remember exact details of budget entries with generic descriptions. These monthly baby budgets do not include gifts from friends and family. While gifts only account for a small part of the baby things we use (we requested no gifts), my reports may slightly underestimate baby expenses if you account for gifted items.
Pin this post!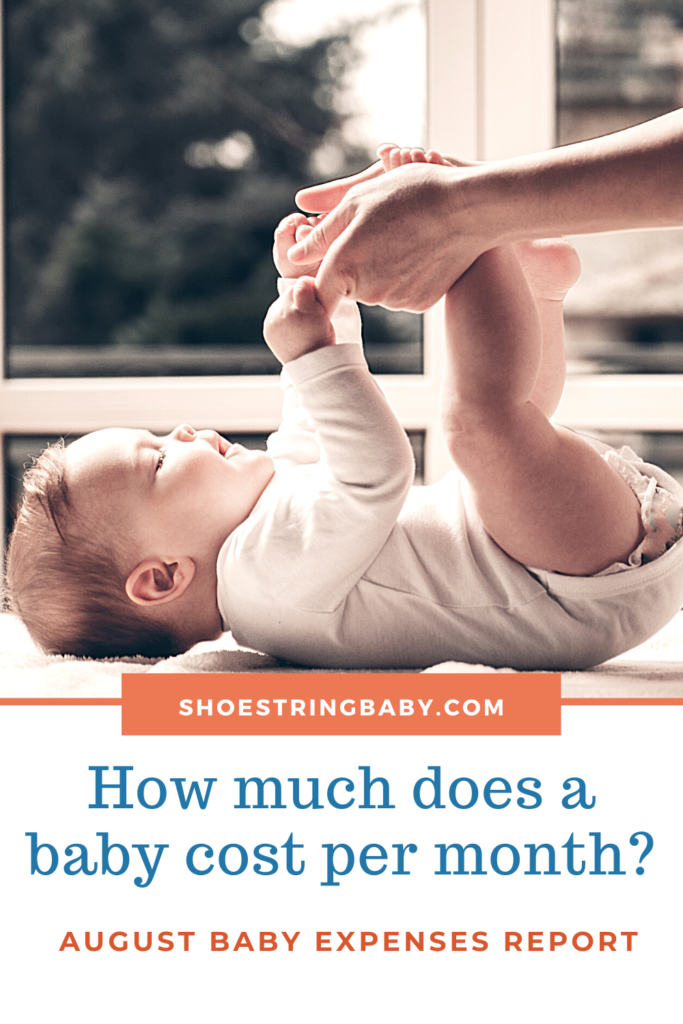 ---