Huggies vs. Target Up & Up Diaper Review (+ Real Life Testing!)
This post may contains affiliate links. Read the full disclosure here.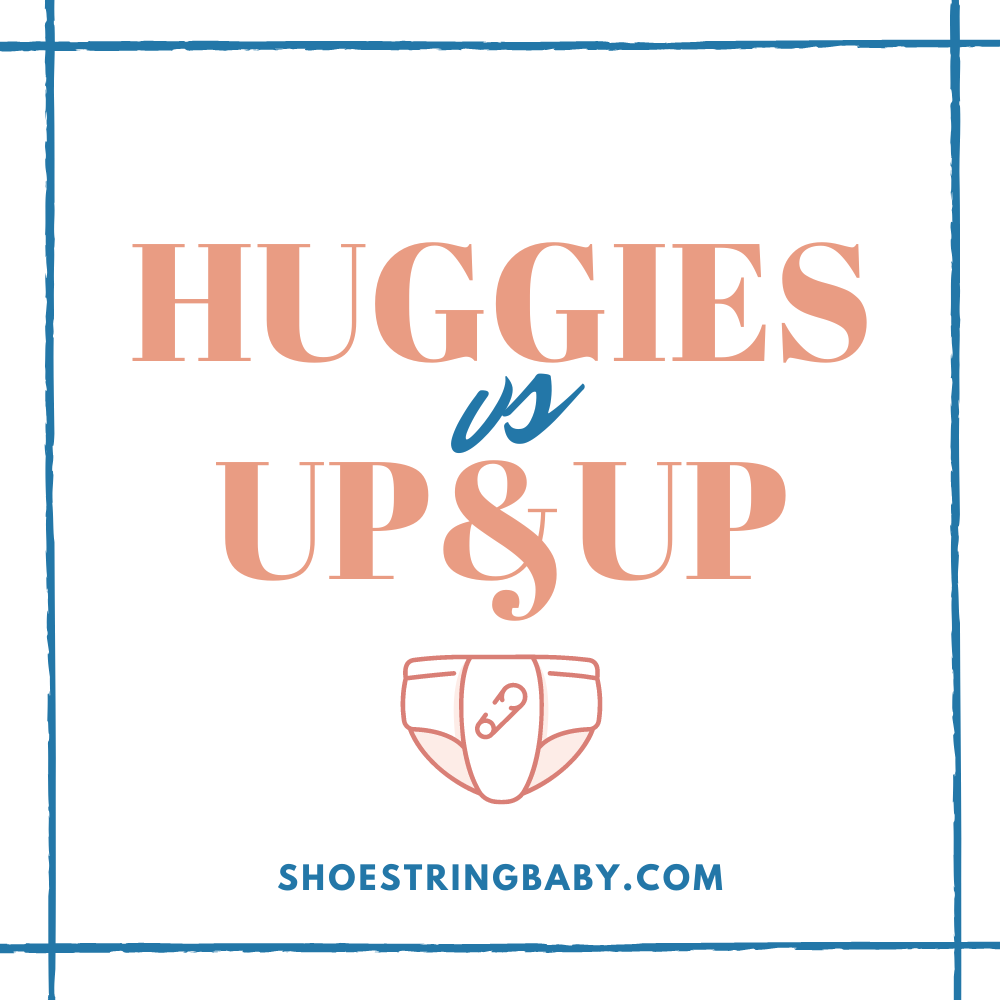 Huggies vs. Target Up & Up — who makes the better diaper? If you're unsure if Huggies are worth the extra cost compared to store-brand Up & Up diapers then read on.
Below you'll find a very in-depth analysis of Huggies Little Snugglers vs. Target Up & Up diapers. What makes this review different from others you may find is that I actually tested out hundreds of diapers on our real life baby, including overnight trials.
Most importantly, I ran absorption tests on each diaper that I made into animations so you can personally see how well these diapers compare at keeping a baby dry.
I also analyze the diapers' absorbency, size, comfort, fit, ingredients and cost in detail. Don't forget to check out some of our other diaper comparisons, such as:
Let's look at some diapers.
[NOTE: Cost comparisons throughout this article were current as of July 2023]
UPDATE: I have updated this article in July 2023 based on re-testing Target Up & Up diapers now that our baby is walking. The performance on our walking baby has been very disappointing. I've added notes throughout this write up but we've had many, many leaks and cannot use them overnight now that she's bigger. I've left my original assessment for those with smaller babies, since the diapers did work great when she was smaller.
Size
Size 2 diapers were used in the absorbency testing and pictures for this article, which have a weight range of 12-18 lb (we've used other sizes on our baby as well). I specifically tested Huggie's Little Snugglers model for this write up.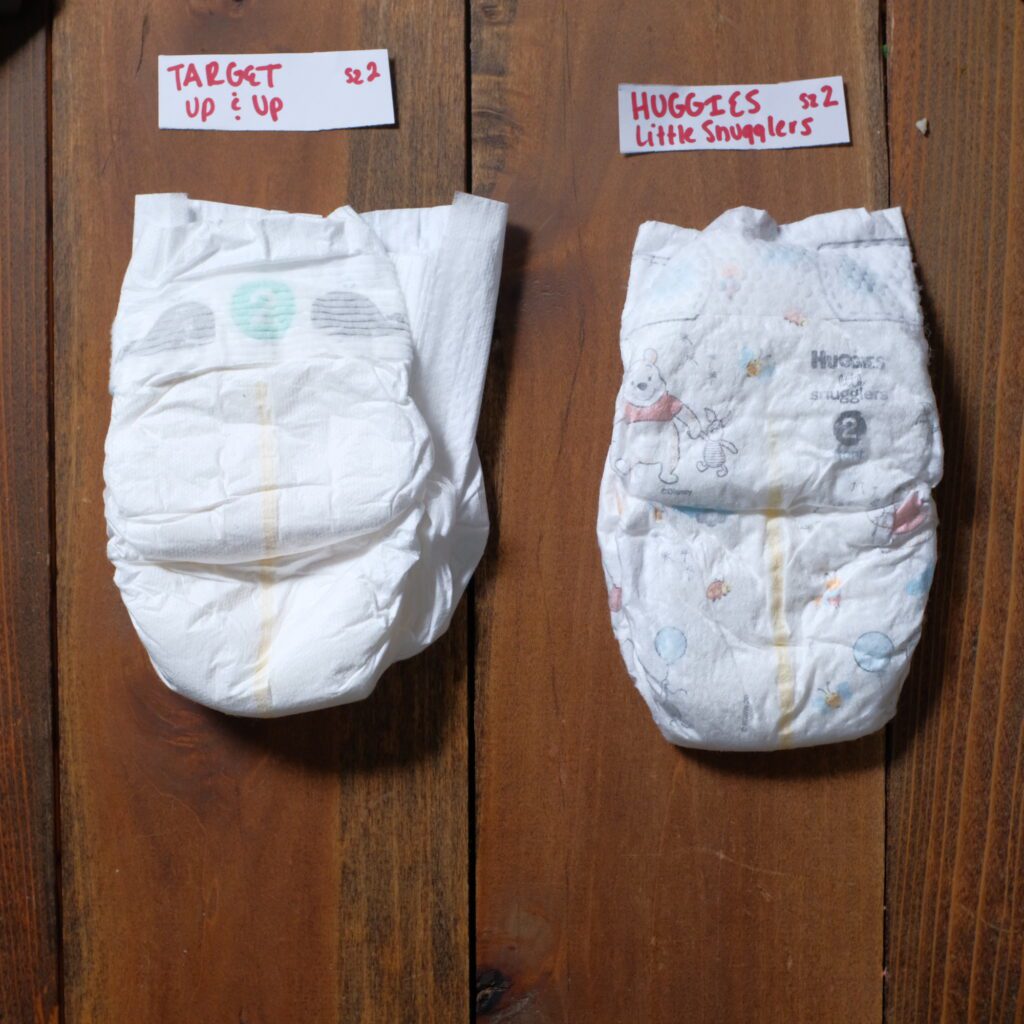 Target Up & Up diapers and Huggies are very close in size, with Huggies being slightly smaller on some measurements. Target diapers have a larger waistband, though the Huggies diaper has good stretch on the waistband. The Huggies diaper is ever so slightly wider.
| | | |
| --- | --- | --- |
| | Huggies Snugglers | Target Up & Up |
| Height | 7″ | 7″ |
| Width | 4.5″ | 4″ |
| Between Legs | 3.25″ | 3″ |
| Front waistband | 9″ | 9.5″ |
| Velcro Strip | 7.75″ | 5.4″ |
| Back waistband | 9″ | 10.5″ |
| Back waistband stretched | 12.5″ | 12.5″ |
For sizing options, Huggies Little Snugglers diapers are available in newborn size (up to 10 lb.) to size 4 (22-37 lb.). After size 4, Huggies switches over to their Little Movers line which are available up to size 7 (above 41 lb.).
Target Up & Up diapers are available from newborn (up to 10 lb.) to size 7 (above 41 lb.).
Huggies are also available in preemie size while Up & Up's are not. I really appreciate that Huggies offers a preemie size (we had a preemie ourselves), but understand how it may not make sense for Target to enter that market if they aren't selling to NICU's.
WINNER: Tie — Up & Up and Huggies are very similarly sized.
Absorbency Testing
To test how well the diapers absorb liquid and keep a baby's skin dry, we subjected the diapers to repeated pours of 50 mL of colored water (roughly the estimated volume of an infant bladder).
After each pour of liquid, photos were taken every 5-seconds to document the progression of the absorption. At the 25-second mark, I tested for residual wetness by touching the diaper with a paper towel. After all the pours, the diaper was left to rest before a final dryness test to see how the diaper continued to absorb the liquid.
We exposed the diapers to seven pours total, for a final volume of 350 mL. This volume nears an estimated daily urine output of an average 9-month old (based on 2 ml/kg/hour of pee, source & source).
Target Up & Up Diaper Absorbency Testing
Up & Up: Up & Up diapers had a solid performance on the absorbency test, especially for a store brand diaper. That said, it was definitely outperformed by the Huggies (more on that below).
Visually, Target diapers quickly absorbed the liquid after each pour. There was bit of dampness on the paper towel touch test, but overall the diaper did a decent job of absorbing the majority of the liquid efficiently.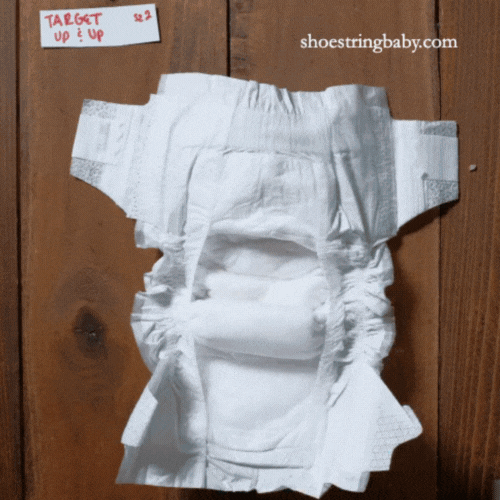 It's performance held strong until the 300 mL pour, after which point the paper towel touch test was wetter. It definitely lagged behind the Huggies at the highest volumes.
After the ~10-minute final resting period, the final paper towel touch test was totally dry. When I touched the diaper with my skin, the Up & Up actually felt the driest of all the diapers tested in this trial run (four total).
Huggies Swaddlers Absorbency Testing
Huggies: Huggies diapers rocked the first half of the absorption tests and had very solid performance at the higher volumes too. It was the only diaper that felt dry 25 seconds after the initial pours. The paper towel test came away completely dry after the 50 mL and 100 mL pours, and was only ever-so-slightly damp at 150 mL.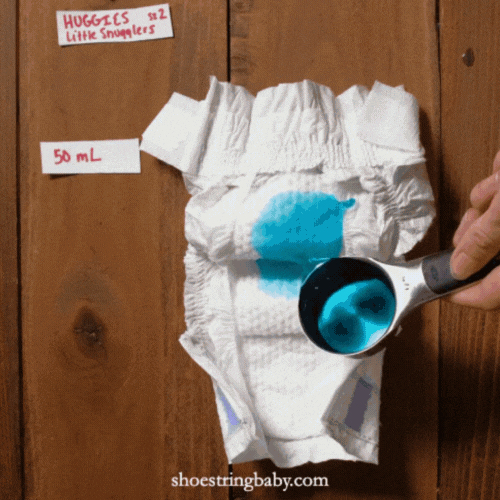 By the 200 mL pour, the paper towel test started to show some wetness. However, Huggies Little Snuggles still did a great job at absorbing the large volumes and decidedly beat out the Up & Up diapers at the final pours.
After the final resting period, Huggies did well on the paper towel test but felt just slightly damper than the Target Up & Up, though the difference wasn't significant.
WINNER: Huggies — Huggies owned the absorbency test vs. the Target Up & Up's. We tested four diaper brands during this trial and Huggies' absorption efficiency at the initial pours outperformed all of them.
Overnight Performance of Huggies vs. Up & Up
Up & Up: We regularly use Target Up & Up diapers overnight and they get the job done. We've had minimal leaking in the morning and no skin irritation from dampness.
Huggies: Huggies have also been winning overnight diapers for us, with very few leak incidents. Occasionally the outer shell of the diaper feels very slightly damp but not enough to wet our baby's clothes. Like the Up & Up's, our baby's skin is never irritated from moisture exposure in the morning.
WINNER: TIE — I trust both diapers to do a good job overnight.
Cost Comparison: Target Up & Up vs. Huggies Diapers
[Reminder: Costs referenced here were last updated in Oct. 2022. This date is flagged with each mention of cost.]
Target Up & Up diapers are a store brand and obviously run much cheaper than name brand Huggies. So really, thinking about the cost of Target Up & Up's vs. Huggies is more about whether Huggies name-brand features justify the higher price tag.
As of Oct. 2022, a big box of Huggies size 2's costs about $0.29 per diaper, about twice as much as Target Up & Up's $0.14 per diaper.
You can save a little on Huggies by buying them at Costco, which drops the price to $0.23 per diapers for Little Snuggles (about $10 cheaper per box). However, once you switch to Little Movers, Costco prices for Huggies are about the same as other stores.
You have to buy Up & Up diapers at Target vs. Huggies which are stocked at most retailers. A big box of diapers is just shy of Target's $35 free shipping minimum so this isn't likely to be a big inconvenience.
WINNER: Up & Up — Up & Up diapers could cut your diapering costs in half compared to name brand Huggies (as of Oct. 2022).
Manufacturing Location
TIE — Both Huggies and Target Up & Up diapers are made in the USA.
Ingredients of Up & Up vs. Huggies Diapers
Huggies stands out compared to Up & Up diapers by the level of detail provided about their ingredients. While both diapers are free of latex, fragrance, and elemental-chlorine, Target only provides a very short ingredients list.
Huggies, on the other hand, give explanations for each ingredient in their diapers on their website.
| | | |
| --- | --- | --- |
| | Huggies | Up & Up |
| Fragrance Free? | YES | YES |
| Chlorine Free? | Elemental free | Elemental free |
| Latex Free? | YES | YES |
Note: Chlorine is a concern because of the environmental impact and possible exposure to dioxins. Elemental chlorine free means that no direct chlorine was used; however, other chemicals used in the wood bleaching process may contain chlorine.
Huggies: Huggies Little Snugglers contain: wood pulp, polypropylene, polyethylene, polyurethane elastics, polyolefin elastic, adhesives, colorants, printing ink, sodium polyacrylate (absorbent material), polyester, and a color-changing wetness indicator.
Up & Up: Target lists their ingredients as polyester, polypropylene, polyethylene. They do specify that their diapers are lotion and claim to be hypoallergenic.
WINNER: Huggies — Huggies offers more transparency and information about their ingredients.
Comfort of Huggies vs. Up & Up's
Softness: Huggies Little Snugglers were the clear winner on softness. Their diapers are very soft vs. Up & Up's which feel more smooth and slightly plastic-y. I was also impressed by the level of softness Huggies achieved with the inner leg gusset elastic. It is somehow both very light around the skin but also functional for blowout prevention.
Bulkiness: Target Up & Up diapers are thinner than Huggies Little Snugglers when dry. Both diapers bulked up considerably, and similarly, with the introduction of liquid.
UPDATE: Now that our baby walks, the filling in Up & Up shifts and bunches up a lot. It was disappointing and seems to lead to leaks.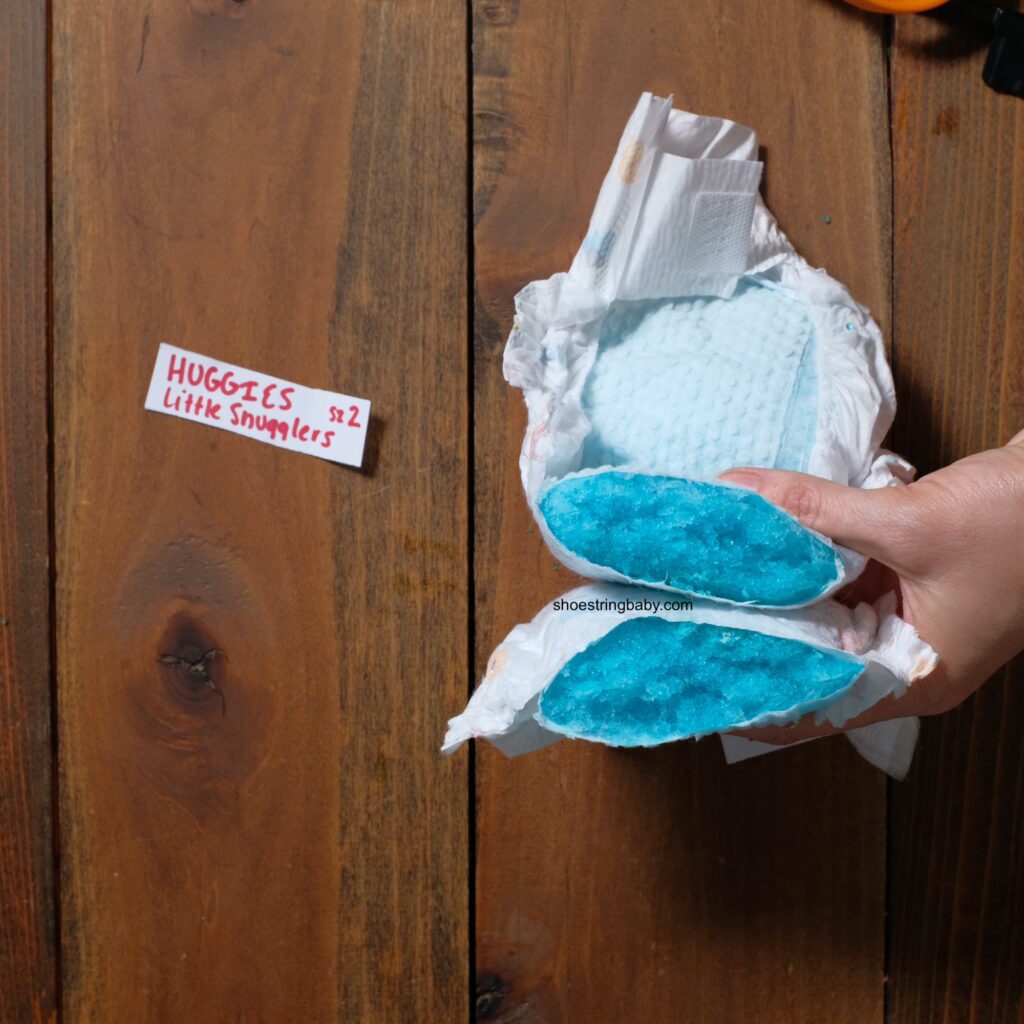 Umbilical Cord Cut Out: Both Huggies and Up & Up diapers have umbilical cord space in their newborn sizes.
WINNER: Huggies — Huggies are much softer than Target diapers.
Fit & Secureness of Huggies and Up & Up
Fit: Huggies Little Snugglers and Target Up & Up diapers fit very similarly. I was able to get a secure fit with both diapers but diaper fit does depend some on your baby's proportions. For example, we've preferred Up & Up diapers with our second baby more than our first baby because of her size.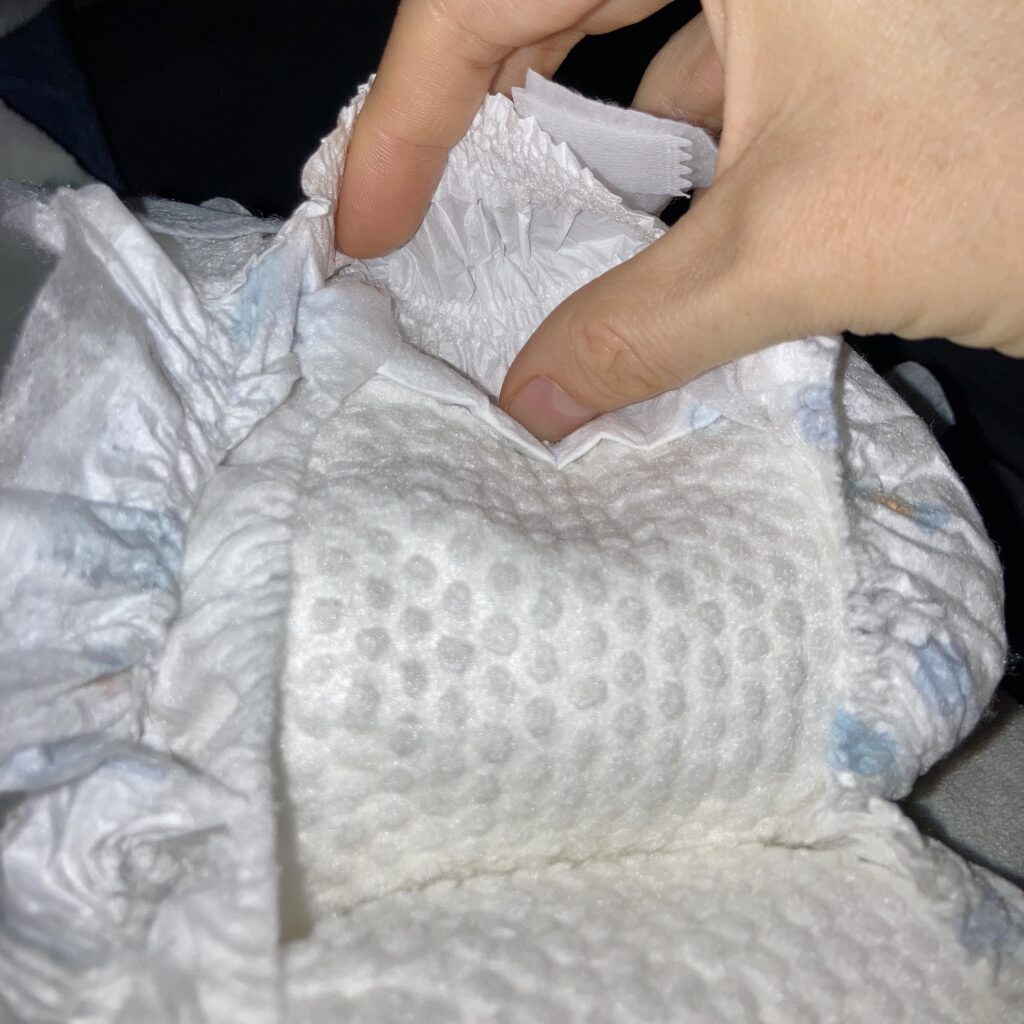 Waistband: Huggies Little Snugglers waistbands are superior to Target Up & Up's because they include the thoughtful detail of a back pocket. This back pocket is added to help reduce the risk of poop blowouts. This is especially nice for younger babies who tend to have more watery poop.
Huggies Little Movers have snugger back elastic instead of pockets.
Tabs: The Huggies tabs have a little more stretch than the Up & Up but the difference is not enough to impact performance. When diapering an actual baby, both tabs have appropriate stretch to get a good fit.
Sturdiness: Huggies includes something they call 'grip strips' on their diapers' waistband where the tabs connect. These purple strips are designed to make the fasten of the tabs even tighter.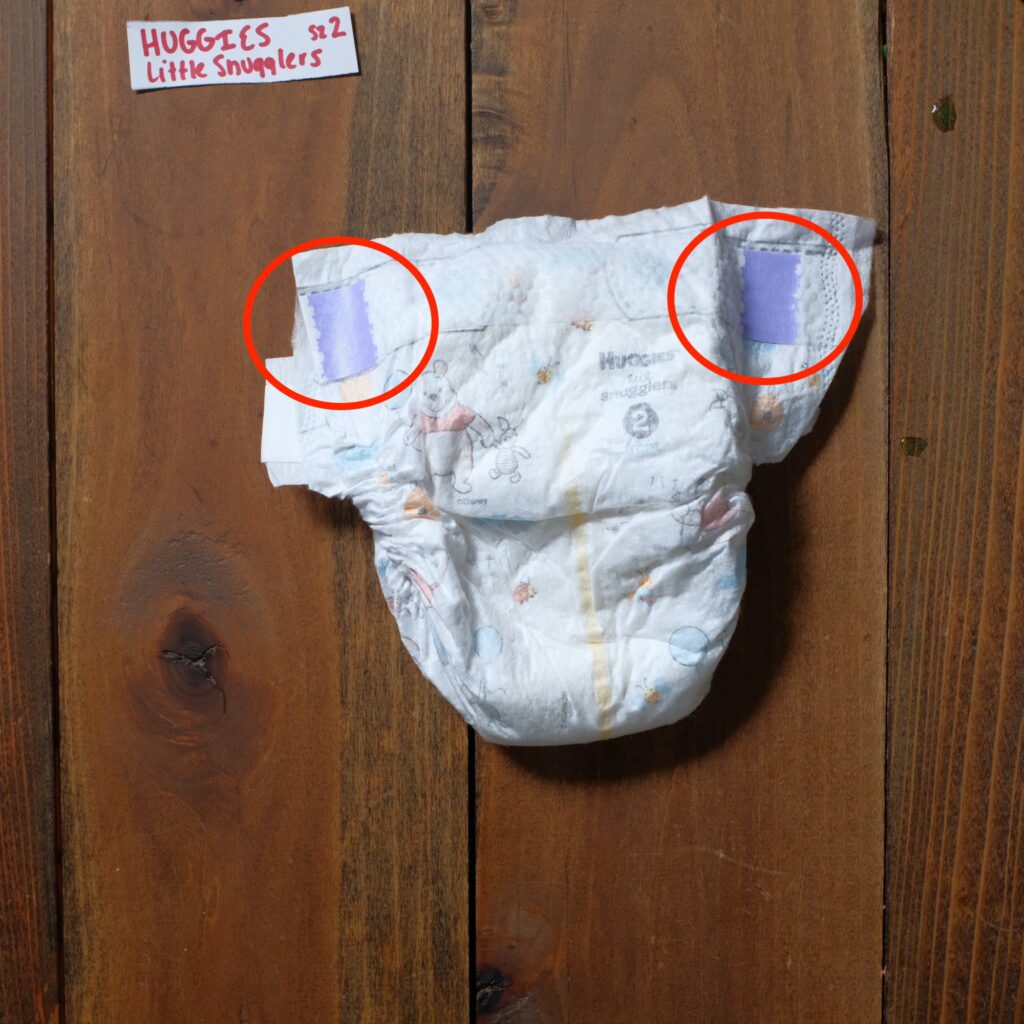 Surprisingly, I found these grip strips to be more of a negative than a positive.
Our baby moves a lot and we often have to readjust the tabs as we diaper her. Pulling the tabs off and on the grip strips a few times seemed to wear the fabric of the diaper some.
The grip strips would also grab on to other pieces of the diaper. This would be annoying when I was trying to hold down our baby with one hand and open the diaper with the other.
UPDATE: Now that our baby is walking, I have been disappointed with the sturdiness of Target Up & Up diapers. We've had a couple occasions where the diaper has fallen off.
WINNER: Huggies — With some reservation, I give this category to Huggies over Up & Up's. They win with the added premium features, though I personally could do without the grip strips.
Look of Huggies vs. Up & Up Diapers
Wetness Indicator: Both Huggies Little Snugglers and Target Up & Up diapers include wetness indicators.
Size Indicator: Size indicators are a nice feature so you don't have to figure out when to size up your diapers. Huggies says that some of their diapers include images where the tab fastens for this purpose. As the image is revealed as the baby's waist gets bigger, it is time to size up.
There are little circles on the Little Snugglers but nowhere is it made explicit that these are in fact size indicators so it would be easy for someone to miss.
Target diapers do not seem to include a size indicator.
Design: Huggies diapers have more of a design than Target Up & Up's. All the Huggies I've used have been Disney themed, and the ones tested here had Winnie the Pooh characters on them.
Target Up & Up diapers have two designs in the package, one with a pattern on the outer sell and one with only white and a pattern on the waistband.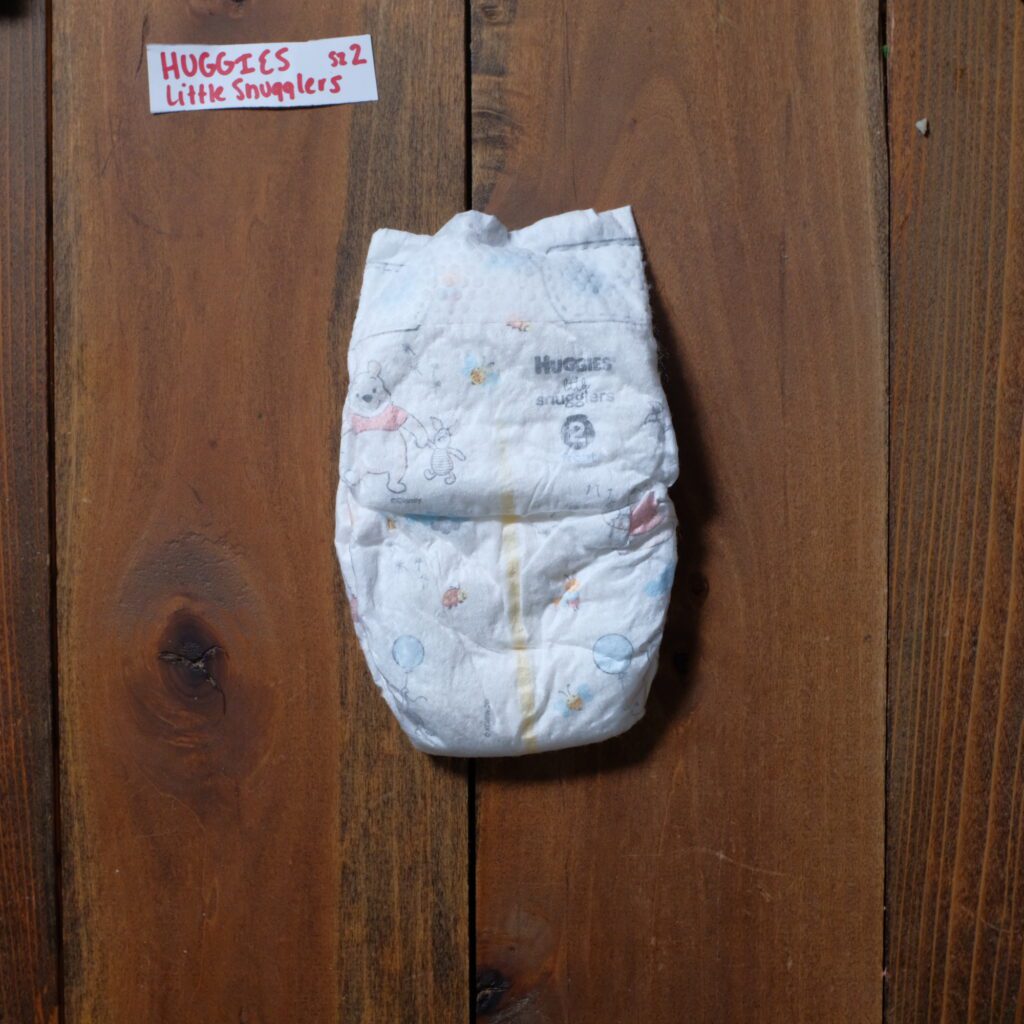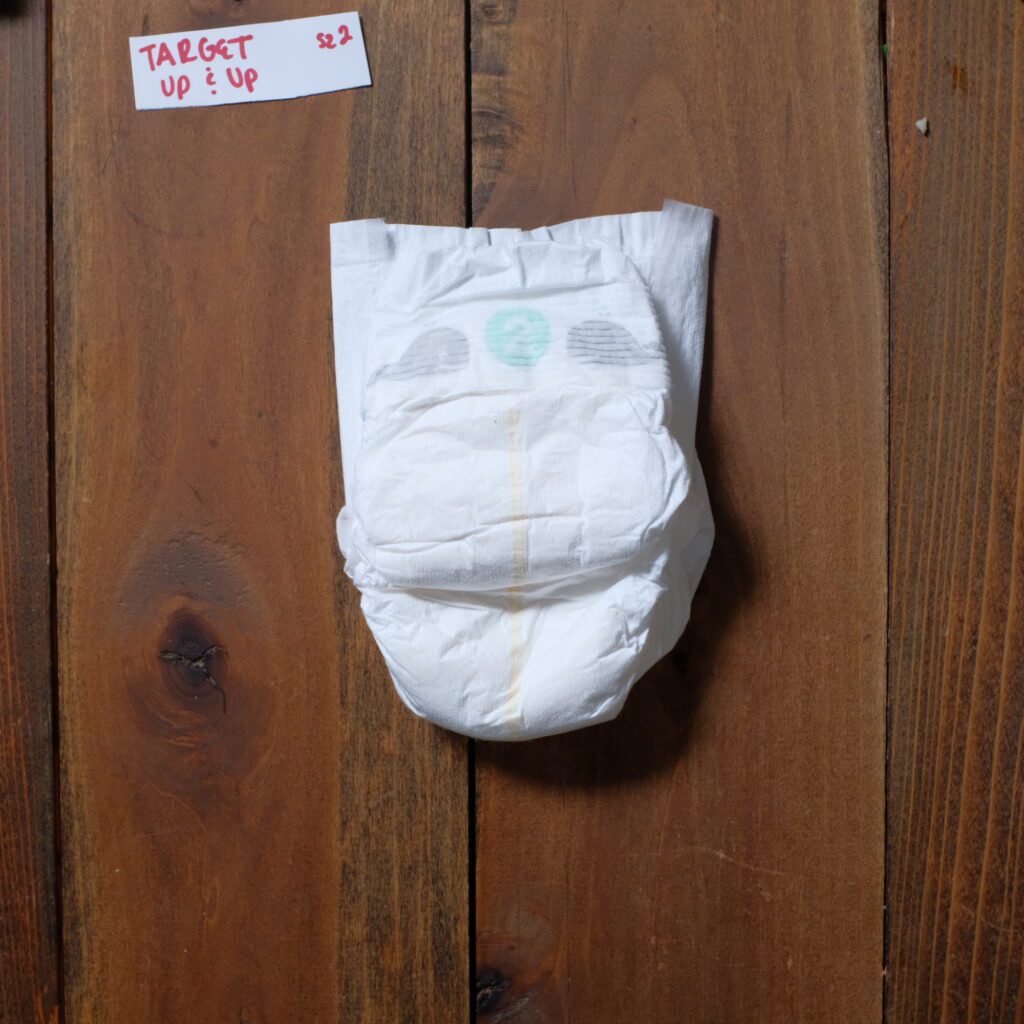 WINNER: TIE — Huggies seem to have the advantage with the size indicators but they don't advertise this feature well, making it is too easy to overlook.
Conclusion: Are Huggies or Up & Up Diapers Better?
Overall, deciding between Huggies diapers vs. Target Up & Up diapers will come down to your priorities. Their strengths are different and both diapers have some negatives.
You can see from the table below, Huggies beats out Up & Up diapers in a lot of ways:
| | | |
| --- | --- | --- |
| | Huggies | Up & Up |
| Size | TIE | TIE |
| Absorbency | WINNER | — |
| Overnight | TIE | TIE |
| Cost | — | WINNER |
| Ingredients | WINNER | — |
| Comfort | WINNER | — |
| Fit & Secureness | WINNER | — |
| Look | TIE | TIE |
| Manufacturing | USA | USA |
Huggies outperforms Up & Up diapers at arguably the most important diaper job: absorbs a lot of liquid quickly. Their diapers also showcase a lot of premium features, like softness for comfort and added blowout protection.
But, you have to weigh whether that extra quality is worth the substantial cost difference vs. Up & Up's store-brand price tag. Opting for Huggies could potentially double your diapering budget and that adds up to hundreds of dollars over a baby's infancy.
In comparison, Target Up & Up diapers are still a solid diaper and very affordable option. While they don't absorb as well as Huggies, they still absorbed a lot of liquid and did great on overnight testing. We found them just as functional as Huggies during real world testing on our baby.
[UPDATE: I still believe that Up & Up are very solid diapers for small babies. However, I've retested Up & Up's now that our baby is walking and have found them disappointing. We've had multiple times where she's left puddles on the floor in essentially new diapers. Amazon's Mama Bear Plush Protection are my new go-to store brand diaper.]
Personally, while I recognize Huggies as the better diaper, I opt for the cost savings of Up & Up. At the end of the day, both Huggies and Up & Up diapers ultimately end up in the trash after only a few hours of wear so it makes sense to be budget-conscious.
Still undecided on diapers? Check out our other diaper comparisons, including Pampers and Amazon Mama Bear diapers: