Hello Bello Nighttime Diaper Review (With Real Testing!)
This post may contains affiliate links. As an Amazon Associate, I earn from qualifying purchases. Read the full disclosure here.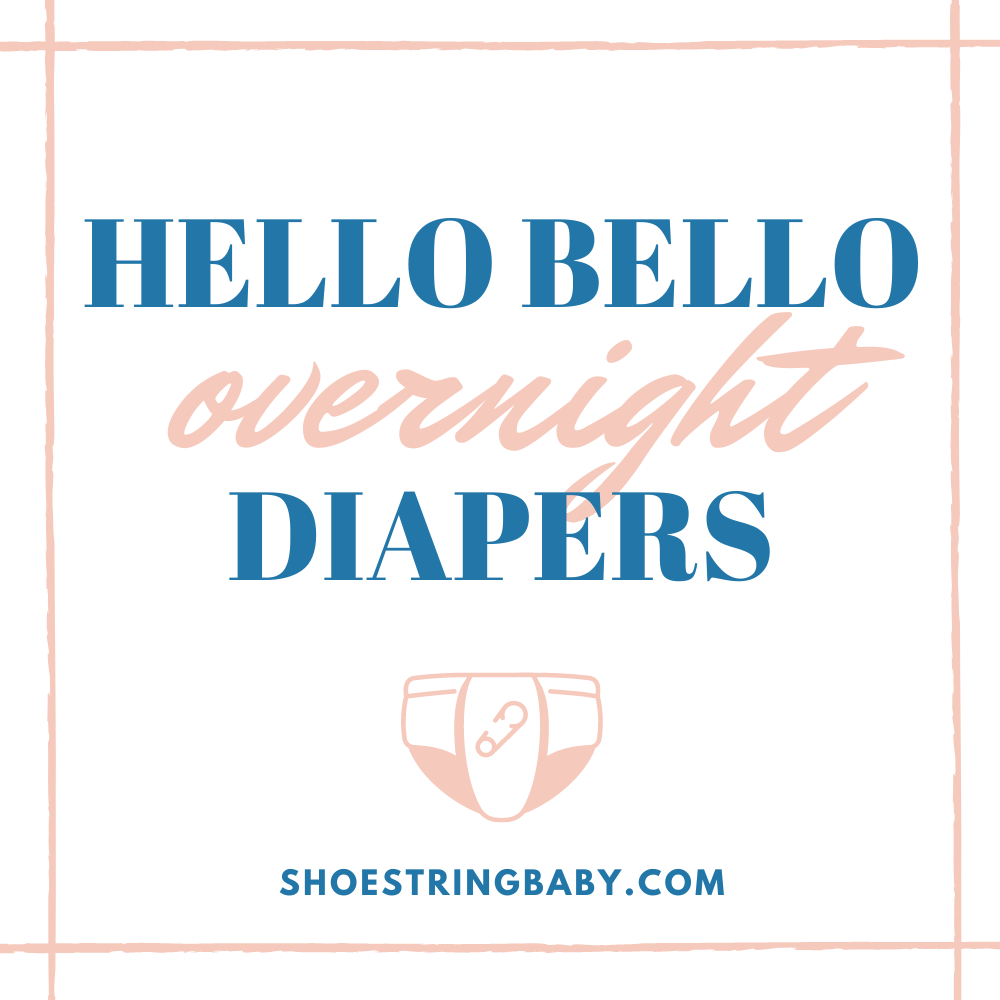 Considering trying Hello Bello Nighttime diapers? This in-depth review has everything you need to know about Hello Bello's overnight diaper line, including real-world and experimental absorbency testing.
This Hello Bello overnight diapers review stands out from the crowd because I actually used hundreds of Hello Bello diapers on our baby. All the diapers were personally bought and this is not a sponsored review.
I also conducted rigorous testing that I made into visuals so you can actually see how these diapers work.
And before we dive in, don't forget to check out my comparisons of Hello Bello diapers vs. Pampers and Hello Bello vs. Honest Co. diapers.
On to the Hello Bello diaper review!
Table Of Contents
What is Hello Bello?
Hello Bello is the baby product company launched by Kristen Bell and her husband Dax Shepard. They launched the company with the mission that all parents should be able to afford natural and eco-friendly products for their baby.
They market themselves as being an affordable natural option, though they are still more expensive than store brand diapers. Originally launched through Wal-Mart, they are now available at other retailers like Amazon and CVS. Though their diapers are still not present at all stores: they're notable not available at Target as of early 2023.
You can also sign up for Hello Bello bundles as a subscription. When you buy bundles directly through their website, you are able to customize the box, picking your diaper designs and sizes.
Cute and seasonal designs are perhaps the biggest selling point of Hello Bello diapers. Their designs selection stands out amongst the diaper competition, and admittedly I enjoyed selecting patterns for the diapers I bought for this review.
What are Hello Bello Nighttime Diapers?
Hello Bello Nighttime Diapers are their overnight diaper offering. These diapers are designed to keep your baby dry in the (hopefully) long stretch between bedtime and morning.
Overnight diapers have increased absorbency material to better hold higher urine volumes. This improves capacity and the efficiency of the diaper absorption.
Remember that not all babies need overnight diapers. If regular diapers are still working for you, you don't necessarily need to make the switch. Sticking with regular diapers will save you a little money — the increased absorbent material in an overnight diaper also means an increase in their cost.
How are Hello Bello Nighttime Diapers Different From Regular Hello Bello Diapers?
According to their website, Hello Bello nighttime diapers are made of the same materials as their regular diapers. They add extra material to their nighttime diapers for "faster fluid intake and increased absorbency."
From our real-life testing, I've found this to be true that their overnight diapers can hold more pee (there's more on all our absorbency testing below!). That said, we actually do fine with their regular diapers overnight too.
The difference we noticed after a night in a regular Hello Bello, we need to change her as soon as she wakes up. In comparison, we have a little more wiggle room in how soon we change her in a nighttime diaper. This added time is particularly nice since our baby immediately demands milk and a snack upon waking and has no baby patience for a diaper change before.
Holding both diapers in my hands, the shape and construction of Hello Bello overnight diapers vs. their regular diapers is almost identical. The most noticeable difference is that Hello Bello nighttime diapers are a little thicker than their regular diaper.
The biggest difference in their night diapers and day diapers are the available selection. Hello Bello does not start their night diapers until size 3. This makes sense because presumably smaller babies aren't sleeping long enough stretches to justify a nighttime diaper.
There was also only one design option for nighttime diapers as of the timing of this writing, a sharp contrast to the many cute patterns available for their regular diapers. Below is a picture of a Hello Bello regular diaper vs. a Hello Bello night diaper that shows the design.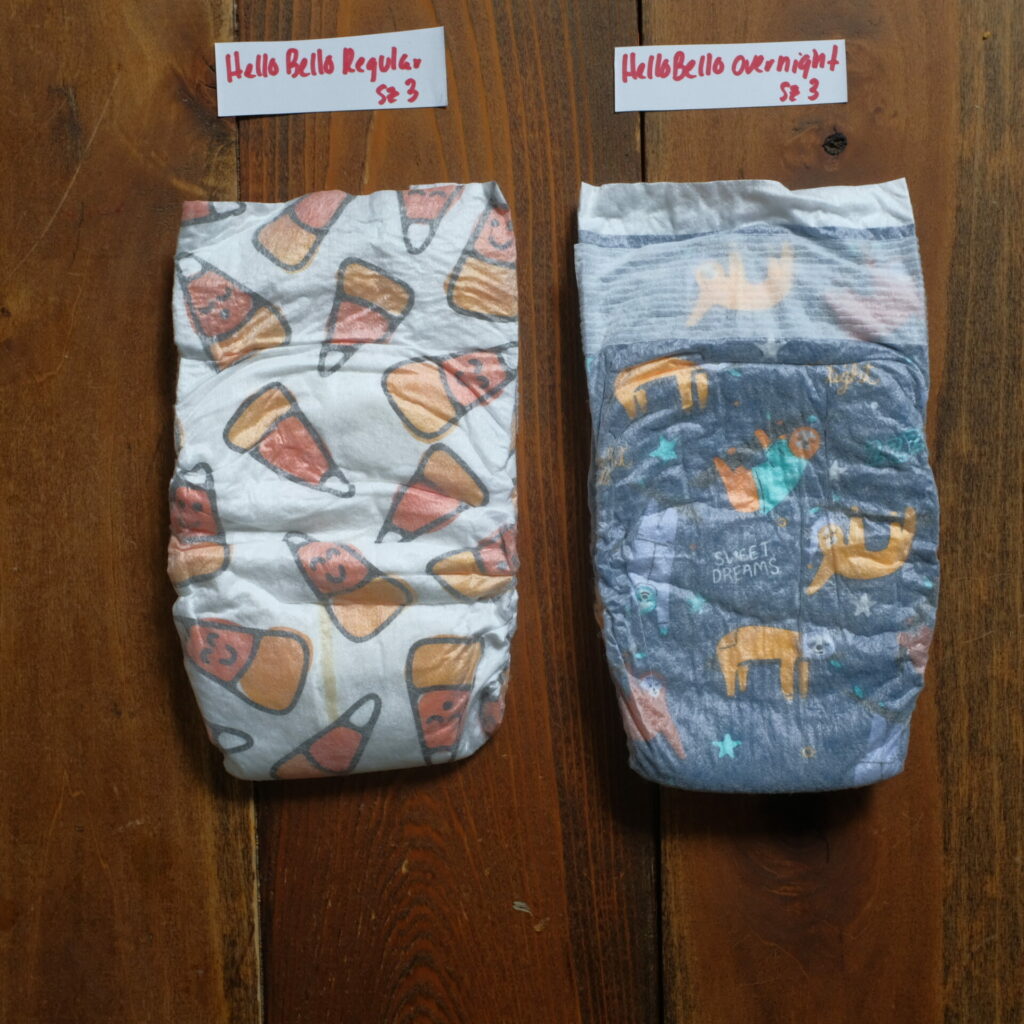 Lastly, you'll get fewer diapers in the overnight pack than the regular pack. For example, in size 3, you'll get 24 Hello Bello night diapers vs. 27 regular diapers.
Absorption Experiments
To test absorption, I poured 50 mL increments of dyed liquid onto Hello Bello nighttime diapers and Hello Bello regular diapers until they were filled with 350 mL. Photos were taken every five seconds after pours to record absorption. After 25 seconds, remaining dampness was tested with a paper towel. Diapers were then allowed to rest before a final dryness test.
50 mL pours were selected to emulate an average baby's 48.9mL bladder size (source). 350 mL is just under an estimated daily urine output for a median 9-month old (assuming 2 mL/kg/hr and 50th percentile weight of 8.2 kg: source, source).
Hello Bello Nighttime Diaper Absorption Test
Hello Bello absorption test results were interesting because the level of dryness depended on where I tested the paper towel. As you can see in the photo below, part of the diaper has an extra rectangle of absorbent liner.
When I checked wetness, the back of the diaper would feel dry while this extra liner would feel wet. I believe the liner adds extra absorbency capacity but it does not wick away liquid as quickly as the polymer filling in the back of the diaper.
Below you can see the gif of how the Hello Bello overnight diaper absorbed the test liquid.
At 50-150 mL, the back of the diaper felt dry while that front liner had some wetness. The absorption maintained fairly well through the 250 mL pour.
At 300 mL, you could visibly see the absorption slow down. The diaper had some wetness after 25 seconds at this volume. As a test, I let it rest an additional 10 seconds and it dried out a lot and was only a little wet. This suggests that Hello Bello overnights can absorb these higher volumes but the efficiency slows down a bit.
At 350 mL, the diaper was significantly wet and the liquid had not fully absorbed by the 25-second mark.
After a resting period, the Hello Bello overnight diaper was dry to the final paper towel test.
Hello Bello Regular Diaper Absorption Test
In addition to testing Hello Bello's nighttime diaper, I also tested a regular size 3 Hello Bello diaper for comparison. The gif below shows how Hello Bello's regular diaper performs on the absorbency testing.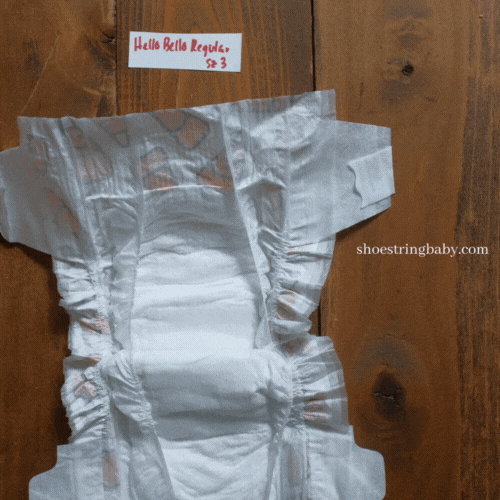 Regular Hello Bello's also had the extra liner that stayed wetter than the back of the diaper. Because of that it had some wetness on each of the pours.
The absorption level maintained until 250 mL, when visually the absorption slowed down but the paper towel test maintained a similar level of wetness. This slowing down happened one pour earlier than with the overnight diaper.
Performance notably dropped at 350 mL. At 350 mL, the diaper was significantly wet, much like the overnight diaper.
After the resting period, the regular diaper had slightly more dampness than the overnight diaper.
Real-World Overnight Testing
Hello Bello Nighttime Diapers performed very well when we used them on our baby. I never worried about our baby waking up wet if she when she was in one.
We never experienced a leak or blowout with these diapers. They also never had a noticeable odor when she woke up in the morning. Overall, Hello Bello night diapers are a reliable and solid option for those needing extra absorption at night.
As discussed above, I think it's worth noting that we also use regular Hello Bello's overnight without issue. This is not something I can say about all regular diapers so it is not just because our baby doesn't pee much at night. So while Hello Bello's specific nighttime diaper absorbs more liquid, some babies may be fine with regular diapers.
Hello Bello Bedtime Diaper Size
Hello Bello nighttime diapers run true to size. Compared to other brands, they fall in the middle of the pack with how big their sizing runs.
A size 3 night diaper is about 8.5 inches long, 4.5 inches wide, with an 11 inch back waistband. You can stretch the waistband another inch or two, with most of the stretch coming from the tabs.
Hello Bello night diapers are exactly the same size as their regular diapers. The difference is that they don't begin their night diaper offerings until size 3, whereas you can get regular diapers starting at newborn size.
Again, this limited sizing makes sense because babies are not likely to sleep through the night until they are bigger. They also consolidate their urine more and more as they grow so the diaper would be subject to more urine volume at once.
Fit and Comfort of Hello Bello Overnights
Hello Bello nighttime diapers fit and feel exactly like their regular diapers. In terms of softness, they are softer than store brand diapers like Target Up & Up's but they aren't quite as velvety soft as brands like Pampers and Huggies.
The picture above shows the Hello Bello's night diaper inner lining, tabs, gussets and waistband. I was able to get a secure fit with our Hello Bello's. They have a little ruching in the back waistband that has a bit of give and their tabs have average stretchiness.
After an overnight, the Hello Bello filling bulks up substantially but this is comparable to all other diapers as they absorb liquid. The bulking of the inner core after absorbing liquid is pictured below:
Our baby seemed to sleep comfortably in the diapers, which I took as the biggest indicator of comfort and unobtrusiveness.
Hello Bello Night Diapers' Designs
Hello Bello is known for their wide selection of diaper designs. It is one of their market differentiators and a key part of their brand.
However, this design selection has not made its way to their nighttime diaper line yet. As of the time of this writing, there was only one dual-design option available.
The pack of Hello Bello bedtime diapers we got had one design with sloths and one with forest creatures, as seen pictured below:
I do appreciate that Hello Bello made the outer shell of their bedtime diapers blackish so it is easy to distinguish them from regular day diapers. This has saved us on more than one occasion from wasting a night diaper during the day.
Hello Bello Cost Per Overnight Diaper
Pricing on Hello Bello nighttime diapers is more complicated than other diapers because you can buy them either through their subscription bundles or directly through a store. Their bundles include seven diaper packs and four packs of wipes, plus a freebie on your first order.
The bundles work as a subscription model that you are able to cancel at any time. I bought the diapers for this review as a subscription bundle that I canceled as soon as I received the diapers.
I did this because I was able to find a coupon code that gave me 40% off my first bundle. I used the code "DIAPERS" which is still active as of this writing, but it seems that the discount percentage fluctuates — when I checked now in December 2022 it gives you 35% off but last month it was 50% off.
I'm about to break down my costs but please note that cost per diaper in the bundles will vary depending on the diaper type and sizes you pick. This is because the number of diapers in a pack goes down as size goes up. There are also fewer diapers in their overnight diaper packs than regular diapers. In size 3, you get 24 night diapers vs. 27 regular diapers. I also had one Halloween design pack that surprisingly had two fewer diapers than the other regular diapers I received.
I paid $43.94 (including shipping) for a mix of seven packs of overnight and regular diapers in sizes 2 and 3, four wipes, and a sunscreen freebie. If you take that price as strictly diaper costs, it works out to 26 cents per diaper, which is still a decent price for an overnight diaper.
If you less the cost of the wipes, it comes out to about 19 cents a diaper. I'd consider this a good price for Hello Bello nighttime diapers as it is on par with store brand overnight diapers like Target Up & Up in the same size (price as of December 2022).
However, if you don't have a discount code, the bundle costs $69.99 as of December 2022. Even when you less the wipes cost, this works out to diapers work out to 36 cents per diaper, for a mix of size 2 & 3 diapers regular and overnight diapers.
This cost is similar to what Hello Bello overnight diapers cost if you buy them at the store. As of this writing in December 2022, they run about 37 cents per night diaper. This is almost double the cost of Target's store brand night diaper offering.
Ingredients of Hello Bello Bedtime Diapers
Hello Bello differentiates itself from other diaper brands by their focus on natural ingredients and eco-friendly production.
For example, of all the diapers I've tested (and I've tested a lot), Hello Bello's are the only diapers made with fully chlorine-free processing. Most other diapers are "elemental chlorine free," meaning that chlorine isn't used directly but it may be in other chemicals used in the processing. Chlorine is a concern because of the environmental impact and possible exposure to dioxins (source).
The Hello Bello overnight diaper website also states that they use sustainable harvesting practices for their diaper pulp and plant-based liners.
Hello Bello does not list the ingredients of their nighttime diapers on their website directly but they say that they are "made from the same great materials as [their] daytime diapers."
Their daytime diapers list the following ingredients: absorbent filling contains an absorbent polymer and "totally chlorine free (TCF) fluff pulp from sustainably managed forests;" shell contains polypropylene, polyethylene, polyester non-woven fibers, plant-derived PLA non-woven fiber, spandex, and an elastomeric film.
Conclusion: Hello Bello Overnight Diapers Review
So, should you buy Hello Bello overnight diapers? Based on performance, I would recommend Hello Bello nighttime diapers. However, I think there are two things to consider before clicking buy: do you even need a nighttime diaper and are you okay with the added cost of name brand diapers?
At the very least, if you are already getting a bundle of Hello Bello diapers, it is worth trying out a package of their overnight diapers to see how they work for your baby. I regularly see ads for bundles on sale and at a sale price, these overnight diapers are a good value. They work well and are more eco-friendly and natural than a lot of other diapers, especially at their price point.
If I were to get another bundle, I'd throw a pack or two of Hello Bello nighttime diapers in our order. I liked having them on hand for nights when our baby drank a lot before bed, and appreciated that the packs were nearly the same quantity as their regular diapers so including them in the bundle wasn't a huge cost hit.
However, if you aren't already buying Hello Bello diapers, just buying their overnight diapers from the store is going to cost you a lot more than opting for a store brand diaper. In that situation, I always personally err on the side of store brands and money savings.
I would also recommend waiting until you definitely need a night time diaper. Some babies won't need a nighttime diaper until they get bigger. Other babies, like our first born, will be okay in regular diapers the whole time. This is a place where you can save your money until there is a clear need for them.
Looking for more on diapers? Check out some of our other diaper reviews:
Or you can find all our diapering articles here.