AlvaBaby vs. Mama Koala: Cloth Diaper Face-Off
This post may contains affiliate links. Read the full disclosure here.
Considering cloth diapering but aren't sure which brand to start with? Then this comparison of Mama Koala vs. AlvaBaby diapers is for you. These two budget cloth diaper brands are a perfect entry point to cloth diapering for most people.
I have done a mix of cloth diapers and disposable diapers with both of my babies. In total, I've been using cloth diapers, including Mama Koala and Alva Baby diapers, for many years. And I've done a lot of diaper testing with rigorous experiments; for example, check out some of my disposable diaper reviews like Huggies vs. Pampers.
In this Mama Koala vs. AlvaBaby review, we'll discuss their features, pricing, design, and overall performance to help you find the best cloth diaper for your baby.
No time to read the whole article? Mama Koala are my all-time favorite cloth diapers because of their design and easy to stuff pockets. They also soak through less than AlvaBaby.
And if you're looking for more on cloth diapers, don't forget to check out my in-depth guide to buying cloth diapers used to help you save money. Plus, find out how much it really costs to wash all those cloth diapers!
NOTE: This is not a sponsored post, I personally bought all my cloth diapers and have been using them for years before writing this article. If you find this post helpful and decide to buy, I'd appreciate if you'd consider using my affiliate links: Mama Koala Cloth Diapers and AlvaBaby Cloth Diapers. There is no cost to you and it helps support this site.
Key Takeaways: Mama Koala vs. Alvababy Cloth Diapers
In case you're short on time, here are some key differences and similarities between Alva baby and Mama Koala cloth diapers
Similarities:
Both diapers are budget options and affordable
Pocket diapers are the most well-known product of both brands
Easy availability through Amazon
Little known about either brand's parent company
Differences:
Snap design differ between the brands
Mama Koala has a bigger back pocket for easy stuffing
Mama Koala has a thicker-feeling outer shell
Different patterns and designs offered by the brands
AlvaBaby sells more types of products than Mama Koala
Overview of Mama Koala and AlvaBaby Brands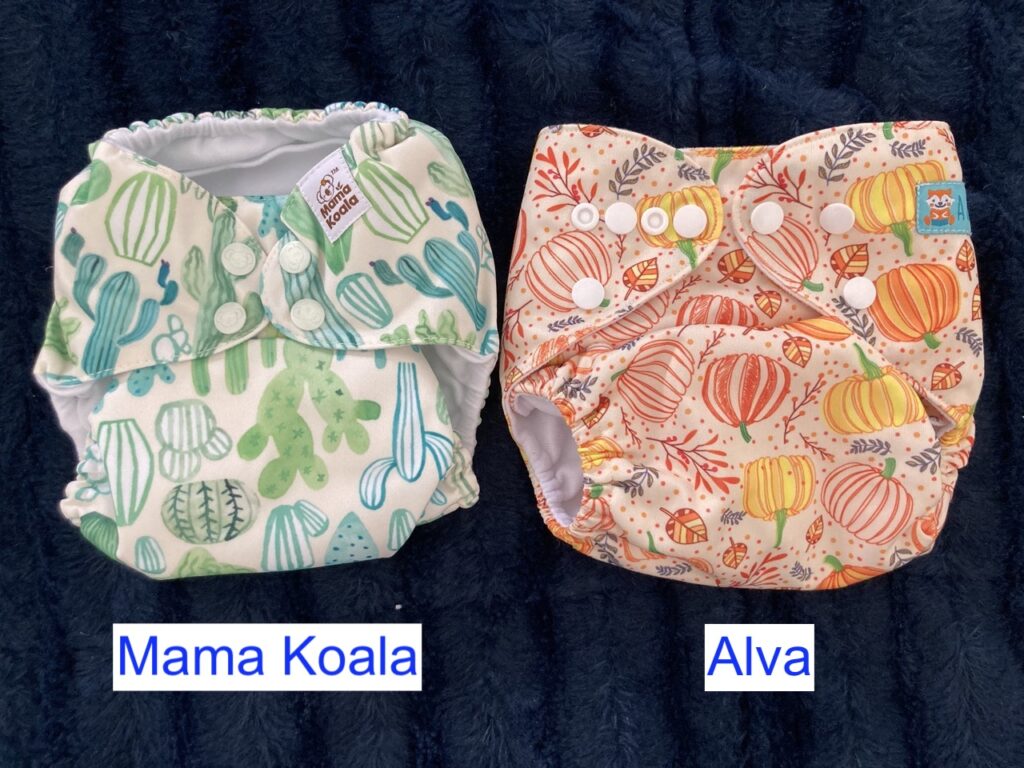 Before diving into the comparison, let's briefly introduce each brand.
Mama Koala and AlvaBaby differentiate themselves in the cloth diaper market as being budget options with more accessible prices than other brands than other brands like Charlie Banana or Thirsties. Their diapers are most commonly sold in 6-packs on Amazon, though each company also sells diapers through their individual websites.
Both companies capitalize off continually coming out with new patterns and designs for their diapers. Coming out with new designs and constantly rotating available patterns also helps drive a thriving secondhand market for sought-after, limited edition designs.
Mama Koala is known for their affordable prices, cute prints, and commitment to customer satisfaction. They are primarily known for their pocket cloth diapers, but in recent years have started offering more things like wet bags and diaper covers.
Alva Baby offers a wide range of affordable cloth diapers and accessories. They have gained popularity due to their low prices, variety of styles, and extensive selection of prints. AlvaBaby is also most known for their pocket diapers, and sell an even wider range of products than Mama Koala, such as resin figurines and nursing pads.
Neither company gives much information about their company of their websites. Mama Koala has a France based address listed but no information about their founders. Similarly, Alva does not provide any details about any individuals involved with the company and provide an address in Cyprus.
The companies also do not disclose officially where their diapers are made on their websites, though chatter on cloth diaper forums like Reddit's r/clothdiaps assume that both companies have Chinese-based production. Mama Koala's facebook page also shows their posts as coming from China, as seen in the screenshot below (AlvaBaby's post do not have this "poster based in China" note.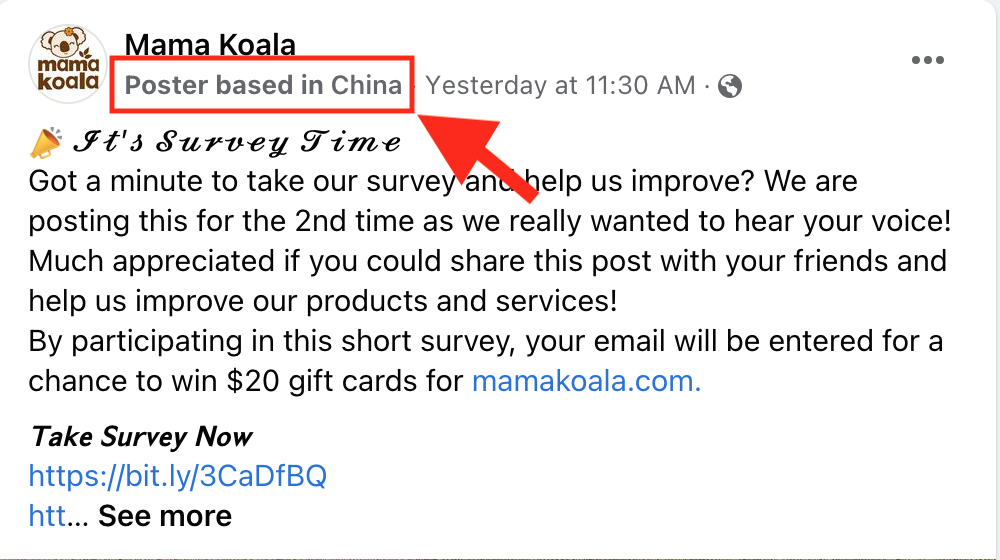 Design and Features of Mama Koala vs. AlvaBaby
Now let's take a look at the design and features of AlvaBaby vs. Mama Koala cloth diapers. Up first are Mama Koala diapers.
Mama Koala Cloth Diapers
Mama Koala's most popular offerings are one-size pocket cloth diapers, designed to fit babies from 8 to 40 pounds. Their most common diapers feature adjustable snaps that allow you to customize the fit for your baby as they grow.
Each diaper comes with a waterproof outer layer (made of PUL and TPU, a plastic-like material lamenated to fabric to create waterproofing) and a soft, suede inner lining that wicks moisture away from your baby's skin.
On their website, you'll also find cloth diapers with velcro straps instead of snaps and different kinds of inner linings, including athletic wicking jersey and bamboo.
Mama Koala diapers include a rise-snap system to make the overall diaper smaller (as opposed to the waistband snps to accommodate the baby's belly). These rise snaps enables you to adjust the diaper's size according to your baby's growth so they can be used from birth until potty training for many babies.
Mama Koala 1.0 vs. 2.0
Mama Koala recently came out with an improved version of their pocket cloth diapers. So what are the differences between Mama Koala 1.0 vs. 2.0 diapers? The 2.0 have the following added features (source: Mama Koala youtube):
1 more row of rise snaps for more sizing flexibility
Hip snap to secure the wings of the diaper
Tummy panel to reduce leakage from the front of the diaper
Athletic jersey or suede diaper liner options
Cross over snaps to secure diaper if you roll it up on the go
Mama Koala diapers use two vertical snaps to secure the diaper to your babies waist. Their newer 2.0 models also have a "hidden" snap to help the diaper wings stay in place more securely. I personally prefer two vertical snaps to Alva Baby's three snaps in a triangle shape because it is easier and quicker to snap on a wiggling baby.
One of my favorite features of the Mama Koala cloth diaper design is the big pocket opening in the back of the diaper. This makes stuffing the diaper so much easier than stuffing an Alva Baby diaper. When you are washing and restuffing diapers multiple times per week, this small feature makes a big difference.
Alvababy Cloth Diapers
Alva Baby cloth diapers are also one-size pocket diapers, designed to fit babies from 6.6 to 33 pounds. Similar to Mama Koala, they feature a rise-snap system to customize the fit as your baby grows.
Alvababy diapers differ from Mama Koala most noticeably in the design of their waistband snaps. Alva diaper have a three snap design, with two snaps on the top and one snap on the bottom. These snaps are off-set so they are in a triangular shape, with the bottom snap positioned in-between the top two snaps.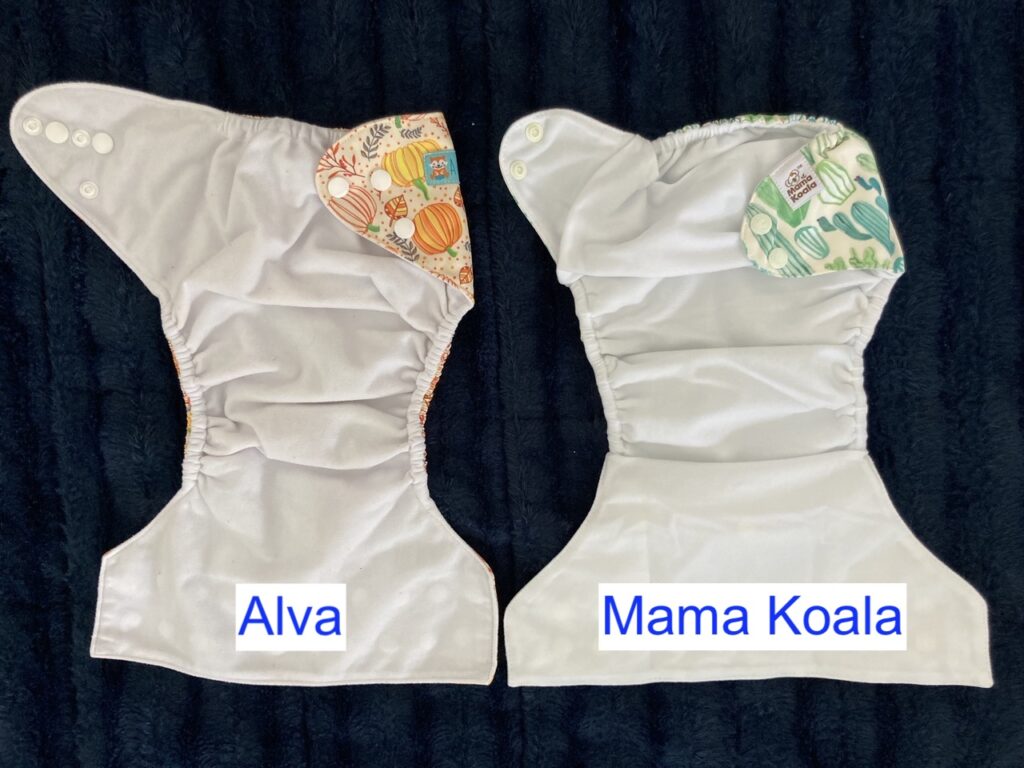 Some people prefer this snapping style and find it gives a better fit. However, I personally do not like it because I find it more difficult to line up the snaps correctly. I'm never sure that I'm getting the right bottom snap position. And most importantly, having to snap an extra third snap on a baby who is trying to escape feels like a herculean task.
Alva Baby diapers also have a waterproof outer layer (PUL + TPU) and a soft, suede inner lining like the Mama Koalas. I personally found their outer shell to feel a bit thinner to the touch than Mama Koalas. I've also had worse leaks where the outer shell gets soaked with my Alva baby vs. Mama Koala diapers.
Alvababy diapers have more elastic around the back pocket where you stuff in the diaper insert. This makes for a smaller opening and I find them harder to stuff than Mama Koalas.
Alva Baby vs. Mama Koala cloth diaper inserts
Both Mama Koala and Alva baby diaper sets are available with included inserts. However, I would not let the inserts sway your decision on which diapers to buy.
I prefer inserts that are all natural fiber, which you won't find in most of the Mama Koala and Alva baby diaper sets. Nonnatural fibers like microfiber wears out over time (plus natural finer inserts can go through the dryer). I just threw out most of the microfiber inserts that came with my Mama Koalas that had worn out.
Plus, microfiber inserts are known for having compression leaks (think wringing out a sponge) and nobody wants a leaky cloth diaper.
It is worth spending a little extra to get a pack of natural fiber inserts to go with your diapers. I personally use a mix of natural fiber inserts including flat diapers and cotton and hemp inserts. These should last you the entire time you're cloth diapering.
Skip Mama Koala and Alva babies standard microfiber inserts; they wear out quickly. I recommend using folded up flat diapers like OsoCozy (because they dry easiest) or natural fiber inserts (because you don't have to fold them).
On Amazon, Mama Koala sets come with Mama Koala's bamboo inserts; however, these Mama Koala's bamboo inserts include two inner layers of microfiber (source: Mama Koala website). The added bamboo is nicer than straight microfiber but these inserts will still wear out over time.
The majority of Alvababy diapers come with two 3-layer microfiber inserts, which can be placed inside the pocket opening for added absorbency. I was only able to find one set at the time of this writing that came with inserts made from viscose from bamboo
Cost of Mama Koala vs. Alvababy Cloth Diapers
Both Mama Koala and Alva Baby cloth diapers are known for their affordability. These budget diapers are great starting points for anyone curious about cloth diapers.
The pricing on both Mama Koala and Alva Baby diapers fluctuates a lot. Diaper sets with different patterns will vary by price. Set prices also depend on the type of inserts that come with the sets. Check the links below to check current prices.
When you check prices, make sure you click on different sets to see all the prices. Both Alva Baby and Mama Koala list multiple sets on the same listing and often you'll find some sets with different prices.
Alva Baby and Mama Koala also both sell their diapers individually on their websites but buying as sets is usually the cheapest per diaper cost.
Prints and Styles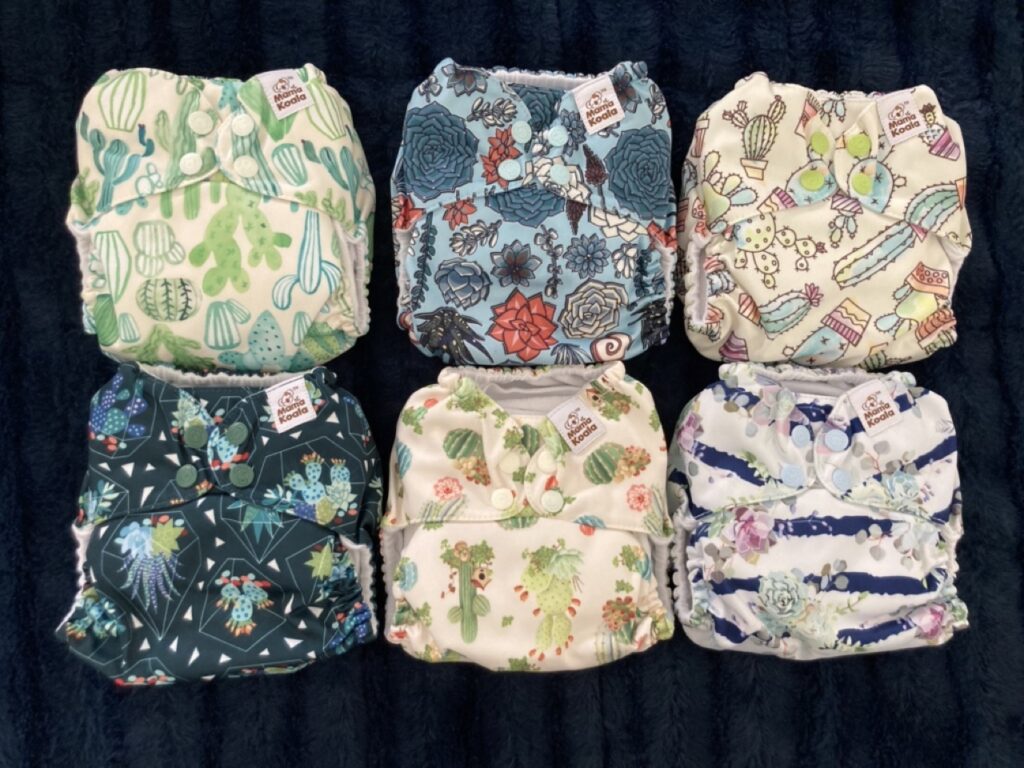 Both Mama Koala and Alva Baby offer a wide variety of prints and colors for their cloth diapers. New patterns are regularly introduced and old patterns are rotated out. This fuels an active resale market for the most sought after prints.
Each brand offers a selection of gender neutral, boys and girls patterns. I personally like many of Mama Koala's styles more but honestly, what prints you like will come down to personal preference.
Mama Koala Prints
Mama Koala is known for their adorable and unique prints. They usually release new prints every week (per their instagram) in limited quantities. From a marketing perspective, this is genius because it drives a sense of "hurry or you'll miss out" on their cute prints.
Each week they give away a set of the new releases on their private Facebook group.
Mama Koala previously ran an instagram that showcased their artists that design their prints but I was not able to find it anymore. This showing of their artistic process and designers was a nice touch while it was available.
Alva Baby Prints
Alva Baby also offers a diverse selection of prints and colors for their cloth diapers. Unlike Mama Koala, AlvaBaby doesn't seem to have a set schedule when they release new prints. From their recent instagram posts, new releases were announced about once a month, give or take a few weeks (source: AlvaBaby instagram).
My Personal User Experience
When it comes to performance, both Mama Koala and Alva Baby cloth diapers have their strengths and weaknesses. Let's take a closer look at my personal experience using both cloth diaper brands.
Before we dive into my experience with the diapers, remember that how a cloth diaper performs is impacted by the fit on your baby. Your baby's proportions may fit in one brand or the other better. Which brand fits best may also change as your baby grows.
If you buy either of these diapers, I'd recommend adding additional stuffing to the pockets. The inserts they come with are likely not enough absorption for most babies, especially as they get bigger. I stuff my diapers with at least two inserts.
Mama Koala Performance
I personally have had less leaking issues with Mama Koala vs. AlvaBaby diapers. As mentioned above, the outer shell of Mama Koalas feels thicker than the Alva Baby and I've found they are less likely to soak through.
Mama Koalas also feel more substantial and sturdy then the Alvas. I've been using our Mama Koalas for almost three years and the elastics in the diapers have held up well. They still perform like when I first got them.
Alva Baby Performance
Our AlvaBaby diapers have done okay but I've found their outer shell more likely to soak through than Mama Koalas. The outer shell feels a bit thinner which may be why this happens.
As I've mentioned before, I personally fine it trickier to line up the snaps on Alva's three snap design once my baby is bigger and trying to wiggle away from the diaper change. I personally don't notice an added improvement to the diaper staying on with this triangular snap design.
I have also been using our Alvas for about three years and they've held up well. Admittedly, our Alvas have not seen as much wear as our Mama Koalas because I am more likely to grab an MK diaper if available. Our Alva Baby diaper elastics are also still in good shape.
Conclusion: Alva baby vs. Mama Koala
Ultimately, Mama Koala vs. Alva will comes down to your personal preferences and fit on your baby. The table below summarizes how these diapers performed in each category discussed above:
| | | |
| --- | --- | --- |
| | Mama Koala | AlvaBaby |
| Design | WINNER | — |
| Inserts | — | — |
| Prints | TIE | TIE |
| User Experience | WINNER | — |
| Cost | TIE | TIE |
I personally prefer Mama Koala diapers — they're my favorite of all the cloth diapers I own (and I own a wide variety of brands from getting secondhand lots). They feel more substantial and we've had fewer major leaks than with our Alva Baby diapers. I also prefer the snap design.
That said, AlvaBaby diapers are still a solid pocket diaper, especially considering the very low cost. They'll get the job done and won't break the bank.
With either diaper, you'll need to experiment with different inserts and boosters to find the right absorbency for your baby.
If you decide to buy either diaper, I'd appreciate if you'd consider using my affiliate links: Mama Koala Cloth Diapers and AlvaBaby Cloth Diapers. These reviews take a lot of time and affiliate links help support this site at no additional cost to you.
Looking for more information on cloth diapers? Check out my cost comparison of disposables vs. cloth diapers.