Pampers vs. Target Up & Up Diaper Comparison [2023]
This post may contains affiliate links. Read the full disclosure here.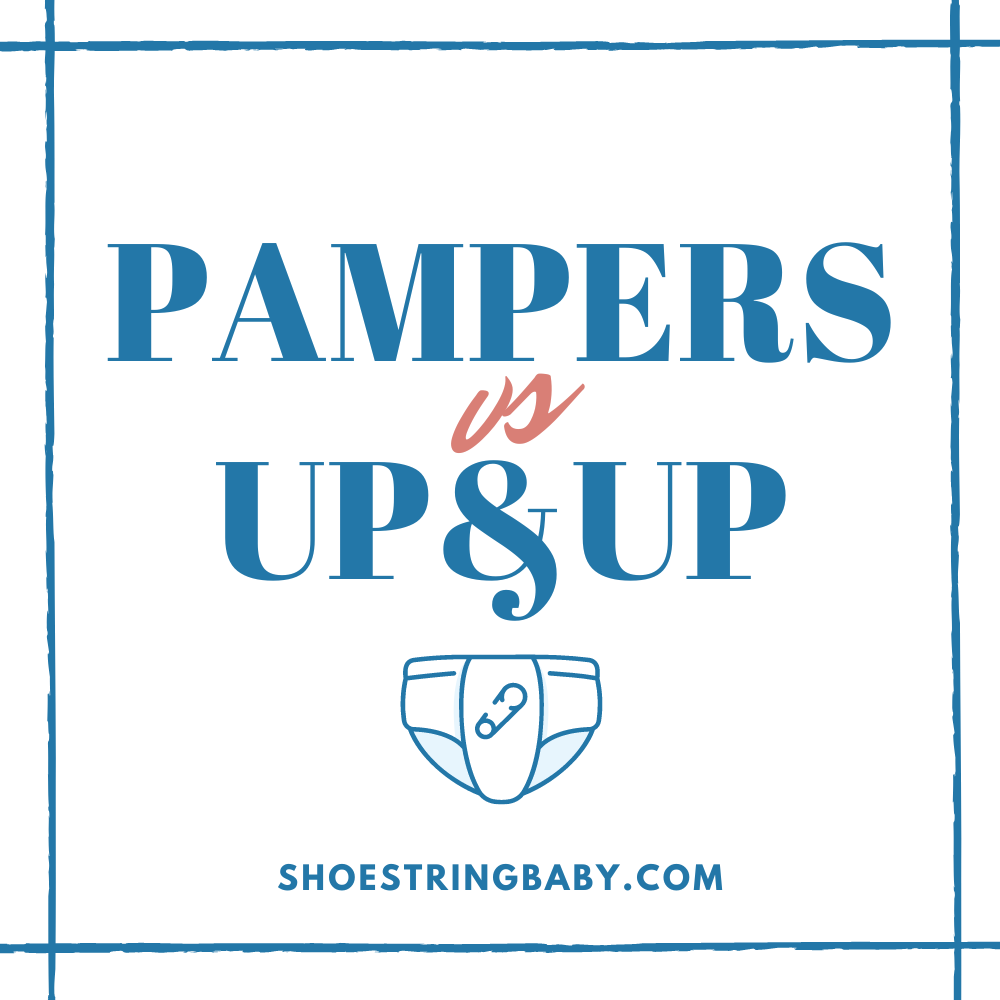 Trying to decide between Pampers Swaddlers vs. Target Up & Up diapers? Are Pampers really worth the extra cost compare to Target's house brand?
Well, you've come to the right place. Below you'll find a very in-depth comparison of Up & Up diapers vs. Pampers Swaddlers. The difference with this review vs. some other diaper reviews out there is that we actually tried out hundreds of these diapers on our real life baby.
Each diaper was also put through detailed absorbency testing, which I made into gif's so you can see for yourself how well these diapers will keep your baby dry.
The diapers were also field tested on a real live baby and put to the overnight test. Plus we'll get into all the details on size, comfort, fit, and what ingredients are coming in contact with your baby's skin.
Let's dive in.
And if you're looking for more on these diapers, check out these comparisons:
[NOTE: References to cost comparisons throughout this article refer to costs as of July 2023]
UPDATE: I have updated this article in July 2023 based on re-testing Target Up & Up diapers now that our baby is walking. The performance on our walking baby has been very disappointing. I've added notes throughout this write up but we've had many, many leaks and cannot use them overnight now that she's bigger. I've left my original assessment for those with smaller babies, since the diapers did work great when she was smaller.
Size of Pampers and Up & Up
The diapers tested here were size 2, which has a weight range of 12-18 lb. in both Up & Up's and Pampers. The testing specifically used the Swaddler model from the Pampers line.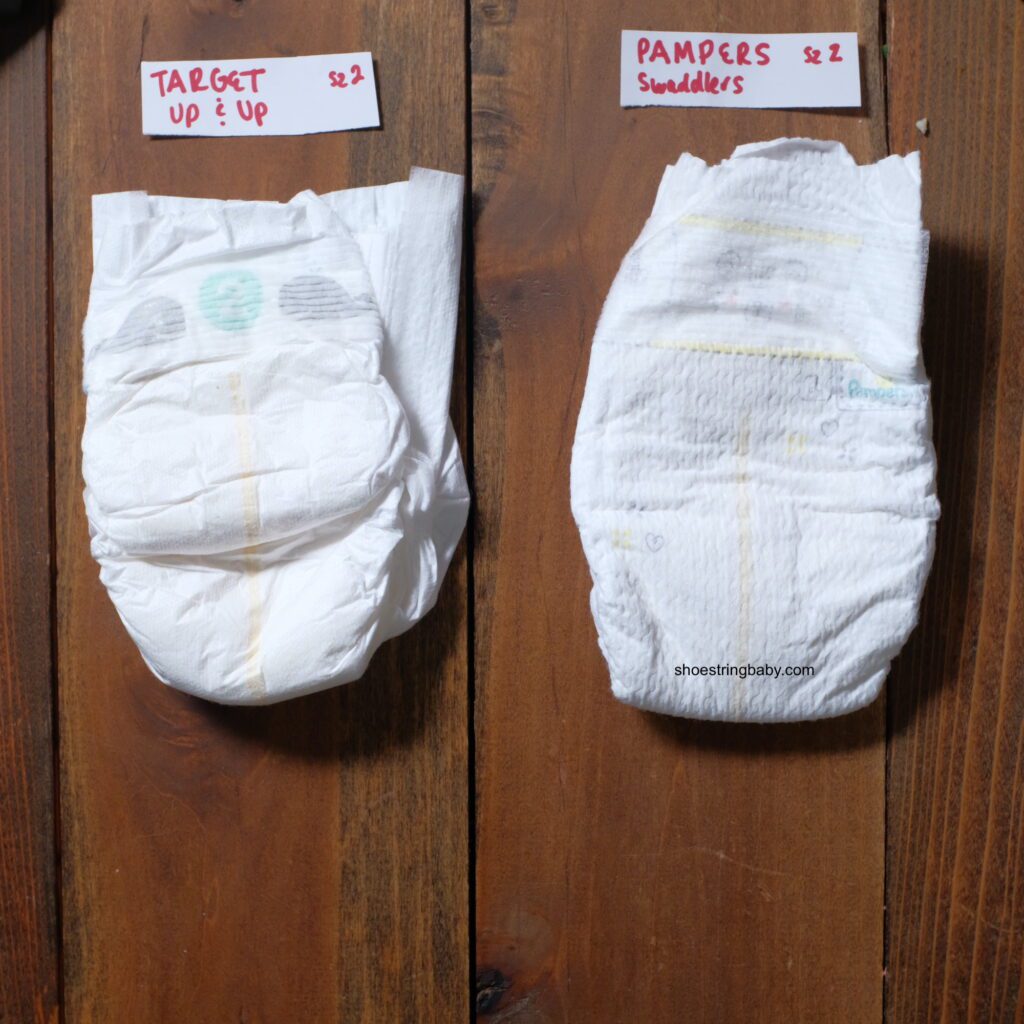 Pampers and Up & Up diapers are nearly comparable in size, with Pampers running slightly bigger. The Target Up & Up diaper is a bit shorter than the Pampers, which may be a consideration for tall babies.
| | | |
| --- | --- | --- |
| | Target Up & Up | Pampers Swaddlers |
| Height | 7″ | 7.25″ front, 8″ back |
| Width | 4″ | 5″ |
| Between Legs | 3″ | 3.5″ |
| Front waistband | 9.5″ | 10.5″ |
| Velcro Strip | 5.4″ | 4.5″ |
| Back waistband | 10.5″ | 11.5″ |
| Back waistband stretched | 12.25″ | 13.5″ |
In terms of available size options, both Pampers Swaddlers and Target Up & Up diapers go from newborn size (up to 10 lb.) to size 7 (above 41 lb.).
Pampers also offers preemie sizes -3, -2, and -1. I appreciate this inclusiveness on sizes having had a preemie. Though I understand why Target wouldn't make preemie sizes if they aren't going to be selling to NICU's.
WINNER: TIE — These diapers are very comparable in size.
Absorbency Testing
To test absorbency, I poured a total of 350 mL of liquid in approximately 50 mL increments onto the diapers. Photos were taken at 5 second intervals after each pour. After 25 seconds, the efficiency of the absorption was tested with a paper towel to test for remaining wetness. Diapers were then allowed to rest for about 10 minutes before a final dryness test.
These volumes were selected to test the outer limits of the diapers absorption. 350 mL is slightly shy of an estimated average 9-month baby girl's daily urine volume of 393.6 mL / day (calculated using 2 mL/kg/hr and 50th percentile weight of 8.2 kg: urine volume source & weight statistics source).
50 mL pours were chosen based on this study finding an average infant bladder capacity of 48.9 mL.
Pampers Swaddlers' Absorbency Test Results
Pampers: Pampers Swaddlers had interesting absorbency results. It absorbed most of the liquid very quickly and very well, but it had beads of liquid stay on top of the diaper. This happened even on the very first pour of only 50 mL. What was felt on the paper towel test was obviously those top beads of liquid only, the other parts of the diaper felt dry and well-absorbed.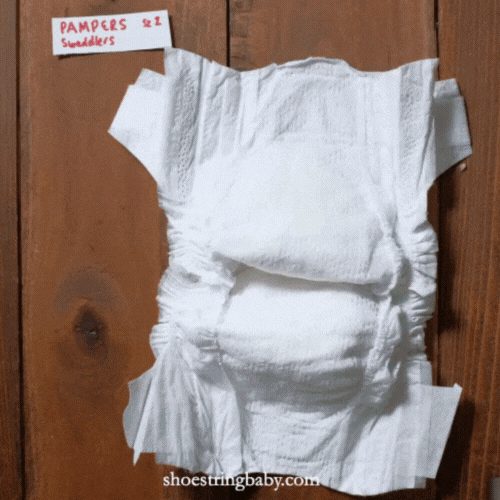 Pampers Swaddlers' performance also improved at higher volumes. Once we hit about 250 mL, there was actually less liquid beading up than the first few pours.
At the end of the test after a resting period, the Pampers were dry on the final paper towel test but felt slightly damp to my skin when I cut the diaper in half.
Cutting the diaper in half revealed that Pampers divides their inner filling into thirds to keep an even distribution of absorbent materials, a nice touch not present in other diapers we tested.
Target Up & Up's Absorbency Test Results
Target Up & Up: Up & Up diapers visually performed better than the Pampers by not leaving any beads of lingering liquid. It had a bit of wetness to the touch during the paper towel test but overall it was pretty good of absorbing most of the liquid quickly for the first four pours.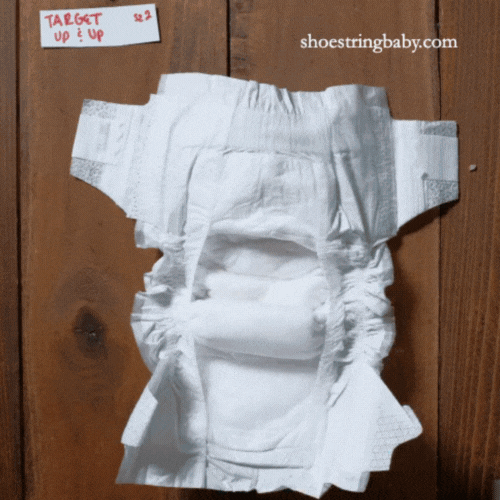 It's performance held strong until the 300 mL pour, when it became wetter on the paper towel test and definitely underperformed compared to the Pampers.
After the ~10-minute resting period, Target performed well on the paper towel test and actually felt the driest to the touch of the tested diapers.
WINNER: Pampers — this one was a close call though. Both diapers had pluses and minuses, and both absorbed a lot of liquid efficiently.
Even though it left some beads of liquid, Pampers absorbent filling seemed to be higher quality and definitely outperformed at the highest volumes, giving it the edge.
After a rest though, Target's diapers felt marginally drier to the touch, which is impressive and perhaps more closely emulates true diaper wear.
Overnight Testing: Pampers vs. Up & Up's
As we saw with the absorbency testing, both diapers can perform well when met with a lot of pee. However, on overnight testing, Pampers fell short of Target's diapers because of odor.
Pampers: Pampers seemed to hold overnight pee well enough. Occasionally the diaper shell would be slightly damp but not enough to wet our baby's clothes.
I did, however, frequently find that my baby had a noticeable urine smell after an overnight in Pampers. Pampers is the only diaper where I've ever noticed this smell, which is surprising since it is also the only diaper tested that includes fragrance. This ultimately led me to only use our Pampers during the day.
Target Up & Up: Target diapers are old faithfuls for us for overnights. They seem to work well and overnight leakage for us has been sporadic. I feel comfortable that, more than likely, an Up & Up diaper will hold well until the morning.
UPDATE: Now that our baby is bigger and walking, Up & Up's no longer work for us overnight. We've had her wake up soaking wet when trying to use Up & Up diapers overnight now.
WINNER: Pampers — I originally gave this category to Up & Up's because of the smell on Pampers diapers. However, Up & Up's don't hold up to a bigger baby and we no longer can use them overnight.
Cost Comparison: Pampers Swaddlers vs. Up & Up
Up & Up is Target's store brand where Pampers Swaddlers are name brand diapers. This difference is reflected in the costs. Estimating off the cost of the largest box, size 2 Pampers Swaddlers cost about double Up & Up's diapers (as of July 2023).
Up & Up's are about half the cost of Pampers, which translates to hundreds of dollars over the course infancy. I have been watching diaper prices for years and have yet to see a sale price that brings the cost of name brand diapers close to the savings offered by store brands.
Because it is a store brand, you have to buy Up & Up's at Target vs. Pampers which you can find at most retailers. To me, the cost savings is still worth the minor inconvenience, especially since a big box of diapers is just shy of the $35 free shipping mark.
WINNER: Target Up & Up's — You can't beat store brand prices.
Pampers vs. Up & Up Ingredients
Comparing the Pampers vs. Target Up & Up ingredient lists are fairly similar. The most obvious ingredient difference between the two diapers is that Pampers Swaddlers include a "light fragrance" where Up & Up diapers are fragrance free.
If you smell the inside of a Pampers diaper there is a mild powdery scent. Smelling the inside of an Up & Up has a slight synthetic smell to it.
| | | |
| --- | --- | --- |
| | Pampers | Up & Up |
| Fragrance Free? | NO | YES |
| Chlorine Free? | Elemental free | Elemental free |
| Latex Free? | YES | YES |
Elemental chlorine free indicated that no direct chlorine was used. However, other chemicals used in wood bleaching the diaper pulp may contain chlorine.
Pampers: Pampers Swaddlers absorbent inners contain elemental chlorine-free pulp, a polymer and light fragrance. The lining that comes in contact with the baby's skin is made of polypropylene, polyethylene and polyester. The outer cover is also made of polypropylene, polyethylene.
Target Up & Up: Target does not give quite as many details about the ingredients in their Up & Up diapers. For materials, they list only polyester, polypropylene, polyethylene and do not break the materials down by layer. They do specify that their diapers are lotion and claim to be hypoallergenic.
WINNER: Target Up & Up — this one goes to Target for being fragrance free, otherwise they are pretty comparable.
Are Pampers or Up & Up Diapers More Comfortable?
Softness: The outer shell of Pampers Swaddlers are softer compared to Target Up & Up's. Pampers feel almost velvety. Pampers also win for the inner lining that comes in contact with the skin, it is much softer than the Up & Up's. Up & Up's inside feels smooth with Pampers again have a velveteen touch.
Bulkiness: When holding the diapers dry, Target Up & Up diapers are leaner than the Pampers Swaddlers. The Swaddlers are definitely thicker but I doubt the thickness is enough to impact a baby's' comfort.
During absorbency testing both diapers bulked up considerably. However, Pampers has a more thoughtful design by partitioning the filling into three sections. This helps keep the bulkiness of the full diaper evenly distributed when the baby moves. Target diapers are more likely to have all the filling bunch or shift with movement.
Umbilical Cord Space: Both Pampers Swaddlers and Target Up & Up newborn diapers have space for the umbilical stump.
WINNER: Pampers — the division of the inner filling is unique and thoughtful, and they were the clear winner on softness.
Fit & Secureness of Pampers and Up & Up's
Fit: The fit of a diaper will depend a lot on the proportions of your baby, so this category is is for information purposes only. Target Up & Up's fits on the smaller size but I was able to get snug and secure fits with both diapers easily.
Waistband: Target Up & Up diapers has a section of elastic cinching on the back of the waistband. Pampers do not have any elastic in the waistband. The elastic in the Target diapers is nice because it gives a little more give and flexibility of fit than the Pampers.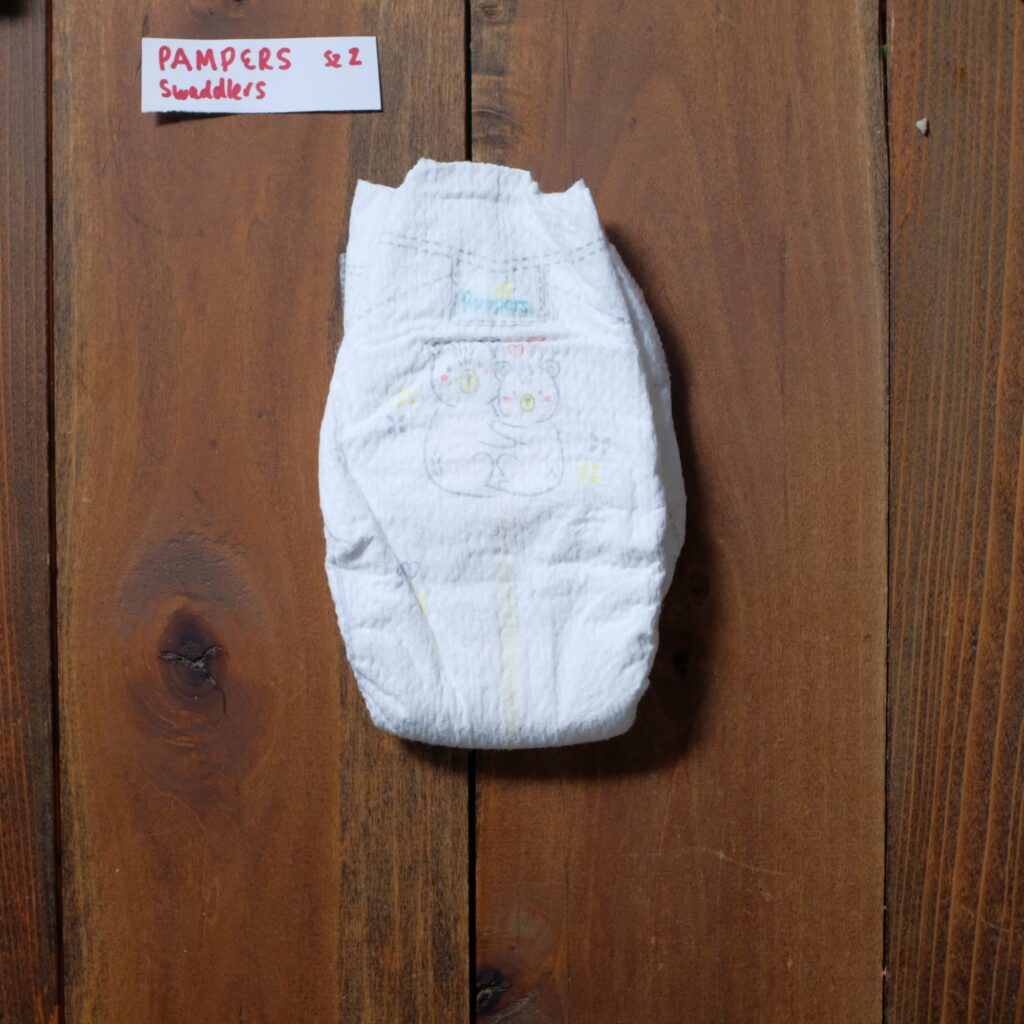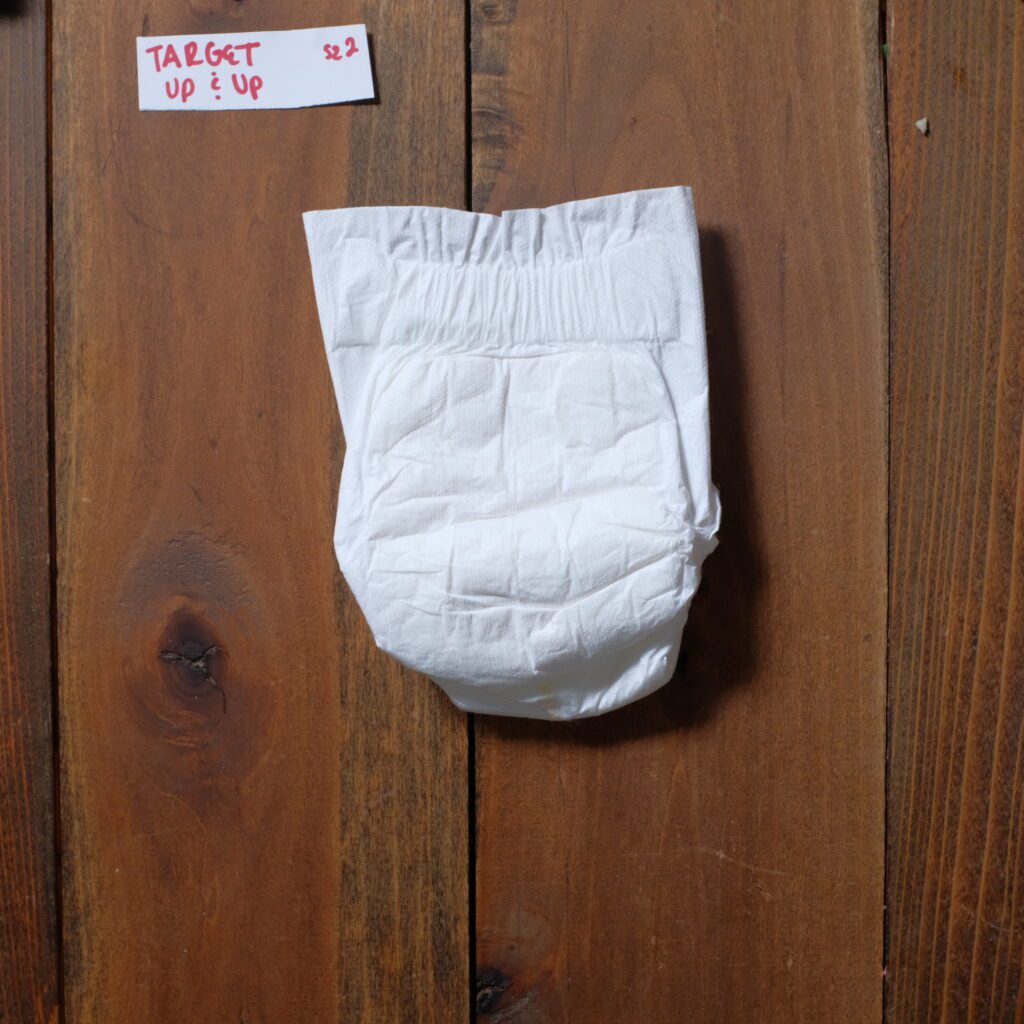 Tabs: Both diapers have elastic in the tabs. The tabs and the tab flaps are comparable size and have similar stretch between the two diapers. Pulling on the fastened tabs feels equally secure. Pampers' tabs have the same soft velvety feel of the rest of the diaper which is a nice detail.
Sturdiness: Pampers and Up & Up's seemed mostly comparable in terms of sturdiness when our baby wore them. Even very full overnight diapers managed to stay on her as she both crawled and toddled around.
UPDATE: Up & Up worked okay when our baby was smaller but are not sturdy now that she's walking. They don't stay on well and sag on her.
WINNER: TIE — Both diapers feel sturdy and stay on a baby well. Preferred fit will depend on the individual baby.
Look of Pampers and Up & Up's
Wetness Indicator: Both Pampers Swaddlers and Target Up & Up's include wetness indicators and both work equally well.
Size-up Indicator: Neither diaper included an obvious indicator for when you should move to the next size up diaper. Pampers includes what they call "fit guide" markings where the diapers fastens but does not make super explicit how to interpret these lines.
Design: Both diapers are generally simple looking. Target diapers have two designs, one is white with some blue design elements are the waist band and the other has the design all over the outer shell. Pampers have a subtle print on the front and back.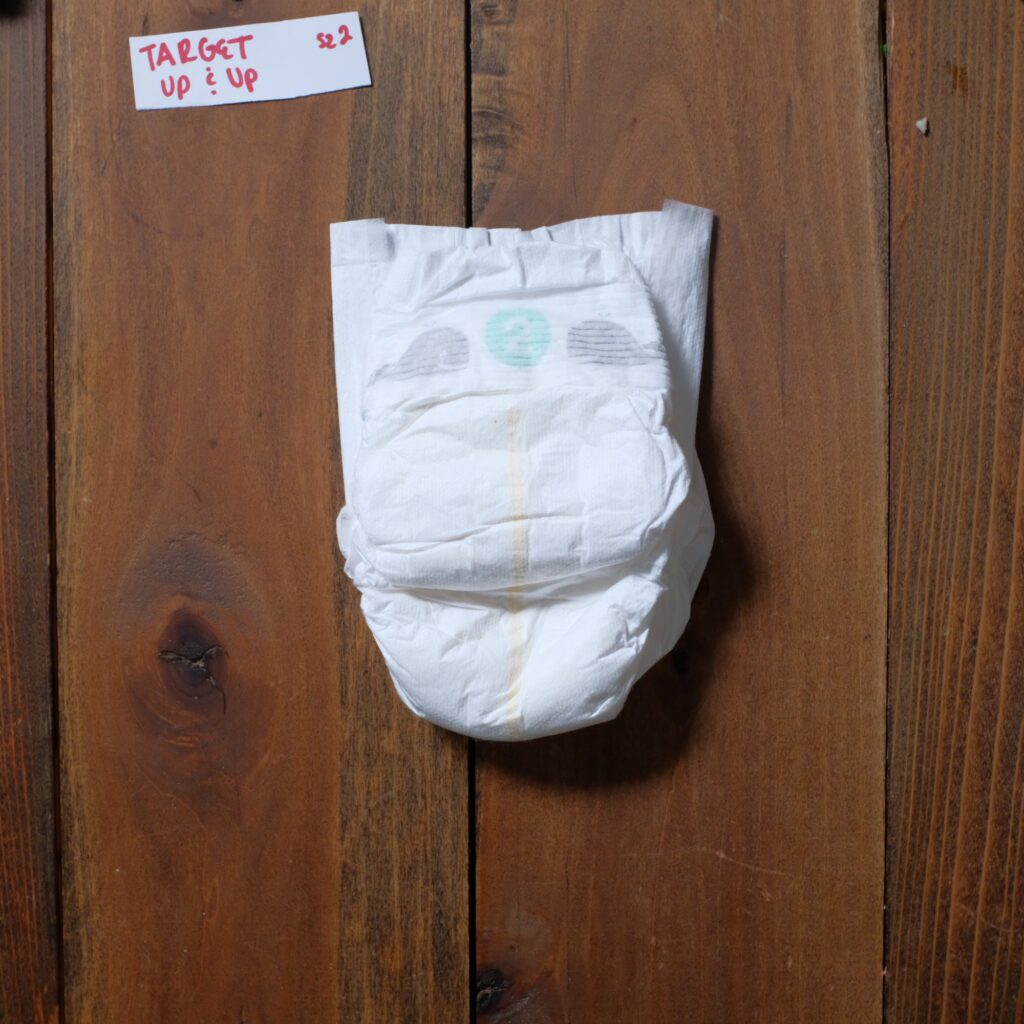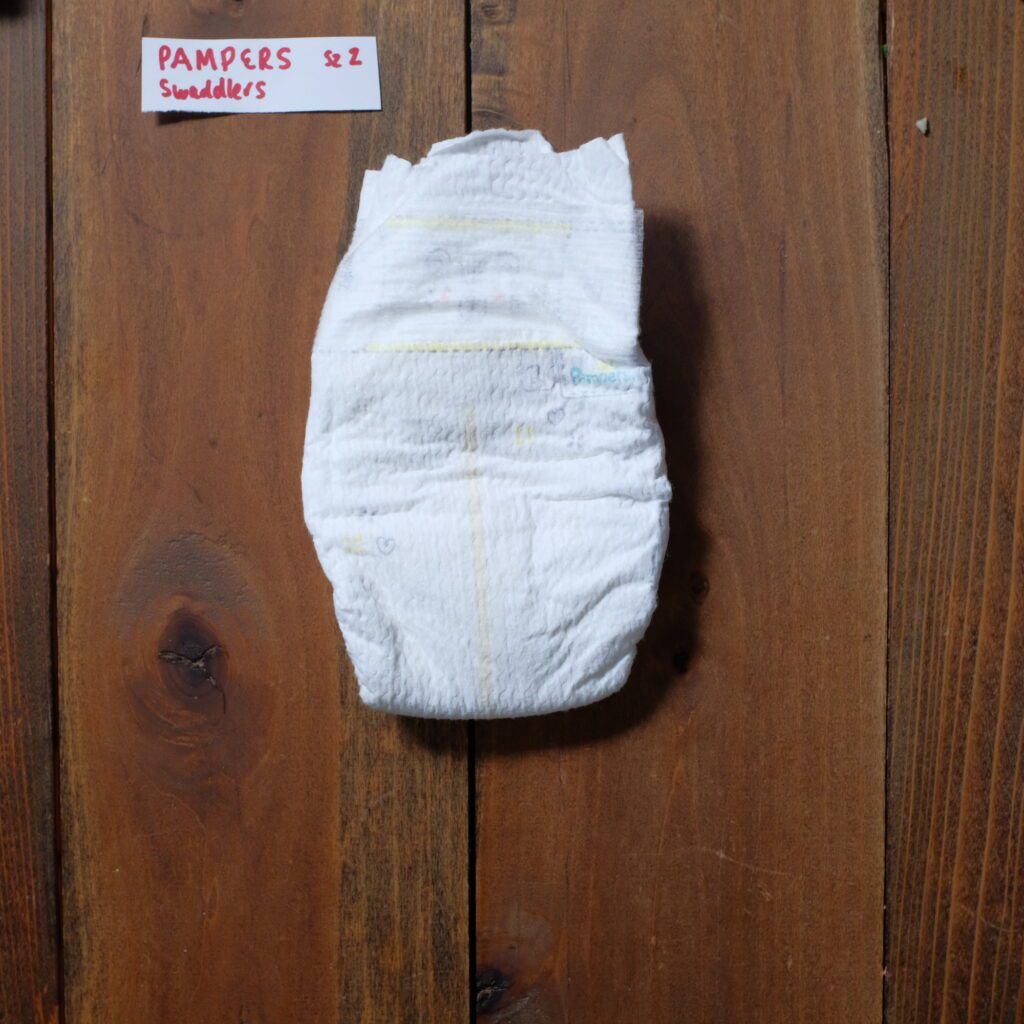 WINNER: Pampers — Both diapers include a wetness indicator but only Pampers makes an attempt at sizing marks.
Where are Pampers & Target Diapers Manufactured?
TIE: Both Pampers and Target Up & Up diapers are made in the U.S.A.
Conclusion: Are Pampers or Up & Up's Better?
Listen, both Pampers Swaddlers and Up & Up's are solid diaper choices. Like most things in life, you have to weigh cost vs. benefits. For me personally, I'd always opt for Up & Up's because the cost savings are worth more to me than the small luxuries Pampers provide.
| | | |
| --- | --- | --- |
| | Pampers | Target Up & Up |
| Size | TIE | TIE |
| Absorbency | WINNER | — |
| Overnight | WINNER | — |
| Cost | — | WINNER |
| Ingredients | — | WINNER |
| Comfort | WINNER | — |
| Fit & Secureness | TIE | TIE |
| Look | WINNER | — |
| Manufacturing | USA | USA |
If you don't take into account cost, Pampers is a better quality diaper. It has many thoughtful design elements like the sectioned inner filling and softness that you'd expect from name brand. It also outperformed the Up & Up absorbency at higher volumes.
However, Target Up & Up's could still hang! They did well on the absorbency test and did better on overnight testing than Pampers. This overnight factor is an impressive one. Plus, they did all that at half the cost.
UPDATE: Now that our baby is bigger and walking, we are disappointed with Target Up & Up's. We've had many leaks, have to change her more often and can't use them overnight. I now use Amazon Plush Protection diapers as my go-to store brand diaper when I find them on sale.
Still undecided on diapers? Check out our other diaper posts, including: