Huggies vs. Mama Bear Diapers: Review with Real Life Testing
This post may contains affiliate links. Read the full disclosure here.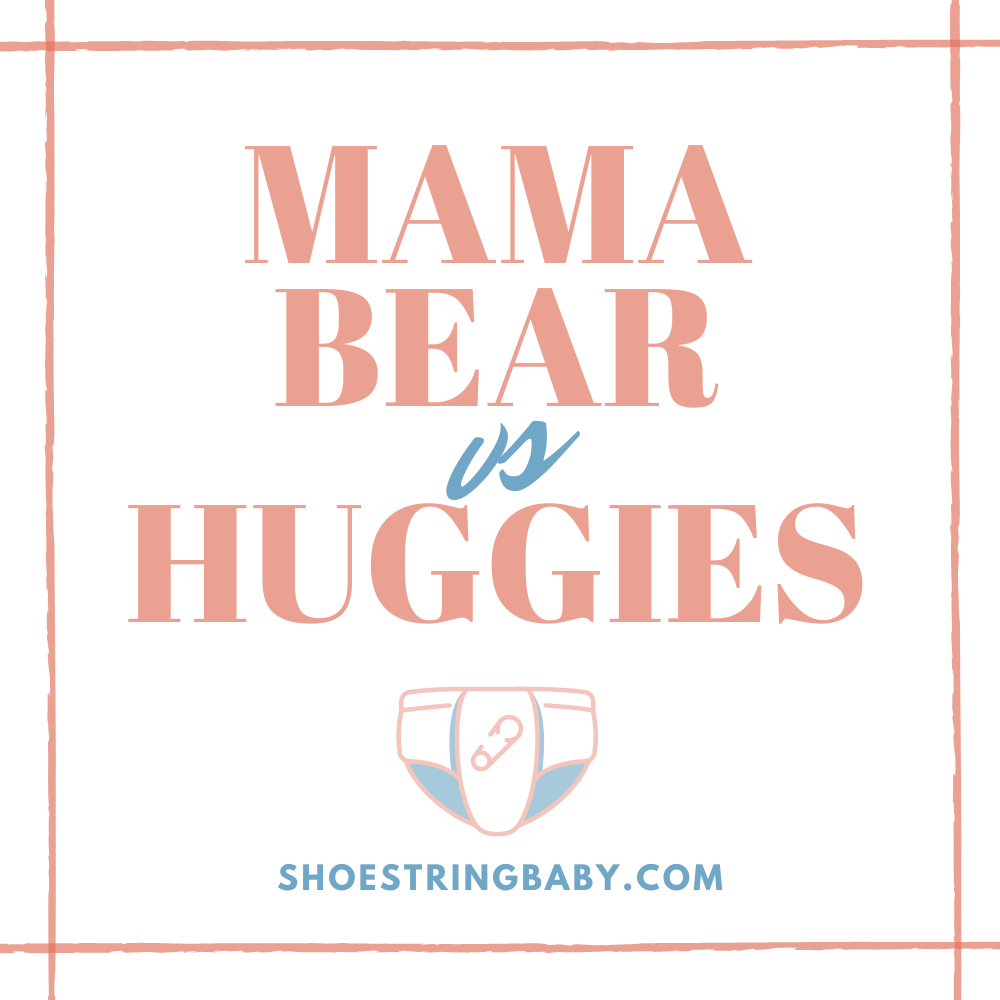 Mama Bear vs. Huggies — who makes the better diaper? If you're unsure if Huggies are worth the extra cost compared to Amazon's Mama Bear Gentle Touch diaper brand, then this analysis is for you.
The difference between what you'll find here vs. some other diaper reviews is that we actually used tried out all the diapers on our real life baby. This very in-depth comparison of Huggies Little Snugglers vs. Mama Bear Gentle Touch diapers breaks down absorbency, size, comfort, fit, ingredients and cost in detail.
Most importantly, I personally ran absorption tests on each diaper and that I made into visuals so you can personally see how well these diapers keep baby butts dry.
Hundreds of diapers were also field tested on our baby, including multiple overnight tests.
And if you're looking for the perfect diaper, don't forget to check out some of our other diaper comparisons:
Plus, I've also done a full deep dive into Mama Bear's Gentle Touch vs. Plush Protection lines.
Now, let's dive in.
[NOTE: References to costs throughout this article refer to prices as of October 2022]
Size
The diapers tested here were size 2, which have a weight range of 12-18 lb in both Mama Bears and Huggies. I specifically tested Mama Bear's Gentle Touch version and Huggie's Little Snugglers for this write up.
Mama Bear diapers run larger than the Huggies. I personally like a diaper that runs larger as a cost saver. Staying at a smaller size longer saves you money because cost per diaper increases with size.
| | | |
| --- | --- | --- |
| | Huggies | Mama Bear |
| Height | 7″ | 7.5″ |
| Width | 4.5″ | 4.25″ |
| Between Legs | 3.25″ | 3.5″ |
| Front Waistband | 9″ | 10″ |
| Velcro Strip | 7.75″ | 4.5″ |
| Back Waistband | 9″ | 9.5″ |
| Back Waistband Stretched | 12.5″ | 13″ |
For sizing options, Huggies Little Snugglers diapers are available in newborn size (up to 10 lb.) to size 4 (22-37 lb.). At size 4, you can then switch to Huggies Little Movers which are available up to size 7 (above 41 lb.). Amazon Mama Bear diapers are available from newborn (up to 10 lb.) to size 7 (above 41 lb.).
Huggies also offers a preemie sized diaper while Mama Bear does not. Having had a preemie, I really appreciate this but understand that Mama Bear may be less likely to sell to hospitals/NICU's to justify entering the preemie diaper market.
WINNER: Tie — Both Mama Bear and Huggies offers diapers up to size 7. I personally like the larger size of Mama Bear brand but that is personal preference.
Absorbency Testing
To test how well the diapers keep babies dry, we conduct absorption capacity tests by repeatedly pouring 50 mL of colored water on the diapers (roughly the capacity of an infant bladder).
We repeated this seven times for a total of 350 mL to approximate a daily urine output of an average 9-month old (based on 2 ml/kg/hour of pee, source & source). Pictures were taken every 5 seconds following each pour to visualize absorption.
Twenty-five seconds after each pour, the diaper was checked for residual wetness using a paper towel. Once the diaper had been subjected to 350 mL, it was allowed to rest before a final dryness test.
Mama Bear Diaper Absorbency Testing
Mama Bear: Overall, Mama Bear diapers were not efficient with their absorption. The diapers appeared to soak up the liquid quickly but they still felt wet to the touch after 25 seconds. They were decidedly wet even after the initial 50 mL pour.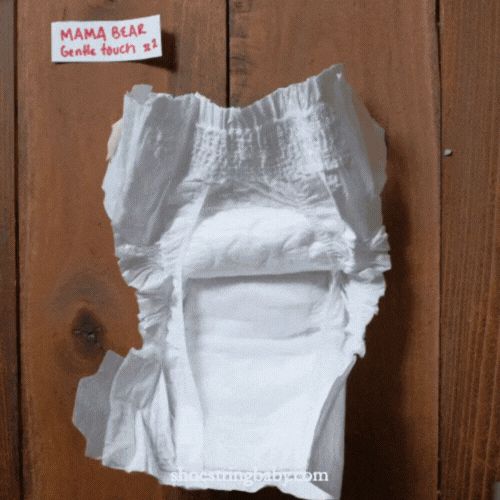 When we ran this trial, we tested four different diaper brands at the same time and the Mama Bears were the worst at absorption efficiency.
That said, they managed to catch up with the pack after the final resting period. After 10 minutes, they felt similarly dry as the other diapers.
This suggests that Mama Bear diapers have the capacity to absorb a lot but they do not do it as quickly. It passed the final paper towel test with no wetness but it did feel slightly damp to the touch.
[NOTE: We worked out some kinks in our testing procedure with the Mama Bears. The first 50 mL didn't have enough dye in the liquid, and we didn't hit a good 5-second picture rhythm until the last 350 mL pour.]
Huggies Swaddlers Absorbency Testing
Huggies: Huggies absorption tests had very impressive results. It was the only diaper that felt completely dry 25 seconds after the initial pours. The paper towel test was totally dry at 50 mL and 100 mL, and only had the slightest dampness at 150 mL.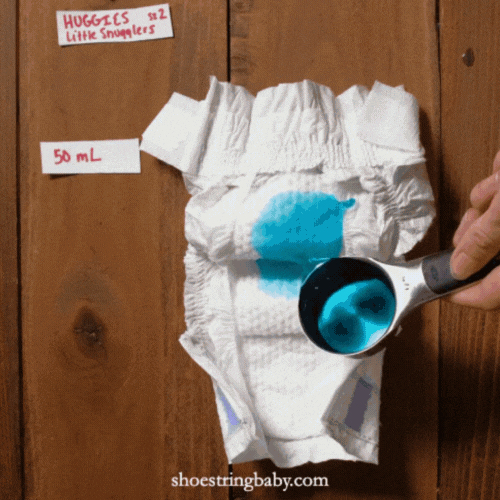 By the 200 mL pour, the paper towel test had wetness but did overall still did a great job absorbing the high volumes of liquid.
After the final resting period, Huggies felt slightly drier to the touch than the Mama Bear diapers and did well on the paper towel test.
WINNER: Huggies — There is no question about the winner of the Huggies vs. Mama Bear absorbency testing. Huggies blew the Mama Bear diapers out of the water. We tested four diaper brands during this trial and Huggies' absorption on the initial pours outperformed all of them.
Overnight
Mama Bear: We had a few breakthrough leaks where our baby woke up with wet clothes after a night in Mama Bear diapers. I ultimately decided they weren't reliable enough for overnight wear for us.
Huggies: Huggies brand has been a solid overnight diaper for us, with very minimal leaking. The outside of the diaper will occasionally feel slightly damp to the touch in but not enough to wet our baby's pajamas.
WINNER: Huggies — Huggies outperformed Mama Bears on overnight trials and had minimal to no leakage.
Cost Comparison: Amazon Mama Bear vs. Huggies
[Reminder: Costs are dynamic and the prices discussed below reflect prices as of Oct. 2022. This date is noted with each mention of price.]
In general, Mama Bear diapers are cheaper than Huggies because Mama Bears are Amazon's store brand and Huggies are name brand. As of Oct. 2022, a big box of Huggies size 2's costs about $0.29 per diaper vs. Mama Bear's $0.17 (Oct. 2022). If you want to buy a smaller pack of Mama Bears, the price jumps to $0.22 (Oct. 2022).
That said, Huggies is the only store brand carried by Costco. If you get your Huggies Little Snugglers at Costco, you can drop the price to $0.23 per diaper, which saves about $10 per box. However, the bigger sized Little Movers aren't significantly cheaper Costco compared to other stores.
You have to buy Mama Bear's through Amazon vs. Huggies which are available at most stores. To me, the cost savings is still worth this limitation. It is also worth noting is that Mama Bears run slightly more expensive than other store brands like Target and Wal-Mart (as of Oct. 2022).
WINNER: Mama Bear — Mama Bear diapers offers significant savings over name brand Huggies (as of Oct. 2022).
Manufacturing Location
TIE — Both Huggies and Mama Bear diapers are made in the USA.
Ingredients
Huggies vs. Mama Bear diaper ingredients are similar. However, Mama Bear does not provide the same less of details about their ingredients as Huggies. On the Huggies' website, you can find an explanation of purpose of each ingredient in their diapers.
| | | |
| --- | --- | --- |
| | Huggies | Mama Bear |
| Fragrance Free? | YES | YES |
| Chlorine Free? | Elemental free | Elemental free |
| Latex Free? | YES | YES |
Elemental chlorine free means that no direct chlorine was used, but other chemicals used in the wood bleaching process may contain chlorine. Chlorine is a concern because of the environmental impact and possible exposure to dioxins.
Huggies: Huggies Little Snugglers contain: wood pulp, polypropylene, polyethylene, polyurethane elastics, polyolefin elastic, adhesives, colorants, printing ink, sodium polyacrylate (absorbent material), polyester, and a color-changing wetness indicator.
Mama Bear: Mama Bear lists their ingredients as fluff, an absorbent sodium polyacrylate polymer and a non-woven dryness layer. The shell contains polypropylene nonwoven fabric, non-latex elastics, adhesives and ink (exact materials not specified). They also include ingredients that don't really give details including "fastening system" and "moisture barrier."
WINNER: Huggies — While the materials are comparable, Huggies offers more details and information about their ingredients.
Comfort of Huggies vs. Mama Bears
Softness: Both Mama Bear and Huggies diapers are very soft and velvety to the touch. The outer shells are almost the same in softness.
Mama Bear's inside liner manages to be even softer than name brand Huggies, it is almost a little fluffy and smooth vs. the Huggies' textured liner. The Huggies diapers, however, have much softer elastics around the legs.
Bulkiness: When dry, Mama Bears diapers are thinner than Huggies Little Snugglers. Both diapers bulked up considerably with the introduction of liquid.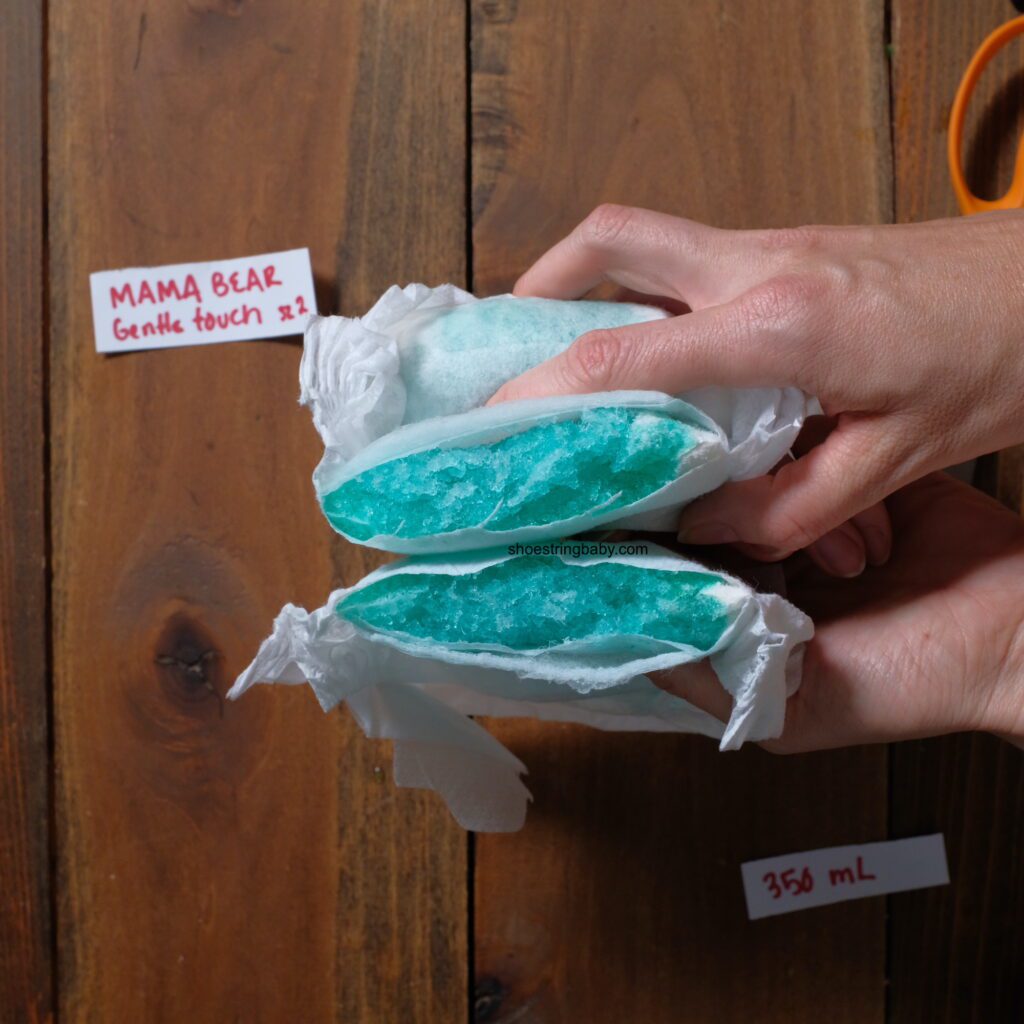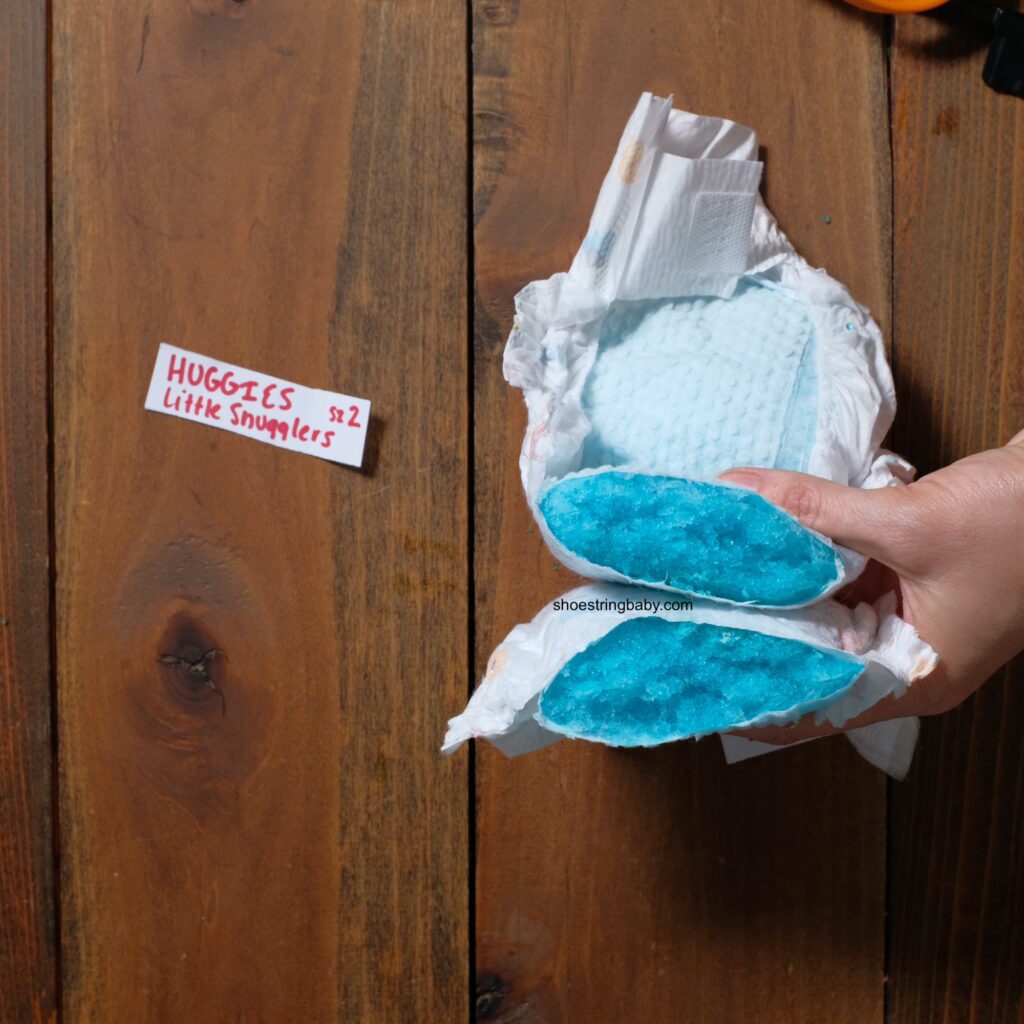 Umbilical Cord Cut Out: Both Huggies and Mama Bear diapers have umbilical cord space in their newborn sizes.
WINNER: TIE — This is a draw, both are very soft diapers and the bulkiness is comparable when filled.
Fit & Secureness of Mama Bear and Pampers
Fit: Huggies Little Snugglers fit smaller vs. the bigger fit of Mama Bear diapers. I was able to get a secure fit with both diapers but diaper fit does depend some on your baby's proportions.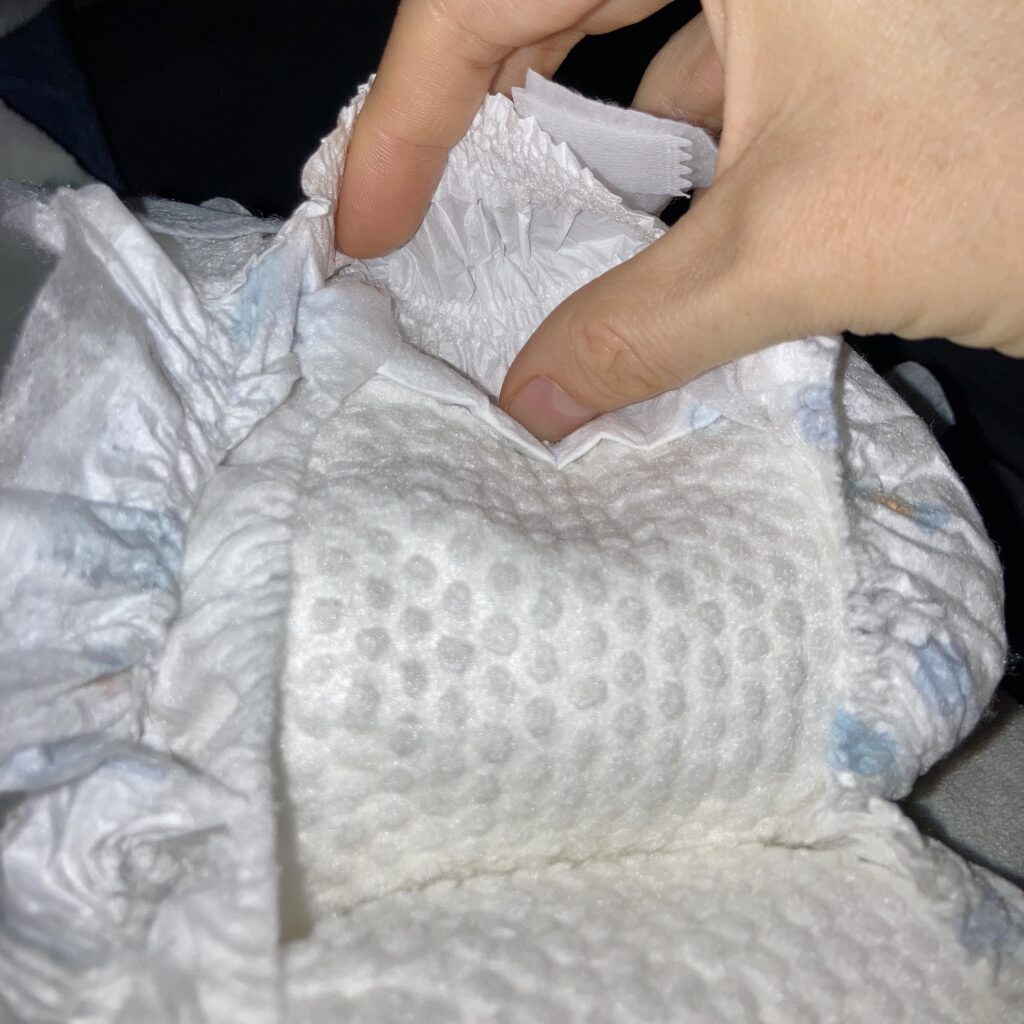 Waistband: Both Amazon Mama Bears and Huggies diapers have elastic in their waistbands. Huggies Little Snugglers waistbands have an added pocket feature to help reduce poop blowouts.
This is a nice touch, especially in smaller sizes, when babies tend to have more watery poop. Huggies Little Movers have snugger back elastic instead of pockets.
Tabs: Neither Mama Bears or Huggies diapers have much give in their tab bands under light tugging. There is minor stretch but they are not obviously elastic-y. However, when putting the diaper on a baby the tabs do have stretch to get a secure fit.
Sturdiness: Huggies includes an added feature that they call 'grip strips' on the waistband where the tabs fasten. These purple strips are designed to make the tabs even more secure.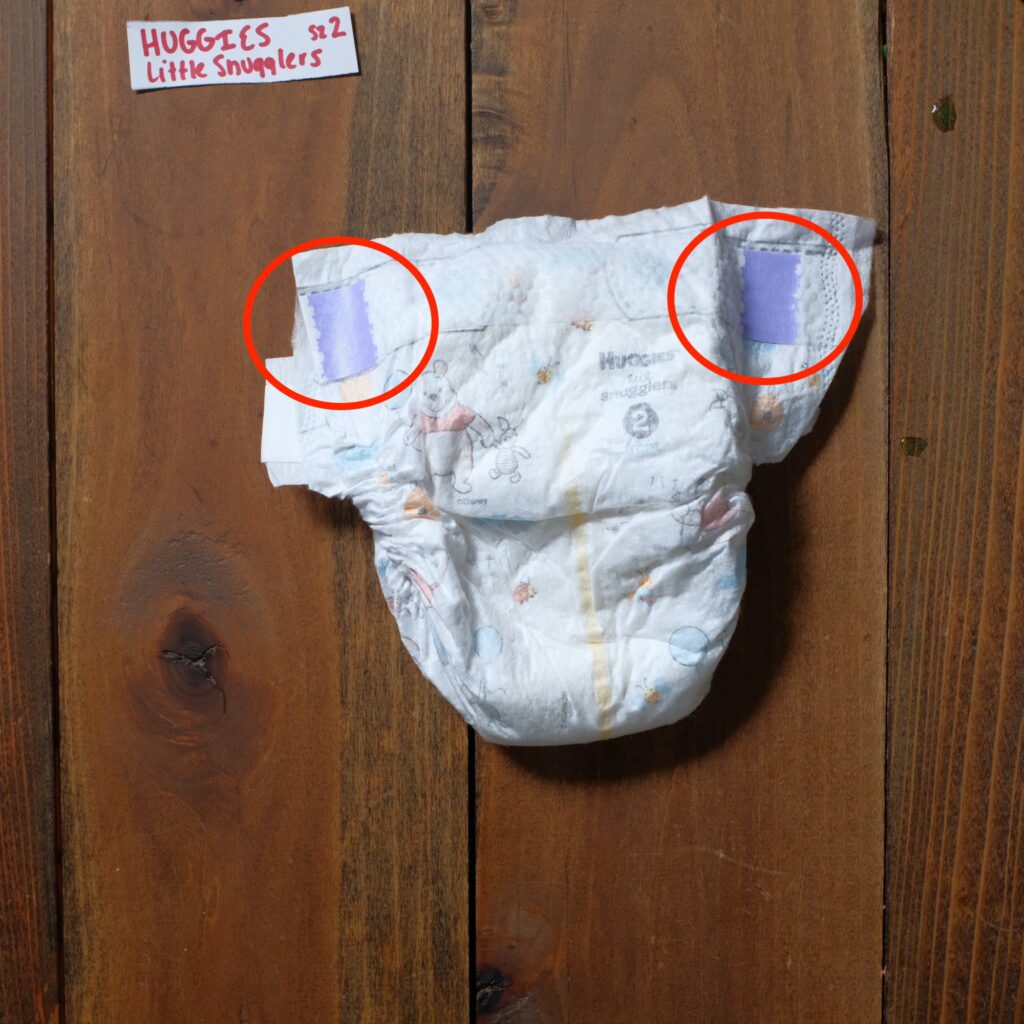 However, I personally found these grip strips more trouble than they are worth. We often readjust the tabs on our squirmy baby, and pulling the tabs off and on the grip strips seemed to wear the diaper fabric.
The grip strips would also grab on to other pieces of the diaper when I'd try to open them with one hand and hold a baby down with the other. I'm sure this is a matter of personal preference but the grip strips were a big negative for me.
Mama Bear also adds a version of the grip strip once their diapers hit size 3. They aren't as grippy as Huggies but I actually preferred that. It was a nice touch on a store brand diaper.
WINNER: TIE — The back pockets for blowouts on Huggies make their diapers seem more premium compared to the Mama Bears. I preferred Mama Bear's grip strips vs. Huggies.
Look of Huggies vs. Mama Bear Diapers
Wetness Indicator: Both Huggies Little Snugglers and Amazon Mama Bear diapers include wetness indicators.
Size Indicator: Mama Bear diapers include a very clear orange size indicators on the waistband. These size indicators are nice because it reduces the mental work of deciding when to order the next size diapers.
There are small images on the Huggies where the tabs connect to the front of the diaper. Presumably, once the image shows then you are ready to size up but nowhere is that made explicit in the Huggies Little Snugglers information.
Design: Mama Bear diapers are simpler in design than Huggies. The Huggies diapers I got were Disney themed and had Winnie the Pooh characters on them. Mama Bear diapers have two designs, one of which is simply a white shell with a blue & green design on the waist band.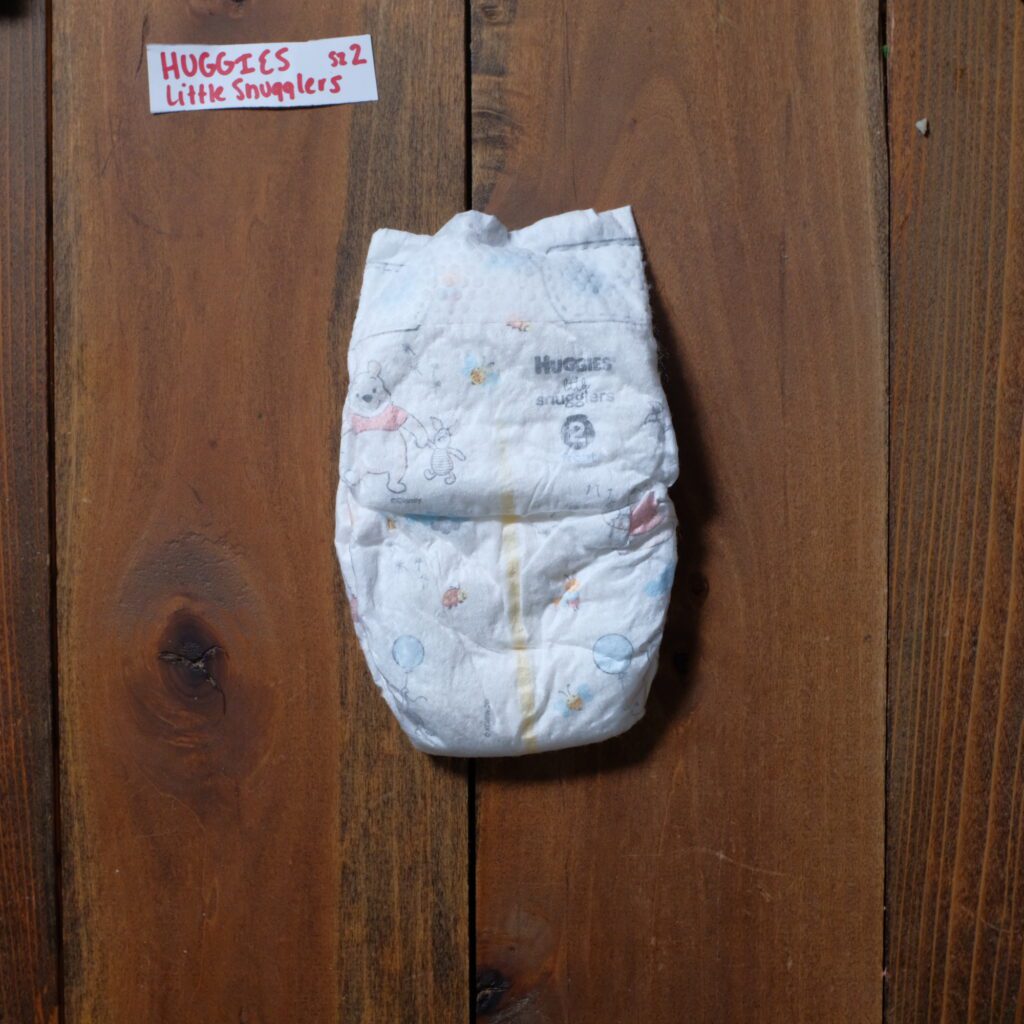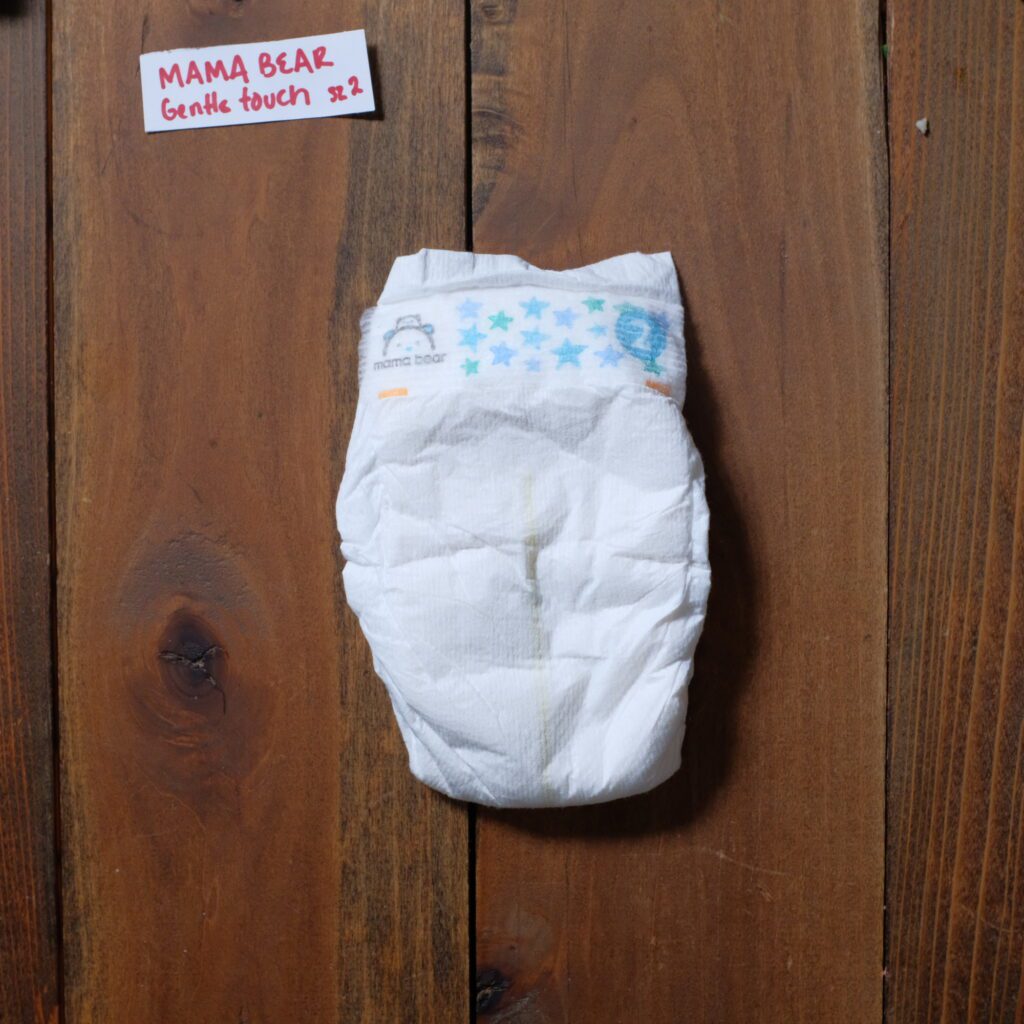 WINNER: Mama Bear — Giving this one to Mama Bear for the very obvious size indicators. Whether you like Huggies Disney-theme vs. Mama Bear's simplicity will be a matter of personal preference.
Conclusion: Are Huggies or Mama Bear Diapers Better?
Overall, deciding between Huggies diapers vs. Mama Bear diapers will come down to your priorities. Their strengths are different and both diapers have some negatives.
| | | |
| --- | --- | --- |
| | Pampers | Mama Bear |
| Size | TIE | TIE |
| Absorbency | WINNER | — |
| Overnight | WINNER | — |
| Cost | — | WINNER |
| Ingredients | WINNER | — |
| Comfort | TIE | TIE |
| Fit & Secureness | TIE | TIE |
| Look | — | WINNER |
| Manufacturing | USA | USA |
Huggies absorb liquid much, much better than Mama Bear diapers. They also have a lot of thoughtful elements of a more premium diaper. However, that extra quality comes at a substantial cost and opting for Huggies will greatly increase your diaper budget.
On the other hand, Mama Bear diapers are an affordable option that still have some nice features like softness. For some people, the cost savings is enough to justify the trade-off of inferior absorption and overnight performance.
I personally fall into the camp that prioritizes savings, and I don't mind keeping a different brand on hand for overnights.
Ultimately, you'll have to decide if the improvements Huggies offers over Mama Bears are enough to justify the bigger price tag.
Still undecided on diapers? Check out some of our other diaper reviews:
And you can find more diaper comparisons here: