BJ's Berkley Jensen Diapers Review with Real World Tests
This post may contains affiliate links. Read the full disclosure here.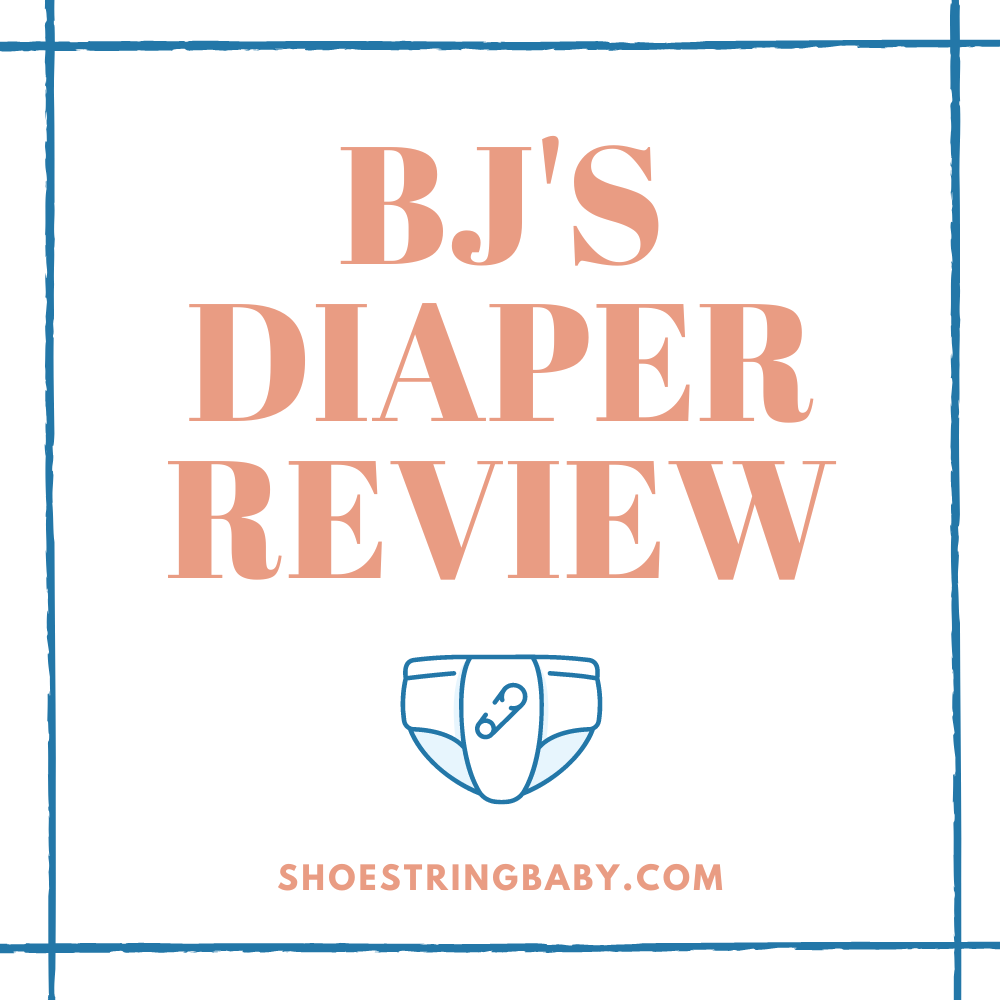 Are you wondering if BJ's Wholesale Club's Berkley Jensen diapers are a good buy? Before committing to a big box of BJ diapers, you're going to want to read this review.
BJ's Wholesale Club is a membership club similar to Costco and Sam's Club. You pay an annual fee to have access to discounted goods, gasoline, and special member services perks. BJ's is a smaller chain and currently open in 16 states.
Like both Costco and Sam's, BJ's has a line of store brand items, including their house diapers Berkley Jensen. Below you'll find an in-depth review of how BJ's diapers performed when we tried them on our baby.
I also ran absorbency tests on the diapers. We photo documented all of it and animated it so you could see for yourself how Berkley Jensen diapers perform. Also included are details about how the diapers performed overnight on our baby, how much they cost, and if they fit securely.
And if you're interested in store brand diapers, don't forget to check out our comparison of Target's Up & Up diapers vs. Amazon's Mama Bear diapers.
Let's dive into this Berkley Jensen diaper review!
Size of BJ Berkley Jensen Diapers
BJ's Berkley Jensen diapers definitely run large. They are much bigger than other diaper brands at the same size. Here is a comparison of a BJ's size 3 diaper next to Target's Up & Up and Huggie's Little Movers.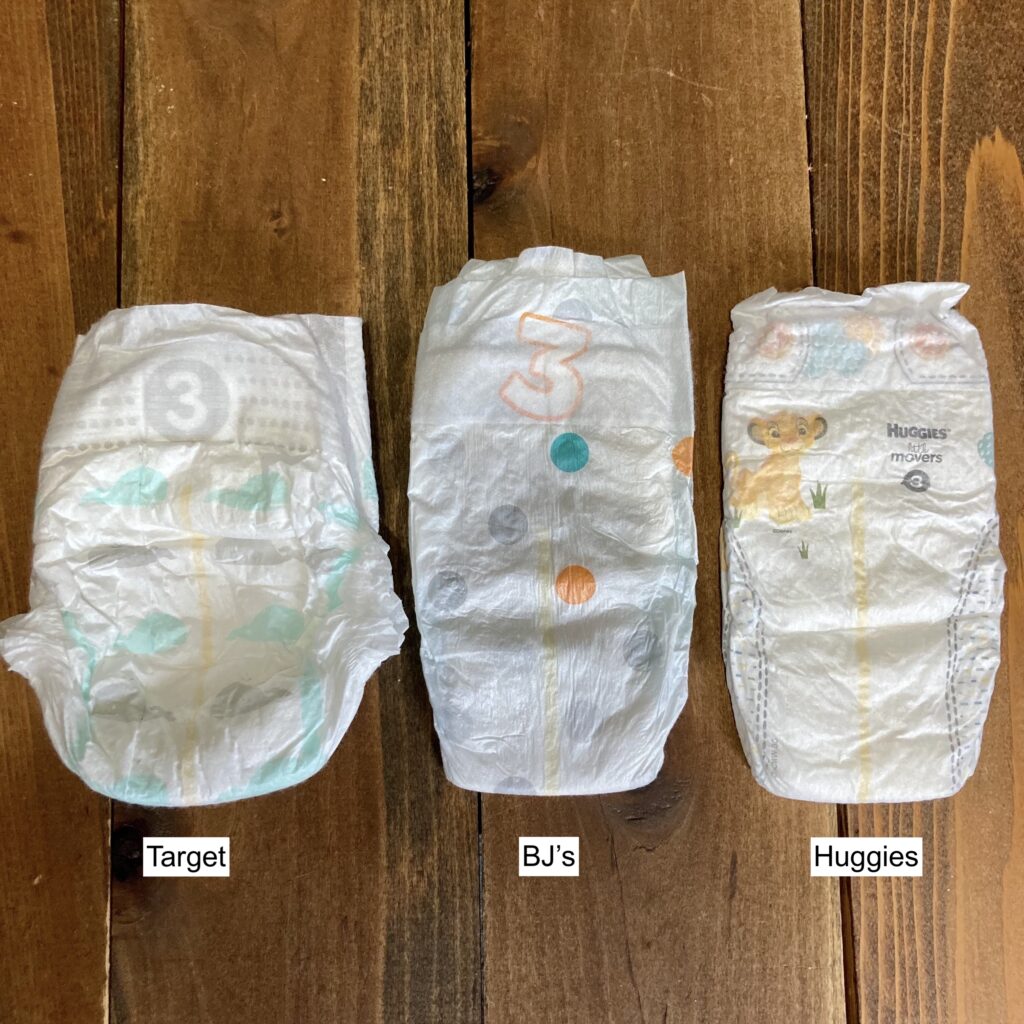 The BJ's diapers are longer than both the Target and Huggies brand diapers, with longer waist tabs. Here are some example measurements:
| | | |
| --- | --- | --- |
| | BJ's | Huggies Movers |
| Height | 8.75″ (back height) | 8.5″ |
| Width | 4.5″ | 4.5″ |
| Between Legs | 3.25″ | 3.25″ |
| Front waistband | 10.5″ | 9.75″ |
| Velcro Strip | 5.5″ | 7.5″ |
| Back waistband | 12″ | 9″ |
| Back waistband stretched | 14″ | 11″ |
At the time of this write up, BJ's only had diapers sized 2-6 available. Their size 2 diapers fits babies 12-18 lb. and their size 6 accommodates babies over 35 lb. Other diaper brands offer sizes starting at newborn up to size 7, so BJ's diapers have more limited sizing availability.
Real World Testing of Berkley Jensen Diapers
There is no way to sugar coat this, I was very disappointed with the box of BJ's diapers we tried on our baby. Every time I took a diaper off, her skin was obviously damp. Sometimes it was even red and irritated from the extended exposure to the moisture. A few times it was enough to warrant diaper rash cream.
The diapers would also frequently leak. We have used a variety of diaper brands and we would get leaks in BJ's diapers more quickly and more frequently than other brands.
I basically stopped using the diapers other than for times when I knew she'd only be in the diaper for a short time, like if she was going to get a new diaper before bed soon.
BJ's Diaper Absorption Review
Based on this poor real world experience of BJ's diapers, I was utterly and completely shocked when they performed very well on the absorption experiment we performed.
To test absorbency, I repeatedly poured ~50mL of dyed water onto the diaper. We then took pictures every 5-seconds to document the absorption.
At 25 seconds, I checked how well the diaper absorbed the liquid with a paper towel. This was repeated for a total of 350mL (these 50mL and 350 mL volumes were selected to emulate infant bladder capacity and rough daily urine output.)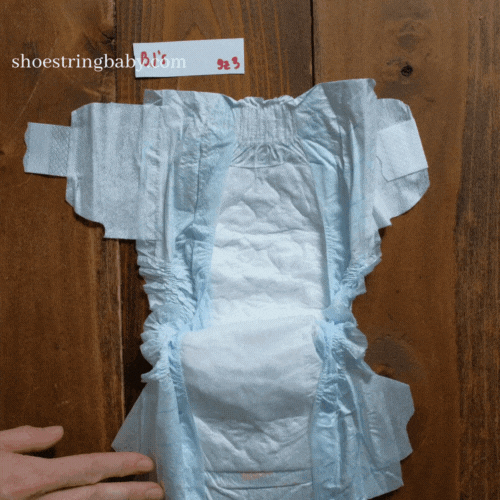 The BJ's diaper did very, very well on the absorption test. The paper towel came away completely dry until 200mL. There was only slight wetness at 200mL & 250mL.
The performance started to fall off at 300mL and was wet by 350mL.
I was in such disbelief about the absorption test that I actually did an extra pour on the diaper after it sat about 5-minutes to test it again. This last, extra pour actually did not absorb into the diaper fully and the paper towel was quite wet after it.
I do not know if this change in performance between wetting intervals may explain why our real world experience was such a big departure from this "lab testing" absorption. Another theory is that the absorbent filling works but gets bunched up during real wear and doesn't provide complete coverage. Honestly, I found this discrepancy very confusing and don't know what to make of it.
Finally, the diaper was then left to rest about 10 minutes before I tested it again and cut it in half. The paper towel came away dry and it felt only a little wet to the touch.
Overnight Use of BJ's Diapers
Because we could barely use the diapers for daytime wear, our overnight testing was admittedly limited. I did not trust the diapers to keep our baby dry enough through the night and feared she'd wake up with skin irritation.
We did use the BJ diapers for a few overnights before we recognized how our baby was regularly damp in them. She woke up wet with leaks through her clothes and sheet after those overnights.
Cost of BJ's Berkley Jensen Diapers
BJ's is a wholesale club that markets itself on its cost savings for families. You can expect to save money at BJ's compared to regular stores and name brands, and their diapers are no different.
Their house brand Berkley Jensen diapers run approximately $0.16 per diaper for a size 3 diaper as of Oct. 2022. This is about half the price of name brands like Pampers and Huggies.
However, this is still slightly more expensive than other generic store brands like Target's Up & Up and Wal-Mart's Parents' Choice diapers. A box of 210 BJ's size 3 diapers costs $32.99 while the same sized box of Wal-Mart diapers costs $25.00 (as of Oct. 2022).
Review of BJ's Diaper Ingredients
I could not find any information about the ingredients in BJ's diapers. I checked the packaging and tried searching out the information online.
They say that the diapers are "free from harsh ingredients" and are hypoallergenic. They also specify that they are fragrance-free, latex-free, and lotion-free.
In comparison, other major diaper brands like Huggies, Pampers, and Mama Bear all share at least some ingredient information. The lack of transparency about the BJ's diapers in comparison was disappointing.
Comfort of BJ's Diapers
Softness: Berkley Jensen diapers feel more smooth and a little plastic-y than soft. The inner lining is softer than the outer shell, but doesn't compare in softness to brands like Mama Bear or Huggies (for more on how soft these diapers are, check out my comparison of Mama Bear vs. Huggies diapers). The leg elastics are flexible but the material is not particularly soft.
Bulkiness: The BJ's diapers filling bunched up and shifted around easily. There were a number of occasions where I felt a big lump in the diaper and assumed it was full. However, when I took the diapers off, it turned out it actually wasn't full — the filling had just shifted in a weird way.
I wonder if this clumping of the internal filling is why we experienced such a difference in performance when the diaper was on our baby vs. our absorption experiment.
Secureness of Berkley Jensen Diapers
On paper, BJ's diaper seem to have a secure enough fit when strapped on a baby. I believe the leak issues we experienced stem more from how the inner filling shifts and bunches with wear as mentioned above.
This clumpiness was pronounced even when our baby had not peed that much in the diaper. This caused sagging and also seemed to leave spots of the diapers with less filling than other places.
Fit: Since BJ's diapers run big, they initially did not fit our baby when other size 3 diapers did. That said, once she grew into them, I was able to get an okay fit when putting the diaper on.
Waistband: The waistband is larger than other diapers and on our skinny baby, the tabs would meet in the middle. The velcro part of the diaper where the tabs fasten feels much smoother and less obvious than other diaper brands. We never had a tab come unfastened though over the ~200 diapers we used. The waistband had elastic in the back and it has good stretch to it which helps in getting a good fit, especially for chunkier babies.
Tabs: BJ's diaper tabs have some stretch to them. On light tugging they don't seem to stretch but do have good give when you go to diaper an actual baby.
Look of Berkley Jensen Diapers
BJ's Berkley Jensen diapers include wetness indicators. They do not have size up markers to let you know when it is time to buy the next size up diapers. The diapers have patterns on the outside shells. The size 3 diapers are teal, gray and light orange and one pattern is wavy lines and the other is polka dots.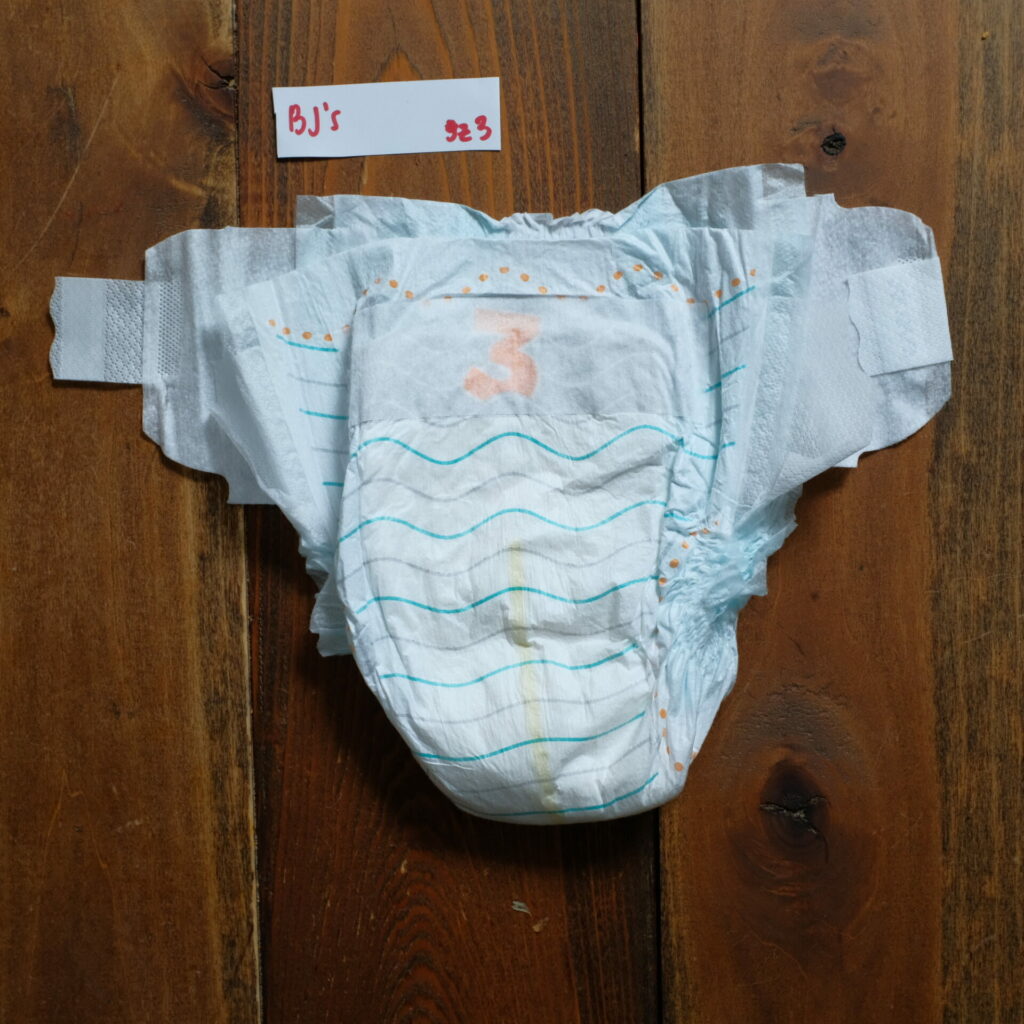 Berkley Jensen Diapers Review Conclusion
Overall, BJ's Berkley Jensen diapers are not great and I was not happy with our experience using them. They left our baby's skin obviously damp. On multiple occasions there was enough moisture that her skin would turn red and irritated, and a few times it was a full on rash that required diaper cream.
Moreover, the absorbent filling all clumped up in weird ways and we experienced a number of leaks even under mild wear. And we just couldn't trust the diapers to keep our baby dry overnight.
What we actually experienced using the diaper was very different than what I saw when testing the absorption in a "lab setting." My guess is this discrepancy resulted from the clumping of the filling, but ultimately I don't know why we had such a bad experience compared to the great absorption testing performance. I was honestly very shocked and confused when I performed the absorption experiment and saw the results.
Even with the good absorption testing results, I still would not buy BJ's diapers in the future based on how they performed on our baby. The real world testing on a baby is what really matters at the end of the day.
BJ's diapers are also not even the cheapest diaper available. You can easily find cheaper diapers with better performance like Target Up & Up's and Wal-Mart's Parents Choice brands. It's not like their prices are so low that you could justify the subpar performance.
So, skip BJ's diapers in favor of better store brands like Mama Bears, Up & Up's and Parent's Choice. Need help deciding which to pick? Check out some of our other diaper comparisons: