Is It Better to Rent or Buy a Snoo?
This post may contains affiliate links. Read the full disclosure here.
So, you're thinking about a Snoo for your new baby. You've probably heard from other parents rave that the Snoo Smart Sleeper Bassinet was a lifesaver in those early newborn days.
Snoo recently introduced a rental option, leaving parents to figure out if they should rent or buy a Snoo. Should you take the plunge and buy a Snoo outright or does it make more sense rent it?
Below you'll find an in-depth analysis of renting vs. purchasing a Snoo new. It also includes tips for saving money on a Snoo and a discussion of buying or reselling a used Snoo. Here is what it includes:
Note: Prices mentioned in this article were last updated in July 2022.
What is a Snoo?
The Snoo Smart Sleeper Bassinet responses when it senses your baby starting to stir or cry. It will gently rock the baby and add soothing white noise to try to get the baby back to sleep for you, saving you from having to get up.
Snoo adjusts and uses different motions and sounds depending on the baby's need (e.g. tailored responses to crying vs. only stirring).
It features a Snoo swaddle that keeps your baby safely sleeping on its back. As your baby grows, you can transition to swaddling with one or two arms out to prepare for the transition to the crib. The Snoo is programmed with a transition mode to help make weaning off the device simple.
When should you stop using the Snoo?
The Snoo is usually used for babies up to 6-months old. Around 6-months, babies will start pushing up on hands and knees which makes bassinets a fall risk (though less so with the Snoo since the swaddle is strapped down). Happiest Baby also says that babies likely don't need motion for sleep after about 6-months.
Related Post: Do You Need a DockATot + 6 Safer Alternatives
Renting vs. Buying Snoo Costs
| | | | |
| --- | --- | --- | --- |
| | Buying | Renting: 3-months | Renting: 6-months |
| Snoo Cost | $1695 | $477 | $734 |
| Shipping | $0 | $59.50 (return shipping) | $59.50 (return shipping) |
| Deposit | $0 | $99 (refundable) | $99 (refundable) |
| Cleaning Fee | $0 | $99.50 | $99.50 |
| TOTAL: | $1695 | $636 (+ $99 deposit) | $893 (+ $99 deposit) |
Pricing as of July 2022. Rental prices calculated from: $159/month for months 1-4 & $49/month for months 5-6.
Compared to buying a Snoo at full-retail price, you'll save $1059 with a 3-month rental and $802 with the recommended 6-month rental (as of July 2022).
Whether you rent or buy a Snoo, you'll likely have added accessory costs. Each Snoo comes with one swaddle in each size and one sheet. One set is just not enough when you're dealing with blowouts and baby puke. You're probably going to end up buying extra sheets and extra swaddles.
You can save a little money getting the sheets off-brand like these, but the swaddles are proprietary and only sold by the company. To save, look for secondhand sheets and swaddles on Facebook Marketplace.
How much does it cost to rent a Snoo?
Renting a Snoo costs $159 per month. If you rent for 6-months, they charge $49 per month for months five and six. You will also be charged a cleaning fee of $99.50, retuning shipping of $59.50 and a refundable $99 deposit. In total you'll pay $636 plus deposit to a three-month rental and $893 plus deposit for a six-month rental.
How much does it cost to buy a Snoo?
If bought at full-price without any discounts, the Snoo will cost you $1695 before taxes. I go into tips for saving money on buying below.
Pros & Cons of Buying a Snoo (vs. Renting)
Pros of Buying A Snoo Instead of Renting:
New Product: you are the first and only owner of your Snoo and it comes with a year warranty & customer support.
Resell to Recoup Money: since you own the Snoo outright, you can resell it used once you are done with it.
It Belongs to You: there is peace of mind knowing you are the owner of the device and you don't have to worry about returning it undamaged.
30-Day Money Back Guarantee: only when you buy the Snoo are you eligible for a 30-day trial period with free returns. If you rent and your baby doesn't like it, you're still out the initial rental costs.
No Returning Hassle: you don't have to worry about keeping boxes and shipping the Snoo back if you buy instead of rent.
Cons of Buying A Snoo Instead of Renting:
Really Expensive: the biggest drawback to buying the Snoo outright is the big upfront cost. This thing is expensive.
No Guarantee Your Baby Will Like It: it is a huge investment to make before knowing if your baby will like the device.
Pros & Cons of Renting a Snoo (vs. Buying)
Pros of renting a Snoo instead of buying:
Cheaper: you'll save about $800 over full-price if you rent for 6-months instead of buying.
Ease: the process is streamlined and easy, and you do not have to deal with the hassle of selling a used Snoo later.
Environmentally-Friendly: Snoos being used for multiple babies is more environmentally friendly than selling more new Snoos.
Quality Checked: every rental Snoo is thoroughly cleaned and quality checked between rentals.
Ongoing Customer Service: you'll have access to Happiest Baby costumer service and support for the duration of your rental.
Cons of renting a Snoo instead of buying:
Still Expensive: renting a Snoo is still a large investment. You'll likely pay at least $500 more renting a Snoo compared to buying a simple bassinet like this one.
Store Packaging: you have to store the large box until it is time to send it back.
No Recouping Costs: you can't sell the Snoo after to recoup some money like you would with one you bought (though you could resell the sheet and swaddles)
Possible Damage Liability: you'll be liable for damage outside normal wear and tear.
Not New: other families will have used the Snoo before you.
How Do You Buy a Snoo?
Buying a Snoo is an easy process, you can buy it directly through Happiest Baby or through popular online retailers, such as Amazon or Target.
Tips for saving money when buying a Snoo:
Buy with Rakuten: If you start your shopping through the cash-back website Rakuten, you'll receive 3% cash back on your purchase (as of July 2022). This could save you about $85. If you're new to Rakuten, this referral link also gives you a $30 new member bonus.
Keep an Eye Out for Sales: Snoo periodically runs 20% off sales throughout the year. You can buy early and delay its shipping until closer to your due date to take advantage of sales.
Use Your Registry Completion Discount: Use your baby registry completion discount to get a percent off the Snoo. Amazon Registry, Target Registry and Babylist all offer a 15% completion discounts.
Put It In Your Cart: but don't buy it just yet. Happiest Baby has been known to email out discounts if you leave the Snoo in your cart for a few days to entice you to buy.
For more saving tips, see this post on 12 Ways to Save Money on a Snoo.
When does the Snoo go on sale?
Snoos periodically go on sale throughout the year. In the past, Happiest Baby has run sales on Mother's Day, Father's Day, Black Friday, World Sleep Day, their Anniversary and Labor Day. It has been noted on forums that sales have become a bit more infrequent in the last year, possibly due to supply chain issues. Sales are usually for 15-20% off.
Does Snoo have a Buy Back Program?
No, Happiest Baby does not offer a buy back program for Snoos. Their rental program fulfills this space for parents who want to return their Snoos to the company after they're done with it.
How Do You Rent a Snoo?
You can rent a Snoo through the Happiest Baby rental program. You simply go to their website and place an order as you would any other purchase. They include a cleaning fee and refundable deposit to your order.
You are charged monthly until you return the Snoo. Inconveniently, you have to keep the original shipping box and return the item in that box (or pay an extra $48.25 for a new return box). Then, you have to pay a return shipping fee of $59.50.
Where do you rent a Snoo?
Most people rent Snoos directly through the Happiest Baby company. Some people informally rent their Snoos out from friends and social contacts. These rentals are usually found and done through personal connections.
Can you buy the Snoo after renting?
Happiest Baby does not currently have an option where you can purchase your Snoo after renting it, such as a rent-to-own program. If you decide you want a Snoo after your rental period, you would have to purchase a new one.
Reselling Your Used Snoo
If you buy instead of rent, you can resell your Snoo once you are done with it. Snoo retain value very well. When I see Snoos posted to Facebook yard sale groups, they usually sell very quickly.
Related Posts: 10 Baby Items with High Resale Value
With the introduction of the rental program, fewer people are buying Snoos new. Because of that, the supply of used Snoos has decreased from a few years ago. This makes used Snoos more in demand and they command a higher cost than in previous years.
How much is a used Snoo?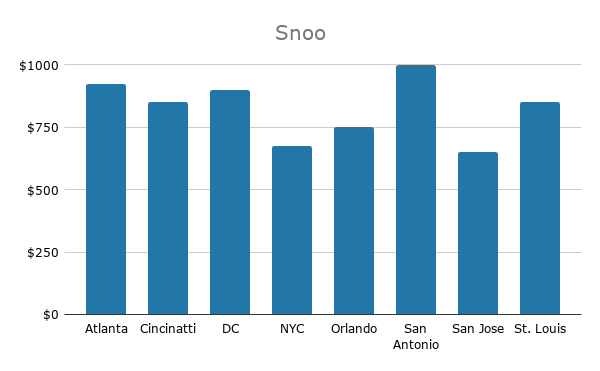 On average, Snoos resell for between $650-$1000. Below is a graph of a snapshot of used Snoo prices around the U.S. Given how quickly secondhand Snoo stock turns over, used prices can fluctuate a lot.
You may be able to charge more for your used Snoo if you include multiple sets of sleep sacks and sheets.
Where can you resell your used Snoo?
Given the Snoo's size, selling your secondhand Snoo locally will likely be the easiest and most profitable. Facebook Marketplace and Facebook Buy/Sell/Trade groups are prime spots to sell a used Snoo. Many local communities also have parents Facebook groups that are ideal for selling secondhand Snoos. Craigslist also works well for local sales.
Used Snoos do get listed on Mercari and eBay but then you have to deal with shipping logistics. You'd have to pack up the large Snoo safely to ensure there is no damage in transit. Adding high shipping costs to your item also reduces the likelihood you'll make a sale.
Should You Buy a Snoo Used?
Buying a Snoo used is another option to save money on the Snoo. You can save about 50% off the cost by opting for a secondhand Snoo. This option is great from a financial perspective.
However, the supply of secondhand Snoos has decreased because of the rental program so it may be harder to find a used Snoo. Prices may also increase in response to more demand than supply. At the time of writing, used Snoos were listed for almost $1000 on Facebook Marketplace in my area.
At that cost, it's probably worth the peace of mind to buy the Snoo new with Rakuten and a sale instead. Plus you'll likely have an easy time reselling it later to recoup even more money. I have bought nearly everything for our baby used but I'd likely buy a new Snoo for this reason.
That said, I would definitely look for Snoo swaddles and Snoo sheets used before buying new. Since rentals are also gifted these items, there are a lot more of these floating around the secondhand market than Snoos themselves.
Risks of buying a Snoo used
Buying a used Snoo also carries extra risks compared to buying new. You don't know how extensively the Snoo has been used in its previous life. If your Snoo breaks, you won't have any warranty protection or customer service support. Happiest Baby does not sell replacement parts (disappointing for how expensive the unit is). So, repairs may be complicated and if it is beyond repair, you'll be out the money with no recourse.
Plus, any soft secondhand item may carry bed bugs. Steaming the unit before bringing it into your home helps mitigate this risk.
Lastly, make sure you double check that the previous owner has performed a reset. This must be done so that you can sync the Snoo with your phone and account. You can find more details about transferring a Snoo between owners here.
Is a Snoo warranty transferable?
No, Snoo warranties are not transferable to a new owner. The warranty is only valid for the original purchaser. If you purchase a used Snoo, you'll be without warranty protection and repair support.
Is Renting A Snoo Ever Worth It?
Renting a Snoo may be worth it if you only plan to use it for one child AND you don't want to deal with the secondhand market. If trying to either buy a used Snoo or sell your Snoo secondhand doesn't appeal to you, then you could save about $800 renting vs. buying a new Snoo.
Snoo also partners with a number of companies that offer free Snoo rentals to their employees. If you work at one of these companies, then renting over buying is a no-brainer.
For everyone else though, I would recommend waiting to meet your baby before making the rental investment. You may get lucky and have a great sleeper from the jump. This also gives you time to watch for Snoo sales.
If you are unsure if you'll like the Snoo, taking advantage of their 30-day money back guarantee can be a better option for many people. Trying the Snoo out for only 1-month through the rental program will still cost you $318 plus a $99 refundable deposit. Plus you'll have to store all the packaging and take on wear and tear liability.
So, Is it Better to Rent or Buy a Snoo?
Should you rent or buy the Snoo Smart Sleeper Bassinet? Overall, I would say that the Snoo Rental Program is not worth for most people. Renting a Snoo is still a significant investment even if you only rent for a few months. Plus, it has significant drawbacks like taking on the liability of the Snoo getting damaged and having to store all the packaging for months.
If you are planning to have more than one child, buying is definitely more financially advantageous. Since the used Snoo resale market is so hot, you will very likely be able to sell your Snoo once your baby outgrows it. Factoring in these resale profits, buying actually works out to be cheaper than renting. Therefore, you can enjoy the benefits of buying the Snoo while keeping costs comparable to renting.
---
Still on the fence about you should rent or buy a Snoo? Check out our analysis of whether you actually need a bassinet at all.