Lovevery 4 Year Old Play Kit Review: New in 2023
This post may contains affiliate links. Read the full disclosure here.
Have you been wondering about the new Lovevery 4-year-old play kits? Me too!
This summer Lovevery expanded their play kits by offering four new sets designed for four-year-olds and their development.
As our toddler is about to turn four, this timing is great for us, and I was excited to try out a play kits specifically for his developmental milestones.
I've been writing about baby gear for years now and a big focus has been on frugality and secondhand baby stuff. I'm also a researcher with an eye for detail and in-depth analysis.
This background gives me a unique perspective when reviewing Lovevery. I came into Lovevery skeptical of whether toys could be worth the cost compared to what you can get for free as hand-me-downs.
And here's a spoiler alert: I've been really impressed with our Lovevery kits. They've exposed both me and my kids to things we wouldn't have encountered otherwise.
So let's dive into what we loved about our Lovevery four year old play kit, and a few things we didn't like as well.
Lovevery 4 Year Old Play Kit Overview
Overall, Lovevery 4 year old play kits are super high quality toys that are curated based on child development. They are more interesting, thoughtful, and unique than other toys you may buy.
Note: I was gifted this Lovevery box but was not paid for this review — all opinions are my own. I do include some affiliate links in this article, which means if you purchase with a link, I get a small commission at no cost to you. I appreciate you considering using my Lovevery affiliate link if you do decide to purchase a kit, as this site is reader supported and every little bit helps. Thank you!
What are Lovevery Play Kits?
Lovevery is a toy company focused on designing quality, sustainable toys to meet children's incremental development and milestones.
Their play kits are curated sets of their toys based on a child's age (in 2-3 month age increments). These play kits are sold in a subscription model (more on that below).
Each play kit contains about five-seven toys, at least one book, and many contain some kind of puzzle. The toys and play kits are designed in consultation with developmental experts.
Lovevery toys are Montessori-esque, with a focus on quality and simplicity. Think well-done wooden toys and real-life objects to practice life skills.
In addition to play kits, Lovevery also provides informational resources to parents in the form of a podcast, app (subscribers only), and courses.
🤩 Check the full list of play kits!
Lovevery 4 Year Old Play Kit Features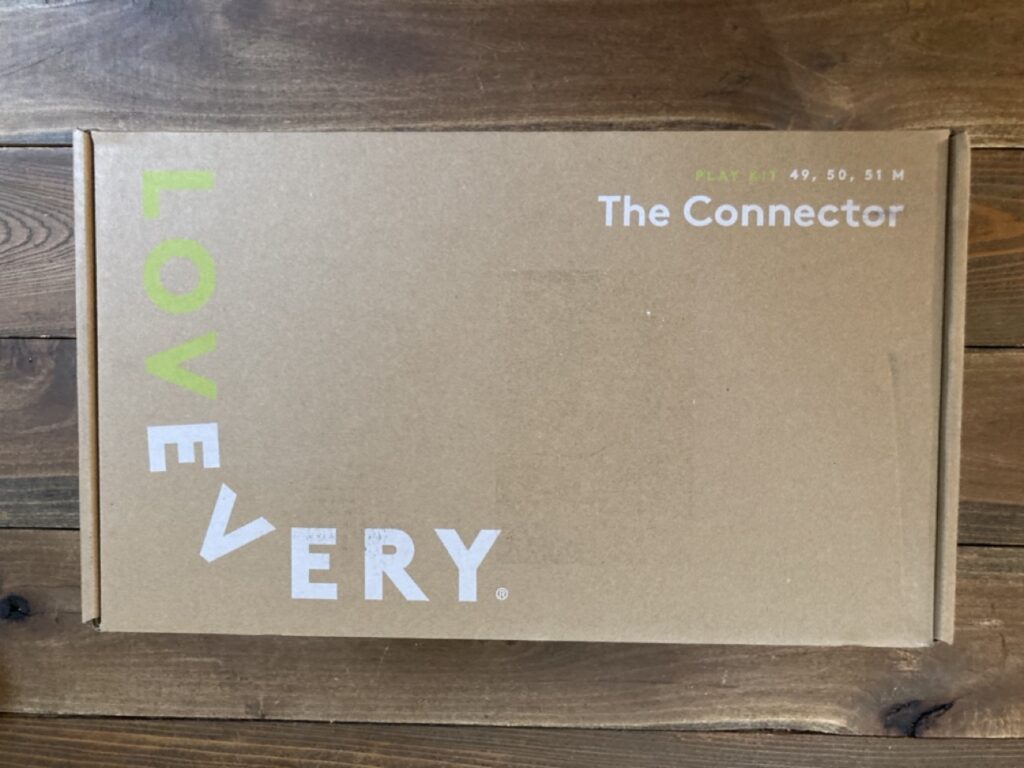 Super high-quality & attention to detail
The attention to detail is also unmatched. Every little thing in the play kits works well together and has extra details to make them special compared to other toys.
I love that one of Lovevery's goals is to make long-lasting toys so they can be passed on and stay out of landfills, since this really aligns with my personal values (source on Lovevery's sustainability efforts).
For example, the microscope we got in our kit not only works as a microscope, but you can also take it apart and bring the magnifying part with you on-the-go for even more flexible exploration.
And to my very pleasant surprise, the bottom base actually comes off as a storage place for all the microscope pieces.
They really thought of everything.
Developmentally-matched kits
Lovevery's bread and butter is designing toys and play kits based on developmental milestones.
Each toy comes with an explanation of why it is a great fit for the child's current age. Plus, they include suggestions and activities to help work on those developmental skills.
For example, the 4-year old kit we have focuses on executive function skills. The book tells a story about learning new things and perseverance.
The microscope encourages exploration and investigation skills. The Daily Helper Board is designed to help a kid learn skills to do tasks independently (pictured below).
Even the fanny pack has thoughtful add-ons like a lacing and tying activity for fine motor practice.
Exposure to unique toys
Lovevery is known for offering unique toys that you can't find elsewhere.
As an example from our four-year-old play kit, I wasn't able to find anything close to the felt pathway and modular houses elsewhere.
Additionally, Lovevery's play kits are a great way to be exposed to toys you would not have otherwise bought yourself.
Left to my own devices, I would not have bought those felt pathways, but my kids absolutely loved them.
This has been the best surprise to me of getting Lovevery kits (it also happened with our one-year-old play kit): my kids' favorite toys were the ones I assumed they'd like the least.
🤩 Check the Connector Play Kit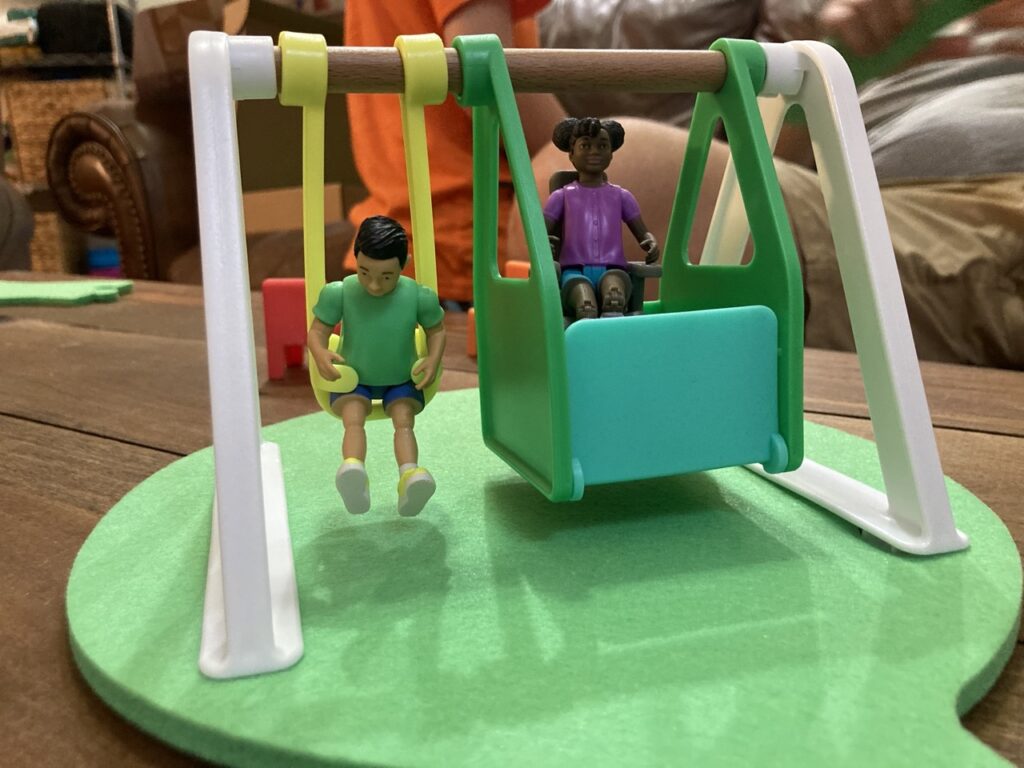 Educational guides galore
I think the educational guides and supporting information are an unsung hero of a Lovevery play kit.
Compared to our last one-year-old play kit, our 4 year old play kit came with so many more educational resources to make the most out of the toys.
In addition to their famous play guide full of expert tips and activity ideas, nearly every toy in our kit came with an additional informational guides.
For example, the "Friends and Swing Set" came with full back stories for the child figurines to read to your child, and advice on how to discuss disability and food allergies with the help of the toys.
I very much appreciated having that resource to help guide me in having age-appropriate discussions with my kids about these important topics.
Personally, I learned a lot from these guides and they highlighted some important things I wouldn't have thought to discuss with my child, like teaching younger kids to ask an adult before sharing food in case of significant food allergies.
Pros of Lovevery 4-Year-Old Play Kits
While I went over my favorite features of Lovevery above, there are a few more pros that I wanted to highlight:
1. Inclusivity and disability specialist support
I appreciate Lovevery's inclusiveness in their products and support. Our toy included not only toys of differing abilities, but also thorough resources on discussion ideas and stories to share with your child.
In addition, Lovevery has disability specialists available to help customers find the best toys for their child's individual development. I appreciate their efforts to support diverse families.
2. High resale value
Lovevery toys are expensive, there's no way to sugar coat that. However, they retain their value well, which means you can recoup some costs by reselling them later.
Honestly, I'm always a little shocked at how much the toys sell for on resale.
3. Time savings
I appreciate that I don't have to think about or research what toys might appeal to my kids at their current ages.
Lovevery does that work for you so you don't have to spend your time curating your kids toy collection.
4. Books with photos
It is surprising to me how few children's books are stories with actual pictures of kids. My kids go nuts for these types of books.
You can find books with pictures of babies and toddlers, but very few tell an actual story like Lovevery's do. For me, this is an under-rated part of each Lovevery kit.
Lovevery recently introduced an "book bundle" add-on to their play kits where you can select to add two more books to every play kit.
🤩 Learn more about Lovevery's book bundles
Cons of Lovevery 4-Year-Old Play Kits
There are some things that I don't love about Lovevery play kits. Here are some of the cons you should be aware of:
1. Price
Lovevery play kits are not cheap. Lovevery positions itself as a premium brand, and the prices reflect that.
I do think that the toys are excellent quality and the thoughtfulness of them justifies their cost.
Nevertheless, it is still more money than I'd spend on toys monthly, and think the cost is likely a limiting factor for a lot of people.
2. Subscription model
I don't love subscription models in general. They add to the mental load because you have to remember to cancel them.
I wish that you could buy play kit boxes individually. You can cancel the subscription at any time, so essentially you can get them individually, but I'd prefer it without the added step of cancelling.
3. Storage
Some Lovevery toys I have a hard time figuring out how to store.
For example, in our 4-year-old play kit set, I have no idea where to put the bigger pieces that make the wooden houses.
The uniqueness of the toys makes it so they don't all easily fit in a bin or pre-existing toy storage systems.
4. Many small pieces
This goes along with the storage issues: a lot of Lovevery toys for toddlers come with a lot of little pieces.
I feel like I'm often trying to hunt down one missing piece of one of our Lovevery toys. I like our toys to last and stay in good condition, so it is important to me to not lose pieces.
For example, from our 4-year-old play kit, the Daily Chore Board has a lot of little magnetic tasks but no good way to store them all together.
There is a magnetic area on the back to keep some of them, but disappointingly, it doesn't fit them all.
Our experience playing with the Lovevery Connector Play Kit
Both my kids loved our Connector play kit. Even the one-year-old found ways to play with some of the toys (she immediately claimed the fanny pack as "my pack pack").
By far, the biggest hit with both of them was the working microscope. I cannot rave enough about this microscope.
It is functional and flexible. It has slides and a dish to make your own slides. The magnifier comes off so you can explore outside, which is the real differentiator compared to other microscopes.
The other big hit from our kit was the felt pathways. Our toddler loves making roads for his cars, so this was right up his alley (pun!).
He immediately gravitated towards Aila and her chair too when playing with the paths.
I'm personally very happy to have the Daily Helper Board. We've struggled a bit with our toddler not wanting to help with household tasks like cleaning up, and I'm glad to have a more structured, visual way to approach that problem.
And we've read Charlie Learns Something New approximately 100 times already. Pictures of real kids in books are always a hit with my kids.
Who is Lovevery for?
Lovevery is designed for parents and caregivers of children four years old and younger. It is especially appealing to parents who want simple, developmentally staged toys or toys in Montessori-style.
I personally think the play kits are ideal for parents who want to save time on researching toys for their kids. The curated kits have done that work for you.
They are also time-beneficial for parents who need to keep their kid engaged for a period of time while they work or do other tasks.
Our Lovevery kit gave me hours in total of work time while my kids played independently, which is incredibly valuable to most parents.
Lovevery's Subscription Model
Lovevery play kits are only available through a subscription. For babies, play kits are sent every 2 months; and for toddlers, they are sent every 3 months.
That said, you can cancel the subscription at any time.
If you only want to buy one play kit, you can purchase it and cancel the subscription at no cost.
There are a few select toys available for sale individually, either through Lovevery directly or through Target.
🤩 Check out the play kits in the subscription
Lovevery Connector Play Kit Alternatives
You may be wondering if alternatives to Lovevery toys are easily available. In general, Lovevery toys stand out in their uniquequality and design.
For instance, I researched alternatives to the toys we got in our Connector Play Kit. Here are the best alternatives I could find, along with details of how they differ from Lovevery:
If you were to buy all these alternatives, the total cost you only a few cents less than the actual Lovevery play kit (prices calculated August 2023).
The high cost to buy alternatives to Lovevery play kit toys is also what I found when I researched alternatives to the adventurer play kit.
FAQs About Lovevery 4 Year Old Play Kits
When were Lovevery 4 Year Old Play Kits released?
Lovevery introduced their 4 year old play kits for the first time in summer 2023. They shared this welcome to the play kits on May 31st.
How are Lovevery's 4 year old play kits different from the younger age kits?
Lovevery 4-year-old play kits are tailored to the development of 4 year old aged children. Lovevery specifically focused on executive function with the 4-year-old kits, including important skills like frustration tolerance and flexible thinking (source).
Can you buy Lovevery toys individually?
Yes and no. Most Lovevery toys are only available through their play kit sets. There is a small selection of individual toys available on their website, like a block set and pull puppy toy. Target also sells a few individual Lovevery toys.
Are the toys made from safe materials?
Lovevery toys are made from sustainably harvested wood, soy-based ink, water-based paints, bio-based plastics, and organic cotton (Lovevery source). Their fabrics are OEKO-TEX certified, which indicates a testing standard for harmful chemicals (OEKO-TEX source).
Will my child like every toy in the kit?
Not every toy in the kit will be an instant hit with every child. That said, Lovevery provides tips and activity ideas in their play guides to help spark a child's play with each toy. We've also found that our kids will eventually circle back to the less loved toys, though they may never get the same level of play as the favorites.
Final Thoughts: Is Lovevery Worth It?
Overall, we have loved our Lovevery toys. The quality really is unmatched — time and again I found myself inspecting a toy and thinking "wow, I'm impressed by the level of thoughtfulness and detail."
I think the cost is worth it for an occasional box. It'll add novelty to your toy collection and you likely can recoup much of the costs on resale.
For me, buying every kit would be both too expensive and more toys than we like to keep in our house.
For those one the fence, I'd recommend either trying out one play kit or finding a few used toys on Facebook Marketplace.
Buying one play kit is definitely the easier option, saving you time having to search out used toys (especially since the secondhand toys aren't much cheaper).
If you found this review helpful and are considering buying a Lovevery play kit, I'd greatly appreciate if you'd consider using my referral link. This site is reader supported and these write-ups are time intensive so I definitely appreciate the support.
Read More:
Looking for more on Lovevery? Check out my review of our first one-year old play kit.