5 Best Dump Truck Toys That Your Kids Will Dig
This post may contains affiliate links. Read the full disclosure here.
Looking for the perfect dump truck toy for your kid? I've got you covered!
There is truly nothing in the world that my toddler loves more than trucks. According to him, he "thinks about trucks all day long."
He also is a big fan of digging so obviously dump trucks are the exact intersect of his two main interests.
For over two years, he's literally played with a dump truck every day.
Because of that, I have had A LOT of experience playing with dump trucks and watching my kids interact with our different dump truck toys.
My car always has dump trucks in it. Dump trucks in our diaper bags. We leave dump trucks at the grandparents house. Our world is full of dumps.
And we know firsthand that not all dump truck toy are made equal.
To save you the frustration we've faced when a dump truck breaks, loses it's bed, or stops rolling (all things we've had happen), I've rounded up our favorite, most durable trucks.
Below you'll find 5 great dump truck toys, plus a few trucks you should definitely skip at the end of the list).
Let's dig into the list (pun!)
My Top 3 Picks: Dump Truck Toys
Best 7 Dump Truck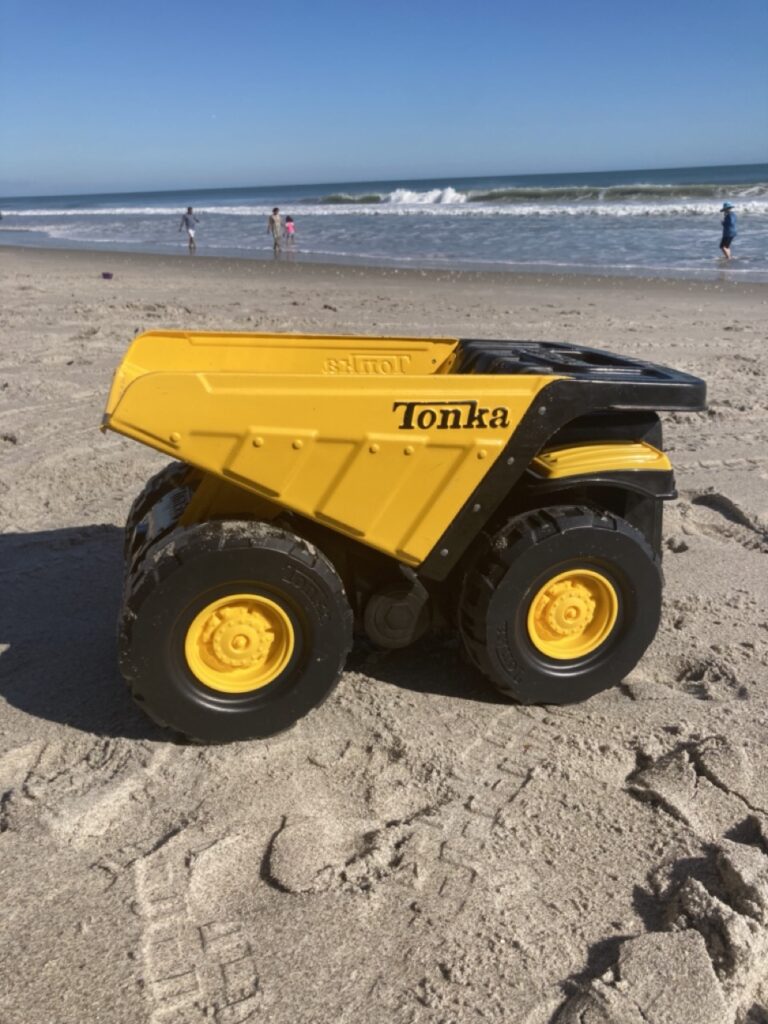 1. Best Big Dump Truck Toy: Tonka
First on the list is the big ol' Tonka dump truck.
It makes the first spot because our toddler is obsessed with this truck. Because of its size, he can run around pushing it. It is big enough that you can push it over basically any terrain.
Plus, this truck is sturdy and dumps well. It is made of metal so it is much more solid than many toys.
My toddler got this when he was two and he still plays with it and runs around pushing it two years later.
There is one con for this big Tonka dump truck to be aware of: rust. Because it is metal, it can rust with water exposure.
Ours regularly goes to the beach and in the ocean, and even with the best of rinsing after it is starting to develop rust patches.
At the places it is rusting, the paint has chipped some. That said, if you keep it away from water, I think this dump truck might actually last forever.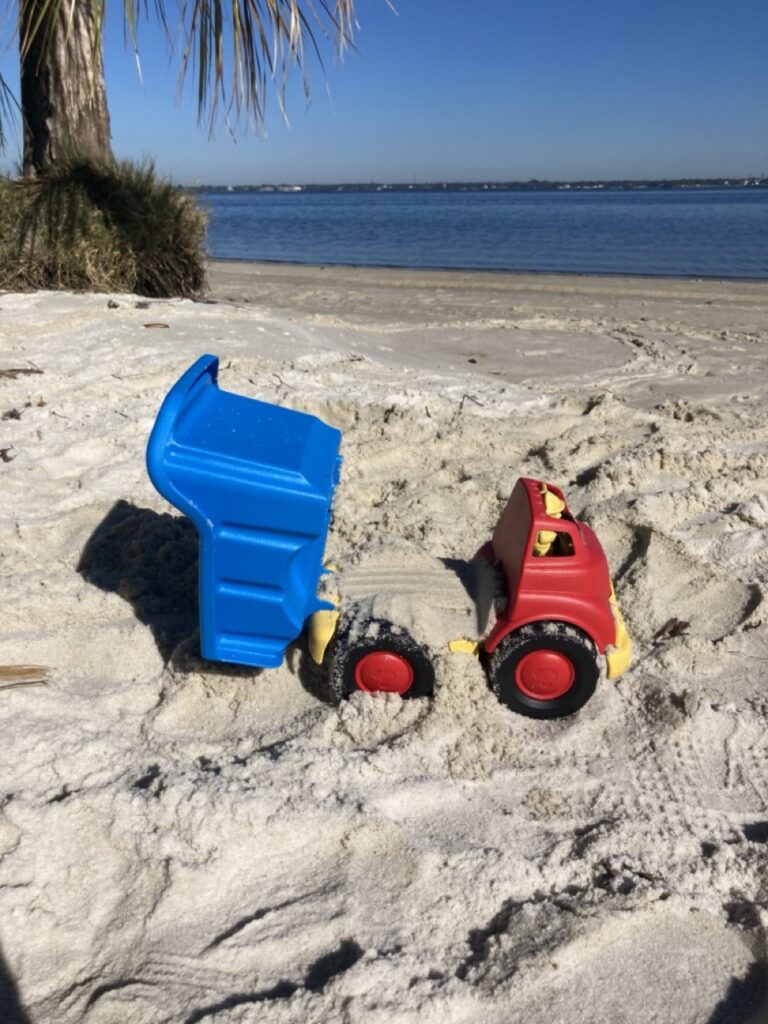 2. Best All Around Dump Truck: Green Toys
My favorite of all my kids dump trucks is from Green Toys.
Green Toys dump truck is the best all around dump truck. If you only buy one dump truck, this is the one.
It is a nice medium size, ultra-durable (it is even dishwasher safe!), and is made of recycled materials which helps my landfill anxieties.
Where as the Tonka truck above isn't great for water, Green Toys truck is the perfect beach or bath companion.
While our older toddler is running around pushing the Tonka, our one-year-old pushes her Green Toys dump and chases after him.
It rolls well, dumps well and is light enough even for an older baby.
For real, we love our Green Toys dump so much that it is basically the only toy I've bought a replacement for when we lost one. I can't even think of a con to share.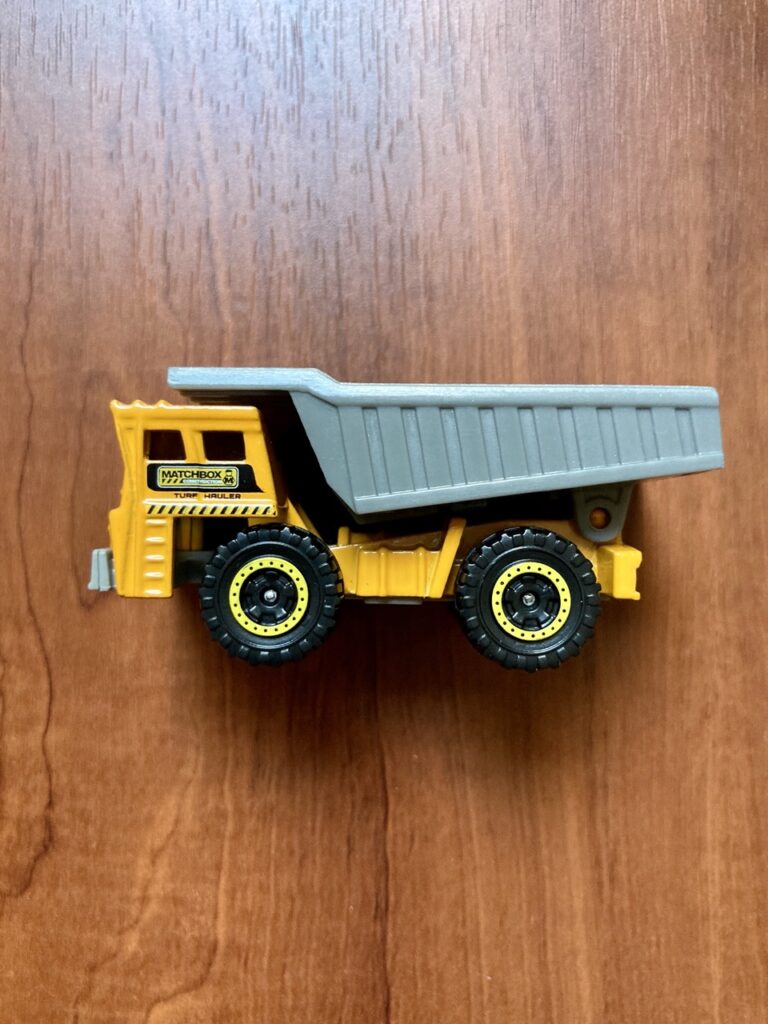 3. Best Small Dump Truck: Matchbox & Hot Wheels
I love a Hot Wheels or Matchbox car.
I appreciate how they're so affordable and so durable. You can find individual Hot Wheels for under $2.00, which is a blessing when you can't get out of Target without a tantrum.
They're also the perfect size to throw in your bag so you always have some toys at the ready.
Our favorite Matchbox dump truck is their standard small-sized truck but unfortunately, the small Matchbox and Hot Wheels aren't easy to order online because they'll usually send you a random set. We found ours in-person at Wal-Mart.
Because of this, I linked a for the Matchbox store front in case you need an online option, but I'd recommend buying in stores because they're cheaper..
I also shared a link because, unfortunately, you have no way of knowing what stores will have in stock and the selection changes pretty frequently. There's a good chance you won't find a dump truck every trip.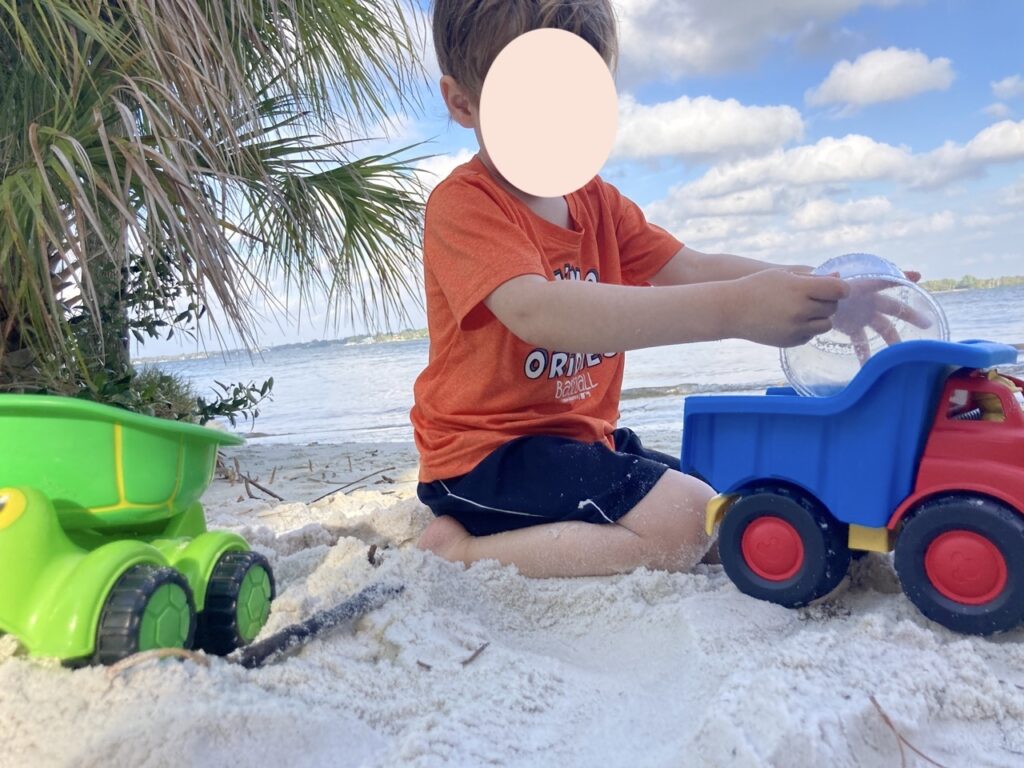 4. Best Dump Truck in a Set: Green Toys
Green Toys trucks are so good that they make the list twice.
First, I absolutely love that they have a set of a dump truck and tea set together. What an amazing way to help breakdown gender stereotyping with toys.
Second, as I explained above, Green Toys trucks are so durable. Ours do not sow any wear even after a year of hard use.
If the tea set and dump truck combo isn't for your kid, they also have a three-truck set of construction vehicles that include a dump truck.
5. Best Toy Dump Truck with Sounds: Battat Truck
If your kid likes a more interactive toy, Driven by Battat makes a nice line of affordable trucks with lights and sounds.
We have two tow trucks in this line and my kids love them. They've seen heavy play and even though they're cheap, they've held up.
What I like about our Battat trucks is that even though they have lights and sounds, they're more subtle. You have to push the truck in just the right way to get the sound to go off isn't not constant.
The noise is also simply a short truck noise or beeping. (And it's also easy enough to turn the effects off… ask me how I know)
The only issue we've had with our Battat trucks is the one of our tow trucks have pieces a little hard to manipulate for younger kids. This isn't an issue with our other truck.
Warning: Don't Buy This Dump Truck Set
There is one construction truck set with a dump truck that I DO NOT recommend.
The Cat Construction Mini Crew Set does not work well if your kid plays in sand or dirt (which obviously is what you want to do with a dump truck!)
The sand gets stuck in the wheels and seizes them up. Our toddler understandable does not like when it won't roll and won't play with it.
You can sometimes get the sand out if you work the tired under a strong faucet but it'll happen again very easily. It's just not worth it.
🛑 Don't buy the Cat Construction Mini Crew Set
FAQs About Dump Truck Toys
What age kids are dump truck toys good for?
Dump trucks are great toys for any kid as they come in various sizes and designs suitable for different age groups. Both our kids started playing with dump trucks a little before their 1st birthdays.
How do you keep your dump truck toy in good condition?
If your dump truck has metal in it, learn from our mistake and dry it off well if it gets wet. High quality plastic dump trucks like Green Toys should stay in good condition without any special care.
What's the best dump truck for toddlers?
The Green Toys dump truck would be my recommendation for toddlers. It is a manageable size for smaller toddlers, water-proof for bath time, and high quality enough to stand up to toddler abuse.
What's the best dump truck toy for older kids?
The big Tonka will likely be the favorite of older kids. The size matches them and allows for carrying bigger things. Its steel body also makes it durable enough for more complex big kid play.
Do dump truck toys have educational benefits?
Definitely! Dump truck toys can help enhance motor skills, spatial awareness, and independent play. They can also introduce concepts like cause and effect, as kids load and dump the truck.
Are dump trucks good outdoor toys?
Yes, dumps trucks make for great outdoor toys. Most dump truck toys, especially ones made of durable plastic, are designed for both indoor and outdoor play.
🚛 Green Toy Dump Trucks are great for all ages & work well as outdoor toys
Final Thoughts: Toy Dump Trucks
Dumps trucks are basically a perfect toy that can be used in so many ways. From the sand box to shuttling other toys away during clean-up time, dump trucks have been all-stars with our kids.
I hope this list has helped you find the right dump truck for your truck-loving kid. The trucks listed above have all stood the test of time with our family and I hope they do the same for you.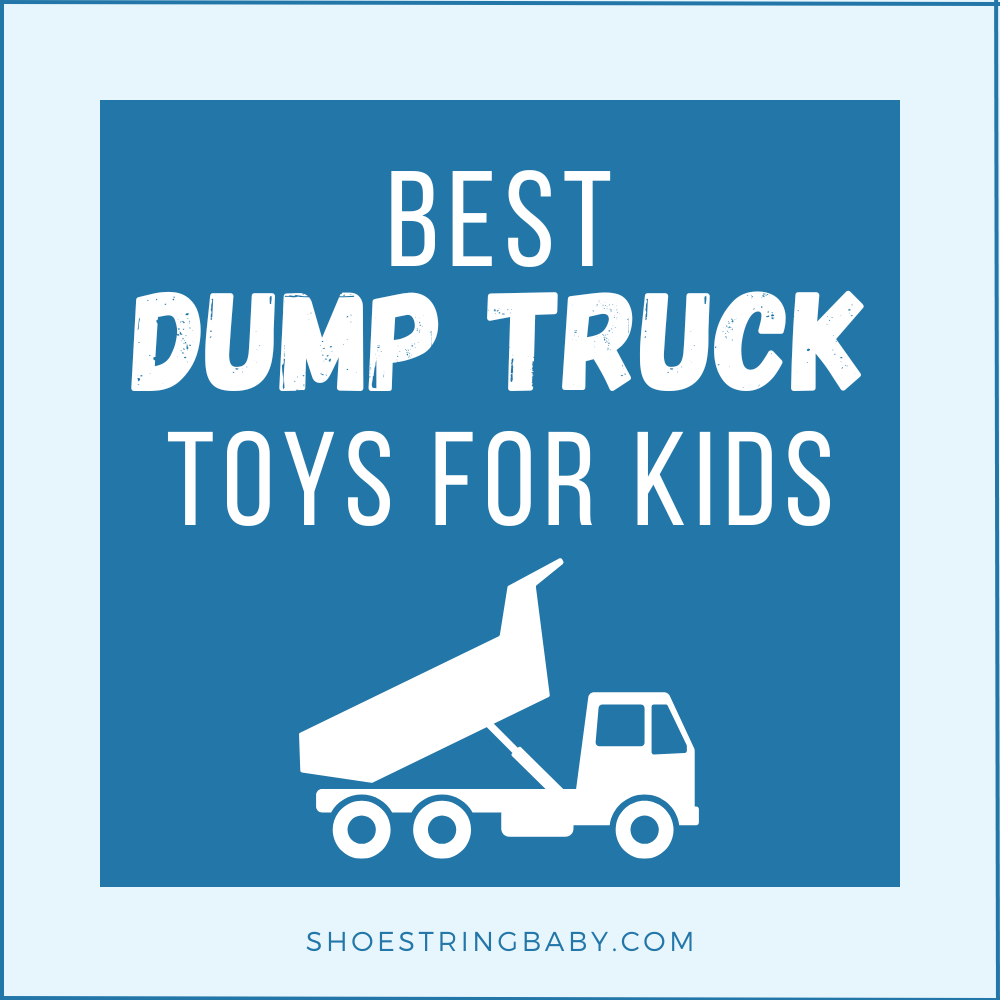 Read More:
Clearly your kid likes trucks so you should check out my list of dump truck books that my kids love.