6T Size Guide: 6T vs 6 Clothes Differences
This post may contains affiliate links. Read the full disclosure here.
Have you been wondering what size is 6T? I've got you covered!
This article goes over everything you need to know about 6T size, including 6 vs 6T differences and some great benefits of size 6T.
I'm a researcher and I've done many deep-dives into the quirks of toddler clothing sizes (like how 24-month and 2T clothes differ, even though 24 months = 2 years)
This guide to 6T is also a personal one for me: our 3-year-old is also the exact kid who needs a 6T size. He's super tall so he's already on the cusp of outgrowing his 5T pj tops.
But he's still very much a toddler who wants little kid truck patterns and soft pants he can pull down himself.
I'm glad for size 6T and hope this guide helps other families in our situation. Below you'll find details about size 6T, how 6T and size 6 differ, example size charts and some FAQs.
Plus, at the end, I dive into how size 6T can save you money!
Let's take a look.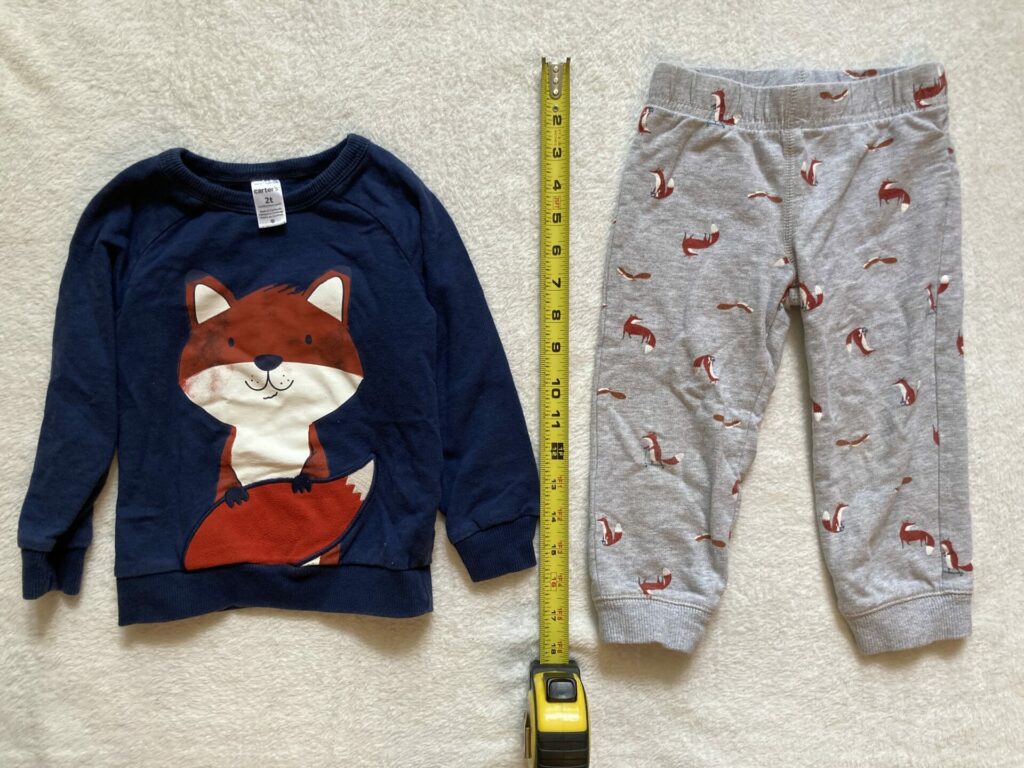 Size 6T Overview
Size 6T is a kids clothing size only used by a few retailers. It is generally equivalent to size 6 or size small.
Keep reading to find out how 6T can save you money on your child's clothes!
What size is a 6T?
Size 6T is considered a toddler size for clothing. The 'T' marking on sizes is used to indicated clothes made for toddlers or young children.
Nearly all clothing brands stop toddler sizing at 5T, with the exception of Old Navy (and select babyGap pjs) that have 6T size (source: Old Navy size chart).
At Old Navy, 6T clothes are made for the same height child as size 6, but with slightly smaller chest and waist measurements (as seen in the size chart below).
Generally, toddler sizes like 6T are used to indicate clothes that are suitable for young children who are learning to dress themselves and possibly still in diapers.
The type of clothing you'll find in 6T vs. 6 reflects the difference in the age of the intended child. 6T clothes selection looks more like smaller size toddler clothes offerings, while size 6 looks like big kid clothes.
For example, I could find legging-style pants for my toddler in 6T but could only find regular "hard" pants in size 6.
The 6T pants also had elastic waistband options, which is easier for kids learning to dress themselves and also take on and off around diapers.
From my personal experience shopping these sizes, 6T clothes have had fewer buttons and zippers that are harder to manipulate when you are learning to dress.
What is size 6?
Size 6 is the regular standard size clothes for kids who are roughly 6-years-old. It generally fits kids who are roughly 45-49 inches in height.
You'll often find "bigger" kid style clothes in size 6, in both design and clothing features like buttons.
In size 6, you're more likely to find clothes that are more like regular clothes: regular pants instead of leggings, clothes with zippers and buttons, etc.
Size 6 clothes are less likely to feature little kid patterns like fire trucks and big animal faces. For example, the pattern difference is especially noticeable in the more limited pajama set selection at Old Navy.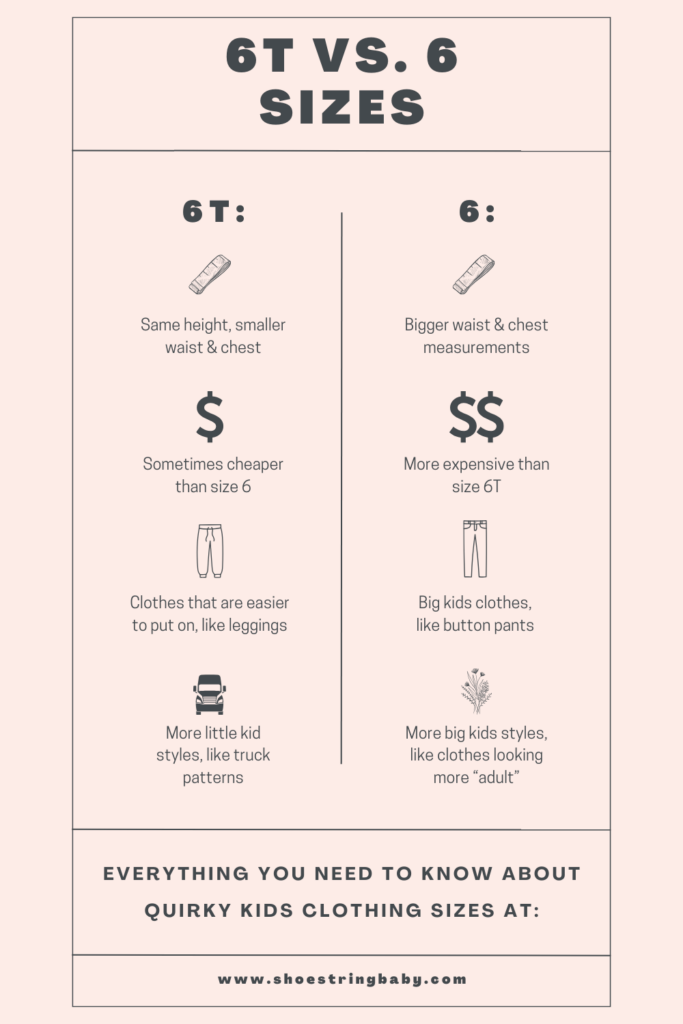 Size 6T vs. 6
To summarize, here are the key differences between size 6 and 6T:
Size 6 is available at all stores; 6T is limited to a few stores like Old Navy
6T clothes are for developmentally younger kids, who may still be learning to dress or perhaps still in diapers
You'll find more elastic waists, leggings, and pajama sets in size 6T
6 vs 6T clothes will feature more "big kid" style clothes in function and designs
6T is often cheaper than size 6 at Old Navy
These 6T vs 6 differences are also highlighted in the infographic above.
Overall, 6T is a nice option for little kids who are tall for their age. It allows them to stay in little kid styles to meet them where they're at developmentally, even though they've sized out of other toddler sizes.
6T vs 6 size chart example
Let's take a look at Old Navy's size chart to better highlight how size 6T and size 6 fit.
Old Navy offers size 6T, size 6 and size small that roughly fit the same size child by height. The 6T chest and waist measurements are a little smaller for 6T.
| | | | | |
| --- | --- | --- | --- | --- |
| | Height | Chest | Waist | Weight |
| 6T | 45 – 49″ | 23 – 23.75″ | 21.25 – 22″ | 46 – 53 lbs |
| 6 / S | 45 – 49″ | 25″ | 22.5″ | — |
Source: Old Navy size chart
Note: They do not sell a size 6X for girls.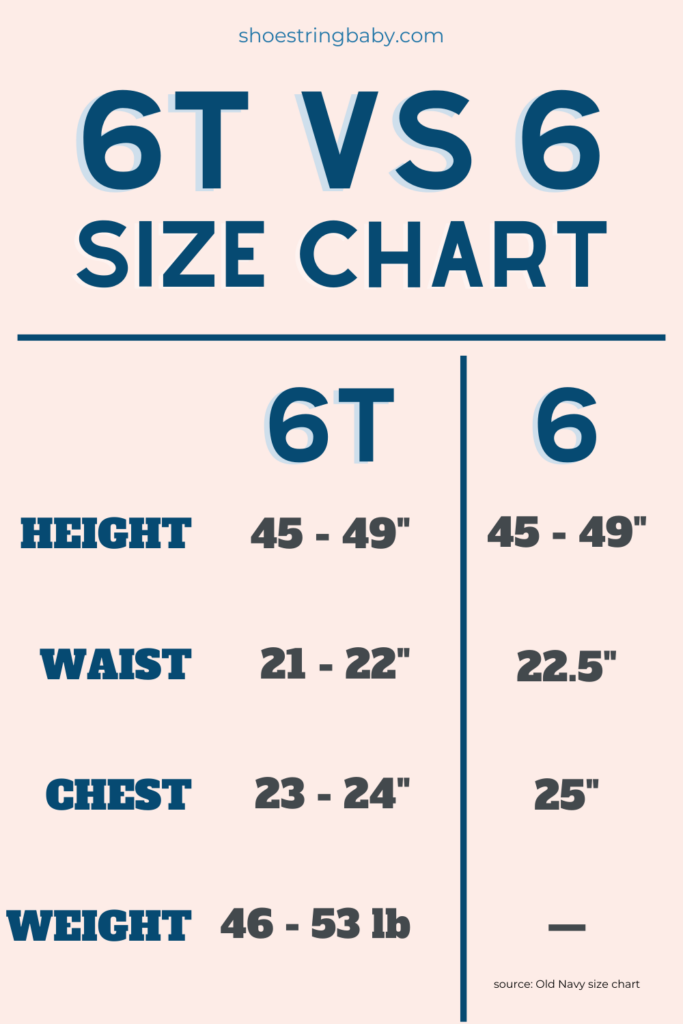 Pros of 6T size
There is two big advantage of 6T size that I want to highlight: cheaper cost and the selection of clothes.
First, when shopping at Old Navy and Gap, size 6T is often cheaper than the equivalent size 6 or size small clothes.
I've seen this repeatedly when shopping for matching family pajamas for my kids. Since the same family pajamas are offered from baby sizes all the way to adult sizes, it is easy to compare prices.
For example, the image below shows the price difference I spotted when shopping for Halloween pjs for my kids.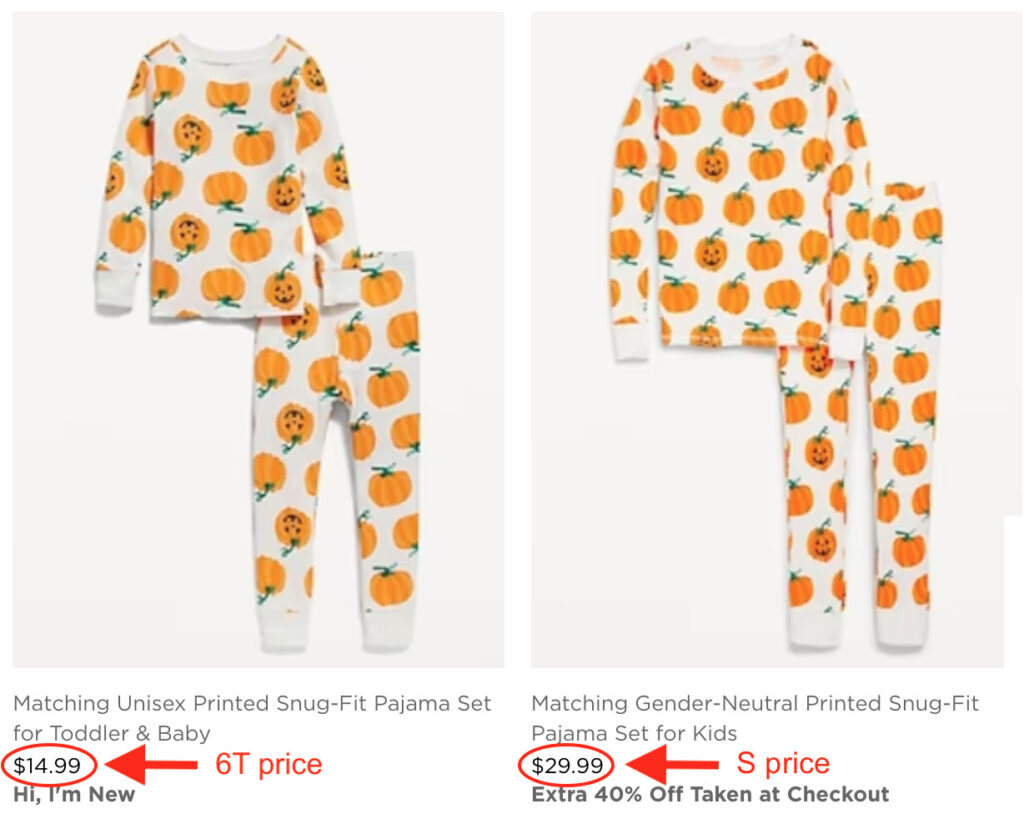 Second, 6T clothes also offer more "little kid" styles than size 6 at Old Navy.
This matters to families with kids who are big for their age. Our 3-year-olds 5T pj tops are starting to look small, but he's still very much a toddler.
He wants clothes with trucks on them, pants that are soft, and bottoms he can pull down himself. He's just not ready for the "big kid" style clothes you'll find in size 6.
Size 6T vs. 6X
Now, let's discuss another quirky 6 size: size 6X. How are size 6T vs. 6X different? In general, size 6T is smaller than size 6X.
6X is a girl's clothing size that is a little bigger than regular size 6. Some stores offer 6X to allow girls who may have had a growth spurt to stay in little kids style clothes longer.
6X is not sold at Old Navy so we can't do a direct size chart comparison to 6T. However, we can use some transitive property to infer that 6T is smaller than 6X. 6T runs a little smaller than regular size 6 for chest and waist, and 6X runs a little bigger than size 6.
This is only a quick overview of size 6X. Let me plug my in-depth guide to size 6X for those who want all the details on size 6X and how it differs from regular size 6.
Who is size 6T for?
6T will work for any child who is about 45-49 inches tall and around 46-53 lbs. Roughly, 6T size is for kids who are about 6-years old in age.
6T is also designed with a younger child in mind. 6T offers more "little kid" styles and patterns, like leggings instead of hard pants" than size 6.
6T Size Equivalents
If you can't find size 6T, what are some 6T clothes equivalents? Your best bet is to opt for regular size 6 clothes.
For girls, in some stores you may also have the option of 6X size that would also be closely equivalent to size 6T.
FAQs About 6T Size
Where can you find 6T size clothes?
You can find 6T clothing at Old Navy, and a more limited selection at Gap. Old Navy offers 6T in a full line of clothes like pjs, shirts, and pants. At Gap, you'll find their babyGap 6 Year size only in their pajamas.
What size comes after 5T?
After size 5T, your child may wear size 6T, 6, 6X or small depending on the retailer. Many stores will use both XS-L sizing and number sizing like 6 on different types of clothing (i.e. t-shirts are small but pajamas are 6).
Is 6T the same as 6?
According to the Old Navy size chart, 6T fits the same height child as size 6 but they have smaller chest and waist measurements. There is also a different selection of types of clothes available in 6T, with more clothes for little kids like elastic pants and more childish patterns.
Is 6T the same as XS?
No, 6T is not the same as XS. At Old Navy, 6T is more equivalent to the S size. According to their size chart, 6T fits the same heights at their small size.
XS at Old Navy better matches their 5T/5 sizes. The size chart heights for 5T are the same as XS heights.
Is 6X the same as 6T?
No, in general 6T should be a smaller size than 6X. 6X is designed to be an in-between size between sizes 6 and 7. 6X is also only a girl size, whereas 6T is for boys and girls.
Final Thoughts: 6T Size
Overall, you're not likely to encounter 6T size in the wild outside of Old Navy and Gap. If you shop at those stores, 6T size is a great option and closely equivalent to their size 6 and size S.
I appreciate the availability of size 6T as our 3-year-old seems likely to outgrow his 5T pjs tops soon, but he's still very much a toddler and not ready for more structured big kid clothes.
The best feature of 6T size clothes at Old Navy and Gap is that their "toddler size" items are often cheaper than their "kids size" items. If your kid is in this size range, definitely check if 6T clothes are cheaper than size S or 6 items before hitting buy.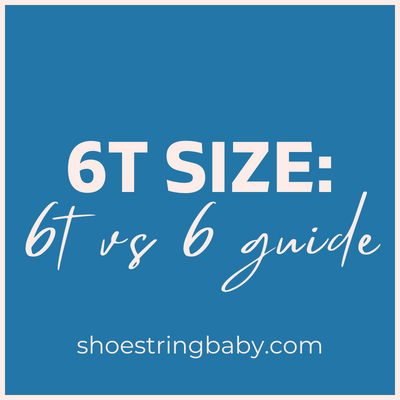 Read More:
If your child is size 6T, you should also read up on the differences between 6 and 6x sizes (because finding the right size for your kid wasn't already confusing enough!).