40+ Unique Girl Names That Start with Z
This post may contains affiliate links. As an Amazon Associate, I earn from qualifying purchases. Read the full disclosure here.
Hunting for zesty girl names that start with Z? This list showcases 40 of the best Z names for baby girls, handpicked to help you on your name search.
Z names are ultra fashionable today. The rarity of names starting with Z adds a little something extra that helps Z names stand out. They're unique, they're fun and they're fresh.
I've put together this collection of 'Z' girl names to fit a variety of naming tastes, ranging from unique Z names for girls to sweet and cute Z names. As a researcher with over 5 years of experience analyzing baby name trends, I handselected these names to help make finding the right name easier.
Each name is paired with its meaning and origin, drawn from my personal database of over 2000+ names. This collection is the result of thorough research from various sources including books, pop culture, forums and websites.
I hope that this compilation of Z girl is a valuable resource in your naming journey. My goal is to provide a personally handpicked collection of girl Z names that you may not see elsewhere.
Now, let's zoom into these zesty Z names for girls!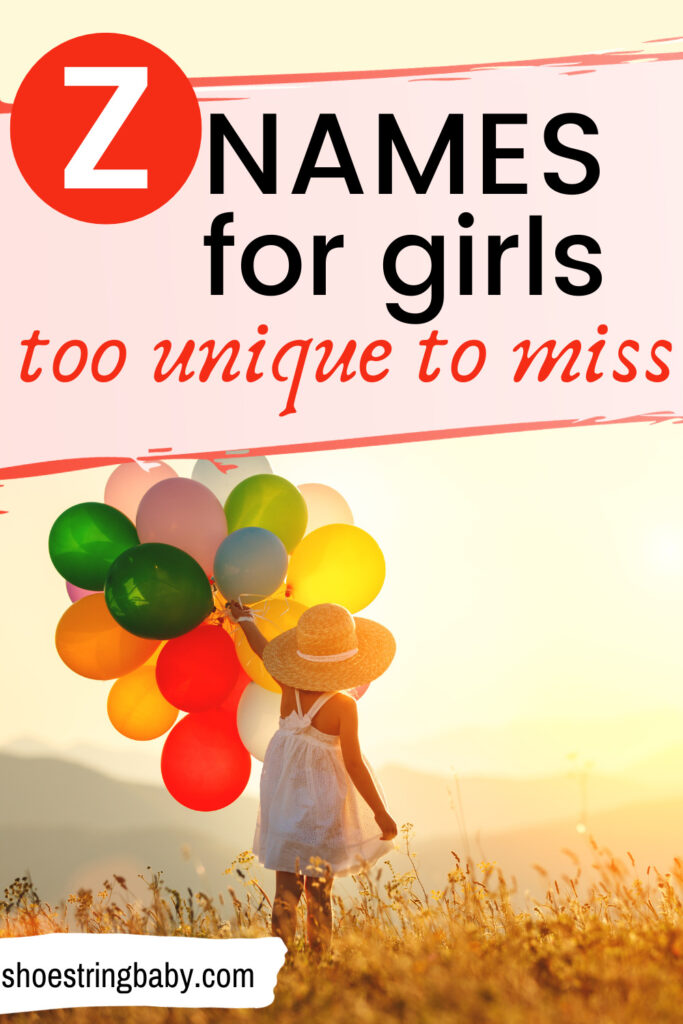 Unique Z names for girls
Let's kick off the list with unique girl names that start with Z. Each of the names on this list are outside the top 1000 list in the U.S. per Social Security Administration name data.
Zelma is a name that I wished I had found before making lists of names for my own kids.
Though it is rare today and seems like a misspellings of Selma, the name actually ranked #216 in 1902 — only a few spots lower than the Selma spelling . It was a steady hit in the first part of the 1900s that could be due for a revival.
1. Zahara
Meaning: flowering
Origin: Arabic, Hebrew
2. Zelenia
Meaning: moon
Origin: Greek
3. Zella
Meaning: blessed
Origin: Yiddish; African – Bangi
4. Zelma
Meaning: helmet of God
Origin: German
5. Zena
Meaning: Gift of Zeus
Origin: Greek
6. Zenobia
Meaning: life of Zeus
Origin: Greek
7. Ziba
Meaning: beautiful
Origin: Persian
8. Ziva
Meaning: radiance
Origin: Hebrew
Beautiful girl names that start with Z
Next up are beautiful girl Z names. While beauty is subjective, I hope you agree that each name below is charming in sound and spelling.
I'm so glad that Zelda finally seems to be shaking it's video game association, appearing on the top name list again in 2015 after having fallen off in the 60s. It's a stunning name that's bold and irrestible.
9. Zahra
Meaning: bright
Origin: Arabic
10. Zainab
Meaning: fragrant flower
Origin: Arabic
11. Zamora
Meaning: city in Spain
Origin: Spanish
12. Zara
Meaning: blooming flower, princess
Origin: Arabic; Hebrew
13. Zariah
Meaning: dawn
Origin: Hebrew; Arabic
14. Zelda
Meaning: gray fighting maiden
Origin: German
15. Zendaya
Meaning: give thanks
Origin: African – Bantu
16. Zipporah
Meaning: bird
Origin: Hebrew
17. Zola
Meaning: earth
Origin: Latin
18. Zora
Meaning: dawn
Origin: Arabic; Slavic
19. Zosha
Meaning: wisdom
Origin: Greek
20. Zoya
Meaning: life
Origin: Russian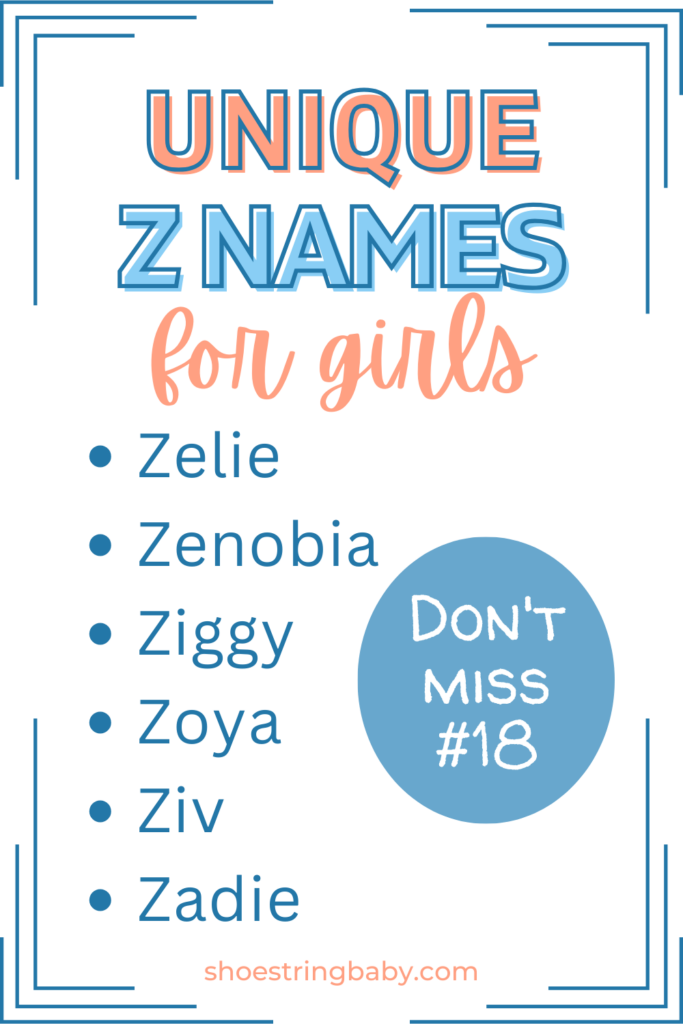 Cute girl Z names
Now let's check out some cute girl names starting with Z. These names are personable and charming.
With the overwhelming popularity of Ellie, I'm shocked that Zelie hasn't made more waves. It has the coolness of the Z and the cute sound of Ellie (it's one of my favorites on my list of Ellie full names).
21. Zada
Meaning: prosperous
Origin: Arabic
22. Zadie
Meaning: abundance
Origin: Arabic
23. Zaniyah
Meaning: forever
Origin: Aztec
24. Zayla
Meaning: night
Origin: Arabic
25. Zaylee
Meaning: hay clearing
Origin: Arabic; Americanized Spelling
26. Zelie
Meaning: noble
Origin: French
27. Zinnia
Meaning: flower
Origin: Latin
28. Zira
Meaning: moonlight
Origin: African – Berber
29. Zoe
Meaning: life
Origin: Greek
30. Zoila
Meaning: lively
Origin: Greek
31. Zuri
Meaning: good
Origin: African – Swahili
Unisex Z names for girls
Finally, we close the list with gender neutral Z names for girls. Unisex Z names are doubly fashionable since non-gendered names are very in vogue.
Of the names below, I love Ziggy as a spunky and memorable name. It also fits in well with the trend of nickname-style names that are very popular today.
32. Ze
Meaning: to add; God increases
Origin: Portuguese
33. Zeal
Meaning: enthusiasm or great energy
Origin: English
34. Zenon
Meaning: Gift of Zeus
Origin: Greek
35. Zeph
Meaning: hidden by God
Origin: Hebrew
36. Zephaniah
Meaning: hidden by God
Origin: Hebrew
37. Zephyr
Meaning: a soft gentle breeze
Origin: Greek
38. Zia
Meaning: splendor or light
Origin: Latin
39. Ziggy
Meaning: victorious protector
Origin: German
40. Ziv
Meaning: light of God or radiance
Origin: Hebrew
41. Ziya
Meaning: splendor or light
Origin: Turkish
Looking for more Z names? Don't miss my list of 45 Z Boy Names.