30 Dollar Tree Stocking Stuffers for Kids
This post may contains affiliate links. As an Amazon Associate, I earn from qualifying purchases. Read the full disclosure here.
Looking for cheap stocking stuffers for kids? Check out these 30 ideas for dollar tree stocking stuffers that the whole family will love.
We are very budget-focused for Christmas presents and one way I save money around the holidays is taking advantage of the dollar store.
Our local Dollar Tree is our go-to spot for many daily items like toothbrushes. But they also have an awesome selection of holiday-focused items that make them a great stop for your holiday shopping.
I love getting stocking stuffers for our toddlers at the Dollar Tree because I can find a mix of cheap essentials and affordable holiday treats at one place (surely ours was not the only family who got a lot of shampoo and dental floss in their stocking!).
Below you'll find a list of 30 dollar tree stocking stuffer ideas for kids, but many of the ideas work for everyone in the family. I specifically focused on useful items and things you use up like shampoo and art supplies to help you cut down on clutter too!
Let's stuff some stockings.
1. Christmas Crafts
Dollar Tree is stocked (pun!) full of easy Christmas crafts to keep kids busy on Christmas day.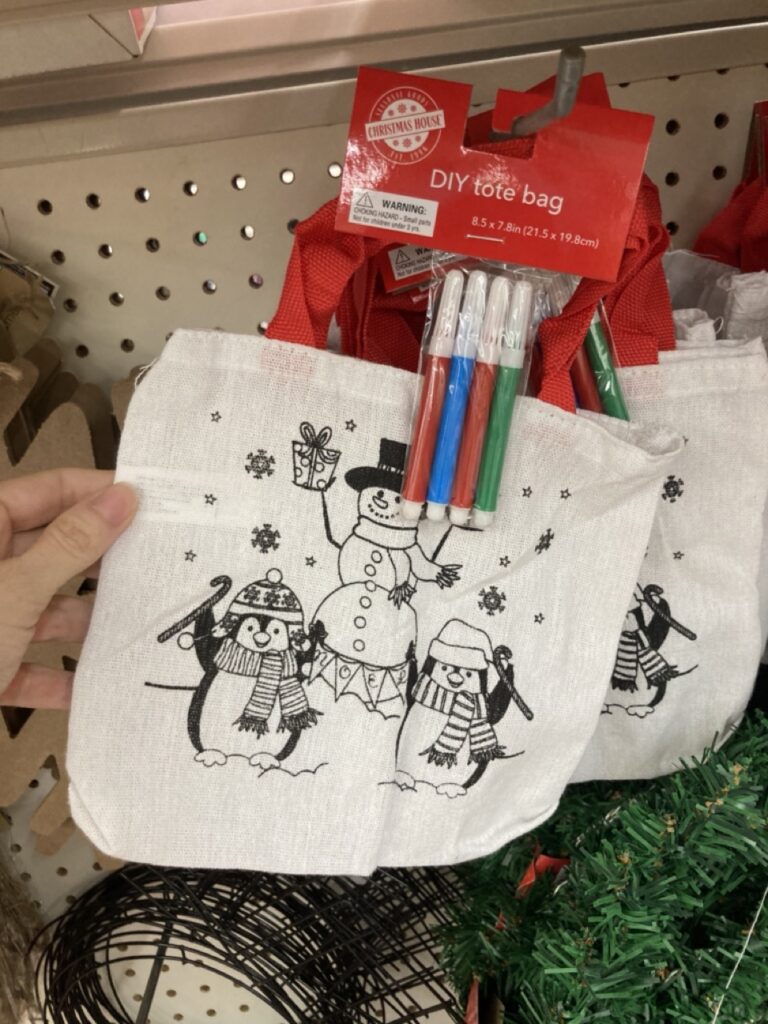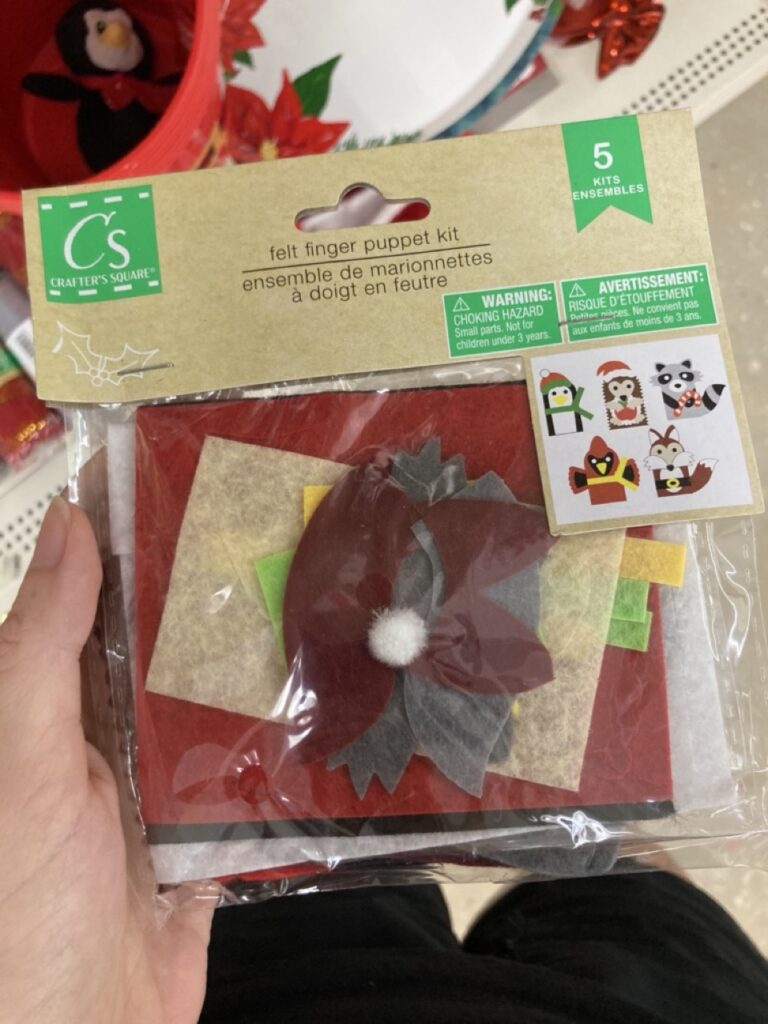 I love these for stocking stuffers because:
It's a creative art project
Everything you need is in the kit
Fun activity to keep kids busy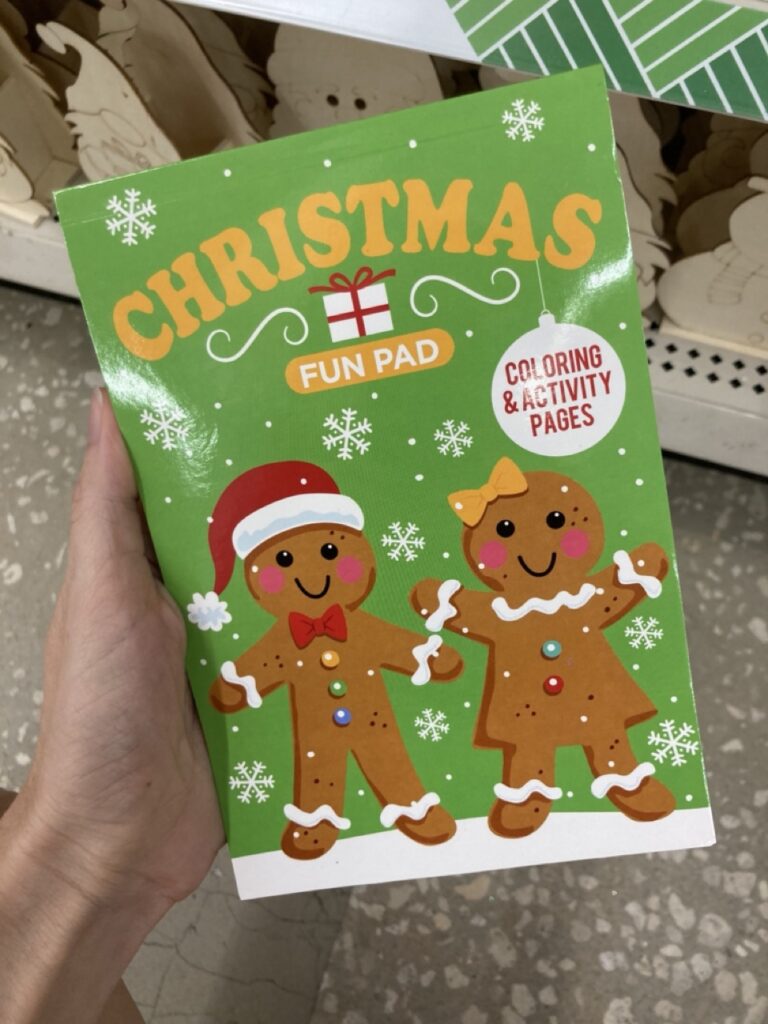 2. Christmas Activity Books
You'll find lots of activity books at Dollar Tree too. Activity books are a step up from coloring books: they include activities like word searches and mazes.
These are great for stocking stuffers because:
Creative art activity
Activity books get used up so they don't stay in your house forever
3. Christmas Books
Adding one Christmas book to your collection every year could be a fun tradition for stockings. At our Dollar Tree, I found these cute Christmas pop-up books that were perfectly sized to fit in a stocking
Books are good stocking stuffers because:
Encourage kids reading
Add to festive feeling in future years
Can be passed on in Little Free Libraries
4. Ornament
Another yearly tradition could be to give one new ornament for the Christmas tree in your kid's stocking.
I like these paint-your-own-ornament kits I found at our Dollar Tree because they're both a keepsake and an activity (we still have some of my childhood craft ornaments!)
Ornaments are good for:
A yearly tradition
The DIY kits are also a fun activity
5. Coloring Books
Similar to activity books, coloring books are another great stocking stuffer. Coloring books are great for kids of all ages too (unlike activity books which are usually better for elementary ages).
Coloring books are great gifts because:
You use them up
Good for all ages
Creative activity
5. Crayons & colored pencils
Sticking with the coloring theme, you can never go wrong with more art supplies. The dollar store is full of crayons, markers, and colored pencils.
I think that these smaller packs of funky crayolas would be the perfect stocking stuffer. Metallic crayons and neon crayons are a fun addition to a standard crayon collection.
Crayons are colored pencils are great stocking stuffers because:
They're consumables
Fun and creative activities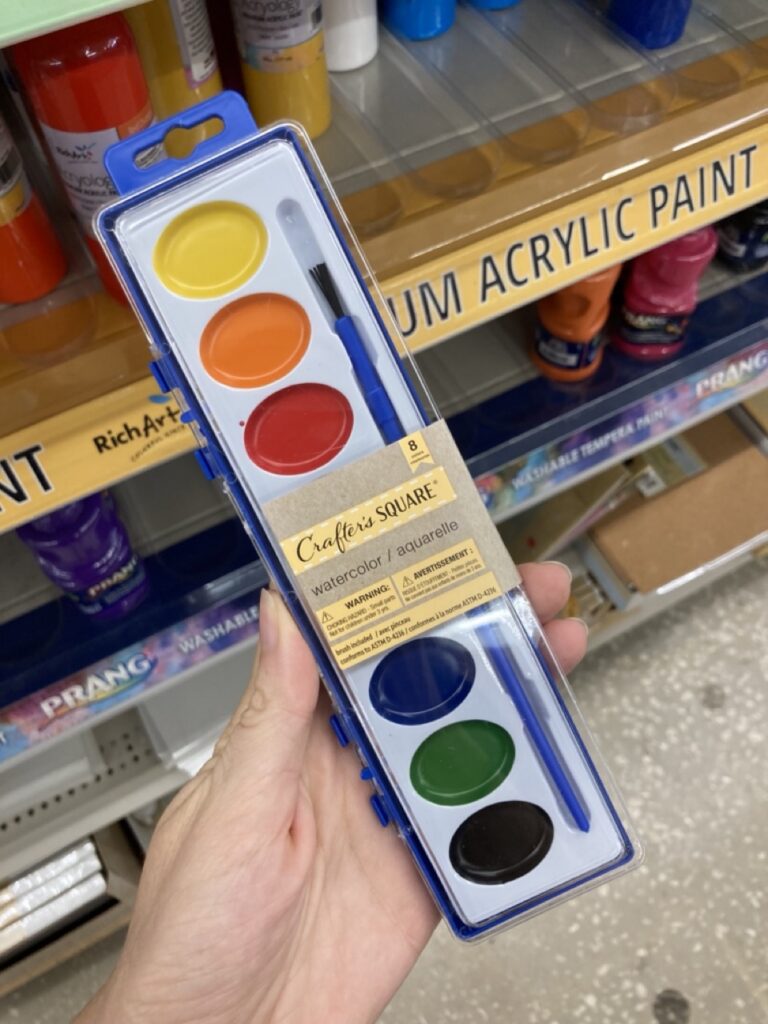 6. Paint
Keeping with the craft theme, paint is another great craft supply to gift. If your kids are anything like mine, they can burn through a lot of washable paint.
In addition to regular crafts, we also use washable paint to color water in containers for a sensory activity. Our dollar store had lots of paints to pick from too.
Paint make great stocking stuffers because:
Replenish your supplies
What kid doesn't love paint?
Non-dollar store paint is pricy so its a great item to get a Dollar Tree!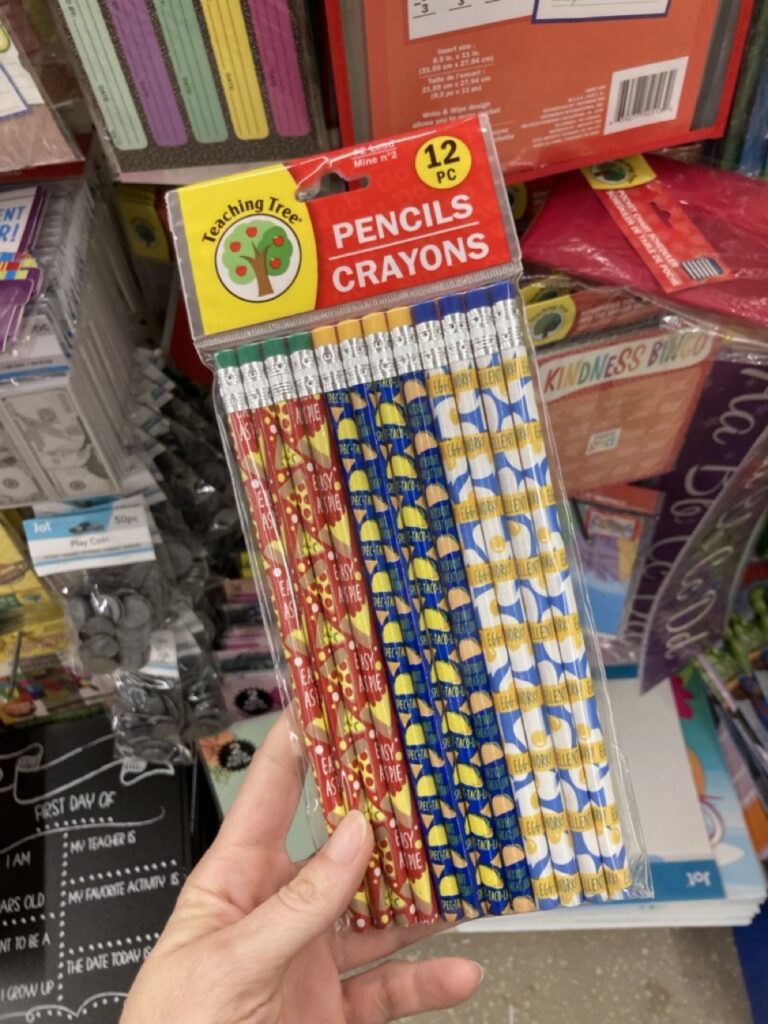 7. School supplies
School supplies are awesome stocking stuffers because they're practical, needed but also beloved by kids.
My kid recently got a set of dinosaur erasers that are, for a hot sec, his most treasured possession. That is what inspired me to add this item to the list.
The pictures here are just a few of the many, many cool school supplies our Dollar Tree had on my recent visit. They had so many types of erasers and pencils to fit different kids' tastes.
School supplies are ideal stocking stuffers because:
Your kid has likely lost at least some of their back to school stuff by Christmas
They're practical and needed items
Fun patterns, styles and items like gel pens or truck erasers make them feel special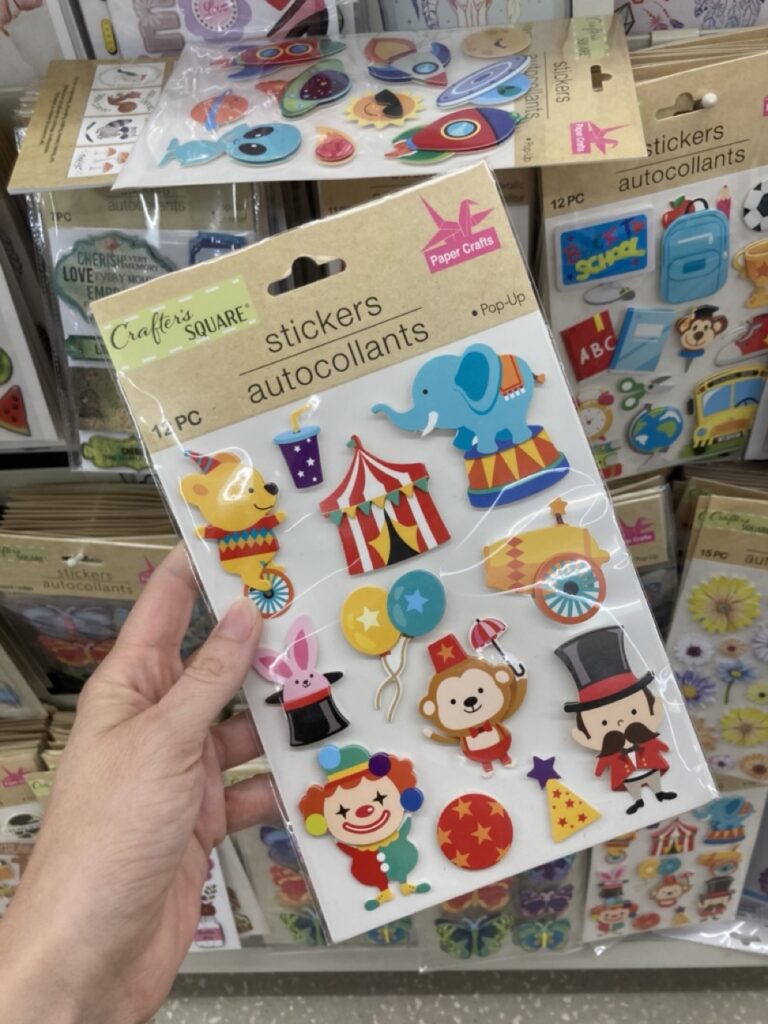 8. Stickers
My kids are so deeply into stickers. Our 4-year-old keeps a whole container of crumbled up truck stickers as a prized collection.
Give them a sticker book? They're good for hours.
I like stickers for a stocking stuffer because it's another thing that you use up. You know it's something that will get used and won't clutter up the toy bin.
Stickers are great because:
Everyone loves stickers
Replenish them since they're single use items
9. Flash cards
Our Dollar Tree has a big selection of flash cards for kids. They have flash cards for different age and skill levels too.
My kids are little are honestly just love playing with stacks are cards too.
Flash cards a nice stocking stuffers because:
They're educational and promote practicing school skills
They can be an activity that kids do alone or when spending time with an adult
10. Little spray bottles
Surely my kids are not the only ones that love spray bottles. My oldest was literally walking around spritzing water from a little bottle he found the same morning I saw these at Dollar Tree.
This is an item you probably won't see on other stocking stuffer lists which is why I definitely wanted to highlight it.
It is such a simple item but the ways to play with it are endless. Kids could "wash" their toys, use them in the bath, help "clean" sliding glass doors, etc.
I love these spray bottles as stocking stuffers because:
They're unique
Endless amounts of activities with them, just add water!
Everyday item if you're into Montessori-esque play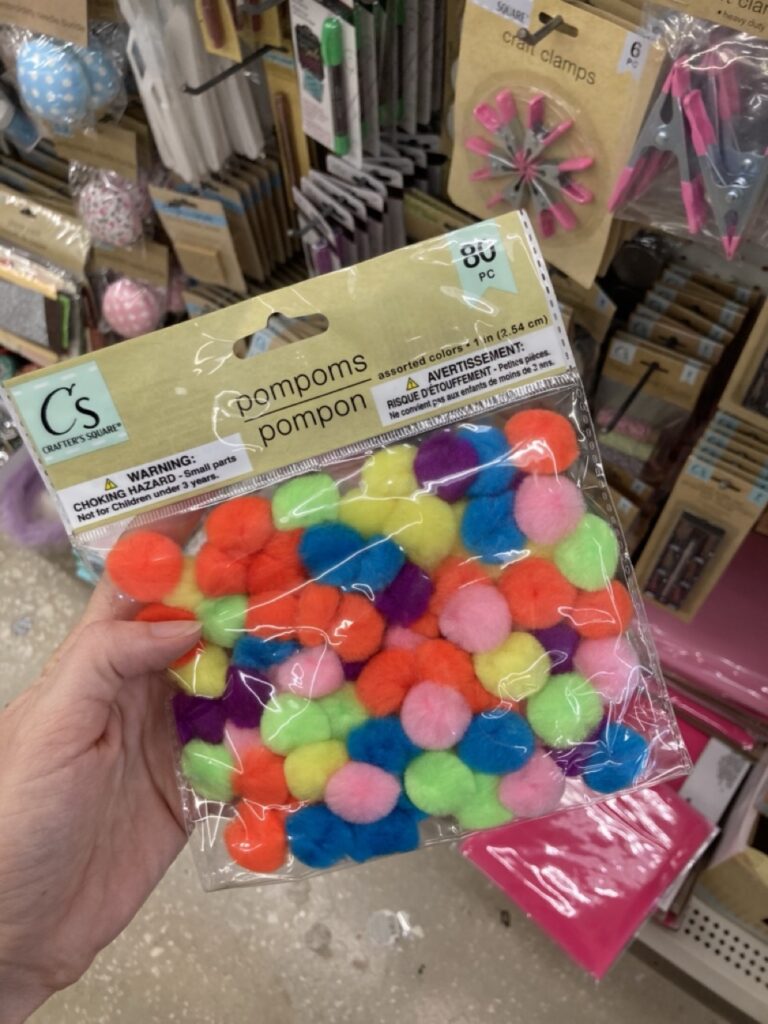 11. Pompoms
Pompoms are another stocking stuffer that can inspire endless types of play.
You can throw them in the bath tub, put them in the back of dump trucks, practice tweezers with them, throw them in a sensory bin, etc.
Pompoms are great stocking stuffers because:
They're fun
They aren't your usual stocking stuffer
Endless play options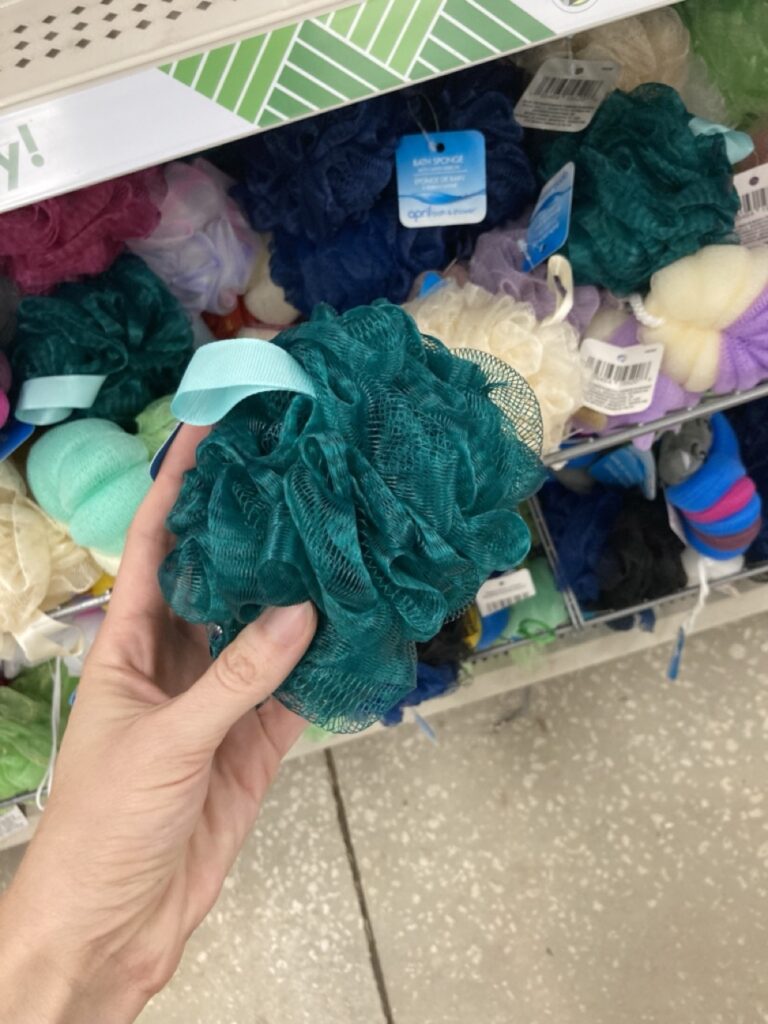 12. Puffy bath loofah
My kids spotted these at the grocery store the other day and were so delighted by them. Anything that makes bath-time easier is a win so we got some.
I like these as stocking stuffers because they're useful for older kids and add novelty to bath-time for younger kids.
Plus they don't last forever so even if they have one already, they could use a refresh.
Bath loofah is a great stocking stuffer because:
It's practical
Adds novelty to bath time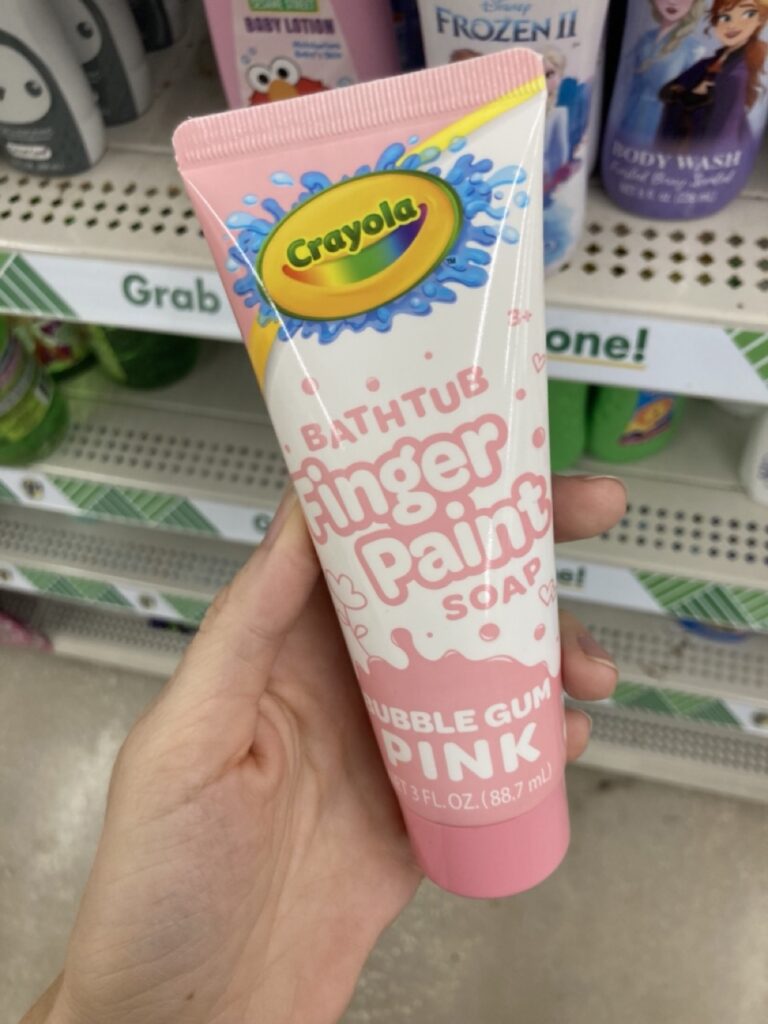 13. Novelty bath soaps (paint, colors tabs, bombs)
Keeping with the bath theme, check out the fun bath items Dollar Tree has. Mine had bath bombs, tabs to color bath water, and cool bath "finger paint."
I bought both the color tabs and the finger paint and my one kid absolutely begged to take a bath when he saw them.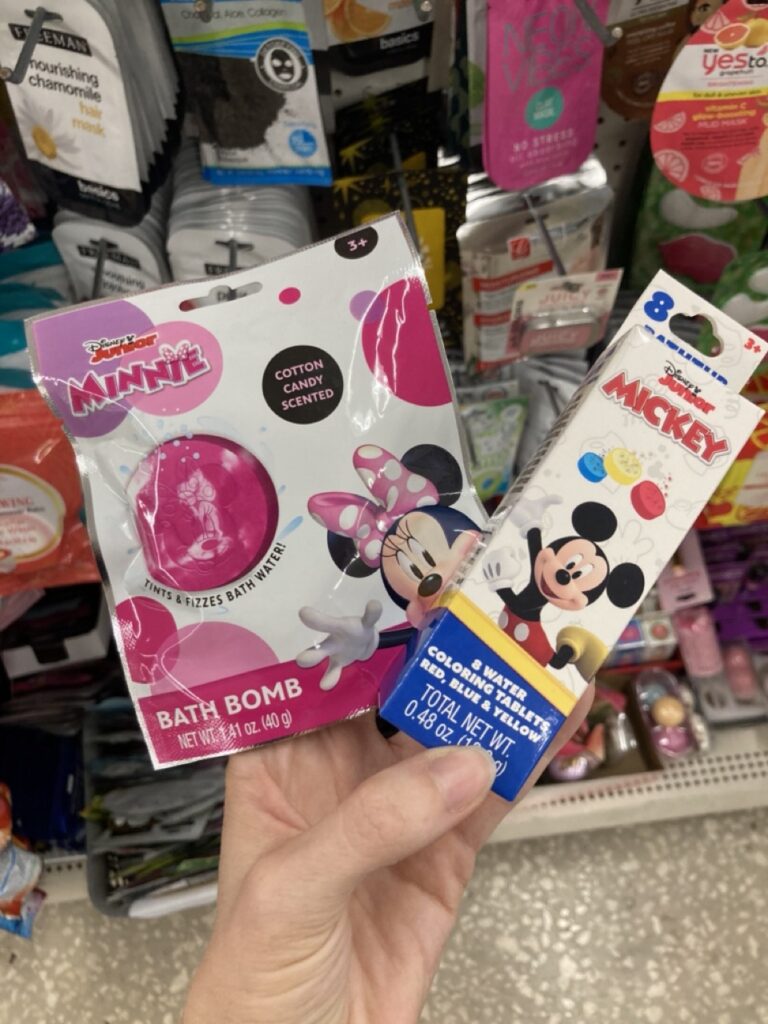 Novelty bath soaps are a great stocking stuffer because:
Anything to make bathtime easier is a win
They get used up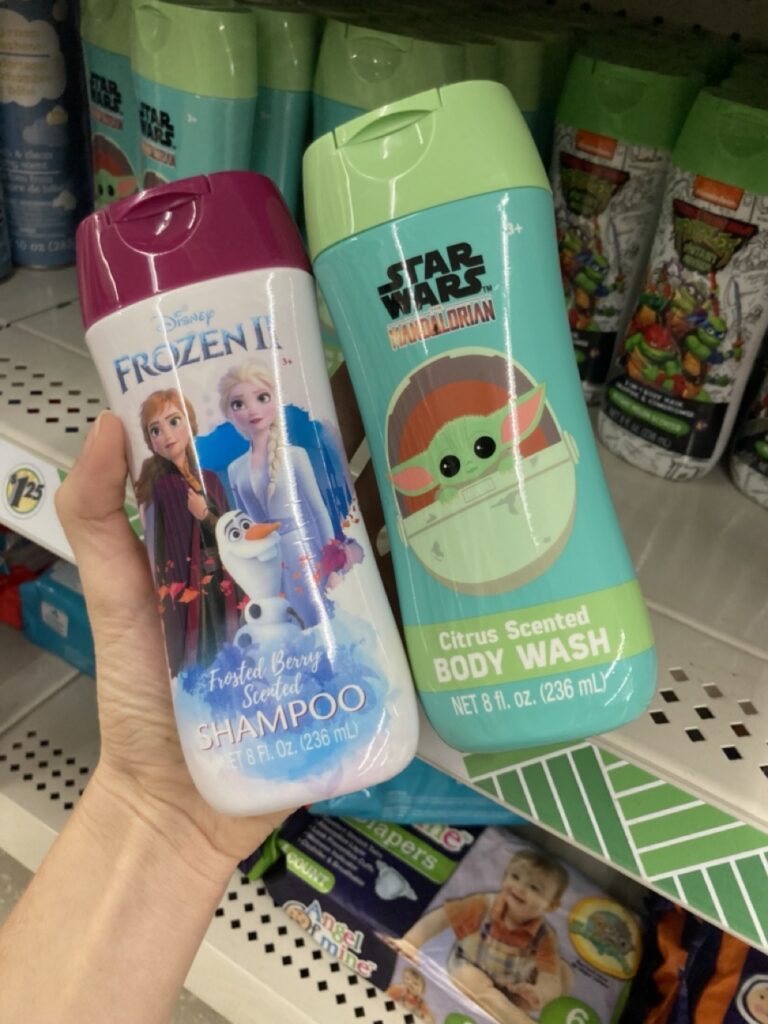 14. Shampoo and soap
Growing up, we always had to wait for Christmas if we we wanted to try a new shampoo or soap because these type of essentials were the bulk of our stockings.
Dollar Tree stocking stuffers wouldn't be complete without including shampoos and soaps. They have so many kinds, including fun themed ones for kids as seen in the picture I snapped above.
Shampoo and soap are great stocking stuffers because:
They're practical essentials
They're consummables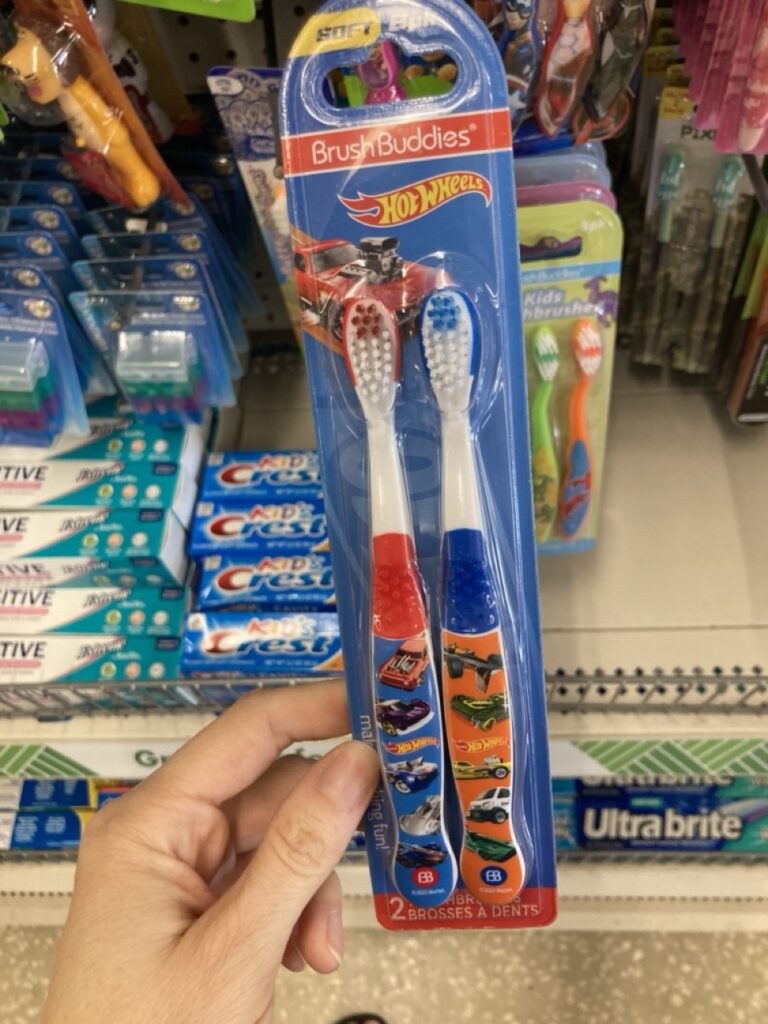 15. Toothbrushes
Toothbrushes were another stocking stuffer must growing up. They're practical and need a refresh every few months.
The dolalr store has tons of toothbrushes, including kid-themed ones.
Toothbrushes are good stocking stuffers because:
Everyone needs ones
They need to be replaced regularly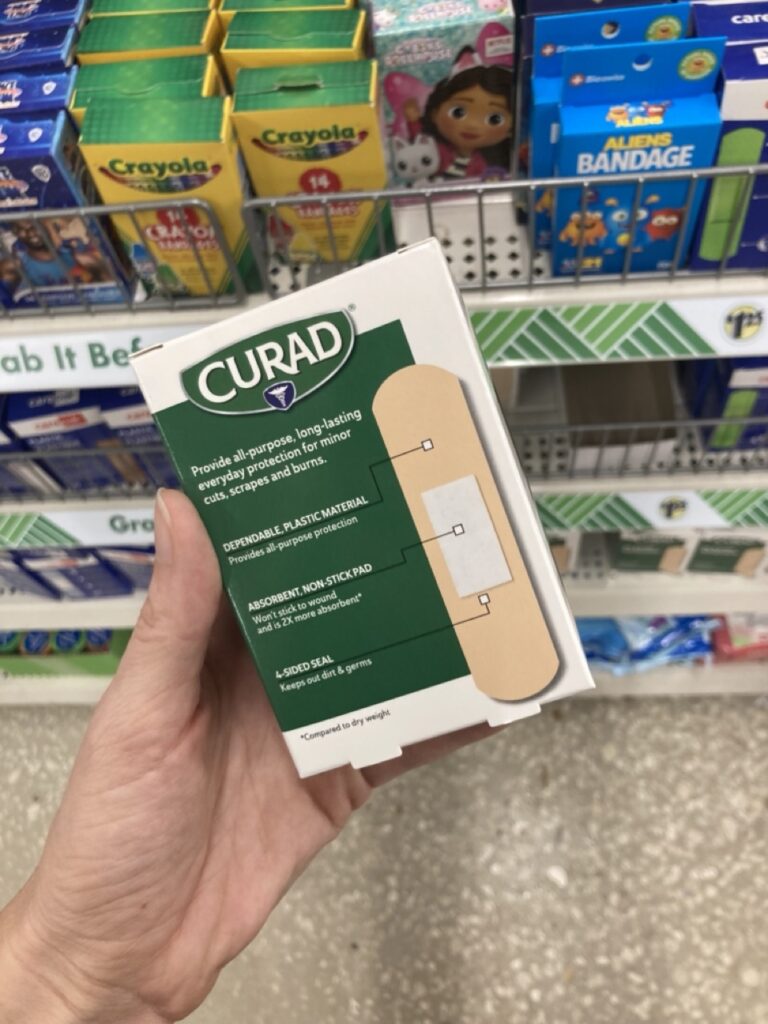 16. Bandaids
Bandaids can be a fun stocking stuffer for the littlest kids or a practical stocking stuffer for someone older.
My toddler is so into covering herself with bandaids. I don't like using our nicer bandaids so giving her a pack of Dollar Tree ones is a good compromise.
I took a picture of their standard bandaids above but they also have different kid-friendly designs too.
Bandaids are goods dollar store stocking stuffers because:
They're a practical essential
Kids also love to play with them
17. Socks
Socks are another practical essential that are perfectly stocking stuffer size. Plus, socks in essentially a big sock (the stocking) feels a little tongue and cheek.
Everyone needs socks so you can't go wrong with this one. Plus, socks are easily lost so it's nice to get cheap ones to save money.
Socks are good stocking stuffers because:
Everyone uses socks
Cute designs make them a funner gift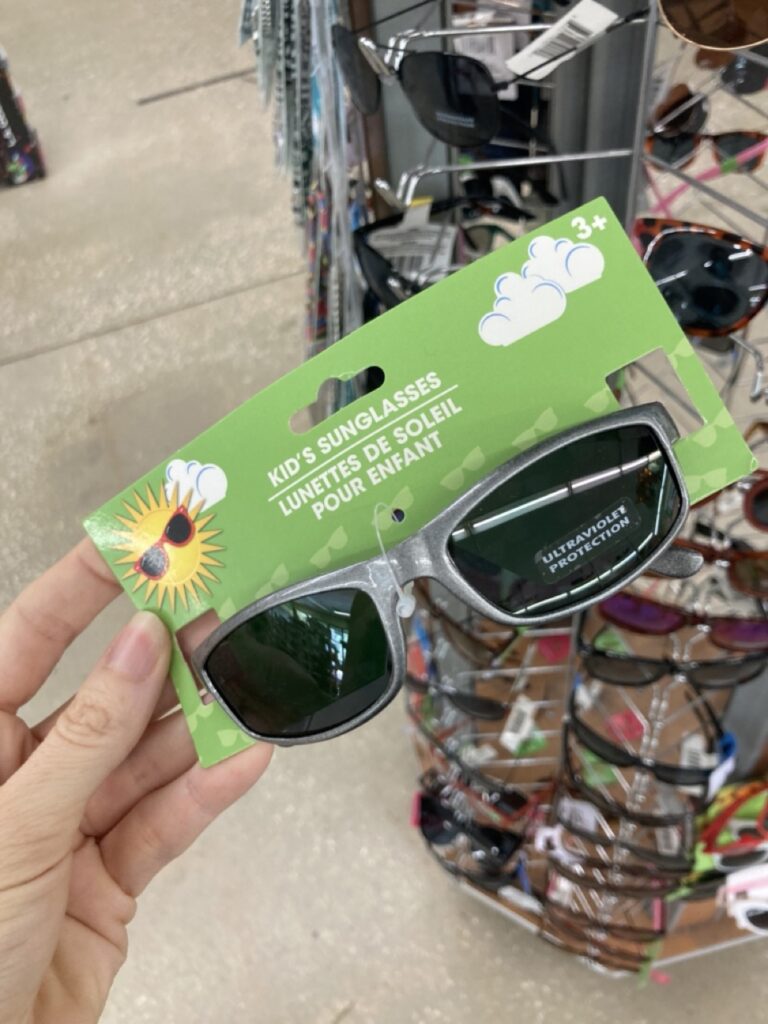 18. Sunglasses
Kids can be very hard on sunglasses. Mine regularly try to pull them apart at the hinges.
Not to mention, sunglasses are so easily lost.
That's why getting sunglasses for kids at the dollar store is genius. You save lots of money and don't have to worry about them getting damaged.
Sunglasses are good stocking stuffers because:
They're fun
Some kids love them
Kids are hard on them so they need replacing often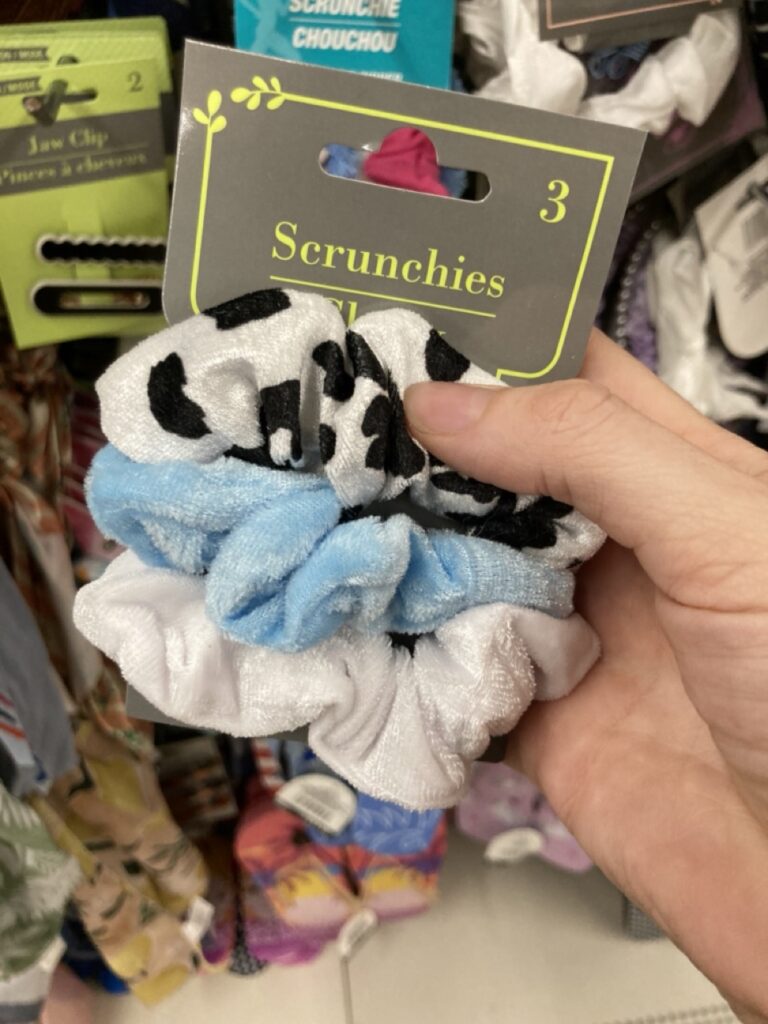 19. Hair accessories
Hair accessories fall into a nice sweet spot where they're fun but also practical. This makes them a great stocking stuffer idea.
The Dollar Tree has a huge selection of hair ties, scrunchies, and headbands.
Hair accessories are good stocking stuffers because:
They're fun
They can be necessary depending on hair type
20. Water bottles
Everybody needs a water bottle but they're so easy to lose. This makes them an ideal item to get at the dollar store.
Dollar Tree water bottles may not be as sturdy as fancy bottles but they're perfect for situations where the chance of getting lost is high, like school or on vacation.
Water bottles are good stocking stuffers because:
They're practical
They can be easily lost so you likely need extras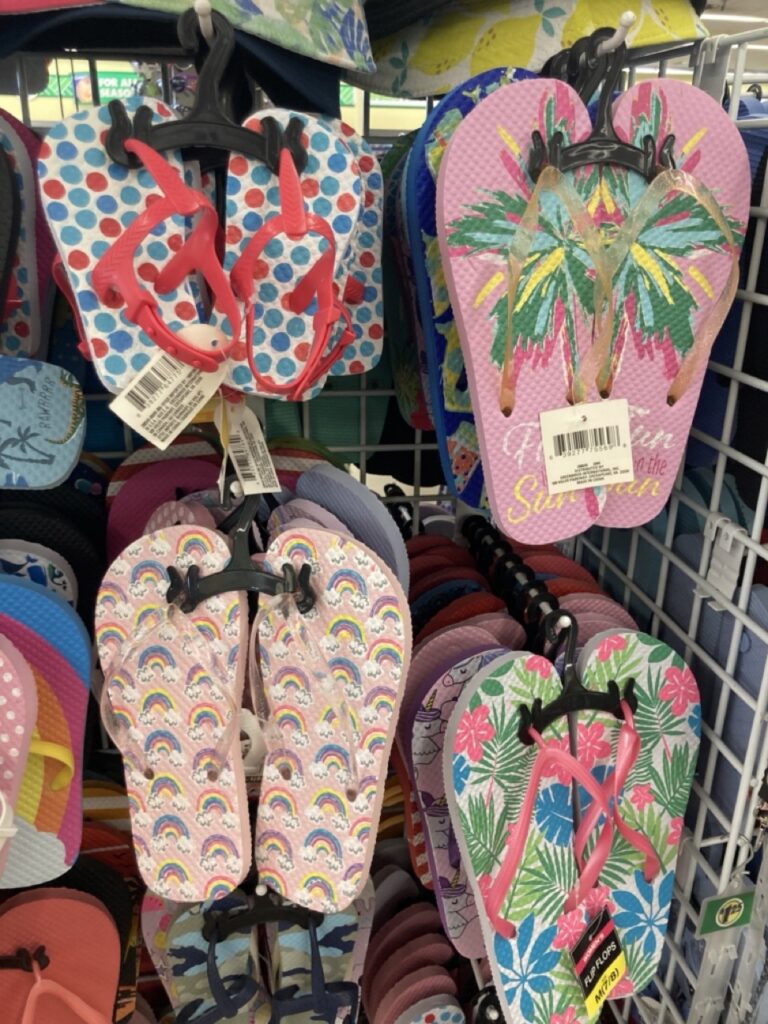 21. Flip flops
Flip flops are a great size to fit into a stocking. While Christmas weather is usually a far cry from flip flops and pools, they can still be a useful gift.
First, if you're planning a trip somewhere warm these would be a great gift. Flip flops are also helpful for kids who may use gym showers after sports or do swim classes.
Flip flops are nice stocking stuffers because:
They fit well in a stocking
Useful for trips or sports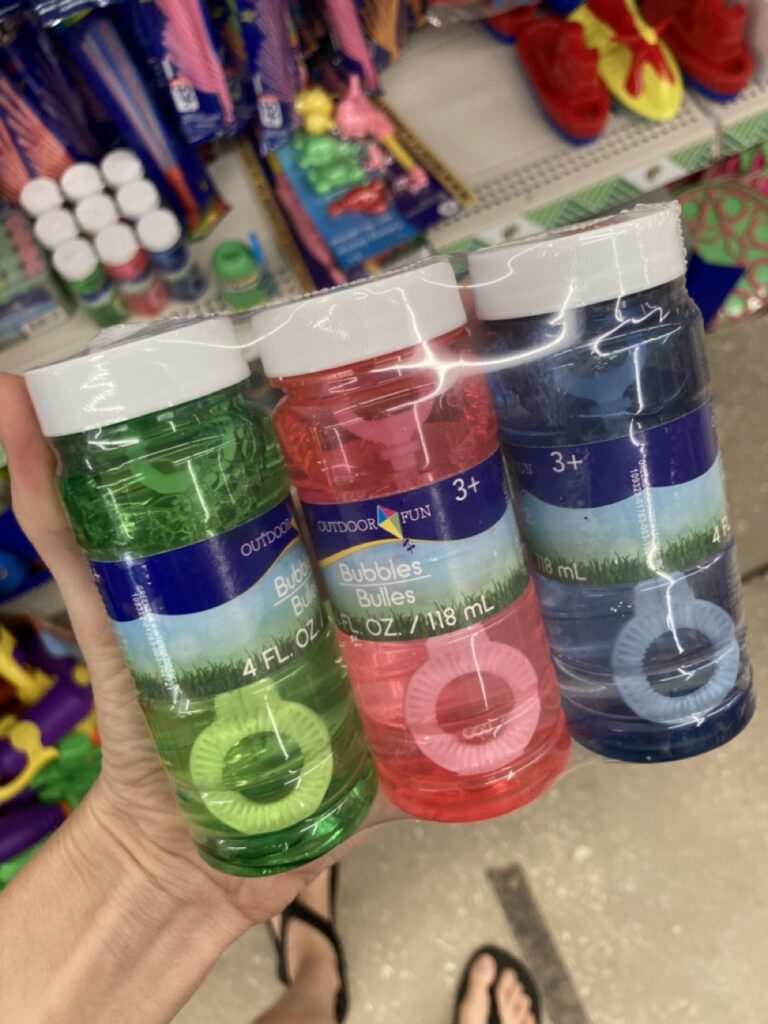 22. Bubbles
Bubbles are great for kids of all ages. They're simple, fun, and delightful.
Bubbles are a great stocking stuffer because:
You use them up quickly
Fun for kids of varying ages
Bubble solution can refill bubble guns, wands and bubble machines
23. Chalk
Sidewalk chalk is another outdoor activity that kids burn through quickly, making it perfect for a stocking stuffer gift.
Chalk is great because:
It's a creative art activity
Good for all ages
It's a craft supply that gets used up
24. Silly string
When I was growing up, silly string was such a treat. We didn't get it often and it was usually reserved for special occasions like birthday parties.
And man was it fun when you got a can. That's why it's great for a stocking stuffer: it is a fun special surprise, and is perfect to use at a family gathering like Christmas.
Silly string is a great stocking stuffer before:
It's a fun novelty gift
Gets used up so it won't clutter your house
25. Glow sticks
Glow sticks are another item that I remember so fondly. It was such a joy to show one to our toddler for the first time.
Kids are delighted by glow sticks and you can use them for a lot of fun activities: glow sticks in the bath tubs, dance parties, added fun during bed time stories, etc.
Glow sticks are great stocking stuffers because:
Many fun ways to use them
They are one time use so no added clutter
Good for all ages
26. Stick-on mustaches
Buy these mustaches if you see them. Trust me, your kids will think they're hysterical and they're perfect for a family get together.
Giving stick-on mustaches at Christmas is a surefire way to get so many great pictures of your family.
Stick-on mustaches are great stocking stuffers because:
Fun to use during family Christmas (think of the photos!)
Novelty item that crack kids up
Single use so they don't add to clutter
27. Grow-in-water toys
Anyone else remember those little pills you'd put in water and they'd pop out as different shaped sponges? Or little figurines that would grow so much bigger when put in water?
We always got them in Christmas stockings and Easter baskets. I have such fond memories of those type of toys from my childhood and I can't wait to share them with my kids.
Grow toys are fun stocking stuffers because:
They're a unique toy
Kids can interact with the science of them
It can blow little kids' minds
28. Die cast cars
Die cast cars like Hot Wheels and Matchbox are all around great toys. You can play with them in so many ways, and they're small & portable.
I always have a few Matchbox cars in our diaper bag to pull out at restaurants or parks. Experiment with them on ramps and slides, dig with them in the dirt, roll them on the table — you can't go wrong.
Diecast cars are great stocking stuffers because:
They're small
They're versatile
They're fun for all ages
29. Hot chocolate packets
This one is pretty self-explanatory — hot chocolate is the ultimate in Christmas cozy.
We don't often have hot chocolate so getting hot chocolate on Christmas is a definite treat for my kids.
Hot chocolate packets are great stocking stuffers because:
They're so Christmas-y
They're easy
A box can be split across stockings for the whole family
30. Favorite snacks
A few bags of your kids favorite snacks are easy stocking stuffers. Dollar Tree has so many snack options that you'll likely find one your kid loves.
These are the perfect stocking stuffers because you know they'll get eaten up and not add junk to your house.
Snacks are great stocking stuffers because:
They're consumable
Ready to go snacks for between Christmas meals
Read more:
Looking for more gift ideas? Check out these 10 cheap baby gifts that are actually useful.