Nov. 2019: Monthly Baby Expenses – Saved $621.56
This post may contains affiliate links. Read the full disclosure here.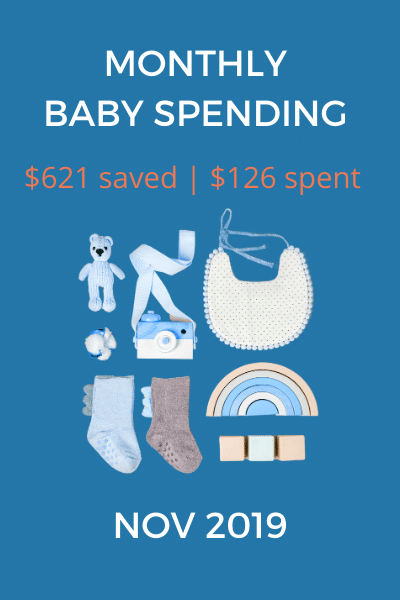 Each month I write up a Monthly Baby Expenses Report, where I detail how much we spent on baby items in the month. I also calculate how much we save by opting for used baby gear when possible.
In November 2019, we spent $126.44 on baby items. By opting for secondhand goods, we saved roughly $604.56 compared to retail prices.
I also resold a couple items we didn't need, bringing our total savings to $621.56.
The goal of these monthly baby expenses reports is to give an example of how much someone spends each month on their baby.
I highlight the savings possibilities of buying used in order to encourage others to consider secondhand items. I also give quick reviews of purchases when applicable.
These monthly baby savings would not be possible without the generosity of others, who took the time to pass along their used items instead of throwing them away. While the environmental and financial impacts of finding used goods are obvious, the strengthened connection to my local community has been a much appreciated bonus.
Here is an overview of our baby spending in November, with links to more detailed explanations below:
Note that this month we also received a refund from overpaying for labor and delivery of $805.19 dollars. I don't include that in the spending or savings for this month, but it does impact our overall baby spending to date.
DIAPERS – -$12 spent, $44.95 saved
We had a net savings on diaper costs this month I returned three packs of diapers for $12. I came into a lot of diapers and we weren't going through them as fast as I expected. In the end, I did buy a couple more packs of size 1's the next month so I could have kept these.
A mom in a Facebook group from new parents gave me over 120 size 1 diapers (different types of Huggies). I dropped by a little thank you for them a couple days later because they easily could have sold the diapers – it was very kind of her.
I also got a pack of Pampers Swaddlers in a general yard sale Facebook group. It was surprising that no one else expressed interest since diapers are snatched up instantaneously in family facebook groups. A good reminder to keep an eye out on multiple local groups!
FORMULA / FEEDING – spent $78.96, saved $44.64
I bought three packs of Costco's Kirkland formula for $63.96. We use roughly 3 containers of formula month so this is equivalent to our monthly formula spending.
After running the numbers on the cost of Costco baby items compared to other brands, we are saving roughly $63/month over Similac and $13/month over Target's Up&Up by using Kirkland formula. We pass on free formula samples, which would offer a little savings, to keep our formula consistent.
I also purchased five used 9oz Dr. Brown's glass bottles. I had been trying to find glass Dr. Brown's bottles for months and had only seen two lots posted nearby that were grabbed up within minutes.
I ended up finding this across town for $3 a bottle, which was at or slightly higher (~$1/bottle more) than the prices of the previously lots I missed. Three of the bottles also had neoprene sleeves.
I am torn on how to review these bottles. We've really liked them – they're durable, will retain resale value since they don't wear like plastic, and we like using glass over plastic generally.
However, we are at the cusp of our baby being able to hold his own bottle and these are too heavy for him to hold. Being able to hand a baby a bottle while you feed yourself is life changing.
I have actually reverted back to using our small 4oz plastic bottles and topping them off halfway through a feeding since those better match our baby's strength & dexterity right now.
CLOTHES – spent $19.50, saved $163.43
I had a lot of clothes transactions this month – six from Facebook and two thrift store trips.
Facebook baby clothes
From Facebook I got a Christmas fleece sleeper, a 18m winter jacket (free), a bear bunting, insulated booties (free), 2 sleepers, and a grandma Christmas onesie (free).
For both sets of sleepers, I venmo-ed the payment in advance and they actually dropped them in my mailbox for me which was great. I don't mind paying ahead for low cost items to secure the purchase, and to make contactless pick-up or delivery easier to coordinate.
With the jacket, I didn't originally respond to its posting because I wanted to defer anyone who may have needed it more pressingly. Even though lots of people expressed interest, the original poster commented a couple days later that all the other commenters fell through.
This is a good example of why I have Facebook order my group feeds with new activity first. This post popped back up at the top of the group feed when the original poster replied that the item was still available.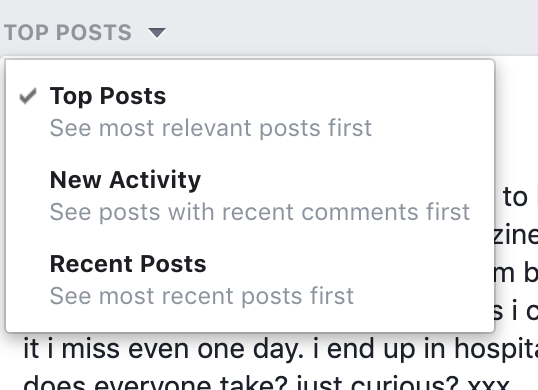 You can change the feed order by looking at the top of the group feed for little gray text that says 'Top Posts' with a down arrow.
The bear bunting was really cute but we only got a couple wears out of it. It probably wasn't worth the money but at least we got good pictures. We didn't use the booties often but it was nice to have at least one pair for really cold days. For us, one pair was enough since the baby isn't walking.
Thrift store baby clothes
We had been given hand-me-downs from friends that covered most of our 0-6m clothing needs, so my thrift trips have focused on getting bigger sized clothes. I only go on half price clothes days and found most baby clothes were priced between $1-3.
On my first thrift trip, I got a fleece sleep bag that we've used extensively and a terry cloth sleeper. Terry cloth sleepers are our go-to for travel and the sizing is more forgiving fleece so they last longer.
On my second thrift trip, I spent $7.5 on the following: a Thanksgiving sleeper (bought the day before Thanksgiving!), two fleece sleepers, this romper, a Gap Baby terry cloth outfit, and two sleepers without feet.
Our kid has massive feet so non-footed outfits, which are surprisingly hard to find at the thrift store, are big scores for us. One of the fleece sleepers had two-way zippers which were great for middle of the night diaper changes on cold nights.
BABY GEAR – spent $20, saved $350.54
I picked up a few things in November, including one of our biggest scores – a fancy hiking backpack. Finding that deal was the first time my partner seemed impressed by my baby frugalness.
Getting the hiking backpack was a good example of why I recommend engaging with interesting Facebook posts. Someone had posted asking if anyone had a child-carrying hiking backpack to sell. When someone else replied that they had one to sell for $15, I commented that I'd be interested if the original poster passed.
A third person saw my response and messaged me that had a backpack to sell too. This person's backpack was way nicer and exactly what my partner would have wanted. I know that's a boring story but I'm sharing to highlight the potential value of commenting on posts even if it seems like you aren't likely to get the item. You never know who else might see your comment.
MEDICAL – spent $19.98
We purchased a Nose Frida on the recommendation of a friend. We had been given a different nose sucker and the standard one at the hospital so this purchase was an extra.
It does seem to work a little better than the other two we tried, but in general I'm not sold on it as a required baby item. We more often reach for saline drops than a nose sucker when the baby is congested, and we could have made due with the hospital-provided one.
That said, it is super satisfying when you get a lot of gunk out, and I've only had that experience using the Nose Frida brand nose sucker.
Hospital refund
While I don't include it in this month's totals, we also received an $805.19 for overpaying for labor and delivery. As I discussed in my breakdown of pregnancy medical costs, our hospital requested we pre-pay and I did not have the energy to push back on this.
I felt I'd hit the maximum out-of-pocket limit for the year, and that is what ended up happening so we were refunded some money.
RESALE – $18 recouped
I resold a few baby sleep items that I had purchased in advance because our doctor recommended stopping swaddling entirely at our baby's two month appointment.
It was a rough two nights but ultimately, I'm happy we went went cold turkey because then we didn't have to worry about having extra sleep items on hand, and we didn't have to transition off another sleep prop down the road. I sold a Zipadee Zip for $5 and one Halo swaddle for $3, which is what I originally paid for them from other local families.
I also sold a lot of baby clothes for $5. These clothes were my very first baby purchase but we were later given some clothes from friends so I sold back a majority of this first lot. This lot did have newborn sized clothes that I kept some of since we used them a lot for the first six weeks with our preemie.
It also included side-snap tees that I would have never thought to buy but which were surprisingly useful when you're still scared your going to break your tiny, floppy baby putting on a onesie. Depending on the season, I'd also get the long-sleeved version.
Lastly, I sold back a BundleMe car seat cover blanket. We were given one from friends so we no longer needed this one. Before buying a used car seat cover or BundleMe, make sure that the back is open so that it is safe to use while in the car.
It is not safe to have anything thick (like a puffy jacket or BundleMe) between the baby and the back of the car seat when driving. You can alter BundleMe's with backs to be car seat safe, as detailed in this video. Having a cover you can keep on the car seat at all times is a worthwhile convenience in the winter.
Total Monthly Baby Expenses – $126 Spent, $622 Saved
Our monthly baby expenses were fairly average this month, with the biggest cost being formula. November had big savings thanks in a large part of stumbling upon a high quality hiking backpack.
It was a good reminder to stay engaged on Facebook posts, even if you think the chance of getting an item is low. This also happened with a nice free jacket when all the previous commenters fall through.
Based on my experience, this lack of follow through is a fairly common occurrence on Facebook so being responsive and reliable goes a long way in winning great deals.
I also saw a lot of savings by getting baby clothes secondhand. Babies grow out of clothes quickly so nearly everything I've gotten used has been in great shape. Since people are often given so much clothes at baby showers, etc. it's not unusual to find items still with tags on them at the thrift store.
We tried our best to avoid gifts in hopes of cutting down on waste but even with all those efforts, we still given a lot of 0-3 month size outfits.
If you are registering, I'd probably skip registering for clothes, or register for larger sizes. I've found that the thrift selection is a little slimmer in the 9m+ sizes (but still definitely enough to justify a trip) so getting those sizes as gifts could be better.
Caveat to this monthly baby expenses report: These reports are as accurate as possible but my baby costs record keeping is not 100% perfect. Reported savings are estimated to the best of my ability. Sometimes I am unable to find exact item online, account for fluctuating sales, or remember exact details of budget entries with generic descriptions. These baby costs do not include gifts from friends and family. While gifts only account for a small part of the baby things we use (we requested no gifts), my reports may slightly underestimate baby expenses if you account for gifted items.
Pin this post
---