10 Useful Baby Gifts Under $15 [2023 Guide]
This post may contains affiliate links. As an Amazon Associate, I earn from qualifying purchases. Read the full disclosure here.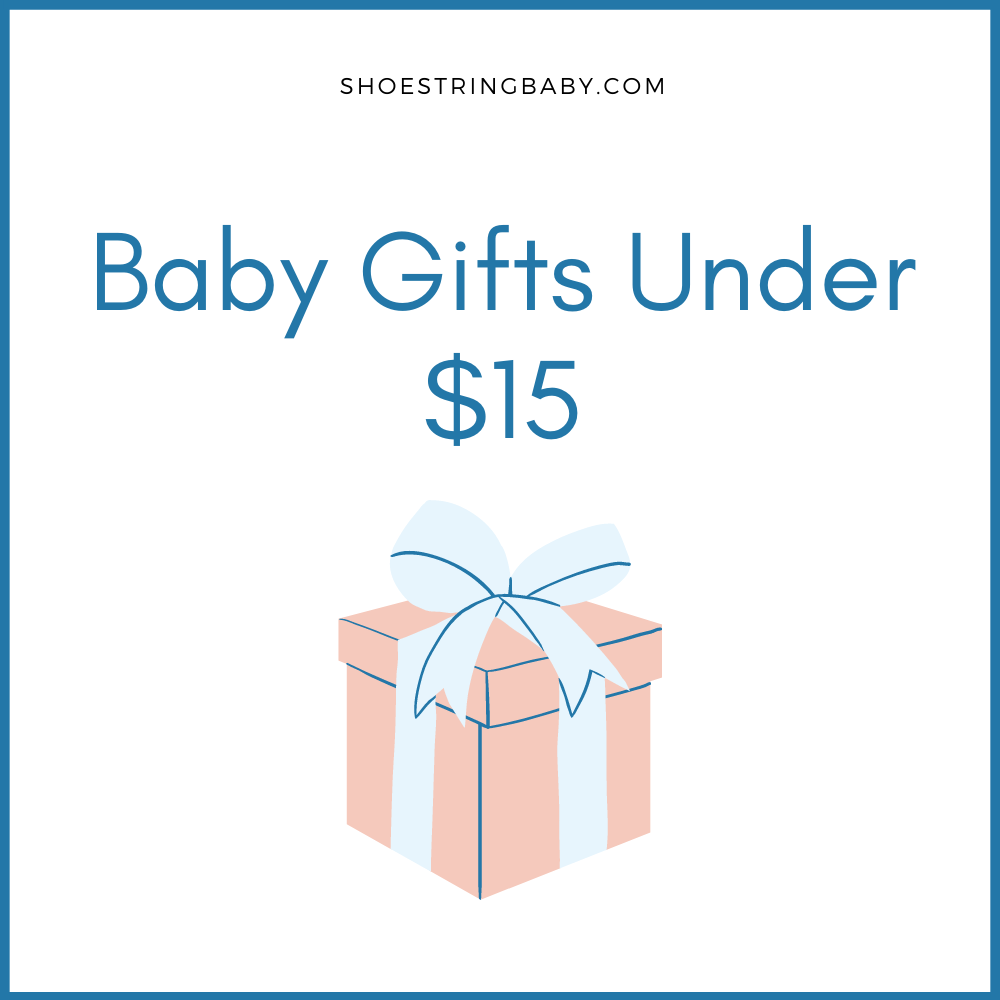 Whether you are putting together a baby registry or buying a baby gift for a loved one, finding affordable baby gift ideas that are actually useful can be daunting.
Even small and simple baby items can come with a higher price tag than you'd expect; and, a lot of baby gifts sound nice in theory but turn out to be impractical.
That is why I've compiled a list of ten affordable baby gifts under $15 dollars that new parents will actually find valuable. I'm a mom of two and the items below are things we used regularly with our babies.
Plus, I have been writing about frugality and practicality for new parents for years.
I hope this guides helps you in finding thoughtful baby gifts without breaking the bank. Even cheap baby gifts, like $3 baby nail clippers, can be must have baby items that will be used regularly (for real, I'm still using our baby nail clippers on our 3-year old).
For those putting together a baby registry, it is good to include lower price point items like these to be respectful of others' financial situations. Plus, I know I get excited when shopping a friend's baby registry when they include an affordable item I know they'll find so much value in.
This gift list includes practical items, and a few items that are great alternatives for people who usually like to gift books, baby clothes or toys. Let's dive in!
[NOTE: prices fluctuate constantly and are not guaranteed to be under $15 or in stock, all prices were last checked in July 2023]
1. Bath Books
Why It's Great: Listen, we all know books are great for little baby minds. What no one tells you is that babies are hellbent on destroying whatever book you give them. Bath books are perfect affordable baby gifts because they can take a beating.
People love to give babies books. We received a lot of sweet books after our baby was born and we appreciated that they were baby gifts that felt useful (hello tiny baby brain development!). What we didn't realize was that our baby would try to grab and eat any book we tried to read to him. Chewed covered, ripped pages, obliterated bindings, the works.
So instead of giving a normal book, stand out from the crowd and give a bath book instead. More durable than a normal book, a bath book can better handle whatever your baby throws at it.
Related Post: 15 Children's Books about Money & Financial Literacy
Ever-popular Melissa & Doug have a line of bath books that come with small bath toy characters from the books, such as a penguin book with penguin toys and a dolphin book with little dolphin toys.
I particularly love the Color Me series, which change color when they are wet. We were given one and I'm impressed by how vibrant and pretty the pictures are when wet. There are lots of fun options, including Color Me rain forest animals and adorable pets.
Why Color Me Bath Books are great, practical baby gifts:
They're durable and chew-proof
Can be used as a mess-free "painting" activity in the toddler years
The pictures are pretty and the colors are vivid
Doubles as a bath toy
2. Wet Bags
Why It's Great: Wet bags are water-resistant and leak-proof reusable bags that come in handy when you are on the go with a gross baby. When your baby's onesie is covered in poop and you won't be home for 3 hours, your wet bag's got your back.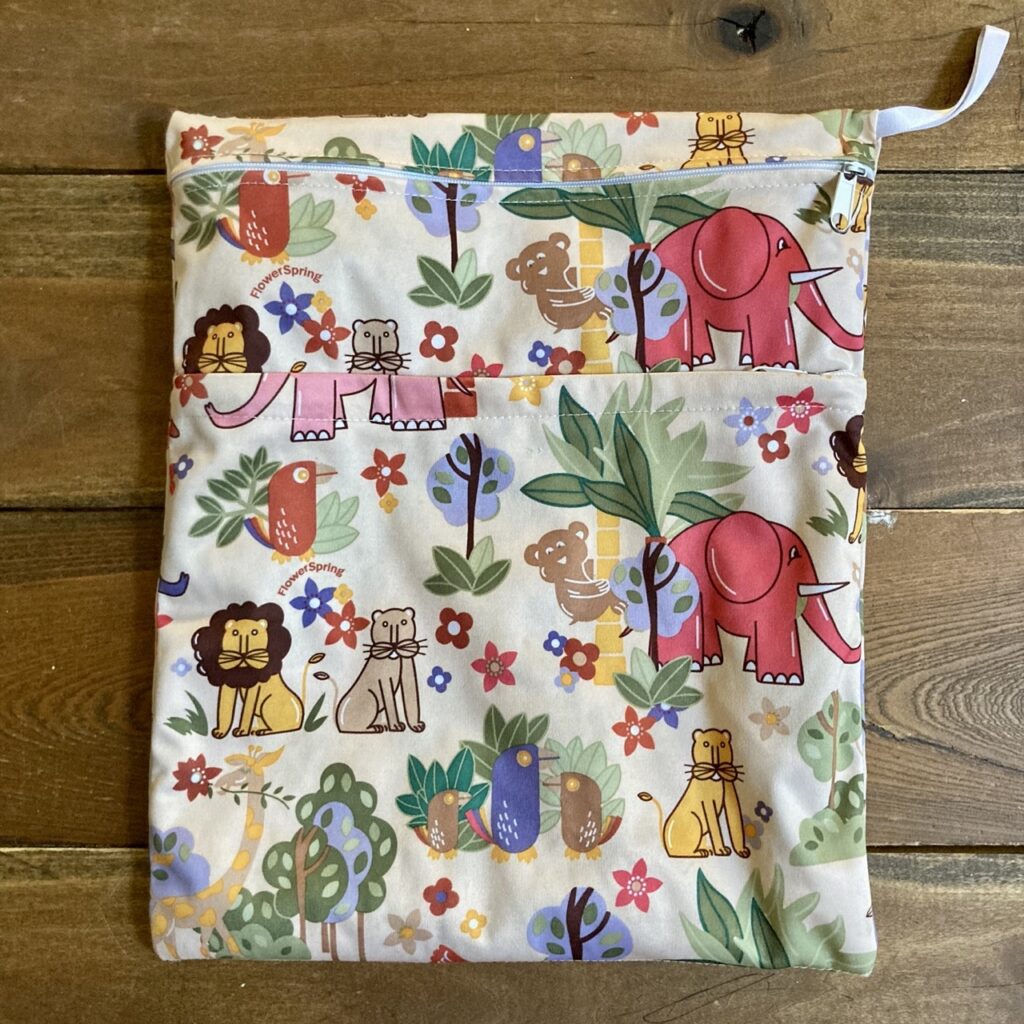 Have you heard of wet bags? Unless you're cloth diapering, you may not have. But wet bags are definitely not just for cloth diapering families – they are a must have baby item for any new parent.
Related Post: How to Buy Secondhand Cloth Diapers
Here's the deal, there is no way you are making it through infancy without your kid soiling her outfit while you are out and about. That's where wet bags come in. They are water-resistant and leak proof to contain the worst baby messes. And they're reusable and machine-washable so you aren't throwing away lots of plastic bags.
They are also great as kids grow up to carry home wet bathing suits or even gym clothes. The possibilities are endless.
Why wet bags are great useful baby gifts:
They're multipurpose – you'll get years of use out of this gift
It helps reduce the number of plastic bags you use
Small and light, so they're easy to tuck into a diaper bag.
They're washable! So key for baby stuff.
3. Wubbanub Alternative With Detachable Pacifier
Why It's Great: Instead of the classic Wubbanub, this Avent version allows for easy removal of the pacifier, and is compatible with multiple types of pacifiers. Pacifiers don't last forever so this easy swap greatly increases the life span of this baby toy. And you can machine wash it!
Some people just want to give a cute gift to your baby. A pacifier stuff animal is a more practical option for those people. While it is cute and baby-like, it also can be a useful gift to new parents.
We showed up to one of my pelvic pt appointments with a Wubbanub and my PT explained that they were actually great for younger babies without developed grabbing motor skills. We also liked that it helped us more easily find a pacifier since the plush toy made it easier to spot.
And we can't be the only parents that used the stuffed animal to prop the pacifier in place when our kid napped…
(NOTE: Avent Soothie priced under $15 in July 2023, Wubbanub was not)
The classic Wubbanub has some drawbacks though that the Avent Soothie version corrects. Mainly, Wubbanub pacifiers are sewn into the stuffed animal. This means if your kid likes a different type of pacifier than the one that comes with the Wubbanub, you're either out of luck or need to learn to sew.
Pacifier silicone also degrades with time and use. Our pacifiers eventually got weirdly tacky and we had to toss them. Unless you are getting crafty, that means your Wubbanub's shelf life is only as long as the pacifiers. Not to mention since the pacifier is attached, you can't throw it into the washing machine.
Avent's detached pacifier feature solves all these problems. You can easily swap out the pacifier or briefly take it off for washing. This isn't the only pacifier plush toy on the market but I like it best because it is compatible with most types of pacifiers (the other ones only work with pacifiers with rings). If your kid outgrows pacifiers, the stuffed animal alone can be a toy or saved for a future child.
Why removable pacifier stuffed animals are a great cheap bay gift:
You can easily swap the pacifier, making it a more flexible and long-lasting gift.
It is machine washable. Enough said.
The plush animal helps you find the pacifier more easily, and prop the pacifier in place during supervised naps.
Babies can work on their grabbing and holding skills with the bigger plush toy compared to just a small pacifier.
The Avent version is compatible with many brands of pacifiers if you have a pickier baby. You can still use the plush toy if your kid outgrows pacifiers all together.
4. Big Portable Changing Mat
Why It's Great: When you are trying to change a squirmy baby on a gross public restroom floor, you want a big changing mat. Period.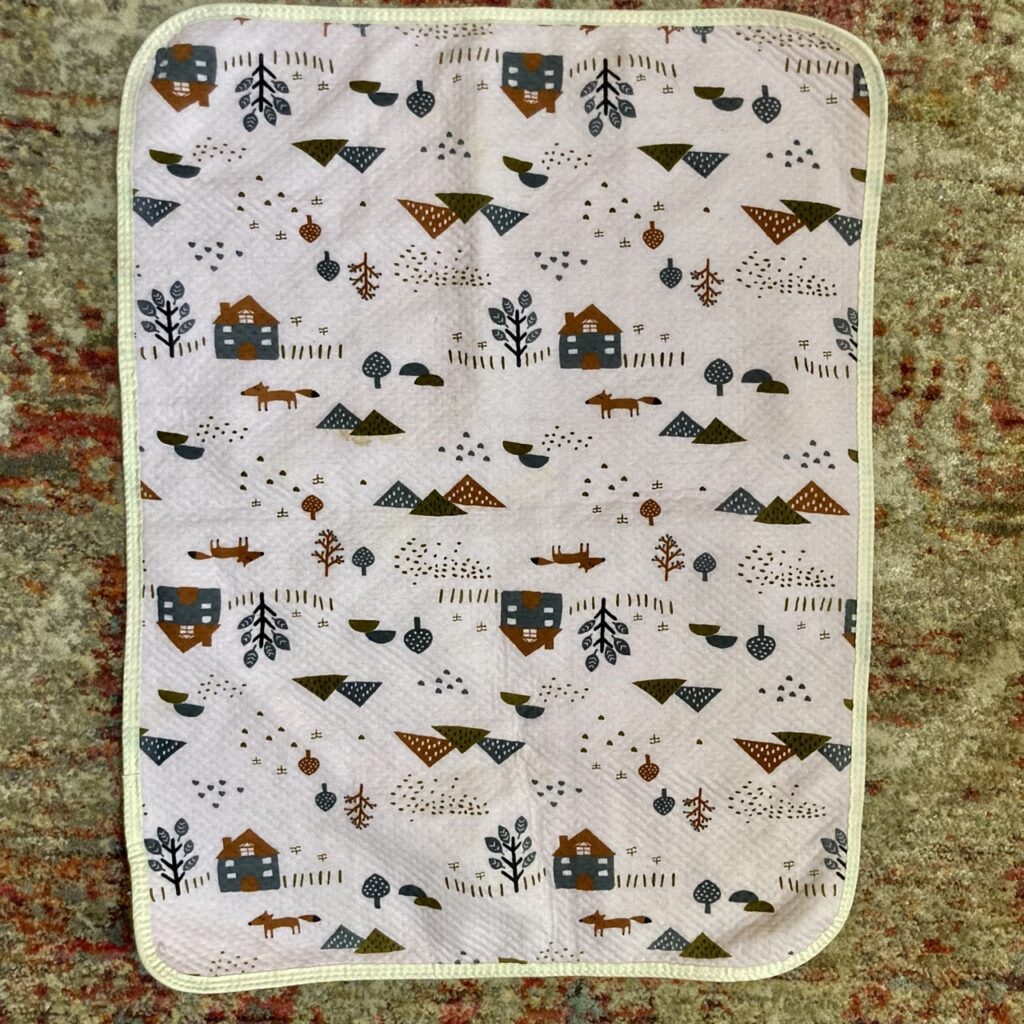 A lot of people opt for portable changing pads that fold up into small clutches. Some even fit a diaper and wipes so theoretically it'd be all you need for an on-the-go diaper change. In theory, these seem great.
In reality, you aren't going out of the house with only a tiny clutch with a diaper unless you are willing to risk everyone being covered in poop until you get home.
For 95% of your outings, you are going to bring an actual diaper bag with you with more stuff than seems possible (don't forget to put a change of clothes for you in there too!). Now that little clutch changing pad isn't as handy, and the changing pad itself isn't that big.
And size does matter. I want as much surface coverage as possible when I'm changing an all-too-mobile 10 month old. This is not a time to be small and dainty, it is a time for the big guns.
That is why I love the IKEA changing pad we were gifted by veteran parents. It is bigger that the mats you'll find on Amazon, while still being really compact and light when you roll it up. If you are looking for an option for easy shipping, check this one out. I even think a big changing mat is a great changing table alternative for those living in small spaces who want something that is super easy to tuck away.
Why a big changing mat is a great affordable baby gift:
Not to beat a dead horse here, but because it is big.
You may not appreciate the value of the extra inches on a changing pad until you use one.
Easily folds up and is light in your diaper bag.
It is always good to have a backup mat for laundry day
5. Formula Mixing Pitcher
Why It's Great: This very affordable pitcher makes formula feeding so much easier. You can mix up a whole day's worth of formula with a few pumps on the pitcher. Then you can pour out individual bottles instead of mixing each one. It'll save you so much time.
A formula mixing pitcher packs a lot of bang for your buck. As exclusive formula feeders, we cherish our formula mixing pitcher deeply. It is a game changer for anyone using formula.
We use a Dr. Brown's pitcher but Munchkin also offers a version with much easier to read oz. volume markings — a feature I really wish ours had. Dr. Brown's customer service is amazing though. A piece of our secondhand mixing pitcher broke off and all it took was a 3 minute phone call and a free replacement part was immediately sent out to me.
There are fancy formula mixing machines that are basically baby formula Keurigs. They sound great but of course, they are an investment. Also, they aren't as set-it-and-forget-it as they are made to seem. You have to be diligent about cleaning it, otherwise it can get clogged and incorrectly mix your formula.
With the mixing pitcher, you simply measure out the water, scoop in the right amount of formula and pump it briefly. It is easy to clean and you can occasionally run it through the dishwasher.
Why a formula mixing pitcher is a practical baby gift:
If your baby is formula feed, you'll use this gift every day of infancy.
It makes formula feeding easier for part-time formula feeders.
Quick and easy to clean
It provides so much value and time saved for a very reasonable price.
6. Haakaa Manual Breast Pump
Why It's Great: The Haakaa suction breast pump is great for collecting letdown from the opposite breast during breastfeeding or pumping. Instead of this letdown going to waste, it can be saved for a freezer stash with no added work or pumping. Plus it is easy to clean – unlike other pumps – and is easy to toss into a bag.
This recommendation comes for my surveying over 120 new parents on breastfeeding and formula.
The Haakaa breast pump is a simple breast pump that takes advantage of suction to collect breastmilk. Where the Haakaa really shines for many breastfeeding moms is in collecting letdown that would otherwise have gone to waste.
When your baby is feeding on one breast, the other breast often also releases smaller amounts of breastmilk that is absorbed by a nursing pad. That's where the Haakaa comes in. It can be attached to the opposite breast to capture this letdown, that can then be saved for future feedings.
This saved milk can be a big game changer for women, who already spend a lot of time breastfeeding and pumping. If a mom wants to be away from her breastfed baby for more than a couple hours, they have to save breastmilk for the feeds when they are away.
Usually this requires pumping, and let's just say for most people pumping is not fun. In my survey, many mentioned the pain and inconvenience of pumping. Being able to save extra breastmilk without additional work is a HUGE win for breastfeeding moms.
Why a Haakaa is a useful baby gift:
It is a gift that will make breastfeeding mom's life better, and save them time pumping.
The Haakaa is easy to clean and highly portable, unlike other pumps
It can be used as a hands free pump when not breastfeeding. Hands free is big.
7. Sleep Sacks
Why It's Great: Loose blankets aren't safe for baby sleep, full stop. But babies still can get cold while sleeping so sleep sacks are the answer. Even when it is not cold, sleep sacks are great alternatives to traditional pjs because they make middle of the night diaper changes much easier.
I am pretty sure it is physically impossible to escape being given baby clothes when you have a new baby. Everyone knows you get given too much baby clothes and really you could use something more practical, but they just can't help themselves.
I put sleep sacks (price varies by pattern) on the list for those people who love giving cute baby clothes. They're basically baby clothes and they have charming designs, but they are far more useful for new parents.
Sleep sacks can be used regardless of season, unlike clothes which are easily outgrown before the right season (ask me how I know – our Florida-based loved ones don't really get winter). A sleep sack can be layered over other pajamas in the winter, or used alone in the summer.
Plus, it is so much easier to put your wiggly baby in a bag than footed pajamas, and makes night diaper changes easier. We prefer long sleeve sleep sacks so we could use them without pajamas underneath, but a lot of people like the short-sleeved version.
Their size ranges are also wider and more forgiving than other baby clothes items. Your baby may easily wear the same sleep sack for six months or more. Our baby is in 18-month clothes but still can wear his 6-9 month sized sleep sack.
Halo brand sacks (price over $15 in July 2023) are probably the most popular sleep sacks but they have very wide neck holes, which make them less likely to fit some babies. My baby should be in a large Halo based on length but the neck hole swallows his head, making it unsafe for sleep. People also love love love Woolino sleep sacks but they are an investment.
Why sleep sacks are a great cheap baby gift:
You'll get a lot more use out of them than standard baby clothes
They work regardless of season, and sizing is forgiving
Safe sleep is top priority for babies
It is good to have more than one sleep sack on hand for inevitable blow outs and washings.
8. Flat Diapers
Why It's Great: Don't let the name fool you, flat diapers can be used for so much more than diapering. They are the workhorses of burp clothes and baby blankets. They're super absorbent and last well through frequent washings. Ours still seem almost brand new.
I know, flat diapers aren't the most glamorous baby gift. But unless you're cloth diapering, you may overlook how useful flat diapers can be for any new parent.
Related Post: Are Cloth Diapers Cheaper than Disposables?
There are lots of uses for flat diapers. They are a fan favorite among the cloth diapering world for their absorbency. That also makes them amazing burp rags. When I gave birth, our hospital gave us flat diapers as burp rags and you know postpartum wards know what's up with baby gear (we definitely stole some and seriously wish we could have pilfered more).
We bought these Osocozy flat diapers because we liked the hospital flats so much. Ours have now seen heavy use for both baby puke and in cloth diapers, and they still seem almost new.
If you're past the puking stage, flats can be used as rags to clean up at meal time or in the bath. Once your kids grow even older, you can use them for cleaning around the house. Their durability means they can have a long and versatile life.
Why flat diapers are a great affordable baby gift:
Parents who aren't cloth diapering may not be aware of flat diapers usefulness
They're the most absorbent burp cloth
Highly durable and machine-washable
Possible uses for flat diapers after the baby stage are basically endless.
9. Wood Puzzles
Why It's Great: Parents love that wood toys are durable, simple for child development, and better for the environment than their plastic counterparts. Chunky wood puzzles are great because they help development and the puzzle pieces are toys themselves.
I have spent a lot of time watching secondhand baby resale groups and any time a chunky wood puzzle posts, it is snatched up almost immediately. Parents of babies and toddlers love them a Melissa and Doug wooden puzzle (priced July 2023).
Wooden toys are more environmentally friendly, more durable and more simple than other toys you see on the market. Puzzles are great for brain development and chunky puzzle pieces are easily held by tiny baby hands.
Some people love to give babies toys and wooden puzzles would be great options for them. You'll get a lot more play out of chunky wood puzzles than other baby toys. Smaller babies can grab the puzzle pieces and shove them in their mouths. Toddlers can work on the actual puzzle challenge.
Why wooden puzzles are affordable, useful baby gifts:
Wood toys are better for the environment and more durable
Simple toys are great for baby brain development
It is okay to have multiple wooden puzzles. Rotate through which puzzle you play with each week to keep them fresh
10. Baby Medicine Cabinet Items
Why It's Great: Every baby is going to need basic care supplies at some point in infancy. There is no getting around having to get diaper cream, saline drops, nail clippers, baby toothbrush etc. and these are useful baby gifts are often overlooked.
While others are buying another baby outfit that will only get worn once, opt to give the medical and care supplies that are true baby must haves.
We always give a thermometer as a baby gift because no one should be without one in the middle of the night the first time their baby is sick.
Plus, these basic baby care items are very affordable (below all last priced July 2023):
Why baby care supplies are helpful, cheap baby gifts:
They are the epitome of useful, practical gifts
Medical supplies are highly affordable baby gifts
You can't have enough of basics like diaper cream or wipes
---
What affordable baby items have you given for gifts? What were the most useful baby gifts you received?
Like this post? Pin it