[DISCLAIMER: THIS POST MAY CONTAIN AFFILIATE LINKS, INCLUDING AMAZON ASSOCIATE LINKS WHERE I EARN FROM QUALIFYING PURCHASES. THERE IS NO COST TO YOU & THE COMMISSION HELPS SUPPORT THIS SITE]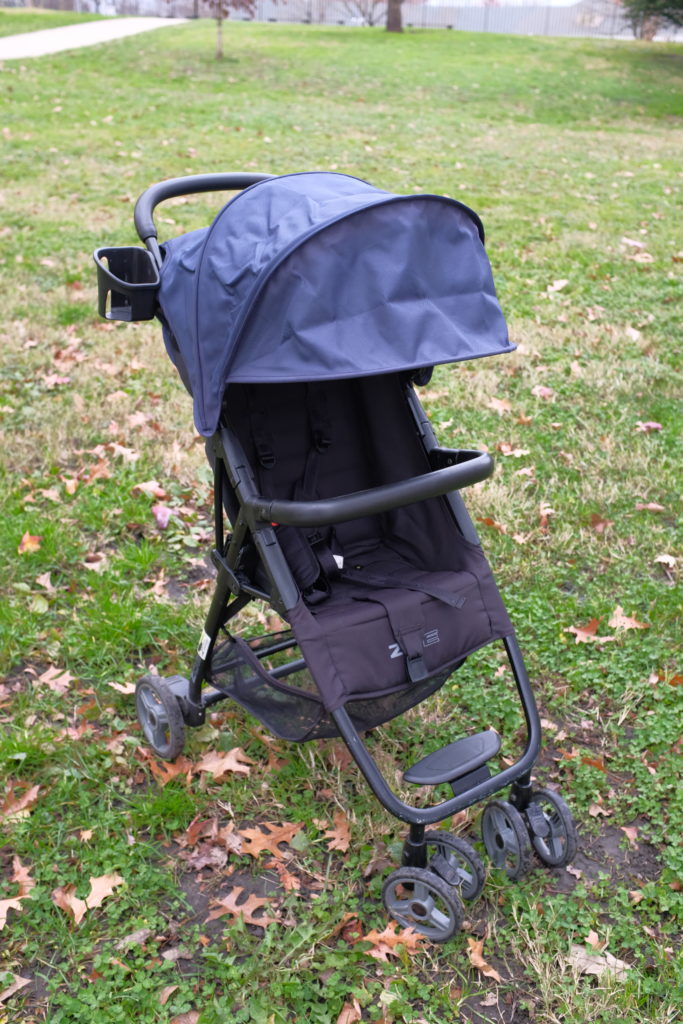 Coming in today with the first installment of a new series called 'Secondhand Reviews'. I'll be reviewing baby items I get secondhand to help families identify what baby products are durable enough to buy used or are good options for future resale after buying new. Today's review is of the Zoe Stroller (Tour+ XL1 model).
Before having a baby, I did not understand how families could spend so much on multiple strollers. I thought we could simply get one that worked and that would be sufficient. Then I tried to get our big baby out the door while wielding a 30 pound jogging stroller and realized how very naive I was.
So I recently spent more hours than I care to admit looking for secondhand lightweight strollers. I wanted a stroller with three main features:
Lightweight – I needed to be able to carry it alone while also holding a +20 lb. baby
Decent storage – I needed to be able to fit actual things in the storage
Maneuverable – I needed to be able to unfold and refold it one-handed, and occasionally push it one-handed over poorly kept city terrain.
I narrowed in on the Zoe stroller and managed to find a reasonably-priced used one to try. I love it. This post is not sponsored – I bought my Zoe Tour+ XL stroller myself, and am reviewing a used stroller to provide insight on durability and longevity.
Overall, the Zoe stroller is really lightweight (only 11 lbs) and is easy to handle one-handed. I can pop it open and fold it up all while holding a baby. The canopy is huge and the seat reclines back to 165 degrees so it has great features for your baby. My biggest complaint is that it doesn't stand up on its own when folded. It is a little thing but it makes it harder to put down while holding a baby.
And if you're looking for more secondhand reviews, don't forget to check out:
Let's dive into the details!
Comparing Zoe Stroller Models
The Zoe company offers three different models of lightweight travel strollers. I personally got the Zoe Tour+ XL1 classic model, which somehow manages to be both a full-sized stroller and a great travel stroller at the same time. The Tour+ (XL1) classic is Zoe's mid-range stroller option. Their upgrade model is called The Trip, and the basic model is called The Traveler (XLC) (not currently available in May 2022).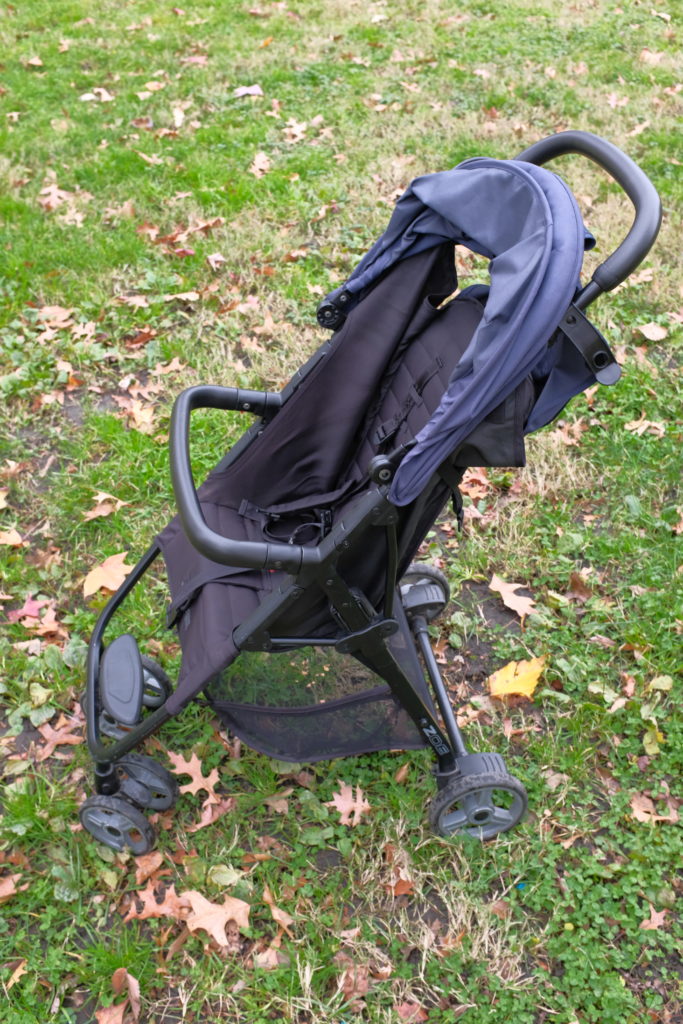 The three Zoe strollers are similar in a lot of ways. They look similar and are all:
Light (no more than 12.5 lbs)
Easily fold down with one hand
Have huge sun canopies
Full handle bar for pushing (as opposed to two handle bars seen on umbrella strollers)
Disney-approved
Can be carried like a backpack with purchase of available accessories.
The top of the line Trip is a unique trifold folding stroller that you can roll like a suitcase when it is folded. It also has more high end details like leather features.
The basic Traveler (XLC) (currently unavailable in May 2022) is sports a similar trifold design as the Trip. It does not include the luggage rolling feature, nor does it have a belly bar in front of the child seat. It is slightly lighter than the upgrade model, the Trip.
The mid-range Tour+ (XL1) is marketed more as an everyday stroller than a travel stroller. It is a bifold instead of a trifold so it is slightly larger when folded than the Trip or the Tour, but still clocks in at only 11 lbs. It has a number of features not included in the other models that made it my #1 choice among the Zoe strollers:
Infant Car Seat Compatible: The Tour+ is the only Zoe stroller that is infant car seat compatible (more on this below)
Convertible to a Double Stroller: Zoe offers a unique double stroller design that allows you to add a tandem seat to a single Tour+ stroller for a lightweight double stroller (more on this below).
The Tour+ stroller also features a belly bar for your baby and cup holders for both parents and child. While this review includes details of my personal experience with the Tour+ XL1 Zoe stroller, many of the features are found across all the Zoe stroller options given their similar designs.
Zoe Tour+ Stroller Weight
For me, one of the biggest selling points of the Zoe was how very light it is. It is about 11 lbs, which is lighter than many stroller frame strollers or umbrella strollers. Even at this light weight, the Zoe Tour+ stroller still feels sturdy and substantial. It feels like a full-sized stroller and not at all flimsy.
I was unable to find a lighter stroller that still sports a full handle bar. While there may be lighter umbrella strollers, the Zoe's full handle bar allows for one-handed pushing, and it has a full canopy and decent storage that you won't find on most umbrella strollers.
Honestly, I don't understand how they are able to squeeze so many features into such a light package that doesn't feel flimsy. After using the Zoe stroller compared to other strollers, it seems to defy physics.
Maneuvering, Folding and Carrying the Zoe Stroller
I have found it easy to move around with the Zoe stroller, both while pushing it and when lugging it around folded. I am easily able to carry it and a baby down steps, popping it open and closed all one handed.
One of the main reasons I wanted a new stroller was because I was having trouble with the physicality of simply getting us and a stroller out of our house for a walk. It is harder than you would think to grab a stroller and gear, get out the door and down steps, and set up a stroller all while holding a baby. I am still working on building back strength postpartum (after a long time on bed rest) so I physically can't manage our heavy jogging stroller alone.
Getting out the door with the Zoe stroller is so much easier. I have no problem holding it in one hand and carrying the baby in the other. The Zoe stroller easily folds up simply by pulling up on a handle in the middle of the stroller.
The one issue with the Zoe stroller is that it does not stand up once folded so you have to lay it on the ground (it is tricky to even prop it up against something since it then rolls on the wheels). This means you have to lean over more to pop the stroller back open, which is slightly tricky while holding a baby. That said, it opens easily once you get it started so it is manageable.
The Zoe Tour+ XL1 steers easily on city sidewalks and is not a rough ride. It turns well, not as effortlessly as a Bob stroller, but it is still easy and gets the job done.
The Zoe stroller is not considered an all-terrain stroller. All-terrain strollers are billed as working as well on city sidewalks as they do on a hiking trail or in the grass. That said, I have had no problems with pushing our Zoe through both grass and gravel. It rolls fine enough through grassy fields at the park and up gravely hills.
Durability & Cleaning
I purchased our Zoe stroller from a mom who said she had a two year old, so I assume the stroller had seen at least a year of use before me. Looking at the stroller, you can barely tell it has been used.
Related Post: July Baby Budget – $722 Saved
The fabric on the seat, straps, and canopy look brand new. The material appears to be very durable and does not show wear (for reference, we got the Navy color classic Tour+ model).
Unlike some other strollers, the fabric seat on the Zoe is not removable to be able to machine wash it. I love to machine wash everything I can so I was a bit worried about this. However, the durable fabric means you can scrub in down with soap and water, rinse it, and let it air dry.
I was able to clean ours to look basically new with a vacuum hose and a wash (including a good spray down with rubbing alcohol). There are some small crevasses in the Zoe stroller's seams but I did not feel like there were crumbs stuck that I wasn't able to get out with just our vacuum. The front axel shows a bit of scuffing on our stroller but nothing that deters from its overall look or function.
My one concern about durability is the storage basket netting. The material does feel on the thin side and ours has two small holes in it. Ours is still completely functional but I worry that the holes may get worse with time and use (for reference, we've been using our Zoe over five months and the holes have not gotten bigger). Zoe does sell replacement pieces for nearly every part of the stroller and the replacement storage basket is reasonably priced.
Features of the Zoe Tour+: Seat, Canopy & Storage
Zoe Stroller Seat and Harness
One thing I liked about the Zoe stroller over a light umbrella stroller was the seat. It includes a five-point harness to secure your kid. The shoulder straps have nice padding and the strap between the legs is wide. We've had the between-the-leg strap bruise our kid on a jogger stroller so a comfortable strap was high on our list.
The seat also reclines back 165 degrees. It doesn't go completely flat but it is enough to make a stroller nap feasible. Newer models also have a foot rest that can pop up for napping. What I like about the angle adjustment on the Zoe stroller is how easy it is. It works like a draw string and is easy to do one handed. No clicking it into place just right to adjust the angle, simply let out the strap fabric to your desired length and you're good to go.
Zoe Stroller Tour+ XL1 Canopy
When you read other reviews about the Zoe stroller, the huge canopy usually tops the list of features that people love about this stroller. And they aren't wrong. The canopy on this stroller is awesome. As a pale, skin-cancer-y person, the sun canopy alone makes this stroller worth it.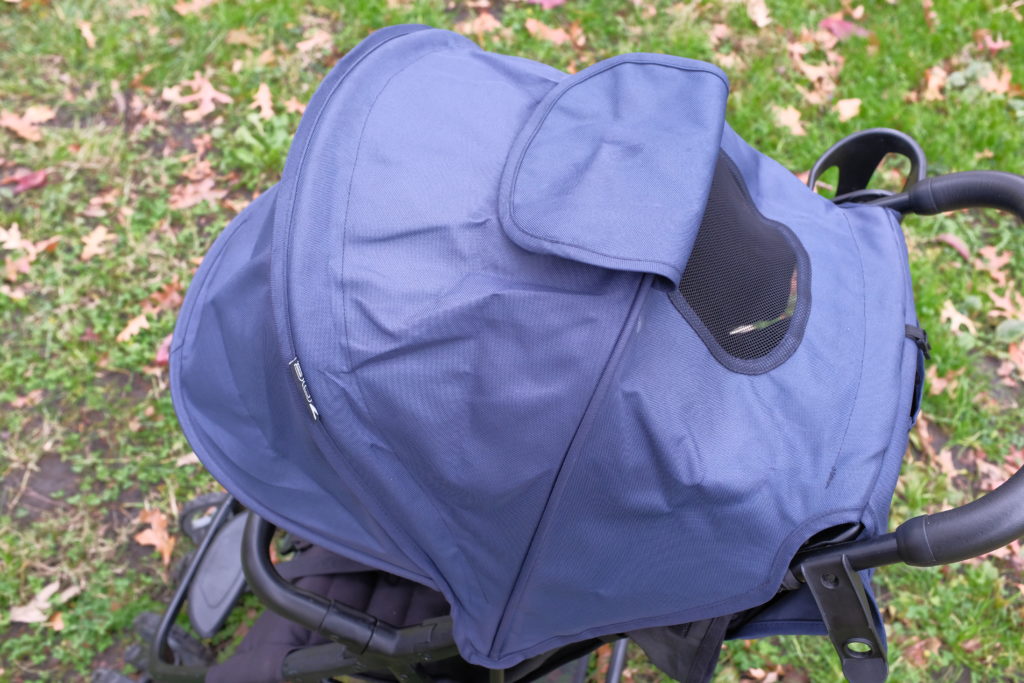 You can cover your kid basically completely with the canopy to keep them from getting sun exposure. What I like about the canopy though is that you can easily adjust how far you pull it. We usually use the sun canopy 3/4 of the way extended, which fully shades our baby most times of the day.
Another great feature of the Zoe canopy is that the baby still has good visibility. The canopy doesn't fully cover the sides which allows the rider to see out all around them. The window on top of the canopy also works well and it gives you a good view of your kid while strolling.
Storage Basket
The storage basket on the Zoe stroller is fine. Not amazing. Not bad. We can't fit our diaper bag backpack in it like we can our jogging stroller, but it fits way more than our umbrella stroller storage.
For reference, I have been able to fit a picnic blanket, a grocery bag full of baby clothes, and a small baby bottle cooler in the basket at the same time without issue.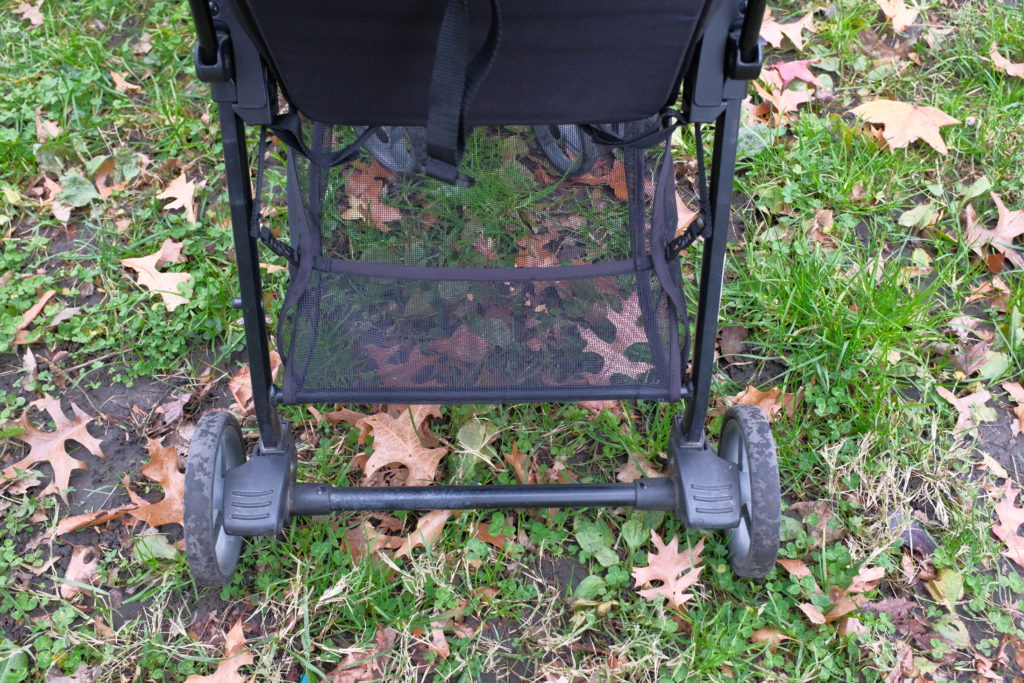 The storage basket material is the flimsiest part of the stroller though. I am hesitant to try to fill it to the brim and really shove things into it like I do our jogging stroller. Ours already has two small holes so I also worry it may snag.
Does the Zoe Stroller Work for Tall People?
You may not think about the importance of things like handle bar height unless you are on the tall or short side. As a tall person, fitting my proportions is a top concern for me when picking a stroller. Unfortunately, many reviews don't give thorough details on how the stroller fits people of different statures.
Before buying the Zoe stroller, I was honestly a little worried about how it would work for someone tall since it does not have an adjustable handle like some other more high-end strollers. I had previously tried an umbrella stroller and handle bar height definitely hindered my stroller-pushing experience and made me slouch over.
I'm happy to report that the Zoe stroller handle bar height still works well for me at almost 5′ 11", and is also comfortable for my 6′ 2" partner. I am able to stand up straight and push the stroller comfortably. According to their website, they have tested their Zoe strollers on people ranging form 5′ to 6′ 7" to make it as comfortable as possible for those on the extreme ends of the height range.
Moreover, I do not kick the bottom of the stroller when walking, even when taking long strides. The Zoe company indeed designed the stroller with this in mind, recessing the rear axel to give more leg room for the pusher. It is great to not have to adjust my manner of walking in anyway to accommodate the stroller.
Make It A Double (Stroller)!
The Zoe Tour+ stroller is unique in its ability to transform into a tandem double stroller. The tandem seat is basically a second Zoe stroller without the back wheels. Instead, it clips onto the front of your original stroller, just above the front wheels. You can buy the Zoe and the tandem together, or buy the tandem seat separately if you already own a Zoe.
The tandem design is nice because you'll likely still need a single stroller sometimes. Having an easily removed tandem seats spares you from having to store both a double stroller and a single stroller.
If you have more than 2 kids, the Zoe also offers this tandem design on their side-by-side double strollers. You can make their double stroller into a triple stroller and even into a four-seater quad-stroller.
Infant and Car Seat Compatibility
The Zoe Tour+ is recommended for babies 3+ months old (once the baby has some head control). Zoe offers an equivalent, slightly smaller stroller that is infant compatible called the Infant XL in their outlet, which is likely being phased out of their line.
If your baby is a newborn, you can still use the Zoe with an infant car seat. The Tour+ is the only Zoe stroller that can be turned into a travel system with a car seat adaptor. That said, the car seat adapter only works with the Chicco KeyFit 30 infant car seat. While Chicco KeyFit is a well-reviewed, it does limit your options.
Should You Buy or Sell a Zoe Stroller Used?
So, is a Zoe stroller a good candidate for secondhand use? Will you be able to resell it after buying new? Overall, yes. I am very happy with this secondhand stroller purchase.
That said, I want to preface by saying that Consumer Reports recommends caution when buying used strollers. They do not recommend any stroller made before 2015 when safe regulations were enacted. As with any used baby item, always check for recalls on items before buying used. Stroller technology also improves overtime so buying a stroller used may not include the newest features (including safety features!).
If you do decide to buy used, the Zoe Tour+ XL1 stroller is very durable. Looking at our stroller, it looks almost brand new. This is especially great for someone buying the Zoe stroller new who wants to resell it later – even with use, it'll likely seem in very good condition once you're done with it.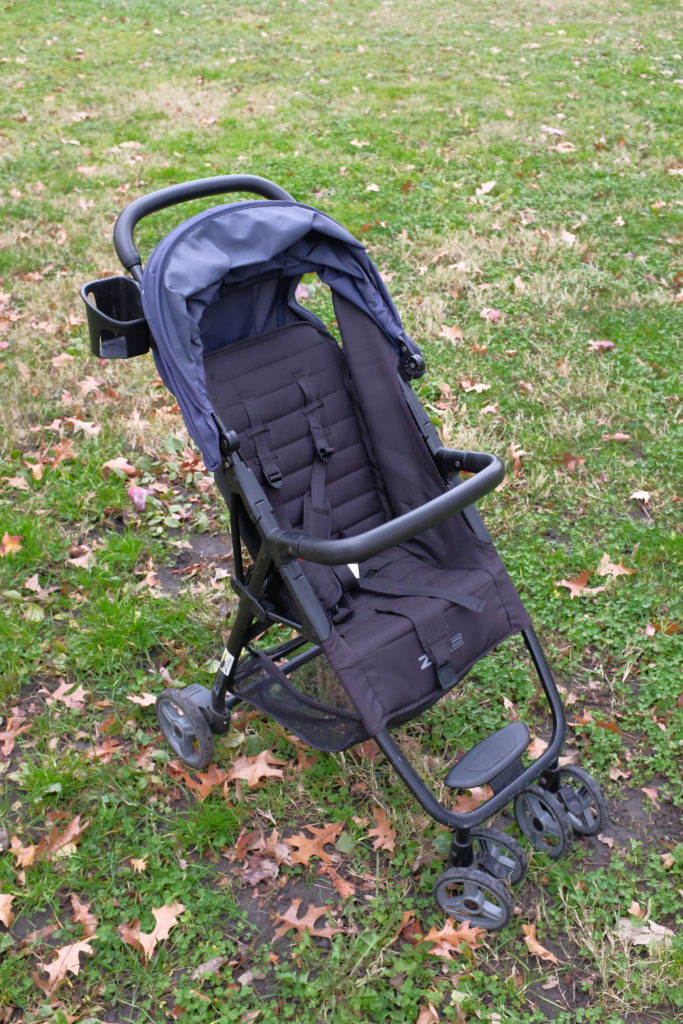 There are a few drawbacks to buying a secondhand Zoe. Since it is not as common as some bigger stroller brands, there are fewer of these strollers available on the secondhand market. I was lucky to find one that popped up on my Facebook Marketplace that I think was only available because it was in Spanish and not labeled as a Zoe stroller.
Because these are less available used, the price is a little higher and there is less opportunity to negotiate. This is good for someone looking to resell their Zoe stroller, but less ideal for someone looking to buy used.
Related Post: 7 Tips for Selling Your Stuff on Facebook
And while the Zoe stroller isn't machine washable, its durable and easy to clean fabric means you can get a good clean on your used Zoe. For those reselling their Zoe stroller, you'll be able to get it looking sharp before listing it, which will help increase your resale price.
A great feature about Zoe strollers is how easy it is to get replacement pieces at a reasonable price directly through the company. Access to replacement pieces is great for both buying and selling a used stroller.
Summary
Overall, we love our Zoe stroller. It is light, easy to store and works well in our small apartment (check out more on great baby gear for small spaces). I love how easy it is to deploy, even while I'm lugging around a heavy baby.
The Zoe is ideal for those looking for a versatile stroller that works for travel, but still includes the amenities of a full-size stroller. The large canopy, one-handed operations, cup holders and storage basket make this a great all-the-time stroller.
---
Looking for more baby gear? Check out 10 Useful Baby Gifts Under $15
---