June 2020: Monthly Baby Budget – $502 Saved
This post may contains affiliate links. Read the full disclosure here.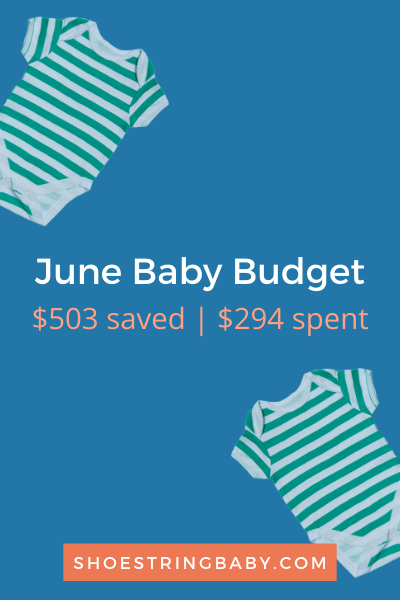 Back with our monthly baby budget installment. Each month I detail our baby-related spending and highlight how much we saved compared to buying retail (spoiler: buying secondhand saves a lot!).
My hope is that our monthly baby budgets add transparency to what a family's baby expenses actually looks like month to month. I'd also like to motivate someone else to try to be more frugal with their next baby purchase after seeing the savings potential of used items.
Buying secondhand or buying less helps both for your wallet and the environment.
June saw a lot more baby transactions than the last few months as stay-at-home orders loosened in our area. Many of our neighborhood "buy nothing" and yard sale online groups reopened in June. This has been great since doing a contactless porch pick-up feels like a better option than going to a store or adding to the strain on delivery facilities right now.
In June 2020, we spent $293.95 on our baby. Our two big costs this month were baby medical bills and formula. Our baby has had a persistent, unexplained fever for months so we are in and out of medical appointments regularly.
I picked up a lot of stuff secondhand in June, including clothes, toys and feeding gear. I am trying to think ahead on what we may want in the coming months in case things shut down again. All the secondhand items saved us about $501.65 compared to buying new.
These savings would not be possible without the generosity of others, who took the time to pass along their baby items instead of throwing them away. I partly started my record keeping to make sure that anything I got directly from another family I gave away for no more than what I originally paid.

While the environmental and financial impacts of finding used goods are obvious, the strengthened connection to my local community has been a much appreciated bonus.
Below you can find some of my other baby expense reports from past months. The full list of reports is available here: Monthly Baby Budgets.
Here is a breakdown of our baby spending this month:
Diapers: $10 spent, $0 saved
Slow month for diapers – all we bought was one box of 100 diapers at Aldi.
Formula/Feeding: $161.98, $14.76 saved
Feeding costs were the biggest item in this monthly baby budget. In June we purchased formula, some feeding gear, and a toddler feeding course.
Formula: We restocked on Costco Kirkland brand formula. The only delivery option is a box of four containers for $82.99.
We also got a taste of how much money buying formula at Costco is really saving us when we had to buy a container of soy formula. Our baby had been having stomach issues and the doctors recommended doing a week without lactose. A small container of soy formula that lasted us less four days cost nearly as much as a container of Kirkland formula.
Feeding gear: I picked up an extra silicone pocket bibs from a neighbor for free. We've found pocket bibs very helpful in reducing the amount of food hitting the floor. Our baby now fishes out and eats food from the pocket too, which is pretty adorable.
I also bought a pack of four new straw cups from Facebook. These were basically the same price as online but I liked not having to put in a delivery order. We wanted straw cups after Feeding Littles' open cup drinking guide changed their view on 360 cups. [UPDATE 2022: we still use these take and toss cups all the time, and they've held up well to toddler abuse]
Toddler feeding course: I bought the Feeding Littles Toddler Feeding Course when they were donating all the course fees to a social justice group in Minneapolis. I really appreciated their anti-racism efforts and have found their instagram both helpful and enjoyable, so I was happy to support their fundraising.
Clothes: $4 spent, $180.56 saved
I did five clothes transactions in June – two costing $2 each and three freebies.
I paid for the cutest pair of rainbow pajamas for pride and a track suit for when it gets chillier in a bigger size. With the pandemic and our baby outgrowing things quickly, I have been stressed about stocking up on bigger clothes in case of future shut downs.
For free I was given a first birthday body suit, nine pairs of footed pajamas, and 24 month sized clothes: five pairs of pants, socks, two shirts and a button down outfit with pants.
Had I paid retail prices for these clothes, I would have spent $184.56. Used baby clothes are so abundant and the savings are huge compared to buying new.
Baby Gear: $10 spent, $306.33 saved
I got a good amount of baby gear this month, mostly toys and activities for staying at home. Again, I got a few things developmentally ahead of where we are at in case things shut down again (most after no one else expressed interest).
Stokke Foldable Tub: The Stokke tub was the only baby gear I spent on this month and I love it. It folds up, making it easy to store in a small space. While our baby is probably big enough to sit in a tub, I like that this uses less water and could somewhat break his fall since he's not steady yet. It grips the ground really well. I have nothing bad to say about this tub and wish we had it from the start.
Skip Hop 3-in-1 Activity Table: Someone gave this away through Facebook and I jumped on it. I love that it converts and can be used as a toddler table. Most importantly, it keeps our baby confined for a few minutes so we can get things done and it has a much smaller footprint than our jumper did (which I gave away ASAP after getting this table). It also looks more aesthetically pleasing in our space, which I really appreciate.
Wooden puzzles: I got five wooden Melissa & Doug puzzles for free, some from the curb and some from Facebook postings. I like having a handful so I can rotate putting out a different puzzle at different times.
Babyganics Bubble Bath: I picked this up for free from another family in the neighborhood. Our baby seems to find the bubbles fun, but this definitely isn't a necessity for bath time for us.
Baby toys: This month I got a few toy cars, an IKEA crawling tunnel, and a radio flyer tricycle. Our baby seemed to discover wheels this month so the cars were an (unsuccessful) attempt to get him to stop wheeling around our vacuum. He's too small for the trike still but no one else expressed interest. The IKEA tunnel is fine, nothing special but it does fold up fairly small.
Medical: $108 spent, $0 saved
As I mentioned in my May 2020 baby budget report, our baby has had a persistent fever of unknown origins since March. At this point, we've seen a lot of specialists and done all the lab work imaginable.
The cost here reflects one doctor visit and some diaper cream after a long and unpleasant spell of stomach issues. The doctor visit actually took place in May but there is a lag on most of our medical bills.
Having already paid some bills in July (one was a doozy!), I know for a fact that our medical costs are going to continue to be high. Our baby still has a fever so we are also expecting the testing to continue.
Resale: $0 recouped
I did not resell any baby items this month.
Total Monthly Baby Budget: $293.95 spent, $501.65 saved
Overall, I'm very happy with our June baby savings. Nearly all our costs were essential (food and medical) and we were able to pick up some things like the foldable bath tub and Skip Hop table which are making our lives easier.
It is also nice to find used baby goods through online neighborhood groups again. In addition to the savings potential and environmental benefits, these contactless exchanges help reduce the exposure risk for people in stores and handling deliveries. And taking a walk to pick something up in the neighborhood gives us a break in the monotony at home.
The uptick in virus spread is weighing on me for many, many reasons but there are a few issues specifically related to baby costs and gear that I want to mention here. First, I have been dealing with a lot of stress trying to prepare baby stuff for a possible shut down again.
We've hit the end of my advanced prepping and our tall baby is growing out of clothes like mad. If things shut down again, we'd be caught without basics like weather-appropriate clothes in his size. I usually look for items in advance to help save money but now I'm just trying to cover our bases.
Second, this monthly baby expense reports fails to capture the huge opportunity cost of not having access to safe childcare. The unknown about when it will be safe for our baby to go to daycare in light of his unexplained health condition and surging virus numbers is weighing on me a lot.
I know this is a situation faced by pretty much every working parent right now, with the professional burden primarily being shouldered by women. It feels families are confronting impossible decisions right now. In some ways, it almost feels easier for us because we don't have a choice – our baby has a fever, he can't go to daycare.
Obviously, I'm incredibly thankful for this time with our baby and for family jobs that allow for this arrangement. I also needed more recovery time after my hard pregnancy and hyperemesis starvation, so right now me being home is best for everyone. We are lucky.
But still, I worry professionally about my time away from working. I had hoped around my son's first birth I'd be recovered enough to start being a real person again. Now, the timeline feels really murky and dispiriting as our baby's fever continues and the pandemic grows.
So when I report on those immediate costs of our child's health issues like medical bills, know there are also those behind the scene costs like paused career growth. Our situation isn't unique and most working parents find themselves balancing this tradeoff between family and professional commitments all the time. Let's hope that the current childcare crisis finally moves the needle on better supports for working families.
Caveat to this monthly baby budget report: These monthly baby budget reports are as accurate as possible but my baby costs record keeping is not 100% perfect. Reported savings are estimated to the best of my ability. Sometimes I am unable to find exact item online, account for fluctuating sales, or remember exact details of budget entries with generic descriptions. These monthly baby budgets do not include gifts from friends and family. While gifts only account for a small part of the baby things we use (we requested no gifts), my reports may slightly underestimate baby expenses if you account for gifted items.
Pin this post!
---