65+ Alaskan Inspired Baby Names with Meanings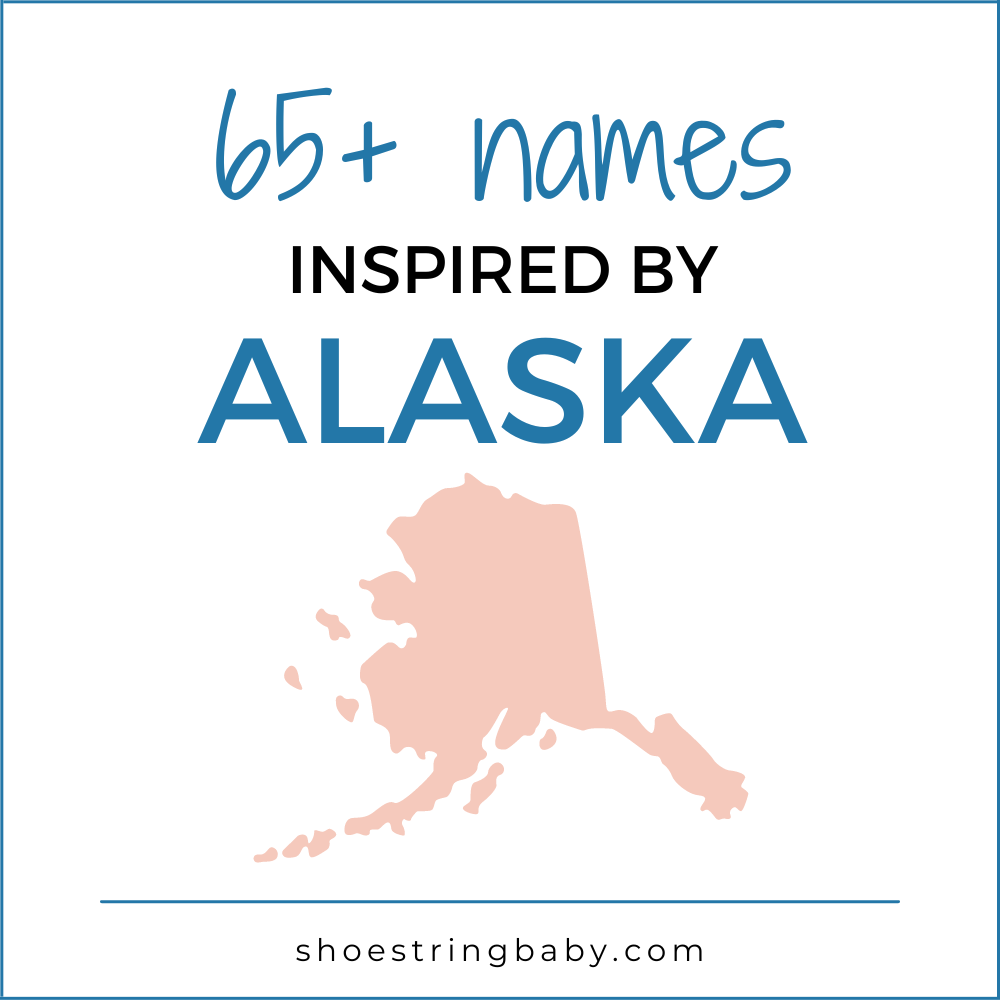 Looking for the last frontier of baby name ideas? Check out this list of 65+ Alaskan names with the meanings that connect them to the state of Alaska.
I'm a researcher who analyses baby name trends and data. I did a deep dive on Alaska to find the best Alaska-inspired baby names so you don't have to.
[DISCLAIMER: THIS POST MAY CONTAIN AFFILIATE LINKS, INCLUDING AMAZON ASSOCIATE LINKS WHERE I EARN FROM QUALIFYING PURCHASES. THERE IS NO COST TO YOU & THE COMMISSION HELPS SUPPORT THIS SITE]
Each name on the list is somehow inspired by the state of Alaska. Known for its natural beauty and ruggedness, the Alaskan names listed below highlight nature, landmarks and Alaskan history.
These easy, down to earth Alaskan-themed names like Willow (Alaska's state bird) for girls or Fox (arctic foxes) for boys are great options for those wanting to give a nod towards the great northern state.
I handpicked these names using my personal database of over 2000+ baby names. I also researched Alaska to find references that could work well as a baby name.
And don't forget to check out some of my other state name lists:
From Bristol to Winter, here are 45 baby name ideas with an Alaska twist.
Join our baby name facebook group!
Love chatting about baby names and trends? Join the discussion over on our new Facebook group. Plus, get FREE help finding the perfect baby name!
Table of Contents
Names Inspired by Alaska Cities
JUNEAU: This Alaska inspired baby name honors Alaska's capital city and also means "young" (French origin).
CORDOVA: Cordova is a name of Spanish origins that likely derived from a surname.
PALMER: not only a city in Alaska, Palmer is a gender neutral baby name of Old English origins meaning "pilgrim."
HAINES: Haines has its roots as a surname in Old Norse and/or German. The Alaskan city is located near Glacier Bay National Park.
STEELE: An Old English name meaning "like steel" and a nod to Steele Creek.
STERLING: In addition to being an Alaskan locale, the name Sterling means 'little star' or 'excellent' with English origins.
FRITZ: Fritz Creek, and a German-originating nickname for Frederick that means "peace."
DELTA: Delta Junction, and a Greek originating name for the letter in the Greek alphabet.
BRISTOL: a baby name for Alaska's Bristol Bay Borough, and an Old English name meaning "a place at the bridge."
Related Post: 65 Middle Names for Hailey
Names of Famous Alaskans
VELMA: Velma Wallis is a Native American author from Alaska. The name Velma is a diminutive of Wilma meaning 'protector.'
WYATT: Wyatt is an English name meaning 'brave in war.' Wyatt Earp opened a saloon in Nome Alaska and was a frontiersman.
CICELY: Cicely, the fictional Alaskan town in Northern Exposure, is also an English name meaning 'blind.'
JEWEL: Jewel, singer-songwriter of 'Foolish Games' and 'Who Will Save Your Soul' grew up in Alaska. The name means 'Precious Gem.'
JED: Jed is often a nickname of Jedidiah and means 'beloved by God.' Jed was the name of the dog actor in the Alaskan-set White Fang movies.
HOLLING: Holling, a character in Northern Exposure, is a name originating as an English surname.
SYDNEY: Sydney Laurence painted Alaskan Landscapes. The name Sydney is considered gender neutral, meaning 'wide meadow.'
Alaskan Names Inspired by Landmarks
KENAI: The name Kenai is a character in Disney's Brown Bear and is a Native American name meaning 'flat lands.' Alaska's Kenai Peninsula is known for its fishing.
THATCHER: Point Thatcher and Thatcher Channel are located in the Alexander Archipelego
ANNETTE: a diminutive of the name Anne, and a possible homage to Alaska's Annette Island.
ANTON: The name Anton means "Priceless" (Alaska's Anton Anderson Memorial Tunnel).
BAKER: Baker is a name deriving from a surname for those who baked, and a nod to Baker Island
ESTHER: Esther Island is located in south central Alaska. Esther is Persian origin meaning 'star.'
FORRESTER: Forrester Island is located in the southern-most part of Alaska. Forrester is a surname name meaning 'woodsman.'
KODIAK: Kodiak means 'island' or 'bear.' Alaska's Kodiak Island is the second-largest island in the U.S.
Baby Name Ideas from Alaska's Lakes
CLARK: Clark is a surname-originating occupational name meaning 'cleric' or 'scholar.'
ALEXANDER: A latin-name meaning "defender of people."
BEAR: Bear is a German name that means "brave and strong bear."
CARMEN: Carmen is of Spanish or Hebrew origins, meaning "garden."
ANDREW: This boy name means "strong and manly" [Greek origin].
ACE: Ace is a Latin name meaning "one" or "unity."
AGNES: Agnes means "pure" and is a Latinized version of a Greek name.
ALMA: Alma is a name thought to have multiple origins, and means "kind."
LILY: Lily is an English name in honor of the lily flower.
OONA: The name Oona is associated with the Latin word for 'one,' or a name of Irish-origins meaning "lamb."
Related Post: How I Saved $722 on Baby Costs in a Month
Alaskan-Themed Nature Baby Names
DENALI: Alaska's Denali is the third highest peak in the world. The baby name is of Native American origins and means "great one."
BERING: Bering Strait separates Alaska and Russia, and is originally a surname.
WILLOW: A name for Alaska's state bird that is also an English girls' name for "willow tree."
JADE: a Spanish-origin baby name and Alaska's state gemstone.
McKINLEY/KINLEY: McKinley and Kinley are both baby names inspired by Alaska's Mount McKinley.
SPENCER: A gender neutral name of English origins, the name also works as a reference to Alaska's Spencer Glacier
AUREL: Aurel is an Alaskan Glacier and a boy's name of multiple origins meaning "golden."
LAUREL: A latin-originating name for "laurel tree," Bog Laurel is a lovely pink flower found in Alaska.
FOX: A hip boy's name in honor of Alaska's arctic fox.
WINTER: A name for Alaska's climate, this name has the adorable nickname of Winnie (German origins).
HUNTER: an English-derived baby name and a nod to hunting in Alaska.
FINN: You'll find fin whales in the Gulf of Alaska and the Bering & Chukchi Seas. Finn is a Gaelic name meaning "fair."
Popular Names in Alaska
Below you'll find the list of the most popular names in Alaska, given to babies born last year.
Of the girl names on this list, the names Hazel, Aurora, Eleanor and Isla make the top 10 list in Alaska but not nationally. #2 Alaskan girl name Hazel only ranks #28 in the U.S and #7 Alaskan name Aurora comes in at #36 nationally. Isla is #10 in Alaska and #33 nationally; Eleanor is #8 in Alaska and #15 nationally.
For boys, Wyatt and Owen make Alaska's top 10 list but not the national list. #5 Alaskan boy name Wyatt ranks #29 nationally. Owen comes in at #10 in Alaska and #22 in the U.S.
Here are all the top 10 Alaska baby names for last year:
| | | |
| --- | --- | --- |
| | BOYS | GIRLS |
| 1 | Noah | Amelia |
| 2 | Oliver | Hazel |
| 3 | Liam | Olivia |
| 4 | William | Ava |
| 5 | Wyatt | Charlotte |
| 6 | James | Emma |
| 7 | Lucas | Aurora |
| 8 | Theodore | Eleanor |
| 9 | Benjamin | Evelyn |
| 10 | Owen | Isla |
Names in the top 10 nationally that don't make claim a top spot in Alaska include: Sophia (#11 in Alaska), Isabella (#34 in Alaska), Mia (#26 in Alaska), Harper (#14 in Alaska), Elijah (#12 in Alaska), Henry (#22 in Alaska),
Alaskan-Themed Girl Names
From the Alaskan-inspired names above, here are the ones that would be great for girls:
Palmer
Delta
Cordova
Velma
Cicely
Annette
Esther
Agnes
Lily
Alma
Oona
Jade
Willow
Jade
Willow
Alaskan-Themed Boy Names
And here are the Alaskan-themed names perfect for boys:
Steele
Sterling
Fritz
Wyatt
Anton
Baker
Forrester
Clark
Alexander
Bear
Fox
Finn
Unisex Alaskan-Themed Names
Finally, these Alaska-themed names work well as gender neutral names:
Holling
Sydney
Bristol
Juneau
Ace
Denali
McKinley
Spencer
Hunter
Winter
Laurel
Personalized Baby Gear
Once you've found the perfect baby name, check out these baby items that you can personalize with your baby's name:
---
Looking for more baby name ideas? Check out our tool that visuals baby name trends over time.
And for other nature inspired names, check out: