155+ Pretty Name Combinations for Baby Girls
This post may contains affiliate links. As an Amazon Associate, I earn from qualifying purchases. Read the full disclosure here.
Looking for first and middle name combinations for baby girls? Check out this list of 155+ beautiful girl name combinations, with something for every naming style.
I personally researched and curated these names using my database of over 2000+ names and online forums. I then hand-selected each name combination based on its style, flow and meaning.
The list is broken down by style categories, including: classic names, unique name combinations for girls, cute and pretty name combos, and modern picks.
I hope this list will give you new ideas on your hunt for the perfect baby girl first and middle name combination.
At the end of this article, you'll also find a list of combined names that are made by blending two first names together. The classic example of a blended first name for girls is Maryanne, which combines the classic names Mary and Anne.
And don't forget to check out my list of Striking Name Combinations for Baby Boys.
Let's combine some names!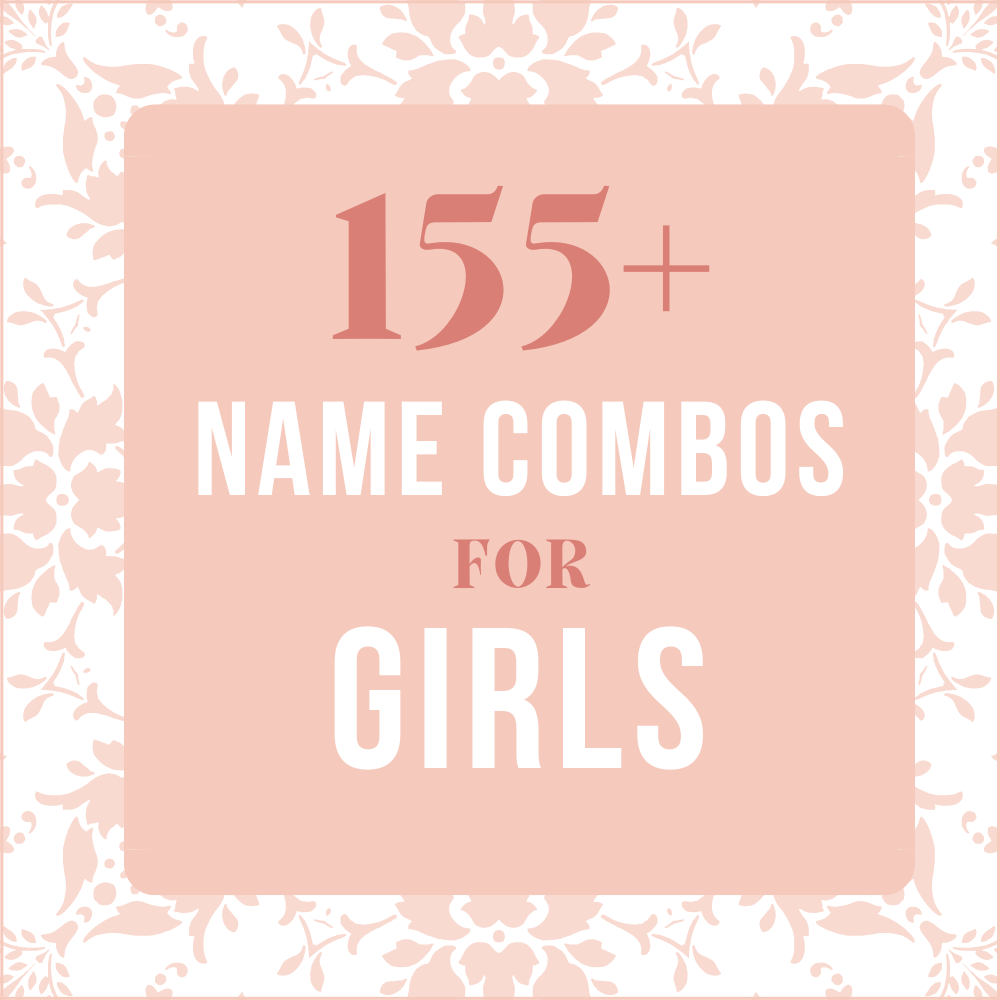 Table of Contents
Join our baby name facebook group!
Love chatting about baby names and trends? Join the discussion over on our new Facebook group. Plus, get FREE help finding the perfect baby name!
Classic baby name combinations for girls
First up we have classic first and middle name combinations for girls.
These names are well established and full of history. They're perfect for those looking for name combinations that are recognizable, feminine and respectable.
Dinah Frances
Nancy Bee
Edith Eloise
Susannah Audrey
Dorothy Helena
Maxine Sylvia
Ivy Clara
For more name combinations with Ivy, visit my list of middle names for Ivy
Felicity Hope
Georgia Lilith
Genevieve Opal
Henrietta Louise
Matilda Rosemary
Winifred Etta
Estelle Alina
Bianca Faye
Alma Odette
Shiloh Perla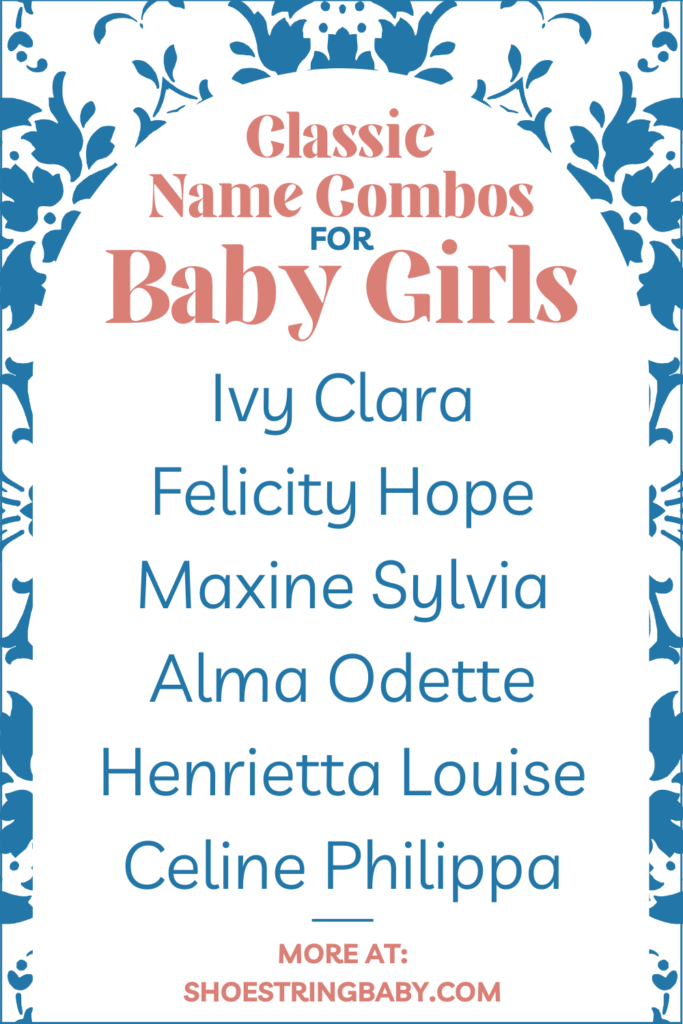 Sabrina Esther
Octavia Laurel
Celine Philippa
Mavis Cordelia
Sally Constance
Virginia Cherish
Lois Odelia
Tabitha Salome
Unique name combinations for girls
Next up are unique name combinations for baby girls. These first and middle name combinations include at least one name that is outside of the top 500 girl names in the United States.
Middle names especially are great places to add uniqueness and fun to a name combination, with unexpected picks like Bloom or Wander.
Zola Violet
Landry Juna
Arleth Iona
Zelda Willow
Wednesday Talia
Solana Moon
Orla Hyacinth
Luella Belle
Winsome Margo
Mabel Bloom
You can find more first and middle name combos with Mabel on my list of middle names for Mabel
Ottilie Selah
Fable Savannah
Holiday Joelle
Pixie Paloma
Tilda Wren
Ursula Slyvie
Clover Noelia
Baylor Delphi
Sebastiana Joy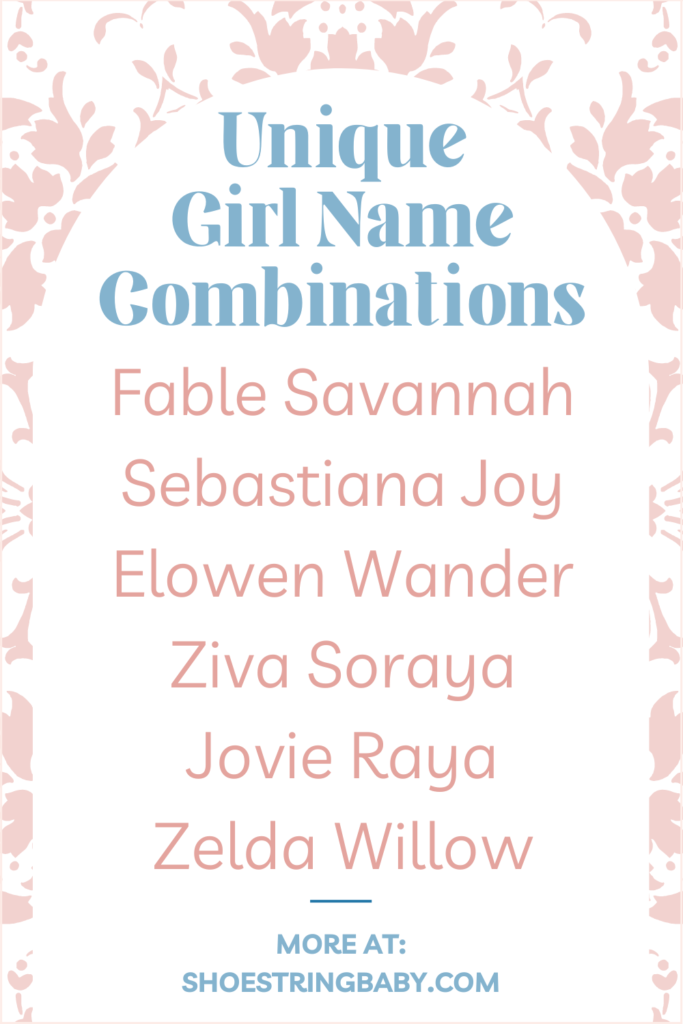 Jovie Raya
Salma Althea
Electra Jane
Elowen Wander
Ziva Soraya
Ellery Abigail
Cute first and middle names for girls
If you're looking for cute first and middle names for girls that go well together, these next name combinations are for you.
These girl name combinations are sweet and adorable, with cute nickname names like Ozzie and Goldie.
The list also includes feminine combinations of names that could work as double barrel names like Jolene Rae and Dixie Anne.
Sadie Lilac
Nell Annalise
Bonnie Rosabel
Penny Maeve
Goldie Mariella
Zuri Juno
Ozzie Lucia
Poppy Lyra
Check out more names that go well with Poppy at 65+ Middle Names for Poppy
Nia Carys
Adelaide Whitley
Shoshana Noelle
Dixie Anne
Daisy Cecilia
Tinsley Amaya
Della Shay
Birdie Hazel
Hattie Marie
Gussie Pearl
Marley Ines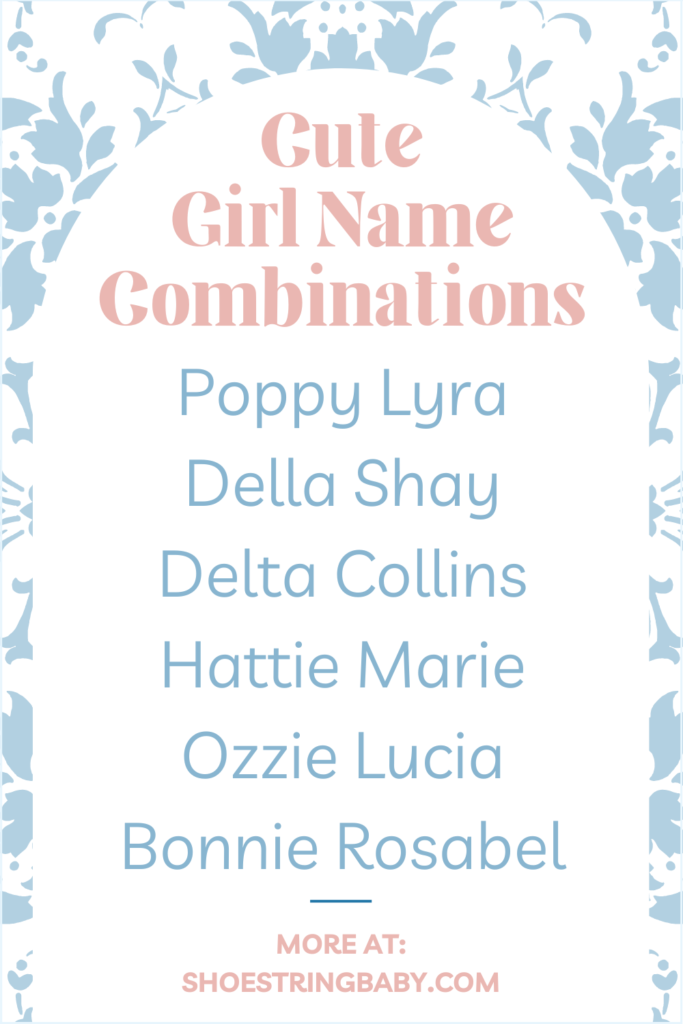 Delta Collins
Jolene Rae
Orietta June
Waverly Addison
Gemma Reese
July Ellington
Modern girl first and middle names that go well together
Next we have modern first and middle name combinations perfect for a baby girl today.
These name combos are on trend, include surname names like Monroe, word names like Sage, and grandma-chic names like Hazel.
Cosette Simona
Frida Blythe
Vida Francesca
Hazel Magnolia
Sloane Petra
Monroe Sable
Jude Seren
Freya Fawn
For more beautiful name combinations for baby girls named Freya, visit my list of 65+ Middle Names for Freya.
Indigo Pearl
Navy Mae
Sage Juniper
Wrenly Alva
Penrose Valeria
Thora Margaret
Valentine Milan
Daphne Clementine
Cleo Blakely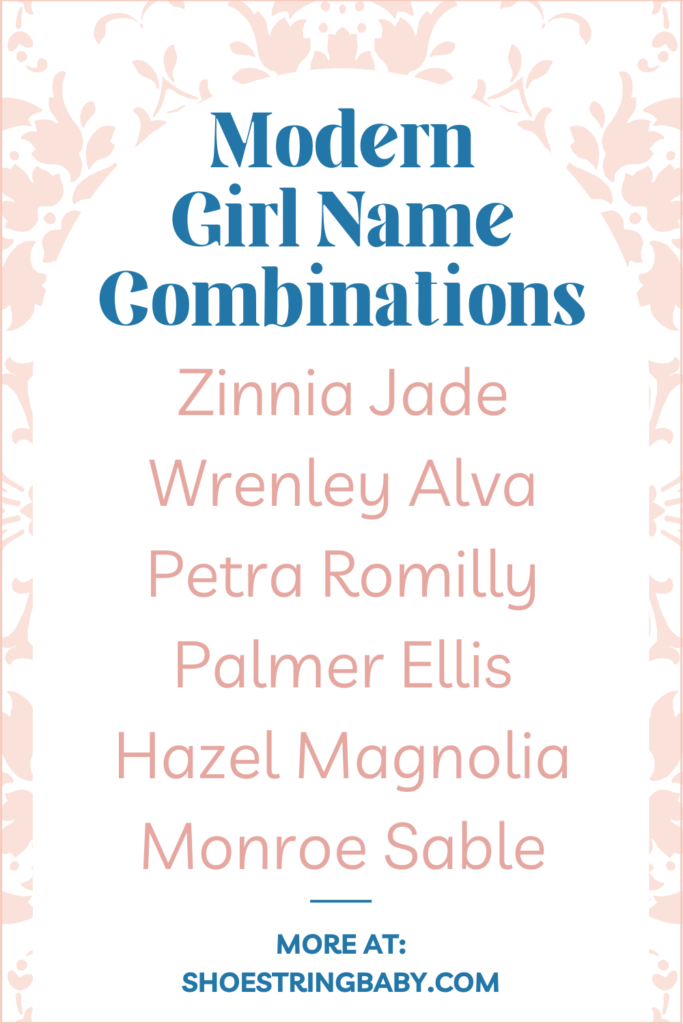 Harlow Delaney
Palmer Ellis
Sutton Blair
Belen Rhea
Petra Romilly
Zinnia Jade
Lark Veva
Pippa Page
Pretty baby girl name combinations
Our last set of first and middle name combinations for girls are quite pretty. They combine names that are fancy and feminine.
Many of the names are long and flowing, like Evangeline and Persephone, and have an air of grandeur to them, like Araminta and Odessa.
Callista Briar
Florence Ophelia
Delphine Lilia
Emmaline Flora
Elodie Jocelyn (more: 45 Middle Names for Elodie).
Evangeline Faye
Mirabel Viera
Soleil Amalia
Adair Juliana
Juliette Heather
Persephone Eve
Celeste Amara
Noa Gwenyth
Amabel Orah
Theodora Ruth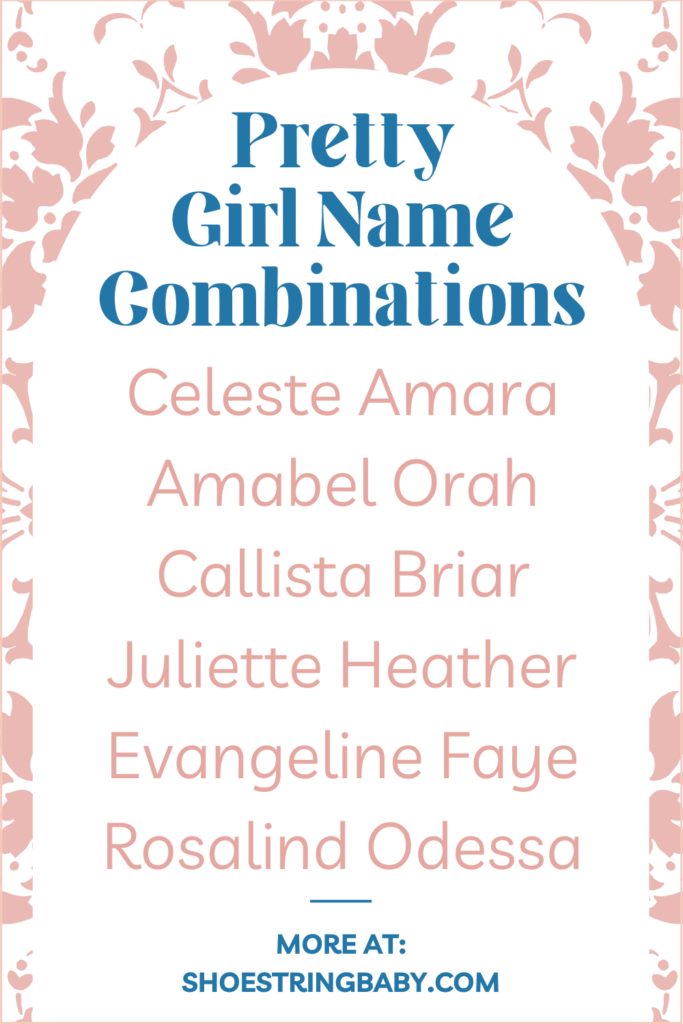 Adeline Naya
Azalea James
Jolie Rosalia
Ellie Adele (more: 99 Full Names for Ellie)
Rosalind Odessa
Vivienne Emilia
Penninah Yael
Georgiana Rue
Winnie Josephine
Colette Martine
Araminta Simone
Blended combined names for girls
Finally, we close with a list with first names that are made up of two names blended together.
These combined girl names blend often together more common names, like Ana and Belle, to make flowing and pretty names like Liliana (Lily and Ana combined together) and Norabel (Nora and Belle combined together).
It also includes a few unique blended names like Araminta (Arabella and Aminta blended together) and Oliviana (Olivia + Ana), a unique alternative to wildly popular Olivia.
Eliana: Ellie and Ana
Mirabel: Mira and Belle
Carolyn: Carol and Lyn
Raelynn: Rae and Lynn
Liliana: Lily and Ana
Adalyn: Ada and Lyn
Kaylee: Kay and Lee
Annabelle: Anna and Belle
Joanna: Jo and Anna
Jaylen: Jay and Lyn
Julianna: Julie and Anna
Gracelyn: Grace and Lyn
Annalise: Anna and Lisa
Rosemary: Rose and Mary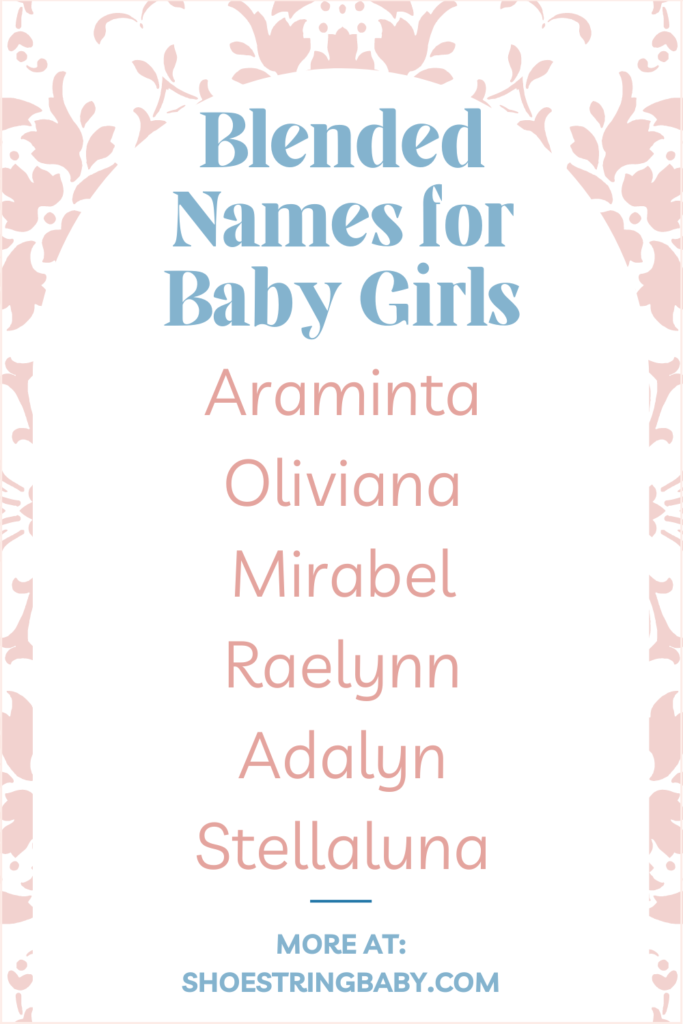 Pollyanna: Polly and Anna
Araminta: Arabella and Aminta
Stellaluna: Stella and Luna
Adriana: Adiran and Ana
Luciana: Lucy and Ana
Viviana: Vivian and Ana
Avalyn: Ava and Lyn
Marybeth: Mary and Beth
Marilyn: Mary and Lyn
Mariana: Mary and Ana
Jaylani: Jay and Lani
Aubriella: Aubrey and Ella
Ariella: Ariel and Ella
Aviana: Ava and Ana
Oliviana: Olivia and Ana
Adabella: Ada and Bella
Norabel: Nora and Belle
Miabella: Mia and Bella
Luella: Louise and Ella
Looking for more girl name ideas? Check out these beautiful rare names you probalby haven't heard.
---