22 Pros and Cons of Lovevery Play Kits
This post may contains affiliate links. Read the full disclosure here.
Have you been wondering about the pros and cons of Lovevery? You've come to the right place.
Lovevery is a hot toy company that make curated toy collections for baby's and toddlers. Parents can't get enough of their Montessori aesthetic, focus on developmental milestones, and high quality.
But is all the hype actually worth it?
When you search for Lovevery experiences, its surprisingly hard to find Lovevery negative reviews. Yes, Lovevery is awesome is a lot of ways.
But they aren't perfect! I'm here to give you the real talk about both the good and bad features of Lovevery.
I've been analyzing baby gear for years, and have a particular focus has on frugality and practicality. I'm also a researcher with an eye for detail and in-depth analysis.
This background gives me a unique perspective when reviewing Lovevery. And, I actually came to Lovevery as a skeptic because of the cost.
While I've been very impressed with our Lovevery play kits, there are some negatives about Lovevery too that you should know.
So let's dive into the pros and cons of Lovevery based on our family's experience with our play kits.
🤩 Explore Lovevery's Play Kits
22 Pros & Cons of Lovevery
1. PRO: High Quality
Lovevery toys feel extremely solid and well-made. Their toys exude an attention to detail and level of craftsmanship I haven't found in other toys.
We've had our fair share of toys that couldn't hold up to rough toddler play. But Lovevery? They're built to last and be pass down — it's actually one of their sustainability missions (source).
2. CON: The Price
Alright, let's tackle the biggest con of Lovevery right from the jump: Lovevery is expensive.
While I totally see the value in their high-quality, developmentally-focused toys, the price tag definitely gives me pause.
If you opt to subscribe and receive multiple boxes, the cost will add up.
3. PRO: Regular Discounts
While Lovevery is pricy, they do offer discounts periodically to defer the cost a little.
For example, here is my affiliate link for 10% off when you pre-pay for three play kits.
This is the only active discount I could find at the time of this writing but you may also sometimes see discounts for first-time subscribers or your friends may be able to send you a referral link with a discount.
The discounts aren't huge but they do help make the kits a touch more affordable for parents.
4. CON: Subscription Model
I've got a love-hate relationship with subscriptions. On one hand, they're super convenient if it is something you need.
But on the other hand, they add to the mental load needing to keep track of them.
With Lovevery, while you can cancel anytime, I wish they offered a more straightforward way to buy individual kits without having to keep track of subscriptions and cancellations.
5. PRO: Resale Value
One of my favorite things about Lovevery is the high resale value of their toys.
Yes, you're shelling out more initially, but Lovevery toys hold their value so well that you're likely to recoup a lot selling them later.
Watching the secondhand baby gear market was one of my favorite bed rest activities and I was always shocked at how Lovevery toys would get snapped up like hotcakes.
They definitely hold their own amongst the other premium baby brands that resale well.
6. CON: Limited Individual Toy Purchasing
Part of the reason that the resale market for Lovevery is so strong is because you can't buy most of their toys individually.
Lovevery limits the sale of their toys to their curated play kits.
Only a few toys, like their block set and this cute pull-along wood puppy are sold individually through Lovevery. You can also find a few select toys at Target too.
Still, if you're like me, you've probably wanted just one item from a pay kit, but didn't want to spring for the whole shebang. It'd be nice if Lovevery had more a la carte options for those moments.
7. PRO: Developmental Focus
Lovevery toys aren't just fun; they're designed with children's developmental milestones in mind.
And this isn't simply big developmental categories like "2-year-olds" or "3-year-olds;" they break developmental milestones down in increments of two to three months.
When my kid plays with Lovevery toys, it feels like they're getting a bit more than just playtime … kind of like like sneaking veggies into their favorite snack.
🤩 Find the play kit for your child's developmental milestones
8. CON: Some Toys May Not Click
Just because the toys are designed for developmental ages doesn't guarantee that every toy will work for your kid.
Every child is unique and not every Lovevery toy will be a home run with every child.
For example, my kids aren't big on puzzles so the chunky puzzle pictured below has seen very little play in our house. Thankfully, you're likely to recoup your costs selling any toys that don't jive with your child.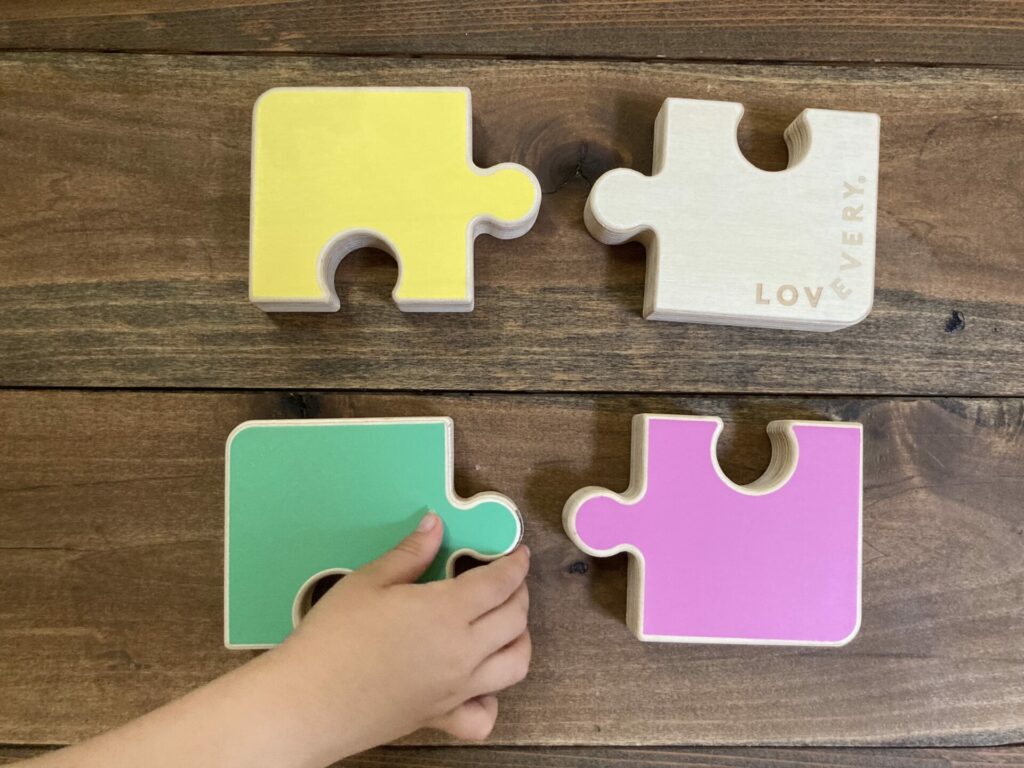 9. PRO: What toy your child loves may surprise you
By far, one of the most valuable parts of trying Lovevery for me was how I have been consistently surprised by what toys my kids love the most.
As I detailed when I shared our first Lovevery experience, I was convinced a tweezer toy we received in our first box was kind of dumb and would be a dud with our kids.
I was so wrong.
My toddler played with those tweezers all dang day and even ate his lunch with them. The little stars became cargo for our much beloved dump trucks.
Left to my own devices, I would have never thought to give these to my kids and I think that's where Lovevery really is a value add in the toy market.
11. PRO: Sustainability and Ethics
Real talk, I worry a lot of the landfills my kids are inheriting and all the kid stuff that feel like 'use and throw out' products stress me out. T
hat's why it's especially refreshing to see Lovevery making an effort for more sustainability throughout their company.
Their toys are designed to be durable and passed on, which aligns so well with my own eco-friendly goals. Plus, it's not just about the toys – their commitment shines through in their packaging and business goals too (source).
12. CON: Larger Environmental Footprint
Even though Lovevery's sustainability goals are a plus, there is still an environmental impact of buying new.
Lovevery's subscription model and toys in sets likely lead people from buying more new toys than they would otherwise, contributing to a larger environmental footprint from added toy production.
Frequent shipments also mean more transportation emissions and potentially more packaging waste, even if some materials are sustainable or recyclable.
13. Replacement Parts Available
Another way that Lovevery works towards their sustainablity mission is for their toys have "the longest life possible."
With that, they offer replacement parts to fix lost or broken pieces. This allows toys to have a longer life and get passed to future children.
As a parent, I also appreciate this because it can be heartbreaking to explain to your kid that their favorite toy is lost or broken. It takes a little stress off to know that if my baby loses her beloved tiny cat figurine, there are options to get a replacement.
14. Replacement Parts Aren't Cheap
While Lovevery makes replacement parts available, you still have to pay for them.
And since Lovevery is a premium brand, you're going to be shelling out some cash for any pieces you have to replace.
After already having invested in the play kit, it is harder to bite the bullet and drop even more money to fix a toy.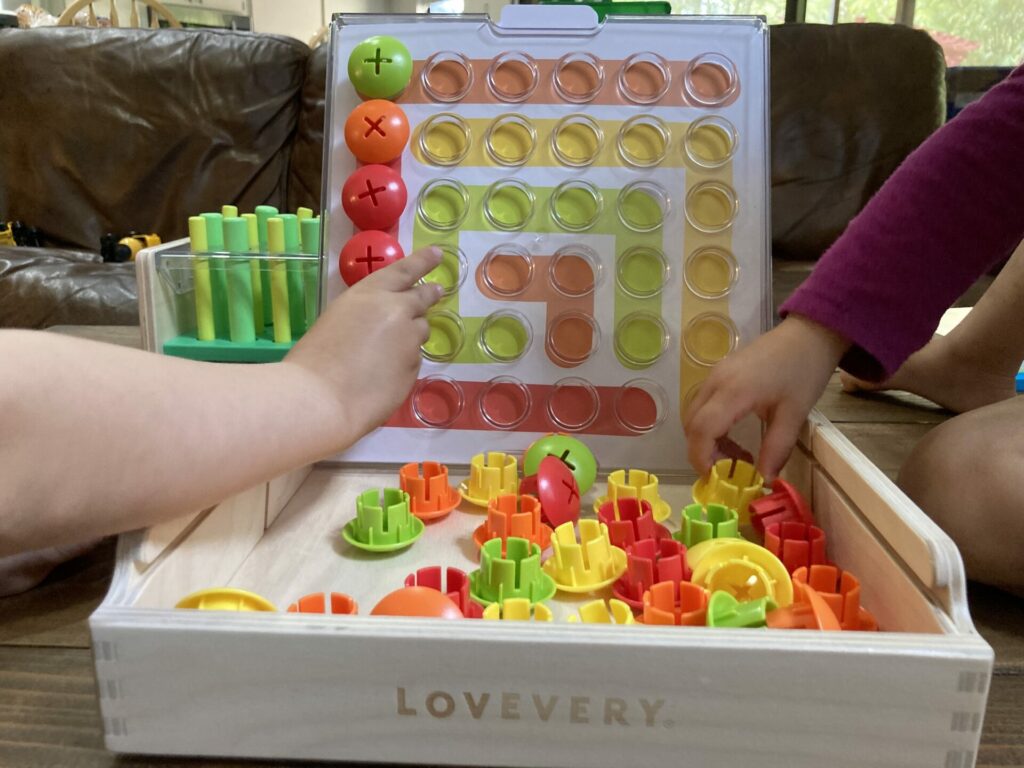 15. PRO: Safe & eco-aware materials
Lovevery differentiates itself in the toy market is with its commit to using kid-safe and eco-conscious materials in their products.
They use OEKO-TEX certified fabrics, which is a test for harmful chemicals (source). They also use bio-based plastics, water-based paint, soy-based ink, and organic cotton (source).
Further, they make efforts to use sustainable materials, such as FSC-certified sustainably harvested wood.
Lovevery has goals to continue to improve their sustainability in the coming years. You can read more about their safe materials and sustainability efforts here and here.
🤩 Shop Lovevery's wooden toys
16. CON: Storage Challenges
I've personally found it difficult to integrate some of Lovevery's toys into our existing toy storage system.
The play kits we've gotten have each some with bigger or awkward shaped toys that don't fit well into our bins and baskets. Each kit has had at least one toy with lots of pieces too.
And I'm definitely not about to buy their pricey Montessori toy shelf (though I do love the hidden compartments for easy toy rotation).
One option that my good friend suggested is to keep the boxes and use those for storage and rotation, an idea I personally wish I would have thought to try before tossing our boxes.
17. PRO: Inclusivity and Diversity
Lovevery has made efforts to include toys and books that celebrate diverse backgrounds, abilities, and walks of life.
Our latest Lovevery play kit had toys that not only had representation for diversity, it also included educational materials to have conversations about these topics with your children.
I appreciated how they included lesser thought of areas of difference, like food allergies, in these efforts too.
18. CON: Limited to Younger Age Groups
Lovevery's focus is on baby and early childhood toys and development. For those with kids older than 4-years-old, Lovevery doesn't really have much to offer you.
Their blocks set and play tunnel are suitable for older kids but the play kits themselves currently cap out after four.
19. PRO: Real-life Skills
Lovevery does a great job of incorporating toys that practice real-life skills like pouring and washing dishes. T
his is an area which definitely shows how they have been inspired by Montessori principles, which is a desirable feature for a lot of families. From our kits, my kids have really enjoyed the life-skill style toys.
For example, the toy where you practice fastening and unfastening different types of buckles is one of our favorite car seat toys.
20. Not Always Age-Perfect
Though the kits are designed for specific age brackets, kids are individuals and their developmental timelines can vary.
Not every toy in every play kit is going to be a slam dunk for every kid. You may get a toy here or there that is in your kids age box but is too easy or too advanced for them.
This is totally understandable but is a tougher pill to swallow given the high cost of Lovevery play kits.
21. Flexible Way to Play
There's no strict "one-way" to play with Lovevery toys. And Lovevery has made an effort so that their play kit toys allow for crossover play.
This means that the pieces of one toy may fit with totally separate toys and expland your kids play options. I really appreciate this thoughtful touch in their toy design.
Children can use their imagination and inventiveness in play across all your Lovevery toys. This flexibility not only promotes creativity but also helps toys stay engaging for longer, as children find new ways to interact with them.
🤩 Explore Lovevery play kits
22. CONS: So much hype
There is so much hype around Lovevery toys and this popularity leads to high expectations.
With so much buzz, you may go in thinking that Lovevery toys will suddenly make your kid a pro at independent play and you'll be setting yourself up for some disappointment.
The fanfare can also lead some some parents might feel like they're missing out on some secret sauce if they don't try out Lovevery, even if it is not the best fit for their family.
Final Thoughts: Pros & Cons of Lovevery
So, should you buy Lovevery play kits? Honestly, you're the only one who can decide if Lovevery is the right fit for your family.
The quality is excellent, the toys are cool and they'll expose your child to new things tailored to their age.
But the costs add up and it still adds more new toys to your house.
My personally take is to test out one play kit and don't be afraid to cancel after the first box. You can also look for secondhand Lovevery toys, but that'll take a little more leg work and probably not save you that much money.
If you found this review helpful and are considering buying a Lovevery play kit, I'd greatly appreciate if you'd consider using my referral link. This site is reader supported and affiliate commissions help me be able to write these detailed articles. Thank you!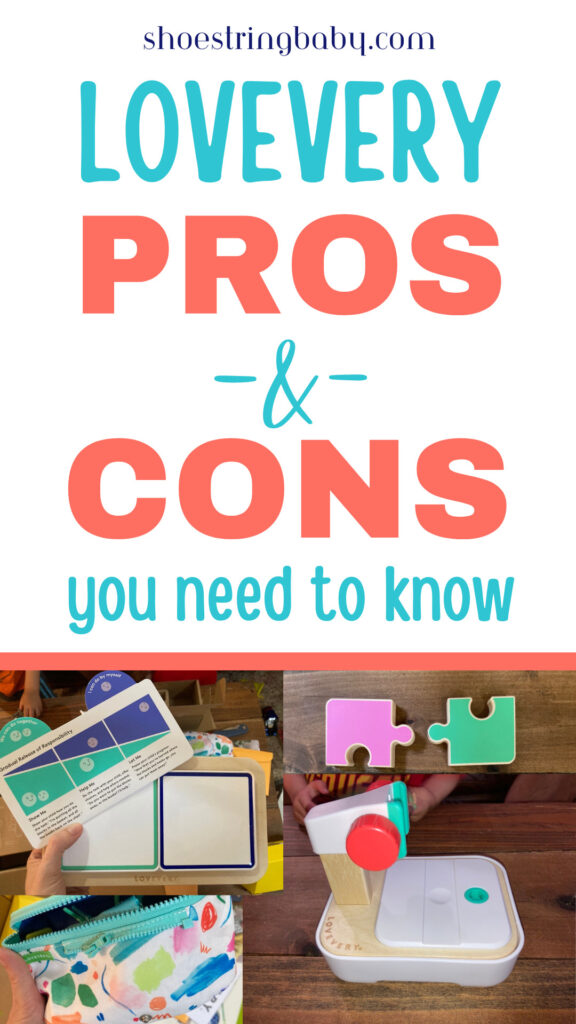 Read More:
A Skeptic's Review of Lovevery
Lovevery 4-year-old Play Kit Review