Lovevery Alternatives: Adventurer Play Kit (16-18 months)
This post may contains affiliate links. Read the full disclosure here.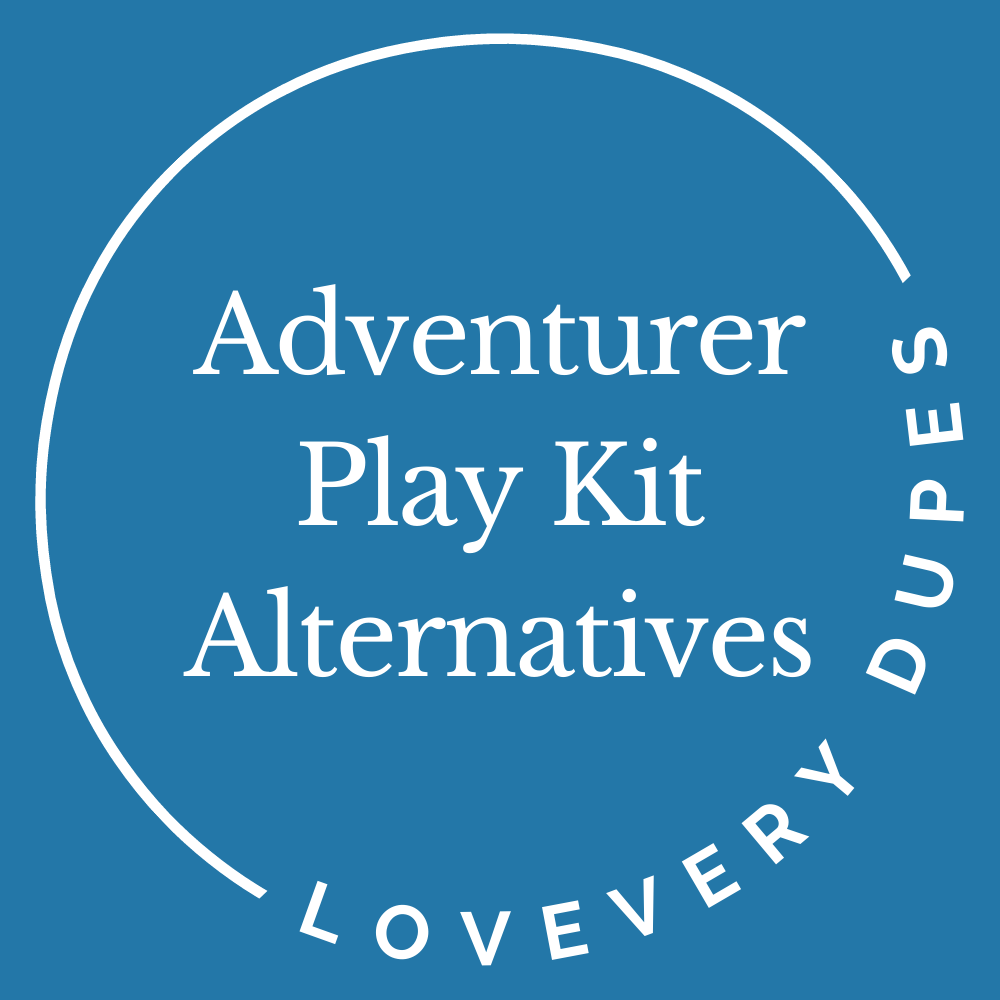 Are you on the fence about the Lovevery Adventurer Playkit and wondering if there are Lovevery alternatives that would save you money? Don't worry, you've come to the right place. Below you'll find a list of alternatives for the toys in the Lovevery Adventurer Play Kit.
I'm a researcher who also has a baby and a toddler at home. I've done the research looking into whether there are good alternatives to the toys in the Lovevery Adventurer Play Kit for 16 to 18 month olds to save you time.
We love our Lovevery toys but like many people, the price tag gives me pause when considering more kits. In order to determine if buying play kits made the most financial sense, I started researching to find good alternatives. This Lovevery Alternatives series was born out of my own search for Lovevery alternatives for my own kids.
Before we dive in, I want to highlight that this is an informational article and is not a review of each toy. I wrote this to save you time researching and searching for toys similar to Lovevery, not to recommend one toy over another. From my experience with our Lovevery toys, the craftsmanship is so good that they are really unmatched in terms of quality (here is my full review of a Lovevery play kit for reference).
Now, let's dive in and take a look at these Lovevery alternatives for the Adventurer play kit.
Note: if you end up deciding to buy a Lovevery play kit, it would mean a lot if you considered using my affiliate link at no cost to you. I also include affiliate links for some of the alternative toys listed here. Researching these guides is a big time investment and I appreciate any support as it helps me continue this site.
What are Lovevery Play Kits?
Lovevery is a toy company specializing in products for children aged 0 to 4 years. Drawing inspiration from Montessori principles, they create toys tailored to babies' and toddlers' incremental development. The company emphasizes quality and simplicity in their toys.
Rather than selling their toys separately, Lovevery bundles them into age-appropriate kits as part of a subscription service. These curated collections of toys cater to specific age groups (e.g. a toy box for 9-10 month olds) and are designed with input from developmental experts.
Lovevery Adventurer Play Kit Alternatives (Months 16, 17, 18)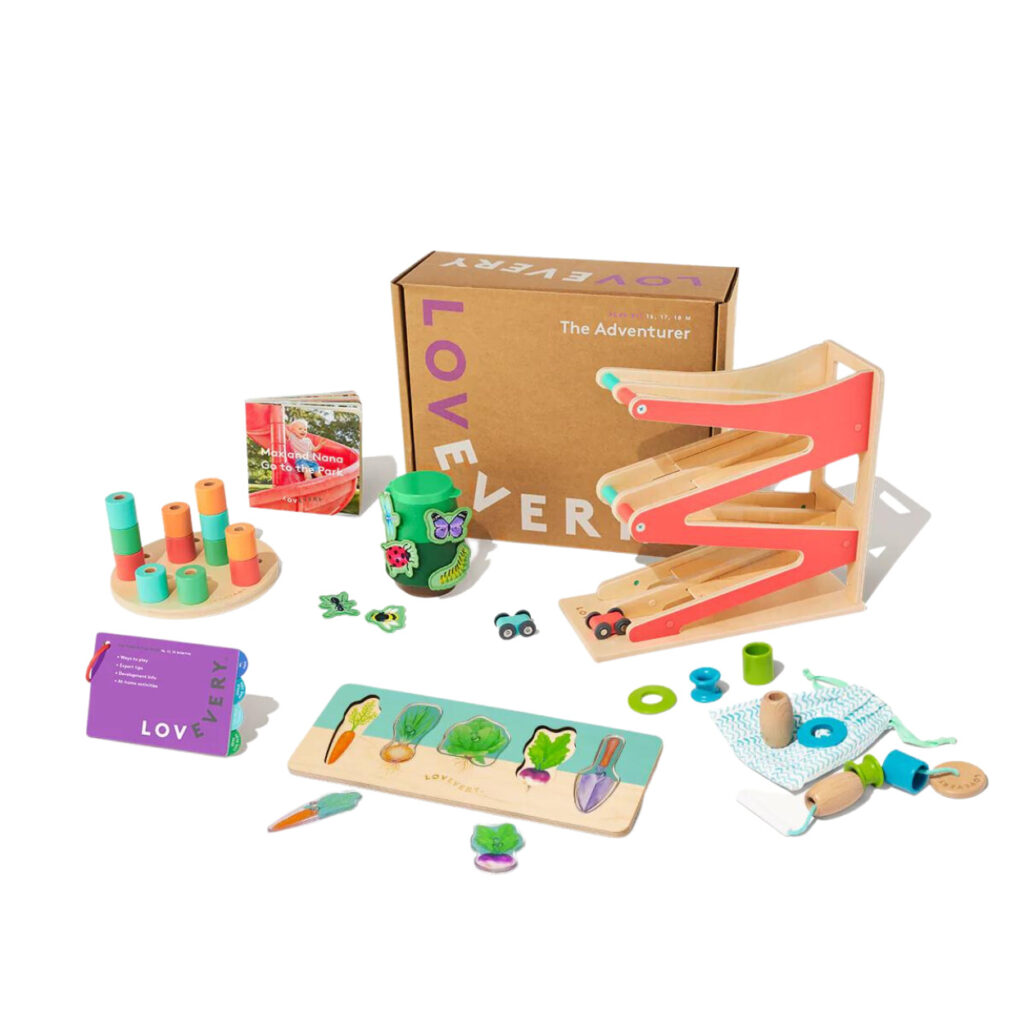 The Adventurer play kit for 16-18 month olds features four toys, a puzzle and a board book. For each toy, I list the closest Lovevery alternative I could find and some more alternative options. For toys where the alternative is pricey, I also include a budget pick.
Let's take a these Lovevery play kit alternatives!
Racing Ramp Alternatives
I was not able to a perfect alternative for this Lovevery toy. While there are lots of wood car ramps that look similar, Lovevery's is unique in having a duel track for racing two cars. To me, the side-by-side tracks are the best feature of this toy so these alternatives left something to be desired.
Another nice feature of getting the ramp in the Lovevery kit is that the size of the ramp is compatible with the beads from the threading toy, so they are able to be mixed and matched.
Closest alternative: Wooden racing ramp
This wood ramp looks the most similar to Lovevery's wooden car ramp. The little cars look the same and it has the same minimalist design. However, this ramp does not have the racing feature of Lovevery's toy which makes it subpar in my opinion.
The Lovevery toy requires the cars to be oriented in a certain position to go down the track. I was not able to verify if the alternative has this feature but it doesn't look like it.
Here is an alternative for a racing ramp, though its design is nothing like Lovevery's.
Ramp with side-by-side race feature: Lakeshore Learning's Roll & Race Ramp
This ramp comes from Lakeshore Learning and features only a single level ramp. The main feature of this toy is ramp paths that can be changed to experiment with friction and bumps. The toy is a mix of wood and plastic.
Garden Puzzle Alternatives
Lovevery's garden puzzle is a simple wood puzzle with small pegs. The goal of the puzzle is to encourage your baby's pinching skills.
Closest alternative: Wooden fruits and vegetable puzzle
This set of two fruits and vegetable puzzles is a close alternative to Lovevery's puzzle. While it's a little less artful, it includes vegetables and small wooden pegs to practice the pincer grasp.
Stacking Pegboard Alternatives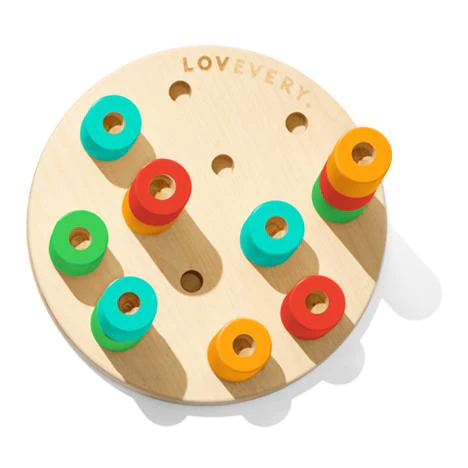 This Lovevery toy has toddlers stack smaller wooden pieces into towers. The pegs are small to help with fine motor skills. Our baby became a stacking fiend around 17 months so Lovevery's nailed the timing for this toy.
Closest alternative: Montessori wooden stacking peg board
I like a few things about this Lovevery alternative over the original. First, there are more pieces (20 vs. 12) which allows for possibilities when stacking towers. Both my kids are very focused and proud of stacking very tall towers (though the Lovevery toy when fully stacked is tall to the point where it starts to sway over). Second, there are more color pegs which allows for more practice sorting by color.
My one concern about both the Lovevery and the alternative version of this toy is keeping track of many small pieces. That is definitely an issue we've had with some of our other Lovevery toys.
Fuzzy Bug Shrub Alternatives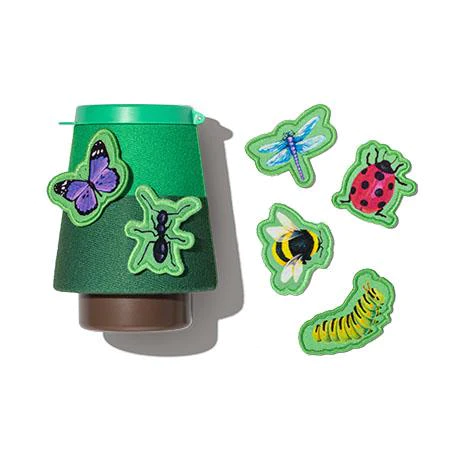 Lovevery's fuzzy bug shrub is a felt toy that you stick bug patches on with velcro. The top of the shrub opens so babies can also play with opening, closing and hiding the bugs.
I wasn't able to find a close alternative to this Lovevery toy. Lovevery is unique in having their velcro toy be on a container with a lid instead of a flat sheet. Because of that, I found a toy with velcro that seem the most useful.
Best alternative: Montessori Quiet Busy Book
What I liked about this toy with velcro play is that it is more versatile that most velcro toys. It is perfect for taking on the go for travel, car seats or at a restaurant. Plus, it's machine washable — the most important baby toy feature.
In addition to a velcro activity, the book also includes toddler favorites like buckles, snaps, and zippers.
Budget option: DIY your own
The Fuzzy Bug Shrub toy is one of the easier ones to DIY from this box. You can use any patches you had around the house (or here are some bug-themed ones), an old disinfectant wipes tube and adhesive velcro to approximate this toy.
Currently unavailable but great: Melissa and Doug Bug Jug
One of our all time favorite baby toys would make a great alternative of putting bugs in and out of a canister like the Lovevery toy. Our baby loved her bug jug but unfortunately it is not currently available. I'm still listing it here in case it becomes available again or you can find it secondhand.
Threadable Beads Alternatives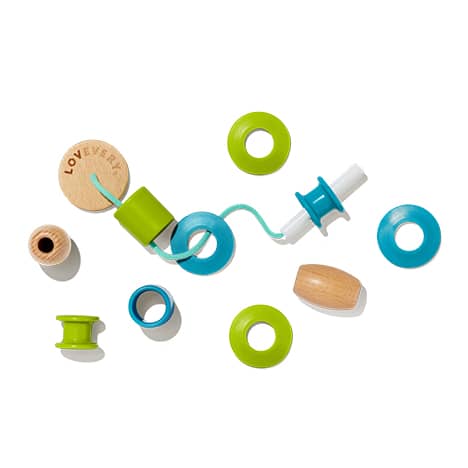 Lovevery's threading bead set are simple and wooden. The toy helps with fine motor skills. The straight-forward concept of this toy makes for some decent alternatives.
Closest alternative: Melissa and Doug lacing beads
Melissa and Doug offers an affordable alternative to Lovevery's threading beads. This set has more pieces and you have to tie a knot on the end of the shoelace but it highlights the same skill.
From our experience with other Melissa and Doug toys, the quality is lower than Lovevery's and we often have the paint on Melissa and Doug wooden toys chip.
Drawstring Bag Alternatives
The drawstring bag in the kit is designed to keep the threading bead pieces. We have a Lovevery drawstring bag and it has been a biggest hit with my kids then I expected. They play with it a lot, putting in all different toys. It is definitely not just a storage item.
Finding an individual small, cotton drawstring bag turned out to be one of the hardest alternatives to track down. I ended up finding the closest Lovevery alternatives on Etsy.
Closest alternative: 100% Cotton Drawstring Bag on Etsy
This drawstring bag on Etsy is available in multiple sizes and patterns. While they don't have a similar pattern as the Lovevery bag, there are many gender neutral options available.
Budget Option: Crown Royal Bag
I can't be the only trash kid that loved playing with Crown Royal bags when they were little. If you don't know any Crown Royal drinkers, you can find these for free on Facebook or very cheap secondhand online (I was surprised that they even sell Crown Royal bags on Amazon!).
'Max and Nana Go to the Park' Book Alternatives
Max and Nana Go to the Park is a favorite in our house. It was the first board book I got with actual pictures and our toddler had us read it on repeat.
I've found the book helpful to explain not only boo-boos but playground concepts, like not walking too close to someone swinging. So I've included alternative board books for both of those concepts (I wasn't able to find one that hit both like the Lovevery one does).
Playground-themed board book: A Day at the Playground
Getting hurt-themed board book: Boo-Boo! (Terrific Toddler Series)
Costs: Alternatives vs. Lovevery Adventurer Play Kit
If you want all the toys in a Lovevery kit, will opting for alternatives actually save you any money?
Surprisingly no.
The Adventurer play kit alternatives totaled together are slightly more expensive than the real deal. You'd spend $121.43 on Lovevery alternatives compared to $120 buying the play kit new.
I priced these items last in May 2023, and two of the items were on big sale so I'd actually expect it to be more expensive in the future.
If you want to recreate the entire set, it's actually more cost-effective to purchase the play kit from Lovevery than buying alternatives.
Resale value of Lovevery toys
A key difference between Lovevery toys and alternatives is the resale value of Lovevery toys. Simply put, you're likely to recoup a lot more money selling Lovevery toys than the alternatives on this list.
Having studied the secondhand baby market for the past four years, I am consistently amazed by the high resale prices of Lovevery items. Here are some examples from Facebook for the Adventurer play kit:

Reselling Lovevery play kits is an effective strategy for making them more budget-friendly. In a market where most toys are difficult to even give away, being able to sell used toys is a substantial advantage.
I searched the resale value of Lovevery's Adventurer Play Kit toys in multiple cities and here's are some example resale prices I found (when I found multiple prices, I list the lowest):
Full play kit: $85
Car ramp: $35 (I literally found someone selling this even WITHOUT cars for $20)
Garden puzzle: $10
Threadable beads: $20
Peg board: $15
Fuzzy bug shrub: $25
Board book: $10
Play kit guide: $5
Yes, people even sell the guide that comes with the kits.
Most of these listings were also quite far from me or required shipping, indicating limited secondhand availability. This definitely gives sellers with an advantage when reselling. You can check out my guide to selling on Facebook Marketplace for more tips on getting the best resale price for your Lovevery toys.
Purchasing Used Lovevery Play Kits
Another alternative to buying a Lovevery play kit new directly from the company is to purchase a kit or toys used. However, as previously mentioned, resale prices for these toys remain high.
The full play kits resell secondhand around $90, which is only $30 less than buying new. You'd likely make up that difference reselling the new toys after only one family used them.
For $30, to me it is worth it to not have to deal with coordinating a pick up and not being guaranteed on the quality (and usually I love getting everything secondhand, just check one of my monthly baby budgets for proof.)
What you miss out on buying Lovevery alternatives
I was total skeptical that a Lovevery play kit could be worth the price before trying one. Here are some things that pleasantly surprised me that you'd miss out on only getting alternatives:
Toys I thought would be flops for my kids were their favorites. Left to my own devices, I wouldn't have bought an alternative to every toy in the kit and would have missed out on a significant part of the experience. Surrendering control over the toy selection and trusting Lovevery's curation is one of the greatest benefits the company provides.
The Lovevery play kit is thoughtfully designed so pieces of different toys can mix and match. For example, the beads from the threading toy also fit down the car ramp. You will miss out of this nice touch with Lovevery alternatives.
The play kit guide added a lot of value and gave me activity ideas not involving the toys that I wouldn't have thought of otherwise. For example, my kids are now suepr into peeling eggs thanks to a Lovevery guide suggesting it.
Financially, you're likely to recoup a lot more money reselling Lovevery toys when you're done with them compared to alternative toys. The brand is popular with a strong reputation and that's palpable on the resale market.
Conclusion: Lovevery alternatives vs. the real deal
Overall, buying the full Lovevery Adventurer play kit is slightly cheaper than buying alternatives toys. You'd also miss out on some unique features, like the side-by-side race car design and the ability to mix and match pieces of toys within the kit.
That said, if you only want one or two toys from the Adventurer play kit, there are some decent alternatives available. The threading beads and stacking peg board had especially similar alternatives.
If you do decide to purchase the Lovevery play kit, consider using my affiliate link which doesn't cost you anything but helps support me making these guides.
Looking for more on baby gear? If you like Lovevery, you'll probably also enjoy my guide to baby items with high resale value.