Newborn vs 0-3 Months Sizes: What's the Difference?
This post may contains affiliate links. Read the full disclosure here.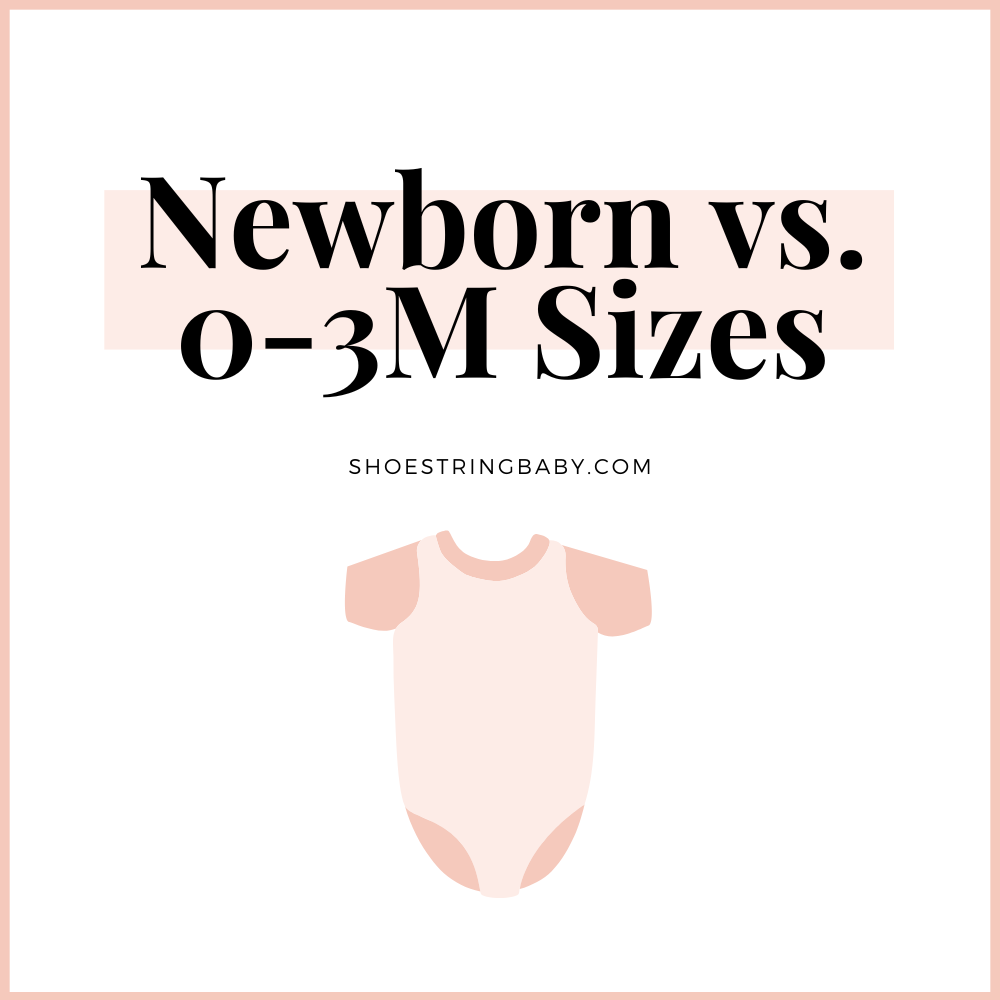 Wondering what the difference is between newborn vs. 0-3 month size clothing? This guide dives into everything you need to know about NB size and 3M size, to help you stock up on the right clothes for your baby.
Baby clothing sizes are labeled by months of age, such as 0-3 months. Roughly, 0-3 months clothes will fit an average baby while they are in that age range.
Sounds simple enough. But doesn't newborn size overlap with the 0 months part of 0-3 months?
Right? It is more confusing that it should be.
But don't worry, I'm a trained researcher who has written extensively about baby and toddler clothing size quirks (for example, here's my guide to 24m vs. 2T sizes). I put together this guide to help you quickly and easily find the right size for your newborn.
Plus, I am a mom of two and have personally faced these confusing clothing sizes myself. I pulled out our newborn and 0-3 month onesies for this article and measured them with tape measurer so I could quantify for you the size differences.
So which size should you buy for your new baby? Below you'll find an overview for both newborn and 0-3 months sizes and examples of size charts for popular baby clothing brands to help you decide.
And don't forget to check out some of my other size guides, like 1T vs. 12-month baby clothes, to plan ahead for when your baby becomes a toddler (it sneaks up on you a lot faster than you think!).
Let's take a look at some baby clothes!
Table of Contents
What are newborn (NB) size baby clothes?
Newborn sized clothes are designed to fit term babies at birth. They generally fit babies from ~6-9 lbs. and ~18-21 inches long, though the ranges and availability vary slightly between brands (source: size charts).
A size specifically labeled "newborn" is not offered at all stores. For example, Old Navy, Gap and Children's place instead have a size called "up to 7 lbs," (source: Old Navy & Children's Place size charts) This size fits a bit smaller than the newborn size you find at Carter's or Target. Many babies will skip "up to 7 lbs" all together and go right to 0-3M in those brands.
The "up to 7lbs" size would work well for smaller babies though. Brands like Carter's also offer a size before "newborn" called "preemie" that fits babies smaller than 6 lbs. and 18 inches (source: Carter's size chart).
Only some brands, like Little Sleepies or preemie-speciality stores have even smaller micro-preemie size offerings.
Newborn clothes weight
How much does a baby weigh when they're in newborn clothes? The chart below gives the weight ranges for newborn size in popular baby clothing brands.
| | | | | |
| --- | --- | --- | --- | --- |
| | Carter's | Old Navy | Cat & Jack | Children's Place |
| Newborn weight | 6-9 lbs. | < 7 lbs. | 6-8 lbs. | < 7 lbs. |
Newborn clothes weight (source: companies' size charts)
How long do babies wear newborn size?
How long a baby will wear newborn size depends on their weight at birth and how quickly they gain weight in the weeks after. Generally, babies will wear newborn size for only a few weeks.
At birth, a 50th percentile boy weighs 7.8 lbs and a girl weighs 7.5 lbs (source). These weights fall right in the middle of the weight range for newborn size. Using the CDC weight percentiles, we'd expect a 50th percentile baby to surpass the newborn size's 9 lb limit sometime between 2-weeks of life and 1-month of life.
What is 0-3 months (3m) size baby clothes?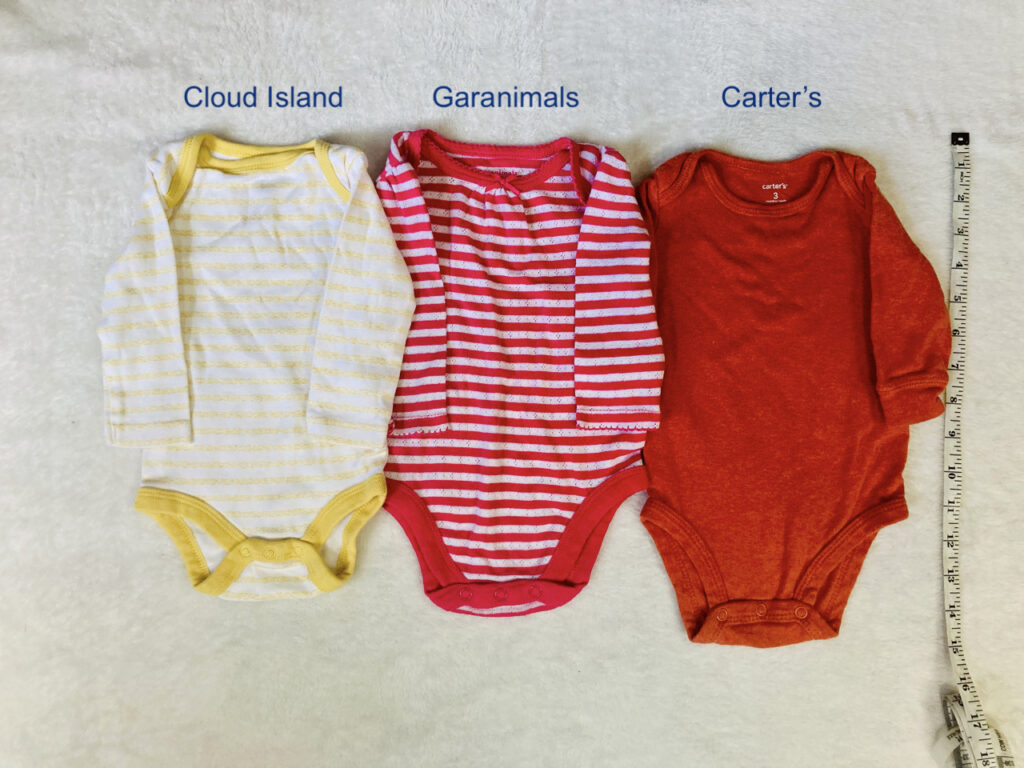 0-3 month size baby clothes are designed for babies up until 3-months of age. They fit babies between ~9-12 lbs. and ~21-24 inches, with some variation between stores (as seen in the size charts below).
Typically, babies will wear 0-3 month clothes after spending a few weeks in newborn size. However some babies may be big enough to wear 3m clothes from birth. A 90th percentile boy weighing roughly 9.2 lbs and a girl weighing 8.8 lbs would likely skip newborn sizes all together.
Remember that sizing varies between stores, as you can clearly see in the picture above of our 0-3m onesies. The Carter's 0-3m onesie is noticeably larger than the Cloud Island's and Garanimals' onesies.
0-3 month clothes weight
How much does a baby weigh when they're in 0-3 month clothes? This chart gives the weight for 0-3 month clothes in popular baby clothing brands
| | | | | |
| --- | --- | --- | --- | --- |
| | Carter's | Old Navy | Cat & Jack | Children's Place |
| 0-3 month weight | 9 – 12.5 lbs. | 7 – 12 lbs. | 9 – 12 lbs. | 7 – 14 lbs. |
0-3 month clothes weight (source: companies' size charts)
Is 0-3 months the same as 3-months (3m)?
Generally, 0-3 month size and 3-month size clothes are the same. A 3-month label indicates it fits babies up to 3-months and is the equivalent of the 0-3 month size range.
Which labeling system is used will depend on the brand of clothes. For example, Carter's uses 3M for their sizes while Old Navy and Gap use range-sizes like 0-3 months.
What's the difference between newborn vs. 0-3 months sizes?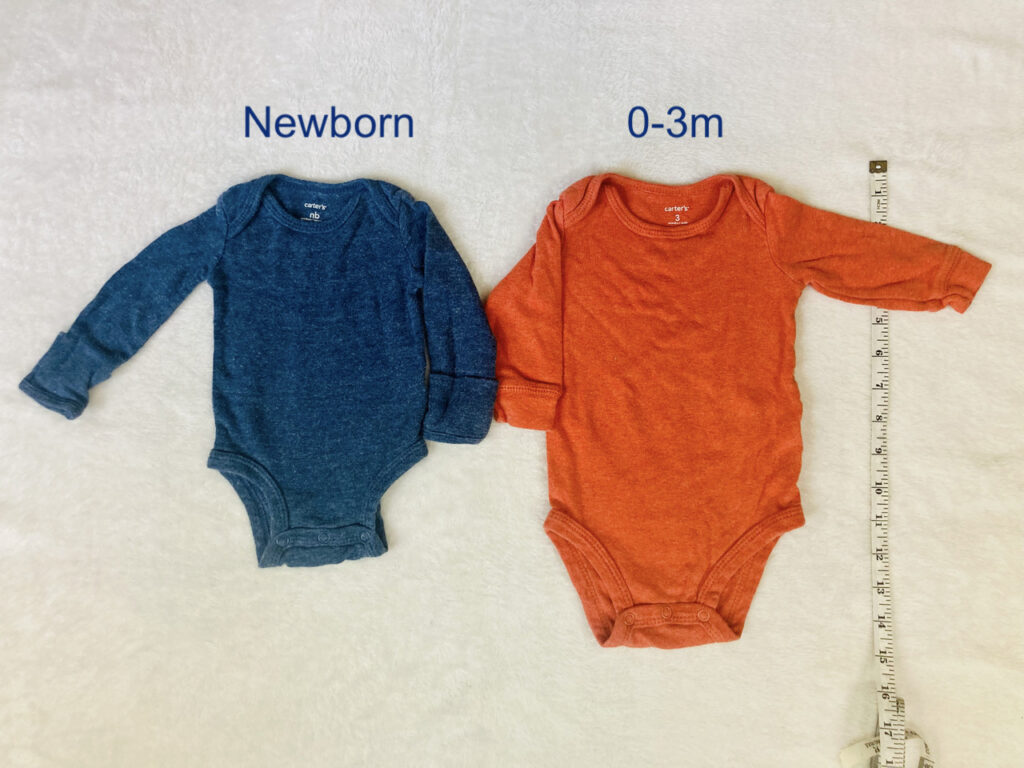 So, is 0-3 months the same as newborn? No, the biggest difference between newborn size and 0-3 months is that 0-3 month is bigger and longer.
I measured two of our Carter's onesies pictured above. The newborn size onesie was 11.5 inches in length from head hole to butt snaps. The 0-3 month size onesies was 14 inches, 2.5 inches longer than newborn size.
In generally, 0-3 month size will fit babies approximately 3 lbs. heavier and 2.5 inches longer than a newborn size item would (source: multiple store size charts listed below).
Should you pack newborn or 0-3 month size baby clothes in your hospital bag for birth?
You may be wondering what size baby clothes you should pack in your hospital bag. Most babies will fit in newborn size immediately following birth. It is not until roughly 90th percentile in size do babies hit the 9 lbs. size range for 3-month size clothes at Carter's, for example.
Ultrasound size estimates can be off by quite a bit so I personally had mostly newborn clothes in our hospital bag but also threw in a 0-3m size just in case for a going home outfit.
If you're unsure, another option is to pack newborn size clothes that are very stretchy, like bamboo pajamas, that will fit well regardless of baby size (I also personally brought a bamboo outfit to the hospital). These pajamas' claim to fame is that they are amazingly size-forgiving and fit babies so much longer than regular baby clothes.
Hospitals will also provide little shirts so it is also okay if you don't bring clothes at all. Our first went home in a little hospital shirt because they were easier to put on then the newborn outfit I brought and we were still terrified of breaking him when putting clothes on.
Newborn vs. 0-3 month size charts
Below you'll find size charts for major children's clothing brands. I hope these save you time having to search out size charts to compare.
Carter's NB vs. 3m sizes
Carter's is the biggest name in baby clothes in the United States (source).
At Carter's newborn size and 3 month size do not overlap. They fit as follows:
| | | |
| --- | --- | --- |
| | Weight | Length |
| Newborn (NB) | 6 – 9 lbs. | 18 – 21.5″ |
| 3 month (3M) | 9 – 12.5 lbs. | 21.5 – 24″ |
Source: Carter's size chart
Note: Carter's uses 3M size labeling instead of 0-3M.
Old Navy / Gab Newborn vs. 0-3 month sizes
Old Navy and Gap are also popular retailers for baby clothes. Interestingly, they do not offer a traditional newborn size like other stores.
Instead, they have a size they call "up to 7 lbs." The selection of "up to 7 lbs." size clothes is more limited vs. their 0-3 month offerings (source: Old Navy size chart & clothes listings). The items are mostly a selection of footed pajamas and onesies.
This lack of newborn size also means their 0-3 month size has a size range that starts lower, and ranges wider, than other brands. We personally found with our baby that 0-3m Old Navy pajamas fit much bigger than newborn sizes and even a little looser than Carter's 3m.
| | | |
| --- | --- | --- |
| | Weight | Length |
| Up to 7 lbs. | < 7lbs. | < 18″ |
| 0-3 month (3M) | 7 – 12 lbs. | 19 – 23″ |
Source: Old Navy size chart
Most babies will likely only need 0-3 month sizes at Old Navy or Gap, and completely skip their "up to 7 lbs." size.
Target's Cat & Jack's NB vs. 0-3 month clothes
Cat and Jack's is a house brand of baby, toddler and kids clothes at Target. A lot of our clothes are Cat & Jack hand-me-boys and I've been impressed by how well they hold up, and appreciate their cute-but-not-kitschy style.
Cat & Jack uses 0-3 month for their size labels. There is no overlap between their newborn vs. 0-3 months sizes. In fact, there's a gap between them for babies between eight and nine pounds.
| | | |
| --- | --- | --- |
| | Weight | Length |
| Newborn (NB) | 6 – 8 lbs. | 18 – 20″ |
| 0-3 month (3M) | 9 – 12 lbs. | 20.5 – 23.5″ |
Source: Cat & Jack size chart
Cat & Jack's newborn size fits smaller and has a smaller weight & length range than other brands. In Cat & Jack, I'd probably size up and skip the newborn size.
Children's Place Newborn vs. 3 month clothes
Children's Place is another budget baby clothes retailer. They offer their house Children's Place brand and the brand Gymboree.
Like Old Navy and Gap, Children's Place also has an "up to 7 lbs" size in lieu of a newborn size. Their "up to 7lbs" size fits longer though, and the height range is comparable to other brands newborn sizes
Their 0-3 month size range is even wider than Old Navy.
In fact, Children's Place 0-3 month clothes fit the biggest of all the brands reviewed here. We've personally found they fit a little wider but not necessarily longer than other brands, which may be a consideration for tall skinny babies like ours.
Conclusion: Should you buy newborn size or 0-3 month size baby clothes?
When trying to decide on whether you should buy newborn vs. 0-3 month size, it all comes down to the size of your baby at birth. Before your baby is born, I'd recommend having a few newborn sized things on hand and then buying more only if you need.
Both my babies were early so they wore newborn sizes for about a month. I was glad to already have a few newborn sized things at home when my water broke pre-term.
That said, since 0-3m is a bigger size, you'll get more wear out of those sizes so it makes sense to have more of those ready.
Since babies only wear newborn size very briefly, I'd recommend looking for used options instead of buying new from your network or through in Facebook groups. Used newborn sized baby clothes are usually in like-new condition since they are worn so briefly.
If you do decide to buy newborn sized clothes, I would look for items that are more flexible and forgiving in sizing so you can get the most wear out of it as possible.
What items will give you the most wear? First, opt for pajamas that have fold-over feet coverings instead of traditional footed pajamas (for example, pajamas with feet like these). We have absolutely loved this style and they'll extend the wear of your item since your baby can continue to wear them footless after they've outgrown the footed part.
Next, materials like bamboo are much stretchier and can fit on your baby a lot longer. My personal favorite are Bonds Wondersuits that we were gifted from an Aussie, but they are harder to get in the States. Kyte Baby and Little Sleepies are similar pajamas that are so size-forgiving that your baby will likely be able to wear them for months, or possibly years. Our kid wore the same pair of bigger-sized fold-over feet pajamas for over a year.
Finally, when it doubt on baby size clothes, sizing up is always the wise choice since babies grow so quickly. This will save you money by getting the most wear out of your items (for more money savings ideas, check out: 17 Ways to Save Money on Baby Clothes).
As long as the clothes aren't so big that they could ride up and cover their face, they're fine to wear slightly-too-big clothes — they'll fill it out way faster than you'd think.
For more on clothes shopping, check out: