10 Used Baby Items that Are Easy to Sell for Cash
This post may contains affiliate links. As an Amazon Associate, I earn from qualifying purchases. Read the full disclosure here.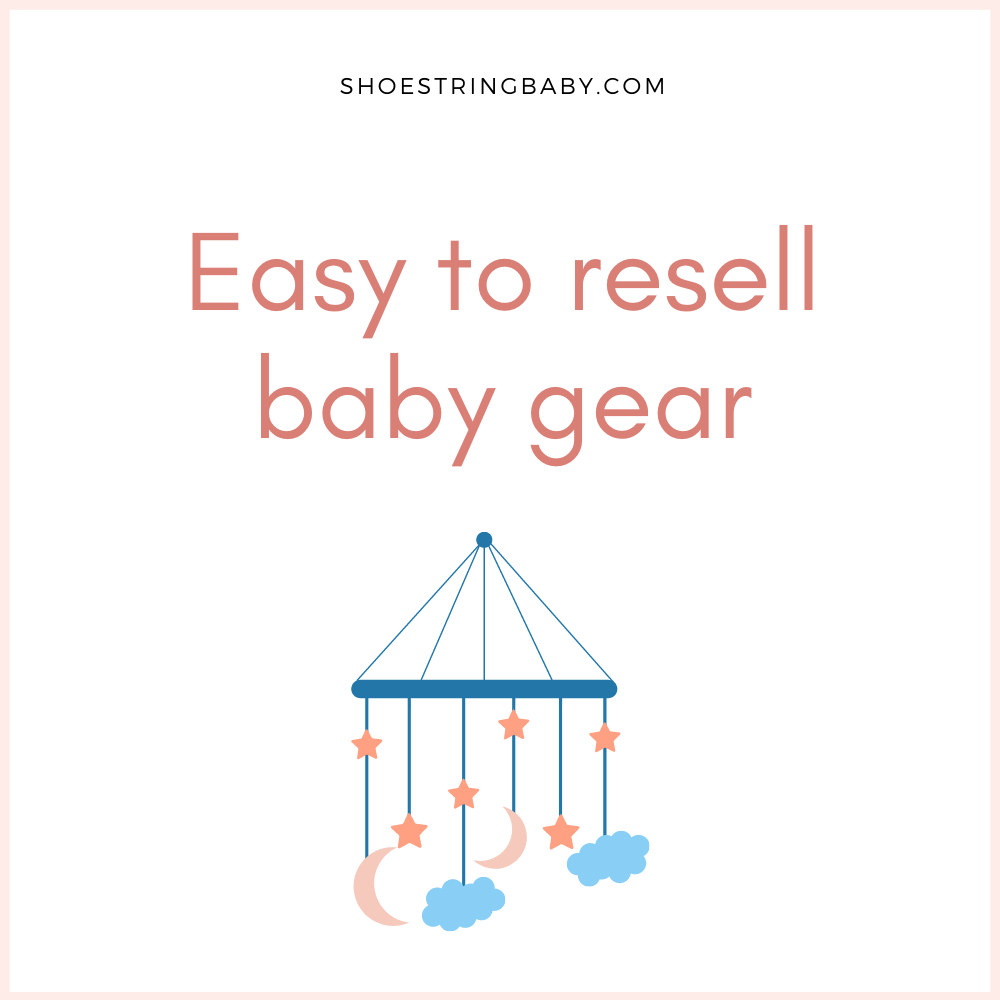 Have used baby items that you're ready to sell? Check out this list of popular baby things to sell to make some quick cash.
Since I started watching the used baby gear market a year and a half ago, I have made note of used baby items that sell very quickly. When baby stuff is hot in a resale group, it tells me a few things:
The baby item is popular with young families. This helps me identify items we'll want as our baby gets older.
It is baby gear that may not come available secondhand often, or the demand outpaces the supply.
There is less risk in buying a quick selling baby item because I'd likely have an easy time reselling it myself.
Opting for baby items that is in high resale demand is a savvy financial move. You'll be more likely to get at least some money back when you're ready to sell your baby things.
Knowing what baby items sell easily can also help you decide what baby items to purchase. For example, say I am deciding between wagons for my kid. I'd likely pick a collapsible wagon since it will be easier to resell than a standard wagon, and the high demand tells me that collapsible is a feature I too may appreciate.
Here are 10 baby things that are easy to sell used:
1. Wooden Puzzles
Why People Love Them: Puzzles are great for brain development and wooden puzzle pieces are sturdier and easier for tiny hands. Chunky wood puzzle pieces can also double as toys outside the puzzle.
It may seem counterintuitive but the simplest baby toys often have the most buzz. A plastic toys with lights and sounds? Forget it. A simple wooden puzzle? Toddler parents will go nuts. Wooden puzzles are snatched up shockingly fast when they are posted for sale.
Melissa and Doug chunky wooden puzzles are the most popular, but really any wooden puzzle will move quickly. Generally, I see wooden puzzles baby toys selling for about a third to a half of their original cost, which is a decent return, especially considering how hard babies are on toys. Wooden puzzle accessories, like a puzzle organizing rack, are also hot commodities on the resale market (though I personally prefer to store our puzzles in mesh bags).
2. Learning Towers / Kitchen Helpers
Why People Love Them: Learning towers or kitchen helpers are platforms that elevate kids to the height of kitchen counters so they can get in on the action. They let kids feel involved and let parents actually make dinner in peace for once – win win.
Learning towers or kitchen helper are a step up (ha!) from step stools, with rails to reduce the risk of falls. They elevate kids to the level of the action in the kitchen, keeping them engaged and less likely to have a meltdown. Kitchen helpers are Montessori-inspired, which parents love.
I see people post 'in search of' requests for secondhand kitchen helpers all the time. Used learning towers resell easily for a number of reasons:
New learning towers are an investment and making a DIY one is labor-intensive
Kids loooove them
A kid will use the same learning tower for many years so there are less available for resale
If you are considering a learning tower with future resale in mind, consider a foldable one like this model or this one by Martha Stewart. The biggest complaint people have about learning towers in how bulky and difficult to store they are. Foldable learning towers are less common and even more of a hot commodity. The added space-saving feature will command a higher resale price.
3. Collapsible Wagons
Why People Love Them: Folding wagons are a versatile stroller-alternative that can carry multiple kids plus gear. Of the wagons, collapsible wagons are most sought out for their easy storage and ability to fit in a car trunk.
Strollers aren't the only option for wheeling around your baby. If you need to fit a lot of stuff and kids, a wagon is the way to go. Fancy stroller wagons include safety harnesses for younger children and are great for toddlers who think they're too old for strollers but also don't want to walk.
Foldable wagons are especially desired because they easily fit in cars and storage. High end brands like the Keenz stroller wagon can be pushed or pulled, and include amenities like canopies and cup holders. There is even a folding wagon that will fit four kids with harnesses. If you're looking for a basic option, the classic Radio Flyer one has a folding wagon with a canopy.
4. Balance Bikes
Why People Love Them: Balance bikes are great for teaching toddlers the balance and mechanics of riding a bike.
Goodbye training wheels, hello balance bikes. Balance bikes are the new go-to for teaching kids how to ride a bike, starting as young as 18 months old. They are quite simply bikes without pedals on them.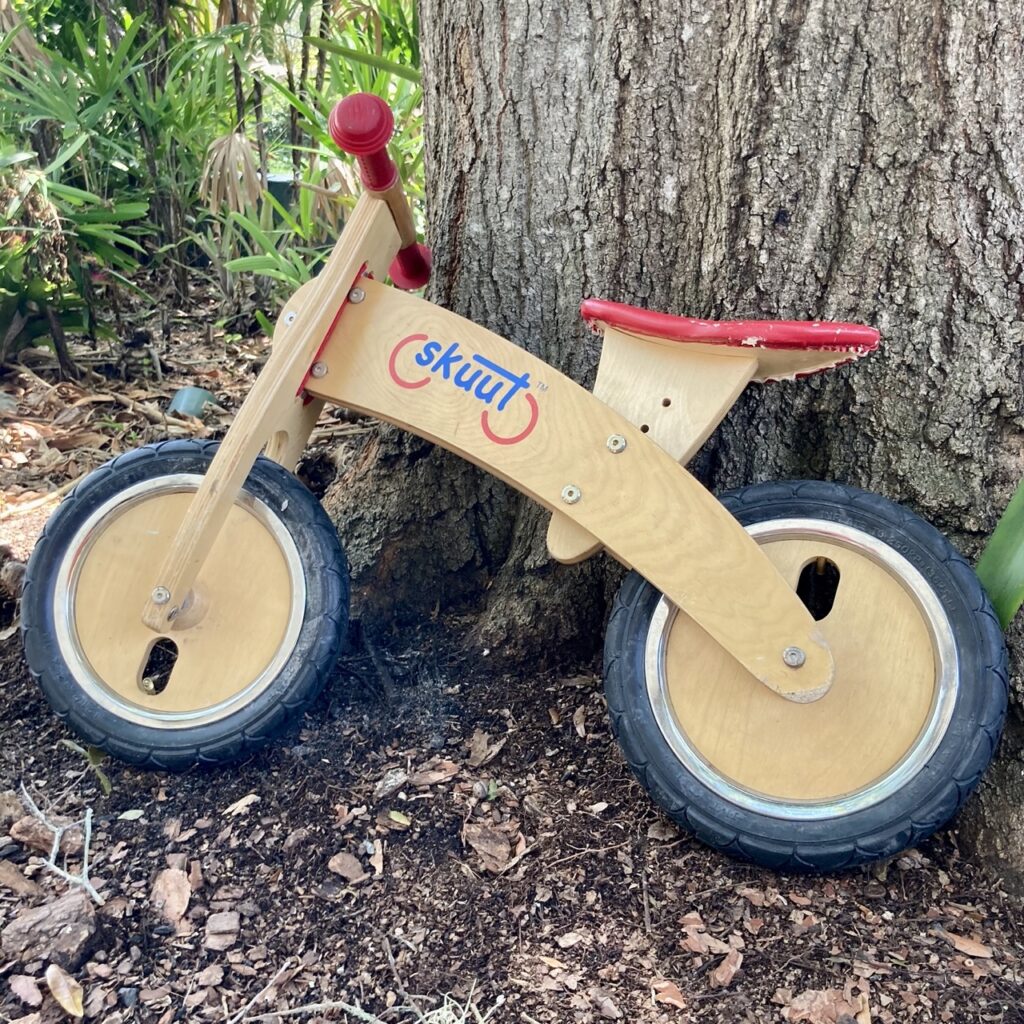 As opposed to training wheels, balance bikes develop balance and steer coordination before adding back the pedaling.
For being so small, balance bikes are an investment, especially considering their limited use. Strider 12 is a fan favorite. With the cost and short time used, there is a good resale market for balance bikes. If you'd like to get more use out of your balance bike before you resell it, there are a few models, like the Strider 14x model, which can convert into regular pedal bikes.
5. Water Tables (especially in summer)
Why People Love Them: Water tables are a great source of entertainment for babies and young children. Fill them with water, toss in a couple cups and let your kid go to town. They're easier than a kiddie pool and are less of a drowning risk so you can multitask while your kid plays.
While water tables seem simple – a table that holds water – they are a versatile toy that families love. Come April each year, posts start popping up looking for water tables and the ones available get snatched up quickly.
Related Post: At-Home Water Activities for Babies and Toddlers
There are so many options for play with a water table that they can easily keep a child engaged again and again. You can float ice in them, add food dye, use new cups, or add bubbles to change up the play. In colder months, they can be converted into sand tables or sensory tables.
There is one water table that folds down for easy storage, which seems genius. Anything foldable and stores well always does even better on the resale market.
6. Bike Trailer
Why People Love Them: For active families, bike trailers make it easy to bring kids along for a bike ride. They can carry multiple children and aren't susceptible to kids' movement like a ride-on seat. Bonus – many of them double as strollers!
Bike trailers are little buggies you attach to the back of your bike to tug along your kids. Many of them also convert to strollers so you get more bang for your buck.
They range in price from the mid-hundred to over a thousand dollars. Popular models include Thule (basic model / upgrade model), Burly (basic model / upgrade model) and Hamax (upgrade model). We have a secondhand Burly and it seems like new even though it's already seen heavy use (pictured above).
Unlike more common baby items like strollers, there are far fewer bike trailers on the secondhand market. This keeps demand high for those with a used bike trailer to sell.
A safety note: bike trailers have a low profile. While this makes them better in terms of fall risk, it means they are not easily visible to drivers. Consumer Reports recommend they not be used on active roads.
7. Pop-up Portable High Chair
Why People Love Them: Pop-up portable high chairs fold down small and are easy to take with you on-the-go. Ours has been a total game changer for picnic-style eating. Plus, it will momentarily keep your baby contained!
Pop-up portable high chairs are essentially mini-camping chairs with a tray that can be used alone or strapped to an actual chair. They are light and easy to carry, perfect for park picnics or beach days.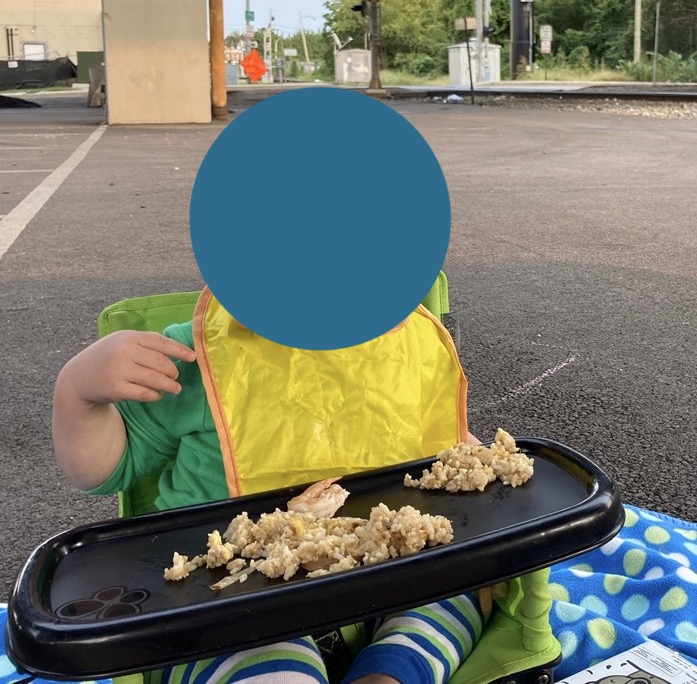 I got our Summer Infant portable chair secondhand in a local parents group, and within minutes about six other people also expressed interest. It has been perfect for pandemic times when everything is outdoors and it is soooo nice to be able to eat without holding my baby. If we had a dining room table, we'd strap it to a chair and use it as our primary high chair to save space.
Related Post: Baby Gear for Small Spaces
I like our Summer Infant pop-n-sit chair but if I was buying new, I'd opt for the hiccapop Omniboost travel seat instead. The hiccapop chair is very similar, with the added bonus of being machine-washable.
8. Wooden toys
Why People Love Them: Simple wooden toys are said to be good for kids development and creative play. They are also more durable and environmentally friendly than many other toys.
Selling baby toys is not easy, but much like wooden puzzles, wood toys resell better than most other toys on the secondhand baby market. Parents like the simplicity of a wooden toy, which are said to help with development and imaginative play.
Since wooden toys are durable, they tend to be in decent shape for resale even after multiple kids.
Melissa and Doug wood toys are resold almost immediately in our local parents groups. It took me multiple attempts to get some secondhand Melissa & Doug cars and trucks and I haven't been fast enough to score their wood construction set or play food.
People also like Hape brand since they are made from sustainably certified wood. For example, this one Hape toy manages to include balls, pounding, and music all in one wooden toy. We are already eyeing their wooden marble run kits (budget option / upgrade option) for when our kid is older.
9. Hiking Baby Carrier Backpacks
Why People Love Them: Hiking baby carriers are more supportive than your standard baby carrier. They're great for families that like to get outside for longer stretches or with heavier toddlers.
Hiking baby-carrier backpacks are heavy duty baby carriers designed with support and comfort in mind. They are formidable compared to your everyday soft carrier like the Ergo 360, meant for longer walks and heavier kids.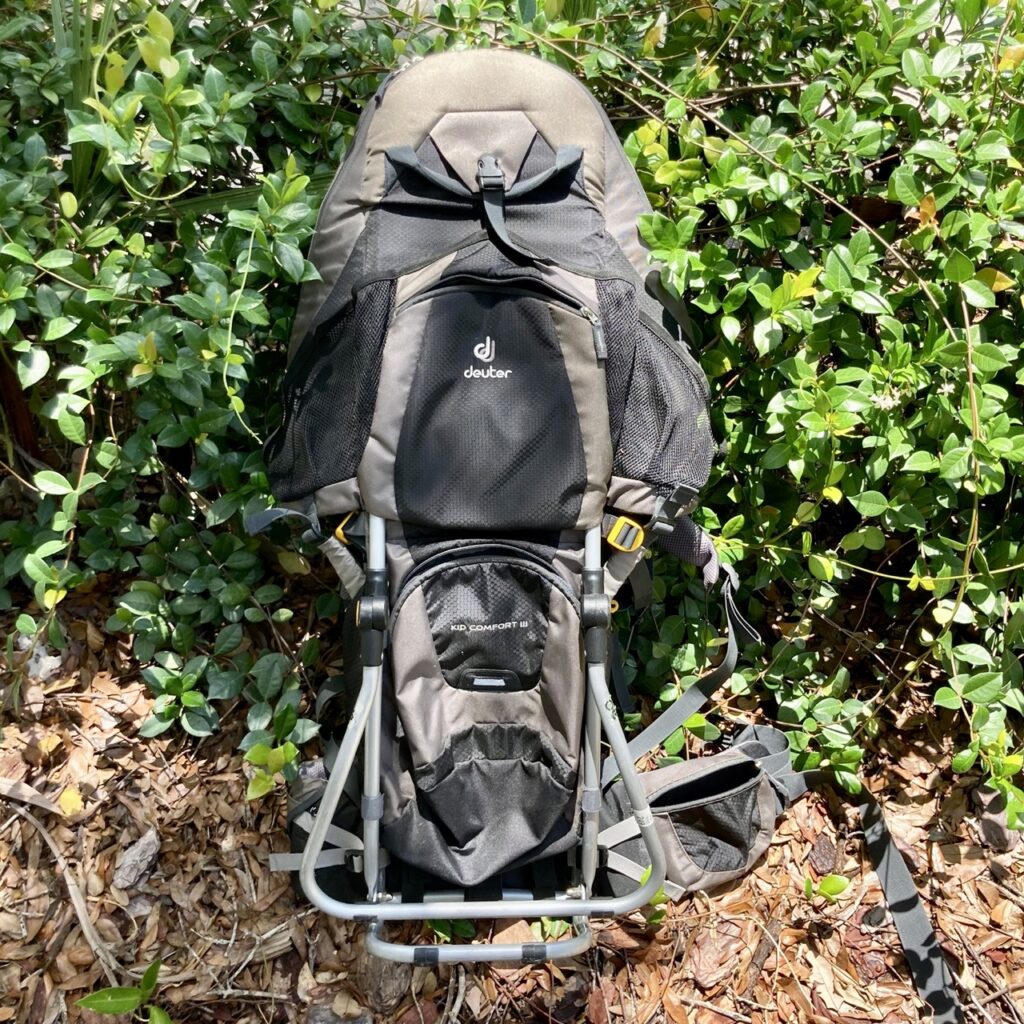 Osprey and Deuter both make well-reviewed baby carriers. We personally have a secondhand Deuter and love it. We even use it when cooking in the kitchen sometimes. It is more comfortable for extended periods and keeps tiny hands away from hot pans and knives.
Hiking baby carrier backpacks are great to get secondhand because they are not used every day, are durable, and are an investment new. However, hiking carriers are a less common baby item so there are less of them available used. This means there is more demand if you go to resell your hiking baby carrier.
10. Play Kitchens
Why People Love Them: Play kitchens facilitate open-ended, creative play that give parents some much-needed solo time. They allow kids to experience the kitchen without fears of burns, and emulate life skills for both genders.
I've been surprised by the popularity of play kitchens on resale. Mostly because they are bulky and take up a lot of space. Nonetheless, used play kitchens get bought up quickly on resale and people frequently post in search of them.
I think there are a couple reasons for this. Play kitchens promote imaginative play for both genders and parents report that kids will play with them independently (giving you some coveted solo time). Play kitchens are also an investment when bought new. They are durable so a secondhand play kitchen will get the job done.
If you are looking at play kitchens with future resale in mind, consider a play kitchen that is either wooden or foldable, and in a neutral color. Foldable kitchens are less common and appeal to those worried about space.
Wooden play kitchens, like Hape's play kitchen or Melissa & Doug's one, are more durable and wood toys appeal to a lot of families. A neutral color will help it blend into more family homes and work for both boy and girl children.
Bonus: Tripp Trapp High Chairs
Why People Love Them: Tripp Trapp high chairs put babies in the best posture for eating, pull straight up to the table and last for years.
Tripp Trapp high chairs also made my list of 10 Baby Items with High Resale Value. The demand for Tripp Trapp is so much higher than the secondhand supply that they earned a place on this list too.
People love their Tripp Trapps and keep them for a very long time. They rarely pop up used so they resell fast and retain their value well. The Keerakoo chair also is an easy resell given the limited supply and the similarity to the popular Tripp Trapp.
The one thing about a Tripp Trapp is that it is harder to clean but the benefits seem to far outweigh this inconvenience. When I was looking for tips to keep our baby from trying to climb out of her high chair, pretty much all the comments were "get a Tripp Trapp." It really is the exemplar of a baby item that is easy to resell for cash.
---
Ready to start reselling your baby gear? Check out 7 tips for selling on Facebook Marketplace.
---