5T vs. 5 vs. XS Size Clothing: Are They the Same?
This post may contains affiliate links. Read the full disclosure here.
Confused about the difference between the kids clothing sizes 5T, 5 and XS? Then this guide to 5T/5 sizes is for you.
I'm a trained researcher who has written extensively about baby and toddler clothing size quirks.
I do these deep-dives sizing issues to save you time and help you more easily find the right size for your kid.
I wrote this guide after I personally hit these sizing stumbling block.
I didn't realize that after 3T, sizing gets more complicated since many retailers start to carry both a toddler size and regular size without clearly differentiating between them.
It ultimately led me to write up a similar post about 4T vs. 4 kids sizes after hitting this issue with our toddler.
Now he's soon to be moving up in size and I have had to figure out again the difference between 5T vs. 5.
But once you hit size 5, there's the added wrinkle of a XS size too! Needless to say, I miss the simplicity of 6-month, 9-month, 12-month sizing.
So if you're in the same boat, below you'll find a breakdown of 5T vs. 5 vs. XS sizes and a rundown of their differences.
To save you time searching for size charts at every store, I also include some example sizings for 5T, 5 and XS at popular children's stores.
Let's dive in!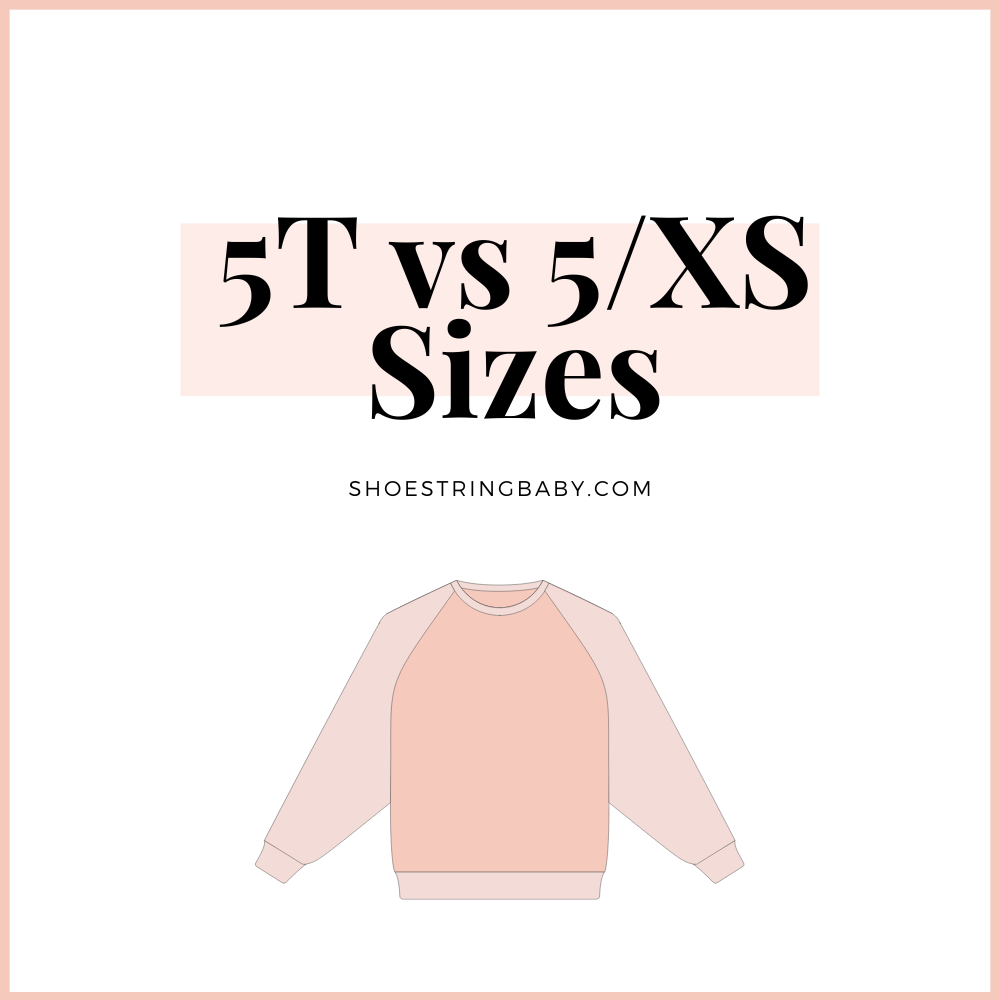 What is 5T Size?
So what size is 5T? 5T is a toddler clothing size that comes after 4T. 5T is theoretically designed to fit an average 5-year old.
At most retailers, 5T clothes are the biggest toddler-sized option available, with the exception of Old Navy's and Gap's 6T (source: Old Navy size chart).
As a toddler size, 5T bottoms take into account the possibility of diapers with extra space and adjustable waistbands.
Toddler sized clothing are also often designed for easy dressing since toddlers are learning to dress themselves. They are less likely to have buttons and zippers.
What is 5 Size?
Size 5 items are considered a "big kid" clothes. It also is sized with the average 5-year old in mind, though at most retailers it will run slightly larger and longer than 5T (source: multiple store size charts).
The main difference between size 5 and 5T is the assumption that children in size 5 clothes are potty trained.
That means the cut of clothes are leaner since diaper space isn't needed. You'll also see more buttons, zippers, and non-adjustable waistbands.
What is XS Size?
XS size is also considered a "big kid" clothing size. At some stores, XS-L sizing is more often used for tops but others will use it for both tops and bottoms.
So what is the difference between size 5 vs. XS? Honestly, there is not much difference between XS and size 5 at most stores (source: multiple store size charts).
At some stores, like Old Navy, they jump right to XS-XL sizing for some items so XS is the 5 size.
Like size 5, XS clothes differ from 5T clothes because it is designed for kids out of diapers.
Again, the clothes will be leaner than 5T and not have accommodations for diaper space or kids learning to dress themselves.
How Are 5T and 5 and XS Sizes Different?
Size 5T differs from sizes 5 and XS since they are designed to accommodate a child still in diapers. Regular size 5 and XS are often leaner and longer vs. 5T's wider cuts.
Generally, regular size 5 and XS are designed for kids who are thinning out and becoming lanky little kids instead of pudgy toddlers.
5T clothes tend to be wider to provide that space for diapers. Sleeves and in-seams may be slightly longer in size 5 and XS.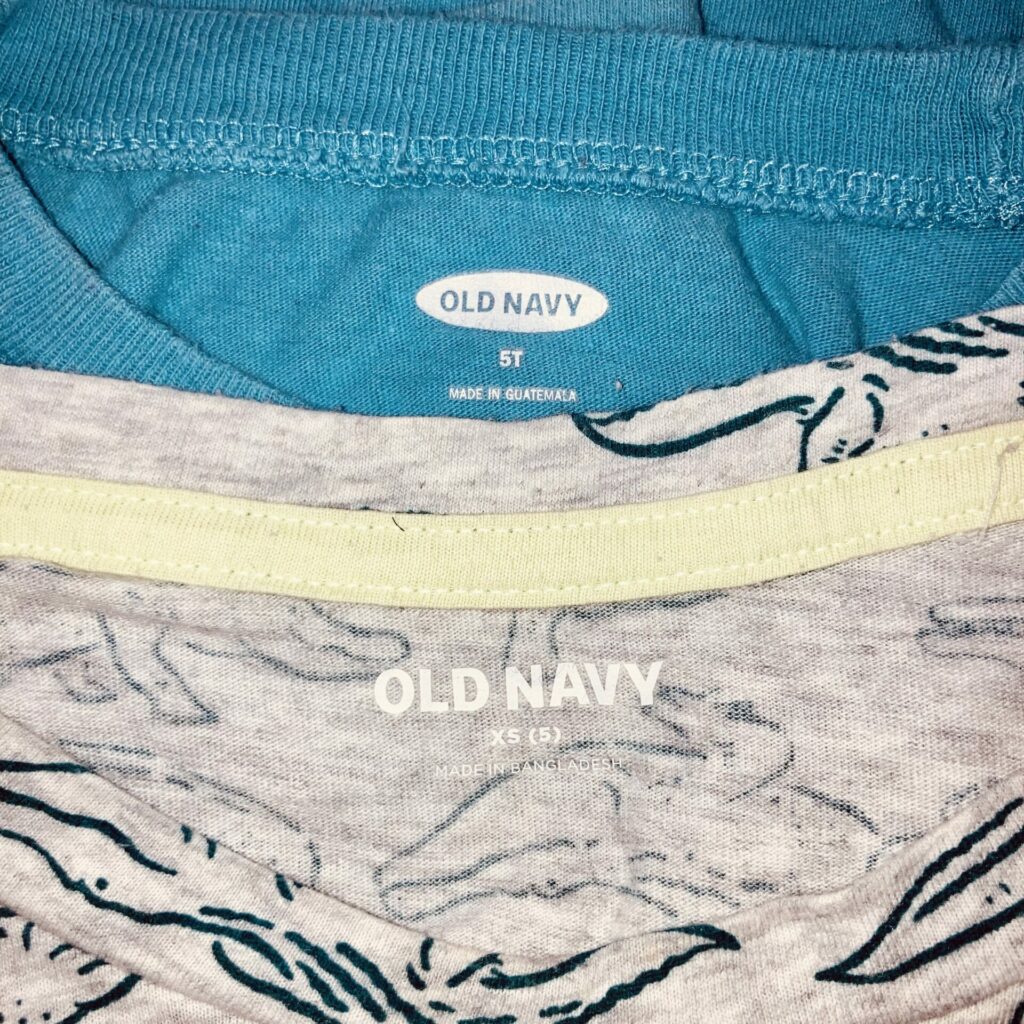 I've also noticed that the types of pants available differ between 5T and size 5. In 5T you'll find more "soft pants" like cotton joggers and leggings than you will in size 5 (source: my personal experience shopping for my kid).
Once you hit size 5, pants lean heavily towards "real pants" like jeans, khakis and cargos.
5T clothes are also more likely to have waistbands that are easy to pull up or get over diapers compared to 5/XS sizes.
You'll find fewer buttons and zippers on 5T clothes than size 5/XS since they're supposed to be easier for a toddler to dress themselves.
Size 5 and XS are essentially the same sizes. Both are designed for older kids out of diapers. Some stores use XS size and size 5 interchangeably.
Since sizing measurements do vary by store, I've included the size charts from common kids retailers below. These numbers hopefully help clarify the difference (or lack there of) between the 5T/5/XS sizes.
Overall though, most kids are likely to fit in both both 5T and size 5/XS at the same time because the differences are not huge.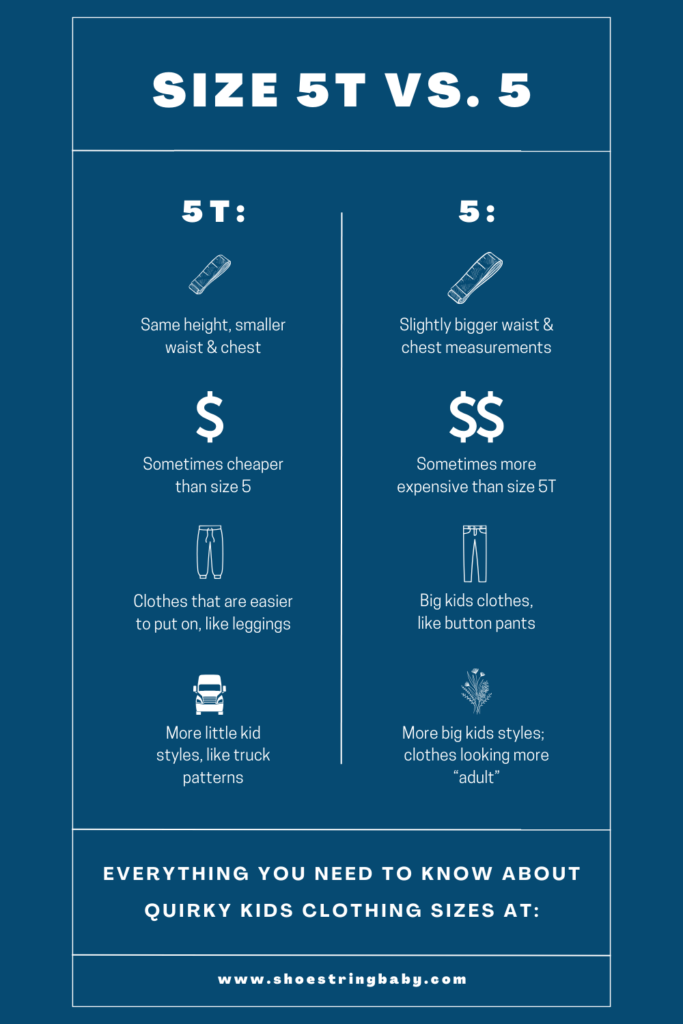 5 and 5T Size Chart Examples
To get a better idea of the differences between sizes 5 and 5T, let's take a look at some 5T size charts from the big children's clothing retailers.
These size charts help exemplify how 5 and 5T are the same and different.
Carter's 5T vs 5 Size Differences
Carter's is maybe the most well-known clothing retailer for babies and toddlers in U.S. They were estimated to have cornered a quarter of the baby clothes market in 2019 (source).
Carter's toddler sizes go up to 5T so there is overlap between 5T/5 sizes. They do not have an XS size. Here is the 5T/5 sizes comparison at Carter's:
| | | |
| --- | --- | --- |
| Size | Height | Weight |
| 5T | 41.5 – 44″ | 37.5 – 42 lbs |
| 5 | 42.5 – 45″ | 38.5 – 43lb |
| 4-5 | 42.5 – 45″ | 38.5 – 43 lbs |
Source: Carter's size chart
At Carter's 5T has slightly smaller measurements than the 5 size, so you'd expect to get a little more wear from size 5 items.
Confusingly, Carter's also lists a size called 4-5 on its size chart. I was unsuccessful in finding anything in that size actually for sale on their website so I am not sure how much that sizing is used.
Old Navy & Gap 5T vs. XS
Old Navy and Gap offer toddler sizes that run from 2T to 6T (the only retailer I've seen with a 6T option).
They list their big kid sizes on some items as "XS (5)," "S (6)," etc. On other items, they only use the XS, S, M and L sizing system.
Below are the Old Navy & Gap's 5T vs. XS (5) sizing comparison. Note that they don't give weight ranges for their big kid sizes.
What I like about Old Navy offering toddler sizes up to 6T is that you can use this to save money, as toddler clothes are often cheaper than big kids clothing.
For example, identical "family pajamas" in toddler sizes were $10 while the kids' XS was $29.99 when I was writing this article in Oct. 2022.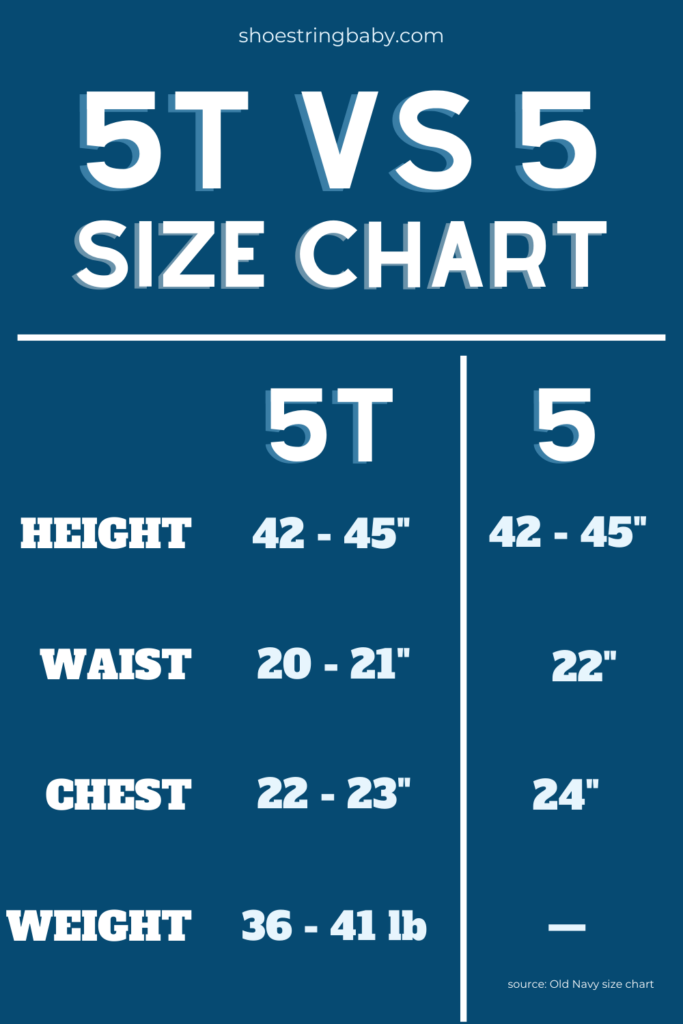 Cat & Jack's 5T & 5 Comparison
You'll find Cat & Jack clothes at Target's popular house. It is a popular brand of baby and children's apparel because it is durable and fashionable.
I've personally been impressed at how well our Cat & Jack clothes have lasted against heavy use, and appreciate their more neutral offerings.
Cat & Jack toddler sizes ranges from 2T to 5T and their children's sizes run from 4 to 18. Thus, their sizes overlap at 5T and 5.
On Target's size chart, they show XS size as overlapping with both 4T/4 and 5T/5 sizes.
Here is a comparison of Cat & Jack's 5T vs. 5 vs. XS size measurements:
| | | | | | |
| --- | --- | --- | --- | --- | --- |
| Size | Height | Weight | Chest | Waist | Hip |
| 5T | 43.5 – 44.5″ | 37.5-42 lbs | 24″ | 22″ | 24″ |
| 5 | 43-45″ | 40-44 lbs | 24″ | 22″ | 24″ |
| XS | 40-45″ | 33-44 lbs | 23-24″ | 22″ | 23-24″ |
Source: Cat & Jack size chart
Interestingly, when you look at the toddler size chart it labels 5T as 5T/4 instead of 5T/5. Their size 4 ranges from 40-42″, which doesn't overlap with 5T.
Children's Place and Gymboree 5T vs. 5
Children's Place owns its namesake brand and the brand Gymboree. They are popular for having low price points for baby clothes.
We've received some Children's Place hand-me-down onesies that are surprisingly very soft.
Children's Place 5T and 5 sizes fit the same size child based on their size chart measurements.
At Children's Place, their XS size is equivalent to size 4. Their size 5 is equivalent to a small size instead.
| | | | | | |
| --- | --- | --- | --- | --- | --- |
| Size | Height | Weight | Chest | Waist | In-Seam |
| 5T | 41 – 44″ | 39 – 45 lbs | 22 – 23″ | 22 – 22.5″ | 17 – 18.75″ |
| 5 (S) | 41 – 44″ | 39 – 45 lbs | 22 – 23″ | 22 – 22.5″ | 17 – 18.75″ |
Source: Children's Place size chart
Note: Children's Place was one of the manufacturers involved in a tragic factory building collapse in Dhaka in 2013. Their website details their responsible sourcing policies but I was not able to find anything specifically on changes made since the tragedy.
Frequently Asked Questions
Finally, let's take a look at some frequently asked questions about these somewhat confusing clothing sizes.
What size does a 5 year old wear?
An average 5 year old likely wears sizes 5T and/or sizes 5 and XS. The average five year old weighs approximately 39-41 lbs and is 42-43 inches tall (source). These averages fall within the measurements for 5T & 5/XS size charts.
Smaller 5 year olds may still wear size 4T or size 4, while taller 5 year olds may graduate to size 6 or size small.
Is 5T the same as size 5?
In general, 5T is not the exact same size as size 5. 5T is designed for toddlers so they accommodate diapers and more simple dressing than size 5.
At most stores, size 5 is a little bigger than 5T (source: multiple size charts). However, some retailers like Children's Place use the same measurements for size 5T and 5 (source).
Is 5T the same as size 4/5?
Size 5T is usually slightly smaller than size 4/5. It fits kids an inch longer and a pound heavier than size 5T, according to Carter's size chart.
Size 4-5 is an uncommon size found at Carter's that you likely won't see at other retailers. Carter's describes it as a dual size that is "sized generously, with room to grow" (source). Its size chart measurements are equivalent to size 5.
Is XS the same as 5T?
XS is not the same as 5T. XS size is considered a "big kids" size and is designed for kids out of diapers. The clothes are often longer and leaner than toddler sized clothing.
5T size, on the other hand, is designed to accommodate diapers and kids learning to dress themselves.
What sizes are equivalent to size 5T?
If your child fits in size 5T, they likely are also able to wear size 5 and size XS. While these sizes are not exact equivalents at all stores, their size ranges are close enough to be worn interchangeably.
At some retailers, like Children's Place, 5T and 5 sizes are equivalent based on their size chart measurements.
What comes after size 5T?
After size 5T, your child will likely move into "big kid" size clothes. This includes size 6 and size small, which are often equivalent sizes.
Old Navy and Gap are unique in offering a 6T size. At these stores, the next size after 5T is 6T.
Conclusion: Are 5T and 5 and XS the Same Sizes?
5T and 5 sizes have slight differences — 5T accommodates diapers and size 5 often fits slightly bigger and leaner. 5T size clothes are also often simpler for children's learning to dress themselves.
XS size is essentially the same as size 5 at most stores.
Even with the differences, overall, your child will likely be able to wear sizes 5T, 5 and XS interchangeably. At most stores, the size ranges for these sizes are very close, if not exactly the same.
If your child is still in diapers or learning how to get dressed, 5T may be preferable.
For tall and thin kids, size 5 or XS may work slightly better.
You also may get a little more wear time from size 5/XS garments since it is slightly longer/bigger at most stores.
Finally, it is always a good idea to size up when in doubt. Sizing up helps you get more wear time out of clothes and the most bang for your buck.
For more ideas how to save money on clothes, check out 17 Ways to Save Money on Kids Clothes.
Read More
Planning ahead? Check out my guide to 6X vs. 6 vs. 6T sizes.