Pampers vs. Mama Bear Diapers Review (With Real Testing!)
This post may contains affiliate links. As an Amazon Associate, I earn from qualifying purchases. Read the full disclosure here.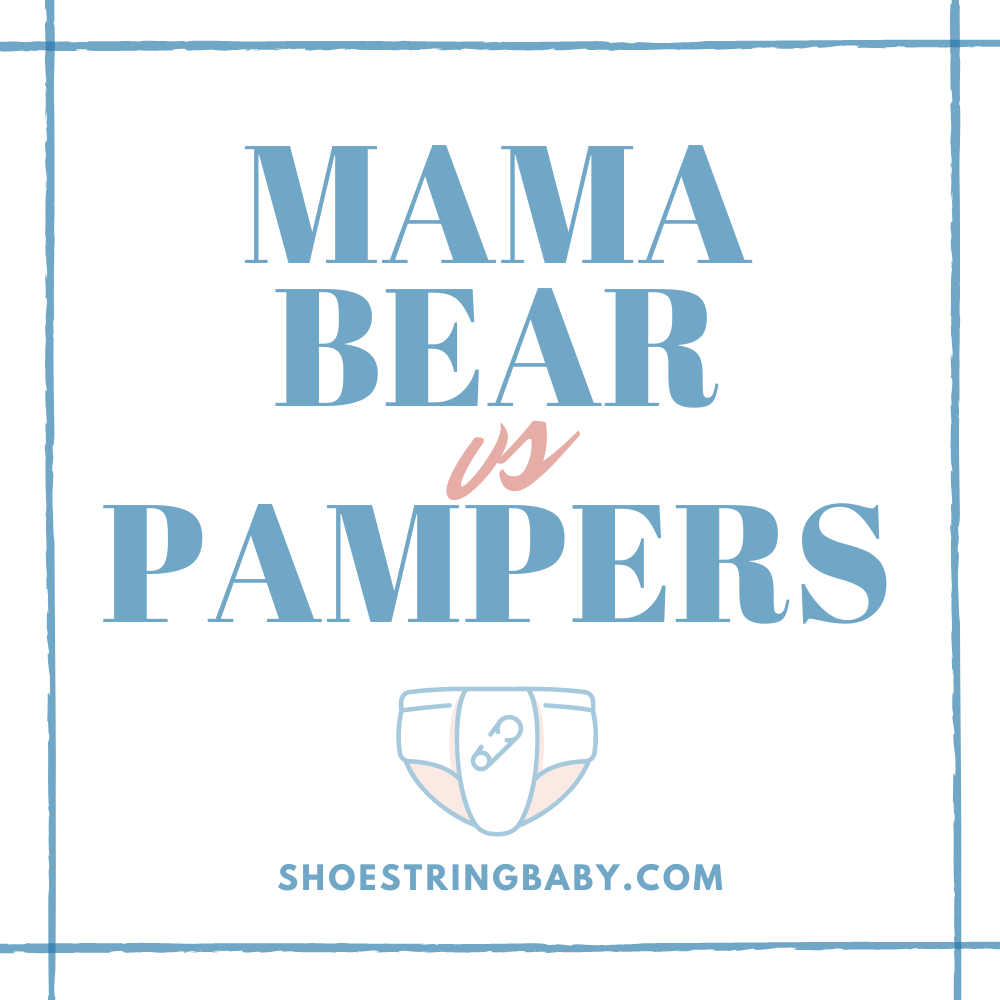 Trying to choose between Pampers Swaddlers and Amazon's Mama Bear Gentle Touch diapers? Unsure if Pampers are worth the added expense compared to Amazon's Mama Bear house brand? We tested out both diapers on our baby to find out.
Then this is the post for you. This very in-depth comparison of Pampers Swaddlers vs. Mama Bear diapers goes into absorbency, size, comfort, fit, ingredients and cost.
Most importantly, each diaper was put through rigorous absorbency testing that I documented and made into gif's so you can personally see how well these diapers keep baby butts dry.
Plus, the diapers were field tested on an actual baby and put to multiple overnight tests.
Let's dive in.
And if you're looking for other diapers comparisons, don't forget to check out:
[NOTE: References to cost comparisons throughout this article refer to costs as of December 2022]
Size
The diapers tested for this write up were size 2, which have a weight range of 12-18 lb. This write up specifically tested Pampers' Swaddlers model and Mama Bear's Gentle Touch diapers, though for brevity I refer to them as Pampers vs. Mama Bear throughout.
Mama Bear and Pampers Swaddlers are pretty similarly sized. The chart below gives the size measurements of each diaper:
| | | |
| --- | --- | --- |
| | Pampers Swaddlers | Mama Bear |
| Height | 7.25″ front, 8″ back | 7.5″ |
| Width | 5″ | 4.25″ |
| Between Legs | 3.5″ | 3.5″ |
| Front waistband | 10.5″ | 10″ |
| Velcro Strip | 4.5″ | 4.5″ |
| Back waistband | 11.5″ | 9.5″ |
| Back waistband stretched | 13.5″ | 13″ |
For sizing options, both Mama Bears and Pampers diapers are available in newborn size (up to 10 lb.) to size 7 (above 41 lb.).
Pampers also offers preemie sizes -3, -2, and -1. We had a preemie so I appreciate this inclusiveness on sizes. That said, I understand why Mama Bear may not enter the preemie size market if they aren't selling to hospitals.
WINNER: TIE — Both diapers offer the same sizing options.
Absorbency
Absorption capacity was tested by poured 50 mL of colored liquid onto the diapers seven times, for a total of 350 mL. Absorption was photo documented every 5 seconds after each pour.
Absorption efficiency was tested 25 seconds after each pour with a paper towel to check for remaining wetness. Diapers were then allowed to rest for at least 10 minutes before a final dryness test.
Testing volumes were selected to test the outer limits of the diapers absorption. 50 mL pours were based on this study finding an average infant bladder capacity of 48.9 mL. 350 mL is slightly shy of an estimated daily urine volume of 393.6 mL/day for an average 9-month baby girl's (assuming 2 mL/kg/h and 50th percentile weight of 8.2 kg, source & source).
Mama Bear Diaper Absorbency Testing
Mama Bear: Mama Bear diapers appeared to absorb the liquid quickly but felt decidedly wet when tested with a paper towel, even at only 50 mL. We actually trialed four different diaper brands during this testing run and Mama Bear was by far the worst in terms of wetness on the paper towel after 25 seconds. It was significantly wet after every pour.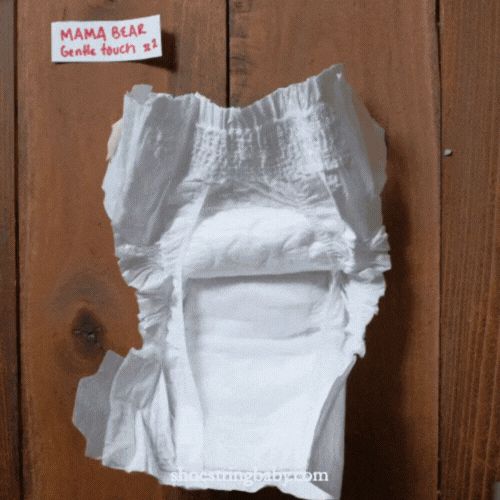 After resting at least 10 minutes, however, the diaper did feel comparable in terms of dryness as the other diapers. This seems to suggest that Mama Bear diapers have the capacity to absorb a lot but not the efficiency to do it quickly. They definitely absorbed more slowly than other diapers.
It passed the final paper towel test with no wetness but it did feel slightly damp to the touch, very similar to the Pampers diaper.
[NOTE: Mama Bear was the first absorbency testing we did and we had to work out some kinks. You'll noticed in the pictures that the testing liquid was too light in the first 50 mL pour. It also took us a few attempts to get into a good 5 second photo rhythm. By the last pour (350 mL), we finally fell into the sweet spot with photo timing.]
Pampers Swaddlers Absorbency Testing
Pampers: Compared to Mama Bear diapers, Pampers Swaddlers absorbed liquid much quicker. However, Pampers absorbency results were interesting because they absorbed the bulk of the liquid very efficiently but there were beads of liquid that stayed on top of the diaper and did not absorb. This beading was present even on the first 50 mL pour.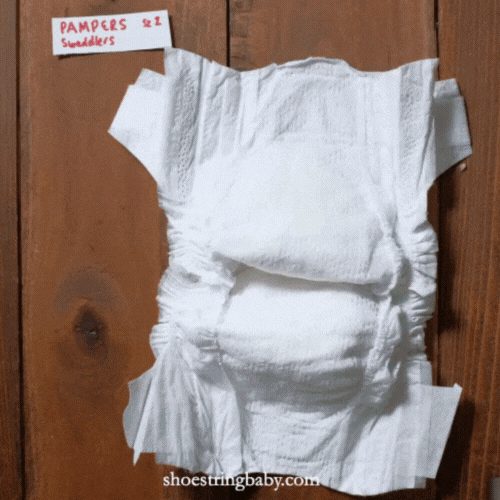 During the paper towel test, those beads of liquid were felt but otherwise the other parts of the diaper felt dry. I'd guess that when on a baby's butt, this wouldn't be an actual real life problem because their movement would quickly force those beads in contact with the absorbent materials.
Pampers also seemed to improve as more liquid was added. At the 250 mL pour, there was actually less liquid beading up than the first few pours.
Like the Mama Bear diapers, the Pampers had a dry paper towel test after the 10 minute resting period but felt a little damp when I touched it.
WINNER: Pampers — There wasn't really a contest between Pampers vs. Mama Bear diapers in terms of absorbency. Mama Bear diapers did not have efficiency absorption in comparison to Pampers. Other than the beading of a small amount of liquid, Pampers did a great job.
Overnight
Mama Bear: On overnight trials, Mama Bear diapers were not my favorites. We had multiple leakage incidents so I did not feel like I could count on them overnight. I ultimately would grab for a different diaper before bed and saved our Mama Bears only for day wear.
Pampers: Pampers were able to absorb an overnight's worth of pee well enough. Some times the diaper on the outside would be slightly damp but not enough to wet clothes.
However, in the morning I noticed a distinct urine smell on many occasions when using the Pampers. This is a surprise since Pampers is the only diaper to actually include fragrance as an ingredient, presumably to mask these type of odors.
Of all the diapers we've ever used, Pampers is the only diaper to which I noticed a urine odor after overnight wear. We switched to using Pampers only during the day.
WINNER: Pampers — Begrudgingly, Pampers wins this category because they did the best at preventing overnight leaks. However, because of the urine smell of the Pampers, I did not like using either of these diapers for overnight wear.
Cost Comparison: Amazon Mama Bear vs. Pampers
Before diving into costs, please remember that prices are dynamic and subject to change. These prices were last updated in December 2022 and this date is noted with each mention of price comparison.
Mama Bear diapers are Amazon's store brand diaper. Their price tends to run slightly higher than other store brands like Target or Wal-Mart, especially on the smaller package. But, they still offer a big discount compared to name brands like Pampers and Huggies (as of Dec. 2022).
Comparing the biggest box available of size 2 diapers, Mama Bear costs roughly $0.17 per diaper and Pampers costs about $0.29 per diaper (as of Dec. 2022).
You have to buy Mama Bear's through Amazon vs. Pampers which you can find at most retailers. To me, the cost savings is still worth this limitation.
WINNER: Mama Bear — Mama Bear offers significant savings over name brand Pampers (as of Dec. 2022).
Manufacturing Location
TIE — Both Pampers and Mama Bear diapers are made in the USA.
Ingredients
Pampers' vs. Mama Bear diapers' ingredients are fairly similar, based on the information shared by the companies. The big difference between them is that Pampers Swaddlers include a "light fragrance" while Mama Bears are free of fragrance.
The inside of Pampers diapers have a mild powdery scent. Mama Bear diapers smell slightly fresh but it is very faint.
| | | |
| --- | --- | --- |
| | Huggies | Pampers |
| Fragrance Free? | YES | NO |
| Chlorine Free? | YES – Elemental | YES – Elemental |
| Latex Free? | YES | YES |
Elemental chlorine free means that no direct chlorine was used, but other chemicals used in the wood bleaching process may contain chlorine.
Pampers: Pampers Swaddlers absorbent inside is made of an elemental chlorine-free pulp, a polymer and fragrance. The liner is made of polypropylene, polyethylene and polyester and the outer cover is also made of polypropylene, polyethylene.
Mama Bear: Mama Bear lists their ingredients as fluff, an absorbent sodium polyacrylate polymer and a nonwoven dryness layer. The shell contains polypropylene nonwoven fabric, non-latex elastics, adhesives and ink (exact materials not specified). They also include ingredients that don't really give details including "fastening system" and "moisture barrier." They also claim to be hypoallergenic.
WINNER: Mama Bear — Mama Bear wins this by being fragrance-free.
Comfort
Softness: Both Mama Bear and Pampers diapers are soft and velvety to the touch. The Mama Bear diapers, though, edge out the Pampers on softness. The outer shells of the Mama Bears are velvetier vs. the Pampers, and the insides are much softer and almost a little fluffier than the Pampers.
Bulkiness: When dry, Mama Bears diapers are thinner than the Pampers Swaddlers. Once liquid was introduced, both diapers bulked up considerably.
Pampers smartly partitioned the inner filling into three sections to keep the bulkiness more evenly distributed when the baby moves. Mama Bear diapers may have the inner filling bunch or shift during wear.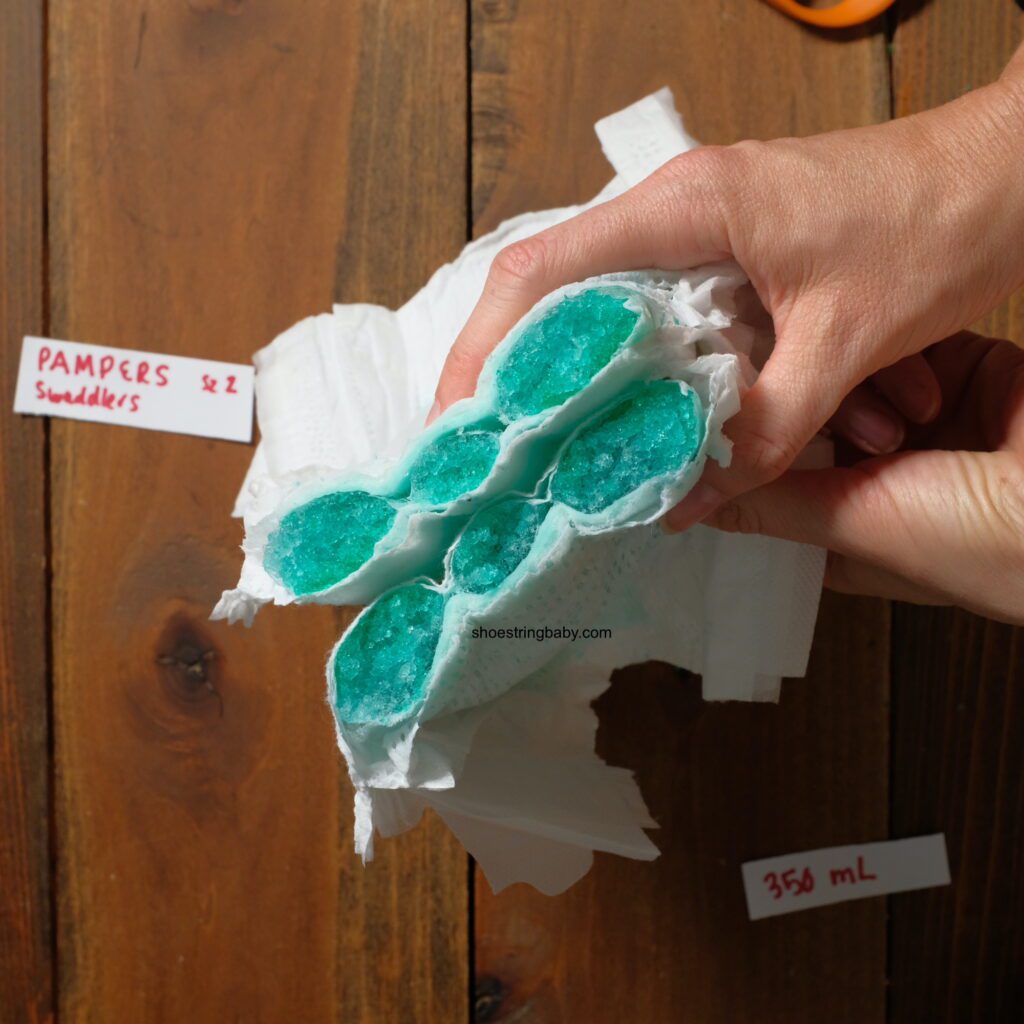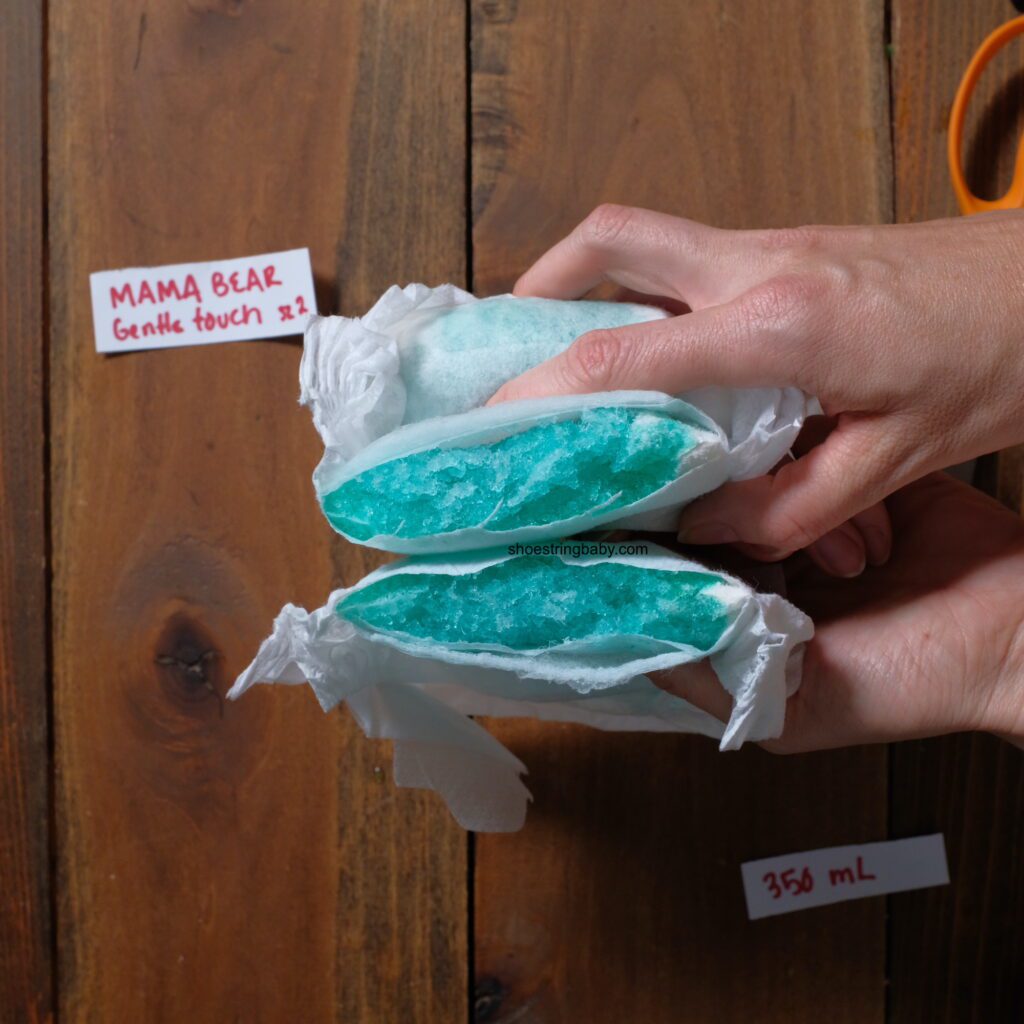 Umbilical Cord Space: Both Pampers Swaddlers and Mama Bear Gentle Touch diapers have umbilical cord space in their newborn sizes.
WINNER: Pampers — I was quite impressed what Amazon achieved with Mama Bear's softness. Still, Pampers' dividing the inner absorbent layer to prevent shifting when bulky is an unmatched detail that takes the cake.
Fit & Secureness of Mama Bear and Pampers
Fit: Mama Bear diapers and Pampers diapers fit similarly. I was able to get snug and secure fits with both diapers easily.
Waistband: Amazon Mama Bear diapers include elastic cinching on the back waistband vs. Pampers who do not have any elastic in the waistband. This waistband elastic gives the Mama Bear diapers a little more fit flexibility. The backs of the diapers are pictures below: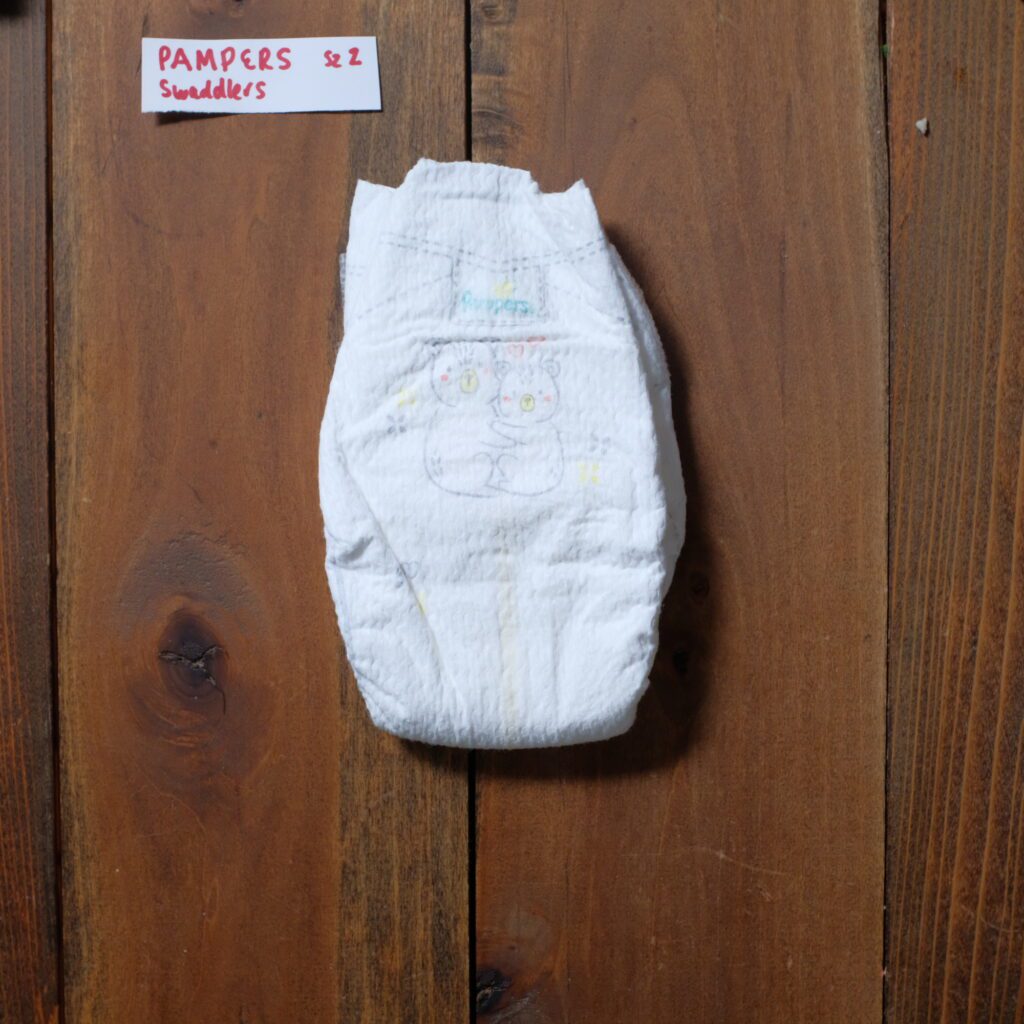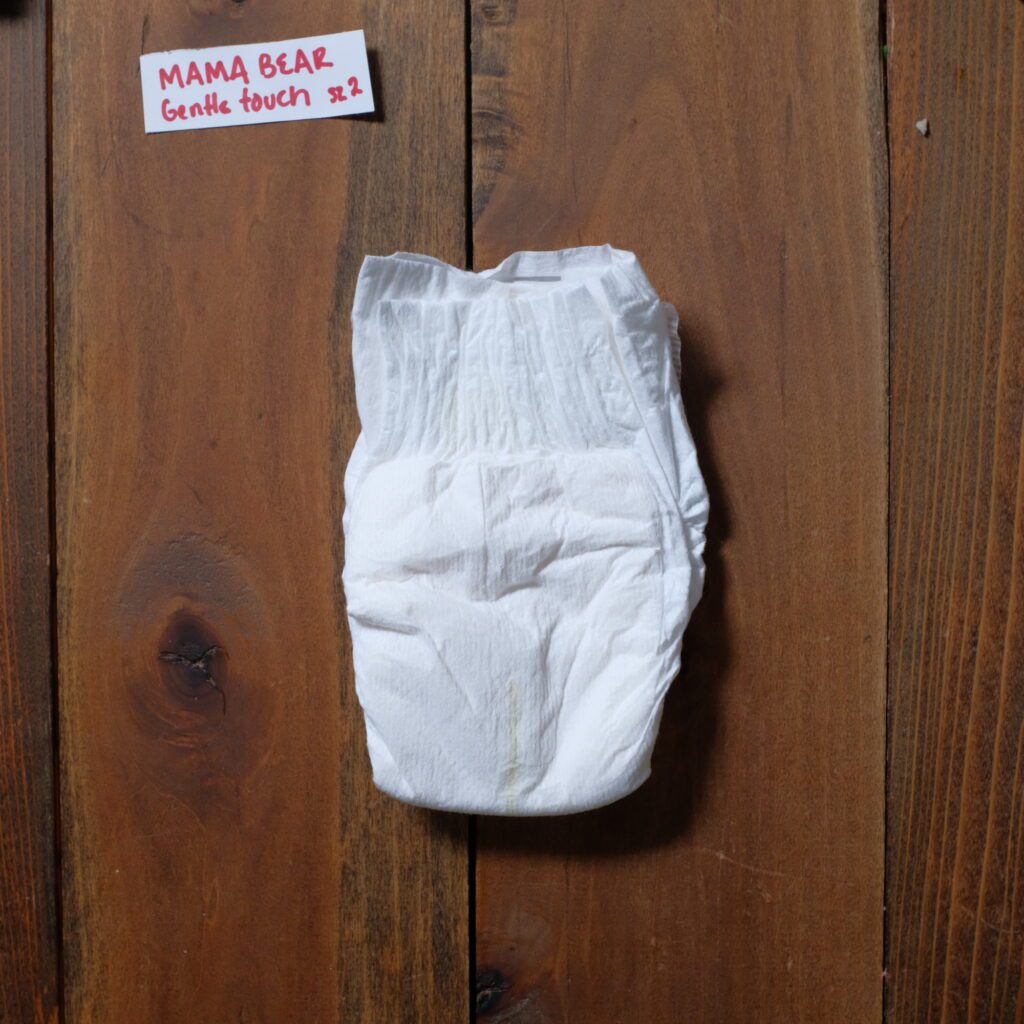 Tabs: While Mama Bear diapers have elastic in the waistband, they do not have as much stretch in the tab portion under light pulling. In comparison, the tabs of the Pampers give a good stretch. That, when putting on a Mama Bear diaper on an actual baby, I felt that the tab did stretch well and was able to get a secure fit.
Once you hit size 3, Mama Bear adds a thin strip where the tabs fasten that is slightly tacky. These strips are a nice touch to add secureness for a presumably more mobile baby.
Sturdiness: Pampers and Mama Bear seemed mostly comparable in terms of sturdiness when our baby wore them. They both stayed on her as she crawled and toddled around.
WINNER: TIE — A lot of these factors will be a matter of personal preference. Mama Bears have the nice touch of the grippy strips once you hit size 3 while Pampers includes more stretch in their tabs.
Look
Wetness Indicator: Both Pampers Swaddlers and Amazon Mama Bear diapers include wetness indicators and both work equally well.
Size Indicator: Mama Bear diapers include a clear size indicators on the waistband. Pampers includes what they call "fit guide" markings but doesn't give clear instructions on interpreting them. These size indicators are nice because it reduces the mental work of deciding when to order the next size diapers.
Design: Both diapers are generally simple looking. Pampers have a subtle design in muted colors on the diaper, while Mama Bear diapers are white other a blue & green design on the waist band.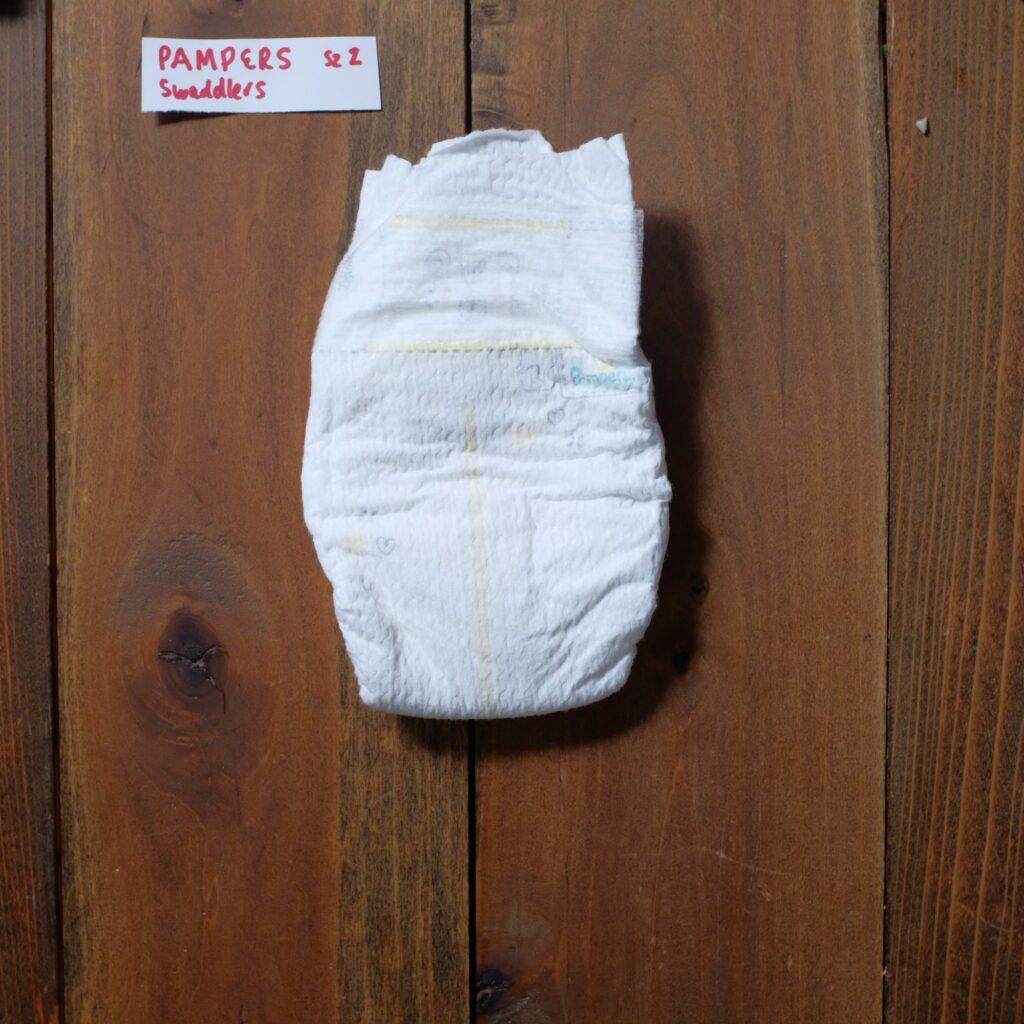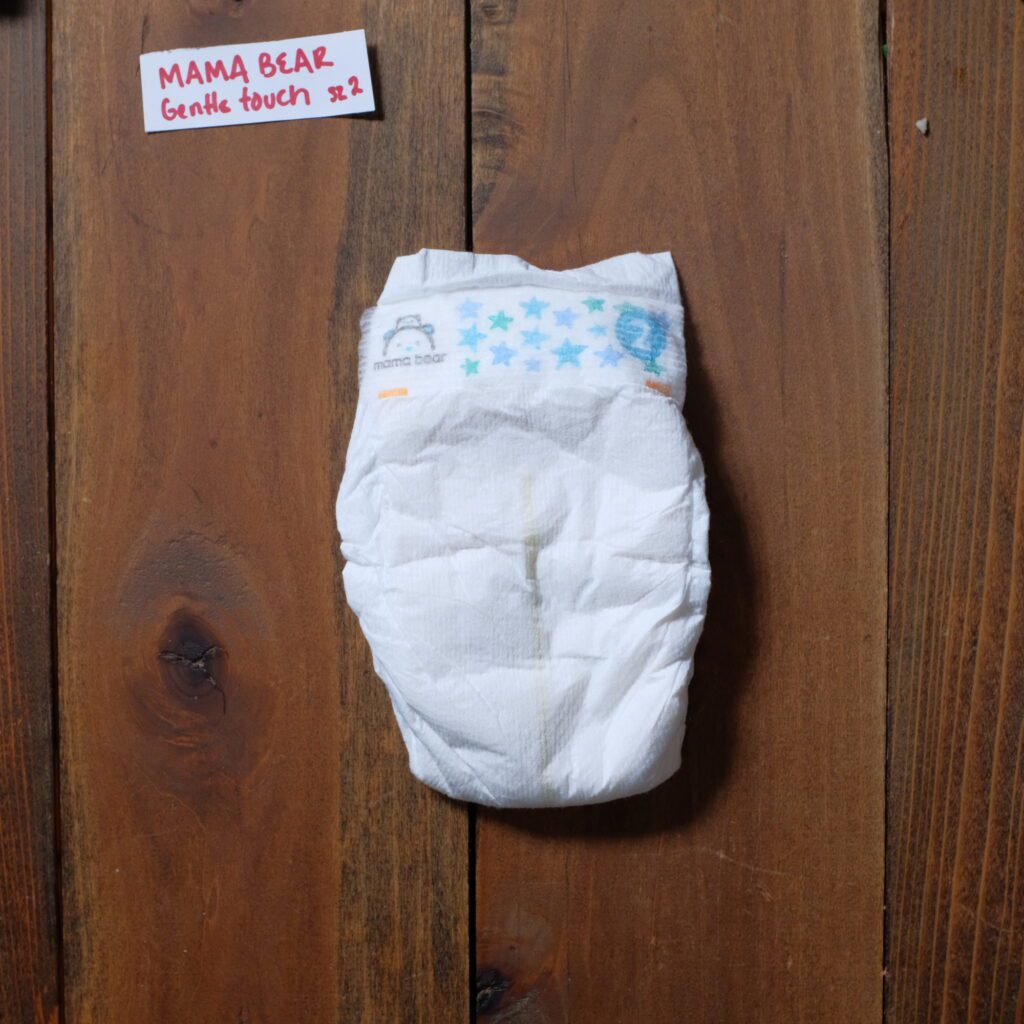 WINNER: TIE — Both diapers include wetness indicators and some form of size indicators. Other design elements will likely be a matter of personal preference.
Conclusion: Are Pampers or Mama Bear Diapers Better?
Overall, both Pampers Swaddlers and Mama Bear Gentle Touch diapers are solid diaper options for your baby. I personally prioritize cost so would be more likely to buy Mama Bear diapers again vs. Pampers.
That said, I want to reiterate that I did not love either diaper for overnight wear. Pampers had a urine odor and Mama Bears had some leakage. I ultimately stopped using both for overnights and only used them during the day.
| | | |
| --- | --- | --- |
| | Pampers | Mama Bear |
| Size | TIE | TIE |
| Absorbency | WINNER | — |
| Overnight | WINNER | — |
| Cost | — | WINNER |
| Ingredients | — | WINNER |
| Comfort | WINNER | — |
| Fit & Secureness | TIE | TIE |
| Look | TIE | TIE |
| Manufacturing | USA | USA |
Pampers definitely had better absorbency results than Mama Bear diapers. If your baby has sensitive skin or is a heavy wetter, this may be a factor for you. However, with regular changes most babies will probably be comfortable in either diaper.
Pampers also had some nice details like the bifurcated inner absorbent layer. I'd say overall, Pampers is the higher quality diaper but I don't know if the improvements are enough to justify the added cost.
Still undecided on diapers? Check out some of our other diaper comparisons: