How to Save Money on Baby Clothes: 17 Clever Hacks Revealed
This post may contains affiliate links. As an Amazon Associate, I earn from qualifying purchases. Read the full disclosure here.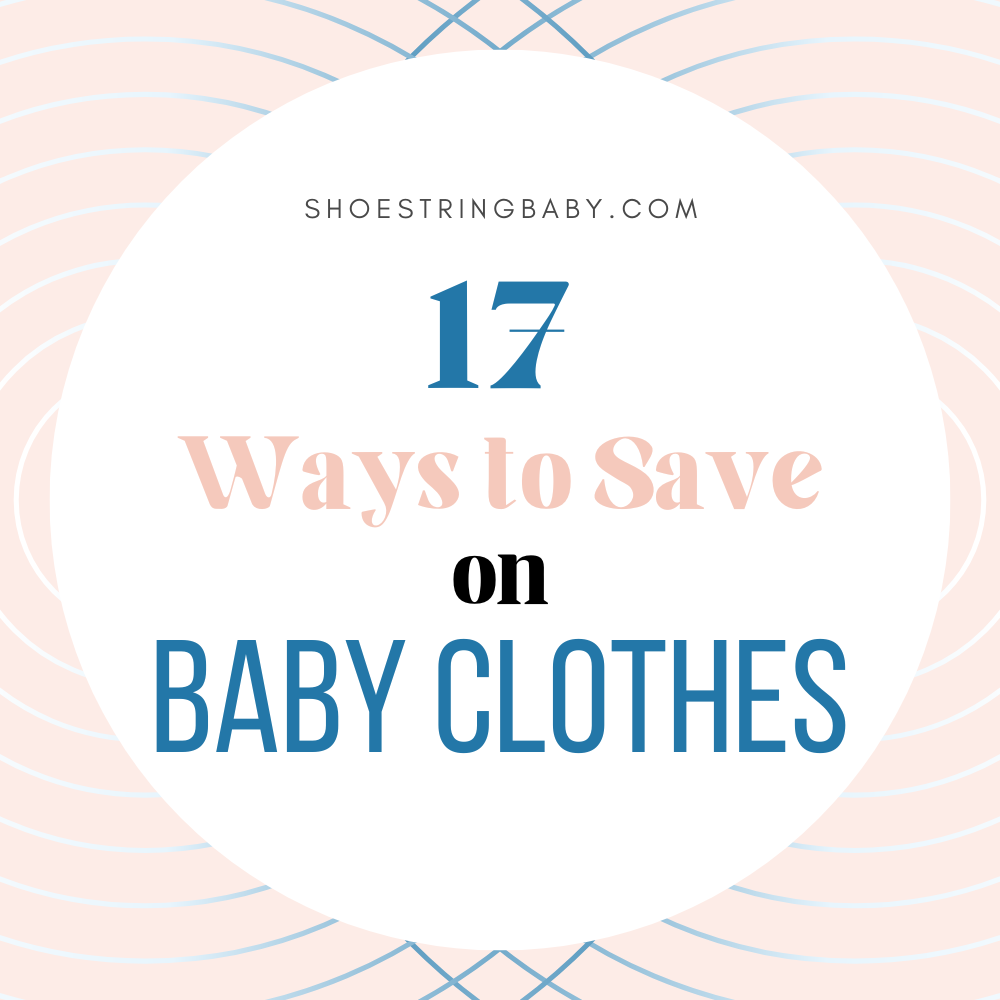 Looking to save money on baby and toddler clothes? Check out this list of 17 ideas to help you save cash on your baby's wardrobe.
Since our new baby was born, she's gone through six different sizes of clothes in less than a year. This means she's needed six different sets of wardrobes in rapid succession.
And since they're a baby, it's not like you can get away with only having a couple outfits for them in each size. Babies get gross fast. Blowouts, food spills, playing in dirt, etc. make for a lot of outfit changes. Our baby regularly goes through three outfits during the day, not including pajamas
Then once they hit toddler age, they become even harder on clothes as they become more mobile and into everything.
All told, you end up going through a lot of clothes in the first few years of your kid's life. If you're buying your baby all these clothes new, the costs add up quickly.
As a researcher and forever frugal person, I've pulled out all the stops to try to keep our baby clothing costs low. In our eldest baby's first year of life, I spent just over $100 on all his clothes (a good chunk of which were optional purchases like holiday pjs, so I could have kept our costs even lower).
I've written up many examples of our monthly baby spending so you can see exactly how I saved $722 on baby stuff in one month and in another month saved $663 on baby spending.
I've personally used all of these clothing savings strategies below to keep our children's clothing budgets low. I hope you find some new ideas to help you save some money on your baby or toddlers clothes too.
Table of Contents
1. Accept all hand-me-downs
If you are offered hand-me-down baby and toddler clothes, always say yes. Sure, you may not need it all and it may not be your perfect style but this is single-handedly the easiest and best way to save money on baby and toddler clothes.
My strategy has been to accept everything and hang on to it until my baby hits that size clothes. I have found on a number of occasions that I didn't truly appreciate what baby clothes I'd need at that point until I was actually in that stage. For example, before my baby was born I didn't appreciate how helpful it is to have extra clothes to keep in diaper bags, cars, at daycare, etc.
You can always pay it forward to pass along any hand-me-downs you receive that you don't need.
Don't feel bad about accepting hand-me-downs, it is really a win-win for everyone. Once your friends are done having babies, they desperately want outgrown baby stuff out of their house. It is bittersweet to outgrow the baby stage and I've personally found it has made it emotionally easier to pass on our baby clothes when they go to someone you love. It'll truly make your friends and family happy to see your baby in their hand-me-downs.
2. Join buy-nothing and parents' facebook groups
After hand-me-downs, Facebook groups have been our favorite way to save money on baby clothes. We didn't have a lot of friends in our area with kids so our neighborhood parents' Facebook group really filled in the gap for us in hand-me-downs.
In our area, parents regularly give away baby clothes or sell it very cheaply. The clothes for sale in these groups is usually much cheaper than in kids consignment stores or on the bigger Facebook Marketplace.
To find groups, simply search for terms like "parents group (city name)," as shown in the picture below. You can also ask in your area's community Facebook group. Usually once you find one, you're able to find more connected to it.
3. Check Facebook Marketplace
In addition to Facebook groups, Facebook Marketplace is also a good place to find secondhand baby clothes to help save money. Prices on Marketplace may seem a little higher but that is because people often price items expecting a bit of a haggle.
Free or really well priced items on Facebook Marketplace will garner a lot of responses so make sure you seem like a real person and respond promptly when expressing interest to increase the likelihood of scoring the item.
I personally prefer to look for baby and toddler clothes locally on Marketplace. In general, I've found items to not be a cost savings when you include delivery costs for the shipping option. Marketplace now defaults to include shipped items, so the picture below shows how you can change it to search local items only.
4. Use your baby registry completion discount
If you do buy clothing new, take advantage of your baby registry completion discount when making the purchase. If you add the baby clothes you'd like to your registry, you'll be able to snag 15% off retail price.
Most major retailers like Amazon Baby Registries or Babylist give you a "completion discount," where you can get 15% percentage off your remaining baby registry items close to your due date. We opted not to have a baby shower or share a public registry but I still made a private Amazon registry to take advantage of the completion discounts.
My personal recommendation is to tread lightly on adding baby clothes to your registry until you've had your baby shower. People love to give you more baby clothes than you need so waiting until after the shower will help increase the likelihood they gift you your essentials first.
5. Thrift for baby & toddler clothes to save money
A lot of our baby and toddler clothes were things I found at thrift stores at massive discounts. Thrift stores are especially great for those people who want an in-person shopping experience but still want to save money.
Before heading to the thrift store, check your local ones for special discount days to maximize your savings. Our nearby thrift store does half-priced clothing one day a week so I was able to save even more by shopping on that day.
6. If you do buy new, use Rakuten
Rakuten is a cash-back platform that helps you save money on purchases you make online. If you start your baby clothing purchase with Rakuten, you'll receive a cash back percentage that varies depending on the retailer.
This is an easy way to save a little money and it only takes a few extra clicks. You simply start your shopping experience from the Rakuten website, search for the store you'd like, and then click the link. Rakuten then redirects you to the store and you shop like normal.
They also have a browser extension that makes the cash back process automatic so you don't even have to go to their website first.
Once you've completed your purchase, you receive your cash-back money by check or PayPal every quarter.
If you don't already have a Rakuten account, you can sign-up for one here (affiliate link that also gives you a $30 new member bonus).
7. Find baby and kids' consignment stores
In addition to thrift stores, there are also consignment and resale stores specifically for kids stuff. Stores like Once Upon a Child buy toddler and baby items from people and then resell them. Usually the resale prices are cheaper than retail but more expensive than a thrift store or Facebook group.
What is great about these stores is that you'll find tons of clothes together, usually way more variety than you'd even find at a retail store like Target. They also offer discount days and have big discounts during change of seasons so you can stock up for next year.
Not only can you find clothes to buy at these stores at a discount, you also can bring in your old baby and toddler clothes to sell back to recoup some money. These stores usually offer you less than you'd get selling the clothes independently but they offer a lot of convenience. It's a good option for people who otherwise may not have time to sell their toddler's clothes.
8. Look for kids swap meets
Similarly, kids swap meets are great places to find lots of baby and toddler clothes in one place at a discount. Swap meets organize large sales where multiple families sell their items at the same time. These are special events that usually happen a couple times a year.
The individual sellers set the prices and the swap meet organizers take a percentage of the sale price. I've found that prices vary widely on items so you have to dig and get there early in the sale to find the biggest savings on baby and toddler clothes.
9. Opt for gender neutral baby clothes to save money
Opting for gender neutral clothes helps you save money on baby and toddler clothes because you'll get more wear out of neutral items. Gender neutral items are obviously great if you plan to have more kids because any future child can wear them regardless of sex.
But staying neutral also helps you recoup money if you choose to resell your clothes after your baby outgrows them. Your items will have a bigger resale audience if they work for both boys and girls.
10. Limit buying newborn & 0-3m sized clothes
Save some money by limiting how much newborn and 0-3 month baby clothes you buy. First, you likely only need newborn size clothes for a few weeks so it doesn't make sense to buy a lot. I go into a lot more details about this in my article: Newborn vs. 0-3 Month Size Differences.
I personally also suggest holding off on 0-3m size clothes too since this seems to be the size that is most frequently gifted to new babies. Everyone I know has ended up with way more 0-3 month sized baby clothes than they need
11. You don't need baby shoes until they're walking
Listen, baby shoes are super, super cute but you don't need them. Your baby does not need shoes until they start walking, which isn't until somewhere between 9-18 months old.
Simply skip shoes and you'll save a lot of money on baby clothes because baby shoes are surprisingly pricey for how little they are.
Plus, once they start walking, you're going to have to buy them a lot of shoes because they outgrow them so quickly. Enjoy these early months when you don't have to worry about shoes and save your shoe money for later.
12. If you do need shoes, consider water shoes
Here is my biggest money saving tip for when your baby starts walking and you have to start buying toddler shoes: consider using water shoes as their primary shoe (we personally use water shoes like these and love them). I know that sounds silly but hear me out.
First, they're very affordable so they'll save you money on your baby clothes.
Second and more importantly, their flexible soles and stretchy tops make emulate barefoot walking very well for foot health.
They also are very forgiving on size — they can fit for a long time so you don't have to buy shoes as often. Our toddler has been wearing the same pair of water shoes for over 8 months and they're still going strong.
13. Buy ahead with caution
Buying baby and toddler clothes ahead of time is a way to save money but it can be tricky. It's impossible to predict when your babies and toddlers will have growth spurts, which makes it more challenging to stock up on clothes ahead of time. This is especially true if you live somewhere with seasons.
That said, it is always better if you can snag end of season sales for next year than buying full price at the start of the season. My recommendation for buying ahead is to be very, very generous with sizing up. Your kid can always wear something a little too big but they can't wear something too small.
14. Size up (and remember sizes are flexible!)
Don't get too hung up on what the size of a piece of baby or toddler clothes says. Our baby is currently wearing clothes that range from 6 month size (pants) to 24 month size (footed pajamas). Our toddler is decidedly in 4T but can still wear some of his old 2T pants and sweaters, they're just a little short.
A lot of baby and toddlers clothes are soft and stretchy so they can fit for a long time. Items like dresses and jackets are even more size forgiving.
As you buy new clothes, try to size up when you can to get the most wear out of an item. Sizing up works really well with more expensive baby and toddler clothes like outerwear.
For example, I put our first baby in a 2T winter coat and snow pants when he was about 15 months old (that I got for free from a facebook parents' group!). They were a bit big on him the first year but he was able to wear them again the next year, saving me from having to buy new winter clothes for him. He actually could even get away with wearing them again this year (with the sleeves a little short), but we're using it for the baby instead.
15. Take care of the clothes & treat stains
I'm going to be real, this one is an uphill battle. Once your baby starts eating, they are going to constantly be staining their clothes. We use these intense, long sleeve bibs and still somehow they find a way to inevitably stain your favorite outfits.
As annoying as it is, the best way to try to salvage your baby's and toddler's clothes is to treat stains as quickly as possible after they happen. I use either a paste of powdered Tide rubbed into the stain or these Nelly Wow Sticks because they're easier to use (and don't come in a plastic bottle which is an environmental perk).
Also, don't run any possibly stained clothes through the dryer. It is easier to get out stains before the clothes have been dried.
Keeping your toddler's clothes looking good will help you get more wear out of them, and give you the option to resell them down the road to save money.
16. Opt for dark clothes to hide stains
Along those same lines, opting for clothes that hide stains and last longer will get you more bang for your buck. I regularly find myself looking for my baby and toddler's few black shirts to put on them before we are going to eat something like pasta sauce since I know it's less likely to stain.
In hindsight, I wish I had kept our baby's wardrobe more dark colors so they hid stains better. This tip is especially salient for those early eating days when every meal is a messy disaster.
It is also helpful to look for items that are good quality so that they last longer. Some materials are also claimed to be more stain resistant.
17. Resell your baby & toddler clothes to save money
If you take care of your baby and toddler clothes, you can resell them later to help recoup some of your costs. This is a great way to save money if you do have to buy your toddler or baby clothes new.
I like to resell my baby items on Facebook. You can check out my tips for selling stuff on Facebook if you need help getting started.
Premium baby brands like Kyte Baby, Little Sleepies and trendy brands like Kate Quinn hold their value well and can often be sold for at least half of their retail price. Some sought out patterns can even sell for more than retail value in Facebook Buy/Sell/Trade groups. Reselling is a great way to make these "luxury" baby brands more affordable.
---
Looking for more money saving ideas? Check out: