10 Baby Items with High Resale Value in 2023
This post may contains affiliate links. Read the full disclosure here.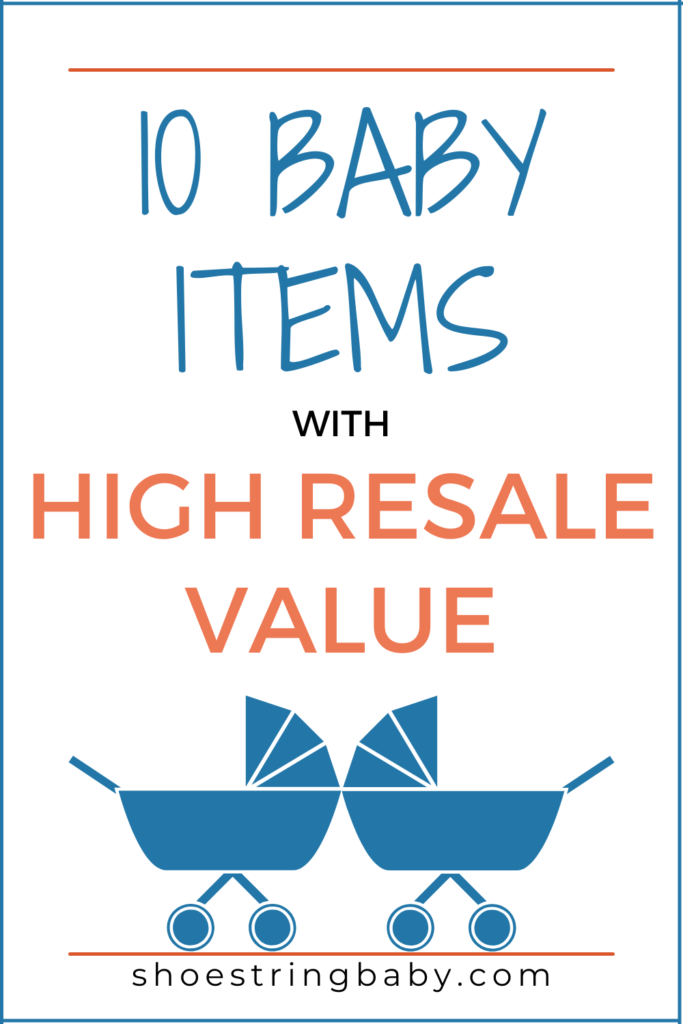 There are a lot of expensive baby items on the market. A $900 stroller. A $1300 bassinet. For those of us trying to be frugal with our babies, the price of some baby gear can be shocking.
However, you can still be financially savvy even if you want to splurge on a baby item or two. Many baby items retain good resale value so you can recoup a chunk of your costs once your baby outgrows them.
Planning ahead for reselling baby gear is a great way to make the initial start up costs of having a baby more affordable. It also can make the decisions on what baby items to get feel a little less overwhelming knowing that you can resell baby stuff in the future.
When I was pregnant, I was pretty overwhelmed trying to figure out what baby gear we needed. I had no idea how to take care of a baby, couldn't tell what features or gadgets were really worthwhile and wanted to minimize both the financial and environmental costs of our baby set up. What if I bought an expensive baby item our kid didn't need – would it go to waste or would I be able to resell it?
I have watched the baby item resale market very closely for the last three years (thanks to my months on bed rest). To help you save time stalking Facebook Marketplace, I've put together a list of 10 baby items with high resale value. I like to sell baby stuff online through Facebook Marketplace for a little extra cash because I can make sales near me with not much effort.
Baby Item Resale Value Estimation Method
For each baby item, you'll find data on average resale cost in cities across the U.S, based on recent Facebook Marketplace listings. These cities were selected for to give a variety of cost of living and regional examples: Atlanta, Cincinnati, DC, New York City, Orlando, San Antonio, San Jose and St. Louis.
Using some napkin math, I averaged the high and low prices in a given city for a given baby item. I started with a smaller sales radius and expanded the distance depending on product availability. Not every baby item on this resale list was available in every city.
Note that resale prices of baby items fluctuate a lot depending on available stock, and there are always pricing outliers. Listings also vary by condition or accessories, and I do not have access to final sales price (or if the item sold at all). This data is presented to give a general idea of possible resale value only and not as a guarantee.
Here are 10 baby items that retain good value on resale:
1. Snoo
In addition to escalating soothing depending on the baby's response, it also prevents them from flipping over at night. Back sleeping is an important safe-sleep recommendation from the AAP.
Parents love the Snoo as it helps them get more sleep in the early newborn days and it is supposed to help with sleep training.
Snoos are an investment, though they also offer a rental program for a monthly fee. Because of this snoos have a high secondhand resale value – I've never seen one list secondhand below $600 (as of January 2023).
Related Post: Should You Rent or Buy a Snoo?
UPDATE JAN 2023: Since I originally wrote this post, Happiest Baby has increased the price of the Snoo. With that, I've seen an increase in prices on the secondhand market by $100-$200.
In the various cities across the U.S., the secondhand listings ranged from $675 to $1000 (as of Jan. 2023). With the advent of the rental program, resale availability is likely to decrease which I anticipate will drive resale prices higher.
In addition to reselling the snoo itself, you'll likely also find a market for secondhand snoo bassinet sheets and snoo swaddles that are used with the snoo. The snoo comes with one of their proprietary swaddles but people like to have extras so they can be rotated during washing. You now can find snoo sheets as 2-packs for some extra value.
Some families opt to buy a Snoo and then rent it out to friends instead of reselling it. This set up works well to help recoup some costs for families who plan to have multiple kids before reselling it. (Psst.. Looking for more Snoo money-saving ideas? Check out these 12 Tips to Save Money on a Snoo)
If you are able to purchase the Snoo on sale and even if you resell on the low end of the price range, you are likely coming out ahead compared to renting the Snoo for three months (based on rental price in Jan. 2023).
2. Zippadee Zips
Zipadee Zips are swaddle transition sleep sacks. They are made for babies who no longer can be swaddled because they have started to roll. Zipadees slightly limit limb movement to help babies sleep while still enabling them to move enough if they roll.
As one of the more affordable items, you may not have expected Zipadee Zips to appear on this list. This baby sleep gear resells secondhand for between $15-30 dollars (as of Jan. 2023), mostly frequently seen for $20-$25 on Facebook Marketplace.
Related Post: 10 Practical Baby Gifts Under $15
However, there is also a whole Facebook group online dedicated to reselling Zipadee Zips with over 16,000 members. People also get into the fun patterns of some Zipadees, helping secondhand Zipadee Zips to retain a lot of their original value.
3. Stokke Tripp Trapp
Tripp Trapp High Chairs are high chairs that transforms to work with your child through their toddler years. People like these chairs because they are more stylish than other high chairs and are highly adjustable to fit growing babies. They also put babies in good posture for eating with foot rests for stability.
In addition to the cost of the chair, you need accessories to be able to use the high chair from birth. There is a reclining seat for newborns and a seat and harness for babies from 6-months to 3-years old. Trays are also available if you don't want to use your Tripp Trapp at the table. All the accessories maintain good resale value as well.
Tripp Trapps were not available for resale in all the cities. From watching in my city, Tripp Trapps that post for resale sell almost immediately which may explain the lack of secondhand inventory. The average resale secondhand cost was about $120 (as of Jan. 2023). Given the limited supply though, you could attempt to sell this baby item for more cash if no other chairs are for sale online in your area.
4. Keekaroo High Chair
A Keekaroo high chair is a similar idea to the Tripp Trapp. Aesthetically, they look similar and also put babies in good posture for eating. Keekaroo high chairs include a tray unlike the Tripp Trapp (which would be an added cost).
Related Post: 8 Alternatives to Traditional Baby Registries & Gifts
These high chairs also had limited resale availability. There were no Keekaroo high chairs available within 100 miles of 3 of our cities. Again, you may be able to use this limited stock to your advantage when reselling this baby item.
5. Keekaroo changing pad
Keekaroo also makes their Peanut Changing Pad that is made of a solid material for easy cleaning. It is not porous so baby pee doesn't seep into it and you do not need to get a changing pad cover for it. They also advertise that it is soft enough for a baby to nap in but I have a hard time envisioning that happening in real life.
A Keekaroo changing pad may be one of the more debated baby items on this resale list. There are parents online that swear their Keekaroo changing pad is their best baby purchase because cleaning is a breeze and it easily lasts though multiple babies.
On the other end of the spectrum, some families say you don't even need a changing pad at all because you can change your baby on the floor wherever you are with a towel or a cheap portable changing pad.
If you fall into the former camp, the easy cleaning and non-porous material mean that a Keekaroo is much easier to resell online than other baby changing pad. Buyers know that they are able to properly disinfect a used Keekaroo changing pad.
The resale stock on Keekaroo was limited and not available with 100 miles of every city. The average resale secondhand price was $86 (as of Jan. 2023).
6. UppaBaby Stroller
UppaBaby strollers are high-end strollers. There are two full-sized models – the UppaBaby Vista and the UppaBaby Cruz. Both models fit a bassinet for newborns and grow with a baby. The upgrade-model Vista can also adapt to be a double stroller if you add another baby to the mix down the road.
Parents love the little luxuries of the UppaBaby strollers. They have a smooth ride, are light and fold up easily. Their storage basket is big and they are said to be durable strollers. Given this durability, an UppaBaby stroller may be a great baby item for you to consider purchasing secondhand.
However, many note that the value this baby item depends a lot on your lifestyle. A city dweller without a car may find the UppaBaby Vista perfect where someone driving everywhere may see it as frivolous.
If you do make the investment, UppaBaby strollers are a baby item you can sell online down the road for some serious cash. A lot of resale postings fall into two price categories – around $350 for a secondhand Cruz and old models, and around $650 (as of 2023) for a secondhand Vista. The averages in the city chart above are for both models so I recommend checking your local area for your specific model.
7. Owlet Baby Monitor
UPDATE: Owlet had to pull their socks with oxygen level monitoring from the market following an FDA citation. The FDA considered the Owlet a medical device that had not gone through the appropriate medical device vetting. Owlet now sells a baby sleep tracking sock (without a pulse-ox) but I don't see how it adds much value for new parents.
In response, I've now written a full stand-alone post to help you decide whether you should buy an Owlet used, since it it the only way to get the oxygen monitoring.
The original Owlet app was also removed from the Apple store; a work-around has been made available for Apple users, though it does not support push notifications.
This has made the resale market for the oxygen-monitoring Owlets uncertain. In many places, they've retained their high resale value and some may even see a bit of a price increase given the lack of availability of new oxygen-monitoring devices.
However, the lack of app support puts reselling into a more precarious position. As a seller, you probably could try to price high given the scarcity. But as a buyer, I'd be more leery of buying for a higher price given the uncertain future of the device.
ORIGINAL TEXT: The Owlet Smart Sock is a baby monitor that tracks a baby's breathing, oxygen level and sleeping through a wearable sock. The device has an alarm to alert you if your baby stops breathing, and it also syncs with a phone app for tracking data.
The Owlet and other baby monitors of the same ilk are not recommended by medical experts because of a lack of research on the devices to support their life saving claims. There are also concerns about the devices reliability and accuracy, possibly giving parents a false sense of security.
Related Post: 7 Ways to Improve Your Facebook Marketplace Sales
Still, many parents rave about the Owlet and say they help their anxiety during infancy. For some parents, it helps their nervousness while others report it makes theirs worse. Like so many things with parenting, an Owlet's usefulness will depend on the individual and their preferences. We've used one with our second baby and love it, but I honestly didn't know how I'd feel about it until I used it.
8. Mamaroo
UPDATE 2021: In June 2021, 4moms announced a price increase for their products between 7-12%, including their popular Mamaroo swing. I like that the company made this increase explicit and gave warning before it took effect but this likely will trickle down to the resale market in the future.
UPDATE 2023: 4moms had a large recall of their swings for dangling straps that could be a strangulation hazard (source). This is an important reminder to always check for recalls when buying secondhand baby gear. The company is offering free strap fasteners that eliminates this risk.
Mamaroo Multi-Motion Baby Swings are a type of baby swing with five different types of swinging and bouncing movements to help sooth babies.
Parents like them when they have fussy babies that are hard to sooth.
The Mamaroo is inclined which often helps reflux babies, but means it is not safe for unsupervised sleep. Generally, the usefulness of a Mamaroo will depend on the baby.
Since the recall, I've noticed a bit of a decrease in supply of used Mamaroos for sale on Facebook Marketplace. These secondhand swings were priced on average around $100, with prices ranging from $75-$200 in general (as of January 2023). There are older models of Mamaroos that you will sometimes see priced more in the $60-80 range (as of January 2023).
9. Dock-a-tot
UPDATE: Since the original writing of this article, DockATots have been removed from the market by the FDA. I am glad for this change since they were overpriced and not sleep safe. Instead, check out my list of safe DockATot alternatives.
I do not initially expect this ban to crash the price on the DockATot resale market, though reselling them is technically not legal. Since there will be fewer DockATots in circulation, I doubt their price will immediately bottom out.
Searching for used DockATots now has the price softening a little, between $60-$100 instead of the $100 mark they were at two years ago.
As time goes there will be less good condition DockATots available for resale, and they will start to lose their word of mouth buzz from parents. That is when I anticipate the price will really start decreasing.
I left the original text below, because the information about how they are not sleep safe is important.
ORIGINAL TEXT: Dockatot Baby Loungers are marketed as a baby docking station and lounger where your baby can hang out. They are not considered safe sleep spaces so they are used as a place to put your baby or to practice tummy time.
Parents like Dockatots because some babies calm down in their snug sides. These sides, however, contribute to it not being a safe sleep space so babies in Dockatots are supposed to be supervised when sleeping.
To be honest, I don't really understand why these are so sought after since babies can't sleep in them. Still, if you are looking for a secondhand Dockatot, they don't come cheap. As of January 2023, resale DockATots were posted between $60-$100. That said, I have seen a few Dockatots get reposted or 'bumped' to draw attention to the post which makes me wonder how quickly they actually resell.
10. Willow & Elvie Hands-Free Breast Pumps
Most women have access to a free breast pump though their health insurance plans. However, these free breast pumps are not hands-free and even with pumping bras, moms are often inhibited during the times they are pumping.
That is where the Willow breast pump comes in. Willows are sought after because they are truly a hands-free alternative to pumping.
Women like the Willow because it allows them freedom they don't get with their insurance provided pumps. When I surveyed new parents about the money and time costs to feed their babies, many reported the difficulties of pumping. Some specifically mentioned pumping interfering with work since it is not hands-free.
Since many women now receive free breast pumps, less people are purchasing pumps so there are less Willows available for resale. This coupled with the value that hands-free pumping provides mothers makes for high resale prices for this baby related item. Most were listed for over $300 secondhand.
When I first wrote this article, the Elvie wearable breast pump was new on the market. I was only able to find a few available secondhand at that point. Today, they are more widely available used.
They have settled in at a similar resale price as the Willow, around $300 on average. They do not seem to have diluted the resale market, as wearable breast pumps are still a luxury item with limited secondhand stock.
What baby items have been your best resellers? If you're looking for more baby gear resale ideas, check out 10 Easy to Sell Baby Items.
Like this post? Pin it!
---