Space Saving Baby Items: Tested By A Real Mom [2023]
This post may contains affiliate links. Read the full disclosure here.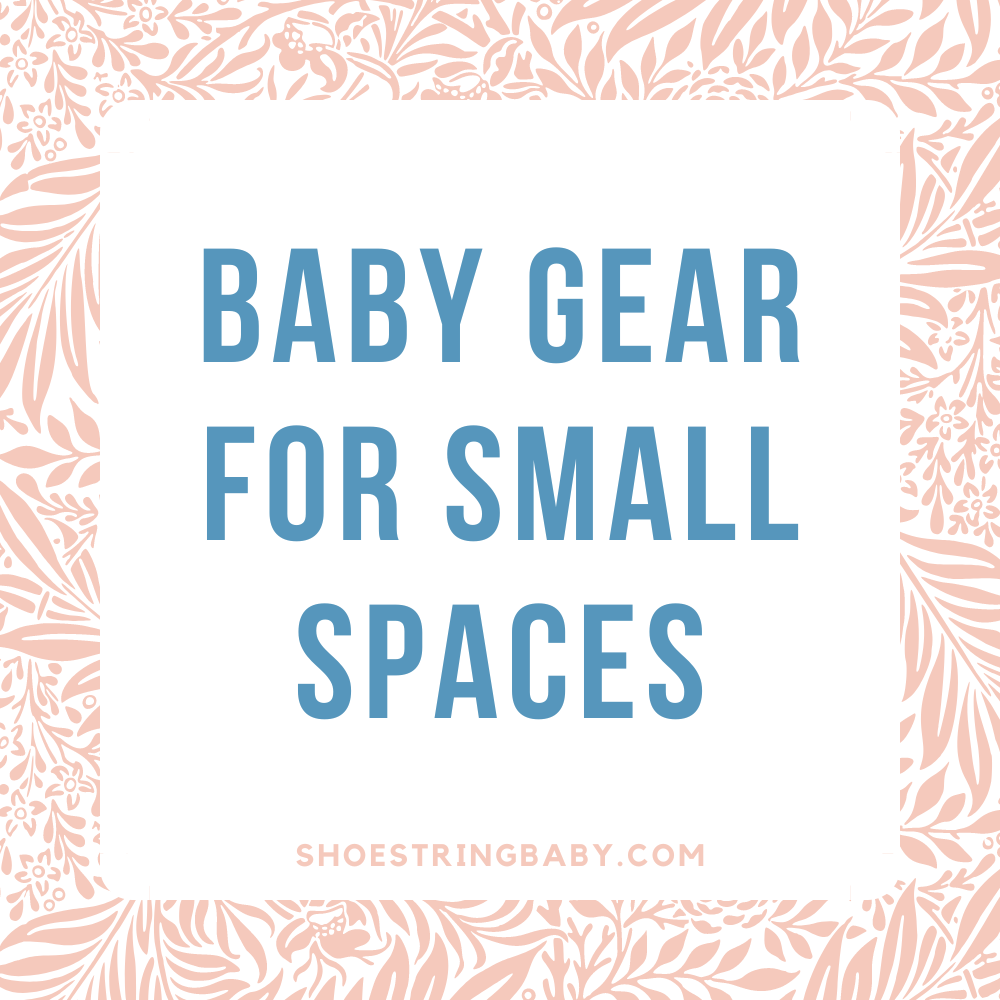 Preparing to bring a baby home to a small space? Check out this guide to space saving baby products, tested by a real mom in a tiny apartment.
We never expected to be living in our very tiny apartment with a baby. But then I got sick during my pregnancy and moving wasn't in the cards for us.
And then we figured we move once we were out of the newborn haze…until a pandemic hit.
So we are now have years of experience living with a baby in a small house and are pros at space saving baby items.
If you are in a similar tight quarters, read on for ideas of great baby gear for small spaces (that are affordable too!)
A benefit of fitting in a small space with your baby is that, by default, you have to reign in your baby gear. While it seems tough initially, it will help you spend less money and be more efficient with your baby items and storage.
Below you'll find baby gear that is easy to store in small spaces, broken down by categories like sleeping and eating. It focuses on bigger baby items that are tough in small spaces – like cribs and bouncers – instead of more easily stored items like sleep sacks and baby clothes.
Let's dive in!
Sleep Spaces
If no one has told you this yet, you don't have to get a bassinet. You'll just have to store in six months when your baby outgrows it. Really want to blow people's minds? Skip the traditional crib too.
That's right, bassinets and traditional cribs are not must-haves. They take up a lot of room, only serve one function, and aren't easy to store when not in use.
Consider opting for a playard travel crib instead. Pack 'n plays are safety-approved sleep spaces that are portable, light and collapsible. You can even get one with a bassinet feature for the newborn days.
We forwent both a bassinet and crib in favor of a pack 'n play and couldn't be happier with the decision. This is one of my favorite tips for fitting baby items in small living spaces. I love that it is affordable, easy to move and can be tucked away when we need more space.
With that in mind, here are some top picks for baby cribs when you live in small spaces:
Budget Pick: Graco Pack-N-Play with Bassinet
Pack 'n plays are affordable and take you all the way from newborn days until your baby outgrows a crib (their height limit is the same as most standard cribs). They also save you money since you don't have to buy extras like a crib mattress or a travel crib.
It is worth buying the one with the added bassinet feature to loft the mattress. It is so much easier to pick up a tiny baby with the mattress elevated. I was deeply sad when our kid got too fat for the bassinet height. Extra mini-crib sheets are also worth picking up so you rotate when washing (you're going to wash a lot).
Skip the pack 'n play models billed as "care stations" with changing pads on them. You likely don't need these and they're an extra expense. You'll constantly be taking off the extras to use the big sleep space – not worth the hassle and extra stuff to store.
(Note: We had one issue with it where the mattress started bunching up on the side a little and Graco sent us out a new mattress for free immediately.)
Upgrade Pick: Guava Lotus Travel Crib
The big selling point of the Guava Lotus Travel Crib over the Pack 'N Play is that the mattress is on the ground. There is a side zipped door to allow for easy access to the baby, a feature I definitely wished we had in hindsight. The side door ups the convenience factor and would work great with a crawling baby. It is also lighter, cutting the weight by almost half.
Also Good: Mini Graco Pack-n-Play
In hindsight, this is the mini pack 'n play I wish we had gotten for our small space. It is a little more of an investment than the traditional pack 'n play but it has a smaller footprint. They models with and without a detachable bassinet that you can easily move around the house.
Bassinet Option: Fisher Price Rock with Me Bassinet
If you do want to start with a bassinet, the Fisher Price's Rock with Me Bassinet is a good space-saving option. It folds down easily and comes with a removable mattress cover for easy machine washing (be careful if you wash the whole mattress pad to avoid shrinkage). Newborns are gross so machine-washable is a huge win.
Diaper Changes
Listen, you are going to be changing a lot of diapers. Multiple diapers a day for the first few years of your kid's life most likely. So you're definitely going to need some diapering equipment.
The good news is, there are a lot of space friendly options for diapering gear. First thing's first: you don't need a changing table.
Yes, much like a traditional crib, you can also hard pass on an old-school changing table. Plop a changing pad on top of a dresser you already own and you've got yourself a changing station.
Real talk, we changed diapers on a changing pad on the coffee table in our living room for months because we were too lazy to go to another room to change a diaper. Today we hide the changing pad under the couch and do changes on the floor, because parenting is glamourous.
This simple changing pad is more than enough to change a baby:
Top Pick: An Affordable Changing Pad
A simple and durable changing pad is honestly more than enough, like the Summer Infant changing pad or the Munchkin changing pad. We are the second owners of our Summer Infant pad and have been hard on it with two babies. It still works great. Because it is not rigid, it is forgiving when you shove it under things for storage.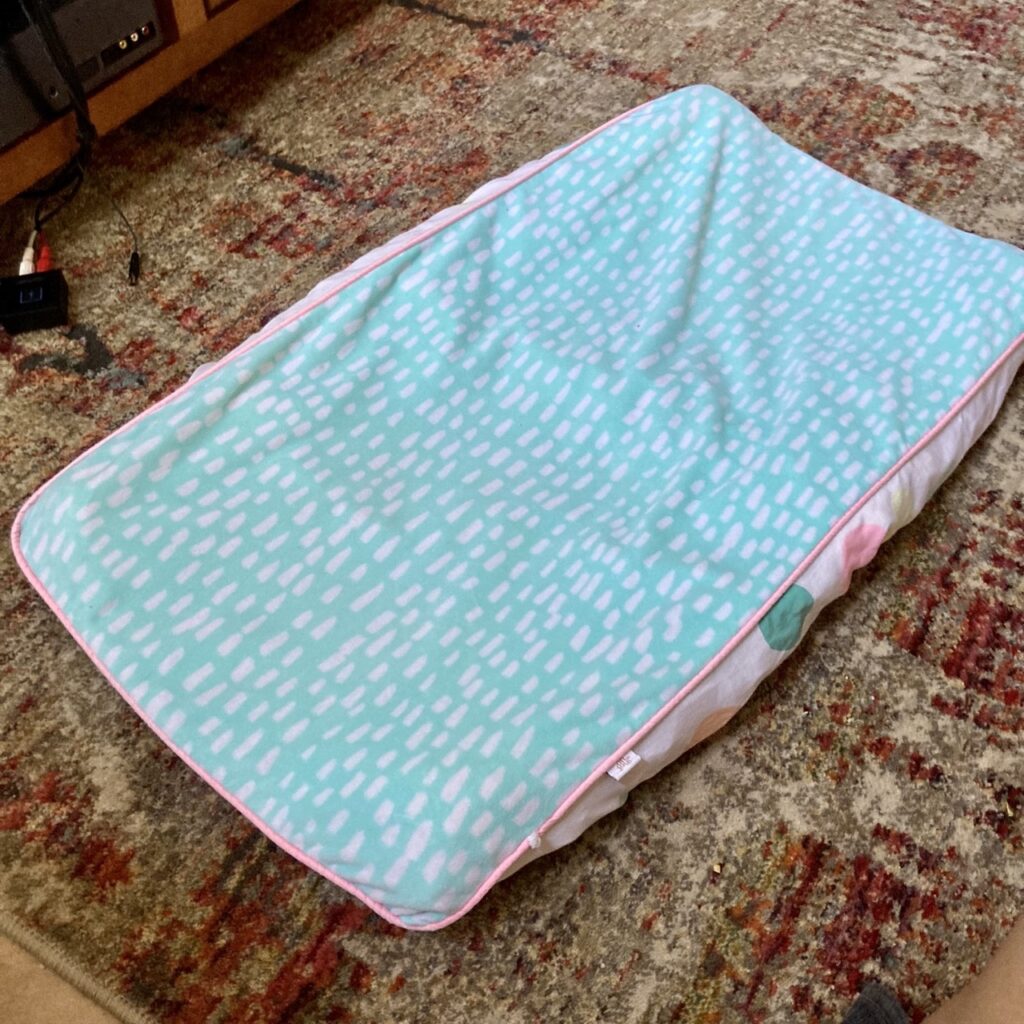 You'll want to grab a couple changing pad sheets. We also got some changing pad liners so that we could get away with fewer sheets. They were nice to have but I don't think they are a necessity.
Honestly, you don't even need a changing pad if you're trying to go very minimal. You can easily change a baby on a towel or a changing mat (see below). That said, the cushioning and sides of a pad are nice, especially in the beginning when you're really worried about breaking your newborn.
Also Good: A Big Portable Changing Mat
Changing mats are thin, machine-washable mats you can throw down to change your baby anywhere. What is great about a mat is that they are light, affordable and fold up even smaller than a towel, making them easy to tuck away or carry in a diaper bag.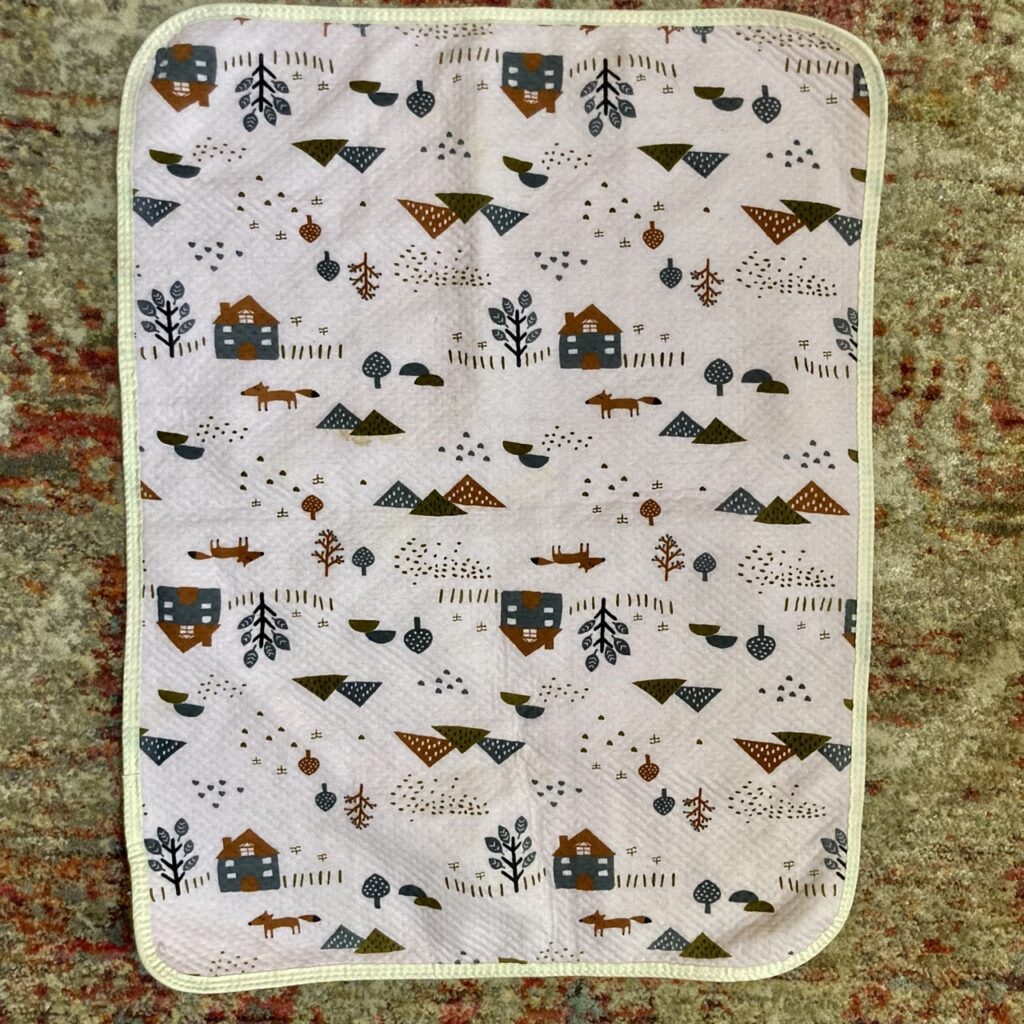 It is worth it to get a large-sized changing mat because babies get big quick. I really love our IKEA changing mat, but I wouldn't make a trip to IKEA just for that. If you're looking for a more convenient option, here is a two-pack of large changing pads. I'm sure any big changing pad will do the job but I linked a two-pack because it's nice to have one for the diaper bag and one for home.
Sure, there are cuter changing mats that zip up into a nice clutch bag. But when you have to change your baby on the floor of a public bathroom, you are going to want a big simple mat to keep your kid from touching the bathroom floor and immediately sticking their hand in their mouth. Because that is 100% what they will do.
Do you need a diaper pail?
A diaper pail is another baby "must-have" that you may want to skip to save space. Honestly, they're kind of gross so you won't be missing much. We had one for the first six months of our baby's life. It was only okay, and it took up space in our house.
Here's the deal, pee diapers don't smell so you can simply throw those into your regular trash. A diaper pail helps contain the smell of poop diapers so your trash doesn't constantly smell. Ours did a good job of smell containment while it was closed. But eventually you have to open the sucker up to shove another diaper in and it is a truly foul experience.
Related Post: Do You Need a Diaper Pail?
We now wrap poop diapers in plastic bags like you would for dog poop. It is easier and much more space-efficient. You can buy little bags for diapers but we've found using the random plastic bags from take-out etc. work just fine.
In a plastic grocery bag I can fit 2-3 diapers, which works out to about the same amount of plastic by weight per diaper as a diaper pail bag. To keep it from smelling, I'll spin the bag around the diapers and then turn it inside out. I'll unwrap it to pop the next diaper in and then spin it back up and tie it off before throwing it away.
Cloth Diapering: A Space Saver?
Opting for cloth diapers is another way to save space. Cloth diapers spare you from having to store big boxes of disposable diapers in your home.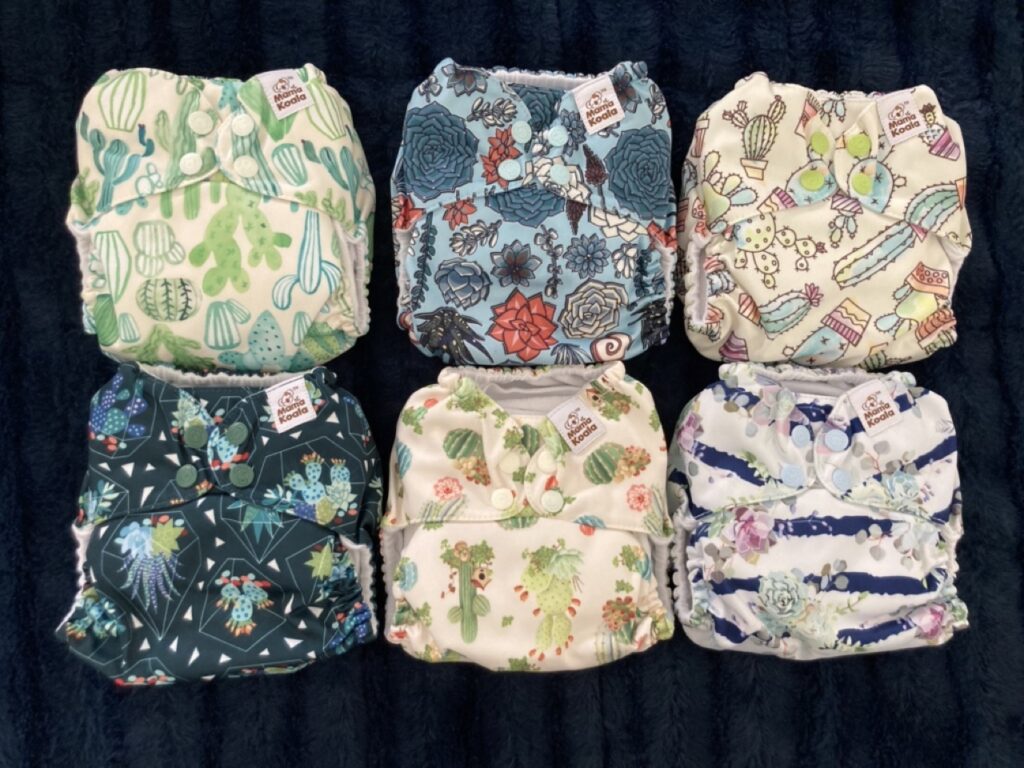 Related Post: Guide to Buying Cloth Diapers Secondhand
A stash of cloth diapers can easily be stored in a dresser drawer or basket. You can store dirty diapers in a hanging wet bag (or directly in the washing machine depending on your set up) to skip a diaper pail.
Strollers
From massive joggers to umbrellas that you can fit in a backpack, strollers run the gamut in terms of size, features and costs. With such a variety of features, a lot of choosing a stroller comes down to your priorities and preferences.
There is no shortage of travel strollers that fold down small and are fairly easy to store in small spaces. Budget and lifestyle usually determine the stroller families select. We opted for our Zoe stroller since it had the right combination of lightness, features and affordability.
I liked that it:
is so light;
has the same features of full strollers, like a huge canopy;
affordable;
and is not an umbrella stroller.
Because the Zoe stroller is so light, it offers a lot of flexibility in how you store it. It is light enough to hang on a coat rack hook or easily put up on a higher shelf. Some models of the Zoe stroller will even fit in the airplane overhead bin.
High Chairs for Small Spaces
Once your baby hits about six months old, you'll need a safe seat for eating solid foods. Unfortunately most high chairs are going to take up at least some space in your small home.
Related Post: 5 Great Folding High Chairs
We started with the very affordable and well-loved Ikea high chair with our baby. It was great but even this simple chair was hard for us to find a space for in our small apartment. You are able to take the legs off for smaller storage, but you're not going to do that 3-5 times a day. I've since subbed out our chair for ones specifically designed for easy storage.
Smallest Option: Inglesina Table Chair
The Inglesina Fast Chair is a small seat that clamps down to your table or countertop. Since it is not a free-standing chair and is fabric, it is the most compact high chair option available. We absolutely love ours. [Note: we've found it was worth getting the add-on tray; otherwise, there is a gap between the table where food falls down easily]
In addition to being great for small spaces, I love that it is portable and travel-ready. The fabric is also machine washable – a huge plus since high chairs are notoriously gross and hard to clean. I hose ours off too for even easier cleaning. Chicco also offers a clip-on high chair, but it doesn't accommodate as wide a range of table widths as the Inglesina.
One downside of this chair is that it does not have a 5-point harness system. We have had to take breaks from the Inglesina in favor of a chair with a full harness when our baby was hellbent on jumping out of her high chair.
Full Chair Options
For awhile we lived somewhere that was too small for a proper dining room table so we had to have a free-standing high chair. We use a folding high chair that was easy to put away between meals.
We personally opted for the Joovy Nook since it had a tray that swings open, making putting a baby in it so much easier. That said, I think other folding high chairs like the Graco Slim Snacker or the Cosco Fold Deluxe High Chair would serve the purpose as well.
These chairs have a few drawbacks. First, they are harder to clean than the simple IKEA chair. They also don't promote as good of posture as you'd get with a high chair like the Stokke Tripp Trapp. That said, a high chair like the Joovy is 100% the best option for us given our space limitations, but it is a marriage of convenience more than love.
Travel Option: Pop-up Travel High Chair
A travel booster high chair is a small, collapsible chair that can also be strapped to a dining room chair as a high chair substitute. What is great about a travel chair is that it fulfills two purposes – eating outside or on the go, and as an at-home high chair when attached to a chair (though it is more booster height when attached to a chair).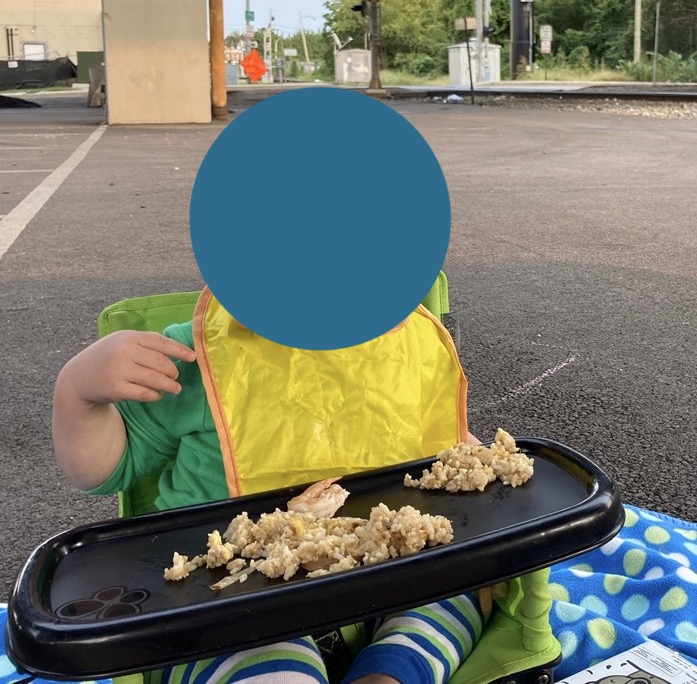 We love our small travel booster high chair so much. It is a more flexible travel option than a clip-on high chair like the Inglesina because it can be used outside without a table, such as on a picnic or at the beach.
Ours has seen heavy use during the last two years in the pandemic since everything we do is outside. It give the baby a place to eat; but more importantly, it keeps him contained momentarily so we can eat ourselves.
I got a secondhand Summer Infant Pop-n-Sit seat since it was the first available but I would have preferred the hiccapop Omniboost Travel Booster Seat. The fabric on the hippapop version is machine-washable, a winning feature considering high chair food messes. Regalo offers a version too, but it also isn't washing-machine safe.
Again, these options only offer lap straps and not a full 5-point harness.
Baby Bath Items for Small Spaces
Babies are slippery suckers. I wanted to be the person who simply washed my baby in a sink with no added gear. In reality, bath time felt perilous for months and I was deeply thankful for our baby baths.
Baby baths are often awkwardly shaped and tricky to store. We started with this common type of baby tub for infants to toddlers. I got sick of storing it, and we outgrew it well before toddler age.
Here are better baby bath items for those in small spaces:
Top Pick: Stokke Foldable Tub
Stokke, the company famous for their Tripp Trapp high chair, makes a discerning foldable baby bath that I am seriously shocked doesn't get more buzz. We upgraded to a Stokke foldable tub and I could not love it more.
You can check out my full glowing Stokke bath tub review, but to summarize: we still use it with our three-year old and he prefers it to the big tub. It uses less water, allows for a higher water level on his body, and has a back to rest on. We can even fit the baby in with him in the regular sized Stokke tub. It is also a great option for those who don't have a tub as well.
I had looked at an inflatable duck tub for easy storage but it sounded like a hassle to blow up regularly. The Stokke is more of an investment but easily opens and closes. It also feels super sturdy and grippy – I can't slide it at all across the tub floor once there is some water in it.
Baby Receptacles & Holders
Having places to set your baby down was a huge baby gear priority for me. And this turned out to be good foresight because there are definitely going to be some moments when you need to contain your baby somewhere safe.
Baby-Wearing
If you are looking to be as minimal as possible with your baby items in your small space, you could skip floor-based baby containment devices and opt instead for baby-wearing. You simply strap the baby on your body and go about your business.
On the plus side, baby-wearing often soothes fussy babies, and wraps and carriers are very easy to store. On the negative side, it can be hard to do some chores while wearing a baby (like anything that requires you to bend over).
Honestly, preferences about baby-wearing wraps and carriers are really personal and depend on body type. A great carrier for one person may not work for you. There are three main styles for wraps:
Fabric Wraps: Fabric wraps like the Boba wrap or Moby wrap fold up small and are great for the early newborn days. Wraps essentially swaddle your baby to you and are highly adjustable to fit any body type.
Slings: Ring slings are large pieces of fabric looped through rings to create a pouch to hold a baby. They are easier to put on than fabric wraps but are only supported by one shoulder.
Structured Baby Carriers: Structured carriers like the Ergo Omni 360 or Lillebaby Carrier offer more support than wraps or slings, and allow you to carry your baby in multiple positions like forward-facing, hip carry, or on your back. These carriers have the longest use for most people, well into toddlerdom.
If you are looking to store fewer baby items in your small space, opt for a structured carrier that you can use from birth to toddler-aged, like the Ergo 360 Omni carrier or the LilleBaby Complete.
Baby Containment Items for Small Spaces
You'll also likely need a place to put your baby when you aren't able to wear her.
Bjorn Bouncer
I had previously recommended the boppy lounger for a place to put down a baby but they were recently recalled. As an alternative to loungers, we now also use a Bjorn bouncer.
This bouncer is great because you are able to use it from the newborn stage all the way to toddlerhood (up to 29 lbs). They are ideal for small spaces because it folds down flat. We are able to slip it under the couch or crib when not in use.
Fisher Price Sit-Me-Up Chair
Common baby containers like exersaucers, jumpers and activity centers take up a lot of space.The Fisher Price Sit-Me-Up chair is a good alternative because it folds down and is light so it can be moved around easily. It is good for babies once they have neck control and want to be sitting up.
We liked it because it fit in our tiny bathroom and could be stored on a coat rack. Our baby is still able to fit in it over a year old but chunkier babies will likely size out sooner. It was easier to store and felt less tippy than the UpSeat Chair we also use.
Related Post: Sit-Me-Up vs. UpSeat Baby Floor Chairs
Collapsible playpen
Lastly, you'll likely find a collapsible playpen handy. We use a collapsible playpen when we want to do things like clean the house so the baby is somewhere safe while we go from room to room.
We got a secondhand Summer Infant pop-up playpen, ours doesn't have a sunshade but that's a valuable feature if you plan to use it outdoors often (Regalo also makes nearly identical one). It has been great but I wish we went with one with a zippered side-door, like the hiccapop playpod. The side door access adds a lot of convenience that makes it a worthwhile upgrade.
We like our collapsible playpen because it pops open and closed with one hand (unlike a pack 'n play) and is small enough that we can store it under our couch. It also works with larger babies and toddlers, and can fit more than one kid, so you'll get more use out of it than a bouncer or Sit-Me-Up chair.
---
What are your favorite baby items for small spaces? Looking for more baby gear ideas? Check out these great baby gifts under $15