Sit-Me-Up Seat vs. UpSeat [2023 Baby Floor Chairs]
This post may contains affiliate links. Read the full disclosure here.
Looking for a baby floor seat? Check out this Sit-Me-Up vs. UpSeat comparison to help you find the right chair for your baby.
There comes a point in every baby's life when they want to be up looking around, but physically are nowhere near sitting independently. And when that time comes, they're pissed about it.
That's where baby floor seats come in. Floor chairs support babies with head control in a seated position before they are able to sit by themselves. Babies are happier because they can look around and play with toys; and parents are happier because they get a few minutes free while their baby is contained.
Two popular baby floor seats are the Fisher Price Sit-Me-Up chair and the UpSeat Floor Seat Booster Chair. The UpSeat is a physical-therapist designed answer to the Bumbo that puts a baby in a safe and healthy position (you'll want to skip the well-known Bumbo because of incorrect posture and hip concerns). The Sit-Me-Up chair also allows babies to move and maintain health positioning.
We've used both the Fisher Price Sit-Me-Up and the UpSeat extensively with both our babies. For us, the Sit-Me-Up chair was our go-to baby containment device from about 4-months to 9-months old. We used the UpSeat as a portable seat for eating, snacks and as a change of pace from the UpSeat. Both are great chairs and which one is right for you will depend a lot on your priorities.
Below you'll find an in-depth comparison of the two chairs, including positioning, stability, ease of use, and accessories. Let's dive in!
And don't forget to check out a few of our other posts:
NOTE: some recommend against using any baby containment device as they could limit gross motor development. Personally, I have no idea how I would have ever showered or made dinner without them. It is generally advised if you use them to keep it to short sessions. Always consult with your pediatrician for individualized advice.
What is the Fisher Price Sit-Me-Up Chair?
The Fisher Price Sit-Me-Up Floor Seat is a baby chair that offers support before babies can sit independently. It is great for babies who can hold their head up and want to be involved in the action but can't sit by themselves.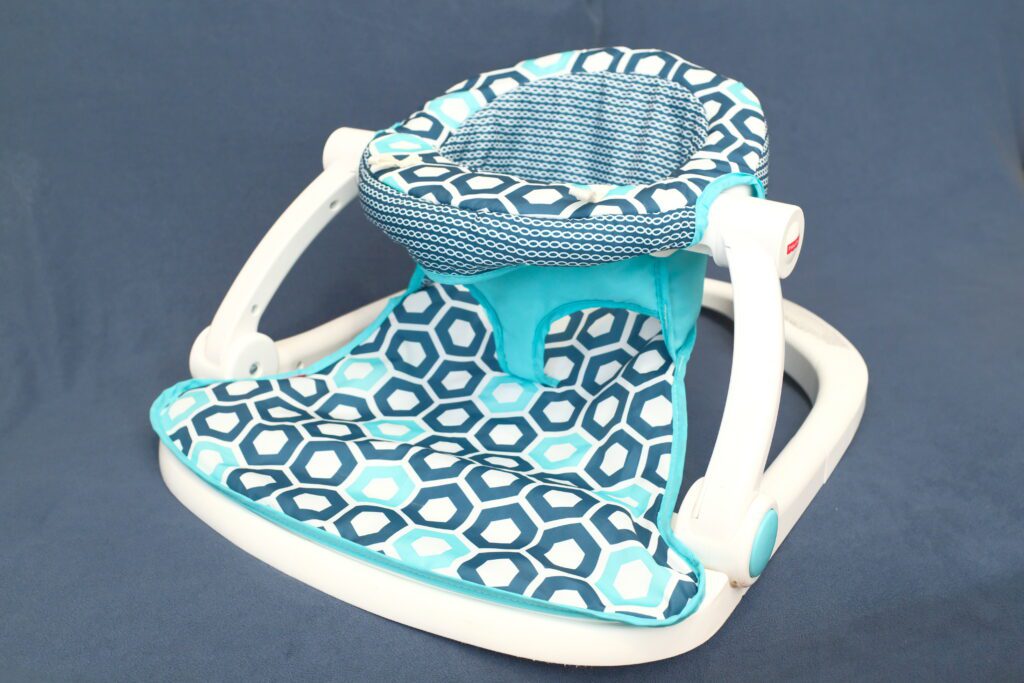 The sit is made of fabric attached to a plastic frame and acts like a sling under the baby. Since it is fabric, it offers more give and movement than other chairs.
We loved our Fisher Price Sit-Me-Up with both our babies. At about 4 months old, both were happier if they could look around in a sitting position but were no where near stable enough to sit. The Sit-Me-Up chair allowed us to cook dinner, take showers and get short breaks from being attached to a baby.
What I liked about the Sit-Me-Up chair is the safe positioning and chair stability. It has the baby sitting flat on a wide base, with the ability to move around their legs and upper body, which is good for better posture and hip safety.
Practically, the Fisher Price Sit-Me-Up chair folds down flat which is game changing for those living in small spaces or who don't want baby gear all over their house. We hung ours on a coat rack or slipped it under the couch. It also has a machine washable cover, another key feature for the inevitable blow out.
Pros of the Sit-Me-Up Chair:
Allows baby to sit up and see
Comfortable positioning and space for body movement
Wide, stable base for stability
Portable and folds flat for easy storage
Machine-washable fabric
Accessories like trays and toys available
Cons of the Sit-Me-Up Chair:
Awkward to get baby in and out
Does not allow for completely free movement
Short period of usefulness before baby outgrows it
More baby gear to buy
What is the UpSeat Chair?
While the UpSeat Floor Seat Booster Chair may look like the famous Bumbo, it was actually designed by a physical therapist to promote safe sitting posture and hip positioning. It features a flat sitting surface, wide splayed leg holes and space to freely move the upper body and arms.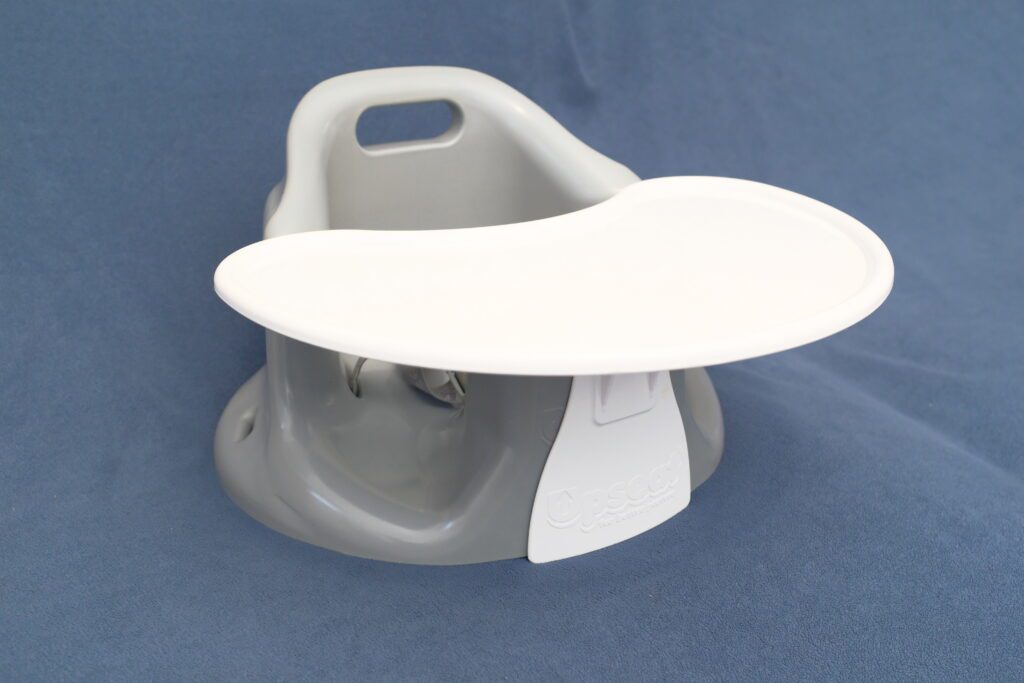 The UpSeat is made of soft foam that supports babies before they can sit independently. Like the Sit-Me-Up, it can be used once baby has good head and neck control, usually around 4-months.
We used an UpSeat with our second baby as an early high chair. She needed extra support to get in a seated position even at 6-months and the UpSeat with tray worked great. It is portable and the smooth seat surface made it super easy to clean.
As our baby got bigger, she would lean over the sides of the UpSeat, which threatened to tip the seat over. UpSeat suggests that once your baby is leaning in the chair too much that you start using it as a booster seat secured to an adult chair instead. Using the UpSeat as a booster extends the length of time you'll be able to use the chair. It can be used as a booster into toddlerhood.
Pros of the UpSeat:
Good posture and hip positioning
Easy to clean and includes tray
Can be used from about 4 months to 2 years old as a booster seat
Portable
Easy to put baby in and out
Cons of the UpSeat:
Less stable base and possible tipping
Does not allow for completely free movement

More baby gear to buy

No toys
Sit-Me-Up Seat vs. UpSeat Stability
WINNER SIT-ME-UP: The Sit-Me-Up chair has a much wider base than the UpSeat, making it less likely to tip over.
We felt that we had to watch our baby closely when she was in the UpSeat because it threatened to topple over if she tried to reach for things on the side. A few times we had to grab it before she tipped it.
We still found the UpSeat useful but it may be less of a fit for very active babies.
Ease-of-Use & Putting Baby In the Seats
WINNER UPSEAT: This one goes to UpSeat. Putting a baby in and out of UpSeat is not difficult because you can place them in from above. They are just as easy to get out because you simply lift them up.
The Sit-Me-Up chair requires you to angle the baby in slightly to get them around the top support and into the leg holes. Getting them in isn't too bad but getting them out is more awkward. Because their legs are sticking straight out, you have to finesse them out as you try to lift them up around the front support bar.
Another factor to consider with getting your baby in the seat are the leg holes. How big are the leg holes on the UpSeat and Sit-Me-Up?
The UpSeat legs holes are ~4.25 inches wide
The Sit-Me-Up seat leg holes are ~4 inches wide.
These should accommodate most babies; however, those babies with very chunky thighs may have a snugger fit.
Sit-Me-Up vs. UpSeat Positioning
TIE: Both the Sit-Me-Up Chair and the UpSeat Chair position babies safely in their seats. Each allows for babies to sit on a flat surface. Sitting on a flat surface encourages better posture and proper pelvic tilt.
Both designs also reduce hip dysplasia concerns. The UpSeat does this by making the leg holes spread apart wide to the side in line with the International Hip Dysplasia Institute. The Sit-Me-Up chair's allows babies legs to have freedom of movement and a wide positioning as well.
Finally, both chairs allow babies to move their upper torsos and arms. This allows babies to work on movements, balance and stabilization. For more on UpSeat positioning see here and Sit-Me-Up positioning see here.
Sit-Me-Up vs. UpSeat Portability
WINNER SIT-ME-UP: Portability is a close race because both are small and light so they are easy to move around the house. Still, the Sit-Me-Up has the slight advantage because it can fold down flat. Folding down flat makes it easier to carry and store away. It is also one piece so you don't have to keep track of extra parts.
Related Post: Baby Gear for Small Spaces [& Small Budgets!]
The UpSeat chair does not collapse at all so you have to store it as is. It does have a handle in the seat which makes it easy to carry and it is light. However, if you are using the UpSeat with tray you'll also have to bring the tray and the base as separate pieces. This makes it more awkward to transport and store.
Cleaning the Upseat vs. Sit-Me-Up Chair
WINNER UPSEAT: Again, this is another close comparison as both chairs are easy to clean. UpSeat has the advantage though because you can simply wipe down the foam seat. There are two small holes for the straps that can get food in them but even those I've never had any trouble getting clean.
The Sit-Me-Up chair's fabric all comes off and can be thrown into the washing machine for easy washing. This is an essential feature with a gross baby. However, the fabric has to air dry so you'll be out of a seat for a few hours, making it slightly less convenient.
Accessories for UpSeat and Sit Me Up Chairs
WINNER SIT-ME-UP: Fisher Price's Sit-Me-Up Floor Seat wins in terms of chair accessories. With your Sit-Me-Up seat you can add a tray, toys, or a sunshade.
TRAYS: The tray I think is the most important added feature. Both chairs have good options for a tray. With the Sit-Me-Up seat, you can buy a model with a tray or without (I think the tray version is worthwhile); a tray comes standard with the UpSeat.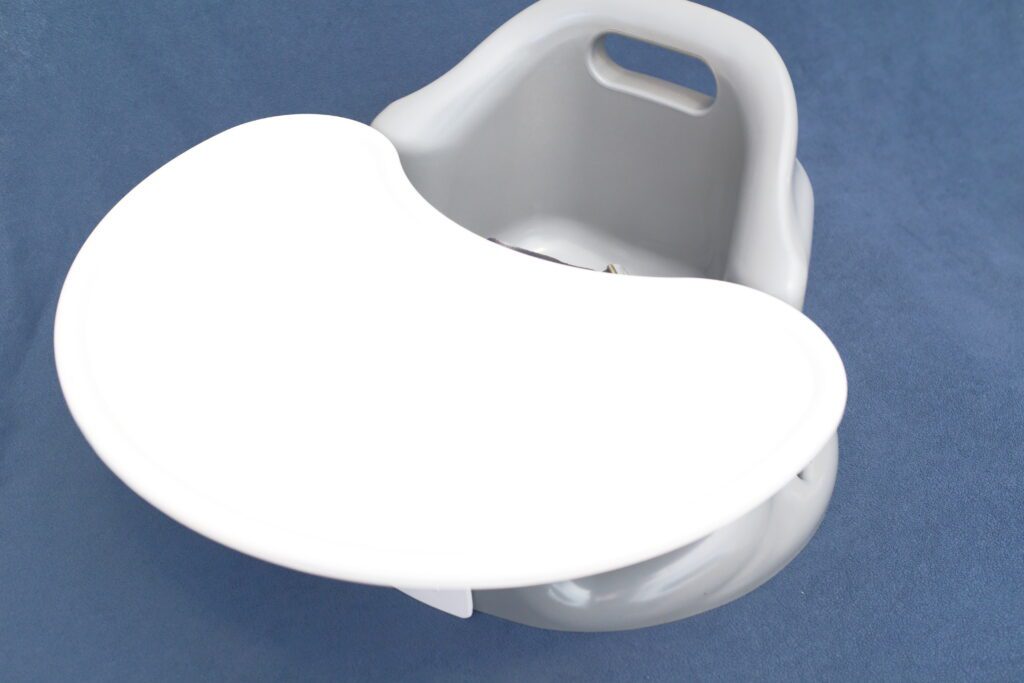 The UpSeat tray is much bigger than the Sit-Me-Up tray and can fit a full meal, clocking in at 16 x 9 inches. However, it is slightly awkward to attach. This is a minor issue and definitely wouldn't keep me from getting the chair but if you don't get it snapped in the baby can tip the tray.
Though the Sit-Me-Up tray is smaller, is has borders all around so it is easier for babies to grab snacks without pushing them off the tray.
Related Post: 5 Great Folding High Chairs
TOYS: The Sit-Me-Up pulls ahead because it has two hooks where you can add toys to help entertain the baby. It comes with two toys standard but you can also rotate them using the clips. The UpSeat does not have any toy space, though you could buy a separate high chair suction toy to attach to the tray.
SUNSHADE: Lastly, Fisher Price also offers a model with a sun shade for the Sit-Me-Up seat. This probably isn't necessary for most people but could be a very nice addition if you plan to be outside often.
Baby Floor Chair Alternatives
The UpSeat and the Fisher Price Sit-Me-Up aren't the only options for baby floor seats. Here are some alternatives to consider:
Conclusion
Overall, both the Sit-Me-Up Floor Seat and the UpSeat Floor Seat are good options for young babies. Deciding which floor seat is right for you will depend on your priorities with your baby. Here is a summary of the features of each chair:
| | | |
| --- | --- | --- |
| | Sit-Me-Up | UpSeat |
| Stability | WINNER | – |
| Ease-of-Use | – | WINNER |
| Positioning | WINNER | WINNER |
| Portability | WINNER | – |
| Cleaning | – | WINNER |
| Accessories | WINNER | – |
Lastly, given their popularity, both the Sit-Me-Up seat and the UpSeat are very easy to resell once your baby outgrows them. Since the UpSeat is less common, you'll likely be able to get more on resale than the Sit-Me-Up. I see Sit-Me-Ups regularly sell secondhand around $10, where UpSeats list around $50 on Facebook Marketplace (estimated resale prices as of Feb. 2023).
---
Looking for more info on reselling baby gear? Check out 10 Baby Items That Are Easy to Resell.