Do You Need a Changing Table? + Easy Alternatives
This post may contains affiliate links. Read the full disclosure here.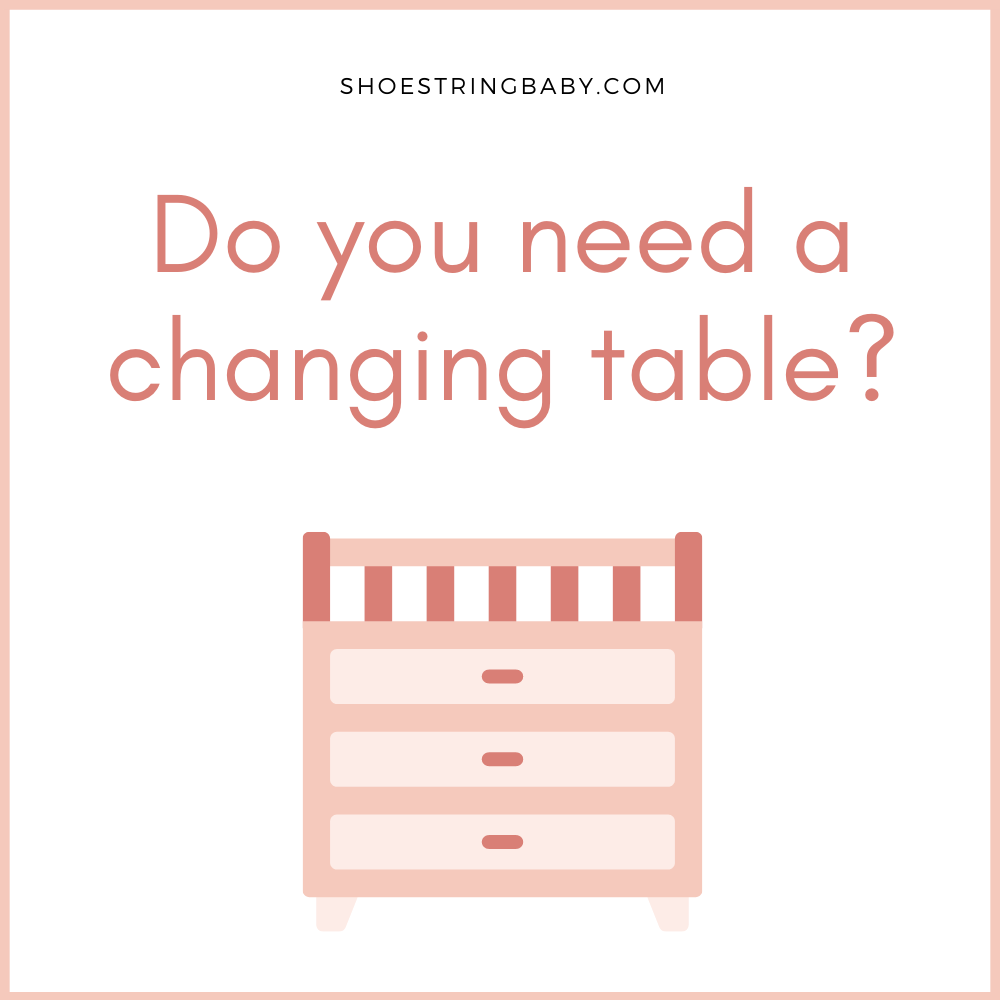 Do you really need a changing table? Learn why you can skip this classic nursery item, and find alternatives that save you money and space.
A baby brings with them the promise of seemingly endless diaper changes, and a lot of diapering gear.
Gear like a changing table – the command center of diaper changes. Changing tables are simple enough; you change your baby on the top of the table and keep all their stuff in the shelves or drawers below.
But if you're short on space or cash, you may be asking yourself: do I need a changing table?
No. While they look cute in a nursery, they are definitely not a requirement for taking care of a baby.
I have gone through two baby phases without a changing table and I'm here to share what you need to know about forgoing changing tables.
A changing table was never on the table for us (lol) because of our small living space. Plus, I didn't want to spend money on something with limited use that is used only briefly.
Allegedly it is easier to change a baby when you don't have to bend over, but changing a squirmy baby elevated off the ground is low-key terrifying for me.
That said, with all things baby gear one person's 'skip it' is another person's 'must-have.' Read on to learn about the pros and cons of diaper changing tables to decide if it is something you need, including alternative changing table ideas.
Do You Need a Changing Table?
So, the big question: is a changing table necessary?
Generally, most people do not need a traditional changing table (the kind with a dedicated top to hold a changing pad). The addition of a built-in changing station makes changing tables usefulness short-lived.
The longest you'll use it is until your kid is out of diapers, and likely even shorter because babies become too squirmy or heavy for elevated changes fast.
Given their short life span, you're likely better saving some money and opting for a changing table alternative, like a changing pad atop a dresser.
There are some reasons you may want a changing table. For example, if you don't already have a dresser for baby stuff and want your nursery furniture to match, a crib + changing table set may be a good option.
A changing table could also be useful if you have physical issues that would make changing a baby on different or low surfaces more challenging.
Related Post: Do You Need a Crib?
Here are some pros and cons of changing table:
| | |
| --- | --- |
| Pros | Cons |
| Helps organize all your diaper stuff | You have to walk all the way to your changing table for each diaper change |
| Can be used for multiple babies to extend usefulness | Takes up space |
| Design aesthetic in the nursery | Added cost |
| May be helpful for those with pain or mobility issues bending over. | Only used for a short period |
| | Changing a baby who wants to roll away on an elevated surface is terrifying |
| | Easy alternatives that approximate the changing table experience but are more flexible |
Alternatives to Changing Tables
If you decide you don't need a diaper changing table, you'll still need some kind of set up to change your baby. Below are some changing table alternatives to consider, all of which will save you money compared to buying a changing table.
We personally have used all these alternatives at some point, with our diapers, wipes and cream organized in a small basket.
Towel: the minimalist option
If you are trying to minimize your baby gear, changing your baby on a towel or blanket is a great option. Using something you already own will save you money and be one less thing you have to store.
Using a towel provides some padding for the baby and coverage in case of any messes. The best part is that they are easy to machine wash, unlike most changing pads.
Changing mat: the space saving option
Changing mats are waterproof, portable mats that you lay out for diaper changes. If you are tight on space, they are great because they are thin and fold down very small for easy storage.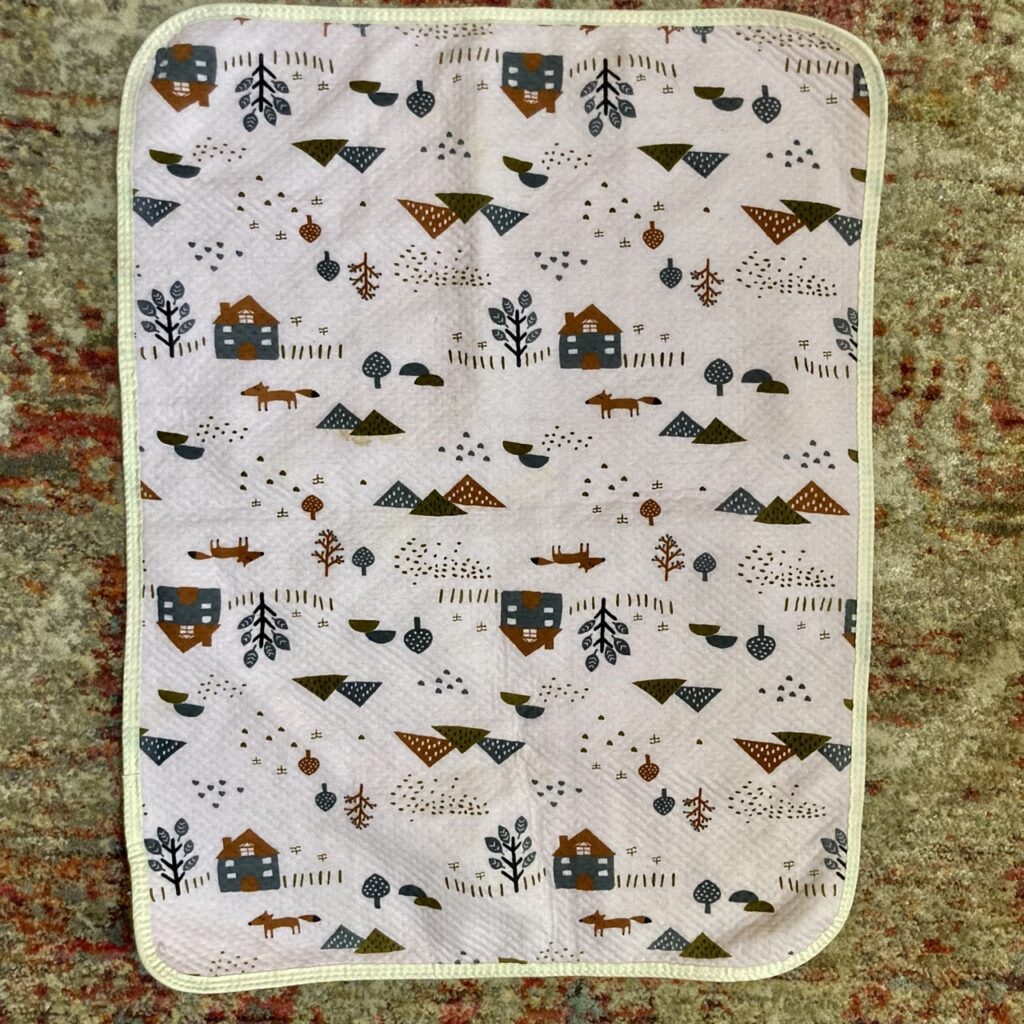 What I like about our changing mat over a towel is that it folds up much smaller and is water resistant (and they're machine washable!). We keep ours folded up small in the baby's dresser until we need it.
Our mat also serves double duty as our diaper bag mat. The non-porous fabric is better at contain possible leaks – important when changing on carpets or in public!
Changing pad: the flexible option
A changing pad is less compact than a changing mat, and offers more padding, side walls and a buckle to keep a baby (somewhat) in place. You'd buy a changing pad anyway to put on your changing table so only getting the pad is the closest substitute to a full table.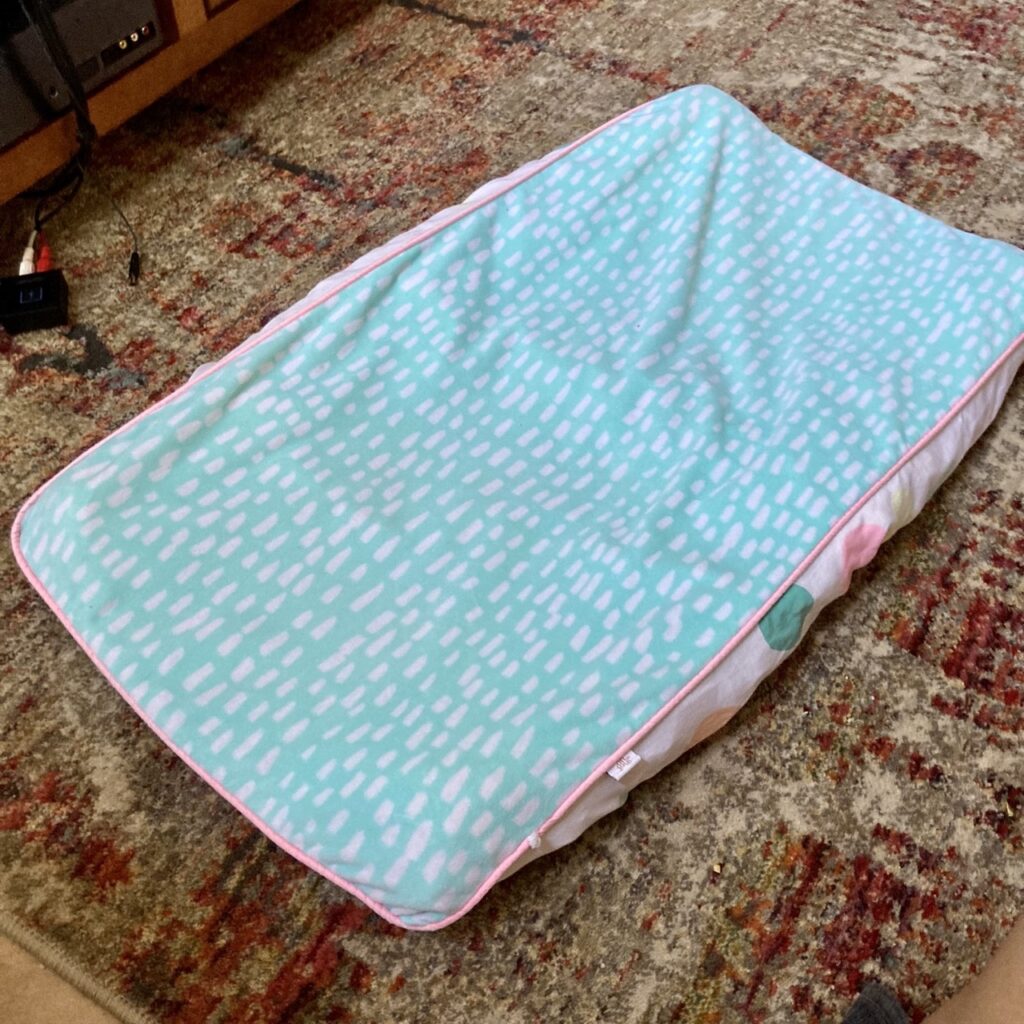 When you put a changing pads up on a dresser or table, it's basically the same as a changing table but for a fraction of the cost. Many changing pads even come with straps to secure the pad to the elevated surface.
What I like about changing pads is their flexibility. They are easy to move from room to room, and to different surfaces. Our changing pad is slipped under the couch between changes so it doesn't take up space in our small home.
We are the second owners of our Summer brand changing pad, and it has held up shocking well to a lot of abuse. We are rough with it. Our babies are super rough with it. It is still in good share. We do have a couple changing pad covers since the pad instead is not machine washable, so that is a small added expense with this option.
---
I hope this article helped you answer the question: do you really need a changing table? For more on diaper gear, don't forget to check out all my in-depth diaper reviews.
And if you're wondering what other baby gear you can skip, check out my "do you really need a…" series: