Do You Need a Crib? Top Crib Alternatives for 2023
This post may contains affiliate links. As an Amazon Associate, I earn from qualifying purchases. Read the full disclosure here.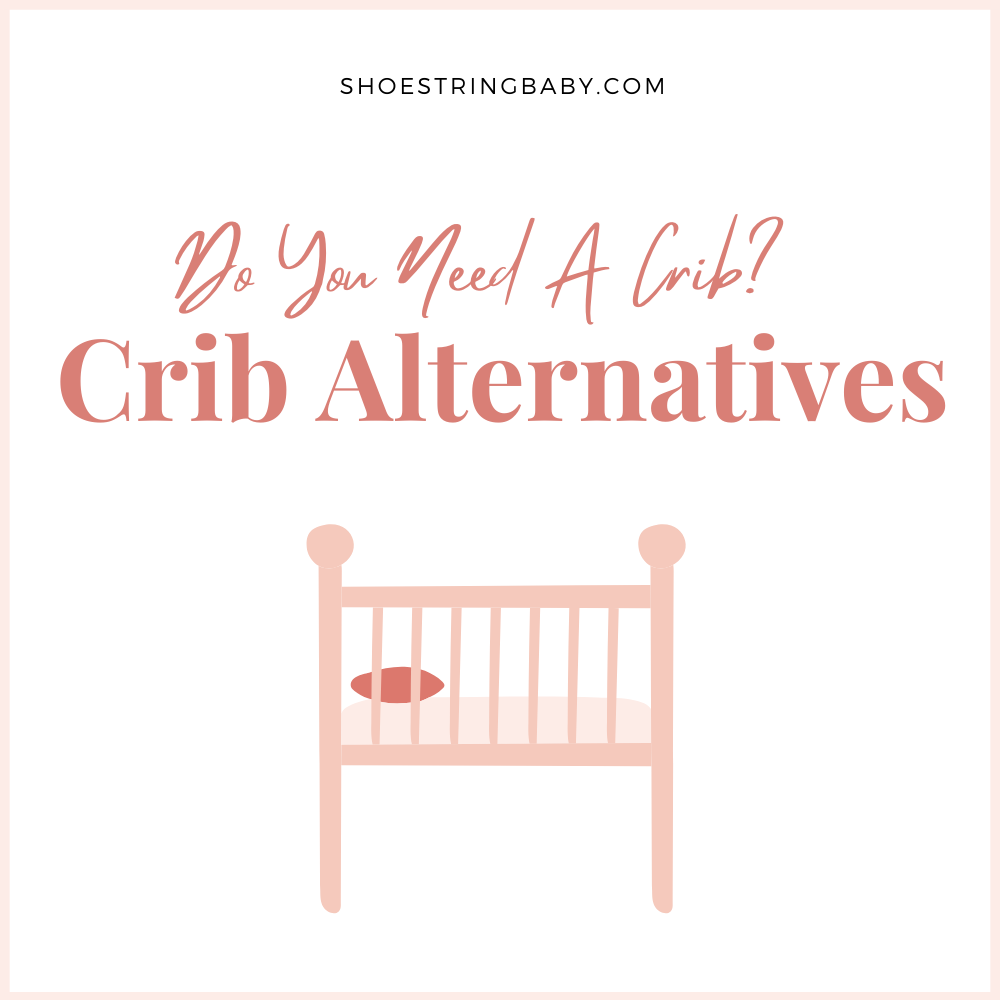 Soon-to-be parents setting up a crib in anticipation of bringing home a baby is a right of passage, right? Cribs are so quintessentially 'baby' that it is assumed that you have to have one. But do you really need a crib?
Nope!
That's right, you do not actually need a crib for your baby. Traditional cribs are not the only option for safe sleep. Bassinets, pack and plays, playards work just as well as a standard crib (or better!) (source).
According to the American Academy of Pediatrics, play yards and bassinets are considered safe sleep spaces in addition to cribs (source).
We are team "no crib" — both our babies came home from the hospital sleeping in pack-n-plays. I wrote this article from our nearly four years of experience without a crib (we also did not use a bassinet, which you can also skip!).
For us, a traditional crib was too big for our small living space, and it felt pricey for something you only use briefly. Plus, we still would have needed to buy a travel crib for trips away from home.
Instead our kid sleeps in a playard travel crib – and we love it. It works just as well as a standard crib, with the added bonus of being affordable, portable and travel-ready.
NO TIME TO READ THE WHOLE ARTICLE? While you do need a safe sleep space, cribs aren't the only option! Our favorite crib alternative is a travel play yard like the Graco Pack n Play (budget option, what we use) or the Guava Lotus (upgrade option that I wish we got).
So if you are worried about the money or space needed for a crib, read on and let me disabuse you of any lingering beliefs about crib superiority. You're still a good & legitimate parent whether your kid sleeps in a box or a pottery barn crib.
And don't forget to check out some of my other do-you-really-need-that posts like, Do You Really Need a Playmat or Play Gym?
REMINDER: Always discuss with your pediatrician if you have questions about safe sleep for your baby. This article is for informational purposes only and is not medical advice. Check out HealthyKids.org's explainer of the current AAP policies on safe sleep for more information.
Do you need a crib?
Do babies need a crib? As long as you have a certified safe sleep space for your baby, you do not need a traditional crib for your baby.
Here are pros and cons of a standard crib:
Pros of Cribs
Cribs are a safe sleep space (more on sleep safety recommendations)
Cribs come in a variety of styles to better match home decor
Some cribs convert into toddler beds for longer use
They provide more room to grow than a bassinet
Cons of Cribs
Additional costs than crib alternatives like pack and plays (which you likely need anyway)
Require additional purchases like crib mattress
Not easily moved from room to room
Not portable so you'll need an additional travel crib when away from home
Not easily stored when not in use
Tiny baby legs can get stuck between crib slats in the night and wake up the baby
Do you need common crib accessories like a crib mobile?
No, you don't need a crib mobile. In fact, some baby sleep experts recommend skipping mobiles because they can be too stimulating for tired babies (source).
If you want a mobile, try putting it over your diaper change area instead. Some crib alternatives like pack 'n plays also come standard with a baby mobile equivalent.
Related Post: Do You Need a Changing Table?
Crib Alternatives
So if you don't want a traditional crib, what other options do you have?
In my opinion, a playard or travel crib like a Pack 'N Play or Lotus Travel Crib are the best crib alternative because they:
If you are planning to have multiple babies, a portable crib is a great alternative to a crib because of how easily you can store it between babies. Unlike a standard crib, simply pack it up and tuck it away until you need it again. This also makes it easy to hang on to if you expect to host friends with babies.
Best Affordable Crib Alternative: Pack 'N Play with Bassinet
This is the pack 'n play we use and love. Paying a little more for the bassinet feature to elevate the mattress is definitely worth it (compared to the most basic model). I like that Graco models are a more basic pick than brands like BabyBjorn. And I've personally had great experience with their customer service.
Graco's Pack 'N Play is an old faithful. It is simple and gets the job done. Including a bassinet feature means it can be the only sleep space you need for your newborn, your baby when they get bigger, and for on-the-go-trips.
One thing to note about the pack 'n play is that there are snaps to hold the mattress down that you have to thread out the bottom by each leg and snap them on the leg. We didn't know this until our one-year-old started burying herself under the mattress (oops!).
We also had an issue with the mattress pad bunching but Graco customer service was awesome and immediately sent us a new replacement mattress for free.
If you are using your Pack 'N Play as your primary sleep space, don't forget that you'll want to have some extra sheets on hand. Pack 'N Plays are compatible with mini-crib sheets so you have lots of options. We had to change sheets frequently in the newborn days because both our babies were big pukers.
That said, you likely can skip the more elaborate 'care station' pack and plays – you don't need the extras. In fact, you'll constantly have to take off the added features like a changing pad before putting your baby to sleep on the bigger mattress.
If you're using your pack 'n play like a crib, keep it simple and reduce the hassle.
Upgrade Pick Crib Alternative: Guava Lotus
If budget allows, the Guava Lotus travel crib offers some smart features that you won't find on Graco's pack-n-play:
Side zipper door to more comfortably access the baby.
Lighter-weight than the pack-n-play (almost cuts the weight in half!).
No maximum weight limit since the mattress rests on the ground.
In hindsight, knowing how much we've used our crib, I wish we could have gotten the Lotus over the pack 'n play as our alternative to a crib.
I think the side zipper door and the mattress being on the floor are the biggest selling point for the Lotus. As our baby got bigger, I wished our pack-n-play had these features and it would add a lot of value once babies are able to crawl in independently.
The Lotus is more of an investment than the Graco pack-n-play, and you have to pay extra to add on a bassinet attachment for the littlest babies. The bassinet is a smaller mattress so you'll also need two sets of sheets – sheets for the bassinet mattress and sheets for the regular Lotus mattress.
And these sheets are Lotus-specific sheets — there are a few options for getting them in 2-packs which can save some money, like these cute organic cotton sheets or these elephant sheets.
Option for Small Spaces: Mini Graco Pack-n-Play
The mini pack 'n play is simply a smaller version of Graco's regular pack 'n play. If I were to get another Pack 'N Play, I'd opt for this model because the smaller footprint would be nice in our small space.
Remember Safe Sleep Guidelines
Again, I want to offer another reminder to follow safe sleep guidelines to keep your baby safe while sleeping. Unfortunately, if you google "crib alternatives" you're likely to have found other lists that include not-sleep safe ideas like co-sleeping, baskets and floor mattresses. Always cross-check current safe sleep guidelines from the American Academy of Pediatrics for the most up to date information.
Related Post: Do You Need a Diaper Pail?
Revisiting Your Sleep Space as Your Baby Grows
Remember, you should continually evaluate your baby's sleep space as they grow. For instance, a space that is considered safe for a newborn like a bassinet may not be safe once the baby surpasses the weight limit or can roll over.
Let's look at Graco's pack-n-play as an example. According to Graco, you need to stop using the pack-n-play's bassinet feature when the baby weighs over 15 lbs or if they are pushing up on hands and knees because of the fall risk (source: example Graco pack-n-play product handbook).
Another sign to watch out for as your baby grows is trying to climb out of their sleep space. We recently had to transition our baby out of her pack-n-play when she tried to climb out of it.
Frequently Asked Questions
Conclusion: Do I Need a Crib?
So is a crib necessary? No, but you do need a safe sleep space per AAP and CPSC standards. A bassinet, play yard or travel crib are also acceptable places for your baby to sleep (source)
To summarize, here is a crib sheet (ha!) comparing the pros and cons of traditional cribs vs. travel cribs or play yards:
| | |
| --- | --- |
| Crib | Travel Cribs |
| Sleep Safe | Sleep Safe |
| More Costs | Less Costs |
| Not portable | Portable & collapsible |
| Endless styles | Limited color options |
| Some options for small spaces | Good for small spaces |
| Bulky storage when not in use | Folds for easy storage |
| Side slats | Mesh sides (legs can't get stuck) |
Overall, I highly recommend to friends that they think twice before buying a bulky crib. We are extremely happy with the versatility and function – and of course the money savings – of our pack 'n play. You don't have to have a crib if it doesn't work best for your needs.
I hope this article helped you answer the question "do I need a crib?" and decide whether cribs are necessary for your individual situation. Ready to read more about baby gear? Check out these 10 baby items with high resale value.
Or check out some more posts in my "do you really need…" series: