12 Ways to Save Money on a Snoo
This post may contains affiliate links. As an Amazon Associate, I earn from qualifying purchases. Read the full disclosure here.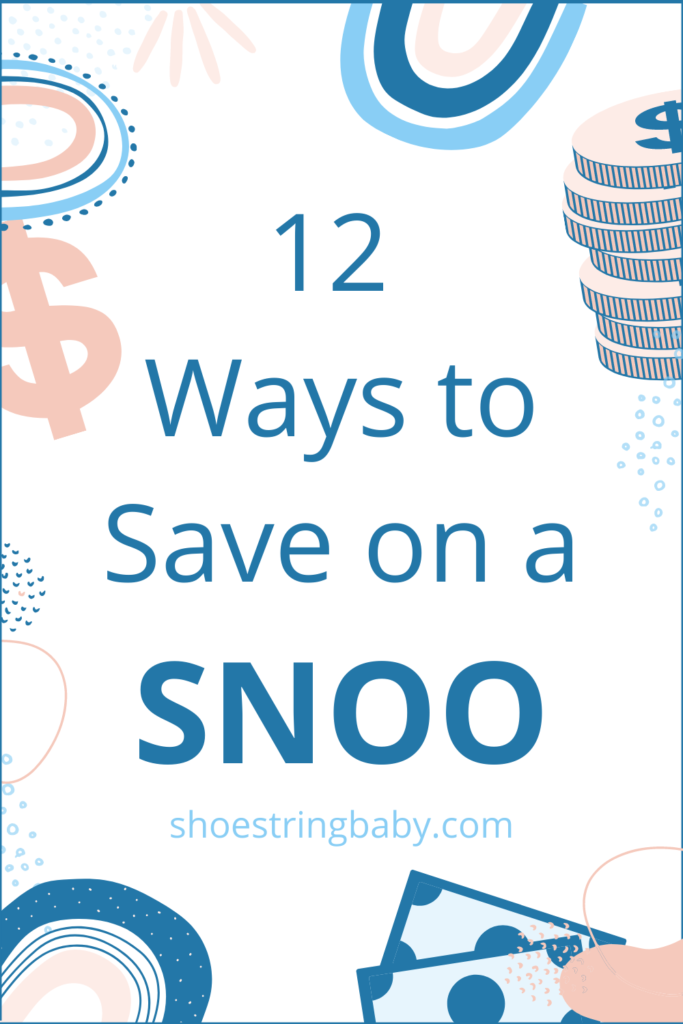 Thinking about buying a Snoo for your new baby? Check out these 12 tips to help you save money on your Snoo.
The Snoo Smart Bassinet is beloved by parents for helping them get more sleep during the newborn days. However, this luxury does not come cheap. As of July 2022, Snoos were clocking in at $1695. With such a high cost, trying to find savings on the Snoo is prudent.
Below you'll find 12 ways ideas to save on a Snoo outside simply waiting for sales (though that's a good strategy too!). Many of these savings tips can be stacked to save even more on your Snoo. Plus, learn more about cash-back opportunities, fishing for discount offers, and reselling your Snoo for extra money savings.
What is a Snoo?
The Snoo Smart Bassinet senses when your baby is stirring and attempts to put them back to sleep for you. It assesses your baby's movements and sounds and adapts its soothing techniques to help the baby stay asleep or fall back to sleep.
Parents love it because it helps babies sleep longer between stretches, meaning more sleep for overtired parents.
Snoo's parent company, Happiest Baby, sells Snoos but also offers a Snoo rental program. Renting may save you some money on a Snoo but it is still a sizable investment (over $800 for a 6-month rental). For more on renting vs. buying, check out our in-depth guide on whether it is better to rent or buy a Snoo.
1. Snoo sales to save money
Happiest Baby runs sales throughout the year. If you wait until a 15% off sale, you'll save over $250 off a Snoo. During a 20% sale, you'll save about $340. Snoo sales pop up periodically and in the past they've had Mother's Day, Father's Day, Black Friday and Anniversary sales.
Tip: You can buy early to take advantage of a sale and push your shipping date out to near your due date. This keeps your year warranty from starting early and means you don't have to store the Snoo until the baby comes.
2. Rakuten for cash back Snoo savings
Rakuten is a cash-back platform that helps you save money on purchases you make online. Currently, if you start your Snoo purchase with Rakuten, you'll receive 3% cash back on your purchase total (~$50 cash back) or $30 back on your Snoo rental (as of July 2022).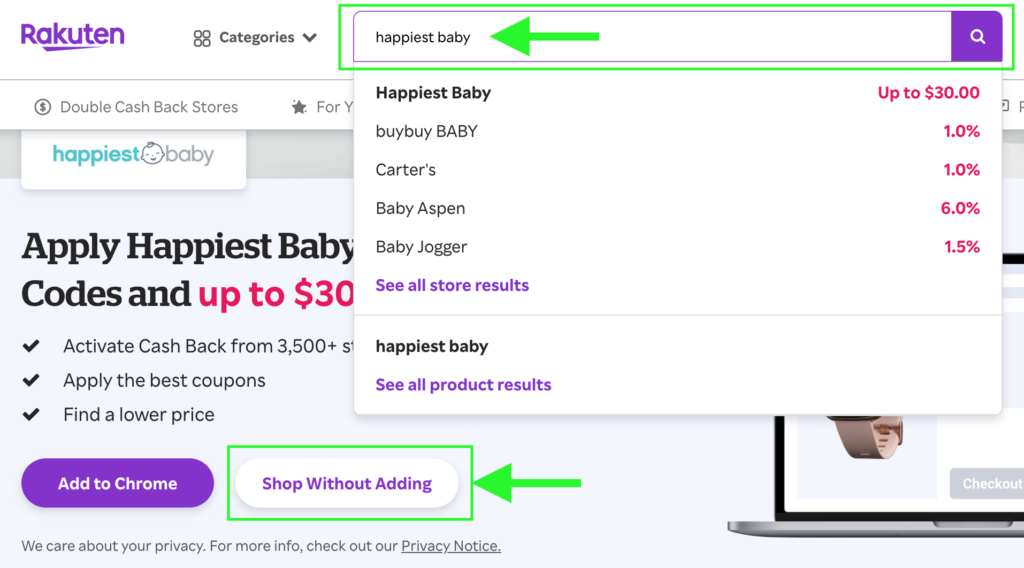 It is as easy as a few extra clicks to save money on a Snoo with Rakuten. You simply start your shopping experience from the Rakuten website, search for "Happiest Baby," and then click the link.
If you don't already have a Rakuten account, you can sign-up for one here (affiliate link that also gives you a $30 new member bonus).
Rakuten will redirect you to the Happiest Baby website and then shop like normal. Once you've completed your purchase, you receive your cash-back money by check or PayPal every quarter.
3. Baby registry completion discounts
You can take advantage of your baby registry completion discount to save on your Snoo purchase. Target, Babylist and Amazon Baby Registries all offer a completion discount, where you can get 15% percentage off your remaining baby registry items close to your due date. If you add the Snoo to your registry, you may be able to snag 15% off (about $250) off retail price.
Note: people have had mixed results with the Snoo being eligible for Amazon's completion discount recently.
4. Leave the Snoo in your cart for a few days for discounts
If you aren't buying during a sale, try adding the Snoo to your cart but waiting to complete the purchase. Many people report that if you leave the Snoo in your cart for a week or so, Happiest Baby will send you a discount code of upwards of $240 off to try to entice you to finish your purchase. If you have the time, this is an easy way to save money on a Snoo.
Related Post: Do You Really Need A Bassinet?
5. Buy with a Rewards Credit or Debit Card
Since the Snoo is so pricey, buying with a rewards card can offer substantial savings. A popular choice for the Snoo is to buy it through Target's RedCard program, which offers 5% off Target purchases. That amounts to about $85 off Snoo's full retail price.
Target's RedCard discount stacks with other discounts for increased savings. I also really like that RedCard offers a debit card option with the same benefits for those leery of adding a new credit card to the mix.
6. Buy a used Snoo
Given the huge investment of a Snoo, many people try to resell their used Snoo once their baby outgrows it. If you find a good deal, buying a used Snoos could save you some serious money.
Secondhand Snoos usually sell for $650 to $1000. If you can find a used Snoo on the low end of this price range, you can save almost $1000 compared to buying new (especially if it comes with extra swaddles and sheets).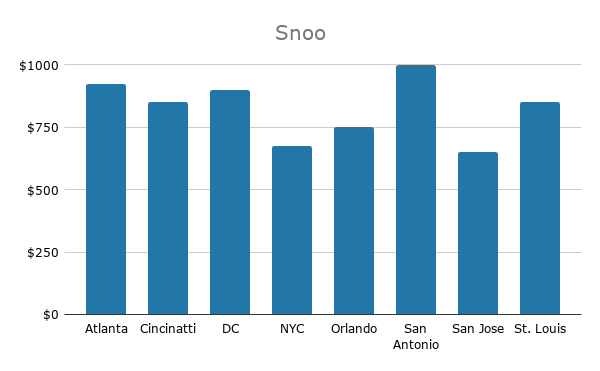 However, if the used Snoo is closer to $1000, you may be better off buying new using the other money-saving tips in this list. Used Snoos come with inherent risks, such as the unit breaking without a warranty, bed bugs and unknown past use history. Lots of people buy used Snoos and then resell them again for nearly the same price but with a lot more wear and tear.
7. Get secondhand Snoo swaddles and sheets to save money
If you don't want to buy your whole Snoo used, you can still save money by opting for secondhand Snoo swaddles and Snoo sheets. Snoos come with one set of each but you'll need extras to rotate between washes. Newborns are gross and you'll be washing sheets and swaddles a lot.
By buying used swaddles and sheets, you should be able to save at least 50% off retail prices. I have often seen them given away for free in parents Facebook group so if you watch, you may be able to save at least a hundred dollars off these Snoo accessories.
8. Sign up for the Happiest Baby mailing list to Save Money on a Snoo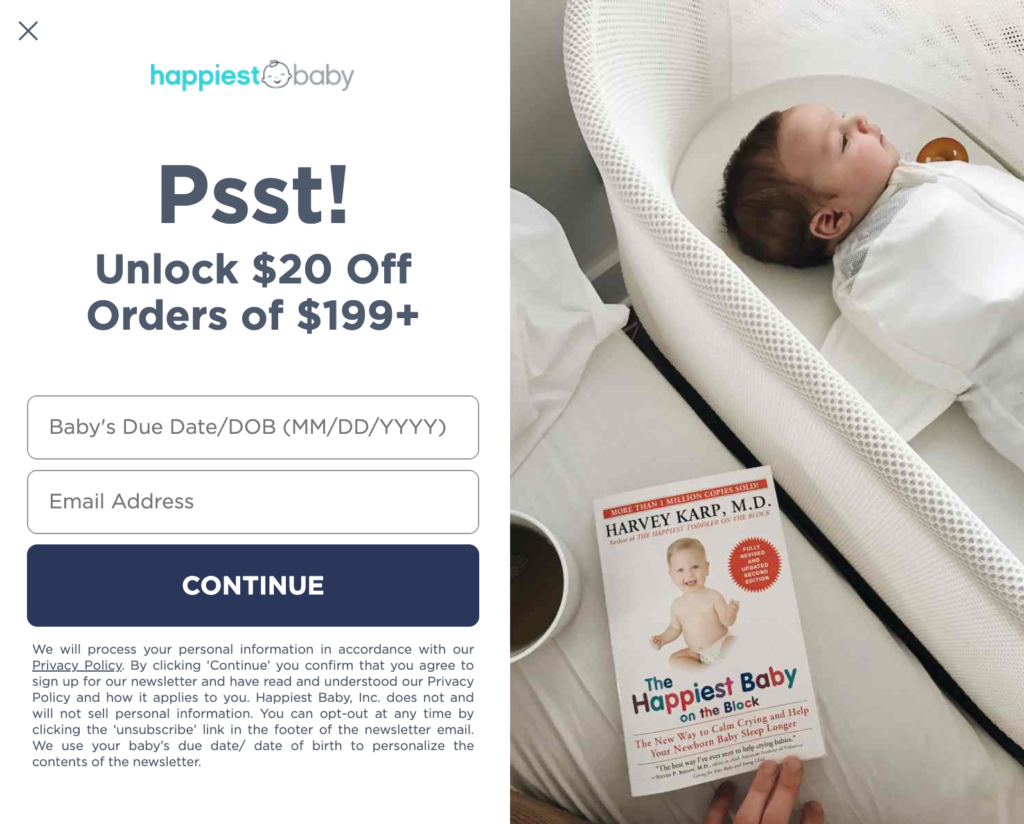 When you land on the Happiest Baby website, a pop-up invites you to join their mailing list. Currently, new subscribers receive $20 off a purchase of $199 or more (as of July 2022). There are bigger savings to be had on a Snoo but this may be a good option if you're making a smaller purchase, such as extra swaddles or sheets.
9. Resell your used Snoo to Save some money
Once you are done with your Snoo, you can resell it to recoup a lot of your investment. Selling your Snoo is a great way to save money if you choose to buy a Snoo over renting one. As mentioned above, people resell their Snoos for about $650 to $1000. If you bought your Snoo initially on a sale, you could get back over 50% of your money by reselling.
Related Post: 10 Baby Items with High Resale Value
With Happiest Baby now offering a rental program, there are fewer used Snoos on the resale market. Many people report fierce competition when trying to buy a used Snoo, which means you'll likely have an easy time reselling one on Facebook Marketplace or Craigslist.
10. Resell your Snoo accessories
If you rent a Snoo, you can still resell your Snoo accessories to recoup some money off your rental costs. Snoo accessories are more readily available than Snoos themselves, but you could list them for about 50% off retail value on Facebook or Craigslist.
11. Informally rent out your Snoo
If you know friends or family having babies soon after you, you may be able to rent your Snoo out informally as a way to save money on your initial Snoo investment. This set-up works best if you know and trust the other family as you may be taking on liability by renting it.
Renting your Snoo between pregnancies is often a win-win for families. The renting family saves money and the owner family doesn't have to store the Snoo between babies. However, it does add extra wear and tear on your bassinet.
12. Military and Corporate Snoo Savings
Happiest Baby runs a discount program for military families as a thank you for their service. As of July 2022, the discount was 20%. More details about the military Snoo savings program can be found here.
Some companies have partnered with Happiest Baby to provide free Snoo rentals to their employees. The companies get a return on their investment by having better rested employees. If you work for one of these companies, your benefits manager should provide more details. More information on the corporate rental program can be found here.
---
Ready to read more on luxury-branded baby gear? Check out whether you really need a DockATot (+ 6 safer and better alternatives) or if you should buy an Owlet sock used.