13 Construction Books for Kids That Really Nail It
This post may contains affiliate links. As an Amazon Associate, I earn from qualifying purchases. Read the full disclosure here.
Looking for new book ideas perfect for tiny truck lovers? Check out these children's books about construction sites and vehicles that kids will totally dig.
Our toddler has been obsessed with trucks over half his life. We spend our days walking around looking for trucks, and spend our nights reading truck books before bedtime.
Never did I expect to become a truck connoisseur but here I am. Dump trucks, semi trucks, digger trucks, we love them all.
So I have spent A LOT of hours reading these books below about construction vehicles. These construction children's books are all toddler-vetted. And I drill into (pun!) how easy it is to read them aloud, since you'll probably be reading on endless repeat.
I curated this list from books available at our local library. Links are included since I know personally the stress of having easily-torn library books around toddlers (let's just say I've spent a lot of time taping books back together).
And don't forget to check out our list of children's books about fire trucks & firefighting!
Let's get building!
Let's Build
by Julie Fenner
I love Let's Build. My toddler loves Let's Build. It is a unique and fun take on the construction vehicle book that turns the reader into an active participant in the story.
Each page of this interactive book asks the child to do an action like tilt the page to help a dump truck dump or clap to get the attention of the crane truck. With your help, the construction vehicles build a new playground in the park.
My kid went wild for this book. He so earnestly does all the actions to help the trucks get the job done and I loved watching him when we read it together. Of all the construction books on this list, this is the one library book I've most considered buying so we can always have it on hand.
Goodnight, Goodnight Construction Site Book
by Sherri Duskey Rinker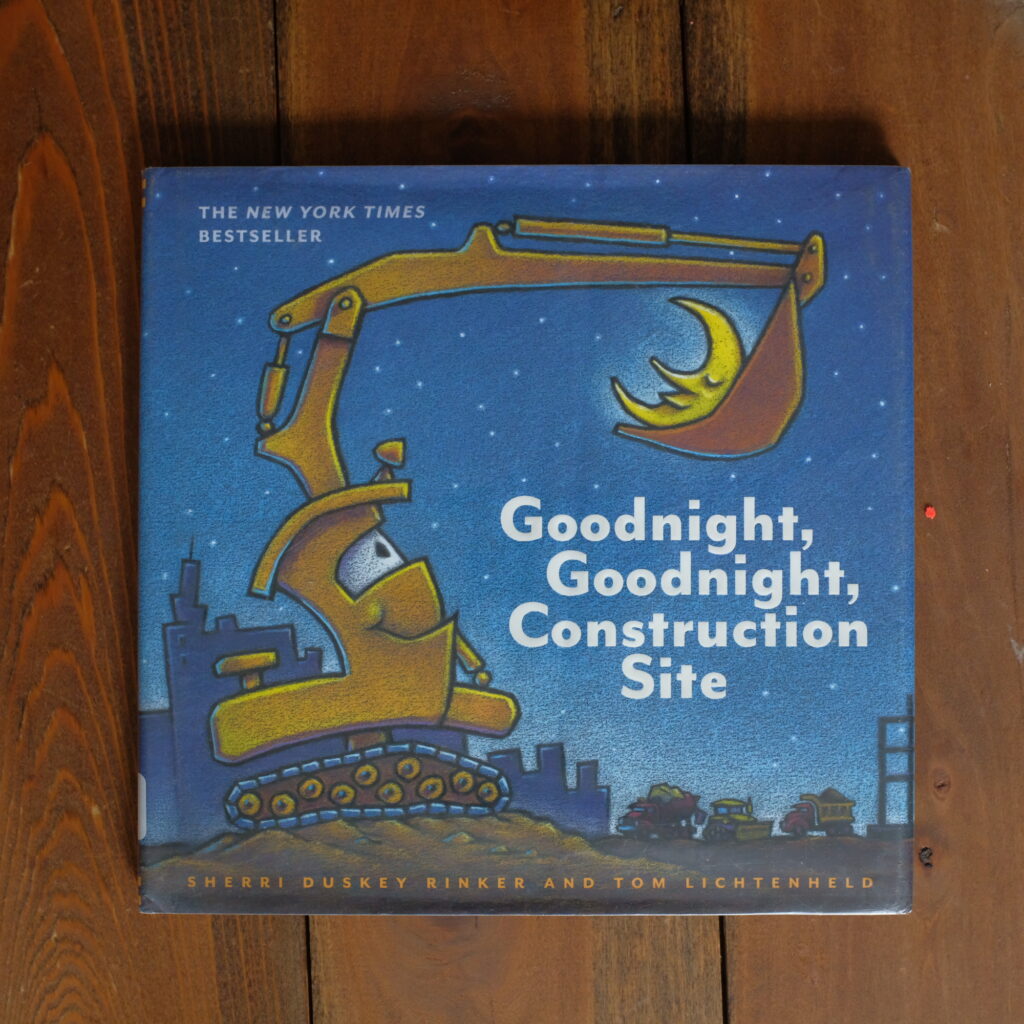 Goodnight, Goodnight, Construction Site is a modern classic that is a New York Times bestseller for a reason. It has spun off a number of other construction truck books like Mighty, Mighty Construction Site and Crane Truck's Opposites Book.
I personally really enjoy reading this book aloud to my kid. It has a good rhyming pattern and tempo that makes for easy reading. Plus, the bedtime theme helps convince our toddler to "go to sleep like a dump truck."
This book is also a hit with our two-year old. The first time we read it he was so excited to see what truck came next and talk about what they were doing. This one is an old faithful in our house.
Shape Up, Construction Trucks Book
by Victoria Allenby
Shape Up, Construction Trucks is a simple and repetitive toddler book with construction vehicle photos. Each page has a different construction truck and highlights a shape you can see on the truck.
This book would be good for toddlers who love construction sites to work on their shapes. I liked that it includes big, real photos of the construction trucks. The book ends with a short parent's guide of activities for learning shapes, such as counting shape sides as you read the book.
Digger Man
by Andrea Zimmerman & David Clemesha
Digger Man follows a young boy who dreams about operating a digging truck. The boy and his digging truck work to build a playground where he and his brother can play.
It features the same little kids and plot structure as Fire Engine Man, where the boy envisions a life as a firefighter.
This has been a great book for our family because it features the main character showing his baby brother all about digging trucks. The baby is too little to work a digging truck right now but with the brother's help he'll learn to work with a digger too.
Our toddler seems to get more out of this sibling lesson told through trucks than from the more generic new sibling books we've read.
Road Builders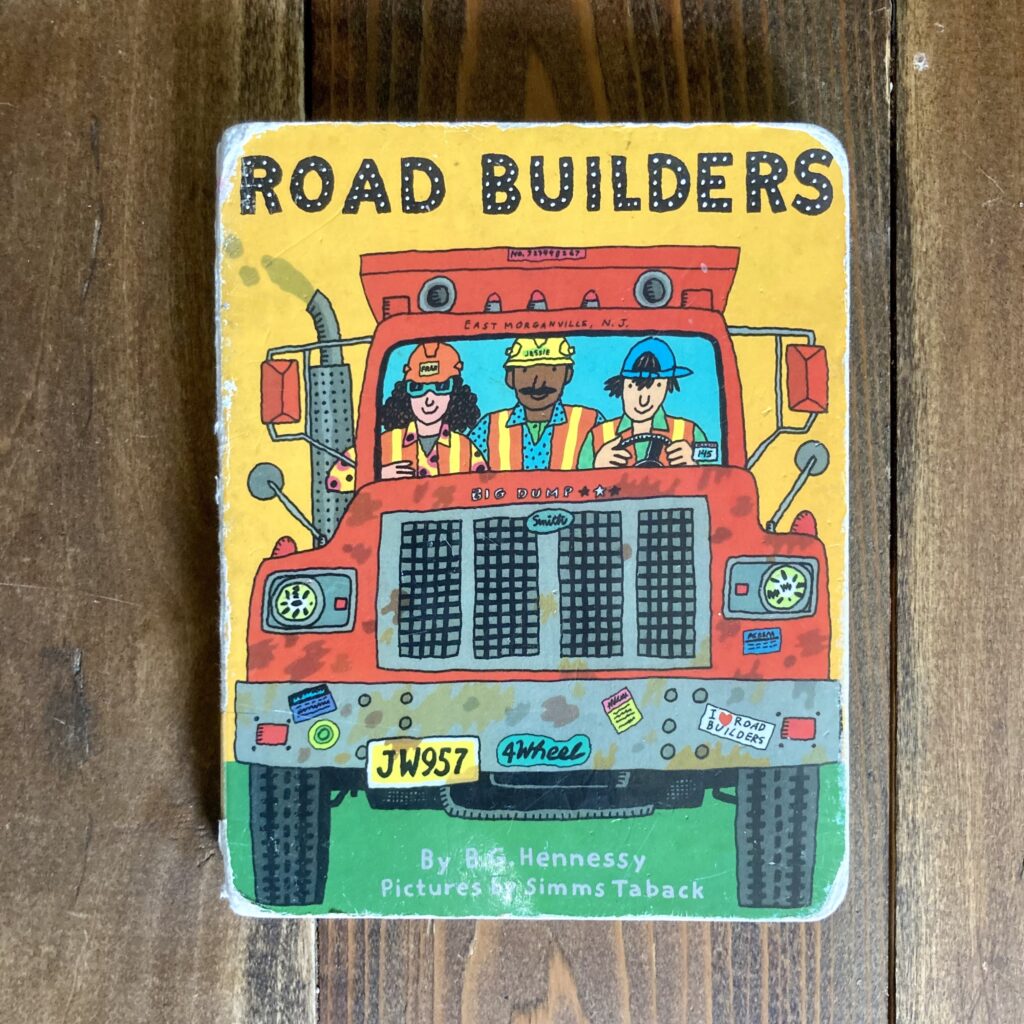 Road Builders is a board book for toddlers featuring thirteen different construction trucks used to build roads. Each page of the book features a truck and describes their work in building a road.
I like that this book focuses on a specific and understandable construction project. Toddlers encounter roads every day so it teaches them the work that goes into creating common infrastructure that they likely assume simply exist. The book ends with lots of different vehicles using the new road, which my toddler loves to name.
Buildablock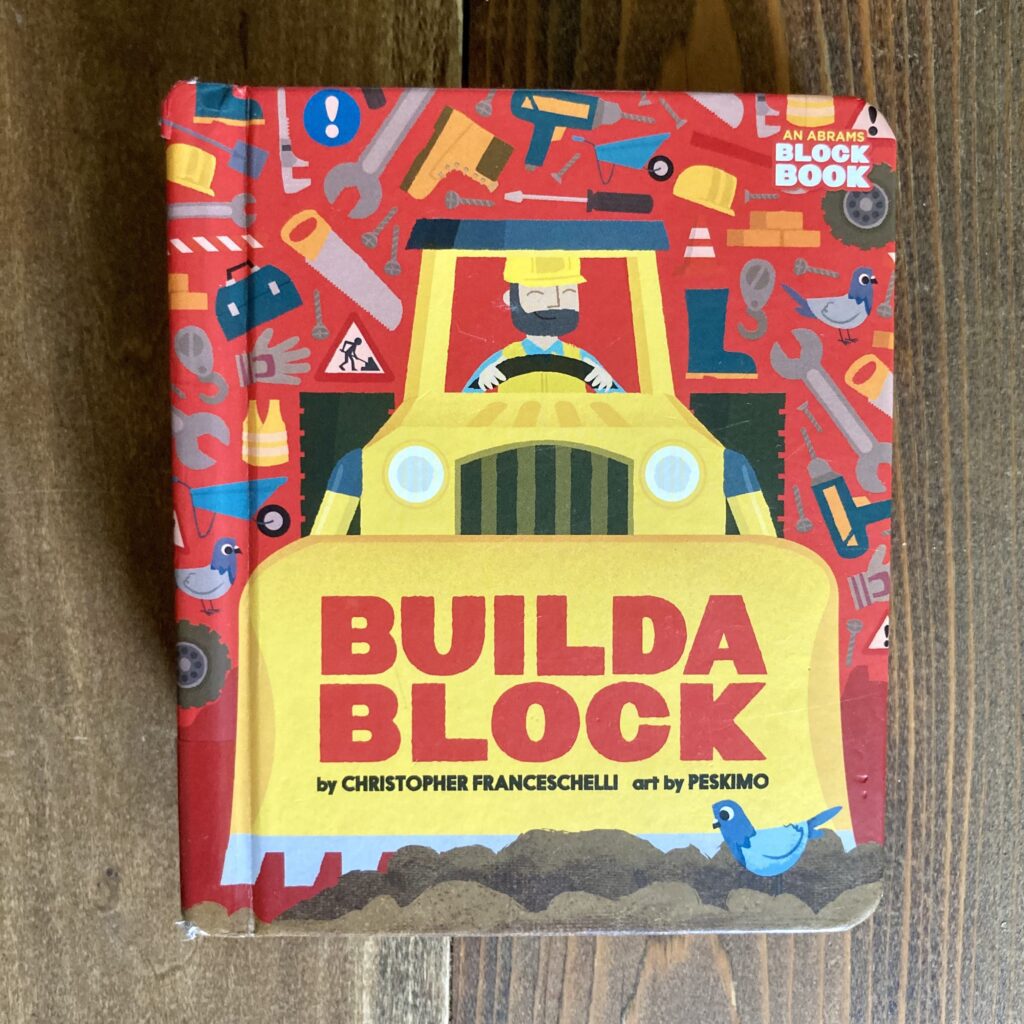 Buildabock is a toddler board book about construction vehicles working in a city. This is a great board book that features engaging cut outs, uniquely shaped pages and fold out pages that my toddler loved.
It includes a guessing game feature where toddlers can guess the type of truck based on the description. This book also highlights some less common construction vehicles like the bridge builder and tunnel borer.
I found this book a more interesting spin on construction board books and enjoyed reading it (repeatedly) with our toddler.
Digger, Dozer, Dumper
Digger, Dozer, Dumper is a children's poetry book featuring lots of construction vehicles. In total, the book introduces 16 different trucks and explains their work through poems.
The poems are about a paragraph long so this book may be too text heavy for younger toddlers. However, the poetry structure means that you could only read a few poems in a sitting without sacrificing the narrative.
My family really enjoys this book. Our toddler likes finding his favorite truck and I appreciate the cadence of the text. It is smooth and easy to read aloud.
I Dig Being Kind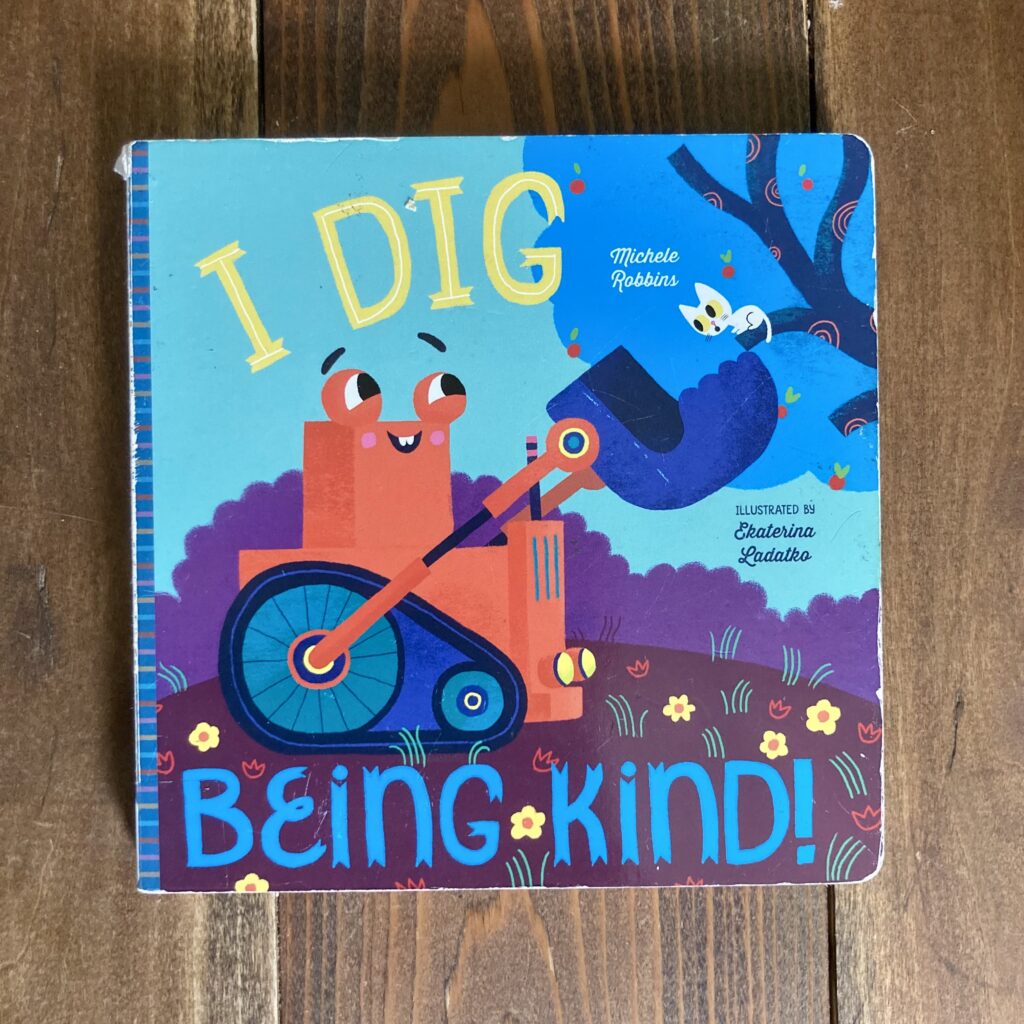 I Dig Being Kind is a toddler board book about trucks doing acts of kindness. It has colorful illustrations and friendly looking trucks that use their truck features to help.
Each page is an example of a kind act. I loved the idea of this book, and was hopeful that kind trucks would be a great model for our toddler to be sweeter to his baby sibling.
He did really like the book but I found parts of the book to be confusing. Some of the acts of kindness aren't explicitly clear and I found I had to explain to my toddler a few of the pages because the text did not clearly indicate the problem the truck was solving for others.
Dig!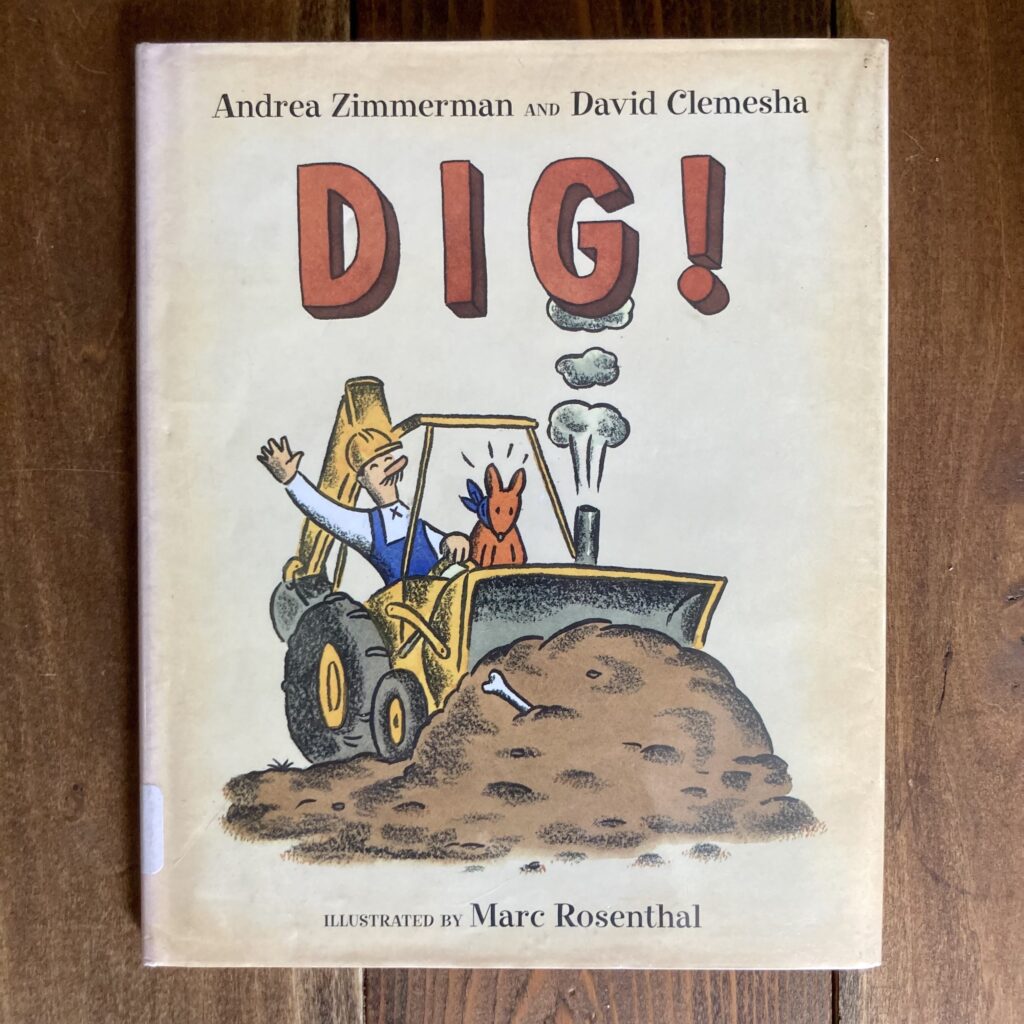 Dig! is a children's book about a backhoe digging truck and the jobs it does during a day. The main character, Mr. Rally, and his dog have five digging projects that they complete.
The text features repetition and rhyming with each job, similar to Andrea Zimmerman and David Clemesha's other books Trashy Town and Smashy Town (more on Smashy Town below).
I really enjoy the flow of this book, the cadence is great for reading aloud. My toddler also learned the repetition quickly so he could yell out the answers with excitement.
This repetition is also in line with book features recommended for toddlers by the U.S. Department of Health and Human Services (source).
The book reviews counting to five, features other construction vehicles and has a catchy refrain. All and all, a great kids' construction book!
Whose Truck?
Whose Truck is a truck guessing board book for toddlers. Each page features a short description and a picture of a truck, and the reader has to guess who operates that truck.
The page then folds out to reveal who uses the truck and a short explanation of what they do.
This book shifts the focus to the helpers around town who use trucks to support the community. I liked this angle since so many toddler truck books feature the trucks doing the work. The book also labels parts of the truck, which is a good springboard to talk about how pieces of trucks work with your toddler.
I'm Dirty!
I'm Dirty! comes from the authors of I Stink! and I'm Brave! and tells the story of a backhoe digger through bold, fun text. The pages feature big and fun fonts and punchy phrases about a backhoe's work.
The book leans heavily into sound words too which our toddler loves to repeat.
The backhoe counts 10 different things to clean up and then makes lots of noise as it gets dirty digging up a stump. This is a fun book for a truck loving toddler and is great for reading aloud together with all the sounds.
10 Little Excavators
10 Little Excavators is a counting board book that would be great for children working on their numbers. The book starts with ten excavators working together but as each excavator encounters a different problem, there is one less excavator on the next page.
Each page has the excavators doing a different activity and features a rhyming pattern with each number. It does not reveal the next number until you turn the page so that the reader has an opportunity to say the number first.
I like that this counting book counts down instead of up. It is a subtle difference but a nice change of pace compared to most counting books for this age set.
At the end of the book, all the excavators reunite for bedtime and go to sleep, which hopefully your toddler will do as well after these bedtime stories!
Smashy Town
Smashy Town follows Mr. Gilly, a demolition man, as he tears down a building with this wrecking ball. Fans of the book Trashy Town will enjoy seeing Mr. Gilly again in this book.
The book features a repetitive refrain as Mr. Gilly smashes down different materials in the building like wood and stones. My toddler loves the rhythm of the repetitive pages and bobs along to them when we read.
At the end of the book, Mr. Gilly cleans up the mess he makes with the demolition — a nice moral if you're trying to teach your kid to clean up after themselves!
I love the color palette of this book. The illustrations are beautiful for a book about a construction vehicle. The book is also particularly enjoyable to read aloud, it has good flow and rhymes with the right amount of repetition.
---
Looking for more construction books? Check out our list of Children's Books about Dump Trucks.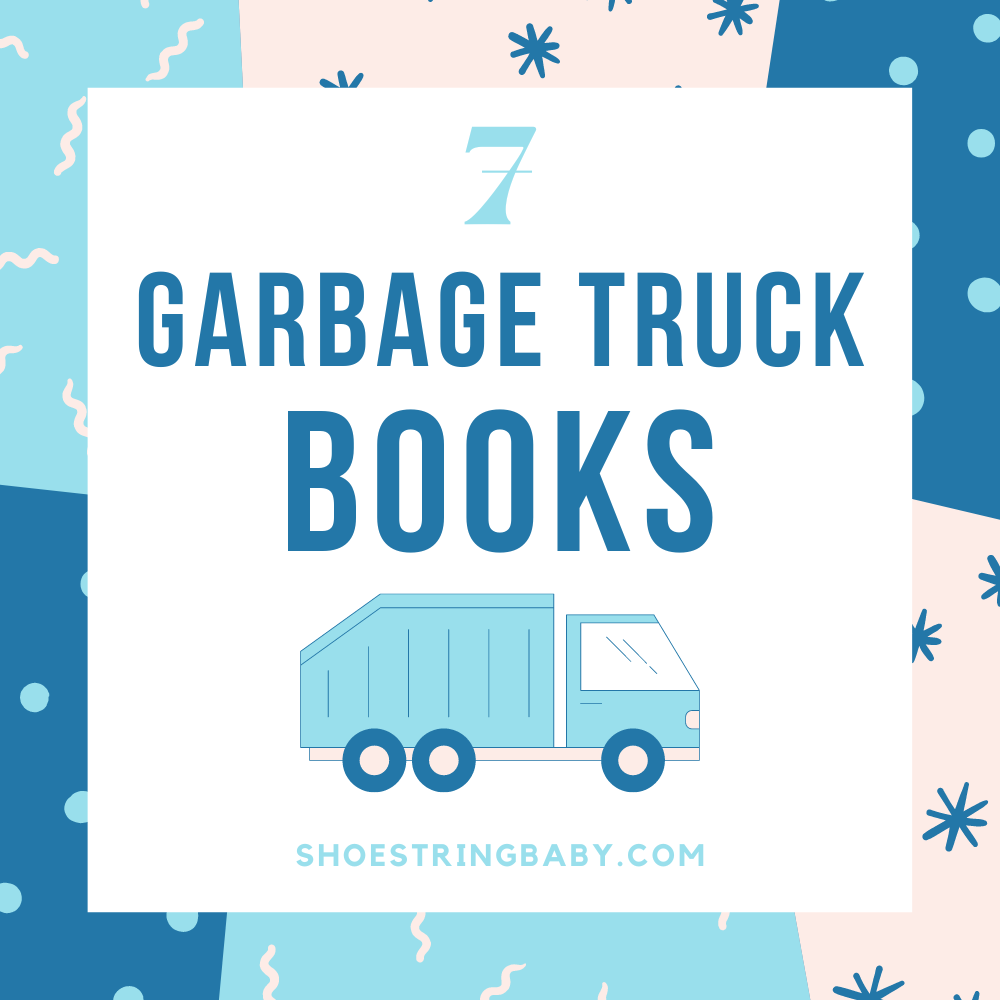 Related Article
7 Garbage Truck Books for Kids