50 Unique Masculine Names (+ Meanings)
This post may contains affiliate links. As an Amazon Associate, I earn from qualifying purchases. Read the full disclosure here.
Looking for unique masculine names? Check out these unique names for boys, with a focus on masculine strong sounding names.
Too often you'll come across unique baby name lists where the names are so out there that they don't sound wearable. I made this list with a focus on names that are fresh, wearable, and will grow into adulthood with a baby.
I'm a researcher who has spent over five years analyzing name trends and collecting hidden gems. Now, I'm here to help you on your name search with this guide to rare names for boys.
Each name below also include their meaning and origins to help give you all the pertinent information about the name in one place, sourced from my personal database of names.
Now, let's check out the names!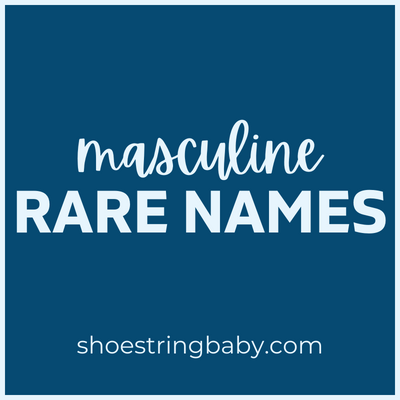 What makes a unique name?
Before diving in, here are the criteria I used for selecting unique names. These are names you likely won't hear in your kids class in the future.
Each name on this list had to be truly rare. I used the Social Security Administration name data as my source for determining unique baby boy names.
Every name is outside of the top 1000, and many of them have never cracked the list in the last century.
Unique names for boys
Now let's check out these rare masculine names. There are so many cool names on this list.
I personally like the rhythmic sound of Emeric. And, Fitzwilliam is a unique full name if you love the classic nickname Will (its one of my favorites on my list of 50 formal names for Will).
Finally, with the rarity of Z names, names like Zeno are doubly unique. Don't worry, I have more Z names for boys too if you love unique Z names.
1. Angus
Meaning: choice
Origin: Scottish
2. Barnaby
Meaning: son of consolation
Origin: English
3. Baxter
Meaning: baker
Origin: English
4. Bram
Meaning: father of many
Origin: Hebrew
5. Buzz
Meaning: low humming
Origin: English
6. Ciro
Meaning: sun
Origin: Italian; Spanish
7. Darragh
Meaning: oak tree
Origin: Irish
8. Dimas
Meaning: sunset
Origin: Greek
9. Emeric
Meaning: home ruler
Origin: German
10. Fitzwilliam
Meaning: son of William
Origin: French
11. Forrester
Meaning: woodsman
Origin: French
12. Hawk
Meaning: bird of prey
Origin: English
13. Hayward
Meaning: guardian of the hedges
Origin: English
14. Holt
Meaning: small woods
Origin: English
15. Mars
Meaning: God of War
Origin: Latin
16. Oisin
Meaning: deer
Origin: Irish
17. Olar
Meaning: green beast
Origin: Norwegian
18. Olympio
Meaning: from Mount Olympus
Origin: Greek
19. Orazio
Meaning: prayer
Origin: Italian
20. Orfeo
Meaning: darkness of night
Origin: Greek
21. Ortego
Meaning: nettle
Origin: Latin; Spanish
22. Peregrine
Meaning: traveller
Origin: English
23. Phelan
Meaning: wolf
Origin: Irish
24. Phineas
Meaning: Nubian, mouth of a snake
Origin: Hebrew
25. Pierson
Meaning: son of Peter, rock
Origin: Greek
26. Rafferty
Meaning: prosperous
Origin: Irish
27. Robinson
Meaning: son of Robin
Origin: English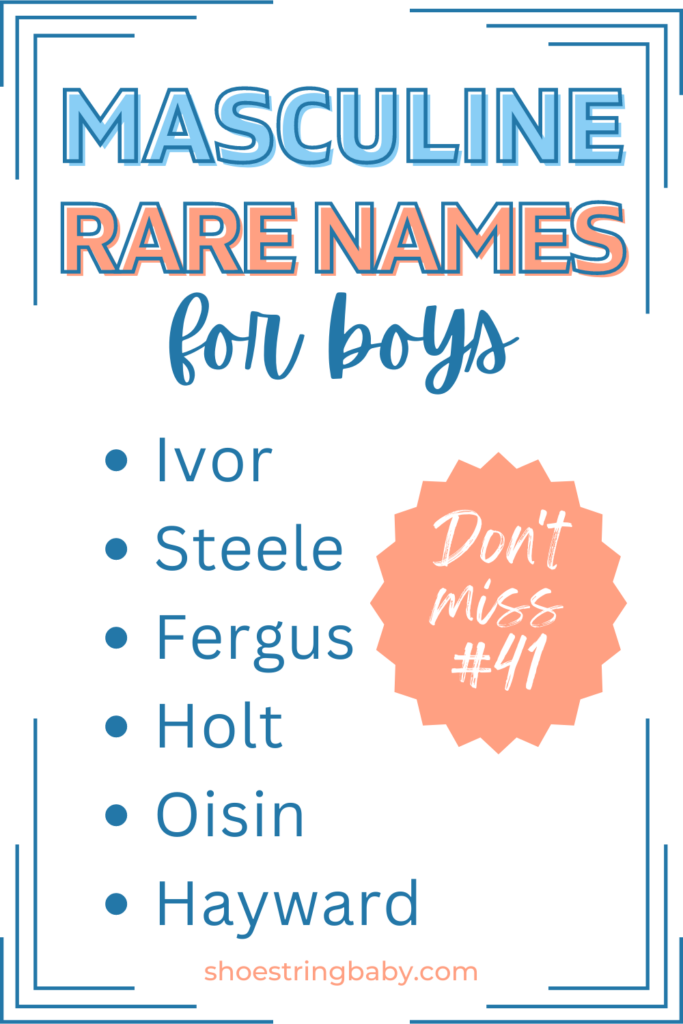 28. Rook
Meaning: passerine bird
Origin: English
29. Silvanus
Meaning: of the woods
Origin: Latin
30. Tolbert
Meaning: bright valley
Origin: German
31. Zebadiah
Meaning: God's gift
Origin: Hebrew
32. Zeno
Meaning: Gift of Zeus
Origin: Greek
33. Zoran
Meaning: dawn
Origin: Slavic
Unique names with masculine meanings
Next up are unique boy names with masculine meanings. The names below are not only unique but also have meanings like "manly" and "bold."
Of these names, I personally love Emrys for the juxtaposition of a softer sounding name but a strong meaning. Ivor is also a cool, unique alternative to popular Ivan.
34. Argus
Meaning: vigilant guardian
Origin: Greek
35. Arsenio
Meaning: manly
Origin: Greek
36. Baldwin
Meaning: bold and brave
Origin: German
37. Baltazar
Meaning: protects the king
Origin: Hebrew
38. Boaz
Meaning: swift, strong
Origin: Hebrew
39. Emrys
Meaning: immortal
Origin: Welsh
40. Farrell
Meaning: man of valor
Origin: Irish
41. Faulkner
Meaning: falcon trainer
Origin: French
42. Fergus
Meaning: strong, masculine
Origin: Scottish
43. Ivor
Meaning: bow man
Origin: Norse
44. Leopold
Meaning: brave
Origin: German
45. Montgomery
Meaning: man power
Origin: French
46. Orso
Meaning: bear
Origin: Latin
47. Ragnar
Meaning: warrior
Origin: Norse
48. Steele
Meaning: like steel
Origin: English
49. Viggo
Meaning: battle
Origin: Scandinavian, Norse
50. Wolf
Meaning: wild dog
Origin: English
Conclusion
Remember that when it comes to unique names, baby name trends are often surprising. Today's unique name may become tomorrow's new fad.
For example, names like Finley and Atlas weren't on the radar until they spiked in popularity in the last decace (source: Social Security Administration data).
At the end of the day, pick that name that feels right and timeless to you since there is ultimately no guarantee that a unique name stays that way.
Read more:
Looking for more boy name ideas? Here are handpicked first and middle names for boys that flow well together.
Want even more unique names? Then heaed to my list of truly rare unisex names.