125 Librarian Names Perfect For Bibliophiles
This post may contains affiliate links. Read the full disclosure here.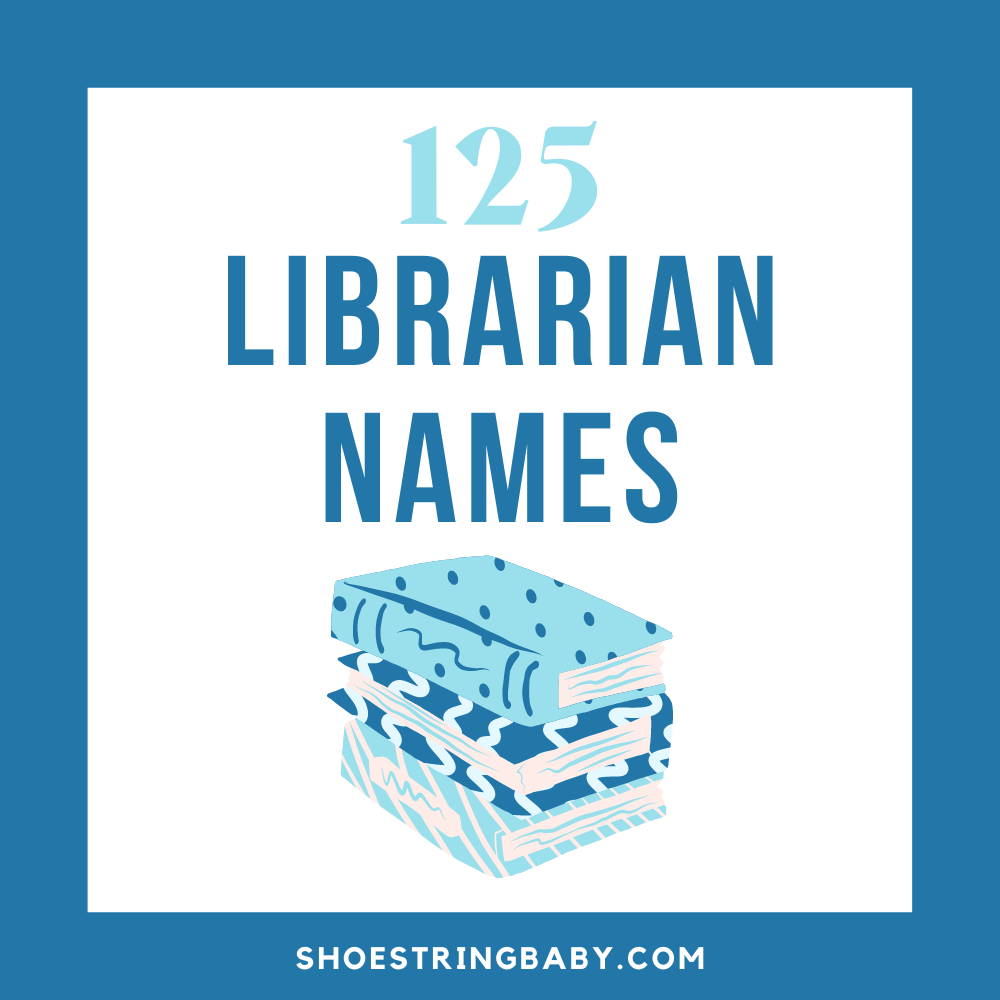 Looking for librarian names? Then you've come to the right place. Here you'll find a list of 125 librarian names perfect for your librarian characters or scholarly babies.
It includes famous and fictional librarians, book-inspired names, names meaning wise and knowledgable, and names with that learned librarian vibe.
This list is great for people who are looking for bookish name ideas for their baby. Librarian-inspired baby names are respectable and academic, and perfect for lovers of books and knowledge.
Or, perhaps you stumbled on this page as an author looking for inspiration for your latest work. I hope this list gives you many name ideas for your future librarian characters.
Below is a well-researched list of names related to librarians. I spent hours trying to hunt down every pop culture librarian reference there is. I then turned to my database of over 2000+ to find names with meanings associated with librarians, like wise, knowledgeable, scholarly and intelligent.
And if you're looking for names that would suit a librarian character without a glaring library-theme, I've got that for you too. Up first are a list of names have a serious, calm or bookish vibes, perfect for a bibliophile.
Now let's book it to the names (librarian-pun intended!).
Table of Contents
Names for librarian characters
First up are names that would be great for librarian characters in your next novel. These names are sincere and wise, without being too overtly library-themed.
The list includes a mix of name styles, including: soft and calm names like Ezra and Adelaide, older generation names like Faye and Gene, and names that feel sober and thoughtful like Prudence and Solomon.
Join our baby name facebook group!
Love chatting about baby names and trends? Join the discussion over on our new Facebook group. Plus, get FREE help finding the perfect baby name!
Girl librarian names
Adelaide
Audrey
Beryl
Blanche
Bonnie
Cordelia
Debra
Doris
Effie
Faye
Florence
Henrietta
Hera
Ingrid
Jean
Kathleen
Lois
Marjorie
Marybeth
Peggy
Prudence
Rowena
Susannah
Virginia
Winifred
Boy librarian names
Alistair
Allen
Atlas
Auden
Basil
Carleton
Cecil
Edward
Ezra
Finnian
Francis
Gene
Harold
Hayes
Ira
Jonah
Kipling
Morris
Oliver
Phillip
Ronan
Sheldon
Solomon
Soren
Tobias
Fictional librarians in television
Next, let's turn to some famous librarians from pop culture. The first set of fictitious librarian names are from popular television shows.
Of the names below, is there a more perfect librarian depiction than Tammy, the diabolical librarian from Parks and Rec (here's a best of Tammy II montage if you need a refresher)?
Joe: Lt. Joe Bookman was a "library investigator" guest character in Seinfeld
Mrs. Hushbaum: Mrs. Hushbaum was the name of comedic "loud librarian" character on Nickolodean's All That
Rupert: Rupert Giles was the name of the librarian character and mentor of Buffy, the Vampire Slayer
Tammy: Tammy II is the name of the loathed librarian in Parks and Rec
Tasha: Tasha, better known as Taystee, works in the prison library in the show Orange is the New Black
Zelda: Zelda was the name of the head librarian character in the show the Magicians
Names of librarians in movies
Then, we have librarian character names from movies. These librarians come from classic movies like It's a Wonderful Life to recent iconic films like Ghostbusters.
Abby: Abby is a librarian in the film series National Treasure
Alice: Alice was the name of the librarian character in Ghostbusters
Alicia: Alicia was the librarian character name in Storm Center
Brooks: Brooks Hatlen was the prison librarian in Shawshank Redemption
Bunny: Katharine Hepburn played a librarian named Bunny Watson in the movie Desk Set
Evie: Evia is the librarian name in the Mummy
Flynn: Flynn is the name of the protagonist librarian in the film series the Librarian
John: John Lewis was the name of the librarian protagonist in Only Two Can Play
Marian: Marian Paroo was the name of the librarian love interest in the film and musical the Music Man
Mary: Mary is the name of the librarian in the classic Christmas movie It's A Wonderful Life, and also the name of Parker Posey's character who is forced to work in a library in the movie Party Girl
Librarian character names from books
Our last set of librarian character names come from books. As librarians are lovers of books, these literary librarians are perhaps the best of the pop culture librarians.
We are currently reading Matilda with our toddler and I am looking forward to him getting introduced to Matilda's lovely librarian, Mrs. Phelps.
Ardelia: Ardelia is the name of the librarian in Stephen King's Library Policeman
Barbara: Barbara Gordon, better known as Batgirl, was originally a librarian in the DC Comic series
Belle: Belle is the name of the main character in the Personal Librarian
Charlie: Charlie is the librarian character's name in the book Twelve Angry Librarians
Conan: Conan the Librarian is a popular literary play on Conan the Barbarian
Darcy: Darcy is a librarian in the novel Secrets in Summer
Henry: Henry was the lead character who was a librarian in the novel the Time Traveler's Wife
Irma: Irma is the name of the Hogwarts librarian in the Harry Potter series
Mrs. Phelps: Mrs. Phelps is the librarian in the classic children's book Matila
Famous librarian names
Here are names of famous librarians in history. These real-life librarians helped shape the public library system we know and love today, ran our national libraries and created fundamental library processes like the Dewey Decimal system.
Carla: Carla Hayden was the first woman and first African American to serve as the Librarian of Congress
Golda: Golda Meir was a librarian before becoming the prime minister of Israel
Franklin: Benjamin Franklin is credited with founding the first public library in America
John: John Beckley was the name of the first librarian of Congress
Lawrence: Saint Lawrence is the name of the patron saint of librarians
Melvil: Melvil Dewey is the name of perhaps the most famous librarian who created the Dewey Decimal system.
Nancy: Nancy Pearl was a famous librarian and author from Seattle
Robert: Robert Digges Wimberly Connor was the first Archivist of the United States
Sarah: Sarah Askew established county libraries in the U.S.
Trudy: Trudy Huskamp Peterson was the first woman Archivist of the United States
Names inspired by books
Turning now to name ideas that are inspired by books themselves. Of the names below, I love the name Quill and could see it becoming a fashionable, unique baby name. Teagan and Kalima would be good options if you're looking for a more subtle book connection.
Aesop: Aesop was a fabulist known for Aesop's Fables
Booker: Booker is a name meaning "scribe" or "one with books"
Ceridwen: Ceridwen is a Welsh name meaning "poetry."
Enitan: Enitan is a name coming from Yoruba that means "person of story"
Fable: a fable is a short story used to convey a moral
Kalima: Kalima is an Arabic name meaning "word"
Paige: a name inspired by book pages
Penn: Penn is a great unisex name that can be a nod to the writing instrument
Quill: Quill is a cool and unique answer to Quinn, and is another writing instrument name
Reed: Reed, a homophone of read, is a subtle book-themed name
Saga: Saga can be a name meaning "story"
Sonnet: a sonnet is a type of poetry, perhaps most famously popularized by Shakespeare
Story: Story may not seem like a name but it has been used by a few celebrities for their babies
Teagan: Teagan is an Irish name meaning "little poet"
Verse: Verse would make a cool name, which means "writing with rhythm"
Names for librarians that mean knowledgable, wise & studious
Finally, we close this list of librarian names with names that mean knowledgable, wise and studious. Many of these names have meaning that connotate wise advisor or wise counselor, which is quite fitting for a librarian who guide people to knowledge.
These wise and intelligent names would be a subtle and lovely connection for a librarian character. I particularly like Cato and Veda.
Akilah: intelligent
Alden: wise friend
Alfred: wise counsel
Alvis: all wise
Arisanna: deep rooted knowledge
Athena: goddess of wisdom
Cassidy: clever
Cato: all knowing
Conroy: wise advisor
Dara: pearl of wisdom
Favian: man of wisdom
Hubert: bright
Hugo: intellect
Idris: studious
Mendel: learning
Minerva: of the mind
Monica: to advise
Quinn: wise
Sage: wise
Shannon: wise river
Skyler: scholar
Sonia: wisdom
Sophia: wisdom
Veda: knowledge
Zosia: wisdom
---
Looking for more name ideas? You may like: