40 Divine Nicknames for Athena
This post may contains affiliate links. As an Amazon Associate, I earn from qualifying purchases. Read the full disclosure here.
Are you a fan of the name Athena, but haven't quite found the right nickname yet? While choosing a baby name can be a daunting task, it is important to consider potential nicknames.
Fortunately, I've done the research for you. Below you'll find 40 great nicknames for Athena
As a researcher who loves name data, I've carefully examined the roots and variations of Athena to curate this comprehensive list of Athena nicknames. Using my extensive database of over 2500 names, discussion forums, and other sources, I've put together these Athena nicknames to save you time and effort.
This page is your one-stop-shop for nicknames for Athena, so you can easily find the perfect term of endearment for your baby.
Thinking ahead about potential nicknames is an important step in case you want to steer clear of any unwanted nicknames in the future. For instance, if you prefer the nickname Attie over Thea for Athena, you'll have the best shot of cementing that if you establish it from the outset.
Before we dive into the list, since you love the name Athena, don't forget to check out my list of middle names for Athena.
Without further ado, let's dive into the nicknames for Athena!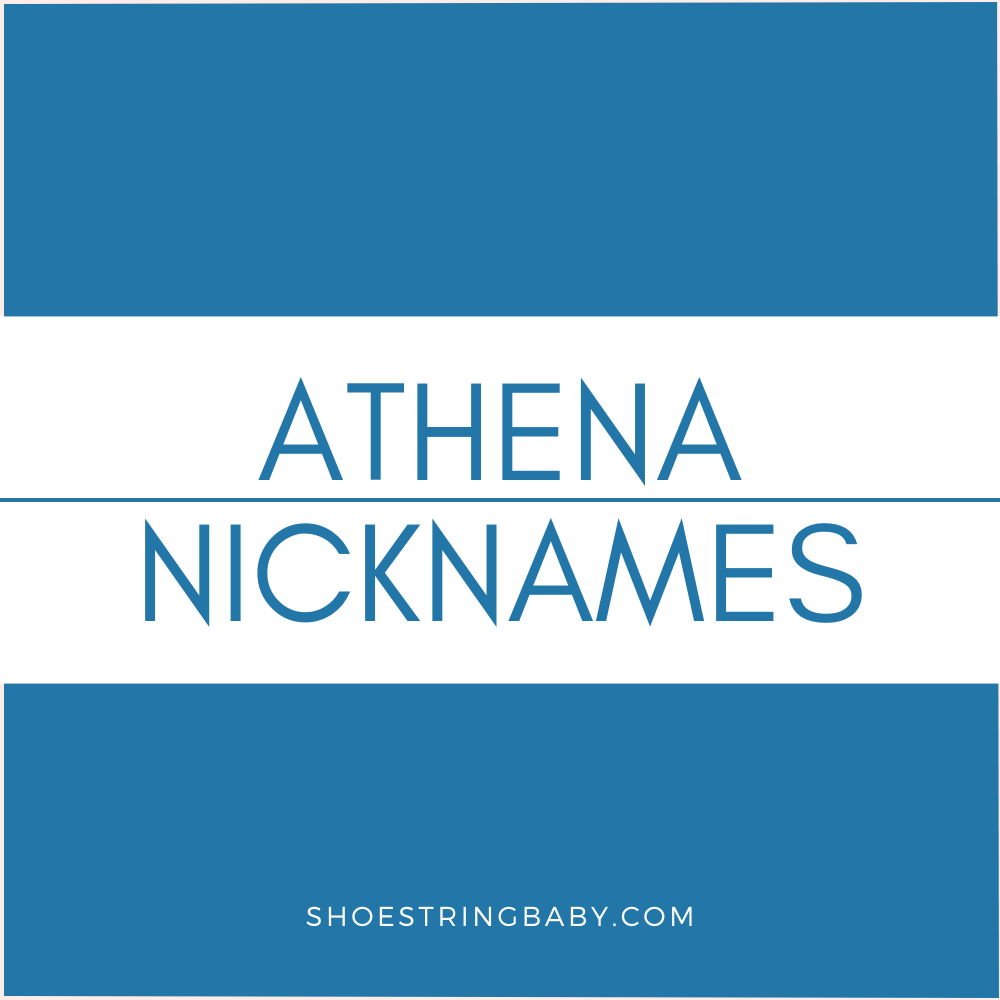 Join our baby name facebook group!
Love chatting about baby names and trends? Join the discussion over on our new Facebook group. Plus, get FREE help finding the perfect baby name!
What is a nickname?
Let's take a moment to define what we mean by a nickname. A nickname is an alternate name that someone goes by instead of their given name. Often, nicknames develop as a term of endearment or familiarity, or simply as a way to shorten a longer name.
Typically, a nickname derives from a person's name in some way, such as a shortened version of their first name or from their initials. However, nicknames can come from just about anywhere, including a memorable moment, personality trait, or interest.
Some people go exclusively by their nickname, like a Jonathon who is always called Johnny; others only use their nickname occasionally or with certain people.
Nicknames for Athena
Let's dive into the Athena nicknames!
1. AITH: Aith is an alternative nickname for Athena, emphasizing the "A" and "th" sounds in the name.
2. ANNIE: Annie is a timeless and friendly nickname that can also work for Athena. It's a familiar option for those who love classic nicknames.
3. ANYA: Anya is an fashionable nickname for Athena, borrowing from the Russian variation of Anna. It's a stylish choice for those looking for a more distinct nickname.
4. ATENA: Atena is a variant spelling of Athena, which can also serve as a nickname. It's a great option for those who want a name that's closely related to the original but with a different feel.
5. ATH: Ath is a chic nickname for Athena, which highlights the first syllable of the name. It's a more laid-back and gender neutral option for those looking for a nickname with a bit of edge.
6. ATHENE: Athene is a chic nickname for those who want an understated option that is close to the original Athena name.
7. ATHENS: Athens, with its obvious connection to Athena, makes for a cool way to join the 'place name as a name' trend. It's a great choice for those who want a more distinctive or gender neutral nickname.
8. ATHIE: Athie is a simple and straightforward nickname for Athena, highlighting the first part of the name in a cute way.
9. ATTIE: Attie is a cute and playful nickname for Athena that emphasizes the "at" opening of the name. It fits well with other popular nicknames like Hattie or Lottie.
10. AYA: Aya is a short and simple nickname for Athena, inspired from the "A" sounds in the name. Aya is a an easily pronounced nickname option that would work well across different languages.
11. EENA: Eena is another spelling variation of Ena nickname that matches the "e" sound in Athena.
12. ENA: Ena is another nickname that plays off the end part of Athena. It's a uncommon option but stays true to the sound of Athena.
13. HENA: Hena is an uncommon but simple nickname for Athena, highlighting the last half of the name.
14. HETTIE: Hettie is a more uncommon nickname for Athena that plays off the middle "the" sound in the name. It fits in well with other popular vintage nicknames like Lottie and Hattie.
15. NANA: Nana is an endearing nickname for Athena that repeats the ending "nah" sound in Athena to make an affectionate-feeling nickname.
16. NENA: Nena is a sweet nickname for Athena which plays off the ending of the name.
17. NINA: Nina is a classic nickname that can also work for the name Athena, taking inspiration from the last two syllables of the name.
18. OLIVE: Olive is a nickname for those looking to lean into Athena's mythological roots. The olive tree is a symbol of Athena, who is said to have planted an olive tree at Acropolis (source: Acropolis)
19. TEENIE: Teenie is a playful and lighthearted nickname for Athena, playing with the middle "the" sound in the name. It's an informal option for those looking for a fun and affectionate nickname.
20. TENA: Tena drops the A and H in Athena to make a unique Athena nickname. It's a great option for those who want a nickname that's easy to pronounce.
21. THEA: Thea is perhaps the most popular nickname for Athena that highlights and shortenes the sounds in Athena. Thea has become a standalone name in recent years, known for its Greek roots and connection to mythology.
22. THEE: Thee is a simple and straightforward nickname for Athena, focusing on the middle "the" sound in the name. It's a minimalist and cool option for those who prefer a shorter and more modern nickname.
23. THEENY: Theeny is a light and fun nickname for Athena. It captures the essence of the name while adding a touch of affection and quirkiness.
24. THENA: Thena is a fresh and slightly sleeker variation of Athena, derived from the last part of the name.
25. THENE: Thene is a distinctive nickname for Athena, playing off the central part of the name. It offers a modern twist on the classic name.
26. THENNIE: Thennie is an adorable and unique nickname for Athena that uses the middle "then" part of the name with the added "ie" for warmth and familiarity.
27. THEO: Theo is a stylish gender-bending nickname for Athena that feels cool and contemporary. Theo would be an easy choice for those who appreciate gender-neutral nicknames (and if you like boyish nicknames, don't forget to check out my list of feminine names with masculine nicknames).
28. TIA: Tia, while more commonly associated with names like Tiana or Tiara, can also work as a nickname for Athena. It's a simple and elegant choice that fits in well with popular and timeless names like Mia and Sophia.
29. TINA: Tina, while more commonly associated with names like Christina, can also work as a nickname for Athena. Tina provides a familiar and established nickname option.
Initial Nicknames
In addition to the Athena nicknames above, you can also use your baby's initials as a source of nickname inspiration. Pairing Athena with J-middle names gives you the popular initials nickname A.J.
Below are some full name ideas for A.J initials.
Athena Jessamine
Athena Josette
Athena Jolie
Athena Jane
Athena Jove
Athena Joelle
Athena Jewel
Athena Jo
Athena Juno (a double goddess name!)
Athena Jade
Athena Juliet
Athena meaning and popularity
Athena is a name rooted in Greek mythology and history, likely originating from the city of Athens. It is primarily associated with the Greek goddess of wisdom, strategic warfare, and crafts (source).
Data from the Social Security Administration shows that Athena was an uncommon name in the United States during the first half of the 20th century. While it made its way into the top 1000 in 1955, the name didn't gain significant momentum until the 2000s.
Over the past two decades, Athena has experienced a surge in popularity and finally broke into the top 100 for the first time in 2021.
Tips for finding the perfect nickname
Do you need further assistance in coming up with a nickname for Athena? Here are some helpful tips:
Look to the full name for ideas: Are there specific syllables or sounds in Athena that could make for a cute or catchy nickname?
Consider middle names and initials: For instance, Athena Juliette could be called A.J. as a nickname.
Nicknames can come from anywhere: Personal interests, hobbies, personality traits, or memories can all provide ideas for a creative nickname.
Choose a positive nickname: Always pick a nickname that's uplifting and respectful. Not only is this kind, it also increases the chances of the nickname sticking.
I hope you found some nicknames for Athena to add to your list. Looking for more name ideas? If you like the name Athena, you may also like my list of Ophelia nicknames.