35 Rare Gender Neutral Names That Exude Uniqueness
This post may contains affiliate links. As an Amazon Associate, I earn from qualifying purchases. Read the full disclosure here.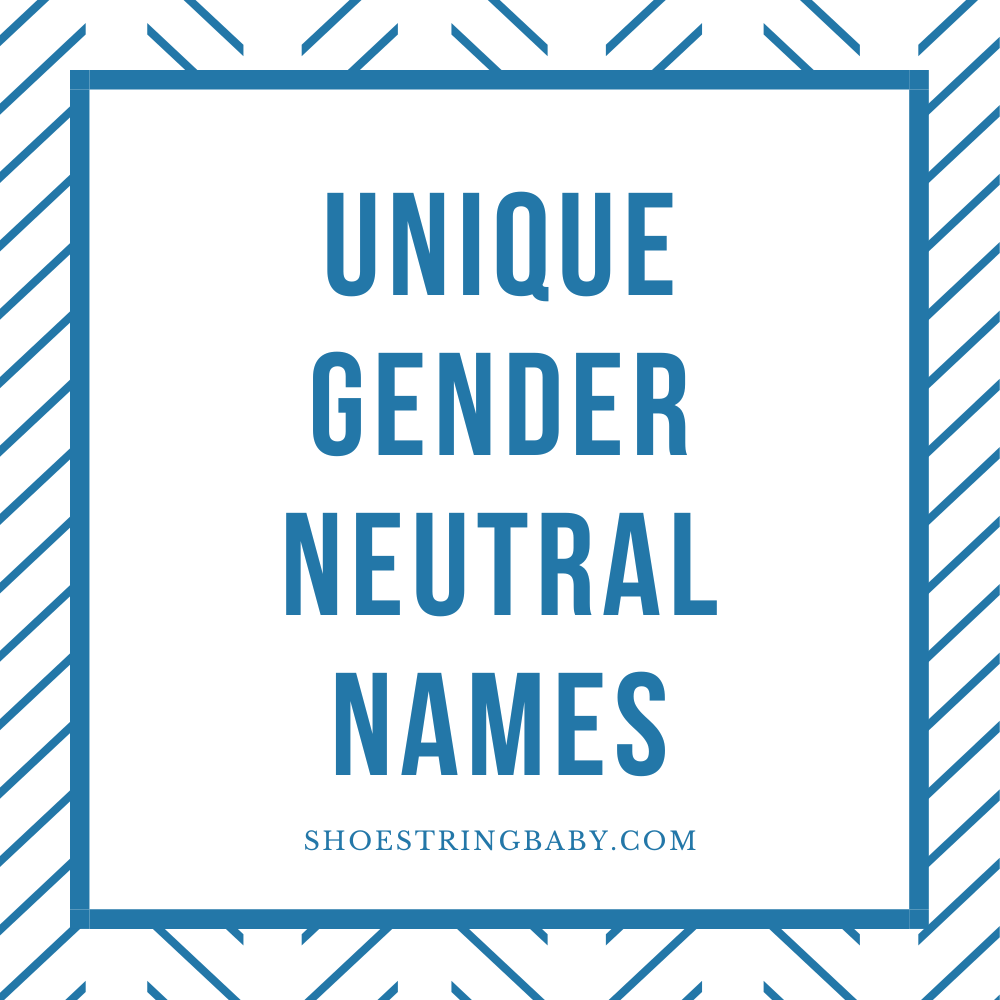 Looking for the perfect name that is both unique and nonbinary? Check out this list of 35 rare unisex names, with a little about each name's history and meaning.
As gender neutrality become more trendy, parents are having to cast a wider net to find truly unique nonbinary names.
To help you find a perfect and perfectly rare gender neutral name, I've hand-curated a list of 35 names that you won't find on the top 1000 list.
Unisex names are near and dear to my heart because both our children have at least one gender neutral name. I've spent countless hours pouring over nonbinary names and used that research and personal connection to put together this article.
I culled names from my own database of 2000+ names, forums, and other internet sources. These names are not only unique and nonbinary, they also cover a variety of fashions so there is something for everyone on the list.
And if you're looking for more nonbinary name ideas, don't forget to check out my other lists:
On to the names!
Unique Nonbinary Names
Below you'll find uncommon gender neutral names across a variety of naming styles.
Arbor
Word names for names is fashionable among today's parents. You may have seen the name Harbor pop up among the influencer set. Arbor is a close cousin but is still under the radar. Arbor is an English name meaning "tree;" you'll also find it on my list of 70+ Nature-Inspired Unisex Names.
Arden
Next on our list of unique nonbinary names is Arden. Arden is a unique answer to wildly popular names like Aiden and Eden. The name comes English and means "eagle valley."
Arlington
Unique Arlington fits in well with two big name trends today: surnames as first names and place names. This name only briefly saw slight popularity in the 1880's making it very unique. Plus Arley is a cute nickname!
Blyth
It is debated whether Blyth is a feminine name or a unisex name. Either way, it is so rare that most people will not hold any gender association with the name. The name comes from English and means "cheerful."
Chandra
Chandra is a rare gender neutral name that ends in an -a, which is more commonly seen in girls' names. It comes from Sanskrit meaning "moon" and "shining." It was briefly popular for girls in the 1970's but fell off the top 1000 chart by the 1990's, making it a rare name today.
Cove
Cove is a rare and modern name that means "safe harbor." This unique nonbinary name is so new that it has yet to establish any gender association.
Join our baby name facebook group!
Love chatting about baby names and trends? Join the discussion over on our new Facebook group. Plus, get FREE help finding the perfect baby name!
Darcy
While Mr. Darcy may be one of the most famous literary figures, the given name Darcy is a rare find. Darcy enjoyed a moderate amount of popularity between the 1950's-1970's but it hasn't cracked the top charts since 1994. The name comes from French and Irish meaning "dark."
Ellery
With the popularity of "El" names like Eli, Elizabeth, Elijah and Ella, it is probably surprising to see Ellery on a list of unique unisex names. However, Ellery has only brushed the top 1000 list three times for boys, all over 50 years ago. The name also has the lovely meaning of "joyful."
Greer
Greer is a rarely heard Scottish unisex name. The name began as a surname so it would make a unique addition to the popular surname-as-names trend. The name means "watchful."
Hollis
Hollis is an antique unisex name that was first popular for boys in the early 1900's before briefly brushing the girls top 1000 for a few years starting in 1948. The name fell out of fashion for both genders by the 1970's so it has settled back into the "uncommon gender neutral zone" (read more about the four major unisex popularity trends in my article 101 nonbinary names).
Indiana
You would think Indiana's -ana ending that the name would lean feminine, but it's unisex status is secured by possibly the coolest boy namesake — Indiana Jones. The name has not made the top 1000 list for either gender since 1900 and means "land of Indians."
Kirby
Kirby once enjoyed moderate popularity in the 1950's but has since fallen out of fashion. Perhaps the video game character association is still too strong for millennial parents who came of age in the 90's. No matter the reason, this English name meaning "settlement by a church" is very rare today.
Leander
Leander is a boys' and girls' name meaning "lion man" that comes from Greek. It hit its' peak popularity in the 1880's as a boy's name but has been out of the top 1000 since the 1960's.
Linden
Linden started as a boys' name that had some popularity in the 1940's-1960's. Since then, it has settled into gender neutral obscurity and could be a unique alternative to Evelyn or Lillian for girls. Perhaps its more well known spelling variation is Lyndon thanks to LBJ.
Livingston
Livingston has a lot of features modern parents are looking for in a baby name. It is both a surname and a place name, both big trends in names. It is also a gender neutral name that has a great nickname: Liv. It comes from English meaning "friend's place."
Luan
Luan is a nonbinary name of multiple meanings and origins. In Irish Luan means "warrior;" in Chinese it means "bird;" and in Portuguese it means "moon."
Luxor
Don't let the Vegas association dissuade you from this truly unique nonbinary name. Luxor, an Egyptian city, is a cool alternative to popular place names like Brooklyn and Adelaide, with the bonus of the excellent nickname Lux. Luxor originally derived from Arabic meaning "palaces."
Lynx
I am truly surprised that Lynx is still such a rare unisex name. It has an ultra-fashionable X in it and it has the cool meaning of "wild cat." Snag this name before it takes off.
Marlow
While Marlow sounds like a trendy unisex name, it surprisingly has yet to gain footing on the top 1000 list for either gender. The spelling Marlowe has dipped it's toe in but time will tell if this currently unique unisex name is destined for greater popularity. Marlow means "driftwood."
October
April, May, June and August are all hit names after months. For parents looking for a more unique pick, October is waiting in the wings to be discovered. It also is a nice alternative if you like popular O-names like Olivia or Otto.
Oslo
Oslo is a unique answer to popular city names like Adelaide and Brooklyn. While it's still under the radar, it has the elements to make it a trendy name: an adorable nickname Ozzy, the opening letter O and soft, flowing sounds.
Quincy
While Quincy is not unheard of for boys, I added it to this list since it is rarely discussed as a unisex name. Quincy is a gender neutral name and would be a very unique alternative to Quinn for girls. The name means "fifth born" coming from French.
Quill
Of the uncommon gender neutral names on this list, Quill is perhaps the most rare. The little used name is a cool answer to popular Quinn, coming from Irish origins. Quill is a word name meaning "writing tool."
Senna
Senna is an Arabic gender neutral name that means "brightness." It can also reference a yellow flowering bush. It has never been in the top 2000 names in the U.S.
Spirit
Virtue word names are hot commodities for today's parents. If you're looking for a rare gender neutral one, take a look at Spirit. It would be a great alternative to chart toppers Serenity and Legend.
Tempest
Tempest is a rare French name used for both sexes, which means "stormy." Tempest has never cracked the top 2000 names in the U.S.
Tennessee
Tennessee is a name from Native American origins that briefly touched the low top 1000 list in the 1880's. Since the 2010's it has started to creep up slightly again but it is still so rare that it does not have a strong gender association.
Umaru
Umaru is a name with both African and Japanese roots. It is a masculine name in West Africa where it means "flourishing." In Japan, the name is a unique unisex name meaning "to bury."
Ulu
Ulu is a name with two different origin stories. It can be a variation of the masculine name Ulric and mean "wolf power." It means "second born daughter," from its African origins.
Valentine
Valentine was briefly popular for boys at the turn of the century but fell off the charts in the 1950's. For girls, it has only appeared in the top 1000 once in 1917. Valentine comes from Latin meaning "strong and healthy."
Winslow
Winslow is a rare nonbinary option for those who love a surname-name. The name comes from English and means "friend's hill." It also makes my list of unique full names for the nickname Winnie.
Yancy
Yancy hit its peak popularity at #1111 in the 1970's for boys. This rare name is gender neutral and comes from Dutch for "son of Jan." For girls, it is a fresh update to baby boomer Nancy (which is surprisingly a unisex name too, ranking #626 for boys in 1938).
Yuri
Yuri is both a boys' and girls' name coming from Russian and Japanese. In Russian, it is primarily a boy name meaning "farmer" and in Japanese it is a girl name meaning "reason."
Zealand
A more unique answer to Leland or Holland, Zealand is a great nonbinary option for parents on the hunt for a Z-name. Zealand is so rare that it is free of gender associations. Zealand is a place name, referencing the Dutch province Zeeland and the country of New Zealand.
Zephyr
Given the popularity of Z names, it's surprising that Zephyr remains a rare nonbinary name. It feels fresh and fashionable, and I would not be surprised to see it rise in coming years. The name comes from Greek meaning "west wind."