15 Easy Dollar Tree Christmas Gifts for Kids
This post may contains affiliate links. As an Amazon Associate, I earn from qualifying purchases. Read the full disclosure here.
Looking for Christmas gifts for kids on a budget? Then check out these 15 awesome Dollar Tree Christmas gifts for kids.
The Dollar store is a great place to stretch your budget and they have a much bigger selection of items than you might expect.
I am a forever frugal person and also try to minimal with gifts (but not so minimal that our kids go hog wild when they're older). We try to find that illusive middle ground where kids can get joy from gifts but not get overwhelmed by too many toys.
Shopping at the Dollar Tree is one strategy we use to this goal. It helps us stay budget conscious, and there is a great selection of consumables like art supplies that get used up instead of cluttering a toy bin.
I put together this list of easy Dollar Tree kids presents to help give you save money on your holiday shopping. I hope it inspires new ideas for your present list.
And if you love the Dollar Tree, I also have a list of dollar store stocking stuffers for kids you'll want to visit.
Let's dive in!
1. Sensory bin
First on our list of Dollar Tree Christmas gifts for kids is a sensory bin. A sensory bin is a container full of a variety materials that kids can play with to stimulate their senses.
A classic version of a sensory bin is a container full of rice that kids can scoop, pour, dig, and bury toys in. You can put together a whole sensory bin with only a few items at the dollar store.
Tip: set up your rice sensory bin outside. My kids loved the one I did for them recently but I'm somehow still finding rice throughout the house.
2. Potion kit
As a child, I absolutely loved making potions. Making potions is similar to the sensory bin as it encourages independent and creative play.
Dollar Tree has little empty potions in the travel section that are perfect for filling with potions. Grab a variety of soaps and lotions and you have everything you need for a potions station.
3. Chalk
Chalk is a great gift for kids of all ages. It encourages outdoor time and it is a creative activity.
Plus, you use chalk up so it is not another toy that will get lost at the bottom of a toy box.
4. Dress-up clothes
What kid doesn't love to play dress up? Our dress up basket is one of my kids favorite things (I regularly take them on errands dressed up as a duck and a turtle).
You can add to your dress up collection at the Dollar Tree. Dress up clothes are great gifts because it encourages imaginative play.
To really take advantage of this gift idea, plan ahead and swing by the dollar store in October when they still have their Halloween stock available.
5. Christmas crafts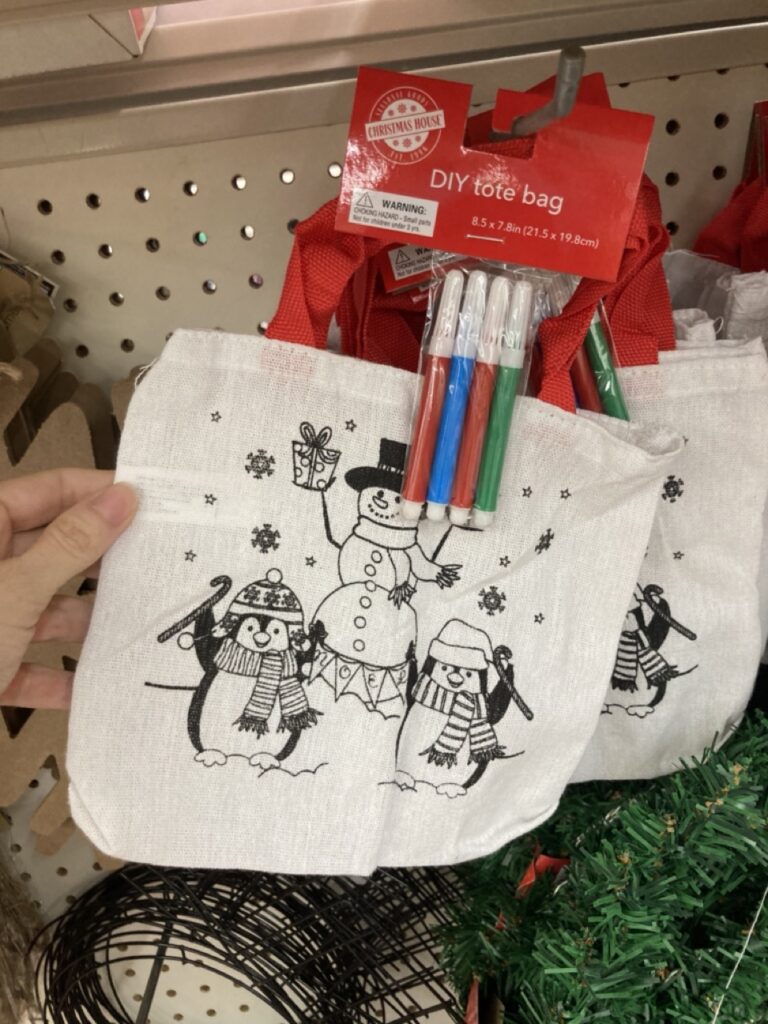 Dollar Tree is full of cute Christmas craft kits that would make fun Christmas gifts to do on Christmas day.
What I love about these craft kits is that they have everything you need in the package. You don't have to remember to grab a paint brush or restock your markers for them.
Bonus tip: these are also great as on-the-go activities when you need to keep your kid occupied at a restaurant or doctor's appointment.
6. Animal figurines
Looking for more traditional toys for Christmas presents? Dollar Tree has you covered too. They have a whole toy aisle with a big selection.
I personally like these sets of animal figurines. My kids love our small animals and play with them in so many ways.
Animal figurines can be thrown in the bath, in a sensory bin or sand box, or be passangers on trucks or trains.
7. Stuffed animals
Is your kid a big stuffed animal lover? One of ours is definitely a stuffed animal kid and she always hones in on the stuffed animals at the Dollar Tree.
Dollar Tree has a good variety of stuffed animals and dollars, and they're another good option if you're looking for toys as presents but still want to save money.
And if you opt for a teddy bear, don't forget to find it a name on my list of cute and funny names for teddy bears.
8. Art supplies
Craft supplies are awesome gifts. Kids need them but they're also fun.
At the Dollar Tree you can find so many craft items, including: crayons, colored pencils, paints, markers, stickers, chalk, glitter, glues, pompoms and so much more.
9. Bubbles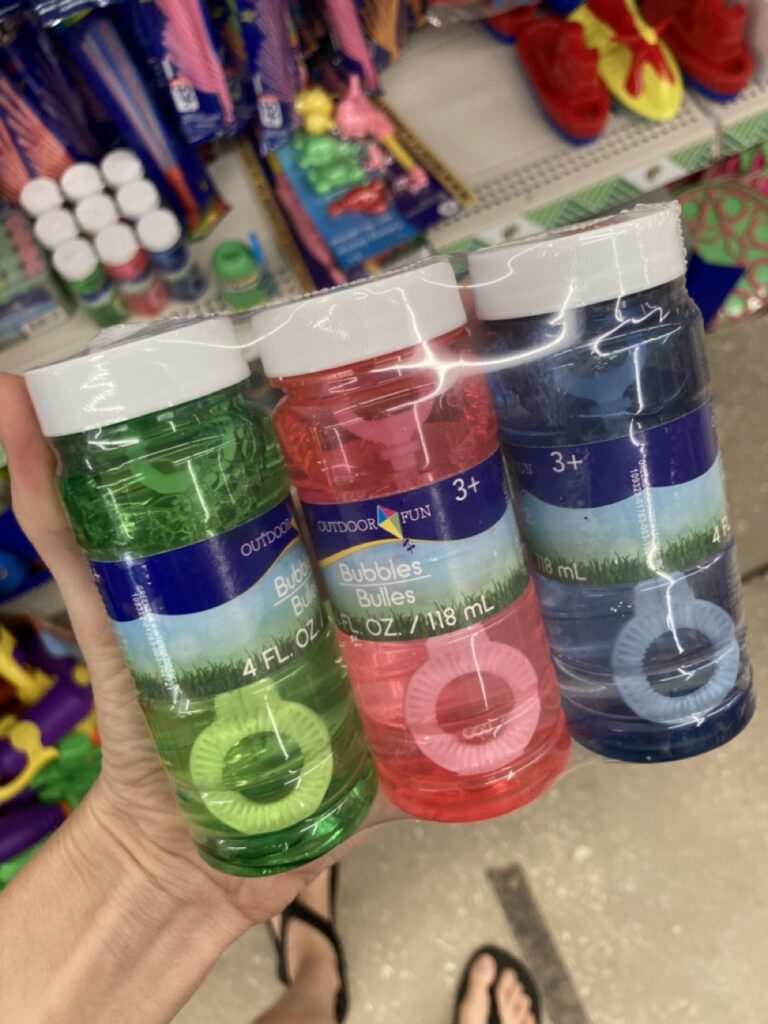 You can never go wrong with bubbles. Bubbles are a great gift because they're an item that gets used up, so they'll not clutter up the house long-term.
Dollar store bubbles can also be used as refills for bubble guns, wands or bubble machines too.
10. Puzzles
Dollar Tree has a huge selection of puzzles, ranging from little kid puzzles to more complex puzzles for older kids.
Puzzles are fun for the whole family and getting them at the dollar store is a great way to save money on them (especially if your kids are little and hard on puzzles like mine are).
11. Cars and trucks
Cars and trucks are an easy win with most kids. We have a boy and a girl and both are very into playing with anything with wheels.
These are great versatile toys because they can be used in so many ways. Set up a ramp, play in the dirt, throw small ones in your bag for on the go.
If you have a truck lover like we do, you may also find helpful my list of the best dump trucks (tested by a toddler who plays with dump trucks every. single. day).
12. Whoopee cushion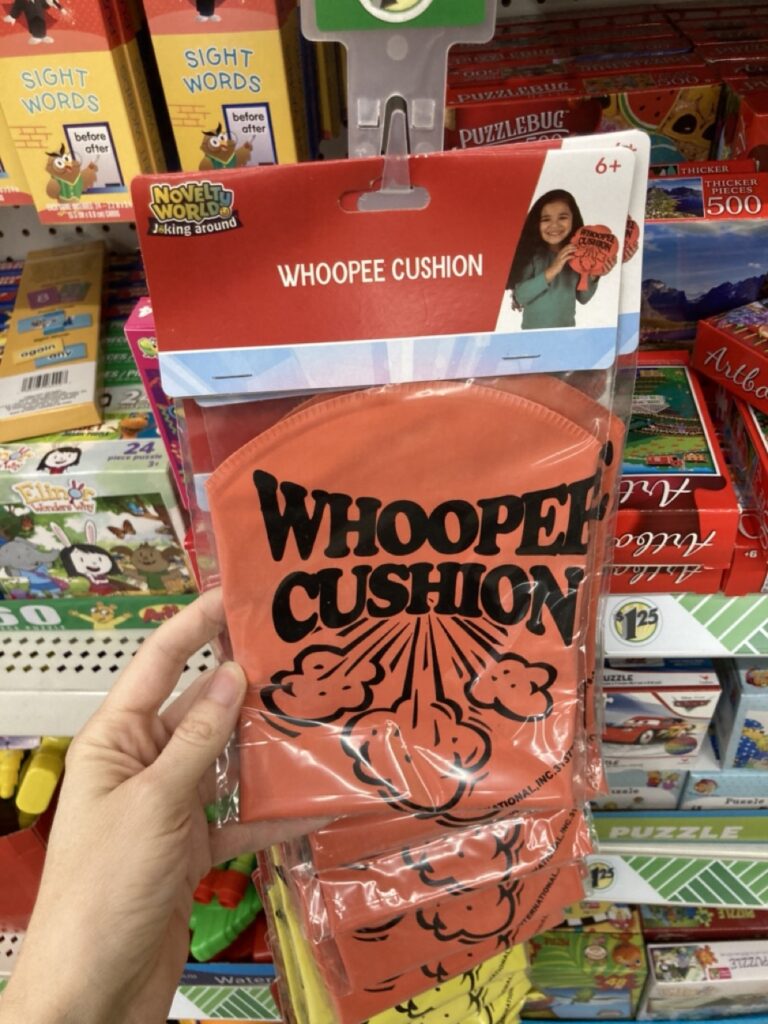 Our kids were given whoopee cushions last Christmas. I thought they'd be toys they played with for a minute and then forget about them.
I was so wrong.
Their Christmas whoopee cushions get pulled out regularly and truly delight them. They're also fun for the whole family on Christmas morning too.
13. Play school supplies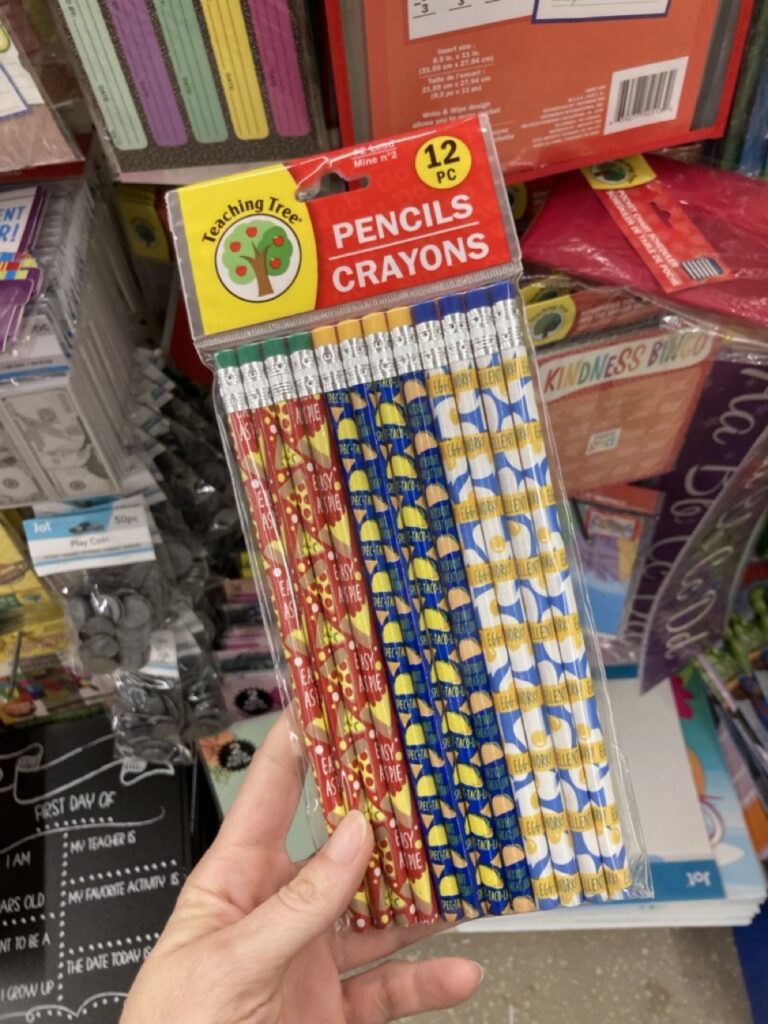 The dollar store has so many good school supplies. School supplies can be fun for "playing school" at home, or for taking to school.
14. Board games
Board games are a nice gift idea because the whole family can enjoy them together.
What I like about the Dollar Tree board games are their travel-sized versions of popular games. Not only can you bring these on-the-go, they also take up less space in your closet.
15. Disney everything
If your kid is into Disney characters, you'll find a surprisingly big selection at the Dollar Tree.
They had figurines from lots of popular Disney movies, Disney bath stuff, Disney coloring books, and more.
Read more:
For more Dollar Tree Christmas ideas, check out my dollar store stocking stuffer ideas too.