99 Pretentious Names for the Poshest Babies
This post may contains affiliate links. Read the full disclosure here.
Looking for posh and pretentious names? This list is perfect for those who like high-sounding names, or perhaps those looking for the right name for a character in a story.
I'm a researcher who uses my analytic skills to dissect baby name trends and data. I handpicked these posh names using my database of over 2000+ names.
Further, I researched forums, websites, news articles and name rosters to cull this list of the best pretentious names.
Before diving into this list, let me clarify that I'm not making a judgment about these names when classifying them as pretentious. I love many names on this list (look at you, Araminta, Finnegan, and Augustine!) and think they are very wearable.
I even suggested multiple names on this list for our own babies, like Ambrose and Bellamy.
I use the words pretentious and posh because the words concisely describe the style of ornate and preppy names. These are the descriptors someone may use to look for name ideas in this high fashion style.
Below you'll find long pretentious names, short and preppy names, and pretentious names from pop culture.
Of course, the list also has posh names for girls and boys. There's a section on gender neutral ideas, as many of these rich names originate from non-gendered surnames.
And if you like this style of name, you'll probably also find names you like on my list of dashing names for boys.
Now, let's dive into the names.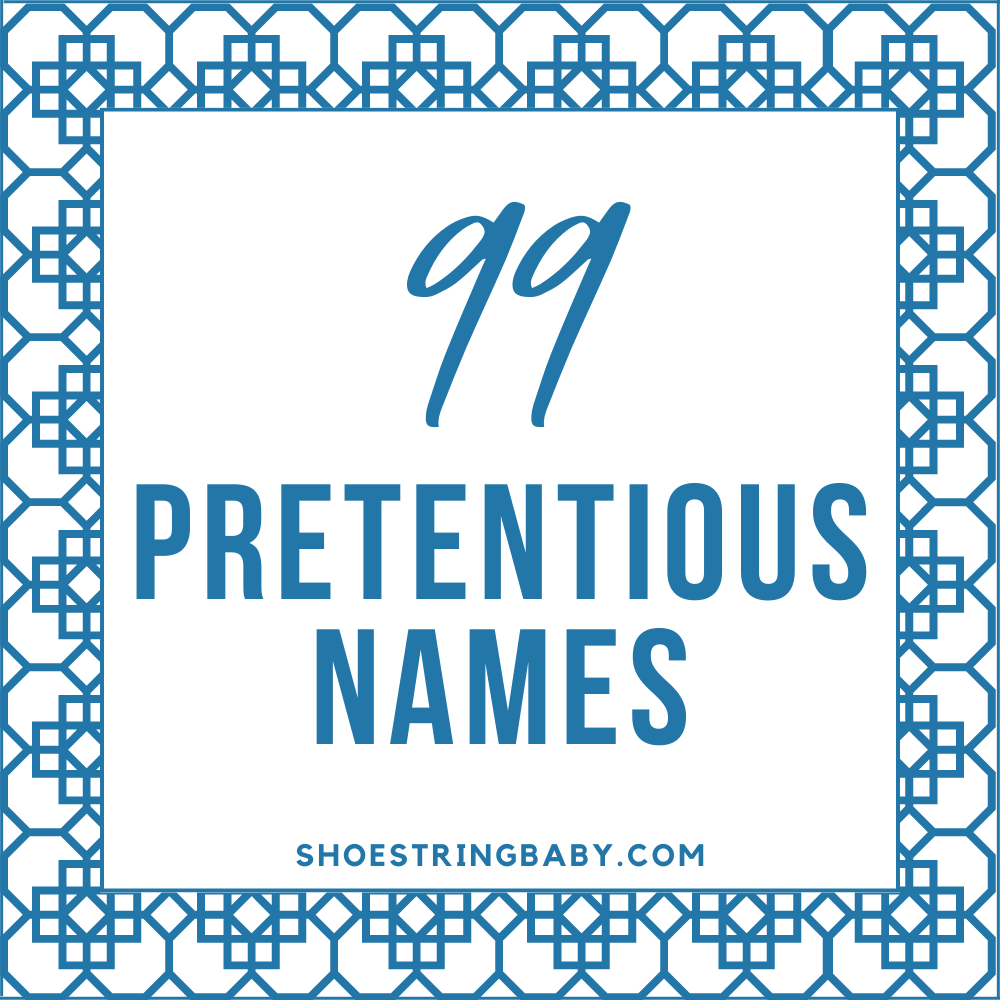 Join our baby name facebook group!
Love chatting about baby names and trends? Join the discussion over on our new Facebook group. Plus, get FREE help finding the perfect baby name!
Top 10 poshest names
No time to read the whole article? Here are my 10 most pretentious names for the poshest babies.
Ambrose
Araminta
Barnaby
Bellamy
Calloway
Fitzgerald
Peregrine
Poppy
Theodosia
Zenobia
What is a pretentious name?
For most people, a pretentious baby name evokes visions of boarding schools, Ivy League secret societies and games of polo.
These names are also often thought of as pretentious rich names because of their association with wealthy families that are "of society."
The dictionary defines pretentious as "expressive of affected, unwarranted, or exaggerated importance, worth, or stature" (Merriam-Webster Dictionary). To describe something as pretentious often suggests it is putting on airs.
However, different people will have different views of what names seem pretentious. The word pretentious can also mean ambitious, so pretentious can also connote a posh and classy name.
One person's pretentious name could be another's perfect, preppy name.
Ultimately, what constitutes a pretentious name often comes down to the attitude of the parents. I believe that most people pick names because they love them, not to try to impress others.
Read on to see if you agree whether the names below are pretentious, posh or preppy.
Posh and pretentious names from pop culture
First, let's look at some pretentious character names from pop culture.
The list includes characters from books, television and movies and a few real-life people associated with upper-crust activities like golf.
CARLTON: Carlton became associated as a pretentious male name because of the the preppy cousin on Fresh Prince of Bel-Air
CATHERINE: Catherine de Bourgh is the haughty aunt to Mr. Darcy in Pride and Prejudice
CHARLOTTE: Queen Charlotte was the gossip-loving, opulently dressed queen in the Bridgerton television series.
CHUCK: Gossip Girl's pretentious Chuck Bass had the full name of Charles Bartholomew
ELEANOR: Eleanor is the pretentious and unwelcoming mother in Crazy Rich Asians
FRASIER: Frasier was intelligent and slightly snobby titular character on the hit show Frasier
HOLDEN: Holden Caulfield is the protagonist in Catcher in the Rye
LUCILLE: Lucille Bluth is the snobby rich mother in Arrested Development
TIGER: Tiger Woods is one of the world's most famed golfers, which many consider a pretentious sport.
Pretentious boy names
Now let's take a look at pretentious boy names. You may say that many of these names feel like rich white boy names.
Many of the names below are formal and more unique picks, like Beaumont and Ignatius.
Other names, like Calloway, Ambrose and Finnegan, I foresee climbing in popularity in the coming years. I'd personally love to see Barnaby and Merritt (nickname Merry) rise for boys too.
AMBROSE: Ambrose is a stately name that means immortal and comes from Latin.
BARNABY: Barnaby is more congenial than other surname-style names and is surprisingly rarely used. It means son of consolation.
BASTIAN: Bastian feels like a more pretentious name alternative to longer Sebastian. The name comes from Latin and means from Sebastia.
BEAUMONT: Beaumont is a French place name and surname meaning beautiful mountain. While the full name feels a little stuffy, it comes with the great nickname Beau.
BENEDICT: Benedict is a Latin-originating name meaning blessed one.
BERTRAM: Bertram is an old-fashioned name that hasn't been on the top 1000 since 1970. The name comes from German and means bright raven.
BRADFORD: Bradford is a more pretentious-sounding alternative to the name Bradley. It comes from English and means wide river crossing.
CALLAHAN: This surname-style name would fit in nicely at the polo fields. Callahan is a Gaelic name meaning bright-headed.
CALLOWAY: Calloway is Callahan's breezy brother. This bouncy surname comes from Latin, meaning pebble place.
CASSIUS: Cassius comes from Latin roots and means hollow.
FAULKNER: Faulkner is a surname-style name from old French roots, meaning falcon trainer.
FERGUS: Fergus is a Gaelic name meaning masculine one. An alternative spelling of the name is Feargus.
FINNEGAN: Finnegan is a jaunty surname that has gotten a boost from parents looking for full names for Finn. Finnegan comes from Irish and means fair.
FLORIAN: Florian is a Latin-derived name that means flowering.
IGNATIUS: Ignatius is a Latin name that means fiery. While Ignatius feels like a pretentious boy name, it comes with the adorable and affable nickname Iggy.
IRVING: Irving is a Scottish name that means green river.
PERCIVAL: Percival is a French and Welsh name that means pierce the valley.
PRESCOTT: Prescott is a patrician-sounding surname that has transitioned to a given name. It is an English name meaning priest's cottage.
RHODES: Rhodes is associated with affluential people through the famous Rhodes scholarship. The name means where roses grow and comes from Greek.
SHERIDAN: Sheridan comes from Gaelic and means seeker. It can also be used as a gender neutral name.
STERLING: Sterling is an English name that means quality, perfect for a high-class baby.
THADDEUS: Thaddeus is a high-flown alternative to popular Theodore to get to the nickname Teddy. The name comes from Aramaic and means brave.
ULYSSES: Ulysses is a formidable name meaning wrathful, coming from Greek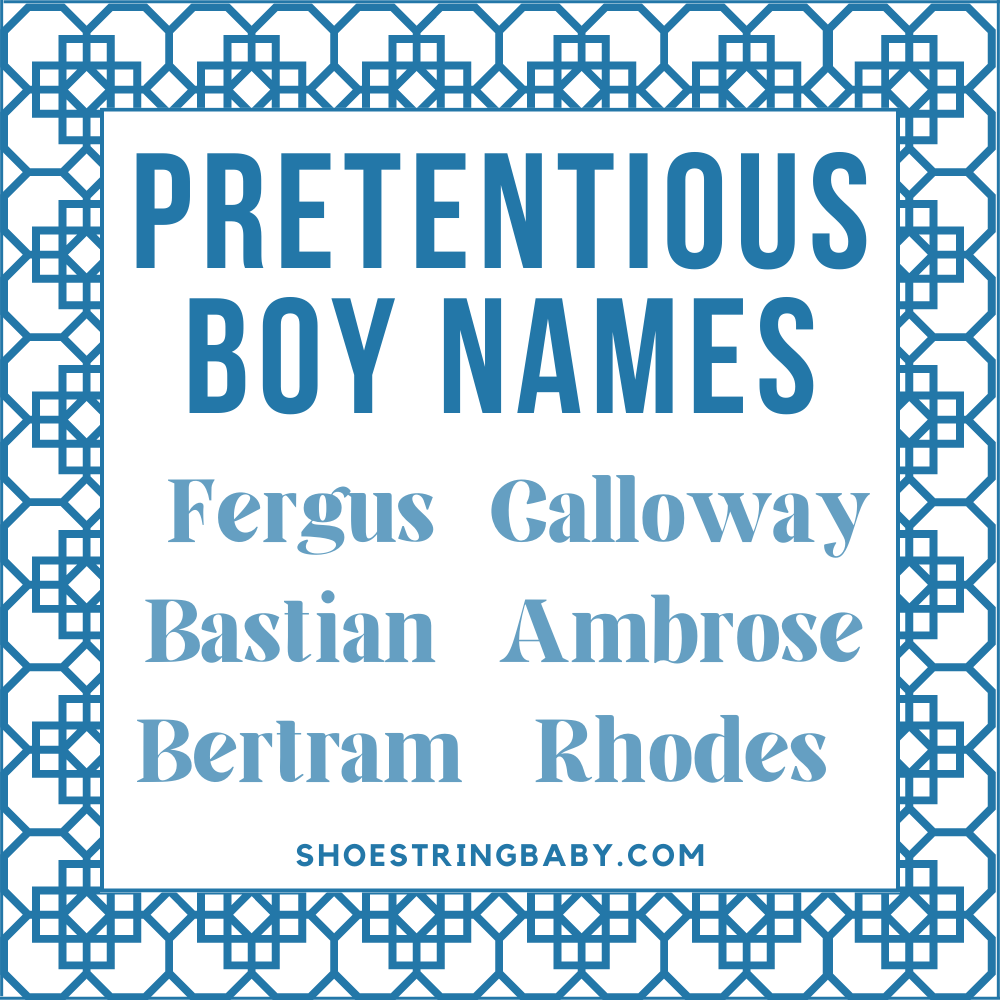 Pretentious girl names
Next, here are pretentious girl names. These names feel sophisticated and fancy, perfect for a posh baby.
While these formal names are polished and ornate, many come with casual and cute nicknames, like Eddie for Edwina and Del for Cordelia.
Of the posh girl names below, I'd love to see Zenobia gain traction among the ultra-fashionable crowd.
I'm also watching Agatha to see if it comes back into fashion, along with other grandma-chic names, such as Matilda and Vera.
AGATHA: Agatha is a formal name coming from Greek, meaning good. The name was most popular in the 1890s, so time will tell if this turn-of-the-century name enjoys a revival a la Mabel and Edith.
AMBROSIA: Not just a salad, Ambrosia is also a Greek-originating name that means immortal.
AMETHYST: Amethyst is a rarer, more adorned alternative to popular Ruby. The name comes from Greek.
APOLLINE: Apolline is a Greek name, meaning belonging to Apollo. Apollonia is a more ornamented alternative.
ARABELLA: Arabella comes from Latin and means prayful. The name historically is more popular in the U.K. than in the U.S.
ARAMINTA: Araminta is another name associated with upper-crust U.K. that has yet to get its footing in the U.S. Araminta, an English name meaning prayer, comes with the excellent nickname Minty. Aminta is another alternative.
ARTEMIS: Artemis was the Greek god of the moon. It first appeared on the U.S. top 1000 list in 2020, so keep an eye on how it trends in coming years.
ASTRID: Astrid is a Scandinavian name meaning divine beauty.
CAMILLE: Camillle somehow sounds posher than the name Camilla. The name comes from French and means helper.
CELINA: Celina is an embellished variation of the French name Celine, meaning heavenly.
CORDELIA: With Shakespearean roots, Cordelia sounds fancy and sophisticated. The name means "heart" and "of the sea" and comes from Latin.
CRESSIDA: Cressida sounds like a pretentious girl name in part due to its association with the Bridgerton series. The name means gold and comes from Greek.
DOROTHEA: Dorothea is Dorothy's dressed-up sister. The name means gift of God and comes from Greek.
EDWINA: Edwina has a pretentious name meaning — rich friend. This old English name comes with packaged with the cute and casual nickname, Eddie (that's why the name makes my list of charming girl names with boyish nicknames).
FRANCINE: Francine is the austere answer to the popular names Frances and Francis. The name comes from Latin roots and means from France.
GEORGINA: Georgina became known as a socialite name through the Gossip Girl series. The name is a feminine version of George, meaning farmer.
HELOISE: Heloise is a French name meaning wide.
HYACINTH: Hyacinth is a more ornate floral name that is a unique answer to other popular flower names like Rose and Lily.
ISADORA: Isadora is a Greek-originating name, meaning gift of Isis. Izzy would make a cute nickname.
MINERVA: Minerva sounds like the name of an intellect, thanks in part to Harry Potter. It is fitting that the name means the mind, coming from Latin.
MORGANA: Morgana is a Welsh name meaning bright sea.
OTTILIE: Ottilie is a fancy French name meaning prosperous in battle. If you like Ottilie, visit my list of 75 Middle Names for Ottilie.
PORTIA: Portia is a Latin name meaning offering or pig. The name also sounds rich because it is a homophone of the fancy car brand Porsche.
ROSAMUND: Rosamund is the stalwart answer to softer rose names like Rosalie and Rosemary. The name, surprisingly, doesn't have a floral meaning. It comes from German and means horse protection.
TALLULAH: Tallulah is best known as a celebrity name, after Tallulah Bankhead and the daughter of Bruce Willis and Demi Moore. The name comes from Native American roots and means leaping water.
ZENOBIA: Zenobia is the perfect over-the-top name, meaning life of Zeus. This unique pick also has regal roots thanks to a third-century ruler in the Roman Empire.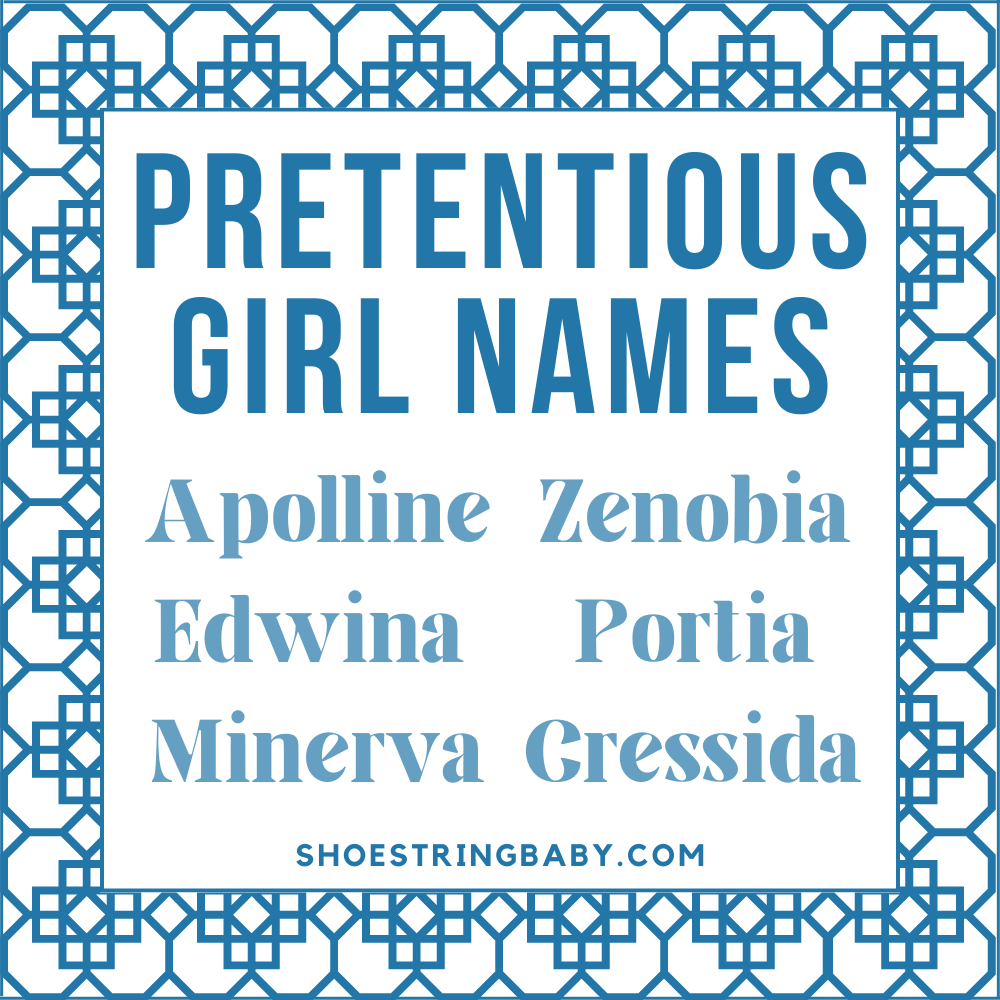 Posh unisex names
If you'd like to find a pretentious-style name that works for any baby, these posh unisex names are for you.
Many names that we associate with being high-class start as surnames, which are inherently gender neutral.
Giving surnames as names has a long tradition in America as a form of honor naming.
AINSLEY: Surname-style names often have an air of sophistication. Ainsley comes from English and means meadow.
AUGUSTINE: Augustine is a stately alternative to the trendy name August. It comes from Latin and means to increase.
BELLAMY: Bellamy is a stylish name coming from French that means handsome friend. It is also a surname-style name which makes it a posh unisex choice.
BIRDIE: Birdie is a nickname-style name that means bird.
BLYTHE: Blythe means cheerful and kind, coming from Old English. Blythe feels more light and stylish than other surname-style names.
BRONWYN: Bronwyn is a Welsh name also spelled Bronwyn, meaning white raven. Bronwyn also makes my list of great full names for the nickname Winnie.
CAMPBELL: The name Campbell started as a surname from Scotland and Ireland. It means crooked mouth.
CAPRI: Capri is a breezy and posh unisex name. The Italian island name is a fashionable alternative to other place names like Brooklyn and London.
ELLISON: Another surname name that sounds upper-crust, Ellison has made its way into gender neutral territory despite its -son suffix because it works so well with the nickname Ellie.
JONES: Jones is a surname-style name meaning son of John.
LEANDER: Leander is a unisex name, even though it means lion man. The name comes from Greek.
LEIGHTON: While this surname-style name is technically unisex, it is more often used for girls. The English name means from the meadow town.
MERRITT: Merritt is an English surname that means boundary gate.
VALENTINE: Valentine is a courtly name coming from Latin, meaning strong and healthy.
Long pretentious names
When many think of pretentious baby names, long and over-the-top names may be the first to come to mind.
For the next section on our list of posh names, let's look at long pretentious names. Each name on this list is 9 letters or more.
ARCHIBALD: Archibald is a name with German, Spanish and Scottish roots meaning brave. It is a posher alternative to Archer if you love the nickname Archie.
BALTHAZAR: Balthazar means to protect the king and comes from Hebrew.
BARTHOLOMEW: Bartholomew comes from Aramaic and means "son of furrows" or "son of Ptolemy."
CONSTANCE: Constance is a Latin originating name meaning steadfast.
FITZGERALD: Surname-style names like Fitzgerald often sound like pretentious names. Fitz would make a fun and preppy nickname. If you're a Pride and Prejudice lover, Fitzwilliam has a similar feel.
MAXIMILLIAN: Maximillian is a more posh name for the nickname Max than Maxwell. Maximillian is the lowest ranking of the Max names, coming in well behind simply Max, Maxwell and Maximiliano. The name comes from Latin, meaning greatest.
MONTGOMERY: Montgomery may be for you if you'd like a posh name that is also very masculine. The name means man power and comes from French.
PEREGRINE: Peregrine comes from English and means traveler. It is also best known as a name of a falcon, which is why it makes my list of cool bird-inspired baby names.
PERSIMMON: Persimmon would be a unique and posh answer to the popular fruit name Clementine.
PRISCILLA: Priscilla is a Latin name meaning ancient.
SERAPHINE: Seraphine sounds posher than Seraphina. The name comes from Hebrew, meaning fiery
TEMPERANCE: Temperance feels like a long pretentious name, but in fact this virtue name means moderation — quite the opposite of the name's over-the-top feel.
THEODOSIA: Theodosia feels more ornate than Theodora. The name means God's gift and comes from Greek.
Short preppy names
On the other hand, some short and sweet names also feel quite posh. Here are some short preppy names that are classy and smart.
ARGUS: Argus comes from Greek and means vigilant guardian
BASIL: Basil is a posh boy's name meaning brave, coming from Greek and Arabic. Basil feels like an upper-crust British boy's name, but the name could also be used for girls.
BUNNY: Bunny is so casual that it comes full circle to feeling like a rich person's name.
EDWIN: Edwin is a boy's name with a pretentious meaning. The name means rich friend and comes from English.
FFION: Ffion is a popular U.S. name that hasn't reached the U.S. shores yet, giving it an air of poshness. The name comes from Welsh and means foxglove.
KIP: Kip sounds like a boy you're roommates with at boarding school. Kip comes from English and means pointed hill. If you like Kip, you may also like Kit.
KITTY: Like Bunny, Kitty is so informal that it loops back around to sounding upper class.
NIGEL: Nigel sounds like an intellect or someone you'd find in a manor in England. Nigel is an Irish name meaning champion.
PETRA: Petra sounds formidable and ultra-cool, perfect for a posh girl name. The name comes from Greek and means rock.
POPPY: Poppy is a red flower and a spunky, posh name for a baby girl. If you like the name Poppy, explore my list of middle names for Poppy.
TRIP: Trip feels like a pretentious boy name because it is often used for the third in a generation. Using full family names for each generation is a practice often associated with high society.
VANCE: Vance is an English name meaning marshland.
Stereotypical preppy names
Following along with more preppy names, here are my ten favorite stereotypical preppy names.
These are the names you envision on the lacrosse field or at an all-girls boarding school.
Preppy names are a little less over-the-top than the pretentious baby names above but still have a manicured, classy feel.
ALFIE: Alfie is a popular name in the U.K. that has yet to land in the U.S., giving it an instant polished and preppy feel. The diminutive of Alfred means wise and comes from English
COLLINS: This unisex surname comes from multiple origins. In Gaelic it means holly; as a diminutive of Nicolas, it means people of victory; and, from Irish, it means darling.
FLORENCE: Fashionable Florence comes from Latin and means flourishing.
GIDEON: The name Gideon comes from Hebrew and means warrior. This preppy boy name also has roots as a surname.
HARRISON: Harrison is another surname-style name that means son of Harry.
IMOGEN: Imogen, meaning maiden, has been a top 50 name in the U.K. and Australia but has yet to crack the U.S. top 1000 (though the alternative Imogene saw a heyday in the 1920s). If you love this fashionable and preppy name, explore my list of 75+ Middle Names for Imogen.
PHILIPPA: Philippa is a Greek-originating name that means horse lover. Its nickname Pippa perhaps feels even more preppy than the formal name.
PIERCE: Pierce is a name with English roots that means rock. More common for boys, it is also occasionally used as a girl name.
PRESTON: Preston is an English name meaning priest's estate.
VICTORIA: Formidable and stately Victoria comes from Latin and, unsurprisingly, means victory.
Read More:
For more name ideas, visit my list of quadruplet names for four times the fun.