113 Striking Name Combinations for Baby Boys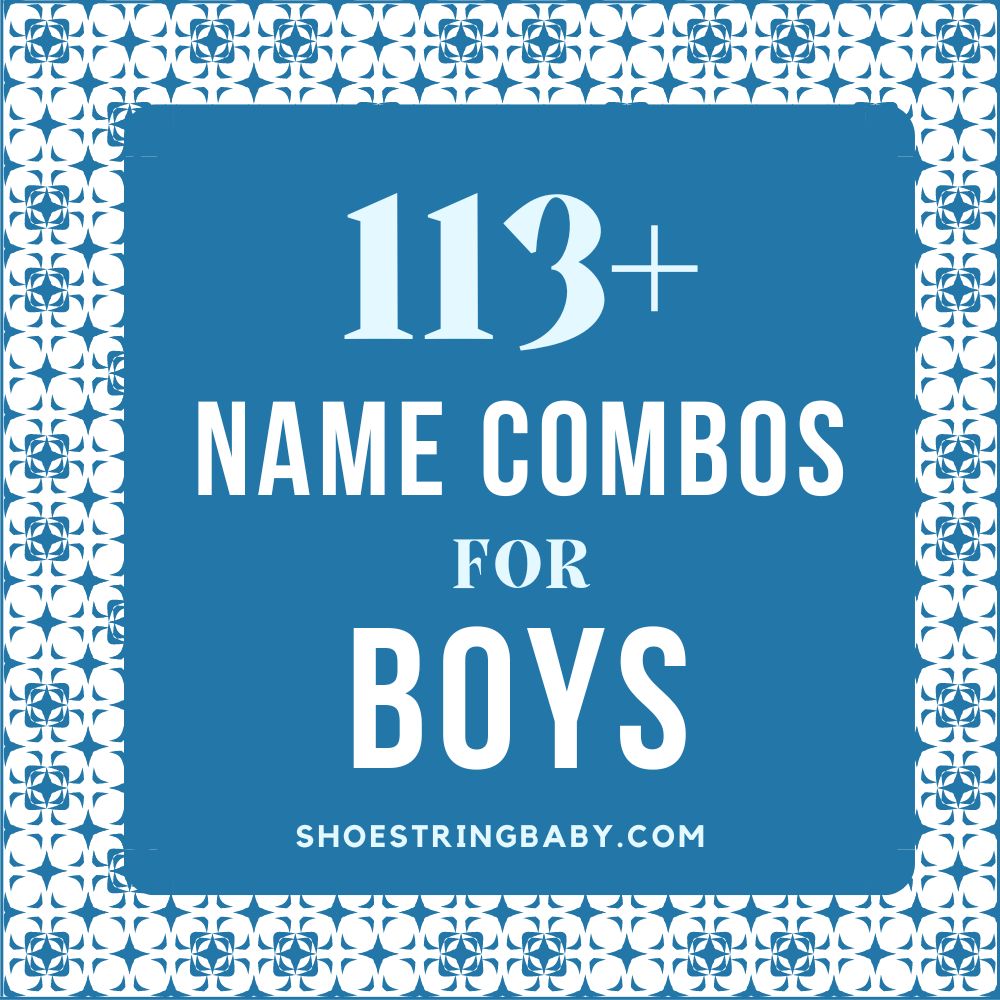 On the hunt for the perfect name combinations for your future baby boy? Then check out this list of charming first and middle name combinations for boys.
These boy name combinations were handpicked with style, flow and meaning in mind. I curated and researched these boy names from my database of over 2000+ names, online forums, and websites.
[DISCLAIMER: THIS POST MAY CONTAIN AFFILIATE LINKS, INCLUDING AMAZON ASSOCIATE LINKS WHERE I EARN FROM QUALIFYING PURCHASES. THERE IS NO COST TO YOU & THE COMMISSION HELPS SUPPORT THIS SITE]
The list is organized by style categories, including: classic boy names, unique name combinations for boys, cute name combos, and modern on-trend picks.
Plus, you'll find a bonus list of combined names at the end of this article. These are first names that are made up of combining and blending two other names together. For example, a blended first name would be Jayden, which combined the names Jay and Aiden.
I hope you'll find new ideas for your future baby boy on this list of boy first and middle name combinations.
Let's combine some names!
Table of Contents
Join our baby name facebook group!
Love chatting about baby names and trends? Join the discussion over on our new Facebook group. Plus, get FREE help finding the perfect baby name!
Classic baby name combinations for boys
For our first name combinations, we have classic first and middle names for boys. Classic names are respectable and recognizable, owing to a long history as baby names. I included a number of old-man-chic names that are waiting in the wings for a revival, like current favorites Theodore and Silas.
Vance Otto
Calvin Isaac
Marshall Abner
Albert Otis
Ralph Leander
Abram Phillip
Arlo Isaiah
For more name combinations with Arlo, visit 65+ Middle Names for Arlo.
Marvin Gideon
Harold Preston
Grover Percy
Luther Kit
Theodore Rudy
Aaron Anthony
David Andrew
Harvey Prescott
Roscoe Henry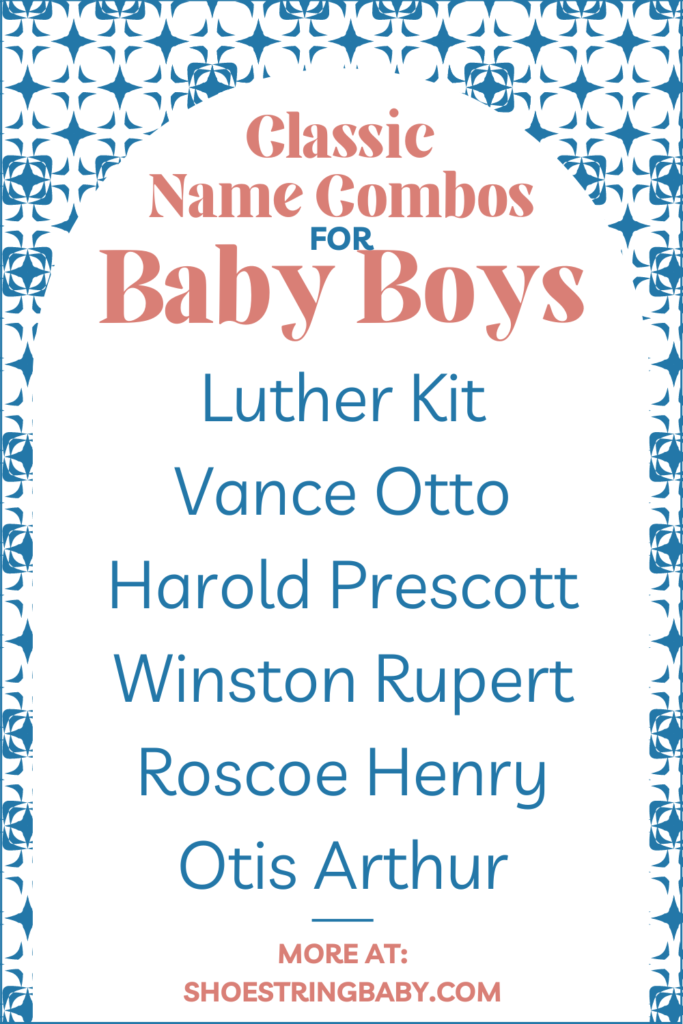 Nolan Oscar
Rufus Simon
Malcolm Thurman
Hugo Edmund
Roland Ike
Winston Rupert
Julius Vincent
Otis Arthur
Asa Frederick
Unique name combinations for boys
Next up are unique name combinations for baby boys. Each combination feature at least one name that is currently outside the Top 500 U.S. baby name list. The middle name slot is a great way to add uniqueness, an honor name or some sparkle to your name combination. Lazarus and Rocket are particularly unexpected picks.
Neo Lazarus
Carmelo Bear
Ephraim Liev
Cartier Ambrose
Osiris Truman
Crosby Barnett
Blaise Aspen
Wilfred Finlo
Oakley Elmer
You can find more first and middle name combinations for boy Oakleys at 75+ Middle Names for Oakley.
Barney Willis
Garrison Murphy
Esau Bastian
Marcel Dion
Rene Emilian
Basil Perrin
Denzel Dart
Urban Maxim
Orson Donahue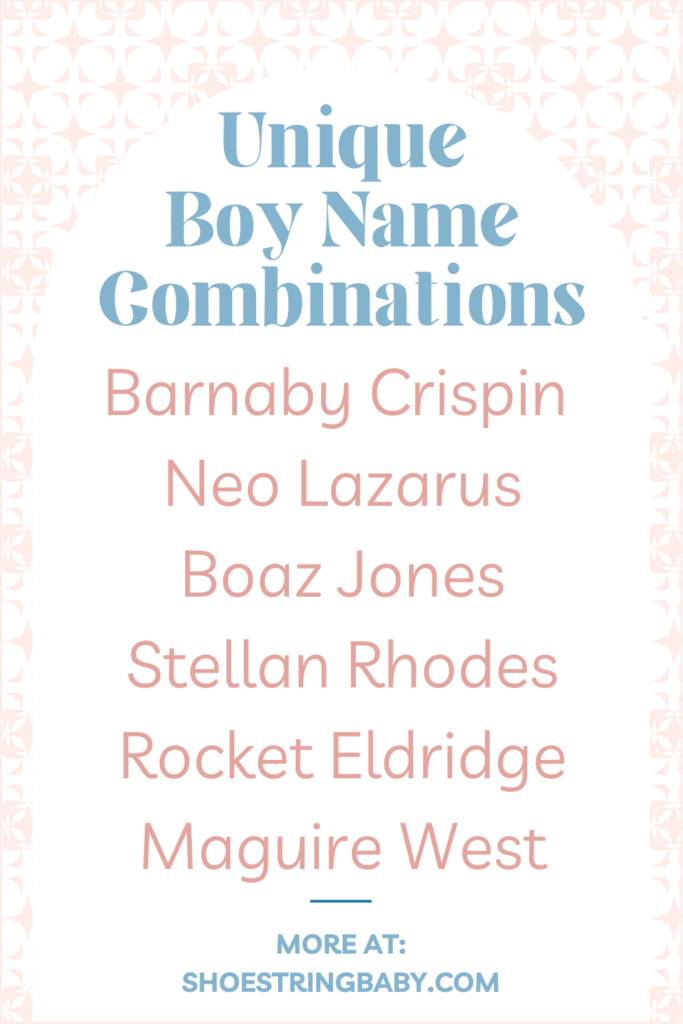 Barnaby Crispin
Boaz Jones
Guy Oswald
Maguire West
Ziggy Nathaniel
Stellan Rhodes
Rocket Eldridge
Cute boy first and middle name combinations
If you're looking for cute first and middle names that go well together, these next name combinations are for you. These boy name combinations are personable and charming, with cute nickname names like Alfie and Kit. The list also includes cute combinations of names that are alliterations for names that easily roll off your tongue, like Amari Alden.
Ty Davis
Elijah Griffin
Josiah Luther
Julian Ezra
Ames Esmond
Jayce Owen
Amari Alden
Check out more names that go well with Amari at 75+ Middle Names for Amari
Lee Zechariah
Delaney Clark
Ira Nelson
Desmond Vaughn
Hugh Augustine
Gus Embry
Odell Alistair
Perry Wendell
Eamon Beren
Dax Ellis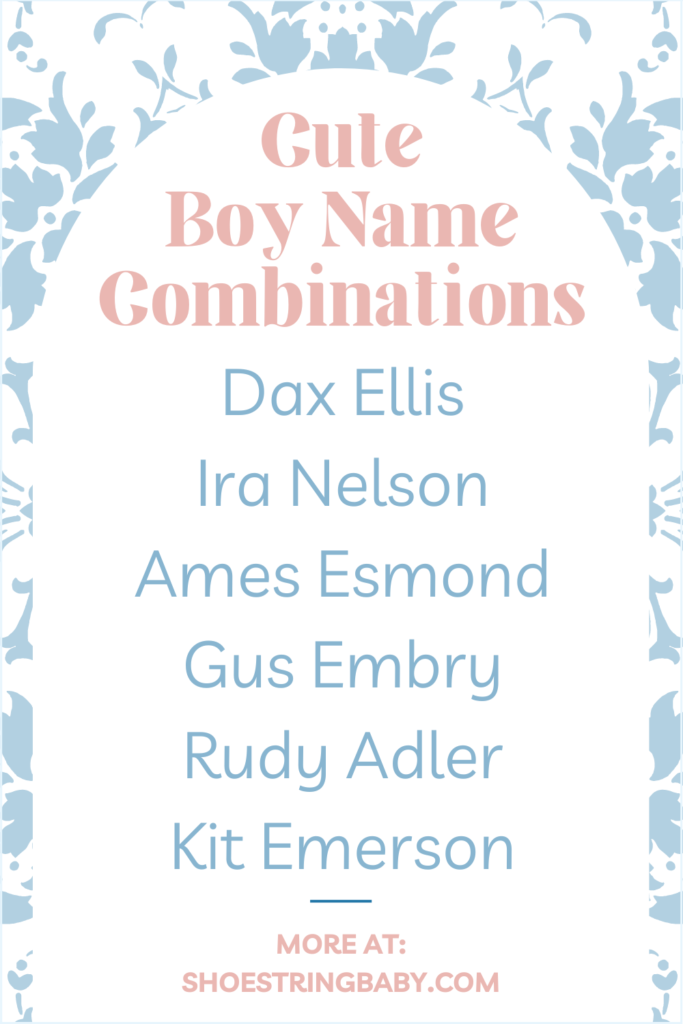 Aiden Oberon
Alfie Jude
Milo Benedict
Kit Emerson
Lucian Edison
Holden Miller
Graham Forrest
Rudy Adler
Modern boy first and middle names that go well together
Next we have modern boy first and middle name combinations for those looking for something fresh and of-the-times. These on-trend name combos include place names like Rome, word names like Royal, and grandpa-chic names like Silas.
Silas Gage
Bentley Lachlan
Wilder Gray
Aziel Van
Wells Cameron
Bennett Zander
Maverick Caden
For more strong name combinations for boys named Maverick, visit my list of Middle Names for Maverick
Grady Louis
Elias Carter
Brody Jett
Khalil Idris
August Dexter
Malachi Max
Levi Jamison
Mateo Oliver
Rome Kai
Cassius Enzo
Atticus Thatcher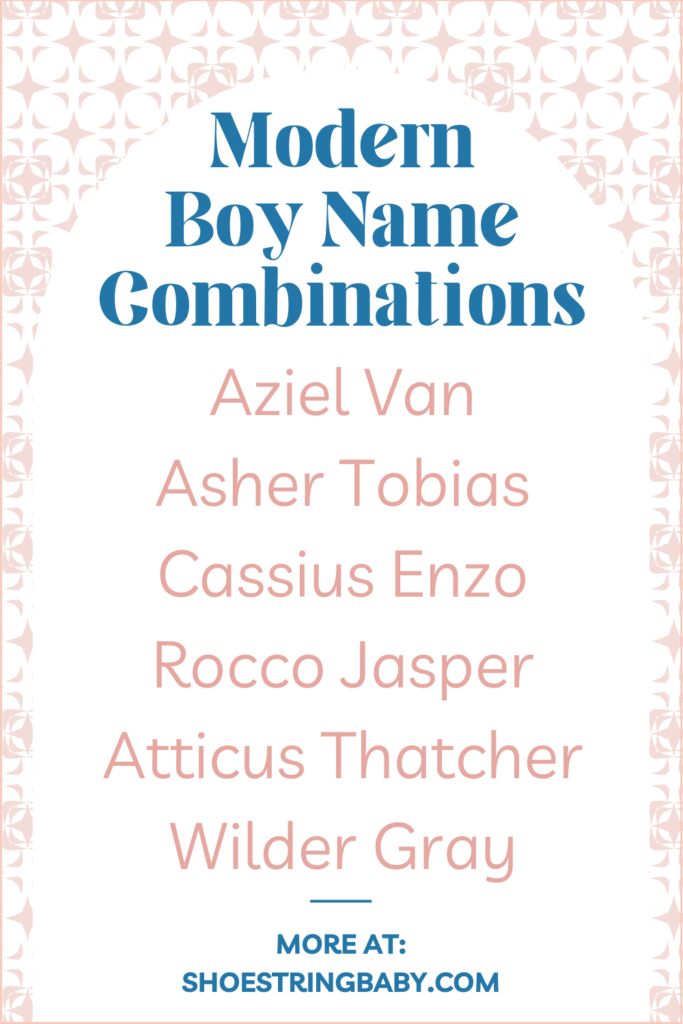 Royal Knox
Atlas Soren
Asher Tobias
Evander Magnus
Nico Rafferty
Rocco Jasper
Finnegan Walter
Blended combined names for boys
Finally, here we close with a list with first names that are made up of two names blended together. These combined boy names blend often two first names, like Jay and Aiden, to make new or inventive names like Jesiah (Jesse and Josiah combined together) and Braiden (Brandon and Aiden combined together).
These combined and blended boy names are less common than you find with girls. Girls have many variations of names combined with names like Ana, Lyn and Belle, such as Liliana (Lily and Ana combined) and Mirabel (Mira and Belle together). For more, check out my list of 155+ Name Combinations for Girls.
Jayden: Jay and Aiden
Benton: Ben and Tony
Braiden: Brandon and Aiden
Damiel: David and Gabriel
Zayden: Zack and Aiden
Deandre: De and Andre
Aidric: Aiden and Eric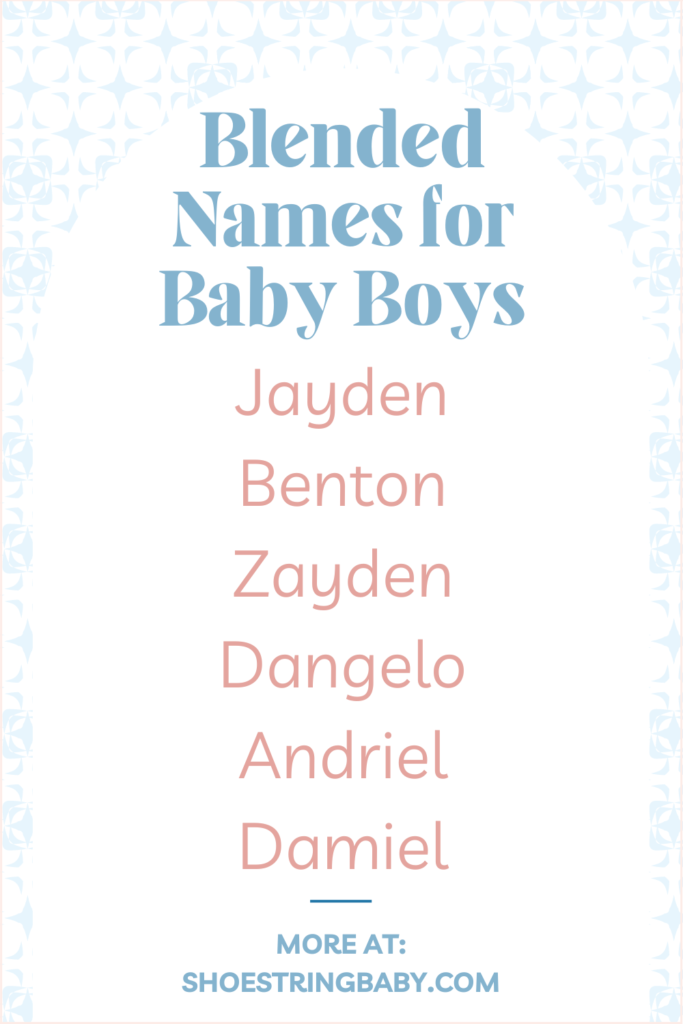 Jesiah: Jesse and Josiah
Dangelo: Darren and Angelo
Jaymarcus: Jay and Marcus
Davan: David and Evan
Andriel: Andrew and Daniel
Benry: Ben and Henry
---
Looking for more name ideas? Check out: