70+ Unisex Nature Names: Earthy & Gender Neutral Ideas
This post may contains affiliate links. As an Amazon Associate, I earn from qualifying purchases. Read the full disclosure here.
Looking for cool and earthy gender neutral nature names? I've got you covered!
Unisex nature names combine two major trends in baby names today: gender neutrality and earthy nature vibes.
You'll find unisex nature names popping up throughout the Top 1000 Popular Names list, such as Nova, Wren, Sage and Hadley. Since nature words are often not gendered, most nature names are easily worn by both boys or girls.
To save you time on your hunt for the perfect unisex nature name, I've compiled this list of my favorite names with their meanings. I'm a researcher who has been analyzing name trends for over 5 years.
I also have a personal connection to unisex names: I spent countless hours looking for my own kids' gender neutral names (one of them is on this list!)
Below you'll find gender neutral nature names taking inspiration from the land, animals, waterways, botanicals and the skies.
The list includes a mix of already popular options like River and Bailey; up and coming names like Cove and Zephyr; and, unique names like Taryn and Cedar.
And if you're looking for more gender neutral name ideas, check out: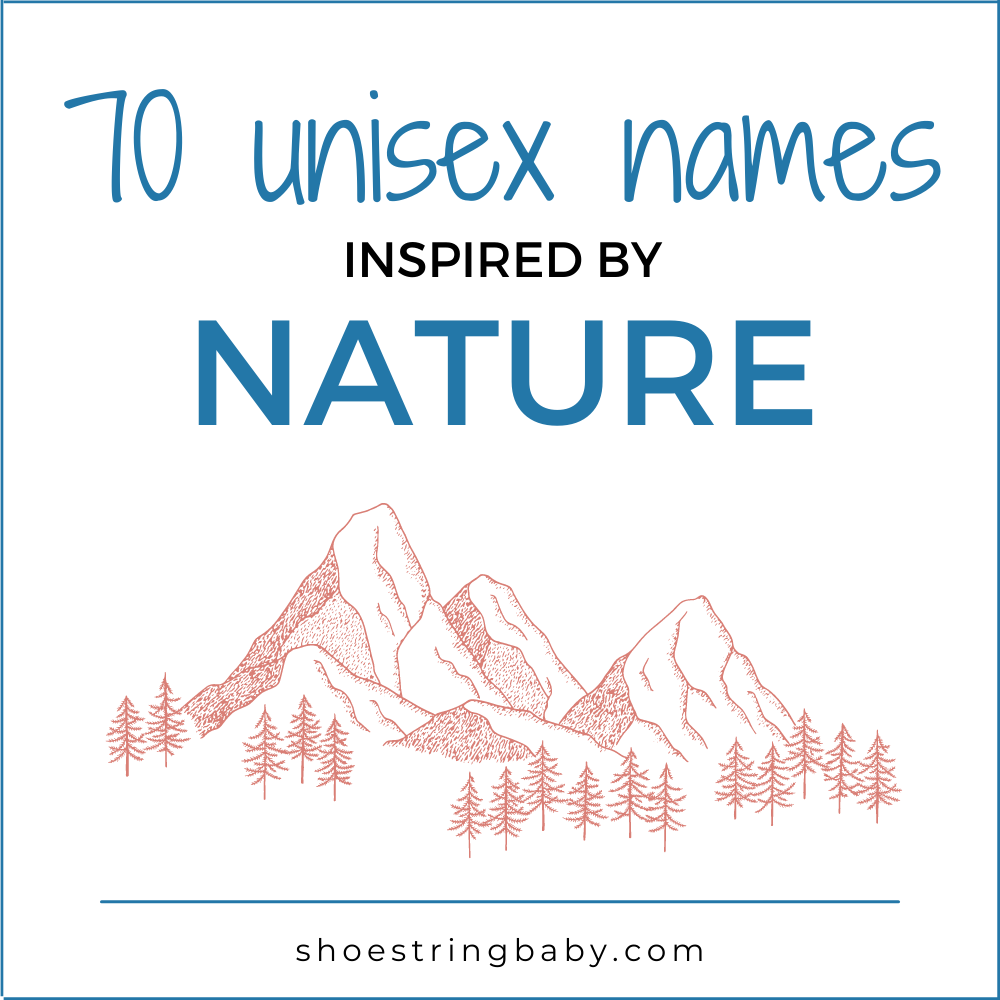 Join our baby name facebook group!
Love chatting about baby names and trends? Join the discussion over on our new Facebook group. Plus, get FREE help finding the perfect baby name!
Why choose a unisex nature name?
So, why might you consider a gender neutral nature name for your baby? There are four features of nonbinary nature names that really stand out.
1. On-trend and on-message
Both nature-themed and unisex names are very fashionable right now. They capture the zeitgeist of the time, highlighting individuality, environmental consciousness, and the shedding of gender norm.
2. Future flexibility
Unisex names don't box a child into a particular gender role, giving them the flexibility to find themselves as they grow. As society continues to develop its understanding and acceptance of gender fluidity, a unisex name gives your child with more space to express their identity.
3. Easy & straightforward
Many nature names strike the ideal balance of being unique while also being recognizable. Names like "River," "Sky," or "Sage" are unique as names but are straightforward words. Since they're so recognizable, it reduces the chances of misspellings or mispronunciations.
4. Uniqueness
While nature names aren't just hippie names anymore, many of them are still less common than traditional names. This means that it is less likely your child will share a name with multiple classmates in the future.
Now that you know why nature unisex names are great, let's take a look at some name ideas.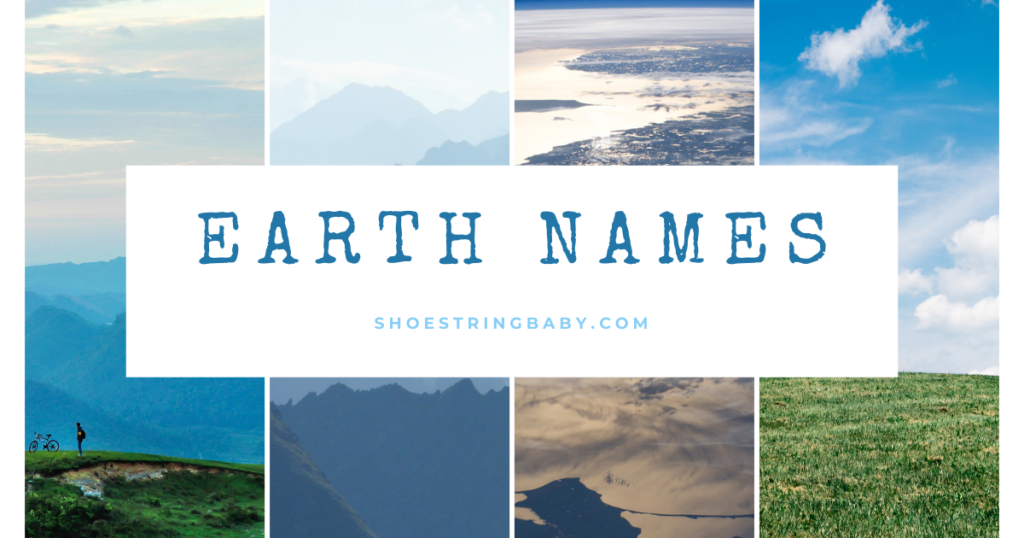 Earthy Gender Neutral Names
This first set of unisex nature names is inspired by the land. These nature names are down to earth and grounded (puns!). It includes names with landforms, gemstones and terrain meanings.
Land nature words are great unisex name options because they often do not have a gender association, like how flower names are more common for girls.
Related Post: 75 Middle Names for Amari
1. AINSLEY
2. ARDEN
3. ARLO
4. BAILEY
5. BRYNN
6. DELL
7. EDEN
8. HADLEY
9. HARLOW
10. BERYL
11. LOGAN
Meaning: balanced stone, marsh
12. ONYX
13. OPAL
14. TARYN
15. LEE
Animal-Inspired Unisex Nature Baby Names
Below are gender neutral names inspired by animals in nature. Many of these names come from bird names, which are currently enjoying a rise in popularity led by names like Wren and Piper.
Related Post: Bird Inspired Baby Name Ideas
I personally love the name Winnow as a unique option for the nickname Winnie. While still more common with girls, I think Piper would make a great choice for a little boy with the nickname Pip.
16. AVIAN
17. BIRDIE
18. FALCON
19. HUNTER
20. LARK
21. LYNX
22. PHOENIX
Meaning: mythological immortal bird
23. PIPER
24. ROBIN
Meaning: songbird, bright
25. TEAL
26. WINNOW
Meaning: to blow the air with ones wings
27. WREN
28. YAEL
Water and Sea Nonbinary Nature Names
If you're looking for calm and flowing name inspiration, consider one of the following unisex nature names with water and sea meanings.
Of the names on this list, I predict Harbor and Cove to start popping up more. They fit in nicely with currently popular name River (#110 for boys, #151 for girls). I personally like the names Marin and Marlow as gender neutral options.
29. ADRIAN
30. BAY
31. CARY
32. COVE
33. CREEK
34. DYLAN
35. HARBOR
Meaning: protected water safe for ships
36. LYNN
37. MARIN
38. MARLOW
39. MORGAN
40. OCEAN
41. RIVER
Meaning: wide stream of fresh water
42. RYLAN
Personalized Name Items
Once you've found the perfect unisex nature name, check out these personalized name items. These make great gifts or final touch to a nursery.
Botanical Gender Neutral Names
While floral names are having a moment with hits like Rose and Daisy, expand your search to consider these great gender neutral botanical names. The list includes names inspired by nature's trees, herbs and plants.
Names like Sage and Oakley are already quickly climbing the top name charts for both boys and girls (Sage: #427 boys, #179 girls; Oakley: #403 boys, #193 girls). Ash and Ollie are both great names that work as nicknames or standalone names.
43. ARBOR
44. ASH
45. ASHTON
46. ASPEN
47. BLAKELY
48. BRIAR
49. CEDAR
50. CLOVER
Meaning: herb that symbolizes luck
51. LAUREL
52. LENNOX
Meaning: Scottish elm grove
53. LINDEN
54. JUNIPER
Meaning: juniper-berry, evergreen
55. OAKLEY
Meaning: meadow of oak trees
56. OLLIE
57. ROWAN
58. SAGE
Gender Neutral Space Baby Names
Finally, the sky and stars above inspire this last set of gender neutral space names. These nonbinary names include names from the sun, weather, and planets.
Though more common for girls, Ariel and Celeste both actually have gender neutral roots and would be refreshing picks for boys.
Nova is fast on the rise, only recently hitting top 100 for girls and entering the list of top boy names in 2017.
Rare name like Zephyr and Rain are so infrequently given that they don't have preconceived gendering, making them great unisex earthy options.
And for more celestial names, check out my list of 50+ Twin Names That Mean Sun and Moon.
59. ARIEL
60. ASTER
61. CELESTE
62. LUZ
63. MOON
Meaning: natural satellite of a planet
64. NOVA
65. RAIN
66. SKY
Meaning: upper atmosphere, Norse for cloud
67. SOL
68. SUNNY
69. VESPER
70. WINTER
71. ZEPHYR
Conclusion: Note on Gender Neutral Names
Before wrapping up, let me offer a quick warning that finding a unisex name that stays truly gender neutral over time is a tall order.
Picking a unisex name today is capturing a moment in time — today's nature gender neutral name may easily become tomorrow's hit boy or girl name.
There are multiple reasons for this. First you may be catching a name as it transitions from being used by one gender to the other. A name may also be too new or unique to have an associated gender.
For a deeper dive into these trends that gender neutral names often follow, check out our list of 101 Nonbinary Names.
Unisex nature names are often neutral because they are newer names without a gender association. The benefit of these more unique nature names is that rarer names are less likely to hit a critical mass needed to swing the name into gendered territory.
To get a better idea of how your favorite nature names are trending, try out our name trend data tool, which visualizes both girl and boy names in the same graph.
---
Looking for more gender neutral baby name ideas? Check out our list of 101 Nonbinary Name Ideas with Meanings.